Malaysia has plenty of renowned and highly rated cleaning services but these are scattered around the peninsula and service only in their area radius. This list of the best cleaning services in Penang gives you the top companies who can deliver housekeeping right where you need it. Many of them are focused on commercial and industrial services but you can also count on them for your domestic cleaning needs.
1.   HSL Hygieneus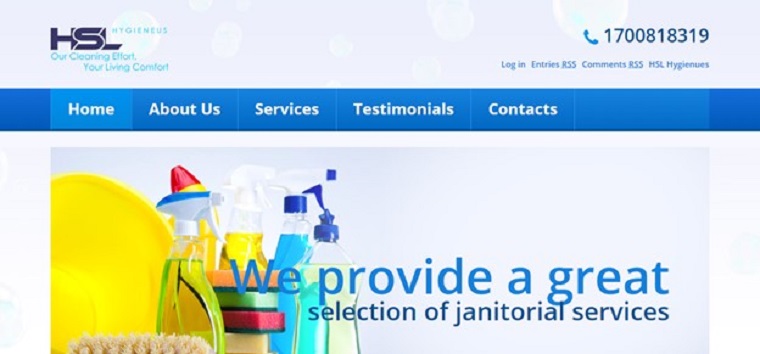 BEST FOR
Broad selection of cleaning services, certified cleaning services, competitive prices
SERVICES/SCOPE
Chandelier Cleaning, Construction Site Cleaning, Hospital Scrubbing, Hotel Cleaning, Hospital Cleaning, Windows & Upholstery Cleaning, Office & Commercial Cleaning, Carpet Cleaning, Floor & Landscaping Care, High Level Façade Cleaning, Domestic Cleaning
PRICING
Contact the company for a quote
WEBSITE
http://hslgroup9.com/
ADDRESS
55, Taman Melati
Jalan Tun Dr Awang,
Bayan Lepas
11900 Penang
CONTACT
+60 4644-8019 | [email protected]
PAYMENT
Credit card, cheque, or bank transfer
HSL Hygieneus is a cleaning services company that plies its trade to industrial and commercial spaces around Penang. Though they mainly cater to hotels, hospitals, and schools, they also provide domestic cleaning to homeowners in the area. This vast array of services has made the firm well renowned as well as their ability to deliver their promised meticulous cleaning.
Aside from basic cleaning and scrubbing of surfaces, HSL Hygieneus goes beyond by cleaning even chandeliers. They do it with utmost care to make certain that every part has been wiped clean of dust. Aside from that, the company has floor and landscaping care services. With this, companies and homeowners with lawns and gardens can call just one place for their cleaning and landscaping needs.
2.   Indah Cleancare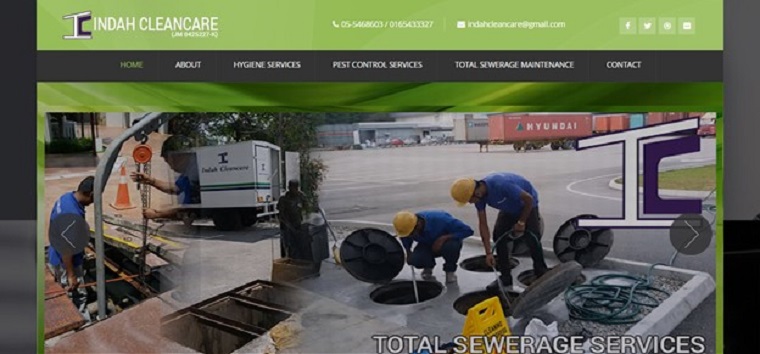 BEST FOR
Expert crew in hygiene and sewage maintenance, efficient communication network, round-the-clock service, certified service crews
SERVICES/SCOPE
Hygiene Services, Total Sewage Maintenance, Pest Control Services
PRICING
Contact for a custom quote
WEBSITE
http://www.indahcleancare.com/index-2.html
ADDRESS
No. 69-6-7, Taman Nipah Emas
Lebohraya Nipa
11900 SG, Nibong Penang
CONTACT
+60 5-546-8603 | +60 16-543-3327 | [email protected] | [email protected]
PAYMENT
Cash, cheque, or bank transfer
Indah Cleancare is another cleaning service in Penang that mostly works for commercial and industrial spaces. However, you can also call on them to provide sewage cleaning services in your residential area and to clear your home of pests. In any case, the company's service crews are experts at their job so they go away leaving your building and surroundings clean and hygienic as they promised.
And in case you run into trouble at odd hours, Indah Cleancare can respond to your calls. That is because they have a round-the-clock service to ensure that people's sanitation needs are met anytime.
Moreover, Indah Cleancare's crew are equipped with the necessary tools that facilitate efficient communication. This way, you can relay your unique instructions to them when they are out in the field. Plus, this helps them contact you in case of clarifications.
3.   Hygiene Sanitary Cleaning Services (HSCS)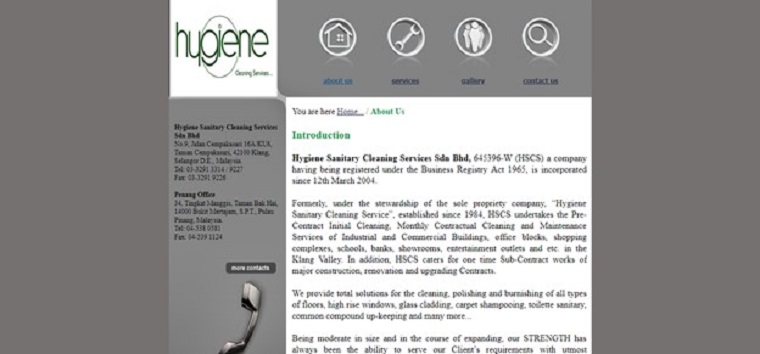 BEST FOR
Hygiene and sanitation services, practical management and supervision system, standard operating procedures, environment-friendly cleaning supplies
SERVICES/SCOPE
Sweeping, Scrubbing, Mopping of Floor Surfaces; Stripping, Polishing, Burnishing of Flooring; Wet or Dry Carpet Cleaning; Cleaning of and Removal of Stains from Glass Windows & Wall Claddings; High Pressures Jet Cleaning; Chemical or Detergent Cleaning of Toilet/Washroom, Home Cleaning
PRICING
Call the company for a quote
WEBSITE
http://www.hygienesanitary.com.my/about_us/about.htm
ADDRESS
34, Tingkat Manggis
Taman Bak Hai
14000 Bukit Mertajam, S.P.T.
Pulau Pinang
CONTACT
+60 4-538-0581
PAYMENT
Cash or bank transfer
Hygiene Sanitary Cleaning Services, or HSCS for short, is an all-around cleaning services company. They can sweep, dust, clean, and mop your entire office space or abode, with special attention on stubborn stains. The company is also very particular when it comes to hygiene and sanitation, which is why they apply cleaning solutions that can remove and sanitize dirt and grime without harming your floors, carpets, and furniture.
When it comes to the delivery of cleaning services, HSCS employs a standard operating procedure. This means that their service providers follow that to the letter to ensure that every nook and cranny of your living or working space is covered. Moreover, the company has a practical management and supervision in place. With this, they can make certain that cleaners are doing their job well. Aside from that, this lets managers provide guidance to employees when needed. Thus, you can expect an organized and methodological cleaning service from HSCS.
4.   DN Cleaning & Services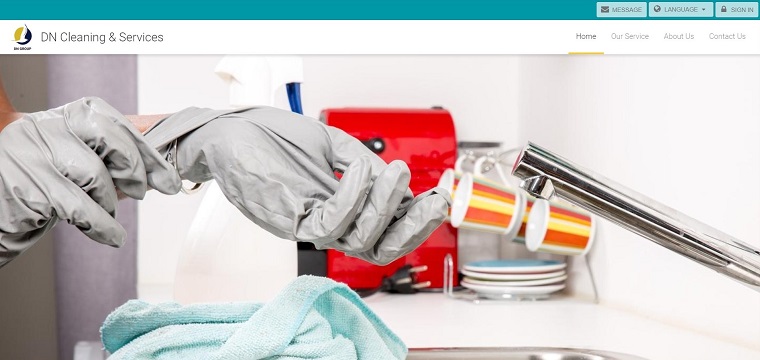 | | |
| --- | --- |
| BEST FOR | Multiple cleaning & services tailored to various industries |
| SERVICES/SCOPE | Entertainment Centre & Club, Construction Sector, Restaurant Sector, Hospital Sector, Factory Sector, Mall/Complex Sector, Hotel Sector |
| PRICING | Contact the company for a quote |
| WEBSITE | http://dngroup.com.my/ |
| ADDRESS | Ideal Avenue, 1-3-18, Medan Kampung Relau 1, Relau, 11900, Bayan Lepas, Penang, Malaysia |
| CONTACT | 04-6433222 / 010-2229912 | [email protected] |
DN Cleaning & Services is one of the leading cleaning services provider in Penang, Malaysia. They have been serving clients from different industry and provide multiple services tailored to their needs and specifications. They pay extra care at the process, especially the mutual communication between their workers and clients. Their aim is to help clients lessen their burden at managing business by ensuring services that are totally hassle-free.
5.   Kosena Cleaning Service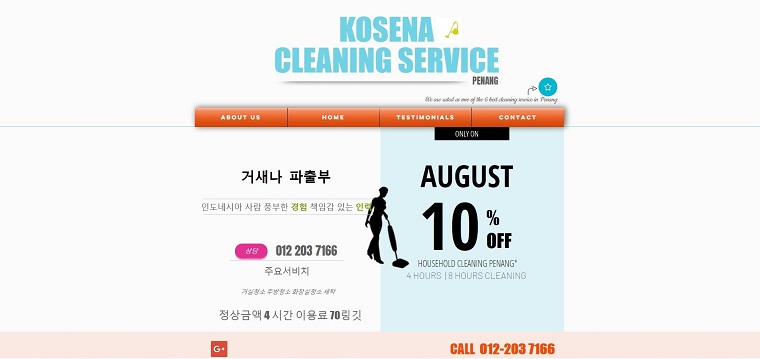 | | |
| --- | --- |
| BEST FOR | Commercial cleaning services, Korean clients |
| SERVICES/SCOPE | Move in /Move out – Professional House Cleaning Services; Building Maintenance; Construction Cleaning – Industrial & Manufacturing Cleaning Service; Retail Cleaning Service; Office Cleaning; Restaurant Commercial Cleaning |
| PRICING | Request a quote |
| WEBSITE | www.kosenacleaning.com |
| ADDRESS | Georgetown Penang |
| CONTACT | 012-203 7166 | [email protected] |
KSN Kosena Cleaning Service is one of the best cleaning services in Penang with big clients like Sharp, Parkson and UNILIN. While you focus on more important things, they'll maintain the cleanliness of your place of business. Although they specialise in big jobs like commercial and construction cleaning, they do provide other cleaning services such as professional house cleaning services.
They also offer monthly promotions from time to time, so make sure  you check out their websites to snag some cool discounts.
6. WnJ Services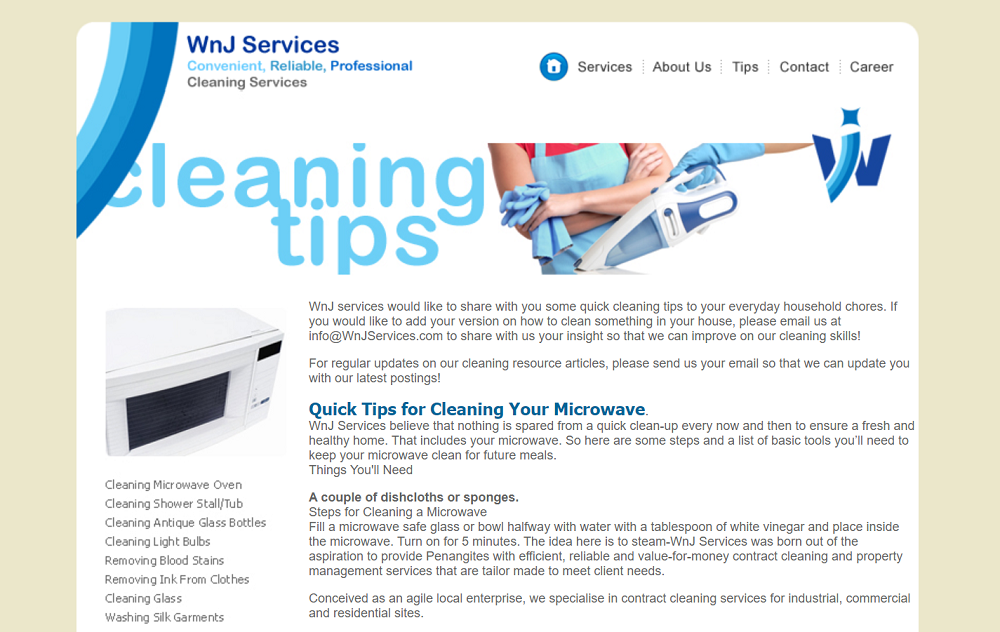 BEST FOR
Extensive cleaning services
SERVICES/SCOPE
Professional commercial cleaning services for:

Office units
Retail outlets
Manufacturing plants
Education Institutions
Healthcare industries
Hospitality industries
Show house units…and more!

PRICING
Available upon request
WEBSITE
http://www.wnjservices.com/tips.php
ADDRESS
12, Thaton Lane
10350, Penang, Malaysia
CONTACT
Email: 

[email protected]


General line: 1700-80-3939
PAYMENT
 Contact for more information
WnJ Services is one of the best, if not the best, choices for commercial cleaning services simply because of what the company stands for. That is, efficient, cost-effective, and thorough cleaning that suits the client's needs. If this is what you have been looking for, and are hoping to rid your commercial premises of stains, dirt, and grime, then call them up today.
Have you found the right company for the right job yet? If not, you can get in touch with them so you can vet them for yourself before committing.
7. CleanNeat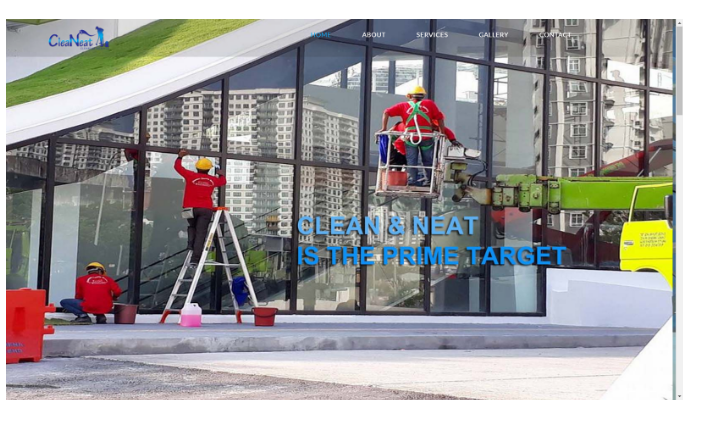 BEST FOR
Cleaning Services
SERVICES/SCOPE
Contract, Commercial, Construction, Lawn to maintenance, Sanitizing & Disinfectant
PRICING
Request a free quote online or by phone
WEBSITE
http://www.cleaneat.com.my/index.html
ADDRESS
1st Floor 2495,Jalan Sultan Azlan Shah, Kampung Gelugor, 11700 Gelugor, Penang.
CONTACT
PH: 012-4477715,
Office: 04-6585168,
Email To:

[email protected]




[email protected]

PAYMENT
Contact for more information
CleaNeat Cleaning Service is a janitorial and cleaning service contractor that offers a wide range of services. They are open to both residential and commercial work to maintain the cleanliness of their surroundings.
They prioritize their clients making sure that they give you the quality and excellence you are searching for. There is no job too big or small for them because they always exert the same effort and quality.
8.  OCS 69 HOMECARE Sdn Bhd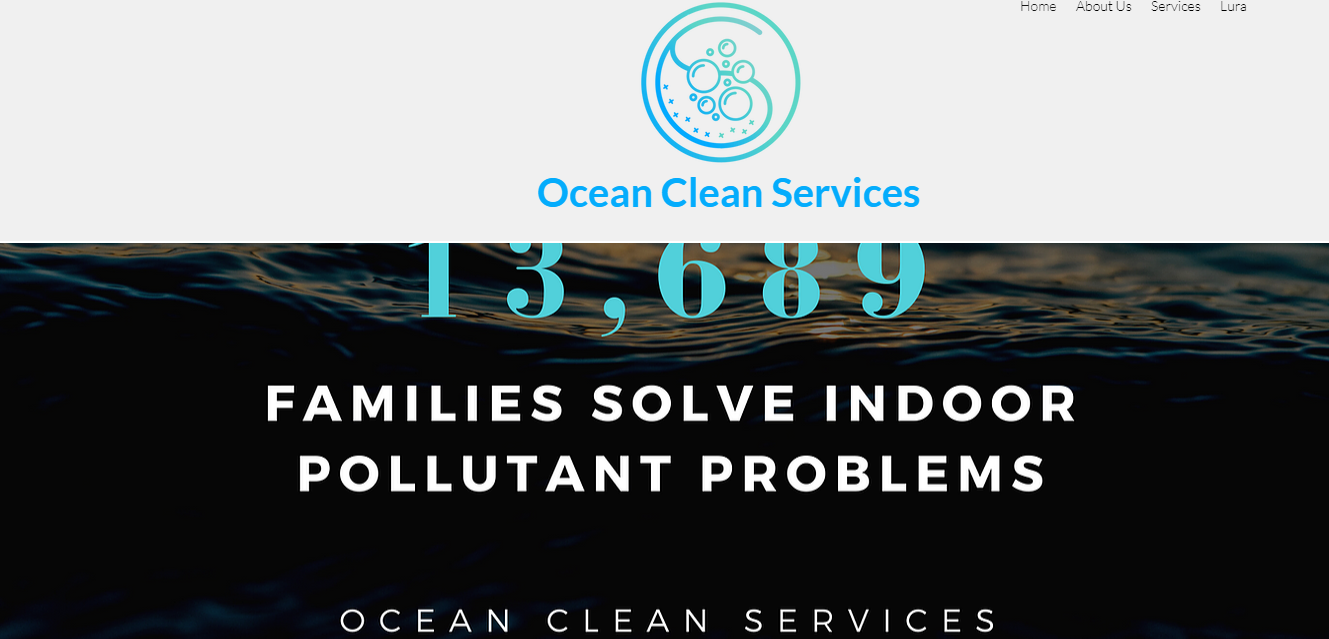 OCS 69 HOMECARE Sdn Bhd is your go-to cleaning services company which highly focuses on environmental friendliness in all their operations and even the materials that they use as they recognize this as a necessity for every organization. Started ever since 2018, they have since then helped household after household finds their own specific niche od hygiene solutions.
Their team is composed of highly experienced individuals who have over 12 years of practice in the said industry specifically in areas such as mattress deep cleaning. They were since then able to help over 13,000 families solve their personal health problems such as sinus, asthma, and eczema due to an internal indoor pollutant problem that the household has.
Rest assured as well that each of their experts is adequately trained to handle the job as they have all gone through practical training offered by the company in order that they may properly execute the job for you.
We highly recommend this company for you if you are looking toward maintaining a healthy and pollutant-free home due to their extensive deep cleaning process along with a strong set of values that will surely help in the cleaning job procedure to be stress-free and find them highly reliable in this sense.
9. Hapizal Enterprise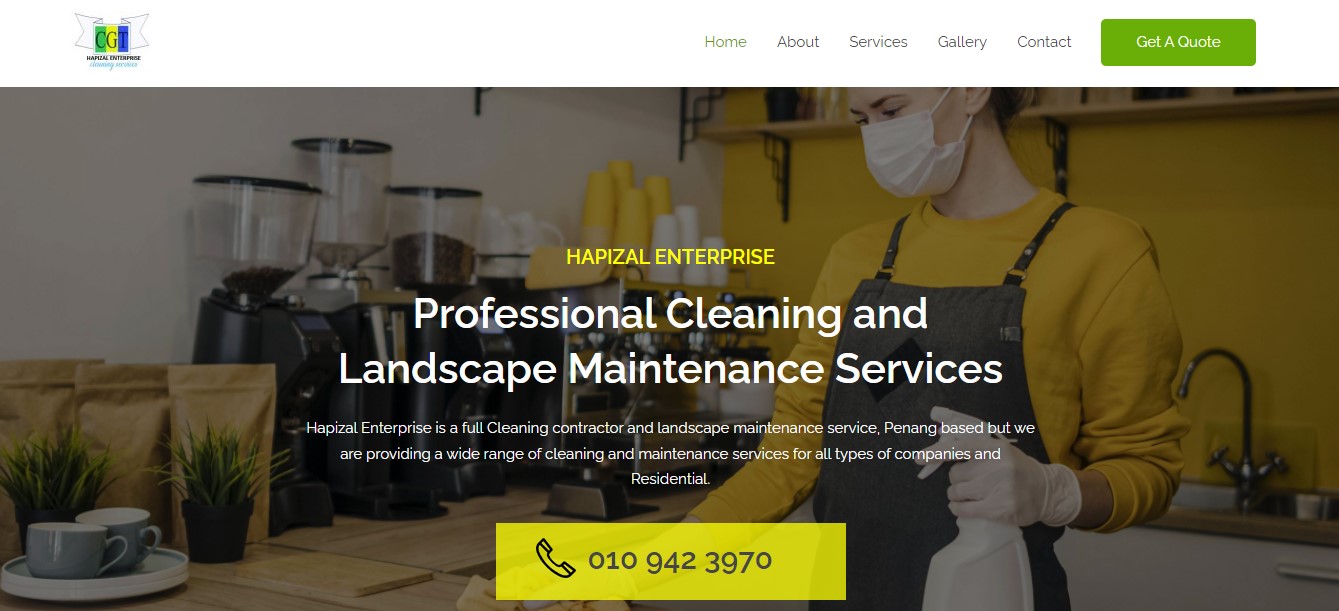 | | |
| --- | --- |
| BEST FOR | Professional Cleaning and Landscape Maintenance Services |
| SERVICES/SCOPE | Services |
| PRICING | Contact for a quote |
| WEBSITE | https://hapizalenterprise.com/ |
| ADDRESS | Hapizal Enterprise, Level 4, Lot 10, (410), Tabung Haji Building, Lot 50 Greenhall Road, 10200 Georgetown, Penang. |
| CONTACT | [email protected] |
| PAYMENT | Contact for details |
Over the years, Hapizal Enterprise has gained a reputation as a cleaning company that is engaged in the basic and advanced level of cleaning services with multi-model features and management service.
What we love about them is their team filled with fully trained employees. they make sure that the staff they're hiring goes through a screening process and then is trained in every aspect of their home cleaning services.
Unlike other companies, they offer free over-the-phone estimates.
Lastly, we like how their company is fully bonded and insured. With this, they help their customers feel that they have really made the right decision in contacting them.