Whether now is a good time to relax or just another tiring day for you, being at ease in the comfort of your own house definitely gives you the best feeling ever.
So, if you got a big house but is busy enough to tidy it up, do not worry! There are several available cleaning services in Johor Bahru that can help you transform your messy place into an orderly haven.
If you are busy with your work or other matters, seeking the help of cleaning experts is the best choice to keep your home clean and conducive.
Aside from that, hiring cleaning services in Johan Bahru are perfect because:
It is cost effective. You can save money since there is no need to hire a full-time maid.
You only hire cleaners whenever you need them. They are just one call away.
There are different types of cleaning services to choose from. You get to choose what you only need.
Being the capital of Malaysia's State of Johor, there are surely several cleaning companies around. So, to help you choose the best cleaning service and provider that you need, here is our reviews of the top cleaning services in Johor Bahru.
1.   KCN Cleaning Service

SPECIALTY
House, Office, Restaurant, Guest House Cleaning
SERVICES
Rug and Carpet Cleaning, Post Event Cleaning, Desk, Furniture, and Restroom Cleaning, Post Construction and Deep Cleaning, Tile, Grout, and Floor Cleaning, Upholstery, Move-in/ Move-out Cleaning, Eco-Green, Window, and Kitchen Cleaning, Garbage Removal, Vacuuming, Janitorial and Maid Services
PRICING
Available upon quote request
WEBSITE
https://kcn.webnode.com/
ADDRESS
Golden Sand Jalan Mahmodia

80100 Johor Bahru, Johor

CONTACT
011-3799 5518
BUSINESS HOURS
Monday to Sunday – 7:00 am – 10:00 pm
KCN Cleaning Service is known for its superb expertise and well-trained staffs. It is trusted among most of the people in Johor for never failing their expectations about the quality of the service they can provide at a good price point.
You can start by requesting a price quote first to determine their rates. Otherwise, you can just give them a call right away to book an appointment.
2.   Maid Pro Elite Cleaning Services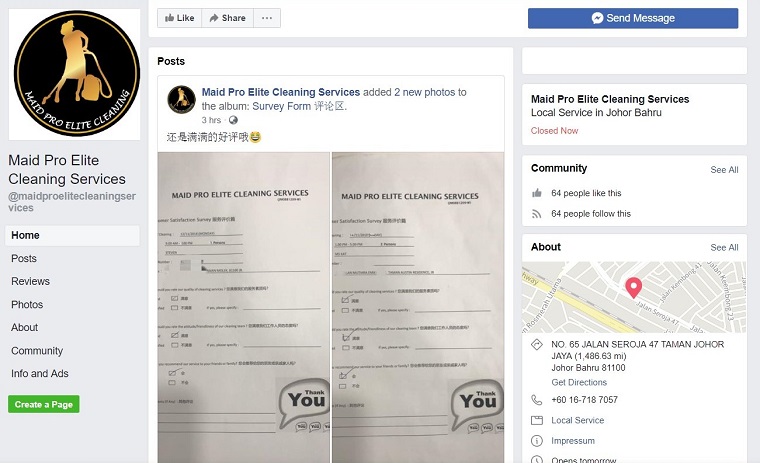 SPECIALTY
House, Factory, Office Cleaning
SERVICES
Rug, Tile & Grout Cleaning, Post-event and Deep Cleaning, Move In/Move Out Cleaning, Window and Post Construction Cleaning, Maid Services
PRICING
Available upon price quote request
WEBSITE/ SOCIAL MEDIA
https://www.facebook.com/maidproelitecleaningservices/
ADDRESS
65 Jalan Seroja 47

Taman Johor Jaya

81100 Johor Bahru, Johor

CONTACT
016-718 7057 /

[email protected]

BUSINESS HOURS
By appointment only

Monday to Sunday – 9:00 am – 6:00 pm
Maid Pro Elite Cleaning Services just started its cleaning business in early 2018, serving Johor Bahru and the surrounding areas. They strictly follow an appointment only policy as of now. Based on a recent survey conducted by the company to their customers, Maid Pro has proved an excellent service towards their clients.
3.   Bro and Sis Cleaning Services – JB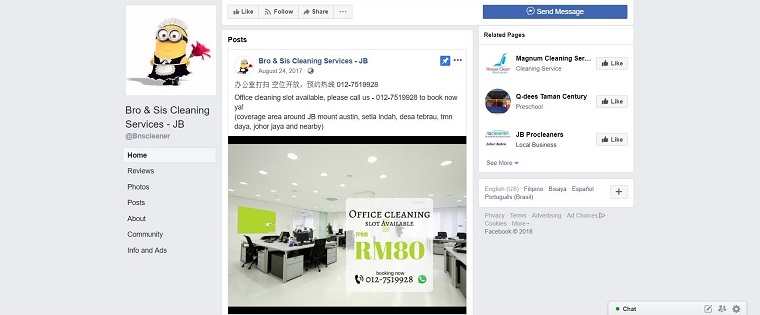 SPECIALTY
Office Cleaning
SERVICES
Spring Cleaning, Regular Cleaning
PRICING
Price starts at RM80
WEBSITE/ SOCIAL MEDIA
https://www.tuugo.my/Companies/bro-sis-cleaning-services/0190003129940
ADDRESS
Jalan Kenanga, Taman Desa Cemerlang, 81100, Johor Bahru
CONTACT
+60 12-751 9928
BUSINESS HOURS
By appointment only

Monday-Saturday 9:00 am – 6:00 pm

Sunday – CLOSED

PAYMENT OPTIONS
Cash, Cheque
4.   IOE Cleaning and Maintenance Services
SPECIALTY
Household and Commercial Cleaning including personalized and customized services to homes, restaurants, offices, factories and car parks
SERVICES
Cleaning & Maintenance Services, Machinery, Cleaning Equipments & Chemicals, MSM Rental Service, Budget Car Wash
PRICING
Available upon price quote request
WEBSITE/ SOCIAL MEDIA
http://ioejohor.com/v1/
ADDRESS
No. 24A, Jalan Pulai Ria 9, Bandar Baru Kangkar Pulai, 81110 Johor Bahru, Johor
CONTACT
Mr. Mahmud Shah: (011) 1113 1800

Ms. Shazlina: (011) 1112 1800

BUSINESS HOURS
Monday – Friday: 8.00am to 5.00pm

Saturday: 8.00am to 1.00pm

Sunday & Public Holiday: Closed

24/7 Hour Emergency Services
Established last November 2013, IOE Cleaning and Maintenance Services is another known company for cleaning services in the neighborhood of Johor Bahru. This company also offers other services more than a basic cleaning such as external & high-rise cleaning, floor stripping and sealing, moving furniture and landscaping as well.
For interested clients, you are advised to book an appointment online via IOE's website.
5.   Cleaning Service Johor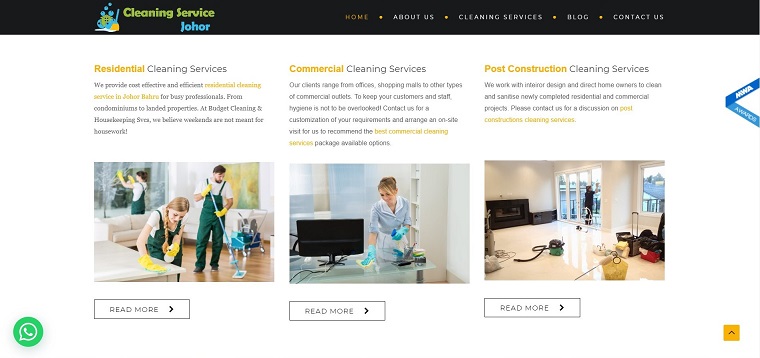 | | |
| --- | --- |
| SPECIALTY | Professional cleaning services for residential, office & post construction |
| SERVICES | Residential Cleaning Services, Commercial Cleaning Services, Post Construction Cleaning Services, Carpet Cleaning Services |
| PRICING | Contact the company for a quot |
| WEBSITE/ SOCIAL MEDIA | www.cleaningservicejohor.com |
| ADDRESS | 131, Jalan Mutiara Emas, Taman Mount Austin, 81800, Johor Bahru, Johor |
| CONTACT | +6012 674 6868 | [email protected] |
| BUSINESS HOURS | 09:00-18:00 |
Cleaning Service Johor is a professional cleaning company based in Johor Bahru. They are highly committed in providing high quality housekeeping and cleaning services to give clients the opportunity to enjoy more time with the family. Their staff is highly trained to be hospitable and trustworthy, always ensuring that their service is outstanding. Past customers praise them for their professionalism, quality of work and affordable rates.
6.   iCUCI Cleaning Service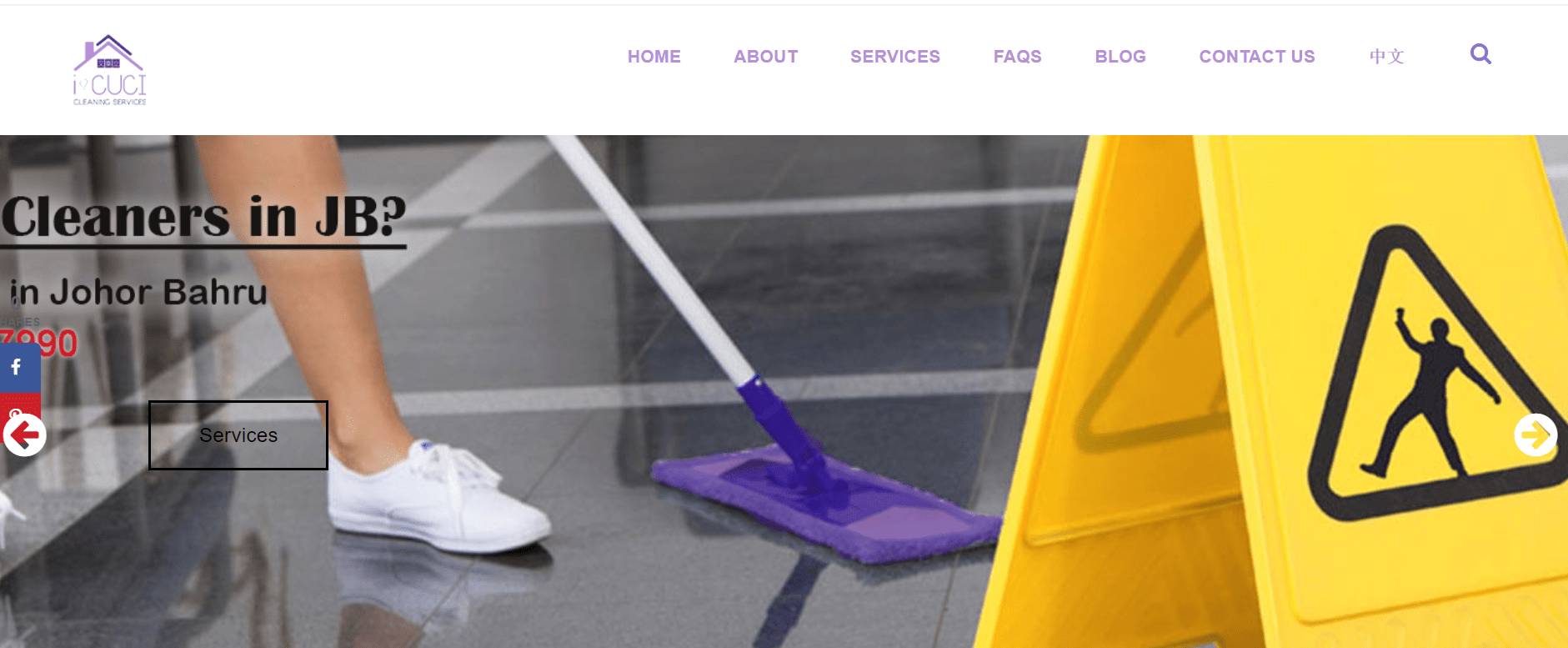 Cleanliness is an important factor to consider if one wishes to have a comfortable and habitable environment. However, not all of us have the time to personally do the cleaning ourselves. This is why we turn to cleaning companies to do the job for us, but not every company can cater to our busy schedules.
The same cannot be said for iCUCI Cleaning Service. One of their main priorities is customer service, and their dedication to this priority is noticeable in how quick they are to accommodate the needs of their clients. Just give them a call, make the arrangements, and you'll find yourself with a cleaning service that suits both your time and money.
7.  JB Goodhelper Cleaning Services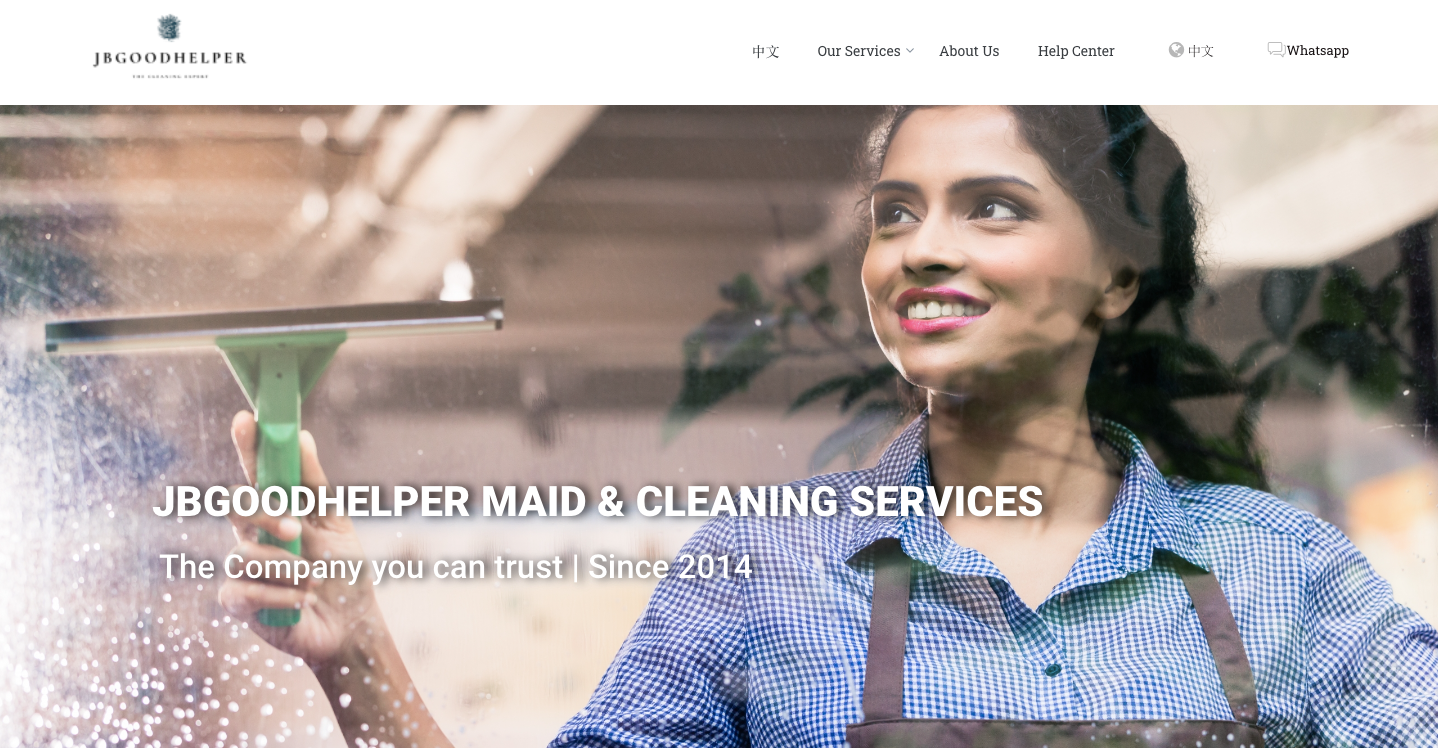 There are just those days where we really need help in cleaning our homes and offices may it be for a general cleaning or post renovation cleaning. And let's face it, it is really hard to find a company that matches the level of quality of cleanliness that we want to have in our homes and offices.
Good thing we were able to stumble upon JB Goodhelper Cleaning Services which has been providing reliable and affordable cleaning services in Johor since 2014.
They offer a variety of cleaning services depending on your needs such as General Cleaning Services, Office Cleaning Services,  Post Renovation Cleaning Services and Higiene Cleaning Services. It is impressive as these services are being done by their employees that are well-trained. They are professional cleaners with more than ten years of experience that uses the best equipment and environmentally friendly methods to keep your home clean.
Their services are money's worth for they will make sure to send people to your homes and offices with the skills that meet your requirements.
We hope that this guide will help you find the service provider that can fulfill your requirements in accordance with your set budget.