Not only is shabby upholstery noticeable but it can affect people's health and comfort level too. Its trapped dirt, pet fur, and allergens can lead to or worsen someone's asthma, coughs, or other discomforts.
Thankfully, you can avoid all those things by having your upholstery professionally cleaned. And we've listed the best upholstery cleaning in Auckland here just for that purpose.
Before we start, though, we'll delve into the rates of hiring an upholstery cleaner. Then, we will tackle the criteria we used to pick the companies we have here, followed by the list itself.
The Average Cost of Upholstery Cleaning in Auckland
Upholstery cleaning costs $167 on average or $119 to $224 based on the type and size of the chair you're having cleaned. You'll spend a lot more to have a leather chair cleaned than an ordinary one.
Smaller chairs used in the dining and office range from $10 to $80, whilst bigger loveseats, sofas, and lounge suites fetch between $60 and $300.
Make sure to mention any discounts that the company offers so you can save up on costs. And for a summary of upholstery cleaning rates in Auckland, kindly see the table below.
| | |
| --- | --- |
| Furniture | Upholstery Cleaning Price |
| Dining chair | $10 – $30 |
| Office chair | $20 – $40 |
| Ottoman | $25 – $50 |
| Armchair | $40 – $80 |
| Recliner | $60 – $80 |
| Loveseat | $60 – $120 |
| Sofa | $100 – $300 |
| Leather Couch | $200 – $500 |
The Best Upholstery Cleaning Options in Auckland
We made sure that we selected the very best upholstery cleaning options in Auckland. To do this, we used several criteria to rate each company, which are the following:
With that in mind, let's now go on to our top lineup for today!
1) Auckland Steam n' Dry Carpet Cleaning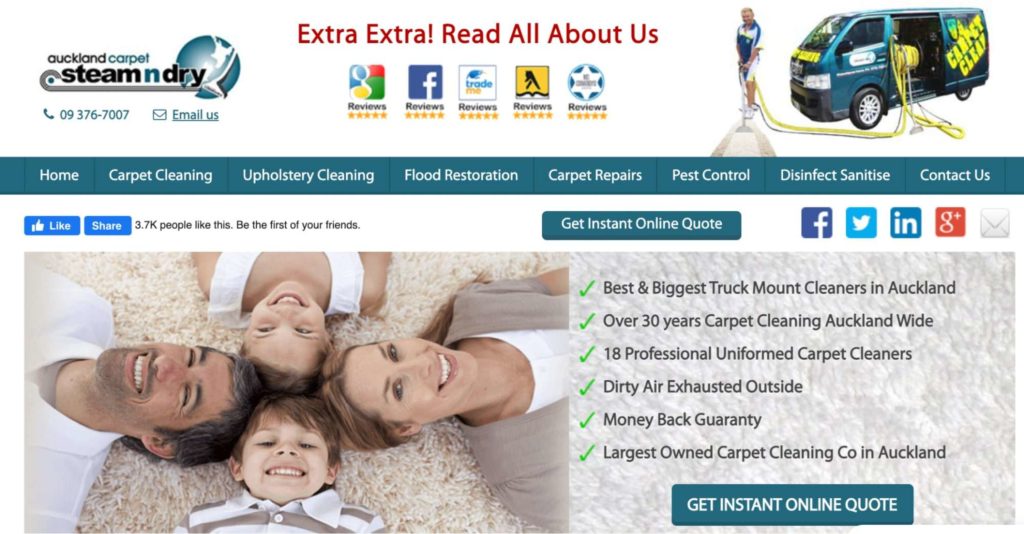 SERVICES/SCOPE
Carpet cleaning
Upholstery cleaning
Flood restoration
Carpet repairs
Pest control
Disinfection service
PRICING
Kindly enquire with them for rates
WEBSITE
https://steam-n-dry.co.nz/
ADDRESS
Auckland
129 Howe St, Freemans Bay, Auckland City Cbd 1011

North Shore
Old Lake Rd, Narrow Neck, North Shore Auckland 0627

East Auckland
162 Pakuranga Rd, Pakuranga, East Auckland 2010

West Auckland
Triangle Rd, Massey, West Auckland 0610

South Auckland
Redoubt Rd, Goodwood Heights, South Auckland 2016

Hibiscus Coast, Auckland
Riverside Road, Orewa, Hibiscus Coast, Auckland 0931
CONTACT DETAILS
Auckland: 09 376 7007
North Shore: 09 489 7784
East Auckland: 09 520 0062
West Auckland: 09 837 4545
South Auckland: 09 262 0720
Hibiscus Coast, Auckland: 09 426 5008
PAYMENT
Cash, cheques, credit cards (by phone or online)
With six locations spread across Auckland, Auckland Steam 'n' Dry is a reliable and prompt provider of carpet cleaning, upholstery cleaning, pest control, among other services.
A family-owned business since 1987, they've built an excellent reputation in thoroughly cleaning and restoring badly stained carpets, rugs, and upholstery.
It is composed of IICRC and ASD cleaning technicians with a great deal of experience. It caters to both residential and commercial clients regardless of the scope of cleaning work.
In the area of upholstery cleaning, it uses a powerful truck-mounted system that heats up to 80℃ to kill dust mites, allergens, bacteria, and germs in the furniture.
Their cleaners first assess the upholstery type, colourfastness, stains, and present damage. They only use gentle detergents to protect the furniture and make it fresh and spotless at the same time.
Whether you need to clean your sofa, bean bag, La-Z-Boy chair, or car upholstery, you can get the team to help you out.
It's also good that they give clients a money-back guarantee, if you aren't pleased with their service, even after it is improved for you.
The Auckland Steam 'n' Dry's team is on call 24/7 on weekdays and open on Saturdays. This should make scheduling with them simple and convenient.
However, some clients complained about the difficulty in getting ahold of them and their expensive rates. You have to take this into account in deciding whether or not to go with this company.
IICRC-registered cleaners
Uses fabric-friendly products
Offers a money-back guarantee
24/7 weekdays availability
Six locations around Auckland
Special offers available
Closed on Sundays
Prices aren't transparent
Complaints about price and customer service
Customer Reviews
Very thorough and professional cleaners
"Rajeev was friendly, polite and professional. He took me through the entire cleaning process of our lounge suites and his recommendations. He was very thorough and presented an absolutely superb finish. We will definitely be using the services of Rajeev and Auckland Steam n Dry. Thanks again." -Chris Thomas
Friendly, attentive, and on time
"Great fast service! Friendly and attentive n time. Carpets and couch look great! Thanks Rajeev." -Chantelle Walker
2) JAE Carpet Cleaning (Auckland West and Central)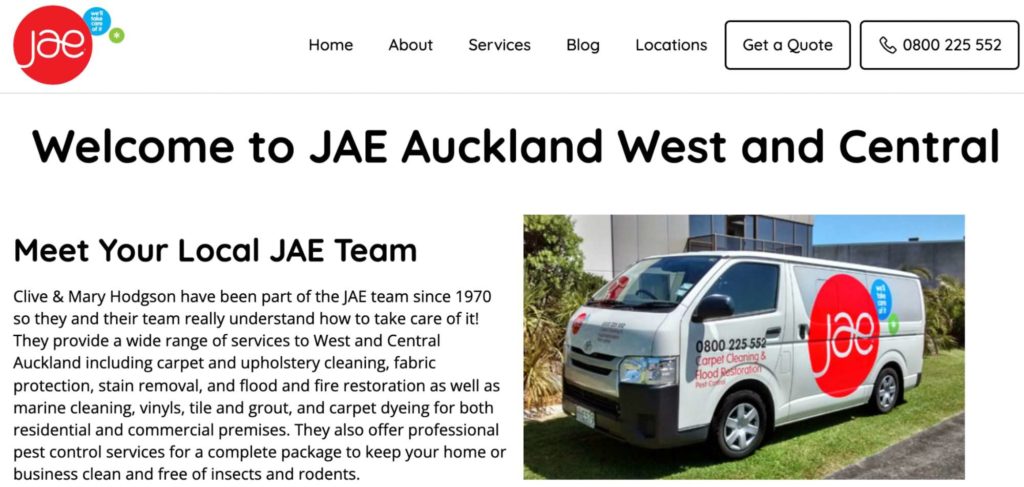 SERVICES/SCOPE
Carpet cleaning
Upholstery & leather cleaning
Stain treatment
Rug cleaning
Fabric protection
Odour treatment
Pest control
Flood restoration
PRICING
Kindly enquire with them for rates
WEBSITE
https://www.jae.co.nz/locations/auckland-west-central
ADDRESS
West & Central Auckland
29A Cartwright Road, Glen Eden, Auckland 0602 New Zealand

North Shore
1/5 Civil Place, Albany, Auckland 0632 New Zealand

South Auckland
n/13 Ryan Place, Manukau City Centre, Auckland 2104 New Zealand

Rodney
52 Roberts Road, Matakatia, Whangaparāoa 0930 New Zealand
CONTACT DETAILS
West & Central Auckland: 0800 225 552
North Shore: +64 9-415 5521
South Auckland: +64 9-262 3540
Rodney: +64 9-424 1187
PAYMENT
Please call the company for details
JAE is one of the largest carpet cleaning franchises in New Zealand. It has a branch covering West and Central Auckland, which is owned and operated by Clive and Mary Hodgson.
It offers a full range of services including upholstery & leather cleaning, carpet cleaning, stain treatment, and rug cleaning. Additionally, they perform odour treatment, flood damage restoration, and pest control to keep clients' homes clean, liveable, and mould-free.
We chose them here as one of the top choices for upholstery cleaning in Auckland because they specialise in cleaning delicate and leather fabrics. And they are equipped with special formulas and equipment to accomplish that job, unlike other cleaners.
Their cleaning process for upholstery is simple yet thorough. They aim to refresh and enhance your upholstery's appearance without damaging the textile.
So, the process starts with the team inspecting the furniture's type, colour, and age, followed by pre-treating the stains, injecting hot water and detergent onto the surface to release deep dirt, vacuuming them, going over the results with the client, and then allowing the upholstery to dry.
Most clients use this company for carpet cleaning and flood restoration. However, they said that the cleaning specialists were friendly, professional, and timely nonetheless.
Given that, the only thing they're missing is a satisfaction guarantee to give clients more confidence in choosing them.
JAE Carpet Cleaning (Auckland West and Central) serves both domestic and business clients. They are open from Monday to Friday from 8:00 AM to 5:00 PM and you can get a quote from them by phone or online.
Specialises in cleaning delicate and leather furniture
Full range of cleaning services
Uses special formulas and equipment
Thorough and simple process
Gives special discounts and promos
No satisfaction guarantee
Prices aren't indicated
Closed on weekends
Complaints about work quality and price
Customer Reviews
Very professional and friendly staff
"Thank you for your great service. You were prompt and your staff member was very professional and friendly." -Denise Lynche
Good job in removing the stains on the couch
"Really good job getting the stains out of the couch and they turned up exactly when they said they would." -Jeremy Best
3) Klever Carpet Cleaning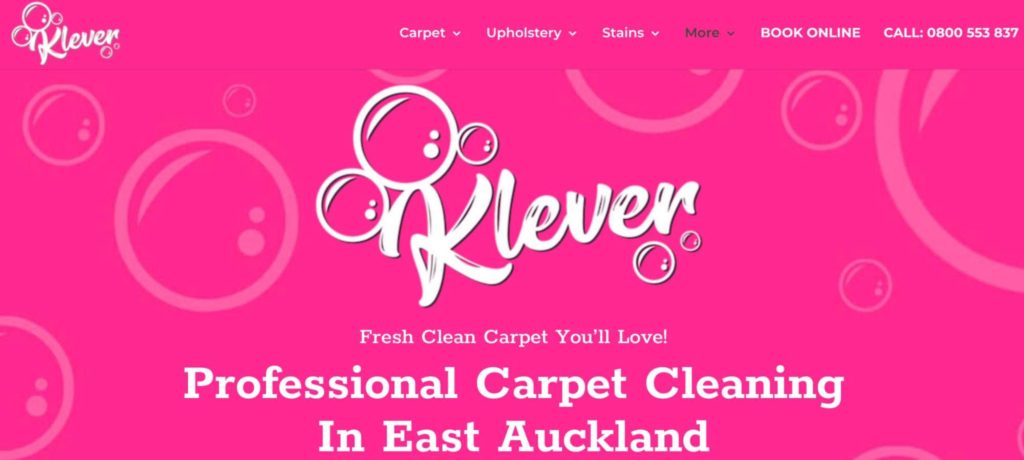 SERVICES/SCOPE
Carpet

Commercial
Tenants
Landlords
Agents & asset managers

Upholstery

Marine
Chairs
Mattresses
Couches

Stains

Coffee stains
Red wine stains
Pet stains
Blood stains
Tea stains
Gum stains
Mould stains
Traffic stains
PRICING
Kindly enquire with them for rates
WEBSITE
https://klever.co.nz/east-auckland/
ADDRESS
East Auckland
68 Finnerty Avenue, Howick, Auckland 2014 New Zealand

East Auckland
83 Whytehead Crescent, St Heliers, Auckland 1071, New Zealand

North Shore
2/113 Bond Crescent, Forrest Hill, Auckland 0620, New Zealand
CONTACT DETAILS
0800 553 837
PAYMENT
Amex, Visa, Mastercard, and PayPal
Klever Carpet Cleaning is an Auckland-based carpet and upholstery cleaner. It is adept in removing pet odours and stains stuck in valued couches, recliners, and mattresses as well.
Its dedicated cleaners are insured up to $5M to pay for any property damage costs. They also use safe and non-toxic chemicals that won't banish the upholstery colour or harm seniors, kids, and pets.
Their chosen cleaning mode is steam cleaning or hot extraction method. This is very effective in keeping your upholstery beautiful, fresh, and long-lasting.
Their upholstery cleaning package includes a specialised pre-wash according to the upholstery's kind, texture, and condition; gentle hand-scrubbing or treatment of stains and spots; and a continuous-flow, high-pressure steam cleaning.
You can even have them add a fabric protector to your furniture afterwards, if you want.
Now, what's special about them is their easy booking process. Unlike with other companies, the staff can pick up calls fast and arrange a convenient schedule for you promptly.
In addition, they accept all major credit cards and PayPal, allowing you to settle your bill easily after the service. However, their prices may be quite high relative to the service they provide, according to some clients.
Despite this, they give a senior's discount to lower the price for a bit. But, unfortunately, they don't have any other deals on their website or Facebook page.
Another perk is that they're open throughout the week, except on Sundays, round the clock. Hence, you can call them out even in the middle of the night to clean your carpets and furniture.
As you can see, for a convenient and warrantied upholstery cleaning with spotless results, we'd strongly recommend using Klever Carpet Cleaning.
Fully insured up to $5M
Uses safe, non-toxic chemicals
Easy booking process
Offers a satisfaction guarantee
Gives a senior's discount
Accepts major credit cards and PayPal
Has five locations in Auckland
Higher-priced service
No other specials besides senior's discounts
Unavailable on Sundays
Customer Reviews
Superb couch cleaning and easy to book with
"Fantastic service from start to finish – am delighted with the end result. Booking was seamless, the team were professional, and the cleaning process highly effective. My border collie had made a real mess of the carpets and couch, and now they've come up like new! Thanks Klever, will definitely be booking you again and recommending you to friends and family." -Vincent
Friendly staff who did a great job
"Even in busy Christmas season they managed to fit in my job, turned up with s smile and did a great job. Wish all service providers were this good. Highly recommend." -Chris O'Callaghan
4) CleaningPro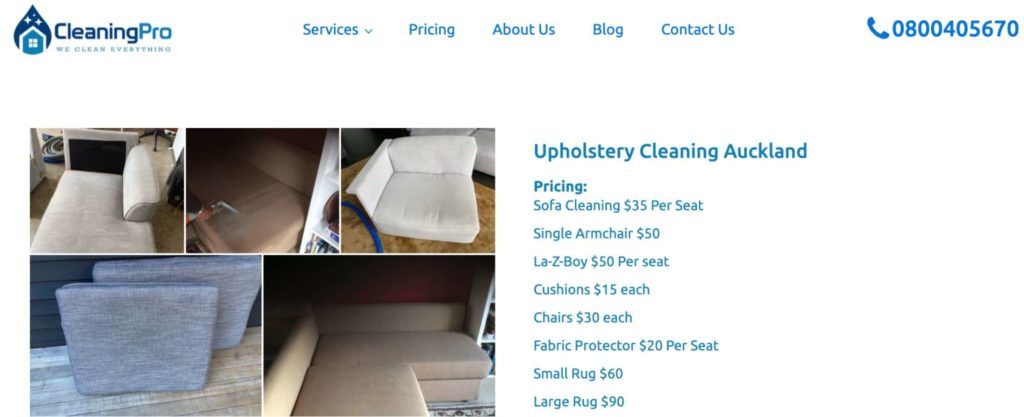 SERVICES/SCOPE
Carpet cleaning
Curtain cleaning
End of tenancy cleaning
Flood restoration
Floor sanding
Mould removal
Regular house cleaning
Tile and grout cleaning
Other cleaning services
PRICING
Sofa cleaning: $35 per seat
Single armchair: $50
La-Z-Boy: $50 per seat
Cushions: $15 each
Chairs: $30 each
Fabric protector: $20 per seat
Small rug: $60
Large rug: $90
Single mattress: $90
Double mattress: $120
*A minimum charge of $140 + GST per visit will apply.
WEBSITE
https://cleaningpro.co.nz/products/upholstery-cleaning-auckland/
ADDRESS
8/251 Lincoln Rd, Henderson, Auckland, New Zealand
CONTACT DETAILS
0800 405 670


[email protected]

PAYMENT
Mastercard, debit card, and bank transfer
Need to clean a stained leather couch or old-looking antique seat? No worries, as you can get CleaningPro to restore it to be like new again.
Based in Henderson, Auckland, they offer a comprehensive range of cleaning services for house and office settings. Some of these include house cleaning, end-of-tenancy cleaning, curtain cleaning, carpet cleaning, and mould removal.
They have a fairly good record amongst clients for being prompt and efficient. And the results for their upholstery went from dull-looking to immaculate in a matter of minutes.
By the way, the CleaningPro crew can clean most upholstered furniture that clients may have—even leather and velvet.
They follow a tried-and-tested procedure for cleaning furniture. This serves to remove its stains completely, loosen up its dirt and grease, and give it an in-depth cleaning.
They also care about the environment, which is why they only use green cleaning products. Aside from that, these items are also friendly to pets and children, so you don't have to worry.
While their prices are transparent, some customers were charged higher than quoted after the service and others felt that the cleaning results didn't live up to the amount they paid.
About their payment methods, they only accept Mastercard, debit cards, and bank transfers. So those with PayPal, Visa, and American Express cards won't be able to pay the invoice.
But at least their booking process is simple and efficient compared to other companies on this list. They can conveniently take phone, email, and online bookings, whichever you prefer.
Bear in mind, though, that they're closed on Saturday and Sunday when most people schedule an appointment with them.
IICRC-registered cleaners
Simple booking process
Great range of services
Eco-friendly cleaning products
Gives a satisfaction guarantee
Transparent pricing
Accepts Mastercard, debit cards, and bank transfers
Pricey rates
Doesn't accept Amex and Visa
Closed on weekends
Complaints about work quality
Customer Reviews
Chair looking brand new after cleaning
"Fantastic service – very prompt communication and was very impressed by their cleaning skills. My chair looks brand new! Will be using again for future." -Courtney Thompson
Prompt and professional tradesmen
"Arrived promptly proceeded to clean upholstery. Totally happy with work done and would have pleasure in referring company to others. Thank you" -Joy Sharples
5) AA Carpet Cleaning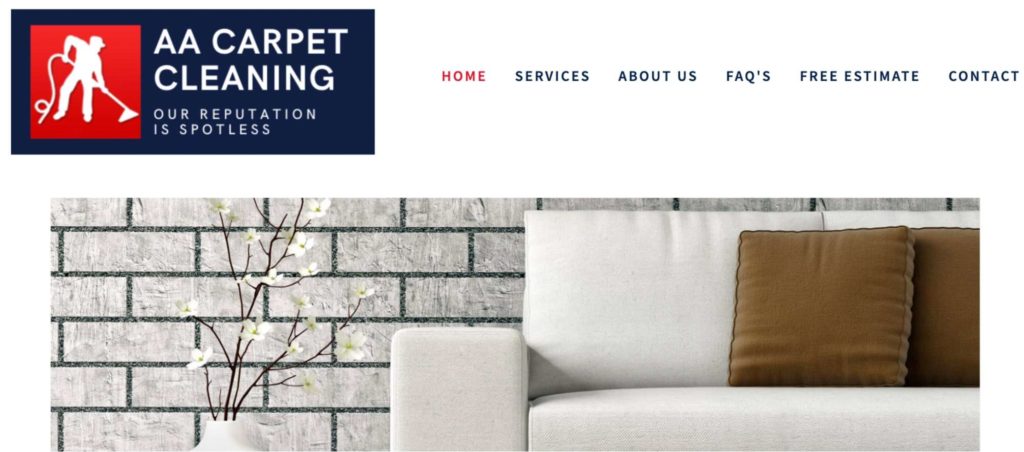 SERVICES/SCOPE
Residential carpet cleaning
Commercial carpet cleaning
Stain removal
Upholstery cleaning
Flood restoration
Pest control
Carpet repair & carpet laying
Carpet and fabric protection
PRICING
You can request a free estimate with them here
WEBSITE
https://www.aacarpetcleaning.co.nz/
ADDRESS
Waitākere, Auckland
Amreins Road, Waitākere, Auckland 0614 New Zealand

Unsworth Heights, Auckland
Jacanas Place, Unsworth Heights, Auckland 0632 New Zealand
CONTACT DETAILS
Waitākere: 09 377 5229
Unsworth Heights: +64 9-486 5546
PAYMENT
Please call the company for details
If you're looking for a fantastic upholstery cleaning company in Auckland, AA Carpet Cleaning may well be it.
Owner Matthew and his crew are fully certified and trained in carpet and upholstery cleaning. They have worked in New Zealand and Australia and have a combined 30 years' experience.
With a fleet of truck-mounted steam cleaning vehicles and a professional team in six Auckland offices, they can usually answer call-outs on the same or next day so you don't have to wait for long.
Next, they are equipped with cutting-edge cleaning equipment to give your upholstery a complete cleaning with speedy dry times. All products used are green and natural, meaning they are safe for families, pets, and the environment.
Should you have any problems with the upholstery cleaning, you can notify them within seven days and they can right it as soon as possible.
Another thing, they offer a price-beat guarantee if you find a company giving a lower price for the same quality of cleaning, service, and products they provide and use.
However, they admit that their prices aren't the most affordable, and that's because they don't intend to compromise the quality of their technology or service when performing their work.
We also picked this company for they were highly recommended by insurance companies and real estate property managers like AMI, Tower Insurance, Ray White, Barfoot and Thompson, to name a few.
In summary, for a versatile cleaning service provider, certified crew, and same or next-day service, you can give AA Carpet Cleaning a ring.
Fully trained and certified crew
Same or next-day service available
Wide range of services offered
Uses natural and biodegradable products
Guarantees their workmanship
Price-beat guarantee
Has six locations around Auckland
Relatively high rates
No special discounts and promos
Complaints about customer service and work quality
Customer Reviews
Removed a dark stain on the couch promptly
"Absolutely awesome service, spotted a really horrible stain on the couch cushion and when I lifted it up to check, discovered an even more horrific one on the bottom side. Someone has tried to hide a spill! Mark came the same day and I cannot believe the difference – it is literally like a brand new couch again 🙂 Got the carpets done at the same time, and they also look fabulous!! Highly recommend. (And might I just add, my cat hates pretty much everyone, and even SHE liked Mark!!)" -M Harrod
Fantastic and efficient service
"Fantastic service, were at my place in Clevedon in 30 minutes, job don in 20 minutes and a great result! Reasonable rate. Very knowledgeable and professional!" -Tina Ilich
FAQs about the Top Options for Upholstery Cleaning in Auckland
---
And that ends our list of the top upholstery cleaning in Auckland! If we missed a good company you know of, just let us know and we might include it here.
Do you have any comments or questions about our picks? If so, you can drop us a line and we'll be checking them out as soon as we can.
Related Articles about Auckland Upholstery Cleaning