When it comes to carpet cleaning, it's better to leave it to the professionals. Ridding your home of dust, allergens, and other pollutants might be easier with the help of state-of-the-art equipment and expert-level hot water extraction techniques. While there are several companies promising stellar cleaning services, we've put together the Best Options for Carpet Cleaning in Christchurch so you can browse through Christchurch's bests and improve the air quality in your home– starting with your carpets!
1. Carpet Care Solutions

BEST FOR
15 years of experience, 100% Christchurch, Canterbury owned and operated, IICRC-certified firm, 7-step cleaning method, charitable services, uses EPA-approved enzyme-based eco-friendly cleaning products, 7-day availability
SERVICES/SCOPE
Carpet cleaning, stain removal, upholstery cleaning, rug cleaning, odor control, carpet protection, upholstery protection, flotex cleaning
PRICING
Request for a quote online.
WEBSITE
https://www.carpetcaresolutions.co.nz
ADDRESS
12 Philpotts Road, Mairehau Christchurch 8052
Canterbury, NZ
CONTACT
03 3858777
0800 289 201
[email protected]
PAYMENT
Contact for more information
Carpet Care Solutions takes pride in going above in beyond in every cleaning job. They are IICRC certified and They use family-friendly and industry-approved cleaning solutions so you don't have to worry about your pets and children. A quick Google search for this company will show hundreds of satisfied clients. Apart from delivering stellar services, they are also proud partners of HeartKids and Child Cancer Foundation so it's all about doing service with a cause.
Following a 7-step cleaning process, it begins with pre-inspection where your cleaning technicians examine your carpet's history and its current status before deciding the right kind of service they'll render. Dry soil is then uprooted via vacuuming, spraying, and agitation. Then follows the truck-mounted, hot water extraction method where the hotter the water, the more dust, mites, and other stubborn molds can be removed and prevented. For rinsing, they use a conditioner that helps in drying faster and leaving a fresher smelling and cleaner finish. As a final touch, professional carpet groomers will finish the job and comb your carpet to bring back its full glory. Whatever type of carpet it is–carpet- wool, nylon, solution dyed nylon, smart-strand, polypropylene, sisal and flotex carpet, these guys can take on the challenge.
2. Triple Star Clean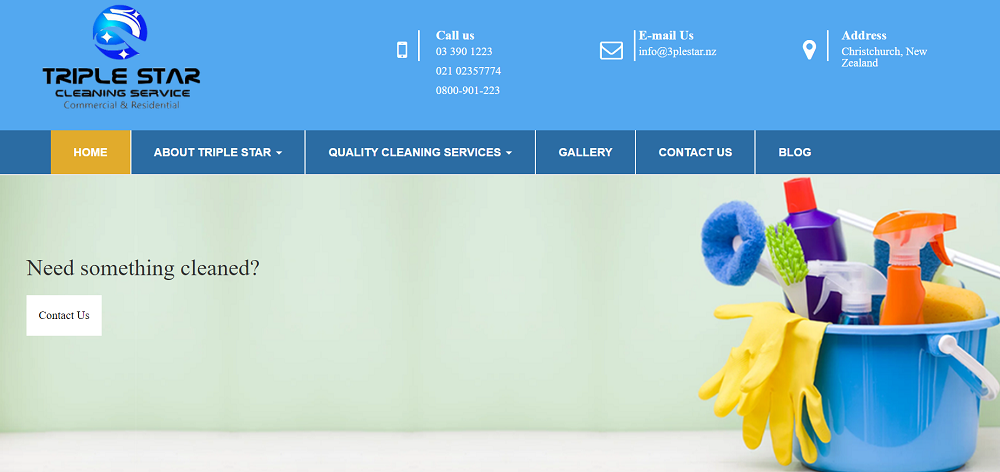 BEST FOR
Professional deep carpet cleaning
SERVICES/SCOPE
Windows cleaning, Pure windows cleaning, One off cleaning, Moving in or out cleaning, Commercial and residential cleaning
PRICING
Available upon request
WEBSITE
http://www.3plestar.nz/
ADDRESS
Christchurch, New Zealand
CONTACT
03 390 1223
021 02357774
0800 901223

[email protected]

PAYMENT
Contact for more information
We may argue that all carpet cleaning companies want their customers satisfied with their work, but the dedication that Triple Star Clean has put into it is on a different level. One of their promises is that, should a client find their services unsatisfactory, they'll complete everything — free of charge.
While promising, no one has yet to take them up on this promise. How can they? When every project that Triple Star Clean takes on, big or small, is done with the utmost care, precision, and attention to detail. If you put your trust into Triple Star Clean, you can expect stains and odours to be gone when they're through with your carpet.
3. Extreme Carpet Cleaning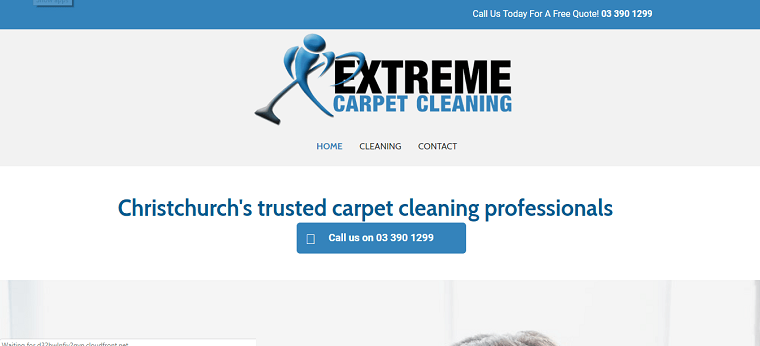 BEST FOR
Uses eco-friendly citrus-based cleaning solution, high velocity extracting system, and state of the art soil encapsulation technologies, 24/7 service availability by booking or arrangement
SERVICES/SCOPE
Carpet and upholstery cleaning
PRICING
Minimum charge of $80. See complete pricing in website.
WEBSITE
http://www.extremecarpetcleaning.co.nz/
ADDRESS
478a Gloucester Street, Linwood, Christchurch 8011
CONTACT
03 390 1299

022 160 2598

PAYMENT
Call hotline for inquiries.
Extreme Carpet Cleaning comprise of cleaning professionals that can address your specific carpet cleaning needs. With this company, they make sure that their methods are deep and thorough while maintaining a gentleness that will not damage the fibers of your carpets. They use only the safest and most environmentally friendly products for your family's health. When cleaning your carpet and upholstery, they vacuum using a commercial brush cleaner, pre spray using an eco-friendly citrus-based cleaning solution, rinse using their own hot water, extract using our high velocity system and utilize our state of the art soil encapsulation technologies. Since they use their own equipment, the only thing you need to do is sit back and relax.
Given the scope of their cleaning services, you might think that their prices go on the higher end, but they actually offer the lowest rates compared to the others in this list. If you're looking for budget-friendly and eco-friendly options without sacrificing quality service, Extreme Carpet Cleaning is for you.
4. JAE Carpet Cleaning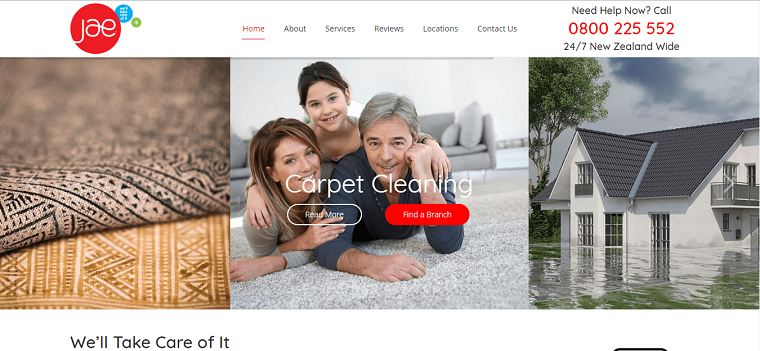 BEST FOR
Over 50 years experience in the industry, IICRC-certified, trusted service provider for New Zealand insurance companies, 24/7 helpline available,
SERVICES/SCOPE
Carpet cleaning, stain treatment, upholstery and leather cleaning, fabric protection, flood restoration, fire and smoke damage, pest control, odor treatments, oriental rug cleaning
PRICING
Request for a quote online or via hotline.
WEBSITE
https://www.jae.co.nz
ADDRESS
48 Valley Rd, Cashmere, Christchurch 8022
CONTACT
[email protected]

03 359 9004

PAYMENT
Call hotline for inquiries.
 JAE Carpet Cleaning is the oldest company in this list with over 50 years of experience in the carpet cleaning industry. This means that they have established a great reputation as being the trusted service provider of carpet cleaning services in New Zealand. Through the years, they have learned to innovate and invest on only the highest quality machines in order to provide the best services for their customers. JAE offers a total care package that cleans, sanitizes, deodorizes and protects your carpet, helping to combat allergens.
They have over 160 fleets to service more clients across New Zealand. Plus, their highly-trained and IICRC-certified cleaners can take care of all your needs, from the care of high value oriental rugs to the removal of difficult stains. With all these years of experience, there's no doubt that they are the experts in this trade.
5. The 8th Wonder Carpet Cleaning 

| | |
| --- | --- |
| BEST FOR | Truck-mounted hot water extraction system, uses an in-tank rinse solution and alkaline prespray for longer-lasting maintenance |
| SERVICES/SCOPE | Carpet cleaning, rug cleaning, upholstery cleaning, stain removal, fabric protection |
| PRICING | Request for a quote online or via hotline. |
| WEBSITE | https://8thwonder.co.nz/ |
| ADDRESS | 185 Queensbury Street, Christchurch 8061, Canterbury, South Island, New Zealand |
| CONTACT | 03 366 6230 |
| PAYMENT | VISA, Mastercard, EFTPOS |
 The 8th Wonder Carpet Cleaning admits that they don't offer the cheapest carpet cleaning services, but they promise to use only top quality sprays, rinses and machinery that are worth the investment. Apart from the truck-mounted hot water extraction system, they also use an in-tank rinse solution that is designed for effective prevention of alkaline prespray residues and residual soiling. From wool, nylon, solution dyed nylon, smart strand and polypropylene, no job is too big or small.
When it comes to preserving the quality of your carpets, don't settle for cheap services. They use world leading family friendly chemicals to tackle the most difficult tasks, leaving your carpet in a neutral state safe for your family.
6. Triple Star Cleaning Service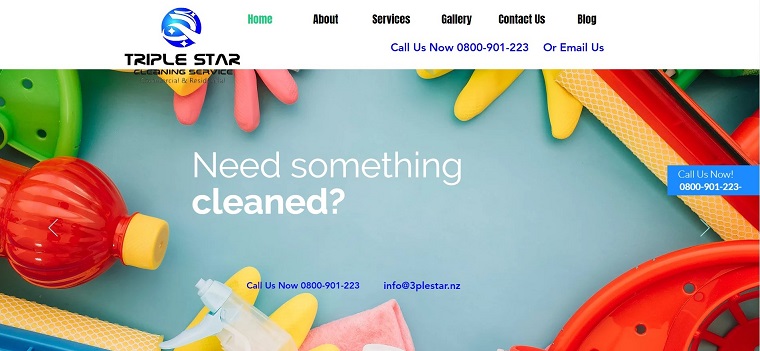 | | |
| --- | --- |
| BEST FOR | Professional Carpet Cleaning |
| SERVICES/SCOPE | Office Cleaning, Carpet Cleaning, End of Tenancy Cleaning, Window Cleaning |
| PRICING | Contact the company for a quote |
| WEBSITE | www.3plestar.nz |
| ADDRESS | Christchurch, New Zealand |
| CONTACT | 03 390 1223 / 0800-901-223 / 021 023 57774 | [email protected] |
| PAYMENT | Major credit cards |
Triple Star Clean get rids of odours, dust mites and stains from your rugs or carpet anywhere in the Christchurch area. They utilise advanced carpet cleaning systems, commercial cleaning equipment and techniques for homes that need a commercial deep clean for stains, urine, dust, mites and allergens for your carpets and rugs.
Triple Star uses state-of-the-art steam cleaning machinery to protect your investment by restoring your home's hygiene, rejuvenating and sanitising your carpets in the process and removal of embedded dust, allergens and oil in the process. This extremely convenient service maintenance is recommended in your home at least once or twice a year especially in high traffic areas to remove any stains and discolouration from rugs and carpeted surfaces to preserve your long-term investment.
7. Clean & Dry Cleaning Service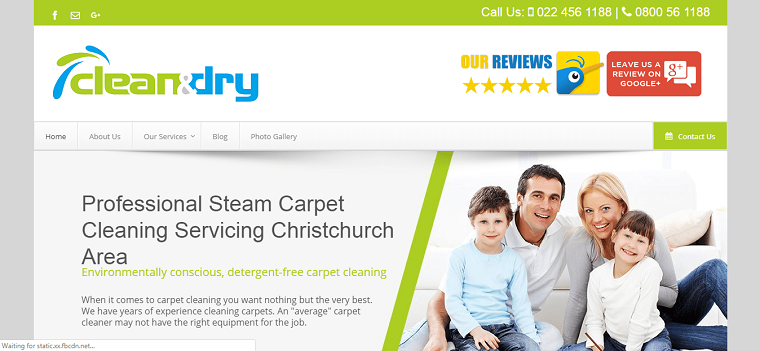 BEST FOR
10 years of experience and accountability, 6-step carpet cleaning process, environmentally-friendly and fast drying cleaning solutions, provides liability and risk insurance, IICRC-qualified team of technicians
SERVICES/SCOPE
Carpet Cleaning, Upholstery Cleaning, House Cleaning, Window Cleaning, Gutter Cleaning, Commercial Cleaning
PRICING
Request for a quote online or via hotline.
WEBSITE
https://cleandry.co.nz/
ADDRESS
Rolleston, Selwyn 7675, New Zealand
CONTACT
0800 56 1188

022 456 1188

PAYMENT
Call hotline for inquiries.
Clean & Dry Cleaning Service concentrates on environmentally conscious, detergent-free approaches to cleaning and carpet care which means that they also keep the safety of your family in mind. Their 6-step cleaning process include a hot water extraction method that uses water between 180 and 220ºF, which not only cleans the fibers, but also effectively kills bacteria, bugs and dust mites hiding away deep in your carpets. They also have their own brand of special spotting techniques for stubborn, deep seated grime that survived the extraction process. To finish, they groom your carpets to restore their state as if they're brand new.
Their technicians are IICRC-certified which seems to be the bare minimum for carpet cleaning firms in Christchurch but for more peace of mind, they offer a 100% satisfaction guarantee where excellent customer service comes first.
8. Sun Carpet Cleaning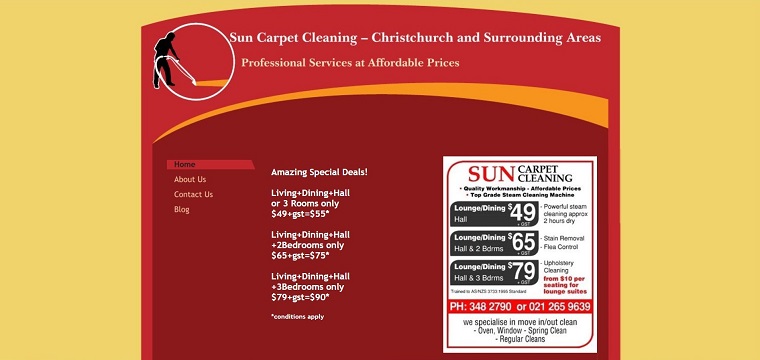 BEST FOR
Deep steam cleaning using biodegradable chemicals, affordable prices
SERVICES/SCOPE
Carpets, rugs and soft furnishings
PRICING
Living+Dining+Hall or 3 Rooms only
$49+gst=$55*Living+Dining+Hall +2Bedrooms only
$65+gst=$75*Living+Dining+Hall +3Bedrooms only
$79+gst=$90**conditions apply
WEBSITE
www.suncarpetcleaning.vpweb.co.nz
ADDRESS
Christchurch
CONTACT
0212659639 / 03-3482790 | [email protected]
PAYMENT
Founded in 2005, Sun Carpet Cleaning provides premium upholstery and carpet cleaning in the wider Canterbury region. This family owned and operated business is based in Christchurch, New Zealand. They take pride pride and care in their workmanship, making sure your carpets are clean and protected for a longer lifespan.
They specialise in cleaning all types of carpet, rugs and soft furnishings using the most advanced carpet cleaning system which is deep steam cleaning. Their process uses biodegradable chemicals which are safer to use on carpets yet really effective. After thorough cleaning, the carpet is left dry enough for walking since they extract approximately 80% of the moisture off the carpet. However, sometimes it may take 2 to 3 hours to dry completely, depending on air flow and weather.
9. Kimmie Kare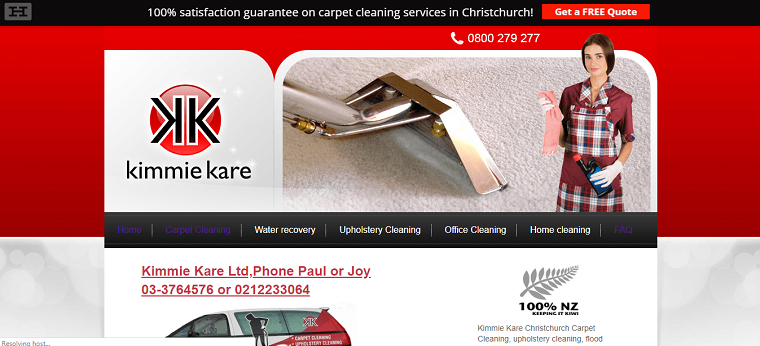 BEST FOR
Fully licensed, insured and registered company, 100% European Christchurch owned cleaning company, uses chemical-free advanced duplex steam cleaning
SERVICES/SCOPE
Carpet cleaning, water recovery, upholstery cleaning, office cleaning, home cleaning
PRICING
Starts at $110 for 3 bedroom house
WEBSITE
http://www.kimmiekare.co.nz/
ADDRESS
5/72 Barton St, Woolston, Christchurch 8023, New Zealand
CONTACT
03 376 4576

0800 279 277

PAYMENT
VISA, Mastercard, EFTPOS
Kimmie Kare believes the first impressions count so they pride themselves on the quality of their workmanship and empathize with their customer's needs. They promise no hidden add-ons and maintain that their quotes are always fair. Most importantly, they provide a 100% money back guarantee which is a testament to their confidence in accomplishing every job in a spotless manner.
For fast drying solutions, you can choose their dry cleaning method. Running at 120 degrees, the heat kills dust mites, flea larvae and any bacteria on your carpets. This system leaves your carpet dry within a half an hour. For the more common hot water extraction method, all carpets are vacuumed, treated with special cleaning agents paying attention to any specialist stain treatments that maybe required. Then these chemicals are extracted using our machines with super heated water and hyper suction. This process leaves your carpets cleaner and fresher for longer. Whatever method you choose, their 5-star ratings online is proof that they are tried and tested.
10. Sun Carpet Cleaning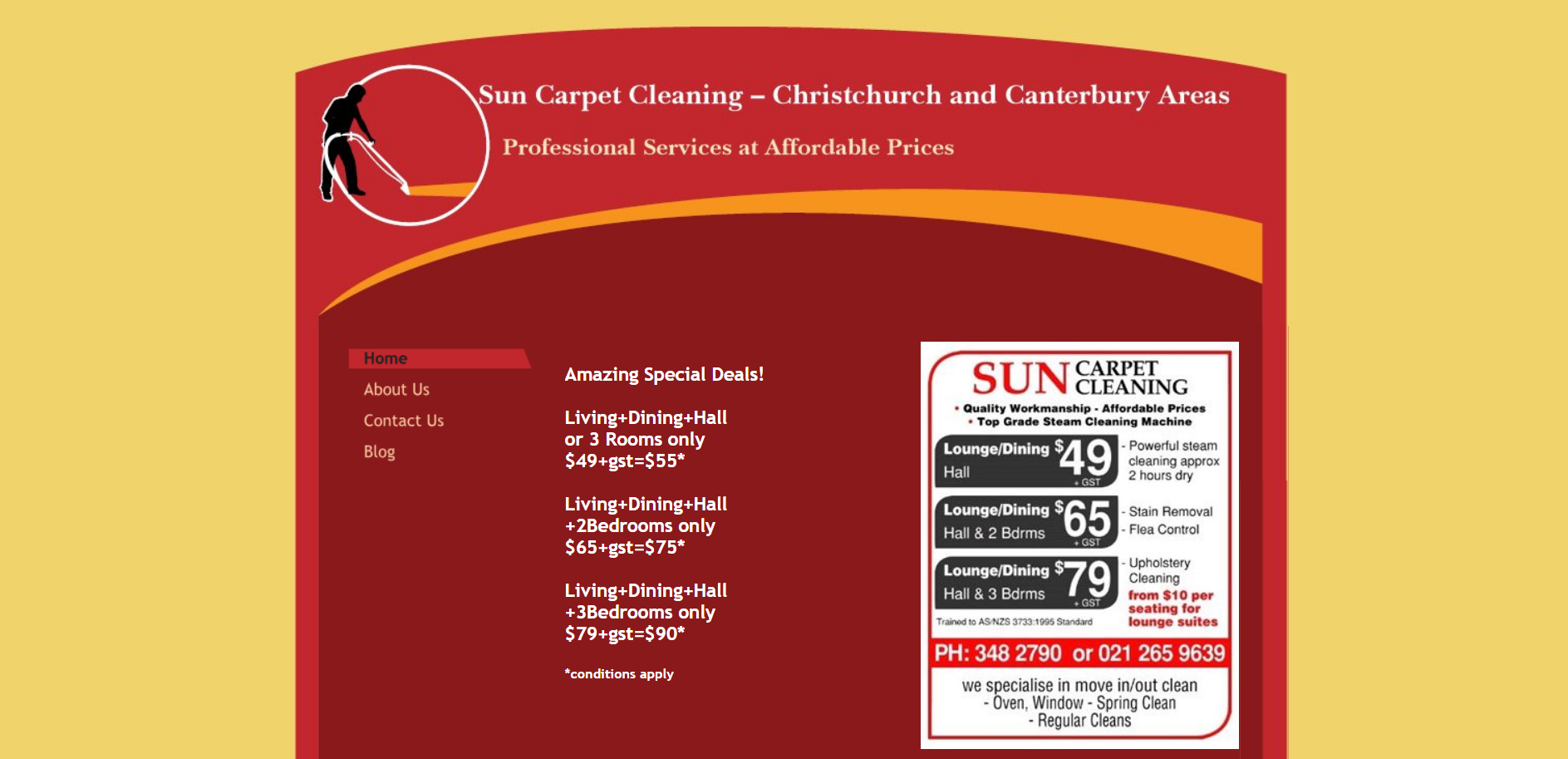 BEST FOR
Carpet cleaning
SERVICES/SCOPE
Cleaning all types of carpets, rugs and soft furnishings, oven/window cleaning, move in/out cleaning, and spring/regular cleaning
PRICING
$49.00-$90.00
WEBSITE
https://suncarpetcleaning.vpweb.co.nz/
ADDRESS
20 Epsom Rd, Sockburn, Christchurch, New Zealand 8042
CONTACT
0212659639 | 03-3482790 | 

[email protected]

PAYMENT
Contact for more details
Sun Carpet Cleaning is a professional Carpet Cleaner Canterbury, which offers all your carpet cleaning requirements.This business was formed in 2005, which offers comprehensive carpet and upholstery cleaning of Canterbury and Christchurch. Whether it is cleaning of soft furnishing materials, rugs and carpets, our service will meet your cleaning needs at affordable rates.
They offer services to the local communities seven days a week. They use the best and safest cleaning methods to retain the original look of the carpet and upholstery. Their services are swift when it comes to quality Carpet Cleaning Christchurch and they have earned acclaim from the clients over the years.