Grimy and smelly curtains aren't pleasant to have at one's home or office. They can mar your decor, attract starving mosquitoes, and contaminate the air around your bedroom or meeting room.
Therefore, it's advisable to have your curtains cleaned, especially if it's been a while. And you don't have to look elsewhere since we listed the best options for curtain cleaning in Auckland here for you!
But before that, let's first tackle the cost of curtain cleaning services in the city. By doing so, you'll know how much roughly to set aside when you call in a curtain cleaner.
How Much Does Curtain Cleaning in Auckland Cost?
Curtain cleaning varies according to the fabric and size of the curtains. That is why it's hard to give an accurate quote without any measurement or picture provided to the company.
On average, small curtains cost $40 per pair, whereas medium curtains cost $60 per pair and large curtains cost $80 per pair.
Because more work will be expended, getting delicate and heavy fabrics cleaned will equate to a higher price. The same goes for specialised mould treatment, which should start from $15 per pair.
What's more, if you opt for a pickup and delivery service, expect to pay between $50 and $80—unless, of course, the company offers it for free.
| | |
| --- | --- |
| Curtain Cleaning Service | Typical Cost |
| Small curtains | $40 per pair |
| Medium curtains | $60 per pair |
| Large curtains | $80 per pair |
| Extra-large curtains | $120 per pair |
| Curtain lining | $20 per pair |
| Curtain mould treatment | $15 per pair |
| Curtain net (lightweight) | $20 |
| Ironing | $30 per pair |
| Curtain lining replacement | $30 per sqm |
| Pickup & delivery charge | $80 |
The Best Curtain Cleaning Options in Auckland
We understand that you're looking for the top curtain cleaners in the city. As such, we rated our companies' suitability for this list based on the following criteria:
And without further ado, we bring you our list of the top options for curtain cleaning in Auckland!
1) Curtain Clinic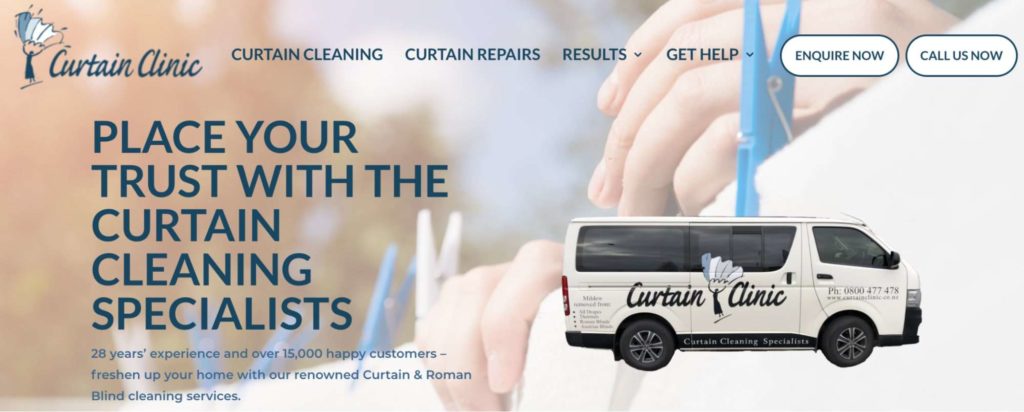 SERVICES/SCOPE
Curtain cleaning
Curtain repairs
PRICING
Kindly enquire here for pricing
WEBSITE
https://curtainclinic.co.nz/
ADDRESS
174 Great South Road, Takanini, Auckland 2112 New Zealand
CONTACT DETAILS
(09) 298 7070
0800 477 478


[email protected]

PAYMENT
All credit cards except Amex, bank transfer
Situated in Takanini, Curtain Clinic offers effective and prompt curtain cleaning and repair with a convenient pickup and delivery service at a given price.
This establishment has been formed over 28 years ago and over the years they have satisfied many thousands of customers.
For curtain cleaning and maintenance, you can avail of their three packages of bronze, silver, or gold. Here are their differences:
The bronze package is simply where you drop off your curtains in-shop to be picked up after the cleaning; the silver package is where they pick up your curtains and blinds at home to be cleaned, and the gold package involves curtain pickup and delivery as well as rehang and install services.
Given the bronze package's lower rate and simplicity, most customers choose this option. You can, of course, add curtain repair for let's say, a ripped lining or broken rings, if needed.
They have a rapid and fair 2-day cleaning turnaround for your dirty curtains to return your house's privacy, heat insulation, and energy efficiency.
Their curtain specialists can provide a thorough curtain and blind cleaning for a value-adding and spotless look evident in their before-and-after photos.
However, if you aren't delighted with their ensuing work, the curtain cleaners can remove the missed stains or re-wash your curtains promptly at zero cost thanks to their satisfaction guarantee.
So, with a quick turnaround, reliable pickup and delivery service, and 100% satisfaction guarantee Curtain Clinic is certainly one of the best curtain cleaning options in Auckland!
2-day cleaning turnaround
Three curtain cleaning packages available
Offers pickup and delivery service
100% service guarantee
Gives discounts
Closed on Sundays and public holidays
Pickup and delivery service offered on weekdays only
Doesn't take Amex payments
Doesn't clean vertical, Venetian, and wooden blinds
Customer Reviews
Straightforward and informative process
"The process of arranging to have my curtains cleaned was straightforward, informative and professional. They were returned to me in wonderful condition and looked new. It had been 10years since they were originally hung. Very happy customer/client. Thank you" -Lindie Knight
Great service and drape cleaning
"Thanks Team, you were fantastic right from first phone call to final drop off. Professional, friendly and efficient. Kept informed during the process and appreciated the advice I received. Nice to deal with a business who has a great service and of course my drapes look great! :)" -Karen and Mike Pennycook
2) CleaningPro Auckland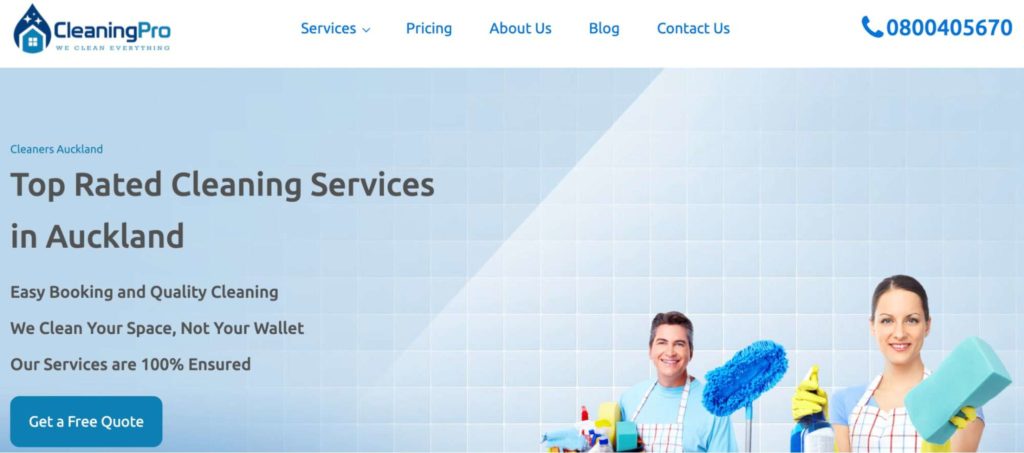 SERVICES/SCOPE
Carpet cleaning
Curtain cleaning & repair
End of tenancy cleaning
Flood restoration
Floor sanding
Mould removal
Regular house cleaning
Tile and grout cleaning service
PRICING
Small curtains: $40 per pair
Medium curtains: $60 per pair
Large curtains: $80 per pair
Extra-large curtains: $120 per pair
Curtain lining: $20 per pair
Curtain mould treatment: $15 per pair
Curtain net (lightweight): $20
Ironing: $30 per pair
Curtain lining replacement: $30 per sqm
Pickup & delivery charge: $80
WEBSITE
https://cleaningpro.co.nz/products/auckland-curtain-cleaning-service/
ADDRESS
8/251 Lincoln Rd, Henderson, Auckland, New Zealand
CONTACT DETAILS
0800 405 670


[email protected]

PAYMENT
Mastercard, Visa, American Express, and bank transfer
CleaningPro is a preferred all-around home and business cleaner in the country. Amongst other services, it offers curtain cleaning, blind cleaning, and repairs to make furnishings neat and hygienic.
Whether your curtain type is chenille, tapestry, damask, velvet, or another fabric, their team is knowledgeable with and use only the appropriate cleaning products and solutions for a great outcome.
They also have high-powered dirt extraction equipment to deep-clean your curtains no matter how dark and neglected they first appear.
Additionally, they can handle curtains with unsightly moulds and germs that pose a health risk, especially to older people and kids with asthma or allergies.
All the rates are displayed online for curtain cleaning and repair. Unfortunately, they don't offer free pickup and delivery service and it costs the same as their large curtain cleaning service.
Booking with this company is a piece of cake. You just have to visit their website and click their booking button, which there are a few of on the page.
Although they take bookings 24/7, the office is only open from Monday to Friday between 8:30 AM and 5:30 PM.
They accept major credit cards like Visa, Mastercard, and American Express. But, should you wish to pay by bank transfer, they can accommodate that need as well!
Best of all, CleaningPro Auckland is known to respond quickly from the time clients call them. And they offer a doubt-busting satisfaction guarantee in case the service fails your expectations.
Licensed and background-checked cleaners
Offers curtain repair service
Gives a satisfaction guarantee
Accepts major credit cards
Closed on weekends
Doesn't seem to have any discounts
No free pickup and delivery
Customer Reviews
Breathed new life into the curtains
"I had 3 lots of bedroom curtains that had not been cleaned for a very long time and had Mould. Cleaning Pro came when they said they would phoning 20 minutes before took the curtains away and they have come back like New. Never think your curtains can't be revived. These people breath new life into curtains you think you should replace at a fraction of the cost of new. Highly recommend them." -Camdale Gooden
Very successful curtain cleaning result
"I am really impressed with the job CleaningPro did. They did a mould treatment on the lining of a large natural linen curtain and dry-cleaned the curtain itself They had to seperate the lining from the curtain so the mould treatment wouldn't effect the colour of the linen… very successful result and the curtain no longer holds the icky smell it had acquired." -Sarah Munro
3) Shore Restore Curtain Cleaning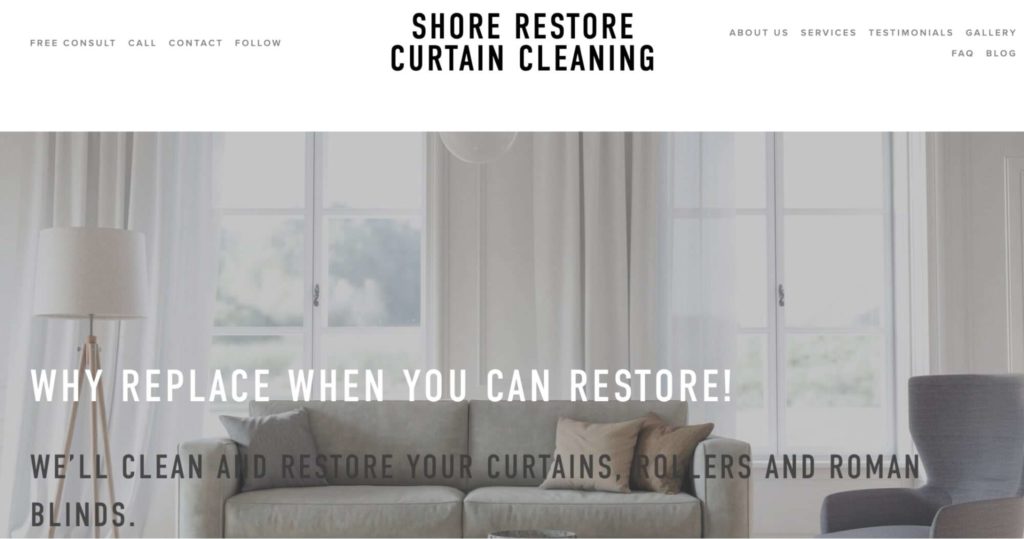 SERVICES/SCOPE
Curtain cleaning
Roller and roman blind cleaning
Mould removal
Repairs and restringing
PRICING
Kindly enquire here for pricing
WEBSITE
https://www.shorerestore.co.nz/
ADDRESS
32 Sunset Road, Unsworth Heights, Auckland 0632, New Zealand
CONTACT DETAILS
+64 9-444 5527
021 30 35 40


[email protected]
Shore Restore is based in the North Shore of Auckland and is led by a husband and wife team. They strive to keep their team small so the customer will get a personalised experience every time.
If your curtains or drapes have mould stains, worry not, as the company can treat and remove them completely. In fact, this is their speciality and many clients come to them for this service.
Their process of mould removal starts with the inspection of the fabric and if it is colourfast. If it is, it's safer so they will go on to wash and remove the mould, sun-yellowing, grime, and odours.
Besides that, they can fully clean and repair curtains and all their components regardless of type. Some of what they handle are thermal, taffetas, sheers, bumph-lined, and interlined curtains.
Pickup and delivery service is offered by this company if you have time to drop off the curtains at the shop. Unlike other curtain cleaners, this will also include rehanging so there's no need to do anything.
However, keep in mind that the business is only open during weekdays. If you are in a hurry, you can just consult with the team in advance.
For their downsides, we didn't find a mention of a satisfaction guarantee on their site or social media. So, we suggest clarifying with the team beforehand.
With that in mind, anytime you need curtain and roman and roller blind cleaning, you can dial for Shore Restore. And as clients can attest to, they can make your curtains look great and lush again.
Great at curtain mould removal
Strives to give a personalised service
Pickup and delivery service available
Gives discounts
Closed on weekends
No mention of a satisfaction guarantee
Does not clean Venetian and vertical blinds
Customer Reviews
Great-looking curtains and quick response
"Curtains look great thank you. Great service. Quick and great communication. Good set up to deal with contactless business during lockdown. Highly recommended." -Peter Mount
Smelt and looked fresh and clean
"Ange and her team cleaned some second hand curtains I bought off trade me … They came up like new !! Seriously !! Smelt and looked so fresh and clean. Speedy service as well. I was absolutely stoked. Highly recommend !!!" -Jodi Frost
4) Textile Curtain Cleaning

SERVICES/SCOPE
Curtain cleaning and repair
Blind cleaning and repair
PRICING
Kindly enquire here for pricing
WEBSITE
https://www.textilecleaning.co.nz/
ADDRESS
5A Kaimahi Road, Wairau Valley, Glenfield, Auckland
CONTACT DETAILS
09 473 5350
09 426 4690


[email protected]

PAYMENT
Cash, cheque, internet transfer, and credit cards
Based in Glenfield, Auckland, Textile Curtain Cleaning provides cleaning and repair services for all kinds of curtains, drapes, and blinds, including delicate fabrics.
For over two decades, they've served many residential and commercial clients. These include homeowners, investors, entrepreneurs, property managers, schools, clinics, amongst other clients.
Their crew follows an effective ten-step process to totally clean your furnishings. With the best methods and products, they can also carefully remove obvious stains, moulds and mildews.
In case you need them to rehem or reline your curtains, they can also help you but for an extra fee. Also, they can rent substitute curtains too until the cleaning for yours is done.
They produce sparkly clean and germ-free curtain results, as former clients can attest to. However, some clients complained about their curtain cleaning quality and high prices.
Pickup, delivery, and rehang service is available, though they give discounts for those who drop off the items in-shop.
Not sure whether they can get the job done correctly? They guarantee clients' utmost satisfaction with their curtain and blind cleaning services.
Another strength of this company is its variety of payment modes. They take cash, cheque, credit cards (except Amex and Diners Club), and bank transfers—more than others we've listed so far.
Plus, you can enquire about the price through the link provided in the table above. For a more straightforward way, you can just ring or email the company.
One of the top curtain cleaning options in Auckland, Textile Curtain Cleaning can be a great choice if you want your home or business curtains and blinds to be wonderful, clean, and fresh.
Cleans all types of curtain fabrics
Careful 10-step process
Pickup and delivery service available
Offers a discount for drop-off service
Guarantees client's satisfaction
Accepts a variety of payments
Closed on Sundays
Doesn't take Amex and Diners Club
Complaints about curtain cleaning quality and price
Customer Reviews
Gave good-quality work and value for money
"I have been getting my curtains cleaned by Textile Curtain Cleaning for years. They have always collected and returned the curtains within a few days. The quality is always good and value for money." -Debbie
Fantastic curtain cleaning result
"Very friendly service from the moment I first rang them. Curtains look fantastic- they were smelly and marked badly from mildew. Good turnaround time." -Anne Jenkins
5) Zenith Curtain Cleaning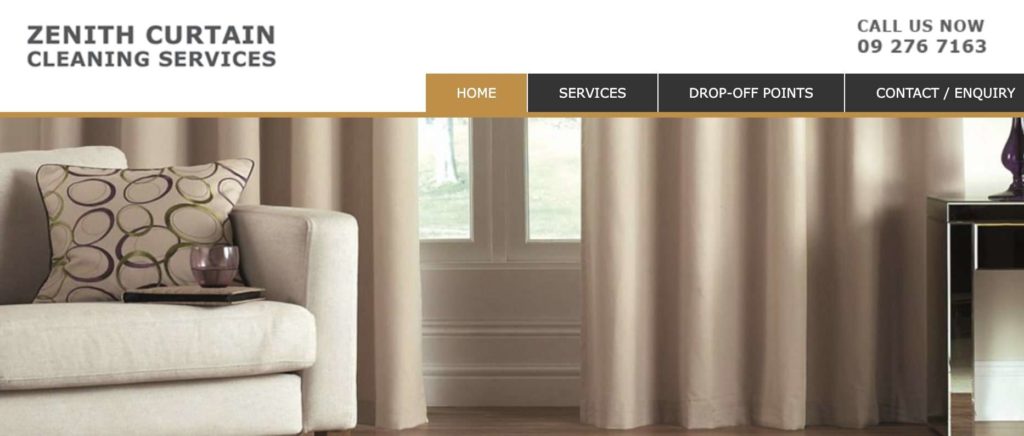 SERVICES/SCOPE
Curtain cleaning and repair
Blind cleaning and repair
PRICING
Kindly enquire with them for pricing
WEBSITE
http://www.zenithcurtains.co.nz/
ADDRESS
119 Gt South Rd, Otahuhu, Auckland, New Zealand
CONTACT DETAILS
09 276 7163


[email protected]

PAYMENT
COD
For a convenient end-to-end curtain cleaning service from unhanging to dry cleaning to re-installation, you might want to go for Zenith Curtain Cleaning.
It boasts having over 35 years of experience in curtain and blind cleaning and repair. They can work on all sorts of fabrics and lining to breathe new life into your drapes and blinds.
As we mentioned, their chosen method is dry cleaning to lightly wash and quickly dry your curtains. If you have any pet or wine stains you want to get rid of, you'll be glad to know that they have specialists that can help.
You can call them for a pickup and delivery service around Auckland. If you want to save money, you can also drop off your grubby furnishings in one of their several urban drop-off points.
All is well with that but they have some cons in certain areas. First is their weekend unavailability but they can assist you on a Saturday if you set up an appointment with them.
Next are some complaints regarding giving a higher quote than the original estimate. Moreover, they offer zilch special offers on their webpage in the meantime.
In addition, the after-service COD payment can be convenient for some people, but not be for others who prefer to use credit card or bank transfers as payment.
Despite all of that, they back up all their services with a satisfaction guarantee, which can help in case you're unsatisfied with their work and want to have it redone.
So if you want super-clean curtains, a convenient delivery service, great communication, and are good with paying by cash on delivery, then we recommend Zenith Curtain Cleaning to you.
Also, since they have no contact form, you would have to get in touch with them by phone or email.
Specialises in dry curtain cleaning
Pickup and delivery service offered
Several Auckland drop-off points
Gives a satisfaction guarantee
Accepts COD payments
No special offers as of now
Only has one payment method—cash
Normally closed on weekends and public holidays
Complaints about giving a more expensive quote
No contact form
Customer Reviews
Smelled divine and look new
"This is the second time I have used Zenith Curtain Cleaning and have been pleased both times. I recently had them clean a large pair of curtains which at twenty years of age were somewhat grubby especially the lining. They were taken away and returned on time as agreed which was really important to us. When they were returned they smelled divine and look as good as new. Yes maybe I could have bought a pair of "ready mades" for a similar price but am pleased to have given my classic expensive drapes a new lease of life. Thanks Zenith." -Glenda Carter
Excellent and prompt service
"Excellent prompt service. Took them down when they said they would and hung them for me after even thought i changed the day of return." -Gary Rogers
FAQs about the Top Options for Curtain Cleaning in Auckland
---
And that's all for our list of the best curtain cleaning in Auckland. With them, your house or shop curtains can look clean and beautiful year-round.
Any questions or comments about our picks at all? If you have any, you can message us and we'll get right back to you.
Related Articles about Curtain Cleaning in Auckland