If you are a busy professional, leisure time is a luxury and spending that time cleaning takes away the possible precious moments you can spend with your family and friends. Luckily, there are cleaning companies around Malaysia that can wipe away your cleaning and sanitation worries. We have compiled a list of the best cleaning services in Malaysia to enable you to make good use of your free time and let you focus on your work and your leisure instead.
1.  Kleencon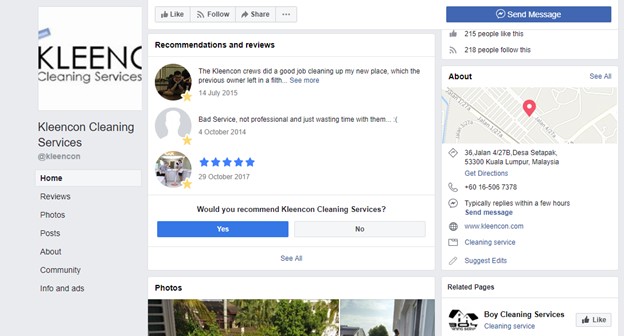 BEST FOR
Hourly pricing, detail-oriented cleaning methodology
SERVICES/SCOPE
Glass Cleaning, Building Façade Cleaning, Tile Washing & Scrubbing, Floor Vacuuming, Move In/Move Out Cleaning, Post-renovation Cleaning, Carpet Cleaning, Upholstery Cleaning, Swimming Pool Cleaning,
PRICING
Contact for a quote
WEBSITE
https://www.facebook.com/kleencon/
ADDRESS
36,Jalan 4/27B

Desa Setapak

53300 Kuala Lumpur

CONTACT
+60 16-506-7378 | [email protected]
PAYMENT
Online payment via credit card through service finder website, cash or cheque direct to the company
Kleencon is a well-regarded cleaning service company in Malaysia. They provide honest and professional home and commercial cleaning to their customers, which is why they are highly rated. On top of that, they offer hourly pricing based on the size of the area. They are even transparent about it to their clients.
With Kleencon, you can look forward to a thorough cleaning of your space. The company has a detail-oriented cleaning procedure, thus you can come home to a place where every speck of dust or grime has been removed. You can rest assured as well that the cleaning crew will take care of your belongings. They are very particular with their cleaning materials and supplies to ensure they do the job well and still be gentle on the home.
Kleencon's scope is in and around Kuala Lumpur and Selangor. If you are living in the area, you can try this company.
2.  Ladiknaulah Cleaning Services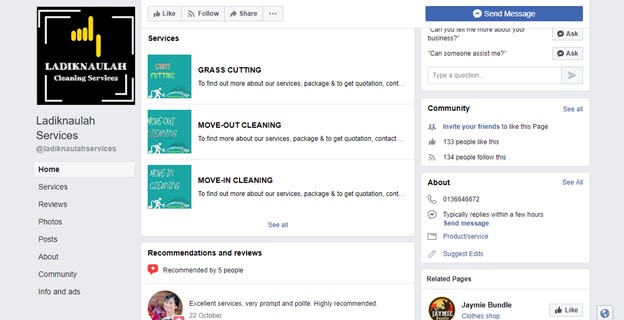 | | |
| --- | --- |
| BEST FOR | Promptness, polite service crew, post-renovation cleaning services |
| SERVICES/SCOPE | Grass Cutting, Move In/Move Out Cleaning, Post-renovation Cleaning, Commercial Cleaning, Home Cleaning, Handyman Contractor, Furniture Repair, Sofa & Mattress Cleaning, Waste Management, |
| PRICING | Request a quote by phone or through the company's Facebook page. |
| WEBSITE | https://www.facebook.com/ladiknaulahservices/ |
| ADDRESS | Klang Valley |
| CONTACT | +60 13-664-6672 |
| PAYMENT | Cash or cheque |
Ladiknaulah Cleaning Services crews are known for their politeness and promptness. They are easy to communicate with, especially when you have special instructions. Even if you make your request on the spot, they can complete it and they do it as thoroughly as other pre-arranged services. Because of this, they have earned glowing reviews from their previous customers.
Ladiknaulah Cleaning Services is especially known for its grass cutting and post-renovation cleaning. The former is what sets them apart, as there are barely any cleaning company that can help you keep your lawn or garden neat and green. As for the latter, many customers remarked at how systematic the service crew's housekeeping is. Thus, you can rest assured that they will give you an immaculate space after you have spruced up your home.
3.  OASSIST Sanitizing & Sterilizing Services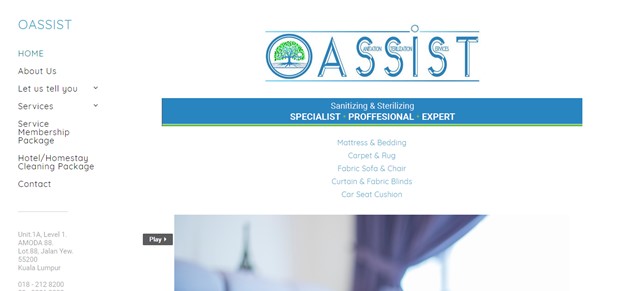 BEST FOR
Upholstery and curtains cleaning, carpets and rugs cleaning, sanitization and sterilization techniques from abroad
SERVICES/SCOPE
Mattress & Bedding Cleaning, Carpet & Rug Vacuuming & Sanitization, Fabric Sofa & Chair Cleaning, Curtain & Fabric Blinds Cleaning, Car Seat Cushion Cleaning, Hotel & Airbnb Cleaning Packages, Strong Vibration Vacuuming, Steam Cleaning, Spraying & Extraction Cleaning, Ultraviolet Cleaning, Odor Removal, Room Air Sanitization
PRICING
Pricing depends on the service you require. You can request a full quote by contacting the company
WEBSITE
http://osss.com.my/index.html
ADDRESS
Unit.1A, Level 1.

AMODA 88.

Lot.88, Jalan Yew.

55200 Kuala Lumpur

CONTACT
+60 18-212-8200 | +60 3-9226-3222 | [email protected]
PAYMENT
Cash or cheque
OASSIST is a cleaning company that focuses on cleaning your upholstery and curtains and even maintaining the shine of your car seat cushions. They have served private homeowners, hotel owners, and homestay proprietors who were all satisfied with their services. As such, the company has become a leading cleaning services provider in Malaysia.
With OASSIST, you can look forward to a fully sanitized and sterilized home. They use techniques from abroad that ensure that, such as strong vibration vacuuming from the USA and ultraviolet cleaning tools from South Korea. Moreover, the services ensure that your clean home does not have any traces of the cleaning supplies they used. With their odor removal and room air sanitization procedures, you are relieved of indoor air pollution that can cause you to be ill.
4.  Ace & Shine Cleaning Services
BEST FOR
Well-trained cleaners and maids, tailored cleaning packages, satisfaction guarantee, online booking
SERVICES/SCOPE
Residential Cleaning, Commercial Cleaning, Move In/Move Out Cleaning, Post-renovation Cleaning, Dusting of Accessible Surfaces, Cleaning & Vacuuming Floors, Waste Management, Cleaning & Sanitization of Bathrooms & Toilets, Wiping of Kitchen Appliances Exterior, Extra Services Upon Request
PRICING
From RM 90 per visit for basic home and office cleaning. Other cleaning packages also available.
WEBSITE
http://www.aceandshine.com/
ADDRESS
38, Jalan SS 2/10

47300 Petaling Jaya

Selangor

CONTACT
+60 10-799-9987 | [email protected]
PAYMENT
Cash payment or bank transfer
Ace & Shine Cleaning Services is a company that is proud of their well-trained and professional cleaning staff. That is why you can look forward to a spotless home or office when you book a one-time cleaning crew or a regular house cleaner from the company. They ensure your satisfaction with their services and even offer a satisfaction guarantee. If you are not wholly happy with their cleaning, just let them know within 24 hours and they will re-clean your specified areas.
Moreover, Ace & Shine Cleaning Services is extremely flexible. They may have standard cleaning packages but they tailor them to your needs too. As such, they can adapt to your unique cleaning requirements. Despite that, working with the company is not a hassle. They bring all the cleaning equipment and supplies required to carry out the job so you can just sit back, relax, and wait for your home or office to be spick and span.
5.  Ultra Cleaning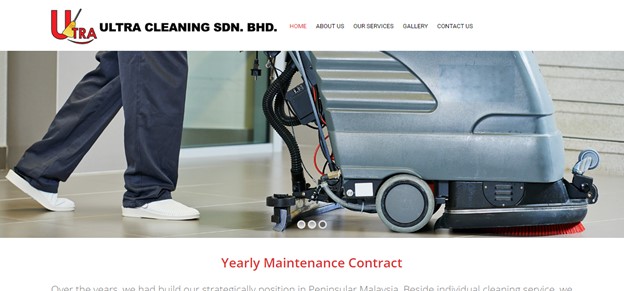 BEST FOR
CIDB certification, well-trained and highly skilled service crews, individual cleaning service, yearly maintenance contracts
SERVICES/SCOPE
External High Rise Cleaning, External Façade Cleaning, Post-renovation Cleaning, Post-construction Cleaning, Spring Cleaning, Move In/Move Out Cleaning, Initial Cleaning, Floor Cleaning, Carpet & Upholstery Cleaning,
PRICING
From RM 80 for 4 hours or RM 20 per hour
WEBSITE
http://ultracleaning.com.my/
ADDRESS
51, Jalan Puteri 5/7

Bandar Puteri

47100 Puchong

Selangor

CONTACT
+60 3-8066-7990 | [email protected]
PAYMENT
Cash or bank transfer
Ultra Cleaning is a company that has received certification from CIDB. This proves that they are a top-notch company you can count on for your one-off and contractual cleaning and maintenance needs. They have well-trained and highly skilled service crews who can clean the windows and facades of high-rise buildings. You also do not have to be concerned about the safety and insurance of the workers, as they are approved by KDN. Thus, they have the necessary knowledge, skills, and permits to provide this level of service. On top of that, they have annual medical check-ups to make certain that they are fit for the rigorous cleaning services required of them.
Aside from being adept at cleaning the exterior of buildings, Ultra Cleaning's service crews are also thorough when it comes to the interiors of offices and homes. They can help you spruce up your residence with a once-in-a-while spring cleaning, moving in and moving out housekeeping. They also provide initial cleaning for commercial spaces before they open up.
Whatever kind of cleaning service it is, you can count on Ultra Cleaning to deliver it to you.
6.  Double Care Cleaning Services
BEST FOR
One-stop cleaning services; Experienced cleaning crews; Residential & commercial cleaning; Certified cleaning equipment
SERVICES/SCOPE
Residential Cleaning, Office or Commercial Cleaning, Event Cleaning, Carpet Cleaning, Floor Polishing, Window or Glass Cleaning, Post Renovation Cleaning, Pre Move In Or Move Out Cleaning, Post Construction Cleaning
PRICING
Contact the company for a quote
WEBSITE
www.doublecarecleaning.com.my
ADDRESS
LOT UG-10 & 11, Jalil Link 2,
NO.5, Jalan Jalil Perkasa 1,
57000 Bukit Jalil,
Kuala Lumpur Malaysia
CONTACT
016-310 0262 | [email protected]
PAYMENT
Double Care Cleaning Services offers a full-range and excellent quality of cleaning services in KL, Klang Valley & Selangor in Malaysia. They have a team of experienced cleaning crews which cater to all residential and commercial cleaning needs of clients. You can avail their cleaning services in hourly, weekly or monthly basis.
Double Care's professional cleaning crews can transform a dirty and messy space into a clean, shiny and dust-free environment.They use proper, safe and certified cleaning equipment to carry out their cleaning job within safety measures and standards. Among their strengths are quality, efficient and convenience which they intend to preserve in line with their objectives.
7.  LCH Cleanup Services
BEST FOR
Complete home cleaning, affordable cleaning services
SERVICES/SCOPE
Floor Sweeping & Cleaning, Window Cleaning, Laundry, Vacuuming, Doing the Dishes, Home Cleaning, Office Cleaning, Post-renovation Cleaning, Spring Cleaning, Move In/Move Out, Before/After Event Cleaning
PRICING
RM 150 for 2 sessions
WEBSITE
http://www.cleanup.my/
ADDRESS
9, Jalan PJU 5/20A

Kota Damansara

47810 Petaling Jaya

Selangor

CONTACT
+60 11-1111-9829 | [email protected]
PAYMENT
Cash, cheque, or bank transfer
LCH Cleanup Services provides residential and office cleaning in the Kota Damansara area. They ensure that your home and working space is immaculate by scrubbing, sweeping, and vacuuming your floor surfaces. They also take care of the grime, dirt, and oil that cling to windows so you have a good view of your surroundings. Aside from these housekeeping jobs, the company can also take on your laundry loads—washing, drying, and folding them. Moreover, any dishes, utensils, and kitchen implements on the sink do not escape the attention of the housecleaning crew. They can clean and stack them nicely so you can just relax when you get home.
8.  Flowy Cleaning Services
BEST FOR
General home cleaning, responsive customer service, promotions
SERVICES/SCOPE
Living Room & Bedroom General Cleaning, Kitchen General Cleaning, Bathroom General Cleaning, Move In/Move Out Cleaning, Rug Cleaning, Post-event Cleaning, Post-construction Cleaning, Deep Cleaning
PRICING
Request a quote
WEBSITE
https://www.facebook.com/flowycleaningservices/
ADDRESS
15a, Jalan SG 1/8

Taman Perindustrian Bolton

68100 Batu Caves

Selangor

CONTACT
+60 3-9520-110 | +60 17-720-0539
PAYMENT
Cash or bank transfer
Flowy Cleaning Services began its operations in 2017 but it is steadily growing. They are a top-rated cleaning service provider because of their punctual service crews who are very thorough in completing their responsibilities. As such, plenty of customers have been satisfied that they would recommend the company to their family and friends.
Flowy Cleaning Services may provide a general sweep of the different rooms of your home but you can expect it to be exhaustive. Cleaning crews can also take additional instructions from you and will follow them to the letter. They are fast, thus you can be confident that they can finish cleaning the required areas within the allotted time.
Moreover, as if it is not an affordable service already, Flowy Cleaning Services has promotions that drive their prices down further. You can take advantage of these and get a quality yet complete sweep at less the cost.
9.  Maideasy
BEST FOR
Wide service coverage, Android and iOS app, live calendar of cleaners' availability, trained local cleaners, fully vetted cleaners, general and special home cleaning services
SERVICES/SCOPE
Dusting & Wiping of All Surfaces, Organization of Furniture & Other Items, Mopping & Vacuuming of Floors, Waste Management, Changing of Bedsheet, Making Up of Beds, Organization of Clothes & Other Items, Washing of Used Kitchen Utensils, Cleaning of Kitchen Appliances' Exterior, Scrubbing of Bathroom Sinks & Toilet Bowls, Move In/Move Out Cleaning, Spring Cleaning
PRICING
From RM 100 per session
WEBSITE
https://www.maideasy.my/
ADDRESS
D-16-07, Menara Suezcap 1

KL Gateway, No. 2 Jalan Kerinchi

Gerbang Kerinchi Lestari

59200 Kuala Lumpur

CONTACT
+60 1-700-81-6243 | [email protected]
PAYMENT
Online payment via bank transfer or credit card
Maideasy is a tech-savvy cleaning services company. They have an Android and iOS app where you can book a cleaner in 60 seconds. And if you prefer doing the scheduling from your internet browser, you can do that with ease as well. Additionally, the company has a live calendar widget that shows the availability of their cleaners. Thus, if you have a favorite cleaner, you can find out when they are free so you can book them for that time slot instead.
Maideasy also makes communication seamless between cleaners and homeowners. All the company's employees are local so you can wipe your worries about language barriers away. On top of that, these cleaners are fully vetted and have been diligently trained. As such, you can expect high quality services from them.
10.  LocalService.my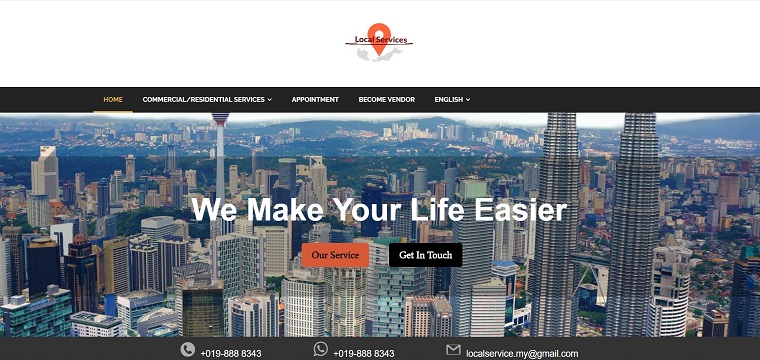 | | |
| --- | --- |
| BEST FOR | Customized maid services |
| SERVICES/SCOPE | Moving Service, Locksmith Service, Electric Service, Security Service, Aircon Service, Plumbing Service, Construction & Renovation Services, House Cleaning Services, Handyman Service |
| PRICING | Contact vendor for a quote |
| WEBSITE | https://localservice.my/house-cleaning-service/ |
| ADDRESS | Malaysia |
| CONTACT | +019-888 8343 | [email protected] |
| PAYMENT | Major credit cards |
Localservice.my is a platform that is dedicated to providing adequate services to individuals, households and companies within Malaysia. For house cleaning, LocalService.my has a team of local maids who will work with customers in creating a cleaning plan that accommodates their specific requirements.
They offer a wide range of maid services, house cleaning arrangements and costs. Regardless of how huge or little the activity, their cleaners can make the ideal housekeeping plan for a home or workplace. Their panel of professional cleaning maid teams provide a 5-star house cleaning service, allowing customers to enjoy more time with the family.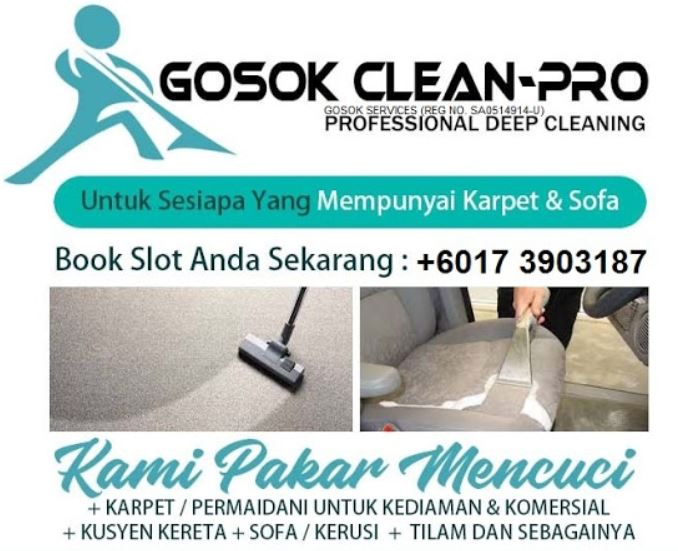 BEST FOR
Profressional deep cleaning services
SERVICES/SCOPE
Commercial and residential cleaning services
PRICING
Contact vendor for a quote
WEBSITE
gosokcleanpro.blogspot.com
www.facebook.com/gosokcleanpro
www.instagram.com/gosokcleanpro
ADDRESS
Village of
Petaling Jaya, Malaysia 46000
CONTACT
https://wa.me/60173903187?text=hi%20gosokcleanpro |
+60 17-390 3187
PAYMENT
Contact for payment options
Gosok Clean-Pro will help get rid of dirt and bacteria in your home or office quickly. The use high-powered, German-made cleaning machines and other cleaning equipment coupled with flexible days and times to deliver high quality cleaning services.
The different companies in this list of the best cleaning services in Malaysia have different focuses and scopes. If you like a particular company that does not offer the service you want, you can just mix and match with another service provider.