If you're looking for the best cleaning service in KL, search no more. We have compiled the 13 top reliable and efficient domestic cleaning services in the area. These cleaning services in Kuala Lumpur can take on both big commercial cleaning jobs to smaller house cleaning services with excellent results. For spring cleaning, renovation cleaning, regular cleaning and booking part-time cleaners at budget-friendly rates, here are our top picks.
1.  Kleencon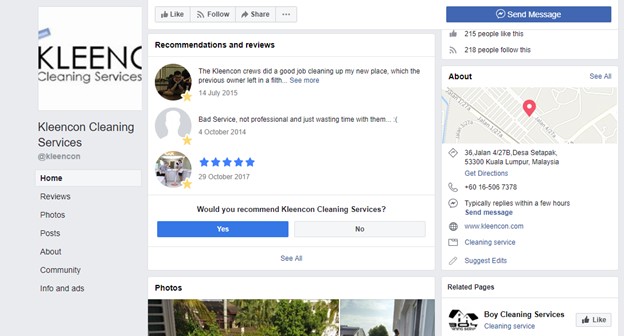 BEST FOR
Hourly pricing, detail-oriented cleaning methodology
SERVICES/SCOPE
Glass Cleaning, Building Façade Cleaning, Tile Washing & Scrubbing, Floor Vacuuming, Move In/Move Out Cleaning, Post-renovation Cleaning, Carpet Cleaning, Upholstery Cleaning, Swimming Pool Cleaning,
PRICING
Contact for a quote
WEBSITE
https://www.facebook.com/kleencon/
ADDRESS
36,Jalan 4/27B

Desa Setapak

53300 Kuala Lumpur

CONTACT
+60 16-506-7378 | [email protected]
PAYMENT
Online payment via credit card through service finder website, cash or cheque direct to the company
Kleencon is a well-regarded cleaning service company in Malaysia. They provide honest and professional home and commercial cleaning to their customers, which is why they are highly rated. On top of that, they offer hourly pricing based on the size of the area. They are even transparent about it to their clients.
With Kleencon, you can look forward to a thorough cleaning of your space. The company has a detail-oriented cleaning procedure, thus you can come home to a place where every speck of dust or grime has been removed. You can rest assured as well that the cleaning crew will take care of your belongings. They are very particular with their cleaning materials and supplies to ensure they do the job well and still be gentle on the home.
Kleencon's scope is in and around Kuala Lumpur and Selangor. If you are living in the area, you can try this company.
2.     Maideasy
BEST FOR
Affordable basic home cleaning
SERVICES/SCOPE
Basic Home Cleaning, Move-in/Out Cleaning, Spring Cleaning
PRICING
From MYR 100 (4 hours, 1 cleaner)
WEBSITE
www.maideasy.my
ADDRESS
D-16-07, Menara Suezcap 1,KL Gateway, No. 2 Jalan Kerinchi

Gerbang Kerinchi Lestari

59200, Kuala Lumpur

CONTACT
1700-81-MAID | [email protected]
PAYMENT
Secure, online cash-free payment
This homegrown company seeks to revolutionise the cleaning industry in Malaysia. Maideasy has made it possible for homeowners to book part-time cleaners using a user-friendly and simple platform under 60 seconds! Their basic cleaning package includes living room, bedroom, kitchen and bathroom cleaning. You can simply go to their website or download their app, enter your personal info, get verified, then start booking a cleaner. It's that easy!
3.     ChemDry

BEST FOR
Soft furniture deep cleaning
SERVICES/SCOPE
Carpet & Rugs, Soft & Leather, Curtains & Furnishings, Tile & Grout, Pet Urine & Odor Treatment, Flood Damage Repair & Restoration, Dust Mite Anti Allergen, Specialty Stain Removal
PRICING
Request for a quote
WEBSITE
www.chemdry.com.my
ADDRESS
336 Jalan Midah Besar

Taman Midah, Kualal Lumpur

Malaysia. 56000

CONTACT
+603 91713122 | [email protected]
PAYMENT
Say goodbye to allergens with ChemDry's hi-tech cleaning system. They use carbonation instead of steam cleaning to wash carpets, sofa, curtains, tiles and other furnishings. According to ChemDry, carbonation is a much more efficient and eco-friendly approach to cleaning. Just like the way club soda removes stains from a shirt, ChemDry has adapted and improved this approach by using carbonation into their carpet and upholstery cleaning process. Using carbonating solutions, the dirt, dust and other allergens are lifted to the surface where they can be easily removed. Since they don't use soap or detergents, you won't have to worry about sticky residue. Plus, they use less water, lower pressure and a short drying time of only 1-2 hours!
4.     NRRV Cleaning Services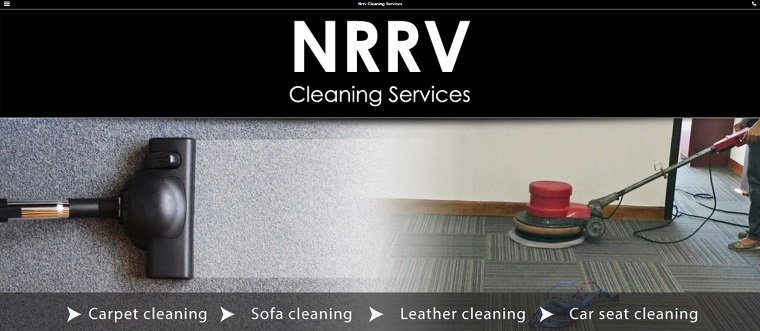 | | |
| --- | --- |
| BEST FOR | Carpet, sofa, leather and car seat cleaning services; 100% Customer Satisfaction |
| SERVICES/SCOPE | Office Carpet Cleaning, Home Carpet Cleaning, Interior Cleaning/Upholstery, Specialized Services, Upholstery Sofa Cleaning Office & Home, Water Damage Extraction |
| PRICING | Contact the company for a quote |
| WEBSITE | www.nrrvcleaningservices.com |
| ADDRESS | Jalan 15, Bandar Damai Perdana, 56000 Cheras, Kuala Lumpur, Malaysia |
| CONTACT | +6016-2315293 / +6014-3269778 | [email protected] |
| PAYMENT | Major credit cards |
NRRV Cleaning Services specialises in carpet, sofa, leather and car seat cleaning services. Their main office is located in Cheras, Kuala Lumpur (KL), Malaysia. NRRV Cleaning Services has over 13 years of experience providing cleaning services to both commercial and residential clients. They have served thousands of clients with full satisfaction. They undertake each job with utmost care, using advanced methods in their cleaning services.
5.     Washhouse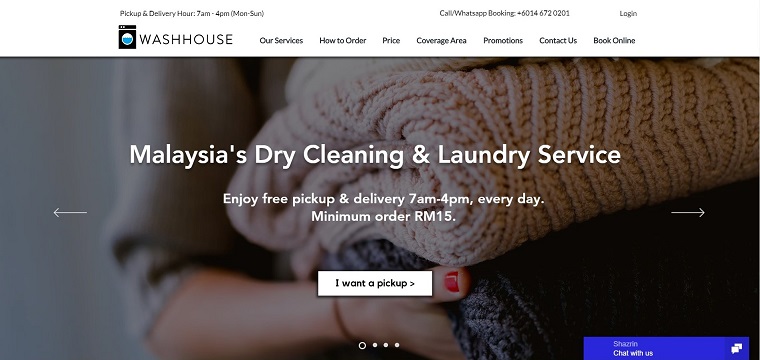 BEST FOR
Laundry & Dry Clean, Express Service, Same Day Delivery
SERVICES/SCOPE
Wash & Fold, Dry Clean, Press/Iron, Household Items/Non-Garment, Handwash
PRICING
Wash & Fold: RM3.50 per kg
Express Service: Minimum order of RM30
WEBSITE
www.washhouse.my
ADDRESS
67, Ground Floor, Jalan SS2/2,
Taman Bahagia, 47301 Petaling Jaya,
Selangor, Malaysia
CONTACT
+6014 672 0201 | [email protected]
PAYMENT
Cash on delivery, bank online transfer & credit card online payment (credit card processing fee applied)
Washhouse is a dry cleaner and laundry service in Kuala Lumpur providing pickup & delivery services in most areas of Kuala Lumpur and Petaling. They are committed to delivering good services and caring for laundry at the best standards with their professional tools and experience. Their system makes it easy and convenient to get your clothes clean. Simply book online, prepare your laundry, then they will pick it up for you. Payment is just as easy with online invoice and online payments available.
6.    Poon & Poon Enterprise

BEST FOR
Professional cleaning services
SERVICES/SCOPE

Daily cleaning & Maintenance Program
Floor Polishing
Buffing
Carpet / Chairs & sofa Shampooing (Dry & Wet)
High-Rise Window & Wall Cleaning
Dust Cleaning
Vacuum Carpeting
Remove Cobwebs
Wash Bathroom
Sweep Floors & Floors mopped
Auto Scrubber

PRICING
Get a quote online
WEBSITE
http://poonpoonenterprise.com/
ADDRESS
15th Floor, Menara Public Bank,
Jalan Ampang,
50450 Kuala Lumpur.
CONTACT
603 – 2166 6676
[email protected]
PAYMENT
Contact for payment options
Poon & Poon Enterprise was established in 1998 to offer professional & efficient cleaning services for all types of cleaning in different intervals: Daily, Weekly, Monthly, Once a Week, & Once a Month. They also offer contract cleaning services for Office, Complexes, Institutions, School, Bank, Industrial, Factories, Condominium, Gardening, House Cleaning & Etc.
7.    Kasi Clean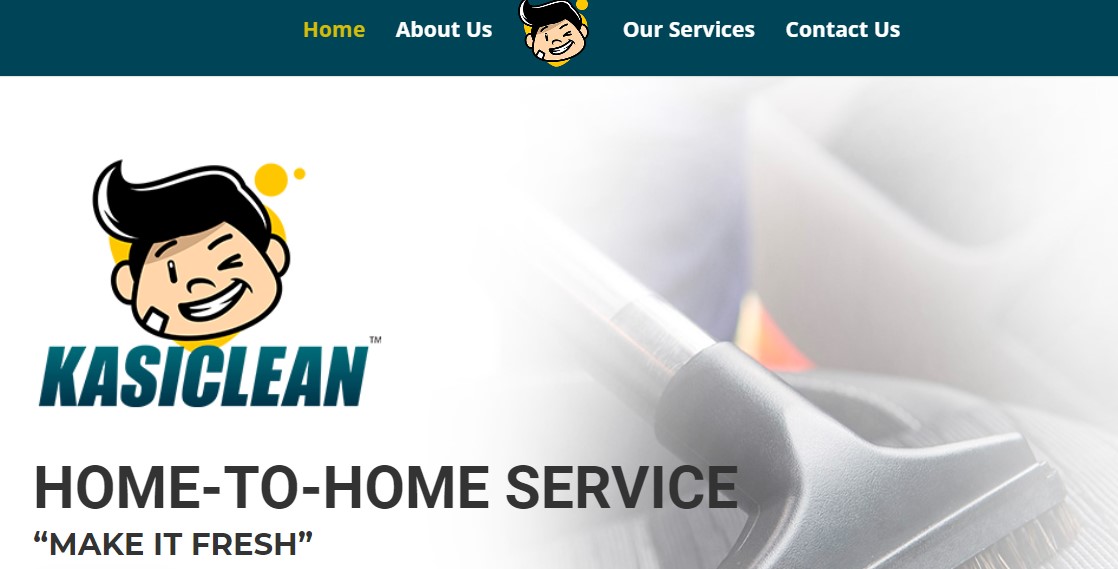 BEST FOR
Home-to-Home Cleaning Service in Malaysia
SERVICES/SCOPE
– Car full interior cleaning'
– car seat cleaning
– sofa cleaning
– carpet cleaning
– couch cleaning
– mattress cleaning
– office carpet cleaning
PRICING
Check here: https://kasiclean.com/our-services/
WEBSITE
https://kasiclean.com/
ADDRESS
—
CONTACT
011-11260382
[email protected]
PAYMENT
Contact for payment options
Kasi Clean's provides a wide range of services from basic cleaning to deep cleaning of your interior and even your cars! You can call them to schedule a free appointment.
8.    Double Care Cleaning Services

| | |
| --- | --- |
| BEST FOR | One-stop cleaning services |
| SERVICES/SCOPE | residential cleaning, office or commercial cleaning, event cleaning, carpet cleaning, floor polishing, window or glass cleaning, post renovation cleaning, pre move in or move out cleaning and post construction cleaning |
| PRICING | Get a quote via call or email |
| WEBSITE | http://www.doublecarecleaning.com.my/ |
| ADDRESS | LOT UG-10 & 11, Jalil Link 2, NO.5, Jalan Jalil Perkasa 1, 57000 Bukit Jalil, Kuala Lumpur Malaysia |
| CONTACT | 016-310 0262 | [email protected] |
| PAYMENT | Contact for payment options |
Double Care Cleaning Services can provide a full range of cleaning services, including residential cleaning, office or commercial cleaning, event cleaning, carpet cleaning, floor polishing, window or glass cleaning, post renovation cleaning, pre move in or move out cleaning and post construction cleaning services. These are available to residential, office and commercial customers in Kuala Lumpur.
9.     GCE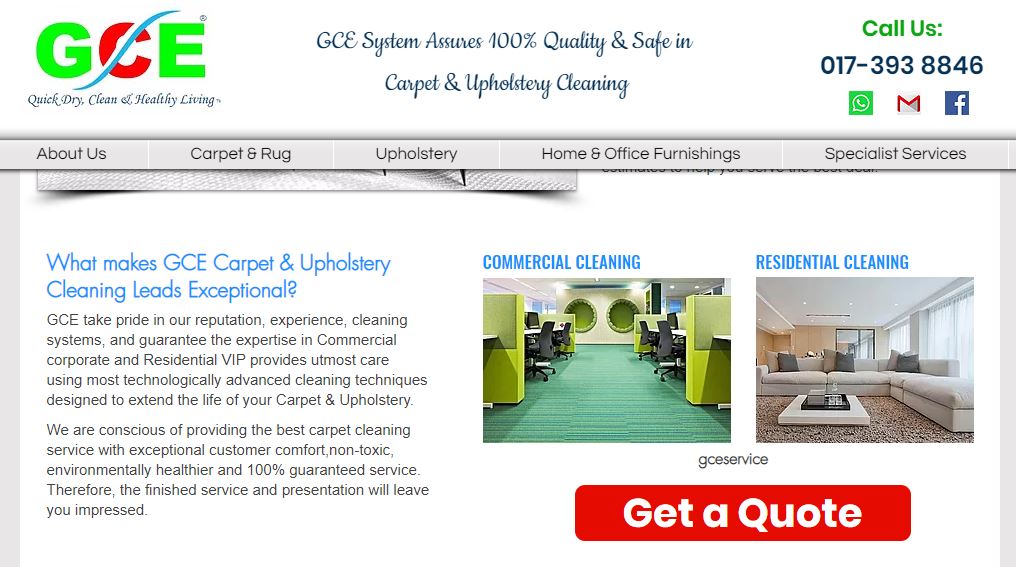 BEST FOR
Innovative cleaning techniques
SERVICES/SCOPE
Carpet Cleaning, Rug Cleaning, Sofa Cleaning, Leather Cleaning, Water Damage Carpet Restoration, Pet Urine & Odor Removal, Tough Stain Removal, Curtain & Blinds Cleaning, Mattress Cleaning, Dust-mite Allergens Treatment
PRICING
Get a quote online
WEBSITE
https://www.gceservice.com/
ADDRESS
Traders Square

43200 Cheras

Selangor Darul Ehsan

CONTACT
017-393 8846 | [email protected]
PAYMENT
Contact for payment options
GCE initially offered professional carpet cleaning and upholstery sofa cleaning using innovative methods that do not have to include shampoo, steam cleaning, or dry powder. They also became popular through their Neutral carbonized solution and spin bonnet extraction system. Eventually, their services branched out to specialized hard cleaning of floors.
10.  One Hygienic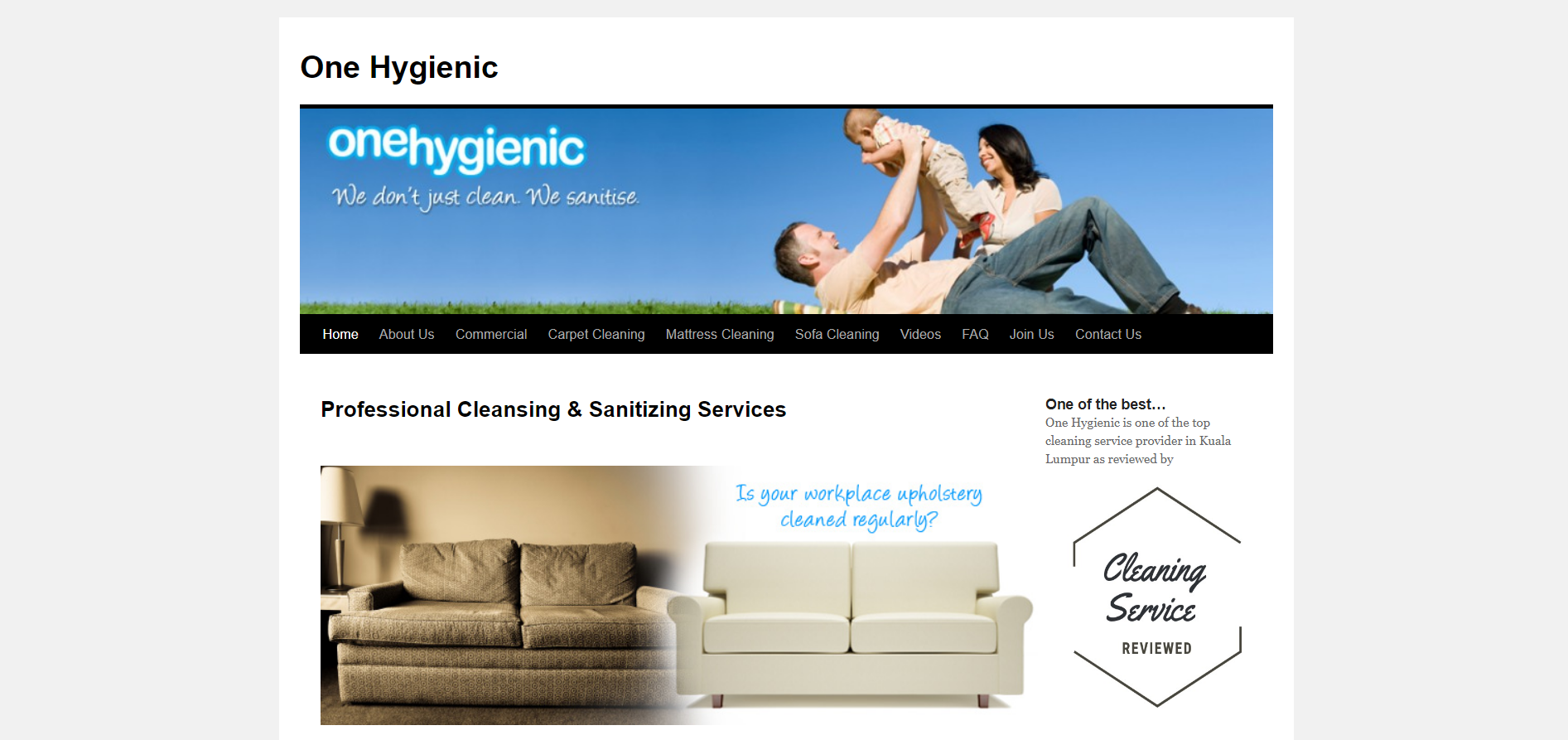 BEST FOR
Comprehensive cleaning services
SERVICES/SCOPE
Carpet cleaning, Commercial cleaning, Mattress cleaning, Sofa cleaning
PRICING
Available upon request
WEBSITE
http://www.onehygienic.com/
ADDRESS
41-M, Jalan Manis 3, Taman Segar 56100, Kuala Lumpur
CONTACT
Customer Service Hotline: 1300 221 123
Phone: +603 – 9130 1034
Fax: +603 – 9130 1036
Email: [email protected]
PAYMENT
Contact for more information
More than cleaning, One Hygienic sanitises your premises and the components that you want ridden of stains, odours, and bacteria. They use only the finest cleaning products and equipment available, all of which are handled by a team of highly skilled and competent cleaners that work towards providing you with the best cleaning services possible.
11. JHT Cleaning Service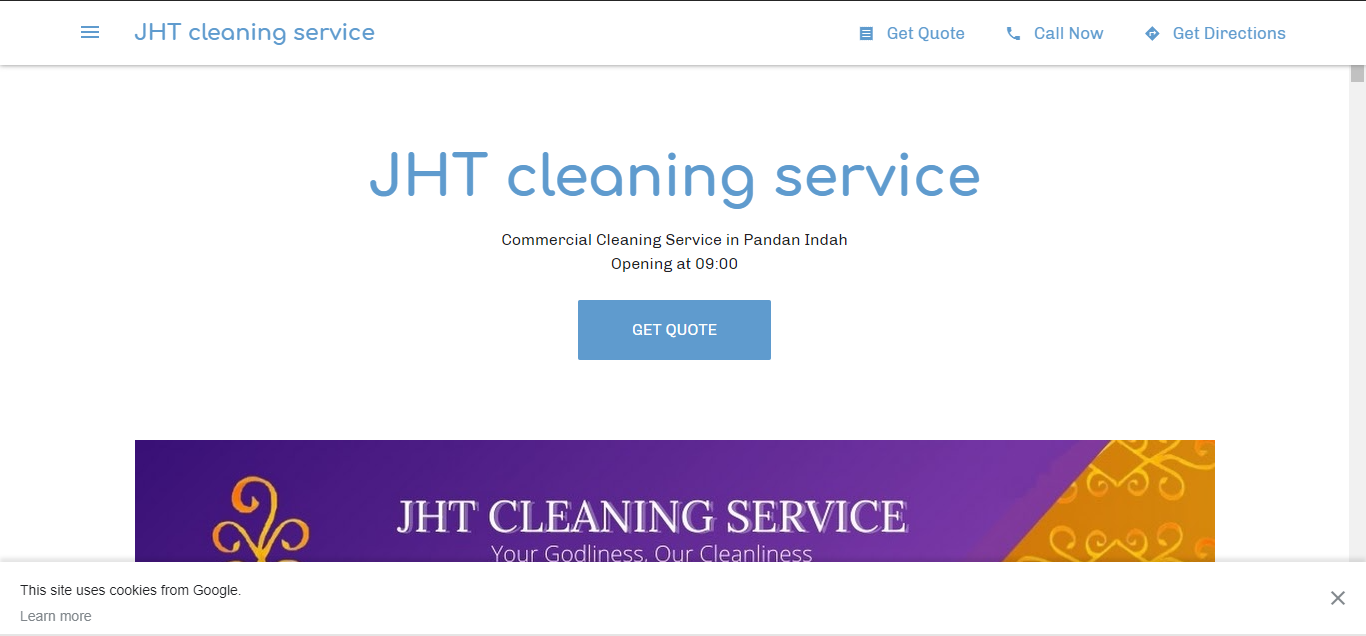 BEST FOR
Deep Cleaning
SERVICES/SCOPE
Commercial and Residential Cleaning
PRICING
Contact to get a quote
WEBSITE
https://jht-cleaning-service.business.site/
ADDRESS

CT-J-15, Grandeur Tower, Jalan Pandan Indah 1/16

Pandan Indah

55100 Kuala Lumpur

Malaysia

CONTACT
017-278 6498
PAYMENT
Contact for details
JHT Cleaning Service is not your typical cleaning company. They can clean your house at a speed of time but still make it spotless and shiny.
In comparison to other companies, they are open from Sundays to Saturdays from 8 in the morning to 9 in the evening. Perfect for those post-event cleaning hosted at houses.
Aside from residential and commercial cleaning they also offer cleaning services to Air BnB's, have a Homestay cleaning, office cleaning, and deep cleaning.
Unfortunately, their base prices are not available on their website. So make sure to contact them first before availing of their services.
12. Big Family Cleaning Service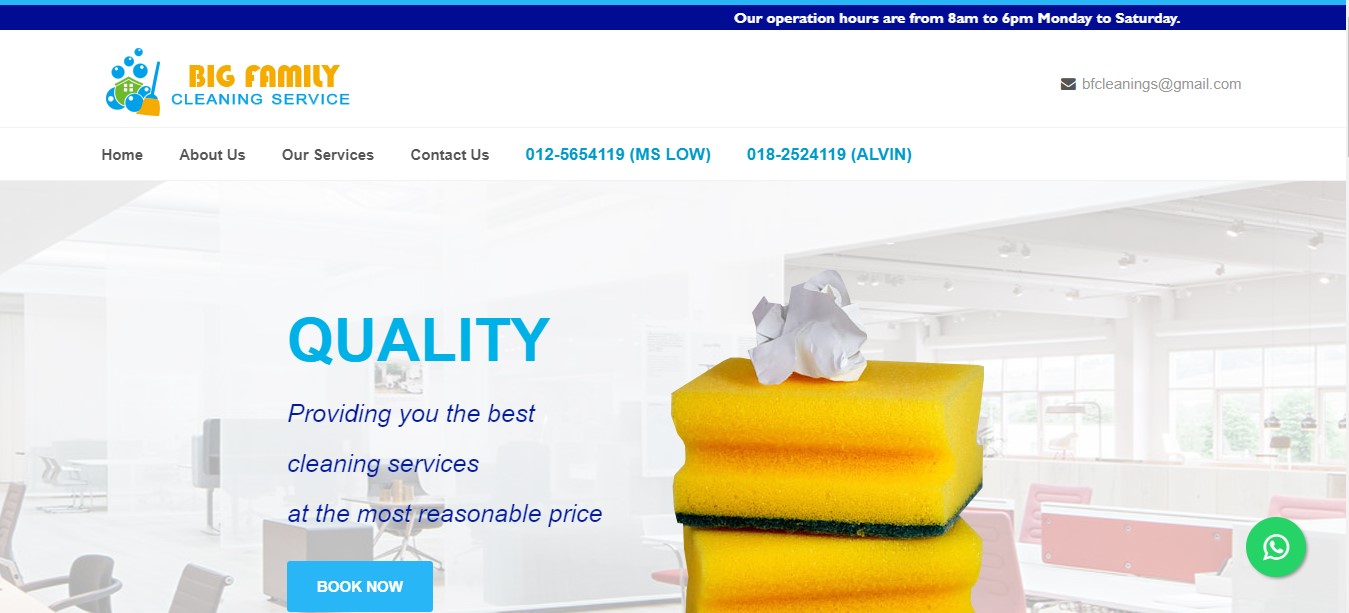 Big Family Cleaning Service is one of the finest cleaning maid service agencies in the country. They have been in the business for so long that they are known for providing affordable services with customized plans that are tailored to individual needs.
They conduct background checks on their potential applicants before they join. They also select applicants carefully, which is important because some companies outsource their cleaning services without any screening, which can be a very risky move.
Aside from Kuala Lumpur, they also provide their services for people in Setapak, Wangsa Maju, Melawati, Gombak, Ampang, Cheras and Selangor.
What made us recommend them is that they have a monthly cleaning package that can help Malaysians avail their services at a lower price. Besides this monthly package, they still offer hourly, daily, and weekly cleaning service packages.
13.  Part Time Maid for Hire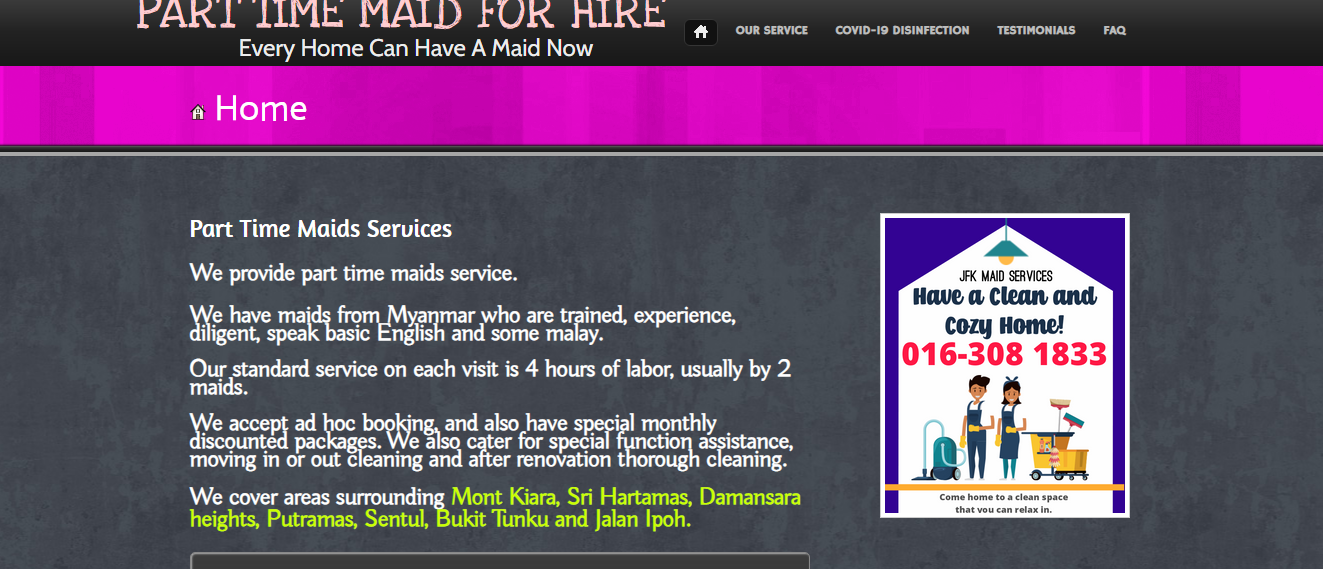 | | |
| --- | --- |
| BEST FOR | Diligent Part Time Maids |
| SERVICES/SCOPE | General housekeeping, Move-in/out cleaning, Post-renovation cleaning, Spring cleaning |
| PRICING | Starts at RM75 |
| WEBSITE | https://maidfromheaven.webs.com/ |
| ADDRESS | |
| CONTACT | 016 – 308 1833 |
| PAYMENT | |
Part Time Maid for Hire provides maids from Myanmar who is adequately trained and screened to be able to give exemplary maid services. They are also able to cover various areas surrounding Mont Kiara, Damansara Heights, and Jalan Ipoh among others.
Each of their maids can speak English and some Malay so that clients will not have a hard time requesting their assistance and give additional guiding instructions as well. Starting at RM75, clients are also able to customize the package when it comes to the number of maids they prefer and need for the job.
Maids are able to do general housekeeping, cleaning, and post-renovation services but are only available for 4-time slots daily which include a session that generally lasts for 4 hours. There is very little information regarding the process of booking an appointment and very few valid testimonies that could clearly paint a clear picture of the tone of services that they do.
Since the maids are also brought to the client's home by the company itself, the time of their arrival is highly dependent on the state of traffic in the said area of the said household.