With a full work schedule, we often can't find the time to do all the chores in the house. Thankfully, you can hire the best maid services in Edmonton to get them all done efficiently.
So we've listed them here for you. But before we present them to you, we'll examine their rates first to make it easier for you to pick from our chosen companies.
Let's begin!
How Much Does Maid Services Cost in Edmonton?
In Edmonton, maid services can typically cost from $99 to $325. It depends on a few factors, namely the size and condition of the house and your cleaning frequency.
Their basis for determining the house size is the number of bedrooms and bathrooms. These then add them up which will be reflected in the cleaning service bill.
Of course, the dirtier the home is, the higher you will have to pay. That's because the maids need to cover more areas and work harder for the house to be pristine.
Rates can be influenced by the cleaning frequency too, and as a result, they become lower.
The reason is that companies often give discounts to clients who avail of weekly, biweekly, or monthly cleanings rather than only one time.
Aside from that, you would have to pay more for add-ons. These can top up around $25 to $450 to the cleaning price.
Add-on services are different from company to company and may include interior oven cleaning, window washing, wall washing, mattress steam cleaning, fogging sanitizer, and more.
You can be charged either a flat or hourly rate for maid house or office cleaning.
As to which is better of the two, it depends on the service provider as they work differently i.e. they can only clean specific areas and stuff and follow different cleaning processes.
The important thing is for your money to be well spent in relation to the cleaning service that's performed.
Also, a technician does not have to visit your home. You can instantly get an accurate maid cleaning service quote online, unlike before.
So here are the rates of some of the best maid services in Edmonton. The one that has 'per hour' indicates it charges labour rate pricing, while the rest charge flat rates.
| | | |
| --- | --- | --- |
| Maid Service Provider | House Cleaning Rates | Bathroom Rates |
| Cozy Home Maid Service Inc | From $39 per hour | N/A |
| Duty Cleaners | From $117.99 | From $39.99 |
| Mop to It | From $165 | From $35 |
| Clean Now | From $99 | N/A |
| Mad Maids Cleaning | From $119 | N/A |
The Best Maid Services in Edmonton
As you now know the rates, here's our roundup of the best maid services in Edmonton!
1) MaidPro Edmonton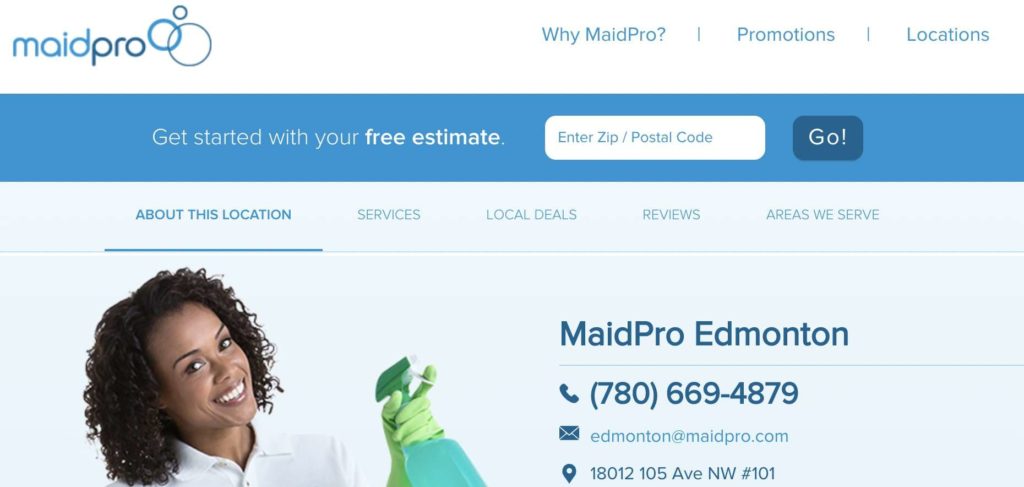 SERVICES/SCOPE
Home cleaning
Refrigerator cleaning
Oven cleaning
Commercial cleaning
PRICING
Kindly request an estimate here
WEBSITE
https://www.maidpro.ca/northedmonton/
ADDRESS
18012 105 Ave NW #101, Edmonton, AB T5S 2P1 Canada
CONTACT DETAILS
(780) 669-4879


[email protected]

PAYMENT
Visa, Mastercard, cash, and cheque
MaidPro Edmonton is a house cleaning service provider established by Wade and Barbara Szymanski in 2011. They offer regular, seasonal, and recurring cleaning for home and office properties around Edmonton, Sherwood Park, St Albert, and Spruce Grove.
They provide customized cleaning for their clients based on their needs and budget. Included in their cleaning repertoire are bedrooms, bathrooms, living areas, and kitchens so you don't have to clean them yourself, which leaves you free to do the things you want.
Their maids are fully licensed, insured, and background-checked for your peace of mind. They can come individually or by pair to dust and clean every nook and cranny of your house.
Unlike other companies that clean randomly or without a clear objective, the MaidPro team aims to follow their 49-point checklist, their standard of a thoroughly clean home.
Thus far, most homeowners were very satisfied with their cleaning services. According to them, the team was friendly and professional and did a fantastic job.
There was one complaint regarding their pricing, but, for the majority, it was reasonable. In fact, they offer discounts to new clients who avail of their weekly biweekly, or monthly services.
Furthermore, it's seamless to book with them and they strive to update the clients before they visit their properties. They accept a range of payment options including Visa, Mastercard, cheque, and cash.
Best of all, they offer a 100% re-clean guarantee if they miss cleaning certain areas of your house. As such, they are one of the leading maid services in Edmonton you can count on!
49-point cleaning checklist
Background-checked and insured maids
Offers a new-client discount
Accepts a range of payment methods
100% re-clean guarantee
Unavailable on the weekends
Complaints about their pricing
Customer Reviews
Phenomenal and friendly service
"Olivia was so friendly and professional. She went above and beyond to get all my wishes ticked off the list – phenomenal service and would highly recommend." -Laura Richard
Timely and pristine house cleaning
"Sarah & the other lady she was with (I wish I got her name!) were amazing. They were super friendly & easy going. Everything was done on time & looked pristine for our walk through. Would 10/10 recommend these amazing ladies!" -Lisa Fagan
2) Cozy Home Maid Service Inc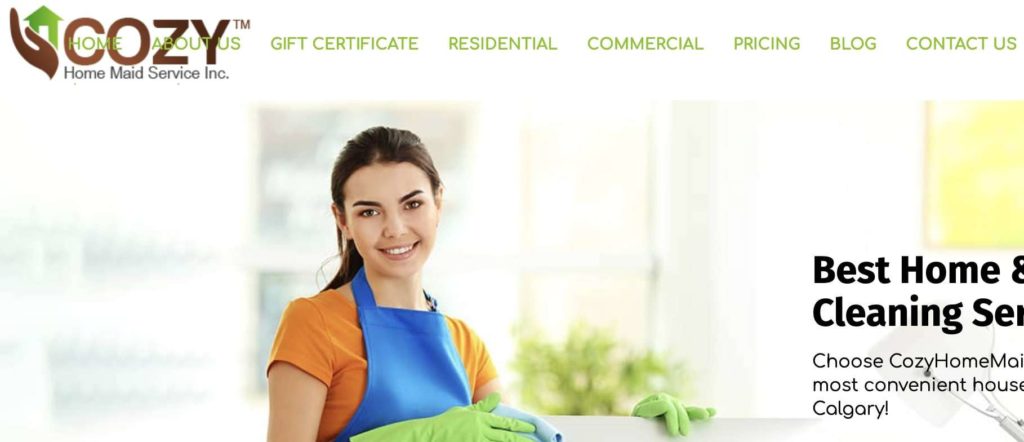 SERVICES/SCOPE
Residential cleaning
Move-in/out cleaning
Post-construction cleaning
Initial cleaning
One-time cleaning
Commercial cleaning
PRICING
Residential cleaning: $39/hour

Move-in/out cleaning; post-construction cleaning; initial cleaning; one-time cleaning: $42/hour

Commercial cleaning: please contact them for a free, no-obligation estimate

Also, kindly request an estimate here
WEBSITE
https://cozyhomemaid.com/
ADDRESS
10050 112 St NW Suite 904, Edmonton, AB T5K 2J1, Canada
CONTACT DETAILS
+1 780-761-2699


[email protected]
Need your house cleaned just one time, before you move out, or when the renovation work is done? For this, as well as office cleaning, you can definitely call Cozy Home Maid Service!
One of the top maid services in Edmonton and the surrounding cities, their maids are licensed, bonded, and insured. They can match the cleaning services to their clients' demands, budgets, and lifestyles.
With their home cleaning package, they normally wash and sanitize kitchen sinks and countertops, clean fridges, ranges, and remove the trash, vacuum carpets and oriental rugs, clean and spot-check all glass surfaces, etc.
They only use safe and eco-friendly products to remove grime, dirt, stains, and bacteria in your house. Thus, after the service, you, your family, and your pets can enjoy a healthy and comfy home.
Wondering about their rates? It's listed there on their website (except for office cleaning in which you have to get a quote) so you can have an idea of how much to pay them.
However, they don't have any special deals and offers online and on social media to give clients value for money, especially if they are loyal customers.
Cozy Home is another dependable maid cleaner because they're available from 8:00 AM to 6:00 PM on weekdays and from 9:00 AM to 5:00 PM on weekends. So, you can easily call them even if you are fully booked for the week.
Licensed, insured, and bonded firm
Uses green cleaning products
Upfront rates
Open 7 days a week
Gives a satisfaction guarantee
No coupon deals and promos
Complaints about customer service
Customer Reviews
Happy with the results and reliable staff
"I have had Cozy Maid clean my home ( 2 different homes) over the years and I am always happy. Also communication, organization and reliability of the office/Elena is always gracious and exceptional." -Cathie Loken
Always on time and follows directions
"I have been using Cozy Home Maid Service for several months. I worked with Ivanka and she was always on time and did a wonderful job. She followed direction and worked hard. Can't ask for much more. Thank you." -Lanita Schreiner
3) Duty Cleaners

SERVICES/SCOPE
House cleaning
Apartment cleaning
Condo cleaning
Townhouse cleaning
Office cleaning
PRICING
House Cleaning

1 – 7 rooms: $117.99 – $277.99
1 bathroom: $39.99
WEBSITE
https://dutycleaners.ca/
ADDRESS
18615 71 Avenue NW, Edmonton, Canada
CONTACT DETAILS
(780)-913-6565


[email protected]

PAYMENT
Credit cards
Duty Cleaners is an Edmonton-based business that offers maid cleaning services to homes, apartments, condominiums, townhomes, and offices.
The advantage of choosing this cleaner is their instant pricing and ease of booking. Their focus on this aspect of customer service suggests that they value the time of their customers.
Their qualified and background-checked maids' agenda is quite simple: to clean and sanitize the agreed areas in your property, tidy your things, and then fulfill your special requests. That said, they don't approach every home similarly but have a tailored game plan for it.
They are so confident of their services that the company offers to correct any mistake associated with the cleaning job. And if you still aren't delighted, they can give you a full refund.
We also think that their rates are decent and reasonable compared to those of other maid cleaners. They offer a flat-rate pricing model so no cleaning work will probably be left undone.
Furthermore, you can rack up to 10% savings if you let them do weekly, bi-weekly, or monthly maid house cleanings.
You can only pay them by credit card since they don't take cash, cheque, or other payment modes. Still, their invoice payment system is secure and convenient as it is done in an SSL-secure connection.
Duty Cleaners serves clients around Edmonton, St Albert, Leduc, Sherwood Park, Spruce Grove, and Stony Plain. If you have any other questions, you can visit their FAQs page online.
Instant pricing available
Licensed and background-checked maids
SSL encrypted website
Offers recurring service discounts
Available 7 days a week
100% satisfaction guarantee
Gives a full money-back guarantee
Doesn't accept cash and cheques
No mention of any insurance
Customer Reviews
Excellent cleaning job
"I was looking for a maid service in Edmonton and found Duty Cleaners. I quickly called to get prices once I saw their reviews online, and realized they were not the cheapest option, or the most expensive. I went with my gut feelings and hired this company and surely, I was right. They did an excellent job cleaning my house. I recommend this company to everyone." -Lappin Vincent
Efficient and on-time cleaners
"I contacted Duty Cleaners to clean my house and that was my first experience with them. The house cleaners arrived on time, and they were done in about 2 hours. The place looks so much better than it did before. Great Services!!" – Josefina Gonzales
4) Mop to It Cleaning Services

SERVICES/SCOPE
House cleaning
Apartment cleaning
Standard cleaning
Deep cleaning
Recurring cleaning
Move-in/move-out cleaning
Refrigerator cleaning
Oven cleaning
Commercial cleaning
PRICING
House Cleaning

1 – 6 bedroom home: $165 – $325
1 – 10 full bathrooms: $35 – $350
Add on: $25 – $450

Kindly request an estimate here
WEBSITE
https://moptoit.ca/
ADDRESS
9357 Simpson Drive NW, Edmonton, AB T6R0N3 Canada
CONTACT DETAILS
(780) 446-4464
Mop to It Cleaning Services was created by Holly Proudlove to fill the gaps of other cleaning companies in terms of service quality, booking process, and client communication.
They hire dedicated individuals, extensively reference and background-check them, and personally train them to do the cleaning work before dispatching them on the field.
Additionally, all the maids are bonded and certified for your confidence and protection. And of course, they guarantee the client's satisfaction and should the job be of low quality, they can make it right if you, provided that you inform them of it within a day.
As past clients can attest to, the team is excellent in problem-solving, is equipped with high-tech cleaning tools, and adapt their cleaning service to their requirements and finish on time.
They offer a full spectrum of services including house, office, and apartment cleaning, deep cleaning, move-in/move-out cleaning, recurring cleaning, fridge and oven cleaning.
A good reason that they are among the best maid services in Edmonton is their super-quick booking process. To book with them, you can click their instant booking tab on the website and fill in the fields, which can be done within 60 minutes or less.
But, they have a few shortcomings and it's that their prices are relatively higher, they don't have special discounts to slash down their prices, plus they don't take debit card payments.
Bonded and certified cleaners
Full spectrum of services
60-second job booking
100% satisfaction guarantee
Relatively high rates
No special discounts
Closed on the weekends
Doesn't take debit cards
Customer Reviews
Superb cleaning results and professional team
"The services was spectacular, the staff were professional, polite and thorough; the overall quality of the work was above expectations. We had a major sewage backup – which needless to say was a bit of a mess – and Mop to It was able to come in and do a thorough deep clean for us. The entire affected area (laundry room, bathrooms, downstairs carpets…) were all meticulously cleaned and sanitized." -Daniel England
Took extra care with their belongings
"The team that arrived to clean our apartment was fantastic. They stayed extra long to take care of the small things as we were moving out. Great quality. Would absolutely recommend." -Jackson Sawatzky
5) DeeDee Clean Maid Services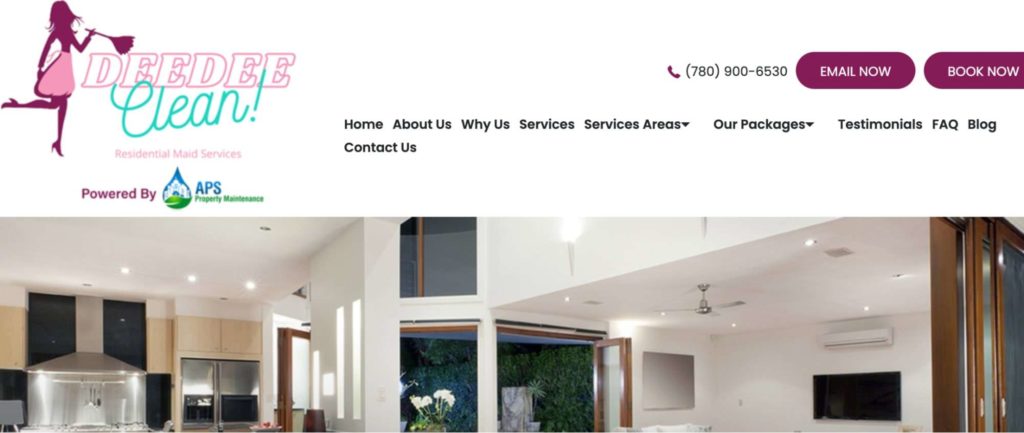 SERVICES/SCOPE
Move-in cleaning
Move-out cleaning
One-time deep cleaning
Monthly cleaning
Weekly cleaning
Initial deep cleaning
Bi-weekly cleaning
PRICING
Kindly enquire with them for rates
WEBSITE
https://www.deedeecleanmaidservices.ca/
ADDRESS
1571 Chapman Way SW, Edmonton, AB T6W 0Z2, Canada
CONTACT DETAILS
(780) 900-6530


[email protected]

PAYMENT
Credit cards, Interac e-transfers
DeeDee Clean Maid Services is committed to leaving your hands free of any cleaning work. This is performed by their maids who are certified, insured, and criminal-checked for you and your property's safety.
They specialize in residential cleaning only and send out the same team as much as possible. Whether you require a spring clean, deep clean, or weekly clean, you can consider it done with them.
When doing the cleaning, their goal is to complete a strict 99-point cleaning checklist. To keep your family, pets, and the environment safe, they only use eco-friendly cleaning products and equipment.
They have earned positive reviews from many clients. They were happy that the cleaning was thorough and efficient that left their bedrooms, bathrooms, and kitchens odour-free and neat.
Furthermore, they always go for the utmost satisfaction of their clients. If there have been any areas that weren't cleaned well, they can come back to do it again, but only if you let them know no longer than 24 hours.
Now, our complaint with this house cleaning firm is that their contact form can take longer to finish, unlike those of others. Also, the prices aren't transparent for you to gauge how much you have to spend.
After the service, you can pay their invoice securely and conveniently through your email. The payment methods they can accept are all major credit cards and Interac e-transfers.
You should choose this company if you want a pleasant service experience because from what we've read in the reviews, their staff is accommodating, polite, and responsible. Besides that, they serve Edmonton and the surrounding areas.
99-point cleaning checklist
Licensed, insured, and bonded maids
Secure payment transactions
Uses eco-friendly products
100% satisfaction guarantee
Long contact form
Doesn't take cash and cheques
Unavailable on the weekends
Customer Reviews
Quick quote and awesome maid cleaning
"Dee is amazing! She was very accommodating when it came to when we needed to be done. She provided a quote right away and let us know exactly what would be done! They got there early and started right on time. The place looks and smells amazing. Just like new before we moved in! Highly recommend these cleaning ladies!" -Seth Hanner
Immaculate kitchen and bathrooms
"Danielle and her crew was on time this morning and provided a professional deep cleaning of my house. My kitchen & bathrooms are now very clean and we couldn't be more happy about the result. Definitely coming back for them for more cleaning services down the road. I would recommend them to my friends." -Adam Liu
6) Specially Maid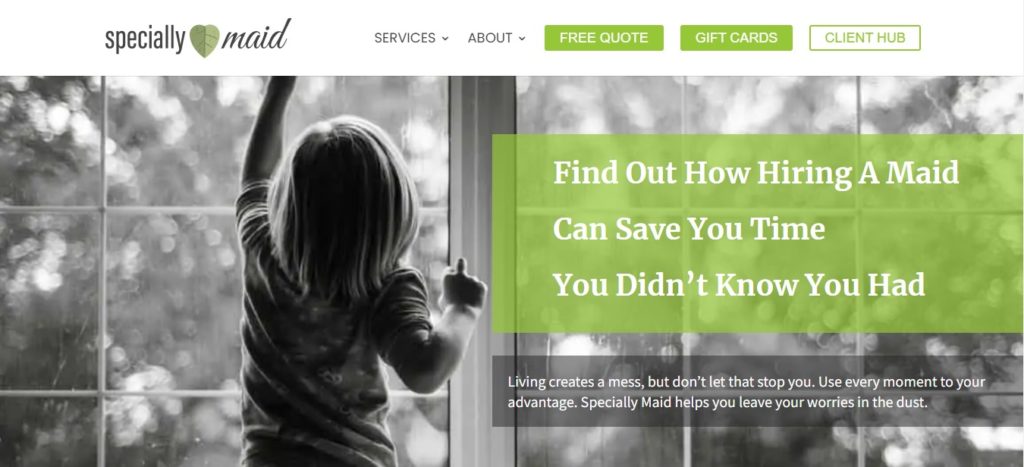 Specially Maid is a company that provides housekeeping services to those who need it. They are passionate about improving lives for their clients, employees, and the world at large.
Unlike others, they have competitive pricing that makes it affordable for everyone to take advantage of their cleaning services.
Aside from this, they also have a strong commitment to cleaning green. They only use 100% biodegradable, sustainable, and fair-trade compliant ingredients, their soaps, and scrubbers are safe and effective without exposing anyone to potentially harmful chemicals and VOCs.
They have specifically chosen every ingredient from manufacturers that do not contribute to deforestation, species extinction, high greenhouse gas emissions, or human rights violations.
Electrostatic disinfection is free for weekly and bi-weekly clients
Fully insured, bonded and licensed
Deliver professional home cleaning services in Stony Plain, Spruce Grove, Parkland County, and Edmonton
Assigned cleaning professionals
Some rates are unavailable
Customer Reviews
Here are a few testimonials on their page:
"After having some health issues, I decided to have a cleaning service come in. What a wonderful experience! After a quick walk through, Ewa and I discussed what would be cleaned and the girls quickly to care of it. If there was a concern they quickly came over and discussed it. The ladies were cheerful and professional, and before I knew it my house was clean 😀 I look forward to the next visit. I would definitely recommend Simply Maid to anyone looking for a service to come into their house." – Cathy and Ryan J.
Here's another one:
"Specially Maid is the best cleaning service I have ever encountered. I have hired house cleaners for years and none has ever come close to the performance of Specially Maid.They covered everything right down to using a specially designed machine to sanitize where ever fingers touch things like door knobs, light switches etc. I cannot praise their work enough and the price was very fair." – Dennis L.
7) Maid to Shine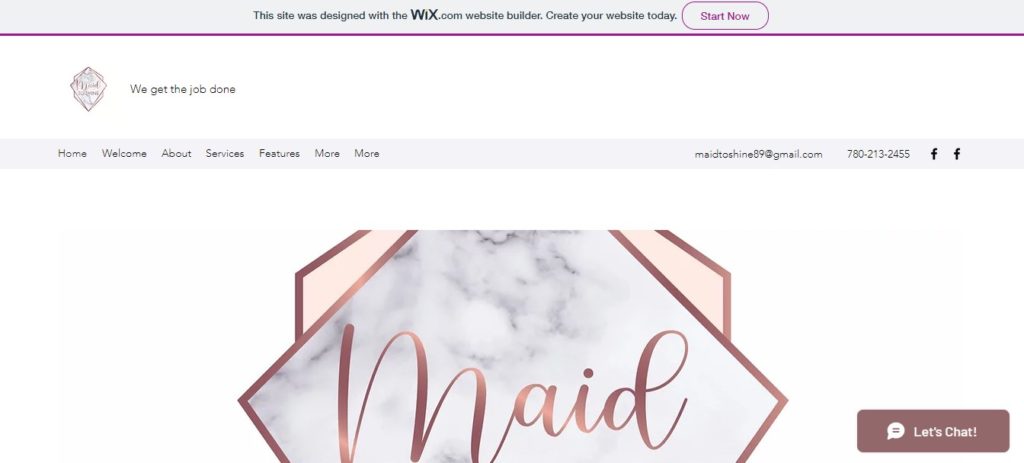 SERVICES/SCOPE
Kitchens
Bedrooms
Bathrooms
All Other Areas
PRICING
Contact for a quotation
WEBSITE
https://www.maidtoshine.life/
ADDRESS
Edmonton, AB
CONTACT DETAILS
780-213-2455
PAYMENT
Contact for details
Maids are not just people who clean your home or office. They also maintain your hygiene, tidy your belongings, and help with the organization of your space. Maids are professionals who take pride in their work and refuse to settle for anything less than excellence.
Maid to Shine provides professional deep cleaning services for residential homes. They provide customer service that you won't get from any other company – whether you want deep steam or light touch cleanings, they will customize their service to suit your needs.
They do not employ any subcontractors; all of their team members are employees who know what they're doing and take pride in the work that they do.
In comparison to others, they offer their customers high-quality services that can transform any home or business into a sparkling paradise. They have deep cleaning services for kitchens, bedrooms, and bathrooms.
 Always use eco-friendly cleaning products that are safe for your family and pets
Can contact them if you need daily, weekly, or monthly cleaning
Highly trained and vastly experienced cleaners
Base rates are not on their website
FAQs about the Leading Maid Services in Edmonton
---
And that completes our best maid services in Edmonton list! Now you know which ones to dial for so your house can be sparkling clean again.
Do you have any questions or opinions about them? Feel free to message us and we'll get back to you in a jiffy!
Also, if you need carpet cleaning specialists, you may want to check out the best carpet cleaning in Edmonton. Using professional cleaning equipment, they can restore your favourite carpets and rugs to a like-new state.