Another cleaning service Calgarians can benefit from is dry cleaning. There are several dry cleaners in Calgary that can save and renew your delicate precious clothing. Dry cleaning often gets a bad rep for being expensive or using toxic ingredients. The industry is now innovating its cleaning process to continue providing superior garment care and cleaning.
Keeping that in mind, here are the best options for dry cleaners in Calgary. Be sure to subscribe to their services to maintain the state of you and your family's favorite outfits.
1. Fabelite Dry Cleaners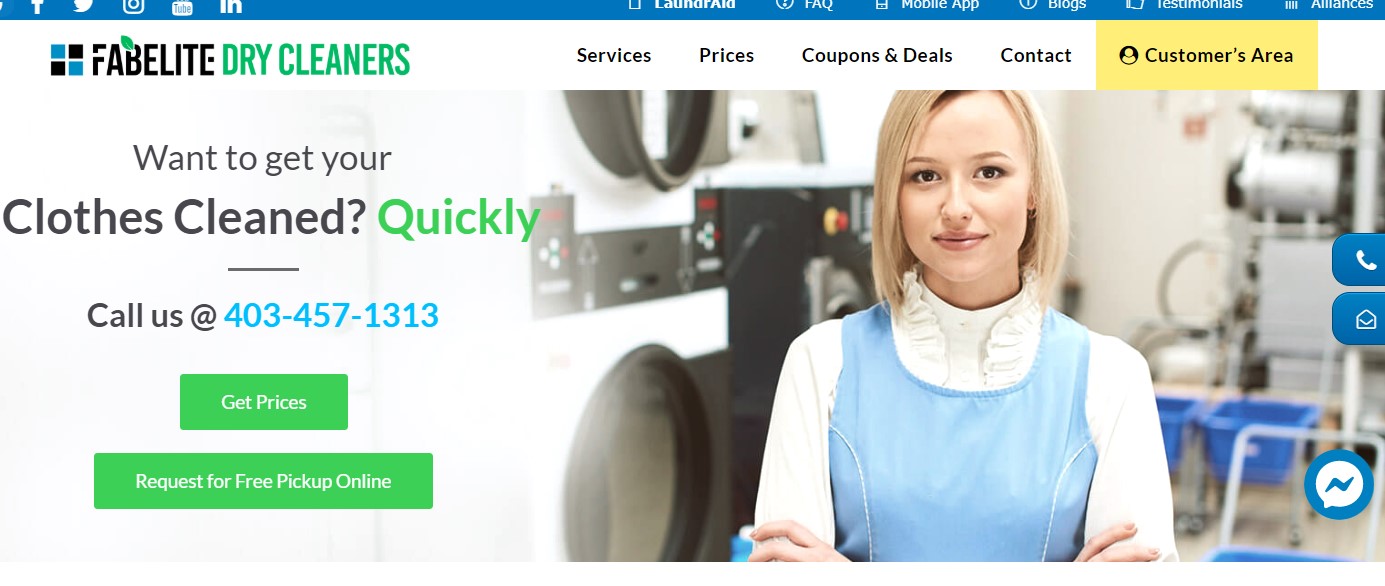 BEST FOR
Free Doorstep Service, Convenience, Premium Service, Affordability, Excellent Customer Service, Same/Next Day Service, 365 Day Service*
SERVICES/SCOPE

Dry Cleaning

Laundry

Wash & Fold

LaundrAid (New Service)

Alterations | Repairs | Custom Tailoring

Household (Linens, Beddings, Drapes, Pillow, Comforters, Area Rugs etc.)

Leather & Suedes

Shoes & Handbag Cleaning & Repair

Wedding Gown Cleaning & Preservation

Smoke/Fire/Water/Mold Damage

Commercial Laundry Services

PRICING
Starts at CAD 4.35
WEBSITE
https://fabelitedrycleaners.ca/
ADDRESS
Bay #224, 7337 Macleod Trail,

Calgary, Alberta T2H 0L8

CONTACT
(+1) 403-457-1313 | [email protected]
PAYMENT
Major Credit Cards (Visa, Master, Amex)

Debit Card
Cash

Cheque

Interac
Fabelite Dry Cleaners offers a solution for busy professionals, working moms, students and travelers of Calgary. You don't have to get to a physical store to get dry cleaning services. You simply fill out its online form to schedule your preferred pickup. With Fabelite, you'll have clean clothes without thinking of soap, water, and electricity.
2. Caachi Dryclean & Alteration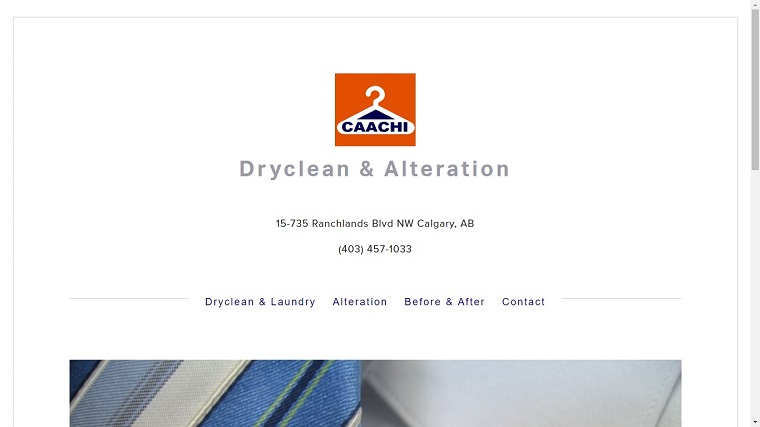 BEST FOR
Same day service
SERVICES/SCOPE
Dry Cleaning

Wash & Fold

Shirt Laundering

Comforters & Duvet

Leather & Suede

Shirt Laundry & Pressing

Sports Equipment

Wedding Gown

Alterations

PRICING
Available upon request
WEBSITE
http://www.caachidrycleaner.com
ADDRESS
Unit 15, 735 Ranchlands Boulevard NW

Calgary, Alberta T3G 3A9

CONTACT
(+1) 403-457-1033 | [email protected]
PAYMENT
Cash and major credit cards
Caachi Dryclean & Alteration is first known for its alteration services. It accommodates almost all types of repair services. From precise body measurements to customized clothing, curtains and drapes, it can transform your items into something new.
Don't forget to send your new garments for dry cleaning or laundry. That way, you can immediate wear and show it off after getting it back.
3. Fishman's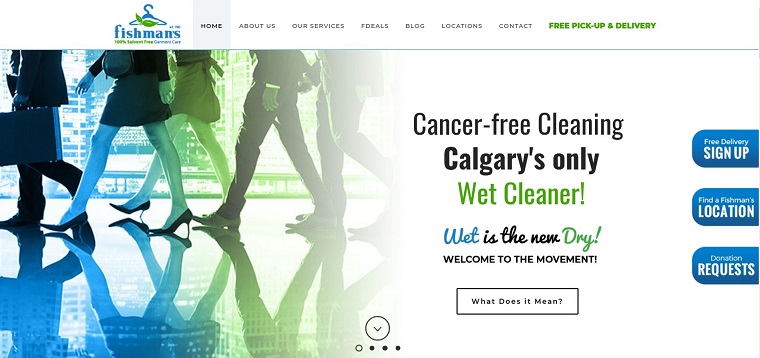 BEST FOR
Free Pick-Up & Delivery; Green Garment Care Cleaner; Biodegradable, citrus-based, soluble soaps; Superior colour retention and stain removal
SERVICES/SCOPE
Skip the Laundry (Wash & Fold Service), Shoe Repair, Alterations & Repairs, Commercial Garments & Uniforms, Meticulous Shirt, Wedding Gowns, Linen Service, Specialized Dry Cleaning, Area Rugs
PRICING
Contact the company for a quote
WEBSITE
https://fishmans.ca/
ADDRESS
615 – 17 Avenue SW
Calgary, Alberta T2S 0B3
CONTACT
(403) 228-6995 | [email protected]
PAYMENT
Fishman's has been in the fabricare industry for over 70 years. This makes them Calgary's most experienced dry cleaners. They are also the only green garment care cleaner in Calgary who has removed all Perc, solvents and other commonly used dry cleaning chemicals to become 100% solvent free. This is because they believe clothes and the environment deserve additional care, time & attention to detail.
They also provide specialized dry cleaning during which your garments are inspected by hand, spots are pre-treated and experienced cleaners use their judgement to determine the most appropriate cleaning material and technique. In addition, minor repairs are done on small seams, missing buttons are replaced and then the items are expertly pressed. The items are inspected again and then specially packaged to keep them looking great.
4. Dolphin Dry Cleaners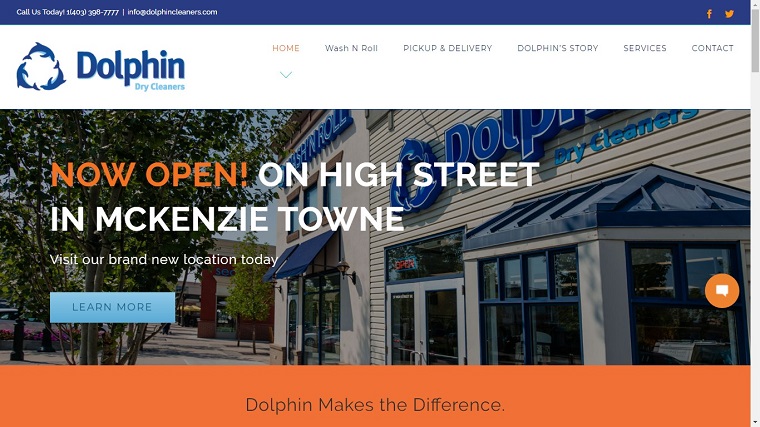 BEST FOR
Next day pickup & delivery, Wash N' Roll
SERVICES/SCOPE
Dry Cleaning

Comforters & Bedding

Draperies & Curtains

Leather & Suede

Wedding Dresses

Alterations & Repairs

PRICING
Starts at CAD 5
WEBSITE
https://dolphincleaners.com
ADDRESS
13b, 728 Northmount Drive NW

Calgary, Alberta T2K 3K2

CONTACT
(+1) 403-398-7777 | [email protected]
PAYMENT
Major debit and credit cards
Dolphin Dry Cleaners has a Wash N' Fold service perfect for those with busy lifestyles. If you're one of them, you can get your life back with this premium doorstep service. Place your washables in their garment bags, schedule your pickup date and wait for your clothes to come back neat and fresh. You can opt for the standard 3 days service or express to get your important attire on time.
5. Tower Cleaners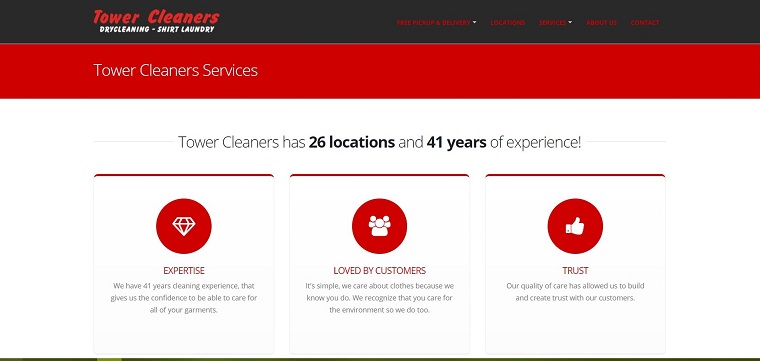 | | |
| --- | --- |
| BEST FOR | Green Dry Cleaning Technology, Free Drycleaning Pickup & Delivery, Seven-Point Inspection Process  |
| SERVICES/SCOPE | Dry Cleaning, Green Cleaning, Laundry, Household Linens, Beddings & Draperies, Down Pillow & Comforters, Area Rugs, Furs, Leather & Suedes, Shoes & Handbag Cleaning/Repair, UGG Cleaning, Wedding Gown & Preservation, Alterations & Tailoring, Smoke/Fire/Water/Mold Damage |
| PRICING | Contact the company for pricing |
| WEBSITE | www.towercleaners.ca |
| ADDRESS | 402-53 ave SE. Calgary, Alberta, Canada |
| CONTACT | (403) 262-3791 | [email protected] |
| PAYMENT | Major credit cards, debit cards, cash, cheque |
Tower Cleaners has been in business cince 1978. This family business stays true to their family values in providing service to the community. Tower Cleaners not only utilizes advanced technology and the latest in environmentally-friendly cleaning science, they also offer unparalleled attention to detail and a seven-point inspection process that elevates their dry cleaning service to the best garment care available in Calgary. Tower Cleaners has a team of professionally-trained inspectors dedicated to meeting and exceeding client expectations every time.
Dry cleaning hasn't traditionally be considered a "green" business, but Tower Cleaners has the newest green dry cleaning technology, SYSTEMK4. SK4 is an environmentally-friendly mix of halogen-free, non-toxic, and bio-degradable cleaning agents that cleans better than traditional solvents and other green solvents on the market today. In addition, SYSTEMK4 saves approximately 75% of steam and boiler energy, and reduces our waste output by about 75%.
6. Prestige Fine Drycleaning & Alterations Ltd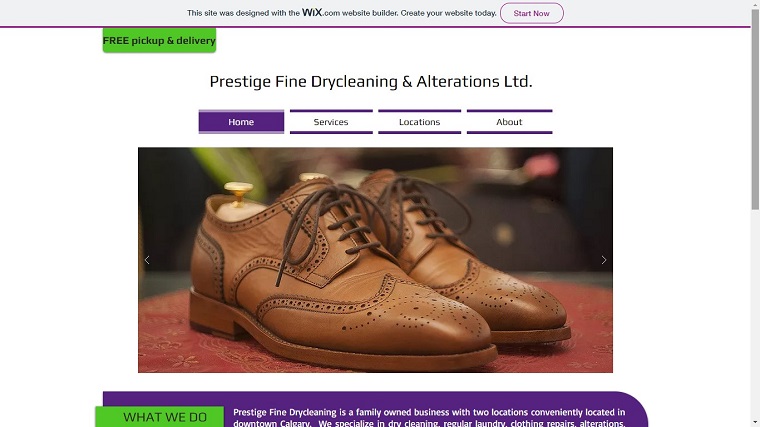 BEST FOR
Accessibility, Alterations, Excellent customer service, Free pickup & delivery
SERVICES/SCOPE
Dry Cleaning

Wash & Fold

Shirt Laundering
Bedding Items

Bridal Items

Shoe Repairs

Alterations

Residential Cleaning

PRICING
Available upon request
WEBSITE
https://prestigedrycleaning.wixsite.com
ADDRESS
Unit 110 – 210, 15 Ave SE

Calgary, Alberta T2G 5T7

CONTACT
(+1) 587-351-5324 | [email protected]
PAYMENT
Major credit cards
If Prestige Fine Drycleaning & Alterations has a tagline, it's surely "Great team, great service." It is committed to quality cleaning and only the best customer service. For them, you are not just a number or a customer. The moment you choose Prestige, you become a part of its family. You will receive nothing less than the five-star services on dry cleaning and laundry past customers have experienced.
7. Drycleaning by Dave
BEST FOR
Free pick up and delivery for dry cleaning
SERVICES/SCOPE
Pick Up and Delivery, Wedding Gown Services, Destination Weddings, Restoration, Sari Cleaning, Corporate Services
PRICING
Contact company for prices
WEBSITE
www.drycleaningbydave.ca
ADDRESS
Bay #3017
3017-873 85th St. SW
Calgary, Alberta T3H 4C7
CONTACT
(403) 714-9727 | [email protected]
PAYMENT
VISA, Mastercard
Drycleaning by Dave services the areas of Cochrane, Elbow Valley, Canmore, and Calgary NW and SW. Dry cleaning are offered twice weekly or as needed. Please allow 3 business days for your garments to be returned. For the customer's convenience, once you initially register with their service, you will receive a personal valet bag and your personal dry cleaning instructions for cleaning, laundering and finishing of your garments will be recorded.
If you are not home, Drycleaning by Dave will happily pick up and deliver your order to the location that you designate in your absence. They have monthly promotions, so make sure you check out their special discounts posted on their website.
8. Avalon Cleaners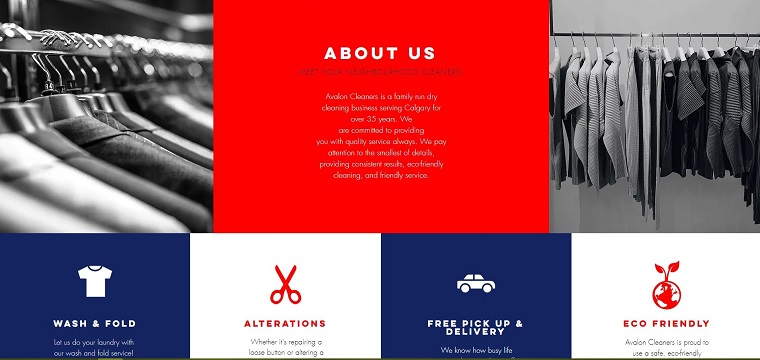 BEST FOR
Same Day Dry Cleaning, Free Pick Up & Delivery, Eco-Friendly Solutions
SERVICES/SCOPE
Wash & Fold Laundry, Dry Cleaning, Repair & Alterations

2 piece suit, Jacket, Pants, Mens Dress Shirt laundered & finished with French cuff, Ladies Blouse, Sweater, Dress etc.

PRICING
$3.80 (dress shirt) – $21.50 (2-piece suit)

Prices may vary depending on fabric, trim, heavy staining, etc, for further dry cleaning prices please call them

WEBSITE
www.avaloncleaners.ca
ADDRESS
1105 Centre St NW
Calgary, AB T2E 2R1
CONTACT
(403) 230-0233 | [email protected]
PAYMENT
Major credit cards
Avalon Cleaners is a family-run dry cleaning business serving Calgary for over 35 years. They have a passionate and committed team providing quality service every time. Avalon Cleaners makes sure they pay attention to the smallest of details, provide consistent results, eco-friendly cleaning, and friendly service. Their eco-friendly cleaning solution does not produce any hazardous health, safety or environmental affects or issues. They also offer a membership program for added savings!
9. K Tailor Dry Cleaning & Embroidery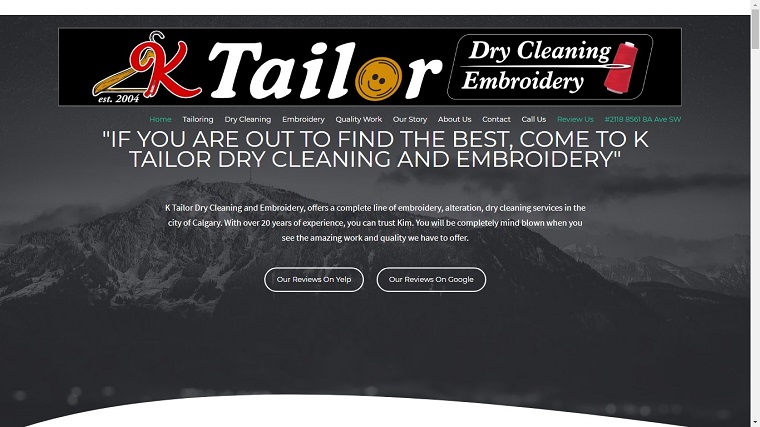 BEST FOR
Dedicated owner, Tailoring & embroidery, Quality work
SERVICES/SCOPE
Small
PRICING
Available upon request
WEBSITE
http://www.ktailor.ca
ADDRESS
Unit 2118, 8561 8A Avenue SW

Calgary, Alberta T3H 0V5

CONTACT
(+1) 403-242-0052 | [email protected]
PAYMENT
Mastercard
Kim and her team are the people you can definitely count on to exceed your expectations. All their services are excellent making a huge difference on your clothes. K Tailor Dry Cleaning & Embroidery has some of the best workers in Calgary that can fix and take care of your garments. For alterations, tailoring, embroidery, and dry cleaning, you can ask Kim to help you and do more than what you need.
10. The Cleanocrats Dry Cleaning + Alterations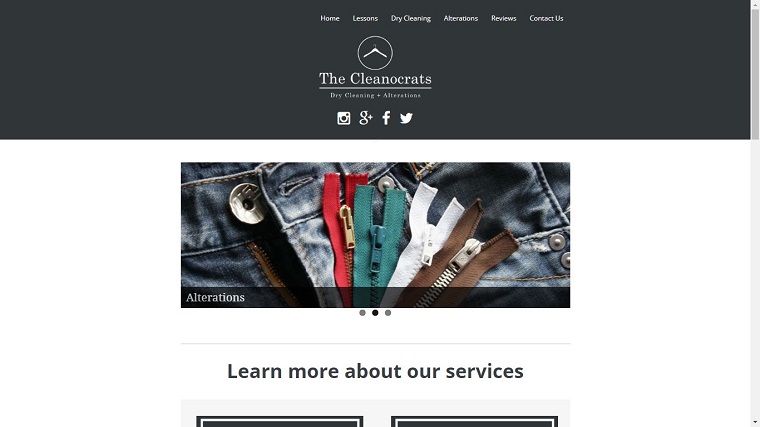 | | |
| --- | --- |
| BEST FOR | Friendly staff, Stain removal, Quick service |
| SERVICES/SCOPE | Small |
| PRICING | CAD 4.98 – 21.98 |
| WEBSITE | http://thecleanocrats.com |
| ADDRESS | 1128 13 St SW, Calgary, AB T3C 3S8, Canada |
| CONTACT | (+1) 587-955-6444 |
| PAYMENT | Cash and credit cards |
The Cleanocrats is locally-owned business that offers by far the most affordable dry cleaning service in the neighborhood. It is also transparent with its services. It shows the basic prices for popular dry cleaning items. It also caters to alterations, repairs and wedding gown maintenance. You can get all of these from its friendly staff who are ready to provide clean and well-restored clothes.
These are the best options for dry cleaning in Calgary that won't let you down. Some of these businesses aren't only focused on dry cleaning, they are also offering alteration & repairs. Visit any of these stores to keep your clothes fresh, pressed, and free of stains.
---
Photos taken from each store's official website.