Noticed that your gutters are blocked by leaves, sticks, and other debris? Well, if you let them be for much longer, they can cause a leaky roof, serious water damage, and nest for pest infestations.
To avoid such problems, we're here to help you find the companies known for providing the best gutter cleaning in Edmonton. Read our list below to know where you can find them!
1. The Gutter Doctor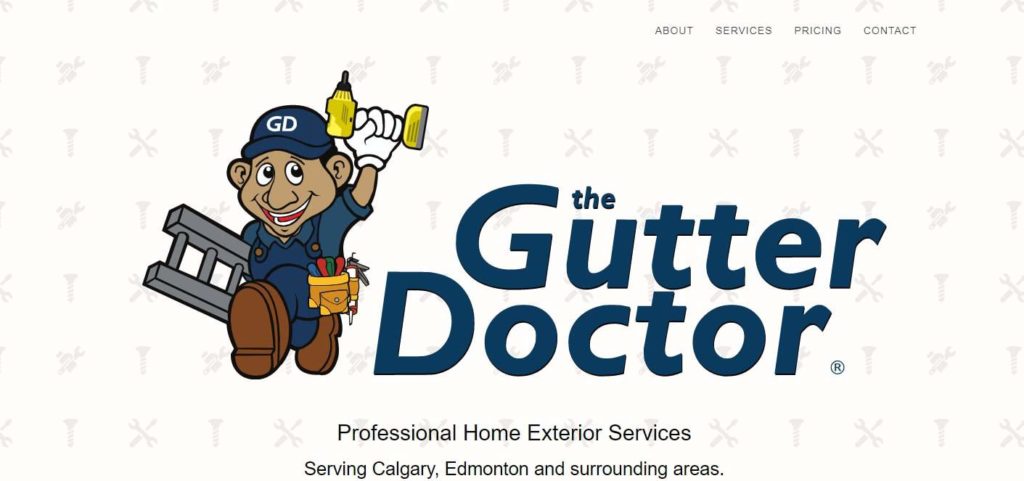 BEST FOR
Gutter Cleaning, Repair, and Replacement Services
WEBSITE
https://www.gutterdoctor.ca/
CONTACT DETAILS
780-709-6825
OPERATING HOURS
Monday – Thursday: 9:00 AM – 7:30 PM
Friday – Saturday: 9:00 AM – 6:00 PM
The Gutter Doctor specialises in residential services where they offer gutter repairing and cleaning solutions. They use professional-grade gutter seals to make sure that your gutter can fully manage extreme weather changes, expansion, contraction, and water for several years.
In case of serious roof, gutter, or siding damage, they offer a quality repair where they'll replace the damaged part with a piece of the same style and design. If there's a need to change the fascia and soffit, they can also match the design and colour of your previous ones.
They also take care of your fold-up downspout extensions by using locking nuts and bolts/rivets to ensure they won't quickly fall out or mangle the joint.
They've also been named in multiple publications as one of the top gutter cleaning service companies in Edmonton.
Offers senior discounts
Provides 5-year guarantee on installations and 2-year guarantee on repairs
Can also work on commercial or industrial buildings and condos
Charges a 1.9% credit card fee but accepts e-transfers and checks
Customer Reviews
Customers mentioned the quality workmanship and valuable rates offered by The Gutter Doctor. They said that their house looked more refreshed and neat after the whole gutter cleaning process.
Shaun Baker recommended their services and wrote this review:
"If you need your Fascias, guttering or both replacing then these guys are what you need. Very professional service, nothing is too much trouble from issuing a quote to carrying out the work. Work area is clean and tidy throughout the whole job. If you need it done then please give them a call. I really can't praise them enough."
2. Heights Residential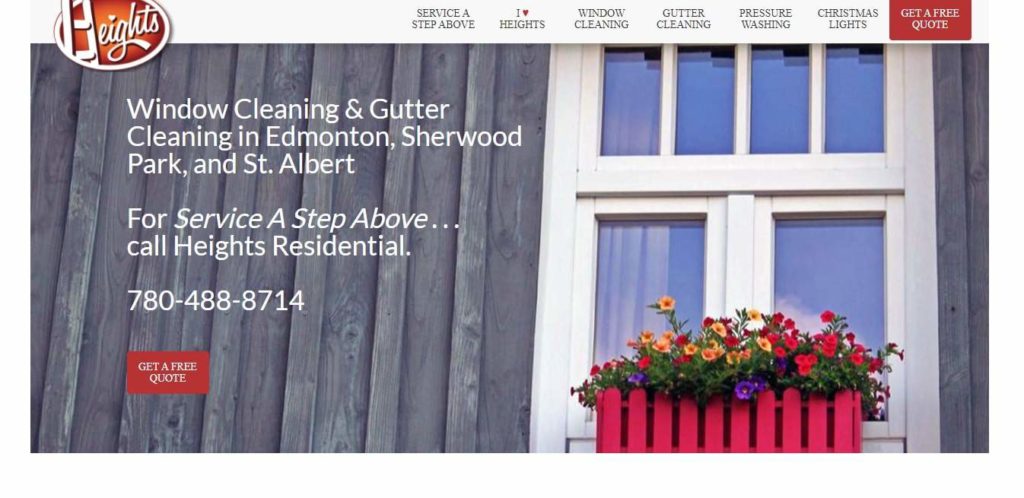 | | |
| --- | --- |
| BEST FOR | Gutter, Downspout, and Roof Inspection, Traditional Gutter Cleaning |
| WEBSITE | https://www.heightsresidential.com/ |
| ADDRESS | 11845 94 St NW, Edmonton, Alberta Canada T5G1J3 |
| CONTACT DETAILS | 780-488-8714 |
| OPERATING HOURS | Monday – Friday: 9:00 AM – 5:00 PM |
Heights Residential provides multiple cleaning services, which include managing gutters and downspouts. They make sure that your gutters will be protected by removing rotting leaves and waste using traditional methods.
All the collected debris will be bagged and disposed of, leaving your property fully cleaned. They'll also flush the downspouts and rinse out the eaves, ensuring that they're cleared.
Apart from gutter cleaning, you'll also get a free 9-point inspection where their experienced staff will check the overall condition of your eaves and downspouts. They'll inform you about the potential issues that may happen with your roof as well as the parts that need repair.
Unlike most service companies, they have an online estimator on their official site. You can simply fill out a form and get a free tailor-made quote — this way you can easily plan your budget before hiring their services.
Offers 9-point inspection
Provides return services
Special discount promotions
Free online quotation
Only available during weekdays
Limited to residential services only
Customer Reviews
Many customers shared that Heights Residential provided them with time-efficient and smooth operations. They also said that the staff were responsive and friendly as well.
A customer posted this feedback:
"I had my eaves cleaned again this year. I have used their service for five years now and would never go with anyone else. They had to come back three times as I had a wasp problem and they were so very helpful and considerate . I will always get their service and I usually have to get it twice per year because of the Dutch elm trees on the city boulevard. They have to be done in the fall and again in spring from the tree guck."
3. Men In Kilts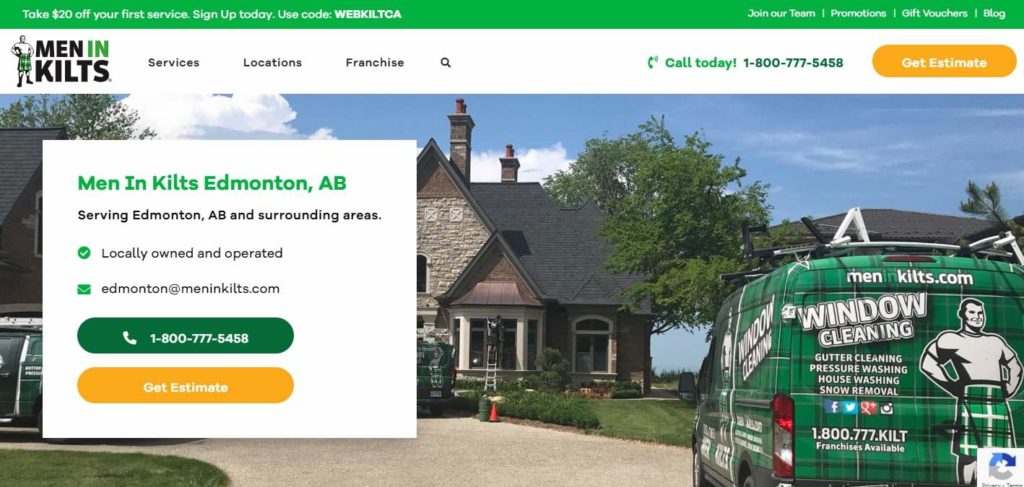 | | |
| --- | --- |
| BEST FOR | Specialised Advanced Cleaning Equipment and Techniques, Custom Commercial Cleaning Services |
| WEBSITE | https://edmonton.meninkilts.ca/ |
| ADDRESS | 6556 28 Ave NW #333, Edmonton, AB T6L 6N3, Canada |
| CONTACT DETAILS | +1 800-777-5458 |
| OPERATING HOURS | Monday – Friday: 7:00 AM – 4:00 PM |
Unlike the previous options, Men In Kilts offers both residential and commercial gutter cleaning services. They use advanced equipment and techniques to remove all debris, plant growth, and even rodent nests, maintaining the good condition of your gutter system.
If there are some narrow spaces in your gutter that the previously hired staff have failed to clean, no need to worry 'cause Men In Kilts' team is equipped with skills and tools that can fully clean hard-to-reach spaces.
They conduct a comprehensive gutter cleaning process where the technicians will evaluate the soil levels, access points and areas to be cleaned. Then, they'll use the most suitable solution, providing efficient services.
When the work is done, they make sure that the gutter system is flowing properly. A deficiency report will also be provided if needed.
For their commercial services, they offer a program tailored for your business. Their services are designed for recurring maintenance of your gutter system.
Simply set your preferred budget, schedule, and cleaning preferences and you can be sure that your properties will always be in optimum condition.
Apart from gutter cleaning, they also offer house washing, pressure washing, and window cleaning. So for those who are planning to deep-clean their homes or offices, they've got a whole range of cleaning services!
Offers convenient package deals
Wide range of cleaning services
Uses specialized equipment and techniques
Offers custom-pricing and auto-pilot scheduling
Provides full-season protection for the gutters
Slightly expensive
No services during weekends
Customer Reviews
Men In Kilts has earned lots of positive responses from customers who've experienced detailed and reliable cleaning services.
Due to this as well as the approachable staff, along with the quoting and scheduling services, some said that they truly have the best gutter cleaning in Edmonton.
Lindsay Lee gave this review:
"Professional, courteous service with good communication to keep me apprised of any changes to service time or delivery. Honest- I asked for gutter cleaning and, after their assessment, they told me only 1 main gutter had debris in it so charged me less and cleaned only that one rather than charging for the entire house/all gutters. Windows cleaned well. I will use this company again."
4. Shine Above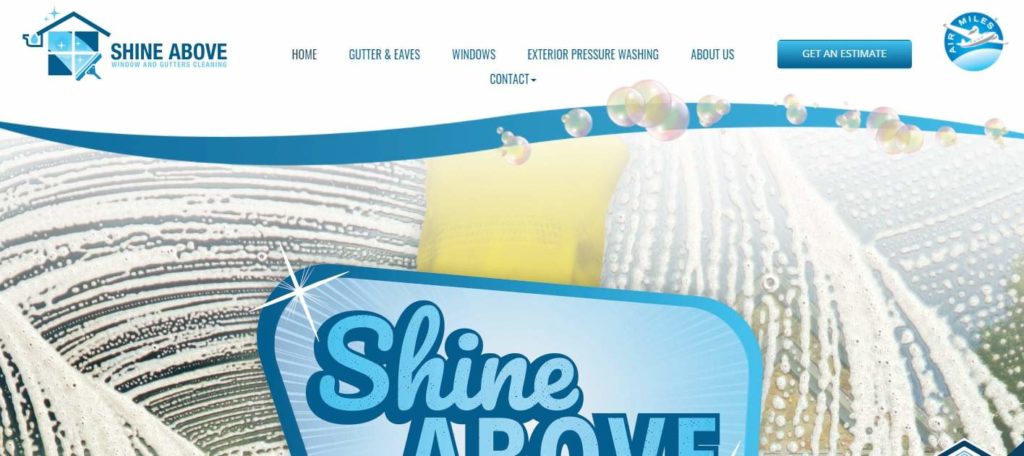 | | |
| --- | --- |
| BEST FOR | Environment-friendly Cleaning Products, Works with Local Roofing Company |
| WEBSITE | https://www.shineabove.ca/ |
| ADDRESS | 11511 160th Street NW Edmonton, Alberta T5M 3V9 |
| CONTACT DETAILS | +1 587-205-4647 |
| OPERATING HOURS | Monday – Friday: 8:30 AM – 5:00 PM |
Shine Above also has a great selection of cleaning services for both home and business owners. This includes providing gutter cleaning services to help prevent mould and moisture buildup, causing potential roof damage.
Before starting the cleaning works, their skilled technicians will conduct a field level hazard assessment to ensure that there'll be no risks involved while completing the job.
Moreover, they use a so-called buddy system in which they work with a local roofing company. This is to determine if there are any extra safety precautions needed such as a roof anchor.
They use nature-friendly products, keeping your property safe from toxic chemicals. Once the cleaning process is done, they also provide before and after photos so you can see the total improvement.
You can also get a free estimate on their official website. Just fill up contact information details and give a thorough explanation of your cleaning needs.
Provides residential and commercial services
Full range of exterior cleaning services
Has a rewards program
Offers gutter cleaning gift cards
Free online quote estimation
Cleaning services aren't available during weekends
Customer Reviews
Many customers have recommended the services of Shine Above because of the client-focused approach. From their inquiry experience up to the completion of the project, customers mentioned that the team was very attentive and considerate.
Bryan Hennig left this feedback:
"Shine Above went to my mom's house and did a great job, the gutters were clogged on the garage and roof with debris from her large trees, they showed and and were quick and efficient! The windows were spotless, and they worked around the garden/plants without damaging them!"
5.  Darren Does That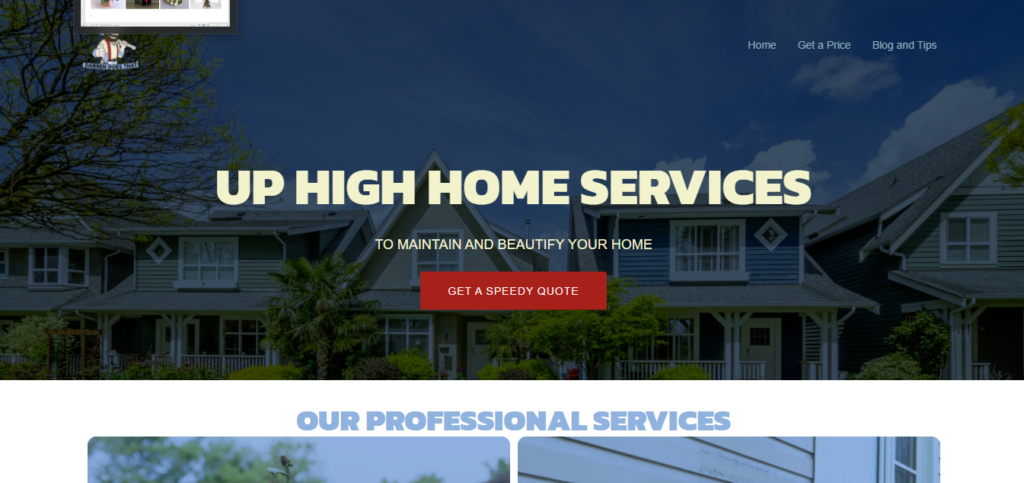 BEST FOR
Gutter Cleaning and Repair
WEBSITE
https://darrendoesthat.com/
ADDRESS
9712 64 Avenue NW,
Edmonton Alberta T6E 0J5
Canada
CONTACT DETAILS
(780) 233-2463
[email protected]
OPERATING HOURS
Monday 8:30a.m.-5p.m.
Tuesday 8:30a.m.-5p.m.
Wednesday 8:30a.m.-5p.m.
Thursday 8:30a.m.-5p.m.
Friday 8:30a.m.-5p.m.
Saturday Closed
Sunday Closed
Darren Does That is one of the most trusted cleaners in Edmonton, Alberta. His Gutter Cleaning and Repair, Power Washing, Window Cleaning, and Christmas Lighting.
People love their 3 day rain guarantee on window cleaning. If it rains right after your window got cleaned, they will come back and touch it up.
If your gutter got dirty within 30 days after the cleaning, they will also go back and remove the clog. This is another factor why people prefer Darren and his team.
His team is filled with professional and friendly cleaners that always give their attention to details. They will always leaver your home shining and spotless.
Offers packages
Speedy Quotes
Easy to schedule
Customer Reviews
Here are some reviews from Darren Does That's previous clients:
"I had Darren come and clean my gutters and he was great. He also did some maintenance work to reslope my gutters and fix some leaks. The team was very professional and timely. I wouldn't hesitate to recommend him to anyone."
"Darren and his crew are excellent, Ive hired many, many handymen and helpers in the past to help care for my places and I am blown away by his service. On time, affordable and friendly what more could you ask for?"
"We got our gutters done with Darren and were super happy with the result. He was very professional, friendly and did a great job installing everything. The work was done on time and his pricing was very fair. We usually use google reviews as a way to chose between different companies. In some cases it can be misleading. But in this case I can definitely see why Darren has a lot of positive reviews. We would use him in the future for other jobs without a doubt. Thanks a bunch!"
6.  The Guttermen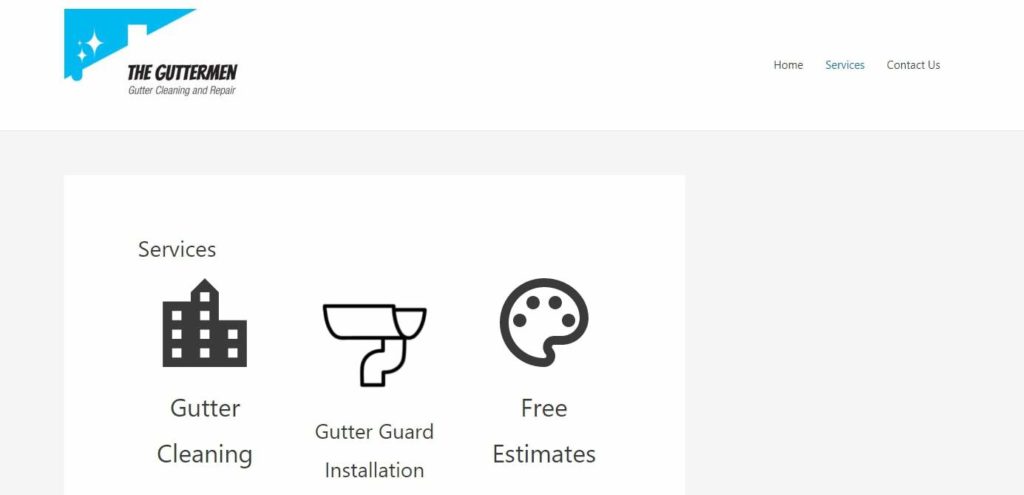 BEST FOR
Custom Gutter Cleaning and Installation of Gutter Guards Services
WEBSITE
http://theguttermen.ca/
ADDRESS
11427 51 Ave NW, Edmonton, AB T6H 0L8, Canada
CONTACT DETAILS
+1 780-340-7541
OPERATING HOURS
Monday – Friday: 9:00 AM – 5:00 PM
Saturday: 11:00 AM – 4:00 PM
Be it residential or commercial property, The Guttermen can accommodate your gutter cleaning needs with their tailored services!
They use solutions that suit the current condition of your gutter system. Aside from cleaning your gutters, they also provide installation service of several lines of gutter guards.
Instead of an online quote, you may schedule an appointment and let a trained estimator visit your place and prepare a detailed quote.
They even provide before and after photos so the clients can see the actual improvements. Their services are available at reasonable rates, offering budget-friendly plans!
Provides residential and commercial services
Promotes tailored cleaning services
On-site quotation
Offers free estimates
Operating hours during weekends are quite limited
Customer Reviews
Most customers mentioned that The Guttermen truly has the best gutter cleaning in Edmonton, providing professional, efficient, and prompt services with their responsive team.
Daniel Bubelenyi shared this experience:
"Hired the Guttermen for eavestrough cleaning and was impressed with their diligence, professionalism, and overall quality of work. The two workers, Marty and Daniel, were also very friendly and a pleasure to deal with. Will be using them again in the future."
7.  Roman Exteriors and Maintenance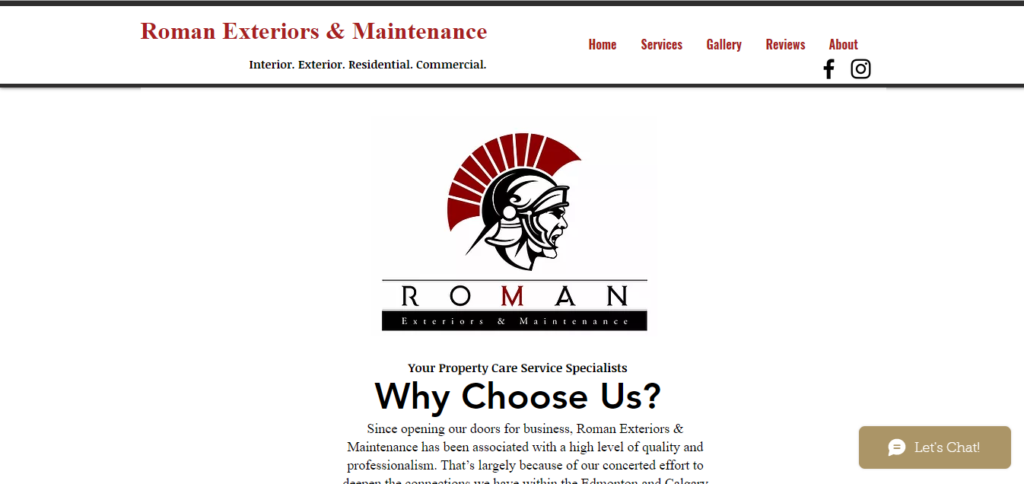 Roman Exteriors and Maintenance have been serving Alberta since 2015. They have a team of professional and polite cleaners that will satisfy you.
Over the years, they have built a reputation for themselves due to the quality of their services.
People prefer them because their cleaners are always prompt and do their job fast and efficiently. Another factor is how fast they can book an appointment with them.
Unlike other cleaning companies, they give all their attention to details. No matter how dirty the job is, they will leave it shining and spotless.
Provides residential and commercial services
Provides exterior and interior services
Responds quickly
Customer Reviews
Here are some reviews from Roman Exteriors and Maintenance's previous clients:
"Just had the crew here this morning. Fantastoic job, no hassles, just went about the job quickly. Windows look great, will be using this service regularly now, highly recommend."
"San and his crew were fantastic to deal with and they did a fantastic job! highly recommend!"
"Professional quick service"
8. Death to Dirt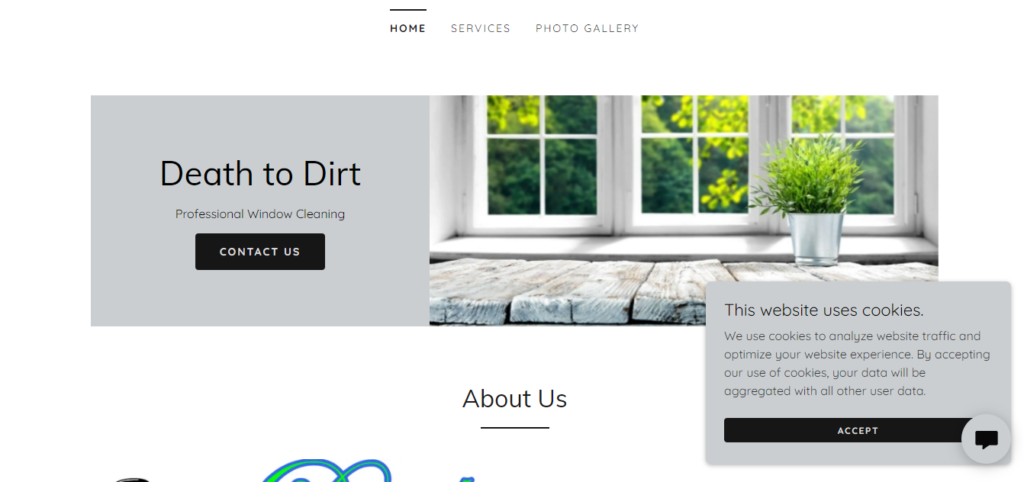 Death to Dirt is a locally owned company. They have been providing professional window cleaning, gutter cleaning, and pressure washing services since 2017.
Their team is composed of professional and committed workers. They always pay attention to detail and quality even if it requires a little more time.
People like them because they go the extra mile to gain the confidence and trust of their clients. They do this by making sure to leave the client with a smile on their face.
Another factor why people prefer them is they are flexible. They always adjust their time in order to fit their client's schedule.
Free Quote
Affordable services
Ensures that they do not damage any items nor furniture
Customer Reviews
Here are some reviews from Death to Dirt's previous clients:
"I have used the services of Death To Dirt two times in the past two years. One in the home I sold and one on my new build! My windows were absolutely to the point where you couldn't see out of them with construction dirt on them. When I called Jared he said they would still be able to do the windows even though the ground around my house was all different levels to stand on. When I got home from work and walked in my house I had to physically walk up to the windows to see if the glass was actually in the window! You couldn't tell their was a window even there! It was absolutely incredible the terrific job he did on cleaning them. There wasn't one spot on them!They were so efficient in communicating with me. When I booked on Groupon they responded immediately to book an appointment time, and their communication with me was on Par. He did not do my basement level windows, as my rough grade hasn't been completed on my house yet, and so he told me to call him once it's completed and he will come back and do my basement windows at no extra fee. I would highly recommend them to anyone that needs windows cleaned. I will definitely use their services every spring – I am so pleased with their service!!"
"Came and pressure washed my house and windows, they look spectacular! Would highly recommend!"
FAQs About The Best Gutter Cleaning Edmonton
---
There you go! That's our list of places with the best gutter cleaning in Edmonton! Have you already tried services from one of our selected companies? If so, then we'd also like to hear about your story!