Featured Image Source from Ned Stevens Gutter Cleaning of Long Island
Gutters carry the rainwater from your roof toward the downpipe and to the ground. If your gutter system is clogged, your house could be prone to leaks, rotting wood, structural damage, among other effects.
Thus, we researched and listed the best gutter cleaning in Kansas City here for you. But before we show them to you, we'll delve into their rates so you'll know how much you have to spend on their service.
The Average Cost of Gutter Cleaning in Kansas City
According to a home service website, HomeAdvisor, the average cost of gutter cleaning in KC is $121 or between $90 and $140.
Several variables can influence the price, including the gutter length, condition, number of house stories, repair service, and whether you have a gutter guard installed.
In general, gutter cleaning professionals charge $1 per 1 linear foot and $2 per 2 linear foot of gutter on your house. Therefore, the more gutters you have, the higher you will pay.
Also, kindly view the table below for gutter cleaning costs by the number of stories of a 200 square-foot house. We also included the downspout cleaning rates here.
| | |
| --- | --- |
| Gutter Cleaning Service | Price Range |
| Single-story home | $70 – $200 |
| Two-story home | $95 – $225 |
| Three-story home or more | $170 – $425 |
| Downspout cleaning | $50 – $100 |
The Best Gutter Cleaning Options in Kansas City
Now that you have a clear idea of how much gutter cleaning costs, we give you our best options for gutter cleaning in Kansas City, Missouri!
1) Clean Pro Gutters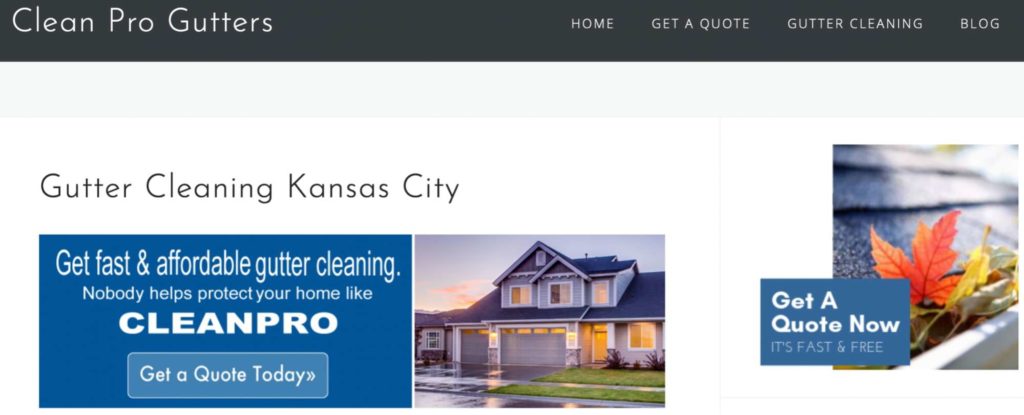 Established in 2001, Clean Pro Gutter Cleaning offers gutter cleaning, gutter installation and repair, and gutter guard fitting services in and around Kansas City.
They can assist homeowners, real estate agents, landlords, and tenants relating to gutter and downspout work. Their gutter specialists carry $2 million liability insurance to eliminate the damage risks of working on your property.
According to clients, the team was knowledgeable and efficient in cleaning their gutter system. They removed all the gunk in their gutters such as leaves, twigs, or random litter.
To back up their workmanship, they offer clients a solid 30-day warranty. That's far better than a warranty that expires after just a day.
Their service is relatively fast because the team can respond within hours of your call. It's easy to get a quote or schedule a job with them online as well.
As you can see in the table, their prices are transparent and fair. These are only an approximation, however, and they can give you an accurate estimate of your gutter cleaning.
The company accepts a wide range of payments, such as credit cards, debit cards, PayPal, and checks. Unfortunately, they don't take cash at this moment.
Another great thing about this company is you don't have to be at home for them to commence their work. You can inform them that you'll be at work or out on a holiday and they'll do what they do best.
Thus, for a one-stop gutter shop, warrantied service, and easy scheduling, you can rely on Clean Pro Gutter Cleaning. Indeed, it's one of the best gutter cleaning options in Kansas City!
One-stop-shop gutter specialist
$2 million liability insured
Easy to book with online
Accepts online payments
Takes major credit and debit cards
30-day clog-free warranty
Transparent prices
Doesn't accept cash
Closed on a Sunday
Customer Reviews
The company received a perfect score from more than a few clients. They mentioned the gutter cleaners were dedicated, professional, and friendly, aside from charging fair rates.
One client named Melody gave this comment about their service:
"Fast, efficient service. I booked easily online and had a technician at my house in less than two hours (though it was in the middle of winter, so a less busy time of year). They do a great job at a reasonable price. Highly recommended!"
And Kwasi also said this:
"The technician came a day before the scheduled date. Did a thorough cleaning. I am going to use them forever. Highly pleased with the job."
2) A Cleaner Image Window Cleaning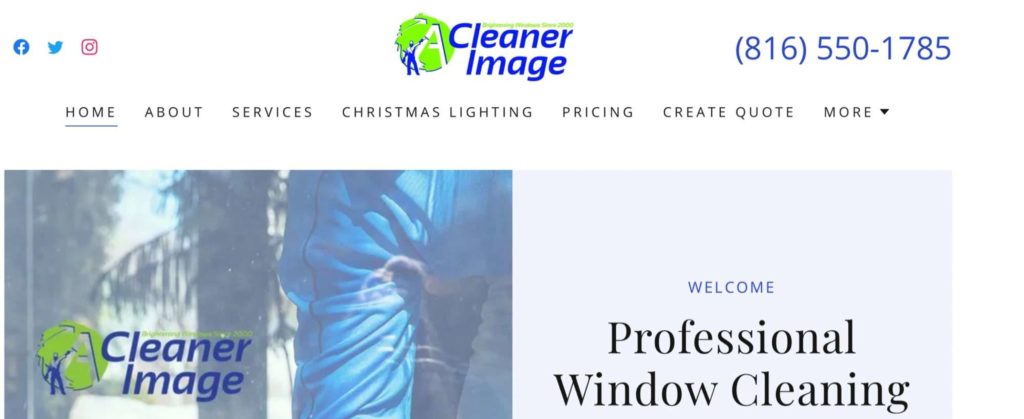 SERVICES/SCOPE
Residential window cleaning
Gutter cleaning
Christmas lighting
Window tinting
PRICING
Gutter Cleaning

Ranch home: $150 – $175
Two-story home: $175 – $200
Three-story home: $200 – $250
WEBSITE
https://acleanerimagekc.com
ADDRESS
9609 N Evanston Ave, Kansas City, MO 64157, USA
CONTACT DETAILS
(816) 550-1785


[email protected]

PAYMENT
Credit cards
Does your house need window and/or gutter cleaning? In case you do, A Cleaner Image is another great choice being a local, family-owned business.
They've been in business for over 2 decades and they are dedicated to satisfying their clients. To date, they have worked for thousands of clients, most of whom gave them positive feedback.
Although their primary service is window cleaning, Scott, the owner, is skilled, safe, and efficient in performing gutter cleaning. Also, he can do residential window tinting and Christmas lighting.
The prices are shown online for clients to see, which is slightly higher than our previous company. Note that they have a minimum charge of $160, so in order to get value, it might be best to avail of both their window and gutter cleaning services.
Discounts are offered to clients that made payments in advance. Furthermore, you can inquire about their monthly payment options so you won't have to pay the total amount in one go.
Like all the best gutter cleaning in Kansas City, A Cleaner Image offers a 100% satisfaction guarantee. If somehow the result failed your expectations, they can come back to resolve the issue.
A Cleaner Image Window Cleaning serves homeowners in the Kansas City area and accepts credit cards. However, they are open only from Mondays to Fridays.
Guarantees their work
Hassle-free bid system
Transparent prices
Offers monthly payment options
Gives pre-payment discounts
Minimum service charge of $160
Closed on the weekends
Customer Reviews
Most homeowners had a great experience with this company. They said that the window and gutter cleaner was polite, professional, and efficient.
Also, they were quite impressed with the clean and debris-free gutter results.
Let's hear Barbara's feedback of the gutter cleaner:
"Scott Carlos and his crew are professional, friendly and do a fantastic job!!!"
And Danny wrote this as well:
"We have used a cleaner image for both our window and gutter cleaning for many years. They do an excellent job on both and are very accommodating. The owner always follows up with a call to make sure that you are satisfied. Could not recommend the more highly."
3) Luke The Window Cleaner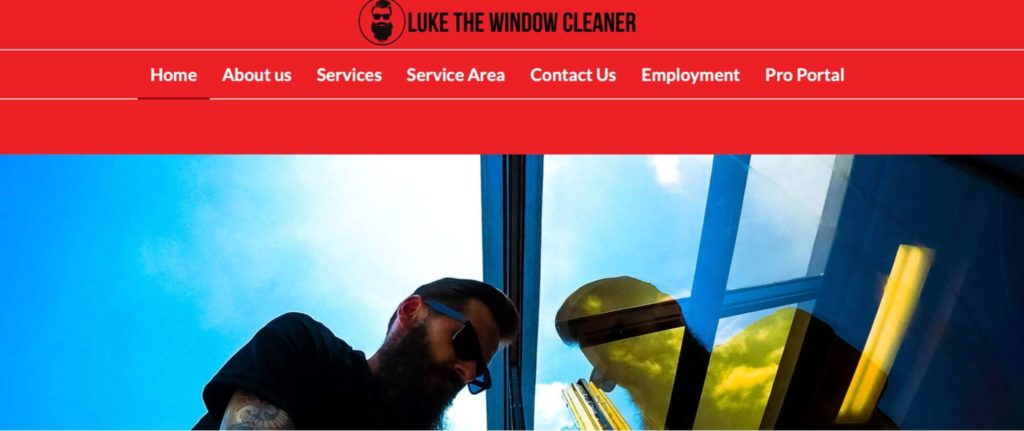 SERVICES/SCOPE
Residential window cleaning
Commercial window cleaning
Gutter cleaning
PRICING
Please contact the company for rates
WEBSITE
https://lukethewindowcleaner.com
ADDRESS
Independence, MO 64052, USA
CONTACT DETAILS
+1 (816) 914-2724


[email protected]

PAYMENT
Credit cards
You probably won't meet a gutter cleaning team as cool as the husband and wife tandem of Luke and Reanna. Fully equipped, knowledgeable, and experienced, they can clean gutters and windows up to 3 stories high.
Both of them are insured, bonded and focused on providing outstanding results. That is, to declutter the gutters, elbows, and downspouts to protect your home from damages and expensive repairs.
They will do a video inspection of your gutters both before and after the work. This way, they can ensure that your gutters are thoroughly cleaned and can channel the rainwater smoothly out of the house.
The cleaning duo is also more diligent than any other gutter cleaners we found. They work Monday through Saturday starting as early as 5.00 AM and ending as late as 8.00 PM.
When you get a bid, they are fast and quick to come on-site and assess your gutter state. If you agree on the work, they will come again soon to free your house gutters from obstruction.
We like that they care about their clients. They will mention any problems they found while working on your gutters, and can even do them without raising your bill, as one client said.
And to earn your confidence, they stand behind all their workmanship and will fix any problem that you happen to find.
Therefore, in our search for the best gutter cleaning in Kansas City, we found Luke the Window Cleaner and we didn't hesitate at all in featuring them here.
You can get a quote from them by call, email, or using FaceTime online. Many clients, however, would prefer the traditional quote system wherein you simply fill in the required fields and hit send.
Luke the Window Cleaner services Independence and Kansas City, Missouri. They can also assist clients in Overland Park and Leawood in Kansas State.
Also bonus: they have a clean-looking site with details about gutter cleaning you need to know. Plus, they offer very cool tees and jackets with their logo and stylish designs printed on them.
Insured & bonded gutter cleaner
Provides a video of the finished gutter work
Open 6 days a week
Guaranteed client satisfaction
FaceTime quoting system
Wide service area
Closed on Sundays
Doesn't have the traditional quote system
Prices aren't shown online
Customer Reviews
The company received a stellar score of 5/5 stars on Google Reviews. Everyone was satisfied with the responsive, professional, efficient, and great-value service provided by the gutter cleaner.
Here's what one client had to say of Luke:
"Luke was very fast efficient and informative, i had really bad gutter damage with it hanging off from recent storms he nailed them up and cleaned them perfectly, really nice and would definitely use him again!"
Furthermore, Bo wrote this review:
"We've had a few different gutter cleaning services at our home in KC over the years. Luke the Window Cleaner is by far the best. Responsive, quality work, great value and very knowledgeable. All the other five star reviews are spot on. Definitely recommend."
4) Addison Window Cleaning

SERVICES/SCOPE
Residential window cleaning
Commercial window cleaning
Post-construction window cleaning
Gutter cleaning
Pressure washing
Light fixture cleaning
PRICING
Please contact the company for rates
WEBSITE
https://www.addisonwindowcleaning.com
ADDRESS
1225 East 24th Ave, Kansas City, MO 64116, USA
CONTACT DETAILS
816-520-6174


[email protected]

PAYMENT
Visa, Mastercard, Amex, and Discover
Formed in 2006, Addison Window Cleaning is another company led by a husband and wife team of Ryan and Michelle Fuller, who will be the one to carry out the work.
It offers a range of cleaning services for domestic and commercial clients in the Kansas metro area. These include gutter cleaning, window cleaning, pressure washing, and also light fixture cleaning.
Estimates are free by phone or when you get the team to visit your home. Being a family-owned business, they strive to be professional, polite, and clean when cleaning your gutters.
What's more, they are liability-insured, which makes them a safe company to deal with in case they damaged your home. They offer a 100% satisfaction warranty but you'll have to inform them as soon as you notice a fault.
They can accept Mastercard, American Express, Visa, and Discover but not PayPal and checks.
The veteran window cleaner is open only on the weekdays. So if your only available schedule is Saturday or Sunday, it may be best to look for another cleaning professional.
And about their rates, clients say they are very reasonable, which is yet another reason they're one of the best gutter cleaning options in Kansas City!
Fully insured team
Offers a 100% satisfaction guarantee
Serves both residential and commercial clients
Gives reasonable rates
Accepts major credit cards
Closed on the weekends
Doesn't accept PayPal and checks
Customer Reviews
Addison Window Cleaning also scored a fantastic 5/5 stars on Google. People wrote that Ryan was professional, punctual, and friendly to work with.
They also said he provided high-quality gutter and window cleaning.
One satisfied client named Tony left this review:
"This is the second time I've utilized Addison Window Cleaning. Ryan has been prompt and professional for both visits. Additionally, he is personable, polite and a pleasure to have working on my home. To be clear, this is not a compensated review and I don't give out five stars unless they are warranted. I HIGHLY recommend Addison!"
Furthermore, Cassandra said this:
"Had my gutters cleaned, very happy with the service! He took before and after pictures for me, was prompt, courteous, professional and thorough. I will definitely be using the service again!!"
5) Empire Cleaning

SERVICES/SCOPE
Residential & Commercial

Window cleaning
Gutter cleaning
Pressure washing
Concrete cleaning

High-Rise

Window cleaning
Pressure washing
Glass restoration
Hard water removal
PRICING
Please contact the company for rates
WEBSITE
https://empirekc.com
ADDRESS
435 Nichols Road, Suite 200, Kansas City, MO 64112, USA
CONTACT DETAILS
816-739-5980


[email protected]

PAYMENT
Credit cards
Empire Cleaning is one of the leading house, office, and high-rise window cleaning specialists in the Kansas City metro. It has a fully certified and insured team trained to the highest standards of safety.
But you can also benefit from their superb skill and experience with other services. These include gutter cleaning, pressure washing, glass restoration, concrete cleaning, and hard water removal.
However, unlike other companies, they don't specialize in gutter repair and gutter guard installation. So this means that they are only limited to clearing your gutters of leaves, bird's nests, and debris.
Hence, whether you need gutters cleaned for a single-story house or apartment, the crew can finish the task efficiently. This will enable your gutters to function well under inclement weather.
With their excellent reputation, it's a given that they guarantee all their work. So if you're not content with the outcome, they can improve upon it without charging you an extra cost.
Holding an A+ rating from the Better Business Bureau, they handle customer complaints pretty well too.
They provide free phone and on-site estimates and booking with them is very simple. For this, you can dial their number, send an email, or fill out their quote form.
Another drawback is they work only on weekdays. But given their expertise, it's highly likely that they will cause minimal to no disruption in your shop or house while cleaning your gutters.
In a nutshell, we picked this company as one of the top gutter cleaners in KC because of their certified team, great experience, and excellent safety record.
Certified & insured gutter cleaners
Holds an A+ rating from the BBB
Provides before and after gutter photos
Serves both residential and commercial clients
Guarantees their work
Doesn't offer gutter repair and installation
Closed on the weekends
Customer Reviews
The window and gutter cleaner received favorable reviews from clients. They noted that the team was easy to work with, professional and courteous, and best of all gave awesome cleaning results!
Check out this client feedback from Terry:
"We have used this service several times now and can not complain at all. The rates and work is done in a professional manner and I would recommend that to anyone that asks me."
Also, Monica left this review on Google Reviews:
"Amazing job cleaning our gutters. Also, we loved the before and after photos included. We definitely will use them again for our gutter cleaning needs."
6) Latka Gutter Cleaning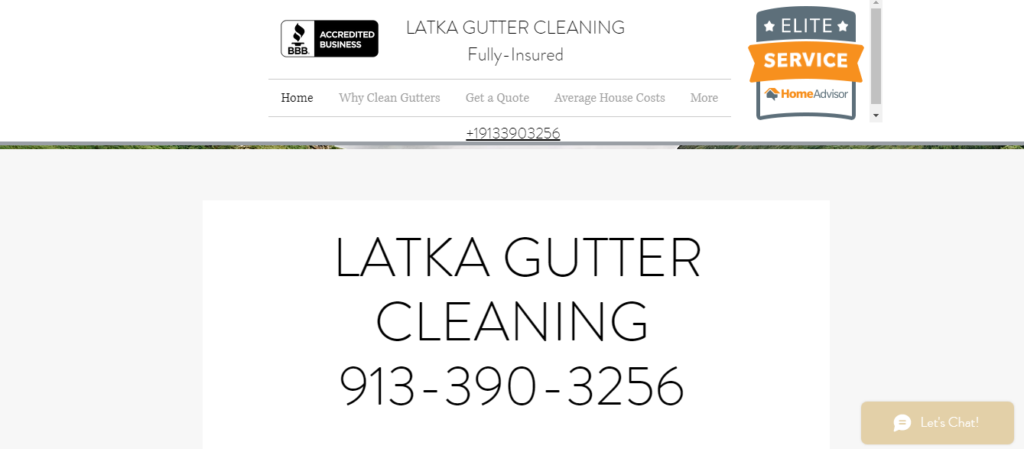 SERVICES/SCOPE
Gutter cleaning, installation, Downspout cleaning, Roofing service
PRICING
Gutter Cleaning
Raised Ranch – $115-$135
Split Level – $135-$175
Large Homes – $175
WEBSITE
https://www.latkaguttercleaning.com/
ADDRESS
Spring Hill, KS
CONTACT DETAILS
+1 913-390-3256 /

[email protected]

PAYMENT
Contact for more details
Latka Gutter Cleaning is a gutter and downspout cleaning business ever since 2017. They specialize in the said services and provide additional information for the client on their website on why gutters should be cleaned regularly.
The business is highly acclaimed by customers to deliver highly efficient and quick service and has also been very responsive during every stage of the job. They also provide a free quotation for the home or building clients who wish to get the gutters cleaned.
This is ideal for clients looking for a gutter cleaning business that is quick to respond upon booking and get the job done professionally and thoroughly. The staff is also capable of repairing minor downspout problems while on the job should the need arise.
Accommodating and efficient, the company also ensures that they have the right and adequate equipment for every cleaning job. Each job they have taken up has proven to garner high praise from their clients.
Almost having a perfect score when rated for the quality of their service, customer service, and the value for money, the Latka Gutter Cleaning is a business that is recommended to solve gutter problems, leaks, and downspout issues quickly and efficiently.
Free quote
Prompt response
Professional staff
Website lacks some details
Customer Reviews
Here are some reviews from their clients:
"These guys are great, very friendly, quick and efficient. I'm glad I found them and will be definitely be reaching out to them in the future." – Dustin B. Olathe, KS
"Quick response after submitting our request to get our gutters cleaned. We were able to have him come by when we weren't at the house and it worked out great! Great service." – Alexandra D. Lenexa, KS
7) Johnson County Gutter and Roofing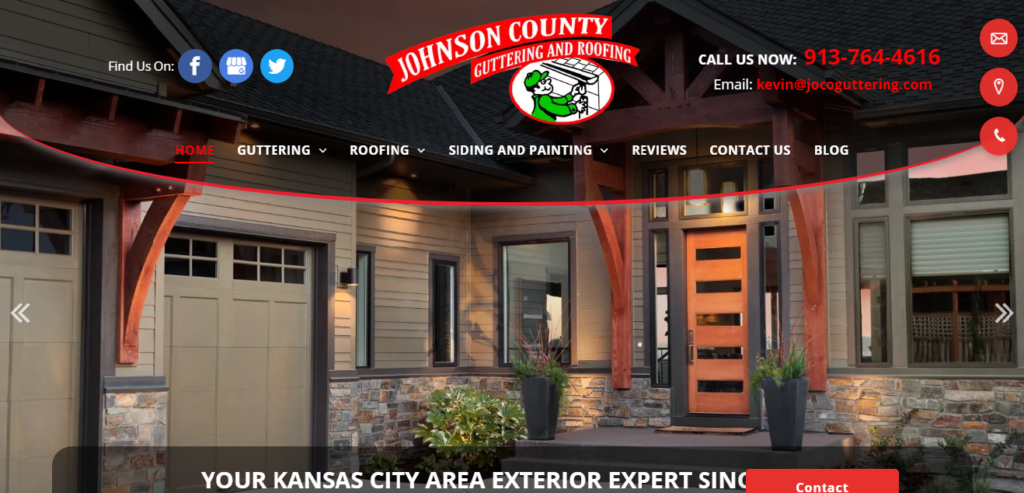 SERVICES/SCOPE
Gutter protection, Gutter color options, Wood rot repair, Residential and commercial roofing, Siding, Painting, Window installation
PRICING
Contact for more details
WEBSITE
https://www.jocoguttering.com/
ADDRESS
P.O. Box 2606, Olathe, KS 66063
CONTACT DETAILS
(913) 764-4616 /

[email protected]

PAYMENT
Contact for more details
The Johnson County Guttering & Roofing has been serving a whole lot of areas such as rland Park, Olathe, Shawnee, Lenexa, Leawood, Prairie Village, Gardner, Mission, Mission Hills, Merriam, and De Soto ever since 1986. The company also handles a wide array of home exterior repairs and upgrades.
Being composed of experts in interrelated fields, they are always eager and to accommodate all inquiries regarding the job or any related information as well. The company is also committed to giving only the highest quality of services to its clients no matter what job is given to them.
We recommend this company for clients who are still unsure what service their homes need for the company will also ensure that they guide clients toward what their homes really need without extra cost. Furthermore, all workers are also insured for the client's protection.
The company has full trust in the quality of their services that they offer a 5-Year warranty on their workmanship as well. References religion to any of their services are also readily available upon the client's request.
The company is also a business accredited by the BBB and has also received the Angles List Super Service Award 2020. Furthermore, a wide variety of materials are available to accommodate the client's requested service as much as possible.
This company is ideal as a one-stop-shop for all exterior home services that is complete with client protection and high-quality workmanship.
Warranty is available
Free quote
Professional staff
Accommodating experts
Website is missing essential details
Price ranges are not available on the website
Customer Reviews
Here are some reviews from their previous clients:
"Excellent. Scheduled as soon as weather permitted after phoning in request. Workers let us know they were here and working, cleaned up grounds and deck after they were finished, gutters look great. 3rd or 4th year using JOCO."
"The work was performed in a timely fashion at a reasonable price. I thought the communication with the company was excellent, especially in comparison to many of the other contractors we have used recently. I wouldn't hesitate to use them again."
FAQs about the Top Gutter Cleaning in Kansas City
---
And that finishes our top options for gutter cleaning in Kansas City. All of them have certified and insured teams who can safely remove the leaves, twigs, and waste items on your gutters.
Have any questions or thoughts about this list? If so, you can drop us a line and we'll get back to you in a bit.
Need your dusty carpets at home or office cleaned? For this, you may also be interested in the best carpet cleaner options in Kansas City!