Gutters have to be cleaned regularly to prevent certain structural issues and health risks. If you need this service, we've compiled a list of the best gutter cleaning in Adelaide for you here.
But first, we will delve into the average cost of getting your gutters cleaned as well as share some useful pointers and tips. This way, you'll have an idea of how much budget to set aside and which company to pick to get the most value.
The Average Cost of Gutter Cleaning in Adelaide
According to Oneflare, the average cost of gutter cleaning in South Australia, which includes Adelaide, is $110 to $150.
Several factors play a role in determining the cost. This includes the length of the gutters, the height of the building, and how easily accessible your gutters are.
The final price will also go up depending on the amount of debris on your gutters, the gutter or roof type, if you have gutter guards installed, and the last time you had your gutters cleaned.
The simple reason that you will spend higher given these things is that more time and effort are required from the gutter specialist to thoroughly clean your gutters.
When deciding on a company, make sure to get at least three quotes to find one with the best price.
Price is only one aspect you have to consider, though, and going for the lowest price isn't always the best decision since there may be a compromise on the quality of the cleaning work.
You should also look at the company's track record, customer reviews, and check whether its operatives are licensed and insured.
If you want to spend less on upkeeping your gutters, you have to clean your gutters often. The less dirty the gutters, the less work and time are needed, and therefore the less the costs.
Also, you can install gutter guards on your building to keep leaves, pine needles, dirt, branches, and other debris from piling up inside your gutters. But note that this is totally up to you.
Now, below are price estimates for gutter cleaning based on the size of the house.
| | |
| --- | --- |
| Gutter Cleaning | Average Cost |
| Single-storey, 3-bedroom house | $150 to $230 |
| Single-storey, 4-bedroom house | $150 to $300 |
| Double-storey house | $180 to $350 |
| Double-storey townhouse | $200 to $250 |
| Triple-storey house | $300 to $500 |
The Best Options for Gutter Cleaning in Adelaide
Now that you know the average service costs, we give you our best options for gutter cleaning in Adelaide!
1) Australian Gutter Cleaning Co

Australian Gutter Cleaning Co is a family-owned business focused solely on gutter cleaning. Its insured and trained team can assist residential, commercial, and shared property clients.
They can provide professional gutter cleaning including removing the debris, mud, and leaves in your gutters, flushing your downspouts, and giving a free roof inspection to alert you if your roof has any issues or red flags, and cleaning the site afterwards.
Even if you aren't home because of work, their team only needs to be able to enter your premises to clean the gutters of your roof, carport, veranda, or pergola. This makes their service very convenient.
After that, they can supply you with before-and-after photos for evidence. Also, they give a satisfaction guarantee for your complete peace of mind.
All seems great with this company, except the fact that they don't offer gutter repair services or other exterior house cleaning services, unlike their competitors. Furthermore, they're only available on weekdays.
However, although they don't have any coupon or promo deals, a lot of clients noted that their prices were reasonable for the service done.
Thus, we strongly recommend Australian Gutter Cleaning Co for any scale and type of gutter cleaning work.
Provides before-and-after photos
Licensed and insured gutter cleaners
Free roof inspection
Guarantees clients' satisfaction
No gutter repair and other house cleaning services
No special deals or coupons
Unavailable on the weekends
Customer Reviews
On Facebook, they received very positive reviews from clients. They admired their workmanship, prompt arrival, excellent price, and friendly and respectful staff.
One homeowner named Ese gave this feedback of the gutter cleaner:
"Mike and the rest of the crew at Mr Gutter SA performed a first class job to clean nearly 80 meters of guttering at my home. They arrived on time, charged a fair price and were extremely friendly & professional throughout the process to get my guttering in to tip top condition."
Also, Andrea shared this:
"Amazing service, took the years of grime build up and made them cleaner than I expected. Awesome professional prompt friendly service."
2) Gutter Guys Adelaide

Serving clients South Australia-wide, Gutter Guys Adelaide offers gutter and roof cleaning and repair. As they have an adept and insured team, you can expect a safe and top-notch result from them.
Compared to other sites, this gutter cleaner is extremely easy to book with. On their website, you can readily fill in the quote form and send it to them without going to another page.
We chose them to be on the top gutter cleaning in Adelaide list as they can give a complete service. This includes cleaning your gutters and downpipes as well as resealing the portions that leak.
Another solid reason is they are open for the entire week 24/7. Whether you need after-work or weekend gutter cleaning, they have you covered.
Despite their positive aspects, they received several complaints regarding their customer service so the quote and response process may take a bit longer than expected.
Moreover, they don't guarantee their services nor have any seasonal sales or coupons. Hence, getting them to come back again means that you would have to pay an additional cost.
Anyway, the team is happy to provide before-and-after gutter images after the work is carried out. This way, you can know exactly how the team has performed and feel confident in the knowledge that your house is safe and trouble-free to live in.
Insured gutter technicians
Easy online booking
Can supply before-and-after pictures
Open 24/7
Covers all of South Australia
No satisfaction guarantee
No special deals or coupons
Complaints about customer service
Customer Reviews
Some clients were dissatisfied with getting a late or no response. Luckily, most didn't have this experience and said that their gutters and downpipes were cleared up efficiently.
Check out this comment posted by Julia:
"I had a leaking gutter and blocked up gutters, these guys came out and fixed the leak and cleaned the gutters. Excellent job guys."
And Patricia wrote this about their gutter cleaning:
"I highly recommend this gutter cleaning service. They arrived on time and cleaned the gutters and unblocked the downpipes. Very please with this gutter cleaning service. They also included the gutters on the garden shed and carport. See you guys next year :)"
3) Adelaide Gutter Cleaning
SERVICES/SCOPE
Gutter cleaning
Gutter guard
Gutter and roofing repairs
Solar panel cleaning
Drain cleaning
Window cleaning
Bird proofing
Pest control
PRICING
Kindly request a quote from them here
WEBSITE
http://www.adelaideguttercleaning.com.au/
ADDRESS
Unit 3/234 South Rd, Mile End, SA 5031, Australia
CONTACT DETAILS
1300 79 35 10


[email protected]

PAYMENT
Visa, Visa Electron, and Mastercard
For gutter cleaning, repairs, and various home maintenance clean-up services, Adelaide Gutter Cleaning is the company to call!
You can have them install custom gutter guards for your property too. Their specialty services include solar panel cleaning, pest control, bird proofing, drain clearing, and window cleaning.
Because they have an extensive scope of services, it's most likely that you needn't find or call another tradesman and spend more. Their team is knowledgeable and experienced in all these fields.
They are fully certified with the HIA and Master Builders South Australia. Additionally, being an OH&S and WorkCover member, they work in compliance with these organisations' strict standards for safety and proper worker compensation in case a worker is wounded or hurt.
That's why you can trust this team to clean and maintain your property's gutter system. They can conduct residential, commercial, and industrial gutter cleaning regardless of the work size.
We notice that their quote form is quite lengthy with many details being asked for. To save time and prevent any unwanted hassle, we suggest calling them directly.
As for their rates, they aren't displayed online although their payment methods are. They take Visa, Visa Electron, and Mastercard.
Adelaide Gutter Cleaning is available to call out throughout Greater Adelaide. They are open from Monday to Saturday from 8:00 AM to 5:00 PM.
Fully licensed crew
OH&S and WorkCover compliant
Extensive list of services
Accepts certain debit and credit cards
Lengthy quote form
No satisfaction guarantee
Closed on a Sunday
Customer Reviews
Most homeowners lauded this company for providing an amazing job and customer service. For them, having their building gutters cleaned and repaired was a breeze.
Check out this review of a satisfied client named Kerri below:
"Thanks Steve and the team. So grateful for all the work to get my roof, verandahs, and gutters clear of all that built up leaf litter. Huge job done brilliantly. No hesitation recommending your services to others."
Furthermore, Ruth noted this:
"Helpful and provided prompt service, reasonable prices. I chose this company because they have office support staff, so I was not waiting for a tradesman to call me back between his clients. I prefer such companies as they generally value customer service."
4) Gutter-Vac Adelaide Central

After the fall season, your gutters may already be brimming with leaves, twigs, sludge, and waste items. All of these can be removed completely through their wet/dry vacuum system.
That's what their company name is based on. Gutter-Vac is a locally-owned and operated franchise gutter, roof, and cleaning company with locations throughout Australia.
We picked Adelaide Central for this entry as it reaches more people in the city. Its service area spans Walkerville Park, North Adelaide, Renmark, West Beach, Torrensville among others.
The Gutter-Vac team is certified and height-safety trained that can tackle houses with multiple stories or a high roof pitch.
A lot of clients are saying that they provide great customer relations from the initial call to after-service support. Not many companies check on clients to ask if the gutters are working well.
Additionally, they can send pre and post-gutter cleaning pictures to your inbox and stand behind all their service with a 100% satisfaction guarantee.
With every service, they can also give you a roof inspection report. This enables you to be aware of issues to avoid expensive roof repairs in the future and protect your investment home.
They work only from Monday to Friday 8:00 AM to 5:00 PM so you might have to leave the office early to be present as the tradesman work.
Also, there's no discount available to lower your price, say if you opt for gutter and solar panel cleaning on one service.
So if you want to receive outstanding gutter cleaning and customer service, we believe this company is a winner and definitely one of the best firms for gutter cleaning in Adelaide!
Uses a wet/dry vacuum for gutter cleaning
Certified and safety-trained team
Supplies before-and-after photos
Service includes roof inspection
100% satisfaction guarantee
Unavailable on the weekends
No discounts available
Customer Reviews
Past clients wrote that the team was professional, thorough, and amiable. Here are some of their reviews below.
Let's see the feedback of one client, Jen:
"From the initial telephone call to the final email of the before and after photographs, this company provided excellent service and outstanding customer relations. Will not hesitate to use Gutter Vac on a regular basis."
Their client from Red Carpet Photobooths posted this comment too:
"Fantastic results! The vacuum was extremely efficient. It was able to vacuum all the mud, gunk and grass from our gutters without leaving a mess.
Very impressed!
They even cleared the roof and were kind enough to advise us of a small structural issue.
Professional and polite service from initial contact through to completion of job and follow up contact.
Vacuum servuce with GutterVac is the the only way I'll clean my gutters from now on!
Thank you!"
5) Will's Window Washing & Gutter Cleaning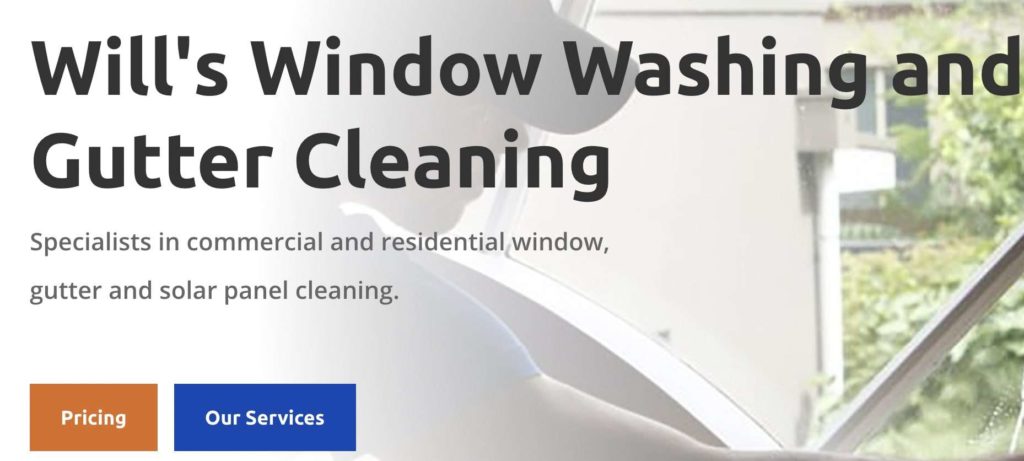 SERVICES/SCOPE
Gutter cleaning
Window washing
Solar panel cleaning
PRICING
Gutter Cleaning

Single-storey house: $180
Double-storey house: $280

*Includes cleaning, flushing (if needed) and verbal roof inspection

Window Washing

3-bedroom home: $160

*Custom residential and commercial quotes available
*All windows cleaned, inside and out, including window frames

Solar Panel Cleaning

Single or double-storey house: $5/panel

*Available for residential and commercial properties
WEBSITE
https://www.willswindowwashing.com.au/
ADDRESS
Adelaide, South Australia, Australia
CONTACT DETAILS
+61 449 237 403


[email protected]
Are your property's gutters difficult to access and clean? You can leave them to the cleaners at Will's Window Washing and Gutter Cleaning—they specialise in this area, after all!
They are certified, insured, and have been doing this for a long time. And they are equipped with high ladders, abseiling gear, and boom and scissor machines, enabling the work to be done safely and efficiently.
You can have them clean your gutters 24 hours and 7 days a week. Because they are all police-checked, you can worry less about getting them to clean your house while you're away.
The company offers gutter cleaning, solar panel cleaning, and window cleaning. It would also be great, however, if they carry out pressure cleaning, and gutter and roof repair.
Their rates are shown online for site visitors and are quite affordable. And if you combine two or more of their services, you can get a discount with this company for an even greater value.
They ensure that clients are delighted with their service through their satisfaction guarantee. Otherwise, they can come back to improve upon their imperfections for free.
Will's Window Washing and Gutter Cleaning has over 15 years of experience serving clients in Adelaide and the surrounding areas. You can get a free estimate from them online, by phone, email, or FB Messenger.
Difficult access specialist
Fully insured and police-vetted crew
24/7 availability
Transparent rates
Gives a multiple-service discount
Offers a satisfaction guarantee
Doesn't offer gutter or roof repair
No quote form online
Customer Reviews
It received rave reviews on Facebook with many clients saying that they did a superb job, were friendly and professional, and gave excellent value for money.
Randell shared his experience in using this company's services:
"Will did a great job cleaning out my gutters. Does all those good customer service things we all like. Gave me a call prior as he was running early and wanted to check if it would be alright to come early. Also spent time after finishing to explain what had been done, and things I should look at. Left job clean and tidy. Would be happy to recommend."
What's more, Leah remarked on the website:
"Speedy and clean service. Excellent price for solar, gutters and windows combined. Highly recommend."
6) Olde Style Roofing & Guttering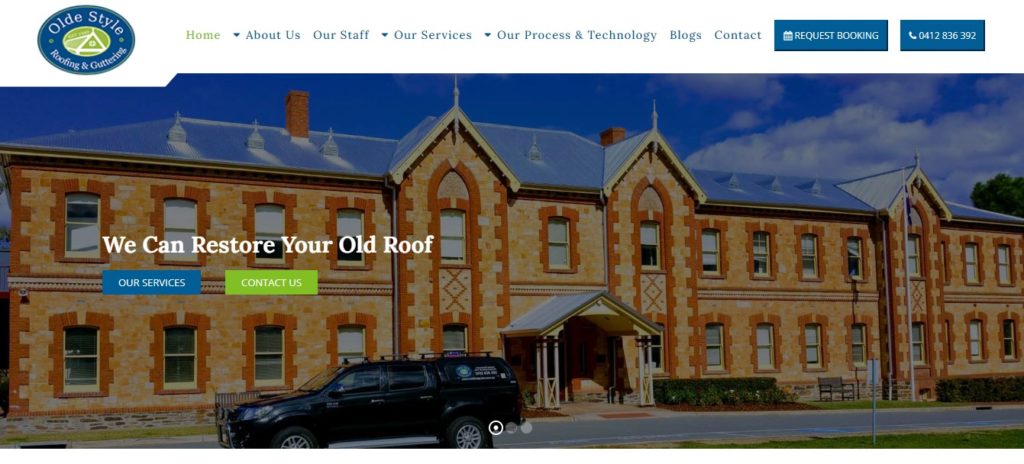 Established in 1989, Olde Style Roofing & Guttering has been providing professional services to residential property owners in Adelaide. We love how they take care of all aspects from start to finish, ensuring complete customer satisfaction from start to finish.
In comparison to other companies, they have a team of qualified professionals who have been working in this industry for many years. They are fully licensed and insured to carry out all their work with complete peace of mind!
They have over 10 in-house staff to meet any requirement you may have for your property and they use their extensive knowledge to provide you with the best possible service for your needs.
With Olde Style Roofing & Guttering you will experience the best workmanship at both competitive rates and without sacrificing quality.
Years of experience
Has a software
Can visit you for a no-obligation consultation
Detailed Email Quote
Customer Reviews
Here are the reviews left by their previous clients on their Facebook page:
"Excellent service, skilled workers, problem solving, cooperation and job well done."
"High quality job and good attention to detail, even in testing situations."
FAQs about the Top Options for Gutter Cleaning in Adelaide
---
And that concludes our top options for gutter cleaning in Adelaide. If you want a professional and safe gutter cleaning at fair rates, then these are the ones you should call.
Any questions or comments about our list? Feel free to message them to us and we'll check them out first thing.
Apart from that, if you're moving out to a new abode and want to have your unit cleaned as a sign of respect to the lessor, you might want to call on the best end-of-lease cleaning companies in Adelaide!