The most populous state in Queensland, Brisbane has been the one of the oldest existing cities in Australia. Being prone to seriously damaging floods, your carpets in your home in Brisbane may be at risk. Not to worry though as you can rely on Brisbane's best carpet cleaning options :
1. Stain Pro Carpet Cleaning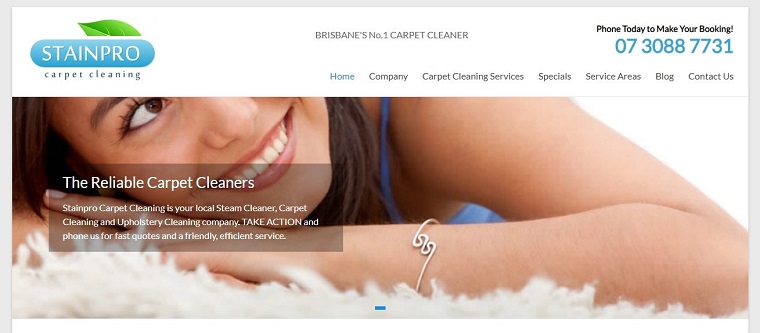 | | |
| --- | --- |
| BEST FOR | Steam cleaning, Dry carpet, Commercial cleaning |
| SERVICES/SCOPE | Steam cleaning, Dry carpet cleaning, Stain removal, Upholstery cleaning, Mattress cleaning, Tile and grout cleaning |
| PRICING | Call for free quotation and assessment |
| WEBSITE | http://www.carpetcleanerbrisbaneqld.com.au/ |
| ADDRESS | Level 19/10 Eagle Street, Brisbane, QLD 4000 |
| CONTACT | 07 3088 7731 |
| PAYMENT | Cash and Cheque |
If you are looking for one of Brisbane's best carpet cleaning, then better consider Stain Pro Carpet Cleaning. With more than 10 years of experience of cleaning carpets in both commercial and residential spaces, Stain Pro Carpet Cleaning has been the experts that you should call for your carpets in your Brisbane home. They offer their services both in the Northern and Southern areas.
Aside from that, Stain Pro gives you both dry carpet and steam carpet cleaning options, depending on what would be the best cleaning method for your carpets. Stain Pro ensures that during the service your carpets will not discolor, shrink, or be deformed. They price the services accordingly and they usually have special offers or discounts to ensure that your money is well-spent for the service that they give.
Stain Pro definitely guarantees you the best service, always thinking about your interest and satisfaction. If there would be hiccups or if they would be late, they would ensure to inform you beforehand. Also Stain Pro always seeks ways to improve. Therefore, they would always ask you after their service if you are happy with their job. Stain Pro would always lend an ear for your suggestions.
2. Spotclean Services Pty Ltd.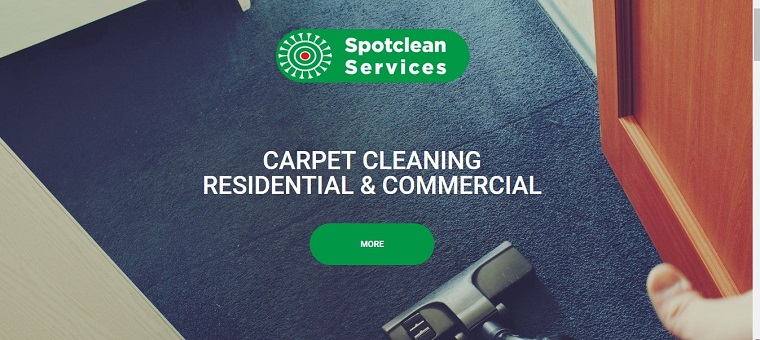 | | |
| --- | --- |
| BEST FOR | Water damage restoration, Carpet repair, Hot water extraction |
| SERVICES/SCOPE | Steam cleaning, Water damage restoration, Carpet repair, Commercial cleaning, |
| PRICING | Carpet cleaning package starts at 75 AUD |
| WEBSITE | http://www.spotcleanservices.com.au/ |
| ADDRESS | 16, McDougall Street, Milton, QLD 4064. |
| CONTACT | 07 3198 2481 |
| PAYMENT | Cash, Cheque, Credit |
If you want a great quality yet affordable carpet cleaning service Spotclean is the way to go! Spotclean ensures you the best and most convenient and affordable cleaning service for your carpets in Brisbane.  They offer various services especially water damage restoration, pest-control, and repairs for your carpets.
The great thing about Spotclean is whether residential or commercial, they would always inspect the fibre and material of your carpet to figure out the best method of cleaning, techniques, temperatures, and chemicals to use. They custom these settings to fit the needs of your carpet. In their carpet cleaning they always go for five steps namely: dry vacuuming, soil suspension, suspended soil extraction/ rinsing, finishing and grooming, and drying.
Moreover, Spotclean has employed a reliable team of highly trained professional cleaners to give you the high standard quality service you deserve. These professionals also give you tips and ideas on what to do in order to self-maintain your own carpets so as to prevent huge issues or stains when it comes to your carpets. They also have a free pick and drop facility for your smaller carpets and or upholstery items.
3. Carpet Cleaning Kings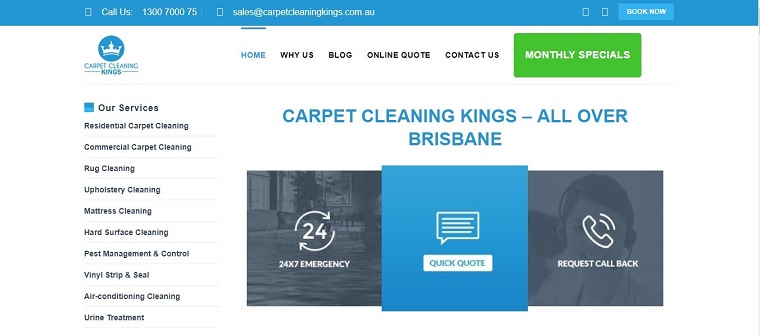 BEST FOR
24/7 Emergency Hotline, IIRC Certified Technicians, Royal Excellence Satisfaction Guaranteed, CRI Standards, Wool Safe Certification
SERVICES/SCOPE
Encapsulation cleaning, Steam carpet cleaning, Residential and Commercial cleaning, Urine odour treatment
PRICING
Standard cleaning package starts at 85 AUD minimum
WEBSITE
https://carpetcleaningkings.com.au/
ADDRESS
Po Box 915
COORPAROO
QLD 4151 Australia
CONTACT
1300 7000 75
PAYMENT
Cash, Cheque, Card
As crowned by their name, they are the Kings of carpet cleaning. With over 20 years of experience in the carpet cleaning industry, Carpet Cleaning Kings has numerous certifications and accreditations under their belt. They are accredited by Woolsafe, certified by the IIRC, accredited by various organizations and companies. Carpet Cleaning Kings promises you a 100% satisfaction.
Carpet Cleaning Kings make you feel like a royal for their total service feast. Their services cover the full analysis and treatment of spots and stains in your carpet. They also deodorize and sanitize your carpets for free, totally ideal for people with allergies and pets. To ensure that there is no damage in your furniture, they would use protectors and corner guards, move the furniture to clean all the areas of your home.
They also offer the suitable cleaning service method after assessing the fibre material of your carpets. With their assessment Carpet Cleaning Kings would also prevent shrinking, discoloration, and damages by applying the needed chemicals or treatments based on the fibre of your carpets. Furthermore, Carpet Cleaning Kings has a 24/7 emergency hotline. You now know who to turn to when a carpet issue arises in the wee hours of the night!
4. Smart Carpet Cleaning and Pest Control
| | |
| --- | --- |
| BEST FOR | Certified by IIRC, Fully insured company  |
| SERVICES/SCOPE | Carpet cleaning, Leather cleaning, Sofa cleaning, Pest-control |
| PRICING | Price starts at 170 AUD for carpet cleaning with pest control |
| WEBSITE | https://www.smartcarpetcleaningandpestcontrol.com.au/ |
| ADDRESS | Brisbane QLD, 4078 |
| CONTACT | 0420 300 399 |
| PAYMENT | Cash, Cheque, Card |
Looking for a smart service? Then look no further and contact Smart Carpet Cleaning! Being one of the largest carpet cleaning company in Australia, you can book them any time since they are open to serve you in 7 days in a week. For your carpet needs they have an emergency service open 24/7.
Certified by the IIRC, their cleaners are definitely professionals. They would contact you beforehand to let you know if they are on their way so you could expect them at your door on the set time. Aside from that they are a fully insured company and they would issue you a certificate upon request. Not only do they clean your carpets, they also offer pest-control services especially for your infected carpets.
5. Electrodry Carpet Dry Cleaning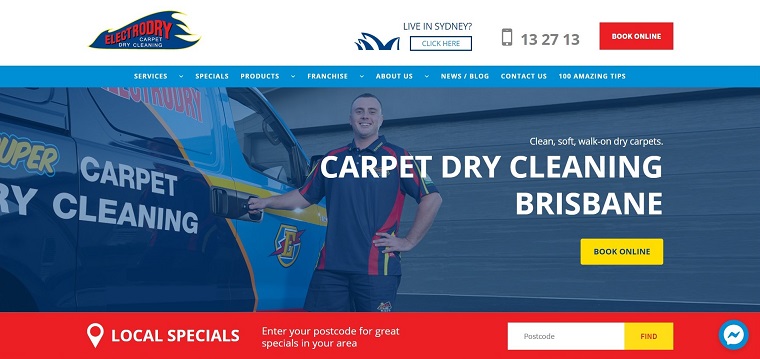 | | |
| --- | --- |
| BEST FOR | Carpet Dry Cleaning, IICRC-Certified Technicians |
| SERVICES/SCOPE | Carpet Dry Cleaning, Air Conditioner Cleaning, Healthy Mattress Cleaning, Leather Cleaning, Tile & Grout Cleaning, Upholstery Cleaning, Mould Cleaning, Wood Floor Refinishing (Timber Restore, Timber Refresh, Bamboo Floor Restoration, Wood Floor Sanding and Refinishing) |
| PRICING | Contact the company for a quote |
| WEBSITE | www.electrodry.com.au |
| ADDRESS | 2/22 Success Street, Acacia Ridge QLD 4110 |
| CONTACT | 13 27 13 |
| PAYMENT | Major credit and debit cards, cash, cheque |
Electrodry is one of the first large Australian cleaning franchises with over 140 franchisees across the country. Electrodry technicians and franchisees are all professionally trained by Jena Dyco International's Institute of Inspection Cleaning and Restoration Certification (IICRC). Electrodry currently takes about 7000 calls per week and has 35 people working the phones. Despite being a big company providing service all across Australia, the Electrodry remains a family business, with founder Paul Burchell's sons working in the company and Head Office still in the Newcastle suburb of Wallsend.
Steam cleaning or hot water extraction, which is widely used in carpet cleaning, requires injecting large amounts of water into the carpet and then trying to extract that water with a vacuum in order to flush out the dirt and grime in the process. While steam cleaning can be an effective carpet cleaning system, since it can use up to 50 litres of water, it means the carpet may be wet for days. On the other hand, Electrodry's dry cleaning solutions work by breaking down the oily soils, releasing the dirt from the fibres. Dry cleaning uses up to 90% less moisture than steam cleaning and leaves the carpet ready to walk on straight away.
6. Pro Carpet Cleaning Brisbane
BEST FOR
100% satisfaction guaranteed,
SERVICES/SCOPE
Steam cleaning, Dry carpet cleaning, Curtain cleaning, Upholstery cleaning, Pest-control cleaning
PRICING
Starts at 30 AUD, contact for a quote
WEBSITE
http://www.procarpetcleaningbrisbane.com.au/
ADDRESS
 40 Wyandra St, Newstead QLD 4006, Australia
CONTACT
 07 3555 7944
[email protected]
PAYMENT
Cash, Cheque, Credit
If you want to hire people who are actual pros at what they do, then consider Pro Carpet Cleaning. Their equipment is always up to date to ensure that they are using the most current and reliable cleaning equipment and methods. They give you 100% satisfaction guaranteed, and their team always comes to you on time. If not, they would always inform you beforehand.
They also do not just use one cleaning method for your carpets. They first inspect and assess the material to know which would be the highly recommended technique. Followed by the preparation and the actual cleaning whether it is steam or dry carpet cleaning. What's more is that in their service they would offer free deodorizing and sanitizing in their seven-step cleaning process.
Their technicians are highly professionals who are certified with various training programs on their hand. Each of their cleaners are also insured with the public liability insurance. So, rest assured, your carpets are at safe hands. Since they value your money, they would always have special offers so it would be best to contact them for a quote.
7. Carpestology
| | |
| --- | --- |
| BEST FOR | Steam-cleaning, Pest-control |
| SERVICES/SCOPE | Carpet cleaning, Pest-control, End of lease cleaning, Commercial cleaning, |
| PRICING | Special promo: Cleaning with Pest Control 3 rooms for 75 AUD (expect certain conditions); contact for quote and other promos |
| WEBSITE | https://carpestology.com.au/ |
| ADDRESS | Camp Hill QLD, Australia |
| CONTACT | 0406 334 443 |
| PAYMENT | Cash, Cheque, Card (Visa, Mastercard, AMEX with 2% surcharge) |
If you and your family have pets and or allergies, Carpestology is one to rely on. The products that they use are not only environmentally friendly but are also nontoxic. The chemicals they use are definitely safe for people with allergies, the environment, and your pets.
Carpestology utilizes the steam cleaning method which would be the preferable method for removing allergens and toxins. Their services have been tried and completely tested, as they have more than 200 5-star reviews for carpet cleaning in Brisbane.
Carpestology ensures that your service would be great, from the moment you call them they would accommodate you 100% and they can go to your home or office as fast as they can. They also offer a customized carpet cleaning deal allowing you to choose which particular service to avail within your budget.
Every carpet is unique. Which means that each has different needs. Look over on these top companies and for sure you would find the right company for your carpet cleaning requirements.