The most populous state in Queensland, Brisbane has been the one of the oldest existing cities in Australia. Being prone to seriously damaging floods, your carpets in your home in Brisbane may be at risk. Not to worry though as you can rely on Brisbane's best carpet cleaning options :
1. Stain Pro Carpet Cleaning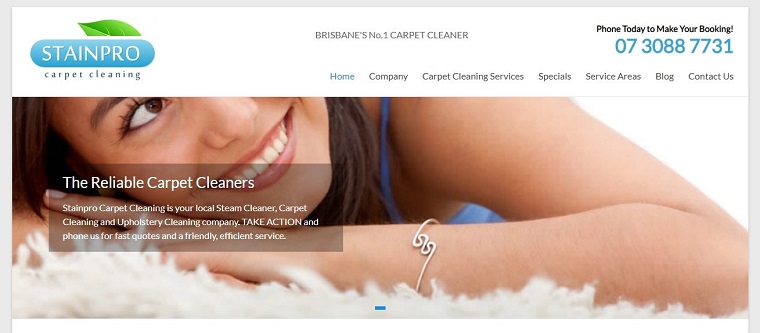 | | |
| --- | --- |
| BEST FOR | Steam cleaning, Dry carpet, Commercial cleaning |
| SERVICES/SCOPE | Steam cleaning, Dry carpet cleaning, Stain removal, Upholstery cleaning, Mattress cleaning, Tile and grout cleaning |
| PRICING | Call for free quotation and assessment |
| WEBSITE | http://www.carpetcleanerbrisbaneqld.com.au/ |
| ADDRESS | Level 19/10 Eagle Street, Brisbane, QLD 4000 |
| CONTACT | 07 3088 7731 |
| PAYMENT | Cash and Cheque |
If you are looking for one of Brisbane's best carpet cleaning, then better consider Stain Pro Carpet Cleaning. With more than 10 years of experience of cleaning carpets in both commercial and residential spaces, Stain Pro Carpet Cleaning has been the experts that you should call for your carpets in your Brisbane home. They offer their services both in the Northern and Southern areas.
Aside from that, Stain Pro gives you both dry carpet and steam carpet cleaning options, depending on what would be the best cleaning method for your carpets. Stain Pro ensures that during the service your carpets will not discolor, shrink, or be deformed. They price the services accordingly and they usually have special offers or discounts to ensure that your money is well-spent for the service that they give.
Stain Pro definitely guarantees you the best service, always thinking about your interest and satisfaction. If there would be hiccups or if they would be late, they would ensure to inform you beforehand. Also Stain Pro always seeks ways to improve. Therefore, they would always ask you after their service if you are happy with their job. Stain Pro would always lend an ear for your suggestions.
2. Spotclean Services Pty Ltd.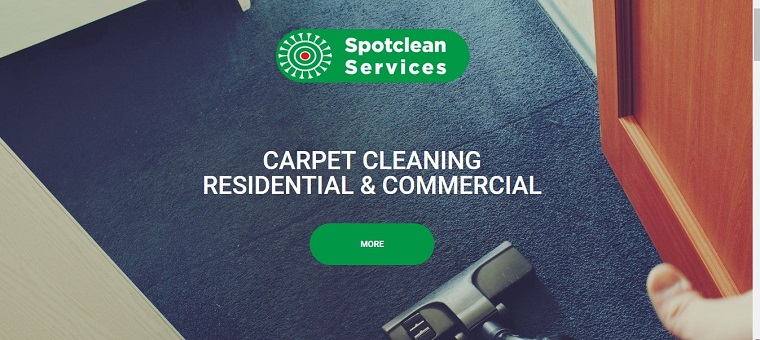 | | |
| --- | --- |
| BEST FOR | Water damage restoration, Carpet repair, Hot water extraction |
| SERVICES/SCOPE | Steam cleaning, Water damage restoration, Carpet repair, Commercial cleaning, |
| PRICING | Carpet cleaning package starts at 75 AUD |
| WEBSITE | http://www.spotcleanservices.com.au/ |
| ADDRESS | 16, McDougall Street, Milton, QLD 4064. |
| CONTACT | 07 3198 2481 |
| PAYMENT | Cash, Cheque, Credit |
If you want a great quality yet affordable carpet cleaning service Spotclean is the way to go! Spotclean ensures you the best and most convenient and affordable cleaning service for your carpets in Brisbane.  They offer various services especially water damage restoration, pest-control, and repairs for your carpets.
The great thing about Spotclean is whether residential or commercial, they would always inspect the fibre and material of your carpet to figure out the best method of cleaning, techniques, temperatures, and chemicals to use. They custom these settings to fit the needs of your carpet. In their carpet cleaning they always go for five steps namely: dry vacuuming, soil suspension, suspended soil extraction/ rinsing, finishing and grooming, and drying.
Moreover, Spotclean has employed a reliable team of highly trained professional cleaners to give you the high standard quality service you deserve. These professionals also give you tips and ideas on what to do in order to self-maintain your own carpets so as to prevent huge issues or stains when it comes to your carpets. They also have a free pick and drop facility for your smaller carpets and or upholstery items.
3. Carpet Cleaning Kings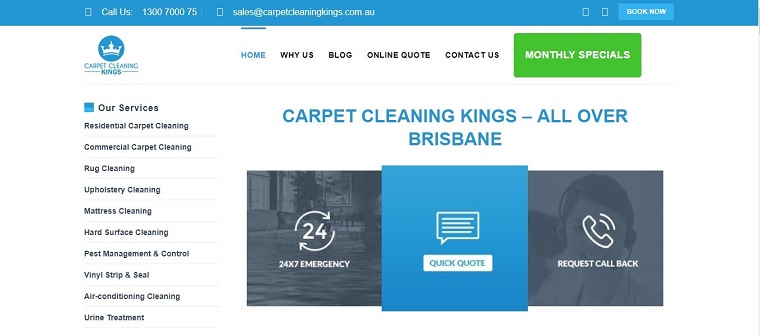 BEST FOR
24/7 Emergency Hotline, IIRC Certified Technicians, Royal Excellence Satisfaction Guaranteed, CRI Standards, Wool Safe Certification
SERVICES/SCOPE
Encapsulation cleaning, Steam carpet cleaning, Residential and Commercial cleaning, Urine odour treatment
PRICING
Standard cleaning package starts at 85 AUD minimum
WEBSITE
https://carpetcleaningkings.com.au/
ADDRESS
Po Box 915
COORPAROO
QLD 4151 Australia
CONTACT
1300 7000 75
PAYMENT
Cash, Cheque, Card
As crowned by their name, they are the Kings of carpet cleaning. With over 20 years of experience in the carpet cleaning industry, Carpet Cleaning Kings has numerous certifications and accreditations under their belt. They are accredited by Woolsafe, certified by the IIRC, accredited by various organizations and companies. Carpet Cleaning Kings promises you a 100% satisfaction.
Carpet Cleaning Kings make you feel like a royal for their total service feast. Their services cover the full analysis and treatment of spots and stains in your carpet. They also deodorize and sanitize your carpets for free, totally ideal for people with allergies and pets. To ensure that there is no damage in your furniture, they would use protectors and corner guards, move the furniture to clean all the areas of your home.
They also offer the suitable cleaning service method after assessing the fibre material of your carpets. With their assessment Carpet Cleaning Kings would also prevent shrinking, discoloration, and damages by applying the needed chemicals or treatments based on the fibre of your carpets. Furthermore, Carpet Cleaning Kings has a 24/7 emergency hotline. You now know who to turn to when a carpet issue arises in the wee hours of the night!
4. Electrodry Carpet Dry Cleaning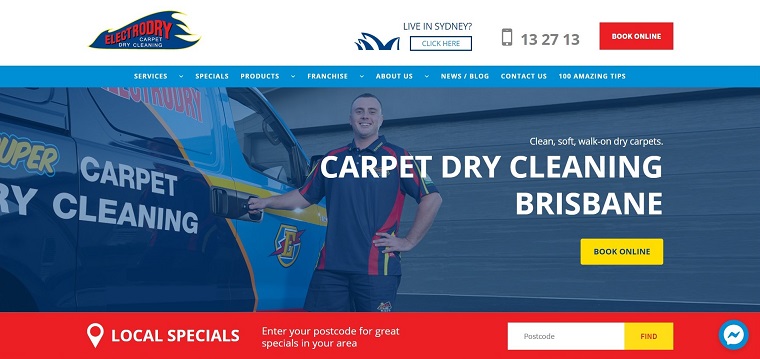 | | |
| --- | --- |
| BEST FOR | Carpet Dry Cleaning, IICRC-Certified Technicians |
| SERVICES/SCOPE | Carpet Dry Cleaning, Air Conditioner Cleaning, Healthy Mattress Cleaning, Leather Cleaning, Tile & Grout Cleaning, Upholstery Cleaning, Mould Cleaning, Wood Floor Refinishing (Timber Restore, Timber Refresh, Bamboo Floor Restoration, Wood Floor Sanding and Refinishing) |
| PRICING | Contact the company for a quote |
| WEBSITE | www.electrodry.com.au |
| ADDRESS | 2/22 Success Street, Acacia Ridge QLD 4110 |
| CONTACT | 13 27 13 |
| PAYMENT | Major credit and debit cards, cash, cheque |
Electrodry is one of the first large Australian cleaning franchises with over 140 franchisees across the country. Electrodry technicians and franchisees are all professionally trained by Jena Dyco International's Institute of Inspection Cleaning and Restoration Certification (IICRC). Electrodry currently takes about 7000 calls per week and has 35 people working the phones. Despite being a big company providing service all across Australia, the Electrodry remains a family business, with founder Paul Burchell's sons working in the company and Head Office still in the Newcastle suburb of Wallsend.
Steam cleaning or hot water extraction, which is widely used in carpet cleaning, requires injecting large amounts of water into the carpet and then trying to extract that water with a vacuum in order to flush out the dirt and grime in the process. While steam cleaning can be an effective carpet cleaning system, since it can use up to 50 litres of water, it means the carpet may be wet for days. On the other hand, Electrodry's dry cleaning solutions work by breaking down the oily soils, releasing the dirt from the fibres. Dry cleaning uses up to 90% less moisture than steam cleaning and leaves the carpet ready to walk on straight away.
5. Back 2 New Cleaning

| | |
| --- | --- |
| BEST FOR | 4.53-Rating out of 170+ reviews;  Residential and commercial cleaning service |
| SERVICES/SCOPE | Regular carpet cleaning, tile and grout cleaning, upholstery cleaning, mattress cleaning, curtain cleaning |
| PRICING | Contact for a free quote |
| WEBSITE | https://www.back2newcleaning.com.au/ |
| ADDRESS | Brisbane, Melbourne, Sydney, Perth |
| CONTACT | 0410 452 014 |
| PAYMENT | Contact for more information |
Back 2 New Cleaning provides same day, professional commercial and residential cleaning services in Brisbane, Melbourne, Sydney, Perth, Canberra, Adelaide, and Hobart. Trusted by homeowners and businesses, customers keep contacting them for on-time and eco-friendly cleaning services with 24 hours customer support.
6. Peters Home Steam Cleaning Services

| | |
| --- | --- |
| BEST FOR | Steam Cleaning services |
| SERVICES/SCOPE | carpet cleaning, upholstery cleaning, mattress cleaning, duct cleaning, to tile and grout cleaning |
| PRICING | Contact for a free quote |
| WEBSITE | http://peterscleaningservices.com.au/ |
| ADDRESS | Brisbane, Australia |
| CONTACT | 1800 190 206 |
| PAYMENT | Contact for more information |
Peters Home Steam Cleaning Services ensure that your beloved carpets stay bright, shiny, and soft for a very long time. Their guaranteed carpet cleaning services can be availed 24×7; even on weekends and public holidays just anywhere in Brisbane.
7. IHS Professionals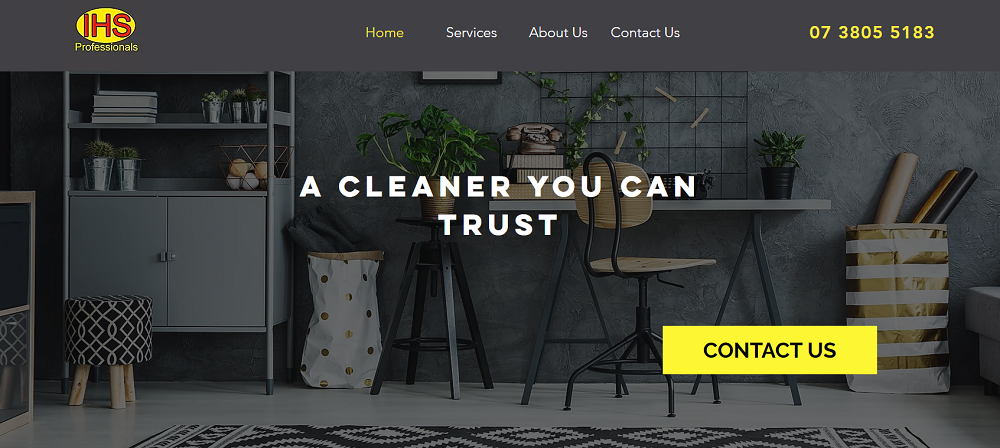 BEST FOR
Steam carpet cleaning
SERVICES/SCOPE
Carpet cleaning and protection, Upholstery cleaning, Vehicle cleaning, Water extraction, Pest control
PRICING
Contact for a free quote
WEBSITE
https://www.ihscarpetcleaning.com.au/
ADDRESS

Loganlea, QLD Australia

CONTACT
Tel: 07 3805 5183

Mob: 0400 026 124
[email protected]

PAYMENT
Contact for more information
With over 25 years of experience in the cleaning industry, IHS Professionals is now considered a master at the trade. They're most known for the work they have done with 5-star hotels, which has now evolved to include other types of properties.
Despite the larger clientele, IHS Professionals has retained the level of quality they offered to their first clients. Even your carpets at home will receive the best steaming services guaranteed.
Every carpet is unique. Which means that each has different needs. Look over on these top companies and for sure you would find the right company for your carpet cleaning requirements.
8. Nest Home Services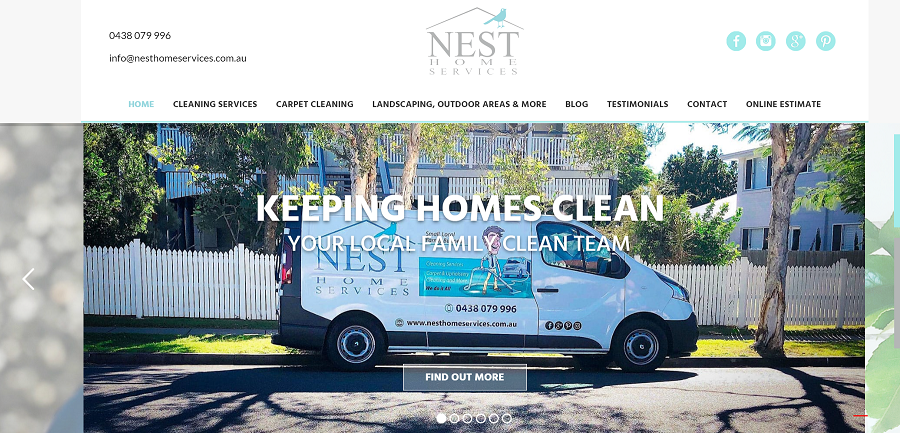 BEST FOR
Steam carpet cleaning
SERVICES/SCOPE
Regular Cleaning & Housekeeping
Home Hygiene Clean
Spring Cleaning
Pre Sale & Settlement Cleaning
Builders & Renovation Cleaning
Bond, Carpet & Pest Cleaning
Carpet, Upholstery & Leather Cleaning
House Cleaning Services
PRICING
https://nestcleaningbrisbane.com.au/online-estimate/
WEBSITE
https://nestcleaningbrisbane.com.au/
ADDRESS
Morningside, Brisbane, QLD 4171
CONTACT
Sally and Katie in the Office: 0438 079 996

Carpet Cleaning by Will: 0438 079 905

Email: [email protected]

PAYMENT
Contact for more information
Nest Home Services is a small, local, family-run and operated business with generations of cleaning experience, with all family members still working hands on. They cater for all your cleaning and housekeeping needs and offer a variety of services with specialized cleaners.
Their cleaners are experts in their particular area of cleaning so you can rest easy knowing that you are in good hands with their team.
They look at cleaning your home as if it was their very own and carefully consider each customer's needs and desires. Their aim is to achieve a blissfully gleaming house for you and your family to enjoy.
Life is too short to spend it cleaning, and they are all about offering their customers the freedom of flexibility, loads of options and a wide range of high quality house cleaners to choose from.
Furthermore, their popular home hygiene cleaning method is now also part of their regular cleaning services, ensuring your home is not just clean but also hygienic.
9. Optima Cleaners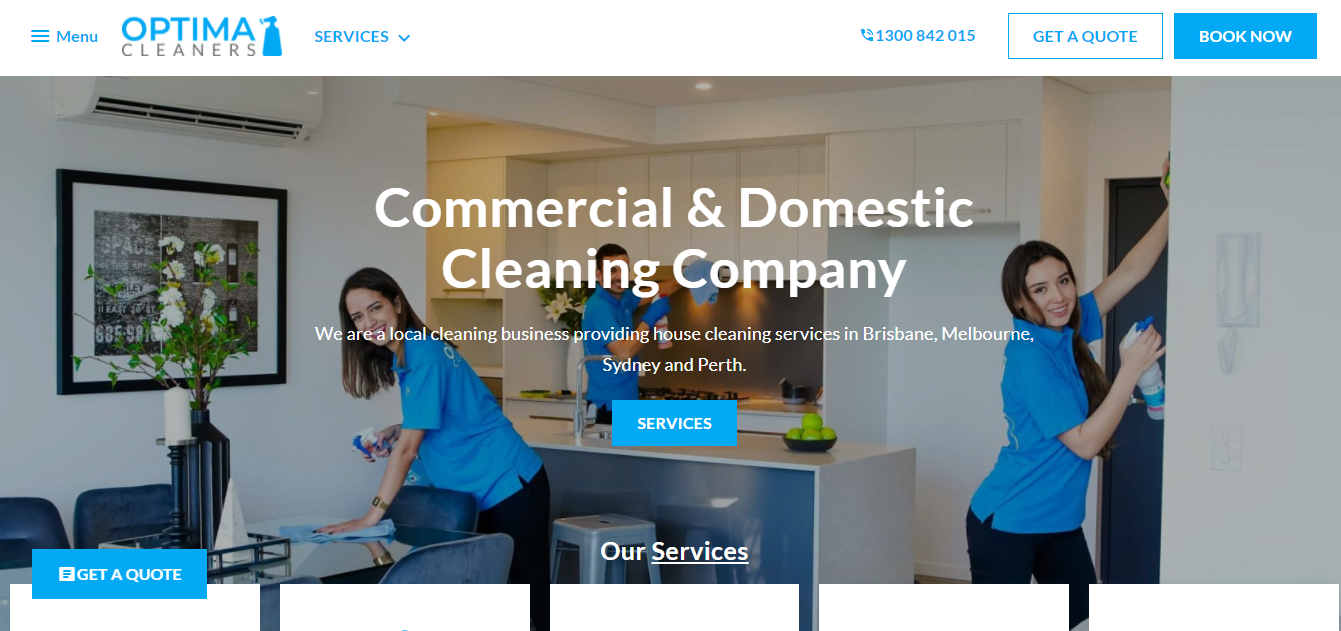 BEST FOR

Commercial and Domestic Cleaning

SERVICES/SCOPE
Home Cleaning
Carpet and Rug Cleaning
End of Lease Cleaning
Office Cleaning
After Builders Cleaning
AntiVirus Sanitizing and Disinfection
Oven and BBQ Cleaning
Professional Mattress Cleaning
Spring Cleaning
Tile and Grout Cleaning
Upholstery Cleaning
Window Cleaning
PRICING

Prices

WEBSITE
https://optimacleaners.com.au/
ADDRESS
Brisbane
5/505 Boundary street, Springhill 4000

Sydney
101/26 Marion St, Parramatta NSW 2150

Melbourne
267R Spring St, Reservoir VIC 3073

Perth
35 Somerton Rd, Karrinyup WA 6018

CONTACT
Brisbane
07 3226 1825

Sydney
02 9100 0855

Melbourne
03 9000 0553

Perth
08 6206 8175

PAYMENT

Contact for details
Hiring professional cleaners for your home can highly benefit you, especially in times like this. With Optima Cleaners, you will be thrilled to see the results that they can deliver in a short amount of time.
We think they are great because they only use commercial-grade equipment and effective cleaning products. If you need a one-stop shop for all your cleaning needs, consider them as number one on your list.
Aside from this, we recommend them because all or their cleaners are licensed and insured. Plus they can work on weekends, even on public holidays!
Need emergency cleaning? No problem. With their local and flexible cleaners, they can perform same-day services.