Melbourne is the second most populous state in Australia and with the hustle and bustle of the city, your clothes are deserve as much of a fresh start as you do. Check out the 6 Best Options for Dry Cleaners in Melbourne so you can seize the day with crisp and sleek clothes that make you stand out. 
1. Laundry Box Organic Dry Cleaners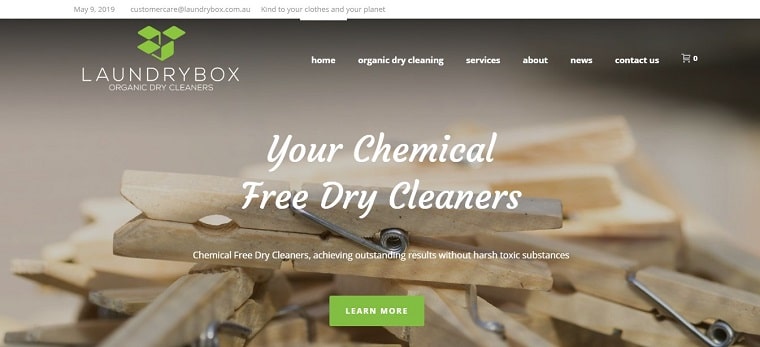 | | |
| --- | --- |
| BEST FOR | PERC-free cleaning solutions, uses Dry-to-Dry technology, pick-up and delivery services available, subscription packages available |
| SERVICES/SCOPE | Wash, dry and fold services, alterations and repairs, wedding dress cleaning, leather, suede, and fur cleaning, nappy cleaning service, business shirt service, pram/baby car seat/capsule cleaning, rug cleaning service |
| PRICING | Starts at $7.50/kg Wash, Dry and Fold. See complete pricing online. |
| WEBSITE | https://www.laundrybox.com.au/ |
| ADDRESS | 319 Bay Street, Port Melbourne VIC 3207 |
| CONTACT | (3) 9077-5682 |
| PAYMENT | Paypal, Mastercard, VISA, American Express, Bank Transfer |
 Laundry Box excels in outstanding services without using harsh chemicals. That means no solvents, no liquid silicone, and no toxic chemicals. They have invested in a unique Dry-to-Dry technology which insulates garments and fabric from damage usually caused by water. This technology also ensures that their plant limits both power and water consumption. On top of this, there is also a plan to invest in solar technology to further reduce the power used during their already eco-friendly cleaning processes. The result is cleaner and fresher garments in their most preserved state. Consistent to their thrust towards sustainability, they also sell and clean tailor-made nappies so you yourself can lessen your carbon footprint. Be kind to your clothes and the environment with Laundry Box Organic Dry Cleaners!
2. Dryz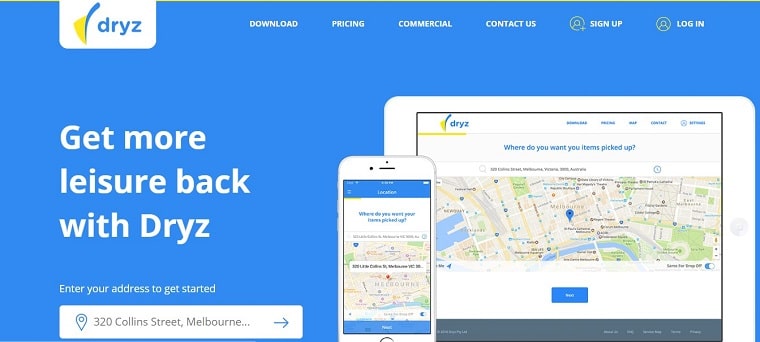 | | |
| --- | --- |
| BEST FOR | App-based door-to-door dry cleaning service, 24-hour turnaround, managed by industry veterans with over 15 years of experience, uses advanced, biodegradable cleaning technology, free delivery for orders above $25, commercial services available |
| SERVICES/SCOPE | Dry cleaning, wash, and press |
| PRICING | Starts at $9.00 for scarves and cardigans. See complete pricing online. |
| WEBSITE | https://www.dryz.com.au/ |
| ADDRESS | App-based service |
| CONTACT | [email protected] |
| PAYMENT | Credit or debit card |
 Digital is the way to go–even for your laundry needs! You can get your laundry picked up right at home, the office, or anywhere else within their service area with just a few taps. With features like recurring bookings and automated payments, Dryz is not only easy to use, but also quick – turnaround can be under 24 hours in most cases. You key in your address, choose a convenient pickup time, service type, and give them special care instructions. All you have to do is wait and let them take care of the rest!
Their facilities employ dry clean industry veterans who average 15+ years of cleaning experience. In order for service to be consistently excellent, they utilize a smart software technology that tracks the trails of their operations in order for them to work on the cracks and continue innovating their services. As an eco-friendly service, they use an advanced, biodegradable cleaning technology which uses zero harmful petrochemicals. This process not only cleans better but breaks down into natural compounds that can be recycled safely into the ground. Dryz treats their work smartly so your clothes are in their best condition.
3. Master Dry Cleaners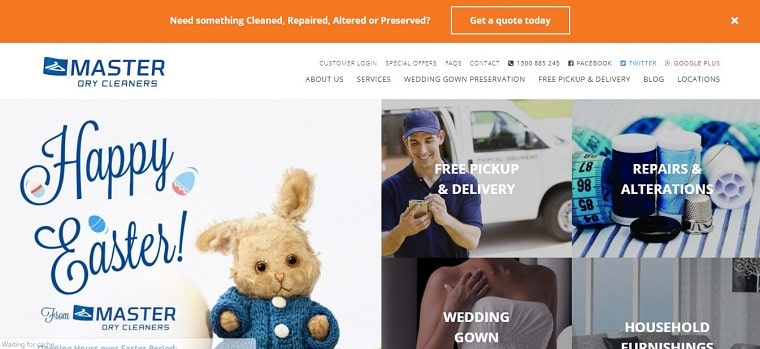 | | |
| --- | --- |
| BEST FOR | Free 24/7 pick-up and delivery available, 4.8 rating from over 100 reviews, family-run business for over 60 years, 5 locations across Melbourne |
| SERVICES/SCOPE | Dry Cleaning, Business Shirt Laundry/Pressing, Wash/Dry/Fold Service, Bedding and Linen Cleaning, Suede and Leather Cleaning, Household Furnishings, Curtain and Drapery Cleaning, Repairs and Alterations, Silk and Evening Wear Specialists, Wedding Gown Cleaning and Preservation, VIP Express Service, Ironing Service |
| PRICING | Starts at $13.15/shirt. See complete pricing online. |
| WEBSITE | https://masterdrycleaners.com.au/ |
| ADDRESS | 35 Victoria Ave, Albert Park |
| CONTACT | 1300 885 245 |
| PAYMENT | VISA, Mastercard, American Express |
 Master Dry Cleaners has been in operation for over 60 years already so if it's anyone who knows clothes, they know it best. With five convenient locations across Melbourne, the nearest dry cleaners are probably just around the corner. With 24/7 services, you can drop off your items in their lockers and wait for an SMS to confirm the pick-up. Their business shirt dry cleaning offers the very latest in Japanese pressing technology where they guarantee ready to wear quality with clean crisp collars and cuffs. If it's a big interview day at work or just a special date night, drop by Master Dry Cleaners if you want to make the best impression. Do a quick Google search and you'll see over a hundred of positive reviews from happy clients. With this, they have garnered multiple awards for the unrivaled quality of their services.
4. Renes Dry Cleaners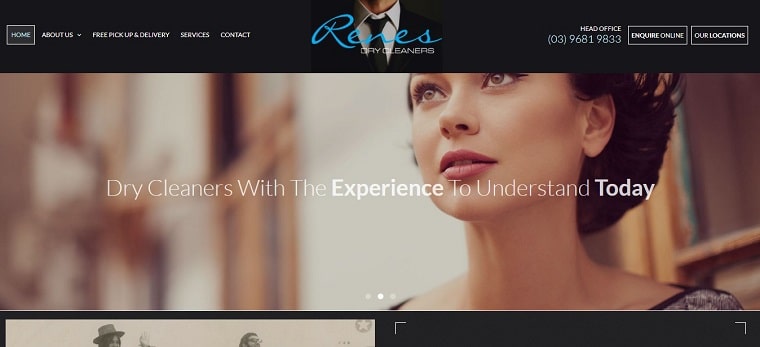 | | |
| --- | --- |
| BEST FOR | Free pick-up and delivery, over 40 years of industry experience, uses hydrocarbon cleaning methods, operates on 100% renewable energy |
| SERVICES/SCOPE | Hydrocarbon cleaning, PERC cleaning, wedding gown and suit cleaning, shirt service, repairs and alterations, pressing, handwashing |
| PRICING | Request for a quote online. |
| WEBSITE | http://www.renesdrycleaners.com.au/ |
| ADDRESS | 301 Bay Street, Port Melbourne |
| CONTACT | (03) 9681 9833 |
| PAYMENT | Cash or credit card |
 Rene's Dry Cleaners' history stretches back to humble beginnings in East Bentleigh. As a family-run business, you will be able to tell the difference every time you come into their store and every time you pick up your clothes because what they do is not a job, it is over 40 years of their lives.  You can rely on their advice on garment care because it comes from years of experience. With the use of Hydrocarbon solvent, you can expect a gentle clean for garments that require extra handling. Still, they use PERC whenever your white items require refreshing and rejuvenating. Whichever works best, there's always a person with at least 10 years of experience ready to welcome you in their store for expert advice. At the end of the day, Rene's have your best interests in mind.
5. Syndal's Bridal Dry Cleaners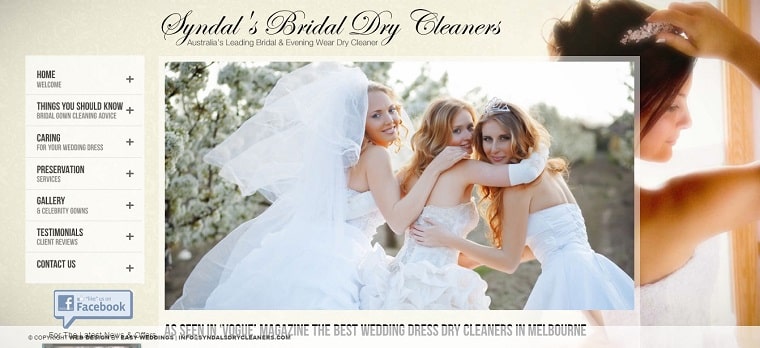 BEST FOR
Recognized by Vogue Magazine, uses artisan hand cleaning techniques, uses 100% Australian made solid acid-free boxes & acid-free tissue paper
SERVICES/SCOPE
Specialized wedding gown and evening wear dry cleaners and preservation
PRICING
Request for a quote online.
WEBSITE
http://www.syndalsdrycleaners.com/
ADDRESS
1135 High Street, Armadale VIC 3143
CONTACT
[email protected]

(03) 9824 6940

PAYMENT
Call the hotline for inquiries.
 When it comes to Bridal Wear care, Syndal's Bridal Dry Cleaners should be the first place you should consider. Even Vogue Magazine said so! Compared to other companies in this list, Syndal's only accept dry cleaning jobs for bridal wear and evening gowns. This means they've perfected bridal wear care by putting their complete focus on this type of garment. Whether it's preparing for the big day or preserving your wedding dress as an heirloom, they have the solutions just for you. Thanks to their skilled and meticulous cleaning technicians, you don't have to worry about your sequins, lace, satin, or whatever material your gown is made of because they are in good hands. Special acid-free wedding boxes are also available so you can look back on your big day with fond memories whenever you see your dress looking good as new.
6. Suds Laundrette
BEST FOR
24 hours service, alterations accepted, special packages available for standard and commercial laundry available
SERVICES/SCOPE
Coin laundry, commercial laundry, dry cleaning, wash and fold
PRICING
Starts at $8.0/garment. See complete pricing online.
WEBSITE
http://beta.sudslaundrette.com.au
ADDRESS
30A Bray St, South Yarra, 3151
CONTACT
[email protected]

03 8899 9813

PAYMENT
Call the hotline for inquiries.
 Dry cleaning shouldn't be a daunting task With Suds Launderette, you get convenient, affordable, and great dry cleaning services that's hassle-free. They can take on all types of garments including curtain, suedes and leather. They also dry clean wedding gowns and formal dresses, rugs, sleeping bags, doonas and blankets. Whatever you need, they have a solution for it– all at a very budget-friendly price! They are open 24 hours everyday and they're just one SMS away!