Don't worry about your laundry and dry-cleaning piling up as fast as your work. Focus all your energy and focus into more important and leave the Dry Cleaning duties in the hands of reliable professionals. We've listed the Best Options for Dry Cleaners in Oxford so you can get started on more pressing matters.
1. OXWASH

BEST FOR
Digitally-enabled laundry platform, 5-star award winning services, affordable eco-laundry services, emission-free cargo delivery bikes, real-time online tracking, comprehensive and expansive list of services,
SERVICES/SCOPE
Domestic laundry, dry cleaning, ironing service, alterations, commercial dry cleaning, eco-cleaning products, wedding dry cleaning, bedding dry cleaning
PRICING
Starts at £3.95 for standard laundry and dry cleaning for 1 shirt;Everyday laundry (mixed bags) are charged at a flat rate of £9.95 / bag

See complete price list in website.

WEBSITE
https://www.oxwash.com
ADDRESS
Roger House, Osney Mead, Oxford OX2 0ES
CONTACT
[email protected]
PAYMENT
Accepts payment via the Stripe payments platform, which accepts most major credit and debit cards, including Visa, Mastercard and American Express
OXWASH is a digitally-enabled platform where every step of your dry-cleaning needs is addressed without you having to get out of your home. The process? Fill out their online form, track your OXWASHER who's in-transit to pick up your items via emission-free cargo bikes, pack your washables in their free OXWASH laundry bag, then wait for their return right at your doorstep. OXWASH truly redefines the dry laundry experience into a hassle-free and sustainable one. If it's shirts, dresses, blouses, or everyday laundry, OXWASH is ready to take care of your dry cleaning needs while you focus on other productive matters at hand.
They incorporate an eco-friendly and innovative new microfibre removal technology in creating their cleaning solvents to reduce their carbon footprint. These products are also available in their online shop in an effort to enable people at home to do their part in saving the environment as well.
2. I Hate Ironing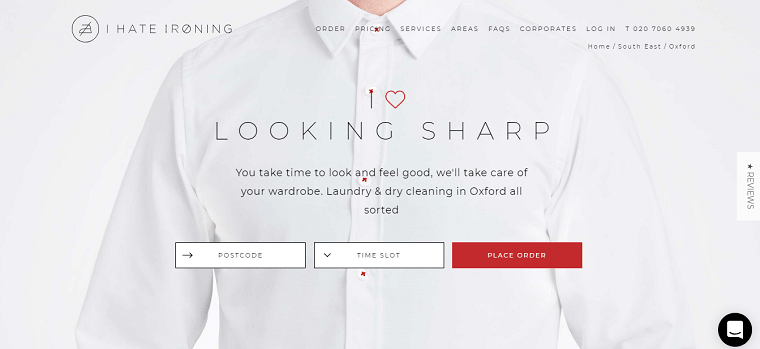 | | |
| --- | --- |
| BEST FOR | 24/7 online booking, 14 years experience in the dry cleaning industry, 1 hour collection and cleaning within at least 8 hours turnover, free pickup and delivery, corporate services, 4.7 average customer rating |
| SERVICES/SCOPE | Household textiles, dry cleaning, ironing, shirt services, laundry services, duvet and bed linen, shoe repairs, trainer cleaning, wedding dresses, alterations and repairs, leather and suede, specialist items |
| PRICING | Starts at £4.50 for standard laundry and dry cleaning for 1 shirt. See complete price list in website. |
| WEBSITE | https://www.ihateironing.com/dry-cleaners-oxford/ |
| ADDRESS | Digitally-enabled platform with service areas in Oxford |
| CONTACT | 0207 060 4939 |
| PAYMENT | Visa, Mastercard, American Express |
 With over 540 5-star reviews in their website, I Hate Ironing proves that they have made a name for themselves in providing value super fast and stellar-quality dry cleaning services. Major publications like GQ and Esquire have recognized their hassle-free services with the best delivery service. You only need to complete their online order form within a minute and they will collect your items within an hour of order submission. After at least 8 hours, your fresh and clean laundry should be ready for return!
They have a detailed price list on all types of apparel, including saris, wedding dresses, cashmere trousers, and even yoga blankets! Their master cleaner, Vic, has over 14 years of experience in the industry so you can have peace of mind knowing that your belongings are in good hands. Apart from dry cleaning, their services also range from shoe cleaning, leather and suede rejuvenation, and specialist cleaning for designer goods. No matter what type of dry cleaning job it is, I Hate Ironing has something up their sleeves to get the job done.
3. WASH & SEW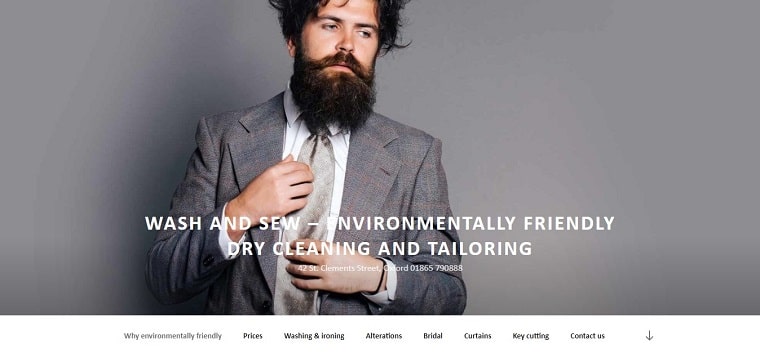 | | |
| --- | --- |
| BEST FOR | Uses advanced Renzacci Hydrocarbon machine and the greenest solvents, efficient water and energy consumption, collects and delivers laundry for you |
| SERVICES/SCOPE | Washing and ironing, alterations, bridal care and cleaning, curtain laundry, tailoring, key cutting |
| PRICING | Starts at £3.49 for standard laundry and dry cleaning for 1 shirt. See complete price list in website. |
| WEBSITE | https://washandsew.co.uk/ |
| ADDRESS | 42 St. Clements Street, Oxford, Oxfordshire, OX4 1AG |
| CONTACT | 01865 790888 |
| PAYMENT | Send inquiries through their hotline or website. |
 Wash and Sew is committed to caring for you and the environment. They do this by using energy-efficient equipment, incorporating eco-friendly solvents, and enforcing fuel-saving delivery methods. Using the Renzacci Hydrocarbon machine, they consume 40% less energy and 70% less water compared to majority of local businesses. This state-of-the-art technology helps the environment, preserves the quality of your clothes, and leaves a cleaner and fresher clean as opposed to dangerous petrochemical based solvents. Apart from dry cleaning services, they also offer tailoring services for a wide range of garments.
What sets them apart is that their prices are some of the cheapest in the Oxford area. A quick Google search will also inform you that Wash and Sew is one of the highly-rated dry cleaners in the area. You get your money's worth with their eco-friendly solutions and tried-and-tested services.
4. Johnsons Dry Cleaning
BEST FOR
GreenEarth dry cleaning, non-toxic products, home collection and delivery, exclusive offers for Priority Club members, 200 years of heritage, online ordering, delivery within 24 hours
SERVICES/SCOPE
GreenEarth dry cleaning, laundry and ironing, alterations and repairs, home textiles, specialist dry cleaning (including bridal wear, leather, suede, skiwear, sheepskin, etc.), business services
PRICING
Starts at £18 for standard laundry and dry cleaning for 1 coat. Complete online form to get a quote.
WEBSITE
https://www.johnsoncleaners.com/
ADDRESS
61 Woodstock Rd, Oxford OX2 6HJ, UK
CONTACT
[email protected]

0161 946 6186

PAYMENT
Debit/Credit Cards
 With over 200 years of heritage, Johnsons Dry Cleaning might just be the oldest dry cleaning company in Oxford. This only means that they've have built years of expertise and have serviced thousands of happy and loyal customers. The secret behind this enduring dry-cleaning company might lie on the fact that they are the only national UK Dry Cleaners to use GreenEarth. This solvent is a gentle, environmentally non-toxic alternative to harsh petrochemical dry cleaning that is better for your clothes as well as the environment.
As loyal customers, you can also enjoy exclusive deals as part of their Priority Club offers! Just pay their membership fee of £8 for a Direct Debit membership and £10 for a one-off payment for a 12 month membership and you can enjoy fast-track counter services, free personal garment carrier, and a reward card for big discounts! If you're looking for reliable service that's built on years and years of experience, Johnsons Dry Cleaning is the best place to take your dirty laundry.
5. Regency Dry Cleaners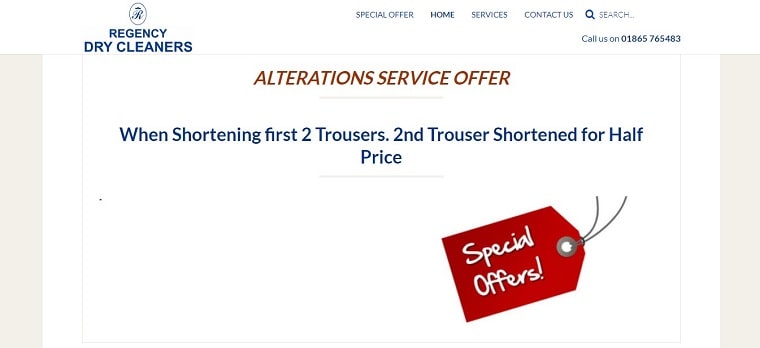 | | |
| --- | --- |
| BEST FOR | Express 24 hour service, 7-stage washing process, special offers for alterations, standard and exclusive cleaning |
| SERVICES/SCOPE | Dry cleaning, alterations and repairs, duvet service, wedding dress cleaning, curtain cleaning, key cutting, rug cleaning, ironing |
| PRICING | Starts at £3.50 for standard laundry and dry cleaning for 1 shirt. See complete price list in website. |
| WEBSITE | https://www.regencydrycleaners.info |
| ADDRESS | 4 Simon House, Windmill Road, Headington, Oxford, OX3 7BU |
| CONTACT | 01865 765483 |
| PAYMENT | Debit/Credit Cards |
Regency Dry Cleaners offers two types of dry-cleaning services. Their Standard Service involves 5 stages of cleaning which include inspection, stain removal and hand finished pressing. This is usually enough for your usual dry cleaning needs. On the other hand, the Exclusive Service involves 7 stages of cleaning which adds respotting and recleaning, plus both side steam pressing on top of the standard cleaning stages. This is usually more fitting with expensive, delicate, and heavily stained items. Whichever dry cleaning option you select, you're guaranteed creaseless, spotless, and fresh laundry every time.
Regency Dry Cleaners is also one of the most affordable dry cleaners in Oxford. Even their Express Service of 24/48 hours turnover has a small charge of £1 on top of their standard rates. This is proof that they put a premium on quality, convenience, and affordability.
6. Wheatley Launderette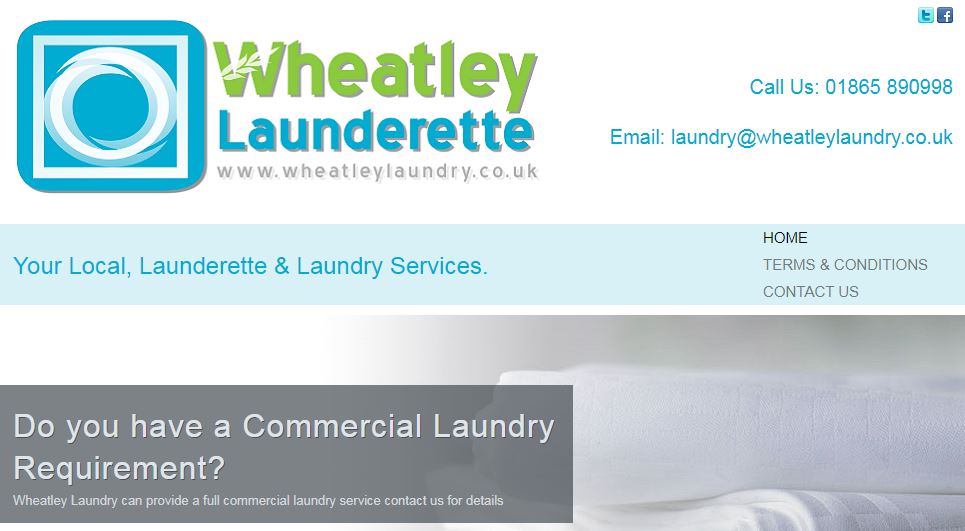 BEST FOR
 JLA/IPSO commercial class washing machines and other latest washing technology
SERVICES/SCOPE

Launderette services
Laundry services
Dry cleaning services
Ironing services

PRICING
Starts at £3.45 for standard laundry and dry cleaning for 1 shirt. See complete price list in website.
WEBSITE
http://wheatleylaundry.co.uk/
ADDRESS
68 High St, Oxford
CONTACT
01865 890998
[email protected]
PAYMENT
Contact for payment options
Wheatley Launderette uses state of the art JLA/IPSO commercial class washing machines provide a really thorough wash and fast-speed spin meaning less drying and less time. Their computer controlled large capacity gas dryers dry in no time. They're also able to provide dry cleaning for all items of clothing, whether every day wear or special garments such as wedding dresses or formal wear.
Treat your well-loved clothes on a trip to the dry cleaners so they can be as fresh as can be! With new technologies available, all you need to do is accomplish forms online and you can rest easy in your homes doing better things in you lists.
7.  Afrin Tailoring and Dry Cleaning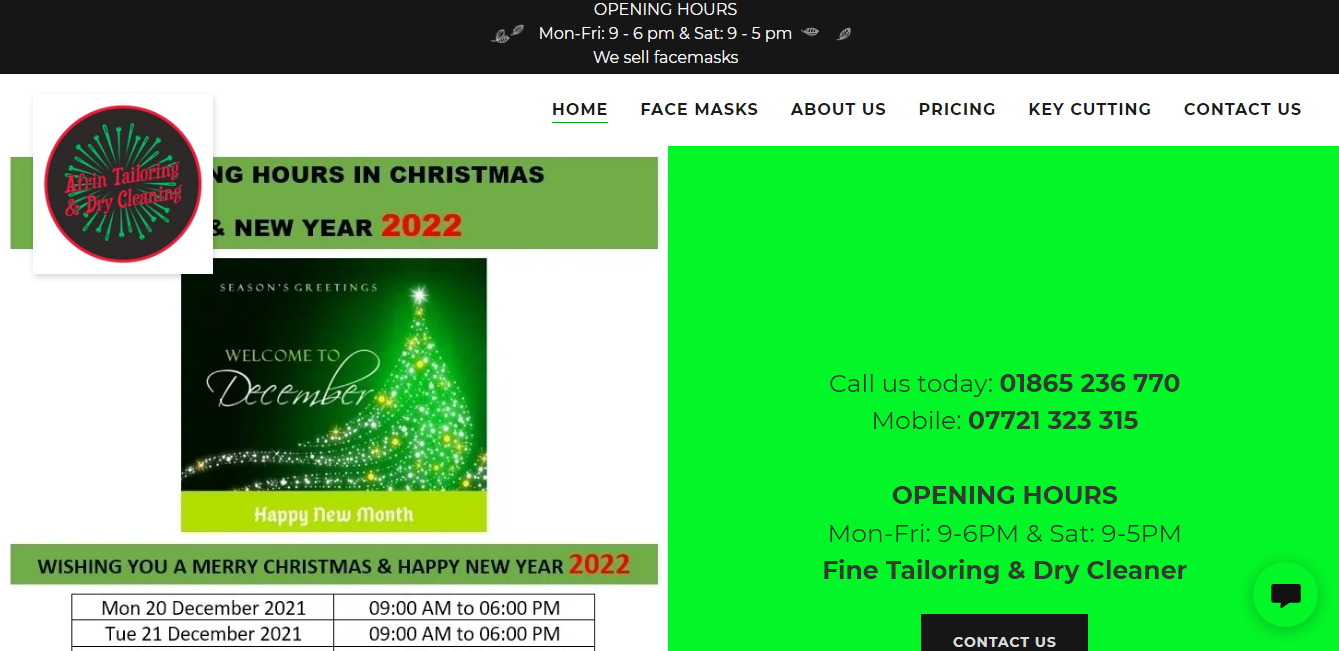 Afrin Tailoring and Dry Cleaning is a provider of comprehensive laundry, dry-cleaning, carpet cleaning and key cutting services in the area. They are 6 days a week and give 10% discounts for students and disabled persons who wish to avail of their services.
Their holiday schedule is updated and shown on their website which clients can access and use as reference should they consider availing of their services. The website itself, however, could use improvement to better user interface for the client navigating their website for information.
Dry cleaning usually takes 3-7 days which is highly not recommended for clients looking for a rush job on the said service. However, they do offer same-day service, but this comes with an extra charge from the basic rates that they show on their website.
While most of their reviews are positive, there has been a complaint regarding their payment and charging scheme which they could address by putting relevant information on their website and improving their customer service.