Laundry and dry cleaning is a serious business. You should have someone you truly trust to wash and clean your clothes because one wrong move can turn into a disaster. Imagine if you just turned over your clothes to a laundry shop and it came back with more stains than it originally had. It would be very devastating and, not to mention, very costly.
That's why we've compiled the Best Options for Dry Cleaners in Manchester for you, so you can have several options to choose from. We've based it on the reviews, testimonials, and the number of years they're in service so your mind can be at ease when choosing the right laundry shop to trust your clothes with.
1. Granada Dry Cleaners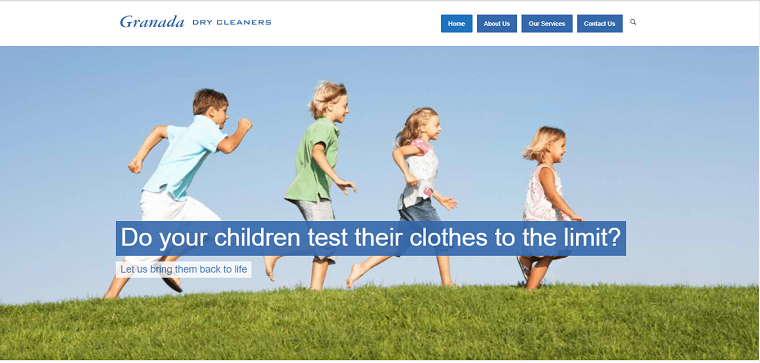 | | |
| --- | --- |
| BEST FOR | Established in 1967, uses state of the art machinery then expertly hand finished, very attentive to detail, advanced barcoding system for a detailed log of every garment. |
| SERVICES/SCOPE | Fire and Flood Damaged Garments, Curtains, Ski Clothing, Ozone Treatment, Handbags, Bed Linens, Special Garments, Dry Cleaning, Duvet, Bridal Dresses |
| PRICING | Request for a quote online or via the hotline |
| WEBSITE | http://granadadrycleaners.com |
| ADDRESS | 71-73 Bridge Street, Deansgate, Manchester, M3 2RH |
| CONTACT | 0161 834 8947 |
| PAYMENT | Call hotline for more inquiries |
 When it comes to caring for clothes, Granada Dry Cleaners can be your go-to. They were established in 1967 by Gerald and Ronnie Singer, and since then they were dedicated to giving your clothes the best quality of dry cleaning, ironing, laundry, and garment alterations. They take pride in being very keen to details – like replacing a new button if there's missing or restitching hems without any additional charges. They use state of the art machines in dry cleaning your garments then are finished by hand. They also even have a barcoding system where they log each garment that went under their care. The system also allows them to keep the cleaning history so that the garments are handled according to the specific instructions given by the client.
The most popular services Granada Dry Cleaners are laundering of shirts, children's clothes, duvets, and alterations. They also specialize in restoring garments damaged by fire or flood and preserving wedding dresses. Granada Dry Cleaners make sure to use exclusive detergents, the right temperature, and the correct method on your garments, so you'll have and speck-free shirt and fluffy duvets. All you have to do is book your laundry or dry cleaning with them then wait for it to be collected and delivered at your doorstep.
2. Village Dry Cleaners
| | |
| --- | --- |
| BEST FOR | Over 30 years of service, use the best equipment and invests in the latest cleaning technology, 4.6-star ratings in Google with over 50 reviews. |
| SERVICES/SCOPE | Minor Repairs and Alterations, Stain Removal, Costumes, and Stage Wear Dry Cleaning, Curtain Cleaning and Upholstery Dry Cleaning, Duvets, Pillow, Bedspreads, and Blankets, Special Occasion and Vintage Dresses, Executive Service, Handbag Cleaning Service, Shoe Cleaning, Moth Damage Repair |
| PRICING | Dry Cleaning price ranges from £4 to £25 depending on the garment. Check out the website for the full price list. |
| WEBSITE | http://villagedrycleaners.com/ |
| ADDRESS | 38 Manchester Road, Chorlton, Manchester, M21 9PH |
| CONTACT | 0161 860 4451 |
| PAYMENT | Call hotline for more inquiries |
 Village Dry Cleaners is a family business that's been around since 1982. They're specialty is knowing how to take care of different kinds of fabric and how to treat different types of stains. They use the latest cleaning technology and invest in the best equipment. Clients travel from long distances to experience their superior cleaning service.
From work clothes, costumes, and duvets, to handbag, shoes, and upholstery, Village Dry Cleaners pride themselves with their work. With over 30 years of experience, they make sure to clean and care for your clothes in the best possible way, so it will look renewed and last longer. They use Ozone technology to clean and deodorize clothes and other items such as shoes and bags. This eliminates odors, destroys bacteria, virus, fungi, molds, and insect infestations, and it's eco-friendly. They even offer repairs on moth damaged clothing. Check out their website to know more details or give them a phone call!
3. BandBox Laundry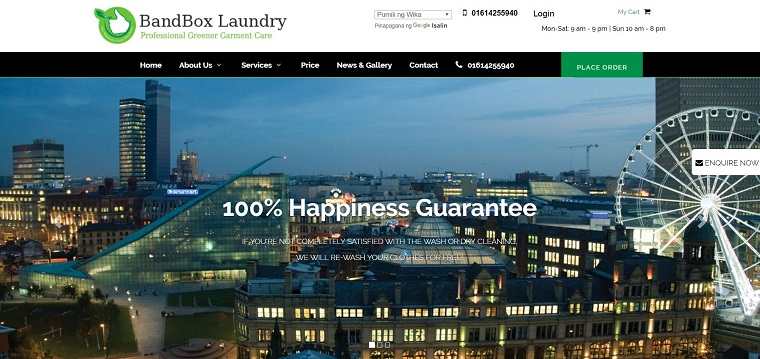 BEST FOR
100% Non-Toxic Cleaning, Miele's first certified Manchester WetCare professional
SERVICES/SCOPE
Coin Operated, Service Wash, Pressing, Duvets/Curtains, Alteration, Wedding Dress, Leather Items, Sports Kits, Commercial
PRICING
2 Day Dresses: £17.50
Shorts: £3.95
Scarf: £6.00
Cardigan: £7
Waistcoat: £4.95
Jumpsuit: £18
Wedding Dress: £44.99
2×2 Piece Suit: £17.50
Overcoat – Full Length: £16
Evening Dress (excl. silk, fur, leather & velvet): £22.50
Dress – Delicate: £13.50
Dress: £7.95
Overcoat/Raincoat: £14
Skirt – Delicate: £9.50
Skirt: £7
Trousers: £5.95
Puffer Coat – Long: £20
Puffer Coar – Short: £15
Jacket/Blazer: £6.75
Jumper: £7
Tie: £3.99
3 Piece Suit: £13.95
2 Piece Suit: £10.95
Silk Top: £9.99
Top/Blouse: £6
Shirt Folded: £4
Shirt on Hanger: £3.49
WEBSITE
http://bandboxlaundry.com/
ADDRESS
72 Hathersage Road Manchester M13 0FN Lancashire UK

41 Whitworth Street, Manchester M1 5BE

CONTACT
01614255940 / 0161- 9234709 | [email protected]
PAYMENT
Major credit cards
Bandbox Laundry takes pride in being Miele's first certified Manchester WetCare professional. Unlike traditional dry cleaning, the innovative WetCare system is a safer alternative for both the fabric and the environment. Their eco-friendly dry cleaning process uses special biodegradable detergents and fresh water to clean almost all garments that can be dry cleaned. Depending on the number and type of items, their computerized washing machines control the amount of water, soap and agitation each load receives. After the items are clean, their specialized dryers gently tumble dry garments at specific temperatures and humidity for set periods of time.
Aside from wet cleaning, the company offers ironing, alterations and coin operated laundry. They keep their prices competitive and ensure their quality of work is of the highest standards.
4. Dirty Laundry – Dry cleaners and Alterations service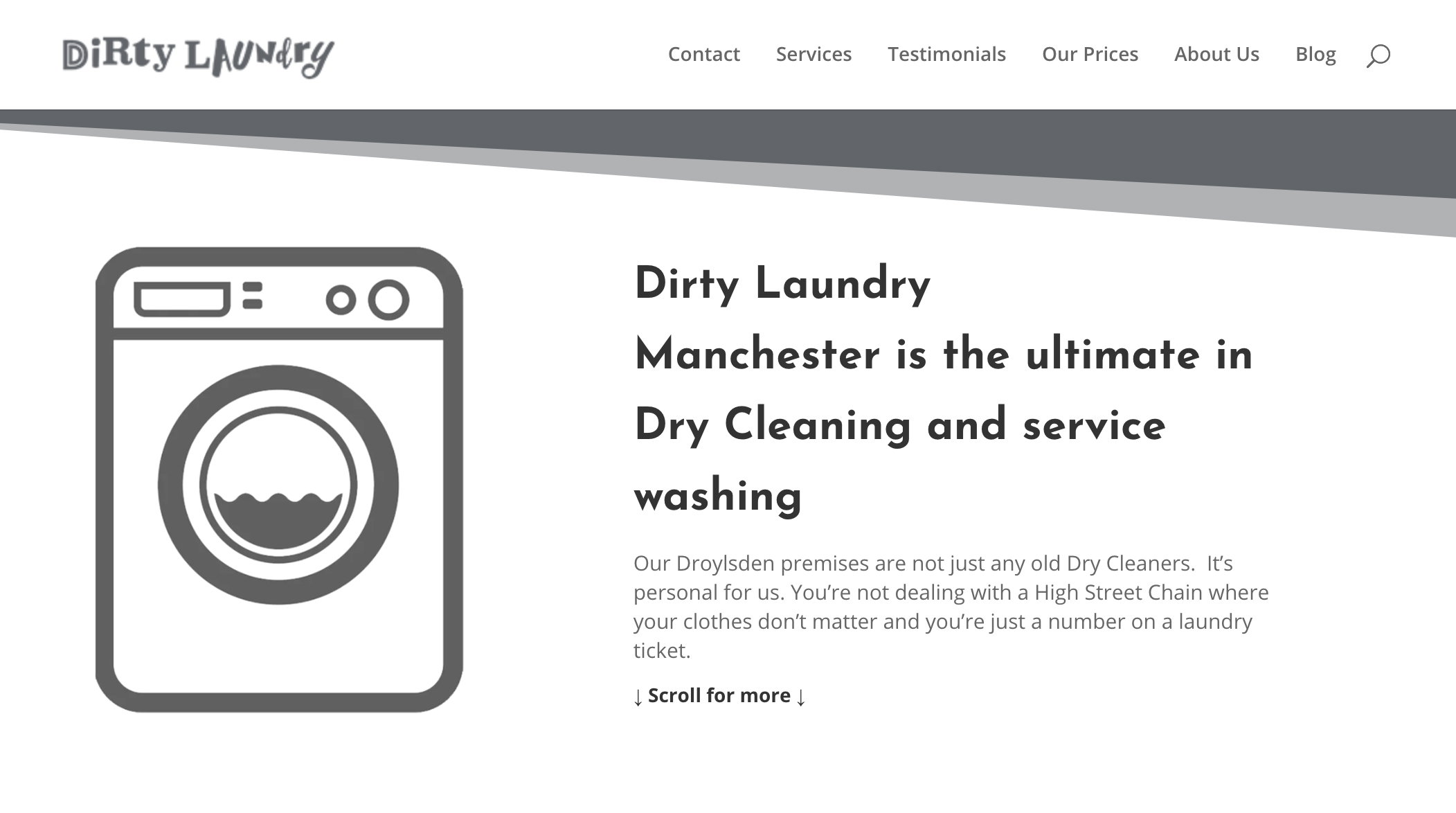 | | |
| --- | --- |
| BEST FOR | Received 4.6-star rating and 10 reviews on Google, open 6 days a week, very accessible location. |
| SERVICES/SCOPE | Dry Cleaning, Service Washes, Repairs and Alterations, Commercial Laundry, Sports Clubs, Staff Concierge, Towel Laundry, Duvet and Pillows, Specialist Cleaning |
| PRICING | Dry cleaning prices range from 5 to 100 depending on your garments, while washing, dry, and fold costs 10 per 6kg. View their website for the full price list. |
| WEBSITE | https://www.dirtylaundrymanchester.com/ |
| ADDRESS | 70 Market Street, Droylsden, Manchester M43 6DE |
| CONTACT | 0161 370 1722 |
| PAYMENT | Call hotline for more inquiries |
Dirty Laundry Manchester's motto is "Loving Life and Laundry." They don't treat your clothes like they're just another laundry ticket. They give your clothes the attention they deserve and leave it in the best condition possible. With their location in Droylsden. dropping by there store is very convenient especially that it's right next to a bus stop and a car parking. They care for their customers and their clothes that's why they deliver the best value they can.
Their passion is dry cleaning. They take care of your clothes like it's they're own. They also have service washes, repair and alterations, commercial laundry, and more. With all these services, they can take your laundry off your hands so you can spend your time on more important things. You simply have to drop off your washing and collect it clean and fresh. Aside from your clothes, they also accept the washing of team sporting kits, staff uniforms from corporate offices, duvets and pillows, and even wedding dresses!
5. Faddies Premier Dry Cleaners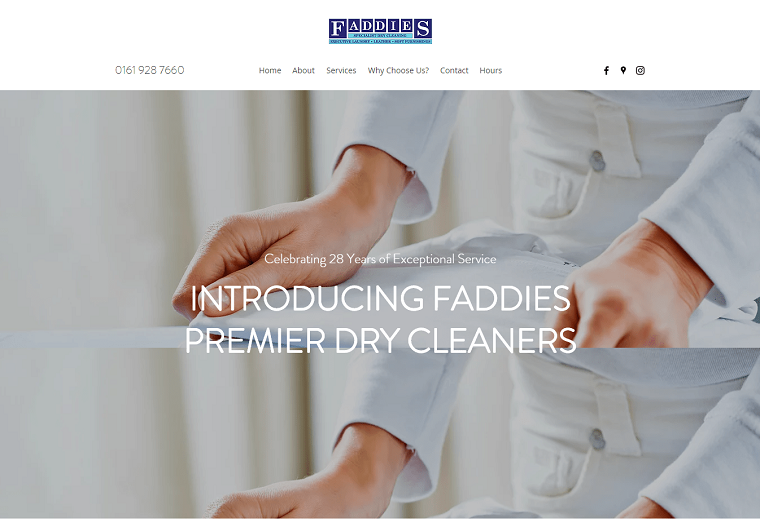 | | |
| --- | --- |
| BEST FOR | Over 28 years of service, Free pick up and drop off service, Free curtain removal, and re-hang service |
| SERVICES/SCOPE | Dry Cleaning and Laundry, Alterations and Repairs, Wedding Wear, Ski Wear, Duvets and Beddings, Carpet and Rug Cleaning |
| PRICING | Request for a quote online or via the hotline |
| WEBSITE | https://www.faddiesdrycleaners.co.uk/ |
| ADDRESS | 20A Victoria Rd, Hale, Altrincham WA15 9AD, UK |
| CONTACT | 0161 928 7660 |
| PAYMENT | Call hotline for more inquiries |
 Faddies Premier Dry Cleaners has 28 years worth of service to back them up. They make sure you get outstanding results from their quality service because, for them, customer satisfaction is their number one priority. They're very mindful of even the littlest details and are very receptive to they're clients' needs. To ensure that their customers keep coming back, they supply the best equipment and their staff is skilled to take on any job.
The services they offer include laundry, dry cleaning, alterations and repairs, duvets and beddings cleaning, and even carpet and rug cleaning. Picking up your laundry is free and you can also drop it off their shop anytime you're free. Plus, they can even remove and re-hang your curtain for you, for free! They're open from Monday to Saturday at 9 am, so drop by their shop and let them so their magic at your clothes.
6. Stitches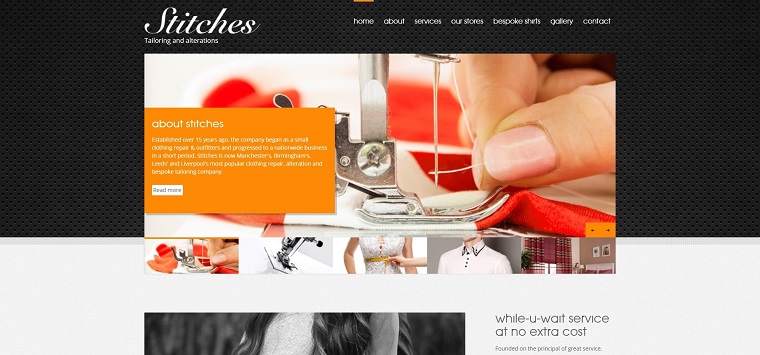 | | |
| --- | --- |
| BEST FOR | Laundry and dry cleaning using latest equipment and highly skilled staff |
| SERVICES/SCOPE | Repairs & Alterations, Wedding Dress Alterations, Bespoke Shirts, Curtain Making, Dry Cleaning |
| PRICING | Contact the company for a quote |
| WEBSITE | http://stitchesuk.co.uk/ |
| ADDRESS | 16 St Mary's St, M3 2LB |
| CONTACT | 0161 832 7990 |
| PAYMENT | Major credit cards |
Established over 15 years ago, Stitches began as a small clothing repair and outfitters business, then became a nationwide business in a short period. Stitches has gained the reputation of being a sought after clothing repair, alteration and bespoke tailoring company in Manchester, Birmingham, Leeds and Liverpool.
Stitches also offers a wide range of laundry and dry cleaning services all processed and handled under their quality guarantee, giving customers peace of mind and satisfaction every time. If you have any specific requirements that you wish to discuss, you can call them directly or drop-in to get an instant quotation.
7. Carlton Cleaners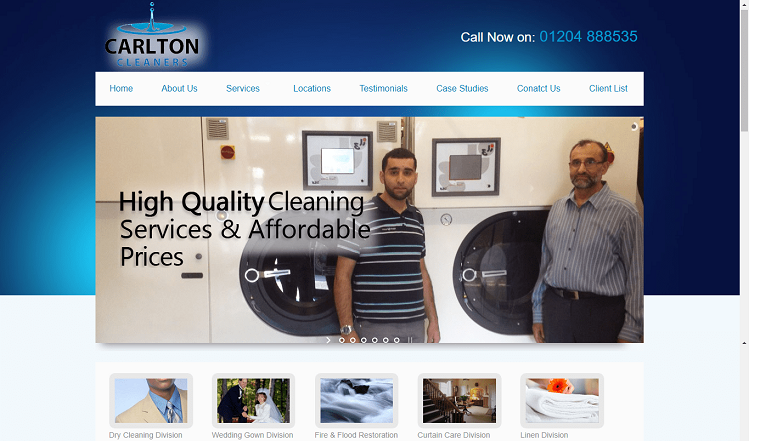 | | |
| --- | --- |
| BEST FOR | Established in 1994, equipped with the latest dry cleaning and finishing machines, environment-friendly, exceeds European Union standards, complies with European Union's Solvent Emissions Directive. |
| SERVICES/SCOPE | Dry Cleaning, Stain Removing, Flood and Fire Restoration, Carpet and Rug Cleaning, Wedding Dress Cleaning, Leather and Suede Cleaning, and more. Check out their website for a full list. |
| PRICING | Request for a quote online or via the hotline |
| WEBSITE | http://www.carltonclean.co.uk/ |
| ADDRESS | Holcombe Brook Precinct, Longsight Road Tottington, Bury, Manchester, Lancs. BL0 9SH |
| CONTACT | 01204 888535 |
| PAYMENT | Call hotline for more inquiries |
Carlton Dry Cleaners was established in 1994 and since then, they've invested in the latest dry cleaning and finishing equipment to provide their customers with the service they deserve. They not only care for their customers, but they care for the environment as well. All the high-tech machines they use are well within the standards of the European Union.
They offer a wide range of services from dry cleaning and curtain cleaning, to linen hire for corporate events and other special occasions throughout Manchester. They make sure that all your clothes are cleaned to perfection and they treat it with care. Carlton Dry Cleaners has a minimal cost shirt service and they also offer same day duvet cleaning. Did a fire or flood just damage your clothes? Worry no longer because they can take your problem off your hands and restore your clothes. Go on and drop your laundry off their shop and you can have it delivered at your doorstep when it's done.
8. LaundryHeap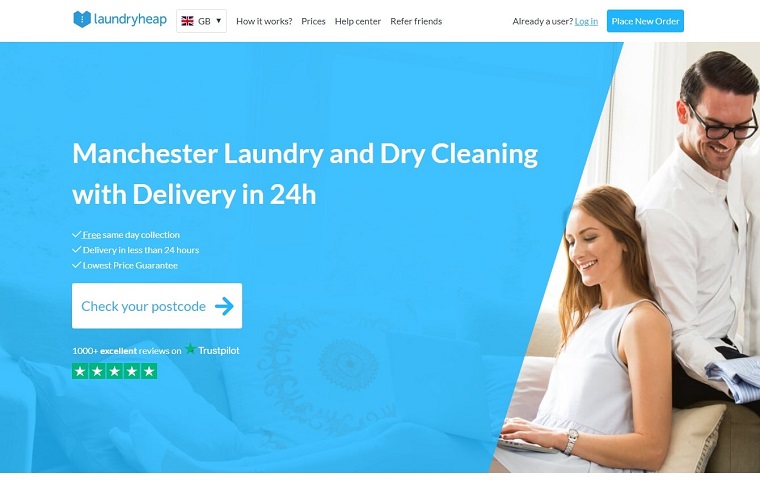 | | |
| --- | --- |
| BEST FOR | Digitally-enabled laundry platform, within 24 hours turnaround time, 4-star rating with 1,384 reviews on Trustpilot |
| SERVICES/SCOPE | Laundry Service, Dry Cleaning and Ironed Laundry, Home and Beddings |
| PRICING | £14.95 per load of 6 kg for laundry service. Check the website for the full price list. |
| WEBSITE | https://www.laundryheap.co.uk/manchester |
| ADDRESS | App-enabled service |
| CONTACT | [email protected] |
| PAYMENT | Visa, MasterCard, American Express cards. |
 If you want a hassle-free and convenient laundry experience, LaundryHeap can be your go-to. It's a digitally-enabled platform that allows you to schedule your laundry needs and they'll pick it up. Like any physical shops, LaundryHeap also offers laundry service, dry cleaning and ironed laundry, and home and bedding cleaning. One advantage of using LaundryHeap is it only takes less than 24 hours to get your laundry back. If you're not satisfied with your clothes, they can re-process it for free. Plus, they don't use harsh chemicals in making your clothes spotless, so it's environment-friendly.
All you have to do is download the LaundryHeap App on Google Play or App Store, and let them take your laundry off your hands. Choose your collection time and date, wait for their driver to pick it up, and wait for your clothes to come back fresh and clean! Check out their website for their full price list and if you have any questions in mind you can check out their help center or contact them using the live chat.
9. In Stitches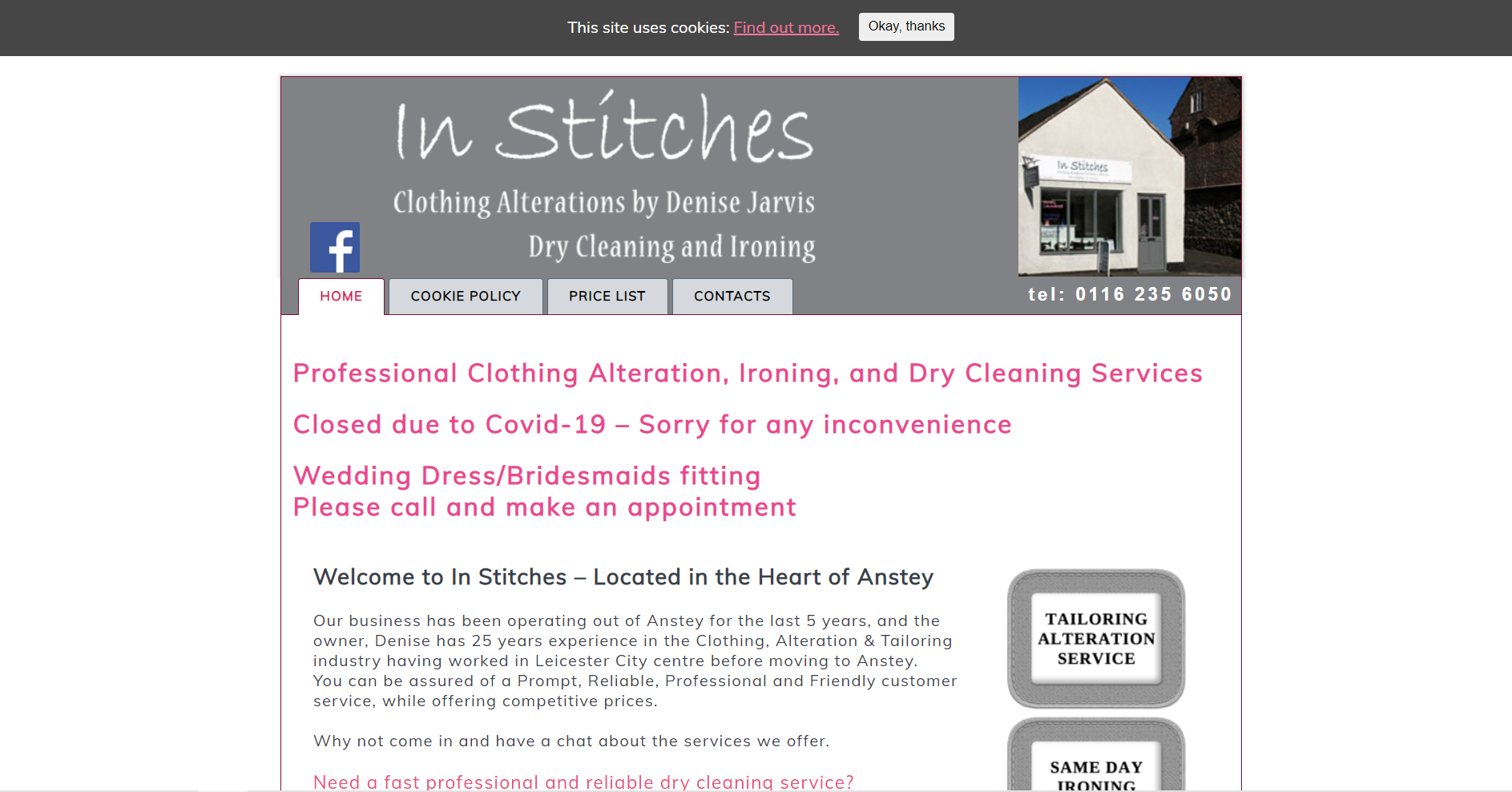 In Stitches has been operating out of Anstey for the last 5 years. The owner, Denise, has 25 years experience in the Clothing, Alteration, and Tailoring industry. having worked in Leicester City centre before moving to Anstey. You can be assured of a Prompt, Reliable, Professional and Friendly customer service, while offering competitive prices when you work with them.