As a humble port city in Scotland with picturesque views and Victorian architecture, you want to be able to dress impressively when you're in Glasgow. Whether it's everyday wear or your dream wedding dress, there's nothing wrong with spending a little more to take care of your precious garments so you can enjoy them for a longer time. We've put together the 6 Best Options for Dry Cleaners in Glasgow so you can feel good under the best clothes in this beautiful city.
1. Forresters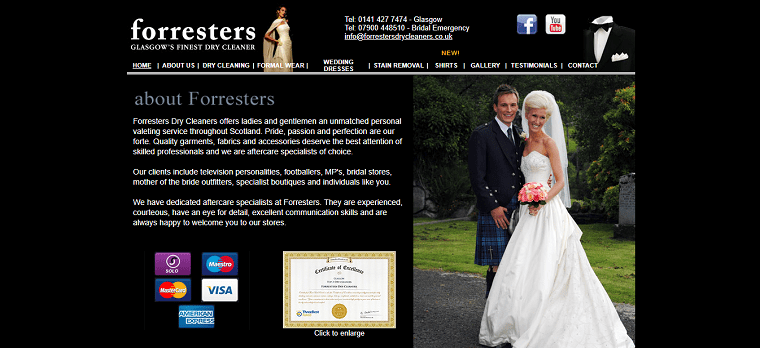 | | |
| --- | --- |
| BEST FOR | Bridal wear emergency services available, 2 hours to same-day dry cleaning turnaround, Top 3 Best Rated Dry Cleaning service in Glasgow according to ThreeBestRated |
| SERVICES/SCOPE | Dry cleaning, formal wear cleaning, wedding dress cleaning and preservation, stain removal, shirt cleaning |
| PRICING | Request for a quote via hotline. |
| WEBSITE | http://www.forrestersdrycleaners.co.uk/ |
| ADDRESS | 384 Paisley Road West, Glasgow G51 1BG |
| CONTACT | 0141 427 7474 |
| PAYMENT | Solo, Maestro, Mastercard, VISA, American Express |
Forresters claims to be Glasgow's Finest Dry Cleaners and it seems to be the case with over 21 consistent 5-star Google Ratings. Their specialty lies on their special cleaning techniques for delicate garments including your bridal and evening wear items. At Forresters, clients can rest assured knowing that every curve, every fold, every detail on your bespoke, designer and bridal finery will benefit from our personal and undivided attention. In fact, Forresters are the only wedding gown specialists to offer an emergency service to the bride and wedding party in Glasgow which is perfect in case anything goes wrong right before the big day. If it's just your everyday wear that needs dry cleaning, they take all kinds of garments and treat them with the same kind of care with their premium services. With this type of meticulous attention, you'll end up having a better love and appreciation for your favorite clothes.
2. The Wee Steemie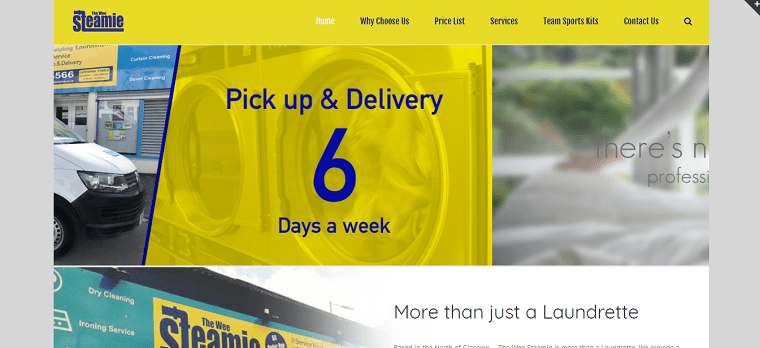 BEST FOR
Same day service, family-run business, delivery and pick-up available, free advise available
SERVICES/SCOPE
Dry cleaning, service wash, service dry, ironing, repairs and alterations
PRICING
Starts at £7 for Plain Dresses with discounts available for more than 5 items. See complete pricing online.
WEBSITE
http://theweesteamie.co.uk/
ADDRESS
57-59 Hillhouse Street, Springburn, G21 4HS
CONTACT
Phone: 0141 558 5566

Mobile: 07866 773 492

PAYMENT
Call the hotline for more inquiries.
The Wee Steemie boasts in-house dry cleaning services carried out by trained professionals. As a family-run business, they put a premium on letting you spend quality time with your loved ones by taking all the chores away from your hands. To reinforce this, they even offer free advice on how you can remedy your dry cleaning woes. They offer some of the lowest prices depending on your garment so you don't have to worry about shelling out some money just to get clean clothes. Apart from dry cleaning, they also offer washing, drying and ironing, alterations, shoe repair, and key cutting service which makes The Wee Steemie a convenient one-stop shop for your fresh laundry needs.
3. Majestic Laundrette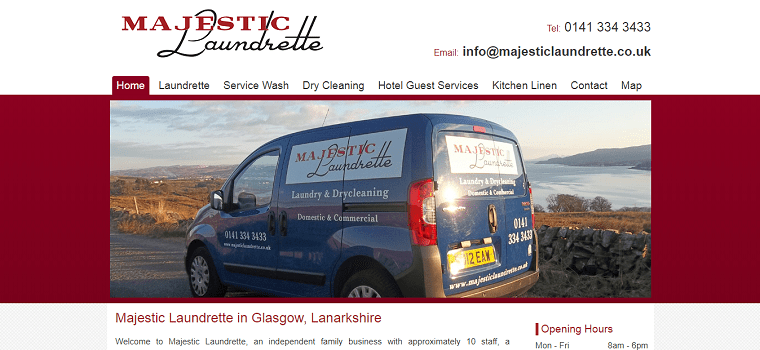 | | |
| --- | --- |
| BEST FOR | 7-day service availability, uses eco-friendly SMART Washers and SMART Dryers, independent and family-owned business |
| SERVICES/SCOPE | Laundrette, service wash, dry cleaning, hotel services, kitchen linen |
| PRICING | Request for a quote online. |
| WEBSITE | http://www.majesticlaundrette.co.uk/ |
| ADDRESS | 1110 Argyle Street, Glasgow, G3 8TD |
| CONTACT | 0141 334 3433 |
| PAYMENT | Maestro, VISA, Mastercard |
Open 7 days a week, Majestic Laundrette is operated by a small team of 10 but remains a powerhouse in providing honest, value for money, and quality laundry services. They work closely with their clients to ensure that their specific needs are addressed. On top of this, they have invested in SMART Washers and SMART Dryers that intelligently cuts water, energy and detergent consumption by up to a third, giving green reassurance to the community. Whatever type of garment you have, they'll take on the challenge so you can feel confident under the clothes you are wearing. To vouch for the excellent service they provide, they are proud laundry partners of Hilton, Holiday Inn, and other commercial companies. That goes to show how they are dependable in their craft. Majestic Laundrette personifies beauty and efficiency in simple and honest service.
4. Shafton Laundry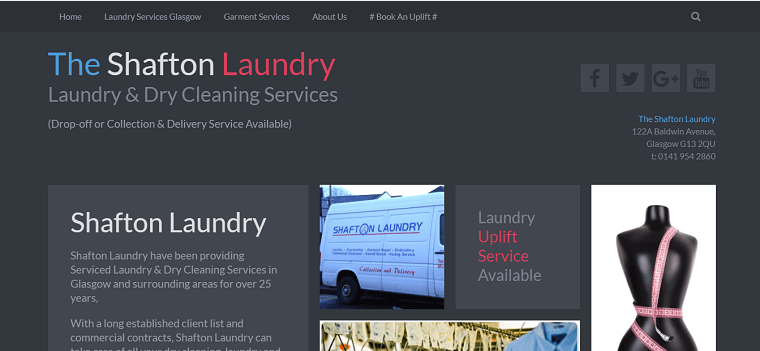 | | |
| --- | --- |
| BEST FOR | 25 years in service, environmentally friendly cleaning solutions, drop-off, delivery, and pick-up services available, commercial services available |
| SERVICES/SCOPE | Serviced Laundry, Dry Cleaning, Stain Removal, Alterations, Repairs, Embroidery, Commercial laundry |
| PRICING | Request for a quote online. |
| WEBSITE | http://www.shaftonlaundry.co.uk/ |
| ADDRESS | 122A Baldwin Avenue,Glasgow G13 2QU |
| CONTACT | 0141 954 2860 |
| PAYMENT | Call the hotline for more inquiries. |
With over 25 years of industry experience, Shafton Laundry has innovated their cleaning methods and have navigated their way through the tricks of the trade. With a quick look through the testimonials on their website, most customers have been coming and going for several years already, all leaving a positive review everytime. Shafton Laundry utilizes only the finest quality environmentally friendly materials to ensure that your garments are refreshed and cleansed to the highest standards. They are a long established and well respected name that boasts a large satisfied customer base so you can trust them with all your dry cleaning needs and be assured of quality and professionalism from uplift to return of your finest attire. All you have to do is book a pick-up service and all your chores can stay at the back of your head.
5. The Iron Lady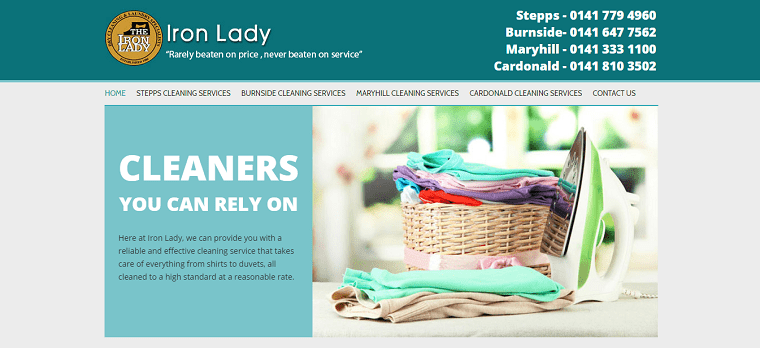 | | |
| --- | --- |
| BEST FOR | 25 years in service, free pick-up and delivery, 4 branches across Glasgow, flexible dry cleaning schedule upon request, |
| SERVICES/SCOPE | Commercial & domestic, Ball gowns & formal wear, Curtain cleaning service, Laundry service, Duvets cleaning, Curtain cleaning, Domestic ironing |
| PRICING | £17 for 4 dry cleaned items. Request for a quote via hotline. |
| WEBSITE | http://iron-ladyglasgow.co.uk/ |
| ADDRESS | 2 Cardowan Drive, Stepps, Glasgow G33 6HD |
| CONTACT | 0141 779 4960 |
| PAYMENT | Call the hotline for more inquiries. |
After a long night of partying and celebrating, the last thing you want to do is worry about is getting that stain away from your prized ball gown. There are a lot of dry cleaners can do the job but not a lot can give you value for your money. The Iron Lady specializes in keeping your ball gowns and other garments spotless and fresh with unbeatable prices. Located in 4 separate areas across Glasgow, there's no excuse in giving yourself a little bit of downtime while the experts from The Iron Lady do the job for you. When they return your cleaned garments, you can keep only the best memories from your night out and remember them with fondness.
6. Giffnock Dry Cleaners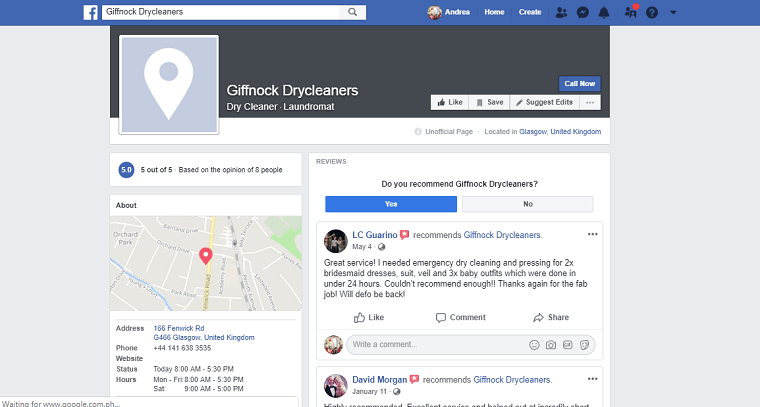 | | |
| --- | --- |
| BEST FOR | Curtain cleaning, special discounts available, swift turnaround time, over 100 5-star reviews on Google |
| SERVICES/SCOPE | Dry cleaning, alterations |
| PRICING | Request for a quote via hotline. |
| WEBSITE | https://www.facebook.com/pages/Giffnock-Drycleaners/1199051460106352 |
| ADDRESS | 166 Fenwick Rd, Giffnock, Glasgow, G46 6XF |
| CONTACT | 0141 638 3535 |
| PAYMENT | Call the hotline for more inquiries. |
Simplicity goes a long way. Giffnock Dry Cleaners doesn't have a website but they have the most number of positive reviews across this list. 111 5-star Google Reviews to be exact. Based from the testimonials, the owner of the store greets you personally and helps you with your specific requests. One of the reviews has cited how they are experts in emergency dry cleaning jobs. Whether it's 5 gowns you need cleaned immediately, you can get it back within 24 hours. Plus, you get to enjoy personable yet professional customer service everytime! Find your clothes looking as good as new with the hands of Giffnock Dry Cleaners.