There is nothing better than coming home to a clean house after a long and tiring day at work. There's no denying that having an extra hand relieves us from the stress and worries we'd rather not think about. It's understandable to have second thoughts on whether you should or should not hire a professional help, but you need to weigh the pros and cons before making a final decision.
For one, UAE is a tax-free environment, making cleaning services relatively cheaper compared to other countries. And if you're new to this city, it is better to use that extra time to adjust to the new culture and rules.
Here are some of the top cleaning service providers in Abu Dhabi that you can trust to make it easier for you to decide on which company to hire. We've taken the liberty to summarise in a table the essentials you'll need in your decision-making process.
1.   Gleam & Glisten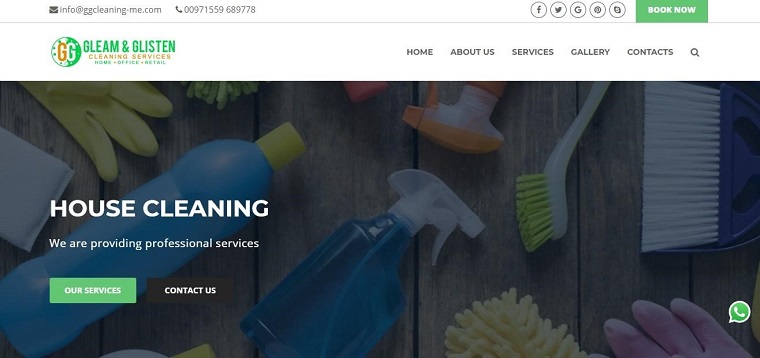 Best For
House cleaning, sofa and carpet cleaning, office carpet cleaning
Services/Scope
House cleaning, sofa and carpet cleaning, office carpet cleaning
Pricing
Minimum charge is at AED 125
Website
http://www.ggcleaning-me.com/

 

Address
Mazyad Mall, Office 1- 603,

Abu Dhabi, UAE

Contact
00971 559 689778
Payment
Accepts cash and credit card payments
Gleam & Glisten provides professional cleaning services for homes and offices. They take pride in being managed by professionals who have had 35 years of experience in the industry. You can book a cleaner in a daily, weekly or hourly basis, depending on what's convenient for you.
They also have their well-trained "executive boys/girls" for hire that can serve as your personal assistant or waiters/waitresses in events.
2.  On Track Cleaning Services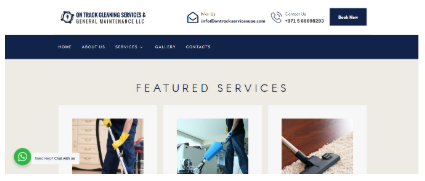 Best For

Cleaning Services

Services/Scope

Hourly Based Cleaning Services

Deep Cleaning Services

Residential and Commercial Cleaning

Carpet Shampooing

Window Glass Cleaning

Sofa Shampooing 

Supply of Office Boys, Cleaners

Pricing

Contact for more details

Website
http://ontrackservicesuae.com/
Address

Al Fidouse Street, Tourist Club Area Abu Dhabi, UAE

Contact

Phone: +971 5 66698293, +971 52 5397146

Email: [email protected]

Payment

Contact for more details
On Track Cleaning Services offers professional services at affordable rates. They provide both long-term and short-term cleaning solutions that cater to their client's specific needs. Their services include hourly based cleaning, deep cleaning, window glass cleaning and much more. On Track Cleaning Services prioritizes efficiency, quality, and customer service.
3. Febini Maids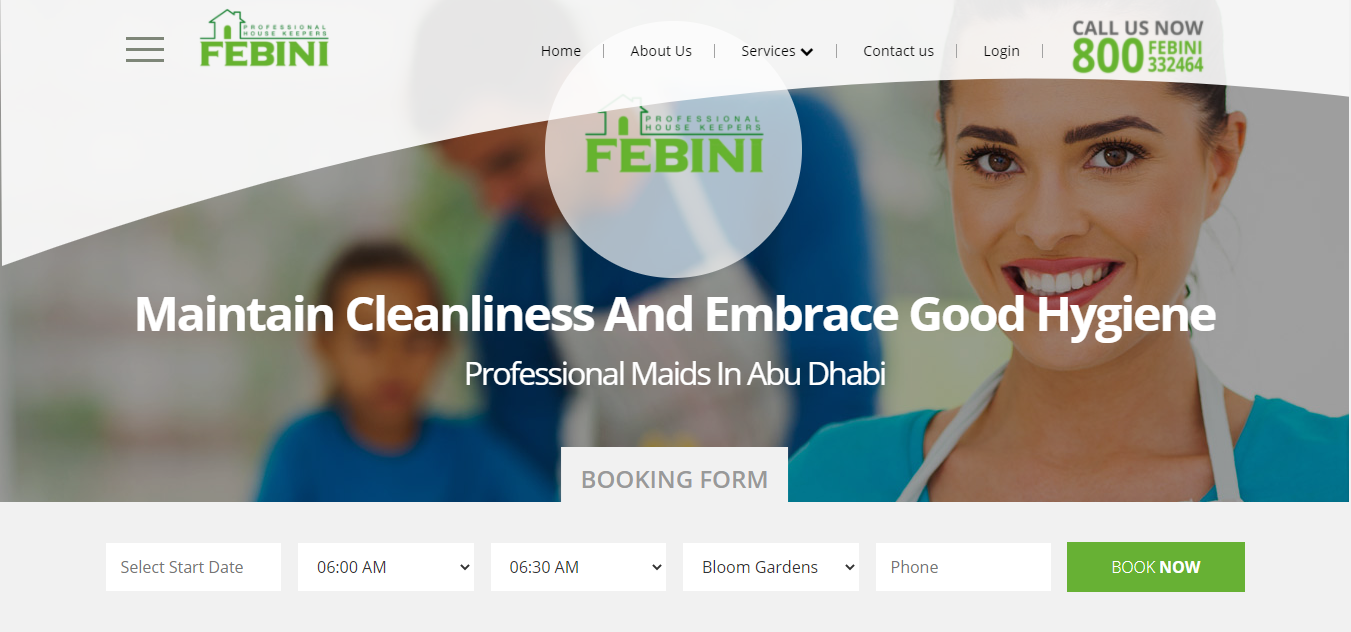 Best For

Professional Maids

Services/Scope
House Cleaning
Kitchen Cleaning
Laundry&Ironing
Office Cleaning
Party Helpers
Petcare Services
Window Cleaning
Pricing

Contact for more details

Website
https://www.febinimaids.ae/
Address
Al Firdous Tower, 6th floor
Door No.633,
Salam Street, Abudhabi, UAE
Contact
Phone: 050-726 2437,02-4452352
Email:

[email protected]

Payment

Contact for more details
If you want to maintain cleanliness in your chosen area, Febini Maids may be the perfect company for you. In comparison to others, they offer a booking form on their website.
With this, it will be easier for you to book an appointment with their professional cleaners. Simply set the date, time, choose your location, and add your phone number so they can contact you, and then viola you have already booked an appointment!
Tight on a budget? Do not fret because they are a company that only has budget-friendly cleaning services.
Aside from these, we think they are great because you can pay online and enjoy hassle-free payment processing.