Is your laundry full for the week? If you want to make it fresh and sparkling clean but can't do it on your own, our list of the best laundry services in Dubai here is made for you.
To ensure that you have the budget for them from the get-go, we will show you their rates before presenting our chosen shops, which are known for their convenient service processes.
How Much Do Laundry Services Cost in Dubai?
Dubai laundry services differ in their business models and prices. There are traditional laundry shops where the staff can wash and dry all your clothes for you, a facility with coin-operated washers, or a hybrid of them.
You can be charged in different ways: per item, weight, or package. Not one of them is more affordable than the other because it depends on the rates of the laundry service provider.
Oftentimes, you can get a discount if you get more clothing or linen washed by the staff. Having more items cleaned can also be less costly when counted by weight rather than by each item.
Of course, suits, jackets, dresses, kandoras, and other delicate clothes fetch a higher laundry price than regular clothing. And the size also plays a big role in influencing the price.
Apart from that, it's not uncommon for a laundry shop to offer a pickup and delivery service. Most don't charge anything for it unless you purchase an express garment delivery option.
Also, here is the price summary of the laundry shops we've featured on this list. In each entry later, you can find a more detailed pricing of them.
| | |
| --- | --- |
| Laundry Shop | Price Range |
| Laundry Lounge | AED35 – AED3,000 |
| Whites Laundry | AED2 – AED490 |
| On Wheels Laundry | AED4 – AED300 |
| Al Bahhara Laundry | AED1 – AED100 |
| 5asec UAE | AED65 – AED250 |
The Best Laundry Services in Dubai
Now that you've seen the pricing overview, here's our roundup of the best laundry services in Dubai!
1) Laundry Lounge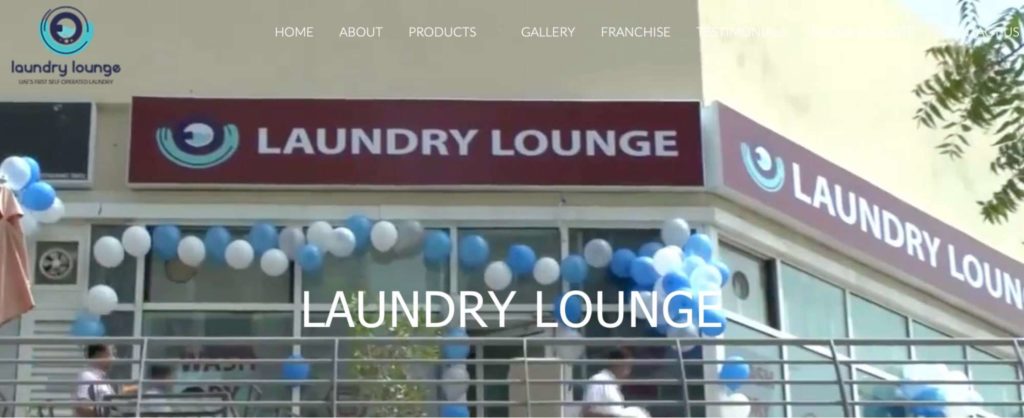 SERVICES/SCOPE
Laundry services
Laundry equipment
PRICING
Single wash and dry: AED35 (washing is AED20 and drying is AED15)

More for less offers:

Fixed Package Rates

Individual: AED250
Family: AED500
Mega: AED1,000
Grand: AED2,000

Value Package Rates

Individual: AED300
Family: AED650
Mega: AED1,400
Grand: AED3,000

Additional 10-minute drying: AED5
Detergent/drop-off/folding: AED10


*Note that there's a one-time card fee of AED5

Or kindly request a quote here
WEBSITE
http://www.laundrylounge.ae/
ADDRESS
Dubai Gate 1 Tower, Cluster Q2, (Near Damac Metro Station Exit 1), Jumeirah Lake Towers, Dubai, United Arab Emirates
CONTACT DETAILS
+971 56 4780205
+971 4 2438591


[email protected]

PAYMENT
Cash, Mastercard, Visa
Laundry Lounge is a self-service laundromat that opened in April 2017. Its main branch is located at the Dubai Gate 1 Tower, Cluster Q2, Jumeirah Lake Towers in Dubai.
Inside the establishment are stacks of modern and high-performance washing and drying equipment. To use one, you simply pick a machine, input your payment, place your clothes, then the detergent into its tray, adjust to your preference, and start the wash.
We think that they've revolutionized the business since not only can your clothes be conveniently washed and dried in an hour, but you can also stroll around the park or get work done using your laptop with their free WiFi, and drink soothing coffee while waiting.
Don't have the time to wait for 1 hour? Then, you can just drop off your week's worth of laundry at their nearest shop, and their staff can do everything for you, including the washing, drying, and folding of your clothes.
But, unlike its competitors, they aren't open 24/7, only from Sunday to Thursday from 8:00 AM to 11:00 PM, and Friday, Saturday, and public holidays from 9:00 AM to 9:00 PM.
What keeps their clients returning is their very affordable prices. The more clothing you get them to wash and dry, the less you'll pay, as you can see in the pricing row of the table above.
However, if you want accurate pricing, you can also request a quote from them via the link below the displayed rates above.
Plus, they offer hassle-free payment options of cash, Mastercard, and Visa. But, keep in mind that if you pay them using a credit card, a one-time fee of AED5 will apply.
So, as you can see, Laundry Lounge is among the most convenient and affordable laundry services in Dubai!
Self-service laundromat
Fast 1-hour wash and dry time
More for less discounts
Free WiFi
Accepts Mastercard and Visa
One-time card fee of AED5
Not open 24/7
Customer Reviews
Very kind staff and convenient laundry system
"I've been here several times. Very kind staff with full service and super convenient laundry system. great to use this store for both visitor and locsl resident." -Sang Min Lee
Most affordable laundry service in Dubai
"Very warm welcome, an agent at the reception provides us with information and helps us. The cheapest in dubai but also good service. I recommend." -El Kati Mohamed
2) Whites Laundry

SERVICES/SCOPE
Laundry bundles
Wash + fold bag
Couture
Bridal
Traditional garments
Curtains & carpets
PRICING
Bundles

Tops & bottoms: AED32 – AED99
Formal: AED54 – AED84
Dress: AED69
Casuals: AED22 – AED74
Traditional: AED24 – AED44
Home: AED34 – AED49

Single-Item

Garments & accesories: AED8 – AED129
Traditional: AED6 – AED39
Juniors: AED4 – AED89
Home: AED4 – AED49
Couture: AED29 – AED249
Bridal: AED490
Other services: AED2 – AED14
WEBSITE
https://whites.ae/
ADDRESS
Dubai Marina, Marina Mall, P Level, Dubai, United Arab Emirates
CONTACT DETAILS
+971 800 944837


[email protected]
Don't have a washer or dryer at home to make your garments spotless? Or maybe you don't have the time to do them consistently?
Fortunately, Whites Laundry is here to launder and dry-clean your clothes, and deliver them to you for free, bagged and folded neatly inside and ready for you to store them in your closet!
Its services include washing or cleaning of couture, bridal dresses, traditional garments, and curtains & carpets. With their help, keeping your attires and furnishings fresh and clean can be easy.
Mind you, these won't be cleaned haphazardly, but specifically tailored to their conditions, ages, and textiles. They have a team of garment and laundry experts who can take care of them in the best way.
Compared to other laundry service providers, they are a notch above because they are mindful of minimising their impact on the environment. Hence, they only use energy-efficient machines and biodegradable and reusable covers or bags.
Their entire pricing is shown on their website from casual clothing to velvet drapes. For their washing and drying results, clients have said that their rates were correct and reasonable.
As we've mentioned here, they offer a free next-day garment delivery, but if you opt for a same-day delivery instead, a 50% surcharge will apply.
With a satisfaction guarantee, the laundry staff are willing and able to re-clean the clothes if they have some stains or spots afterwards. This gives you the assurance that the work will be done correctly.
For immaculate cleaning results, a helpful staff, and speedy deliveries, we highly recommend Whites Laundry!
Free next-day finished laundry delivery
Tailored cleaning service
Allows you to purchase online
Environmentally-responsible
Offers a satisfaction guarantee
50% surcharge for same-day service
No 24/7 services
Customer Reviews
Completely removed the coffee stains on a white shirt
"It really is the best laundry service in Dubai. My colleague at work spilt her cup of coffee over my white shirt. Everyone knows coffee stains on white are the hardest to remove yet these guys managed to return my shirt to its original state with no traces of the stain. Thanks whites Team!" -Reem Sadek
No delays and a helpful staff
"Amazing service! Hands down the best so far. No delays, always available to help. I definitely recommend them." -Laila Jafaari
3) On Wheels Laundry

SERVICES/SCOPE
Laundry
Dry cleaning
Pressing
Upholstery & room cleaning
Carpet & curtain cleaning
Leather cleaning & polishing
Wedding gown cleaning
Professional alteration services
Bags & shoes cleaning
Commercial services
Retail services
PRICING
Clean & Press: AED4 – AED55
Press: AED5 – AED30
Special services: AED22 – AED300
WEBSITE
http://www.owlaundry.com/
ADDRESS
Downtown 19 Boulevard, Dubai, United Arab Emirates
CONTACT DETAILS
04 874 5369


[email protected]
On Wheels Laundry can wash, press, or dry-clean different types of clothes and beddings, including sequin and bead dresses, healthcare textiles, and restaurant table sheets.
They offer a pick-up and delivery service so that you won't have to go to the trouble of visiting them. And not to mention, they have a fast same-day laundry turnaround.
Clients have mostly praised this company's great value for money, punctual service, and skilled laundering work. However, they have very few complaints about their customer service.
Now, what makes them a trustworthy service is the fact that they give a 100% satisfaction guarantee. In the event that you feel your clothes haven't been thoroughly cleaned, folded, or have other issues, they can duly make them right.
More than just a laundry service, the company also offers upholstery and room cleaning, bag and shoe cleaning, carpet and curtain cleaning, as well as clothing alteration services. They have a trained and qualified team to handle these tasks.
Furthermore, thanks to their price calculator, you don't have to manually compute how much you're going to pay. With it, you can simply enter the quantity of the garment to clean and press and you'll see the price instantly.
You have four options for a pickup and delivery service, by the way. The normal delivery (within 2 days) option costs free, but urgent (within 24 hours), express (within 12 hours), and super-express (within 6 to 8 hours) come at fair corresponding rates.
In summary, whether for washing just a few items or heaps of laundry for hotel or business use, On Wheels Laundry is another of the top laundry services in Dubai that you can count on!
Specialises in residential and business laundering
Full range of garment and house cleaning services
Same or next-day turnaround
Gives a happiness guarantee
Reliable price calculator
Not open 24/7
Complaints about customer service
Customer Reviews
Amazing and affordable laundry service
"Amazing laundry service at an extremely affordable rate. My clothes arrived in mint condition. Thank you!" -Vlad Wallace
Excellent value for money
"Regarding the price, its the cheapest one i found in dubai, and surprised by how much great quality of smell and cleanliness is found in that small amount spent. Thanks, and will always use onwheels laundry services once i need them." -Ahmad Ghneim
4) Dubai Laundry Services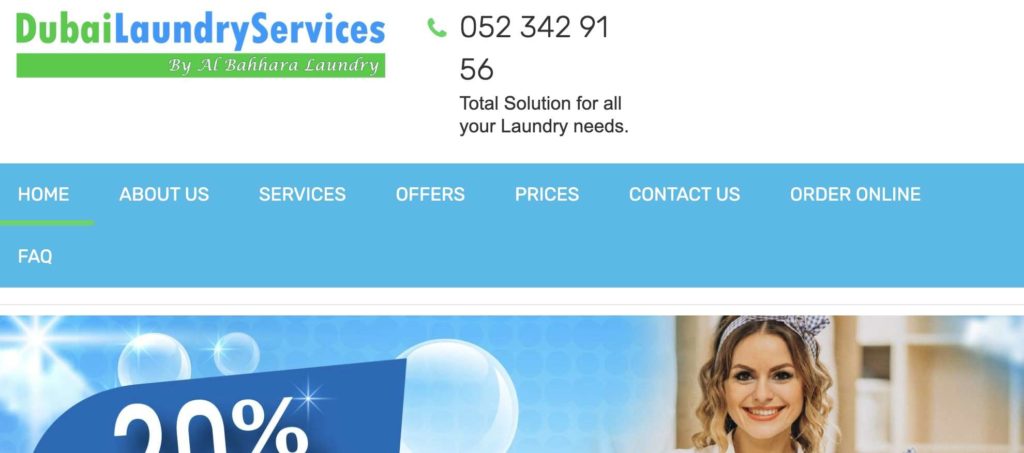 SERVICES/SCOPE
Laundry, ironing & steam pressing
Dry cleaning
Wash, dry & fold bag (No ironing)
Curtain cleaning
Carpet cleaning
Cloth alteration
Mattress cleaning
Sofa shampooing & steam vacuum
PRICING
AED1 – AED100
WEBSITE
https://www.dubailaundryservices.com/
ADDRESS
International City, France Cluster, Dubai, United Arab Emirates
CONTACT DETAILS
+971 52 342 9156


[email protected]
If you dread busy phone lines and long service waits, you should book your laundering with Dubai Laundry Services! Because they can make everything seamless from start to finish.
The company mainly washes, folds, steam-presses, and dry-cleans clothes of all types from simple shirts to wedding gowns. Its proficient and knowledgeable staff strives to carefully clean and handle each garment you leave to them.
To do this, they utilise gentle and green detergents to make them spotless and fresh-smelling. In fact, many clients have left rave reviews about the service result together with their good prices.
Also unique about them is their compensation policy, wherein if one of your clothes goes missing or is damaged during their washing, they can pay ten times its amount on your bill.
Those are why they made it among the best laundry services in Dubai list. But that's just the tip of the iceberg and here are some of the other reasons.
Another key strength of this service is its free pickup and delivery service throughout Dubai. Their standard is next-day delivery but you can choose express delivery to get your clean clothes before the day ends or earlier.
Although they work daily, they open from late afternoon on Fridays as opposed to other shops. Still, that doesn't diminish their ease of booking and reliability.
You can book with them by phone or online, whichever you prefer. By doing the latter, you can avail of their special discount code to get more bang for your buck.
Moreover, they have live chat support to make up for their minor scheduling flaw. You can enquire about the kinds of clothing they can wash, any problems that come up, or anything.
Free laundry pickup and delivery
Offers express garment delivery
Has online booking
Live chat support available
Offers discount codes
Can compensate for a damaged garment
Opens late afternoon on Fridays
Complaints about service and minimum delivery rates
Customer Reviews
Prompt delivery and updates
"After 2 weeks on the road; I desperately needed some laundry done, but wasn't going to pay hotel rates! @albahharalaundry not only picked up my clothes, but promptly returned everything while messaging me the entire time! THE BEST in Dubai!!" -Thomas Fitzsimmons
Convenient booking process
"Found out about this laundry service while browsing! They are responsive to inquiries and scheduled the pick up same day. They are also very courteous. Two weeks after I sent them a message again for another batch of carpet cleaning and just like the first one came like a breeze. Best thing free pick up and delivery. 👍👍👍" -Gleny
5) 5àsec UAE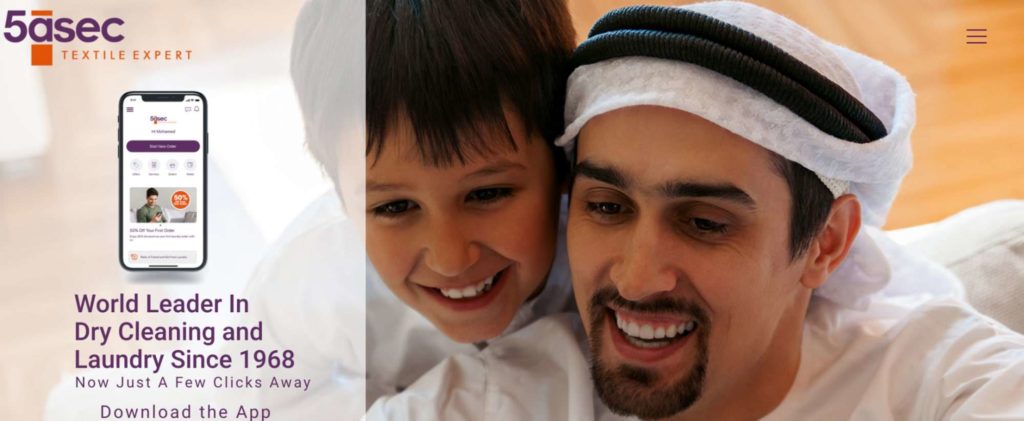 SERVICES/SCOPE
Wash & fold
Press only
Clean & press
Maxima (gentle treatment of delicate fibres and garments)
PRICING
AED65 – AED250
WEBSITE
https://5asec.ae/
ADDRESS
Burj Residences Tower, 9 Emaar Blvd, Downtown Dubai, Dubai, United Arab Emirates
CONTACT DETAILS
+971 800 52732


[email protected]
5àsec is a recognised French dry-cleaning and laundry name established in 1968. It currently has more than 1,800 outlets across the Middle East, South America, Africa, Europe, Asia, and Australia combined.
It offers washing and folding, pressing, cleaning and pressing, and Maxima. Maxima is a kind of extra-gentle treatment used to freshen delicate garments such as wool attires, party dresses, sequin blazers, and the like.
Whenever they go to work, they keep the environment in mind. One way that they do this is to invest in efficient washers and dryers and using chemicals that won't harm the environment.
Their competitive edge over other laundry services lies with their convenient app. Through it, you can book a pickup and delivery, track the delivery status of your laundry, and pay your bill.
However, it can involve some extra effort (or hassle) to install an app on your mobile phone. And that other people, such as seniors, may not have one to even use it.
But, as always, you can always call them by phone and a customer service representative can pick up and assist you. Or, you can chat with them online during their working hours.
Bear in mind that you can have your newly-cleaned clothing, shoes, draperies, or other textiles delivered through the week, except on Fridays when their store is closed.
According to clients, they give reasonable rates for their services. They charge them by the bag at fixed rates, but you can get a sweet deal with 20% off if you purchase their monthly package.
Best of all, they back up their laundering with a satisfaction promise for 24 hours. Because of this, we suggest checking that all your items are complete and have no damage within this span, otherwise, you'd need to pay extra to repair them.
Contactless laundry pickup and delivery
Eco-friendly commitment
Accepts booking via their app
Live chat support available
Multiple payment options
Special offers available
Gives a satisfaction guarantee
App can be a hassle to install
Unavailable on Fridays
Complaints about damaged fabrics
Customer Reviews
Great-quality laundry service
"It's a great quality and laundry service that you won't find in UAE Highly satisfied and recommended !" -Vasylyna Peleshko
Perfectly cleaned, ironed, and delivered on time
"Left a winter cape for cleaning a few weeks ago: perfectly cleaned, ironed and delivered on time for reasonable price. But wait, that's not the best part: reorganizing my closet last week-end and taking the item out of the sleeve, I realized they also replaced and fixed the closing hook that was detached (which I didn't requested and not even showed them the issue). What a great attention to details and a lovely extra mile!" -Sophie L.
6) Mybox Laundry LLC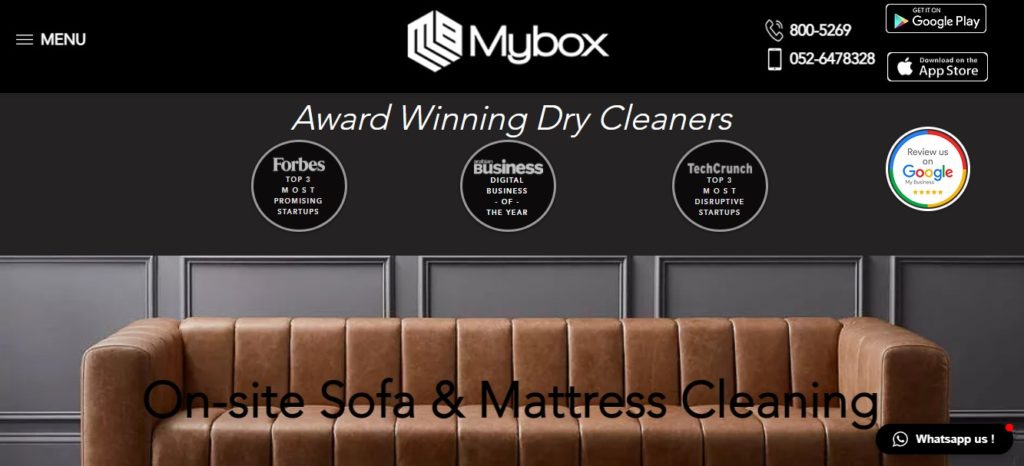 The Mybox Laundry LLC is a laundry company that provides reliable, high-quality, and professional services with the help of its well-qualified team of experts. They are known for their attention to delicate fabrics like silk, satin and embroidered, to make sure that your garments get cleaned without any damage to their finish, texture, or materials.
Moreover, the company ensures that your garments are handled with the utmost care during the process of laundering. With this, we believe that they offer the best services like dry cleaning and laundry, ironing, wedding dress cleaning, and shoe & bag cleaning.
Their world-class staff takes extra care in cleaning their customers' clothes by using safety measures that include storing all garments in a clean place and using only clean water to clean them.
With them, you do not have to worry about carrying your dirty linen to our laundry place. You can simply use the laundry app Dubai to select pick up and delivery.
50% off your first order with a max discount of up to 50 AED
Has a mobile app (Google Play and App Store)
Trained textile experts
Customer Reviews
Here is a testimonial from one of their clients:
"Great service, easy, quick, efficient. A no hassle way to get laundry and a range of other services in Dubai. I used the shoe refreshing service too and they came back perfect. Thanks guys!" = Locran O'Loingsigh
FAQs about the Leading Laundry Services in Dubai
---
And there you have it for the best laundry services in Dubai. With them, you can get all your laundry cleaned and pressed carefully and in record time!
Any questions or opinions about our list? If you have one, please let us know and we'll get back to you first thing.
Besides that, should you need your carpets and rugs at home cleaned, you can also view our selection of the best carpet cleaning services in Dubai!