Carpet cleaning isn't as simple as patting tissue over spilled liquids or simple, everyday vacuum cleaning. A dirty carpet can be home to deep seated bacteria, molds, and other organisms that can prove to be detrimental to your home and your health. We have compiled the Best Options for Carpet Steam Cleaning in Melbourne so you can get a little help from professionals that can turn your carpets into a safe place where your kids, pets, and the whole family can stay and play!
1. Jena's Carpet Cleaning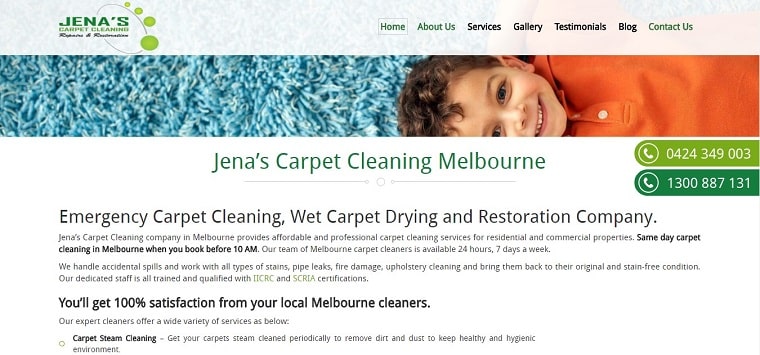 BEST FOR
24/7 service availability, same day carpet cleaning services, emergency wet carpet drying, staff is all trained and qualified with IICRC and SCRIA certifications, 15 years of industry expertise, after-service visits, eco-friendly cleaning solutions, uses special edging equipment, deep cleaning tools and brushes
SERVICES/SCOPE
Wet carpet restoration, water damage cleaning, flood damage restoration. tile and grout cleaning, rug cleaning, upholstery cleaning, mattress cleaning, sewage restoration, carpet repair, fire and smoke restoration, anti-bacterial treatment, structure drying, odor control, mold remediation, timber floor drying
PRICING
Request for a quote online or via hotline
WEBSITE
https://jenascarpetcleaning.com.au/
ADDRESS
31 Spring Street, Melbourne, VIC 3000 Australia
CONTACT
1300 887 131

0424 349 003

PAYMENT
VISA or Mastercard
 Jena's Carpet Cleaning has over 15 years of professional experience behind them and their success is hinged on the latest Fast Dry Deep Cleaning Systems. Their eco-friendly solutions give really deep down results, removing more stains and dirt. Their services are also available round the clock, so your convenience is of utmost priority. Promising to make your life easier, they accept every type of carpet cleaning challenge you may have.
Even emergency wet carpet drying is part of their expansive list of services! They are equipped with industrial air movers and LGR dehumidifiers for drying and appropriate sanitization with antimicrobial to kill bacteria and prevent the growth of mould and mildew. Using industrial truck-mounted cleaning equipment paired with their hot water extraction machines, they remove excess water from your rugs and carpets to avoid further damage and leave your carpets as clean and bacteria-free as can be. To top it all off, their wet carpet cleaners are proficient in cleanliness, polishing, residual repairs, maintenance, general cleanup and ensure your home stays free from contamination.
2. Unique Cleaning Management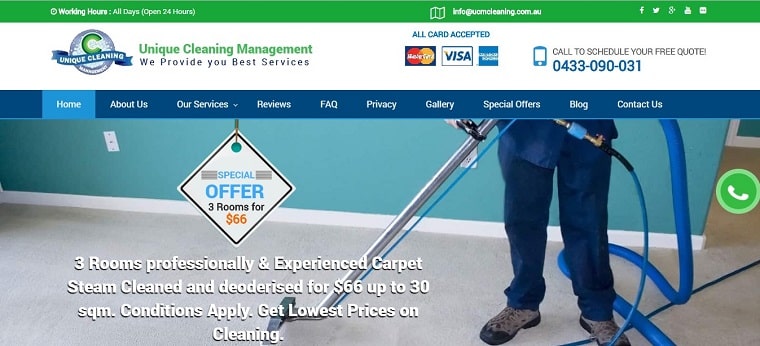 | | |
| --- | --- |
| BEST FOR | 24/7 service availability, night cleaning crew for office services, eco-friendly cleaning solutions, special offers for multiple cleaning jobs, friendly, attentive, and insured cleaning staff, simple online scheduling |
| SERVICES/SCOPE | Carpet cleaning, window cleaning, tile cleaning, and vacate cleaning, office cleaning, end of lease cleaning, bond cleaning |
| PRICING | Request for a quote online or via hotline |
| WEBSITE | https://www.ucmcleaning.com.au |
| ADDRESS | 3013/639 Lonsdale St Melbourne, VIC 3000 Australia |
| CONTACT | 0433 090 031 |
| PAYMENT | VISA, Mastercard, American Express |
 Unique Cleaning Management was established in 2010 and while this might be one of the younger carpet cleaning companies in the industry, they have received consistently high reviews from their clients which goes to show how this company can compete with the dry-cleaning powerhouses. Their hot water extraction method restores the fibre of the carpet, removes harsh and stubborn debris, and even treats allergens and bacteria which lurk below your carpet.
They also specialize in cleaning office spaces where trustworthy night crews come in to clean your carpets through quick drying methods. Thanks to their 24/7 services, you can book an appointment whenever it's convenient for you. Whether it's for your home or your office, their affordable rates and excellent services make Unique Cleaning Management a great carpet cleaning option.
3. Lifestyle Cleaning Melbourne
Lifestyle Cleaning Melbourne's Green carpet cleaning can transform any room and have your residential or commercial property looking like new. They also offer same day service and a dedicated team of well-trained professionals who will help you with any queries or requests.
When it comes to carpets, you really can't rely on simple cleaning methods. Don't be afraid to give these companies a call so you can give yourself, not only the best carpets, but the best home ever.
4. Crystal Cleaning Melbourne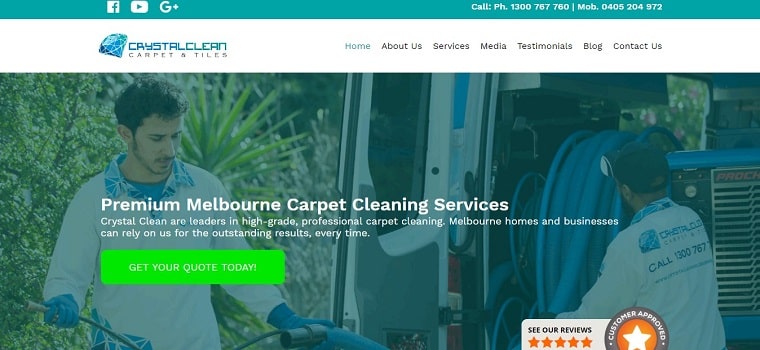 BEST FOR
Consistent award-winning services, child, pet and eco-friendly cleaning, IICRC Certified and Experienced Technicians, Full liability insurance for peace of mind, Flexible availability to suit you, 100% Money Back Guaranteed, Advanced cleaning technology
SERVICES/SCOPE
Carpet Dry Cleaning, Carpet Steam Cleaning, End of Lease Carpet Cleaning, Rug Cleaning, Couch, Sofa & Upholstery Cleaning, Mattress Cleaning, Spot & Stain Removal, Odour Removal, Tile & Grout Cleaning, Laminate & Vinyl Floor Cleaning & Sealing, High Pressure Cleaning, Water Damage Restoration
PRICING
Request for a quote online or via hotline
WEBSITE
https://www.crystalcleanmelbourne.net.au/
ADDRESS
Crystal Clean Carpet & Tiles Pty Ltd

PO Box 5358, Mordialloc 3195 Melbourne

VIC, AUSTRALIA

CONTACT
1300 767 760

0405 204 972

PAYMENT
Send inquiries through email
Crystal Cleaning Melbourne has been awarded the Service Award consistently since 2014 which is testament to cleaning services that are delivered to the highest standards. They use safe and reliable techniques to ensure a deep clean that restores your carpet to its original beauty and comfort. With this, you can say goodbye to dust, dust mites, bacteria, mold, and other pesky contaminants that are getting in the way of you having a livable and breathable home.
You can depend on their IICRC Certified and Experienced Technicians to deliver thorough cleaning. 7 steps make up their steam cleaning services. It starts with inspection where their cleaning technicians assess the right kind of cleaning methods to offer. Dry vacuuming and eco-friendly pre-conditioning follows. To rinse, they use a hot water extraction method. Grooming comes after to preserve the design and structure of your carpet. For drying, they have a Dri-Pod floor dryer to quickly remove moisture so you can use your carpets in no time. To top it all off, they offer free deodorizing for a clean, fragrant, and fresh finish. With these comprehensive steps, their services are guaranteed to be fool-proof.
5. Super-Clean PRO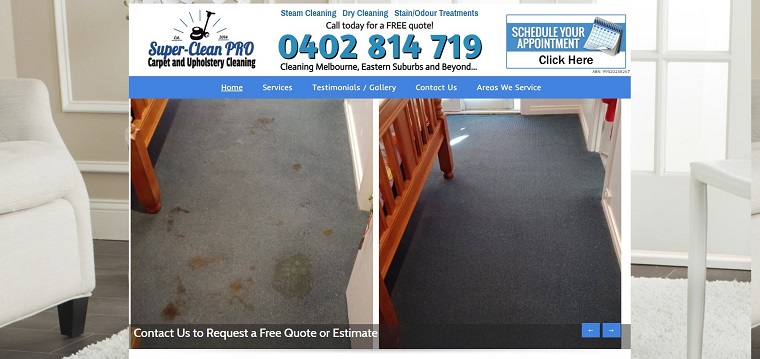 BEST FOR
Commercial or Residential Steam Cleaning, Dry Cleaning & Stain/Odour Treatments Using Family-Friendly Products
SERVICES/SCOPE
Steam Cleaning; Dry Cleaning and VLM (Very Low Moisture); Urine and Odour Treatments; Emergency Water Extraction; Flood and Water Damage Restorations;
After Hours and Weekend Appointments; Underlay and Sub-Floor Odour/Mould Treatments; Mattress Clean, Sanitize and Deodorize; Red Wine, Coffee, and Ink Treatments; Mould, Anti-Allergen and Dust Mite Treatments; 24 Emergency Call outs
PRICING
Contact the company for a free quote
WEBSITE
www.supercleanpro.com.au
ADDRESS
RINGWOOD Victoria Australia 3134
CONTACT
0402 814 719 | [email protected]
PAYMENT
Major credit or debit cards
Super-Clean PRO has a team of highly trained and certified carpet and upholstery cleaning specialists to make carpets good as new. They have the advantage of years of experience, knowledge and the latest technology and high powered equipment to deliver a superior steam clean, dry clean or VLM clean (very low moisture) for commercial and residential carpet and upholstery using certified family friendly products.
Their specialized drying equipment – commercial dehumidifiers and heavy-duty air blowers – will be left behind until your flooring and belongings are dry. The owners and operators are a husband and wife tandem, so they know the importance of providing service with integrity and to prioritize the family's safety and well-being with every job.
6. Carpet Cleaning Melbourne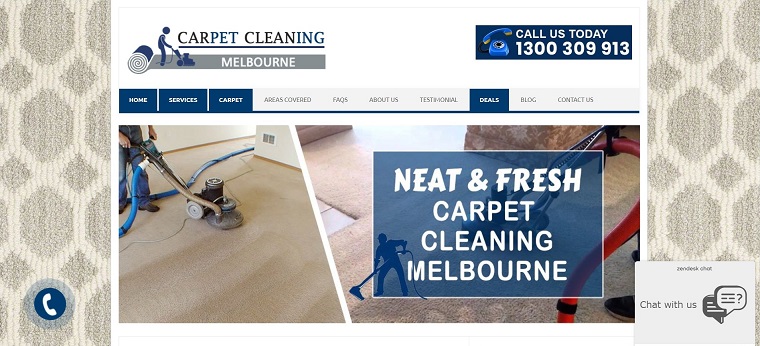 BEST FOR
Domestic Carpet steam cleaning, Commercial Carpet steam cleaning and industrial Carpet steam cleaning
SERVICES/SCOPE
Carpet Repair and Re-Install, Carpet Flood Water Damage Restoration, Carpet Water Damage Cleanup, Carpet Structure Drying, Carpet Fire & Smoke Restoration, Wet Carpet Drying, Carpet Steam Cleaning, Carpet Sewage Restoration, Carpet Sanitizing, Carpet Stain Removal, Carpet Stain Protection, Carpet Cleaning Solution

Tile & Grout Cleaning, Duct Cleaning, Mattress Cleaning, Upholstery Cleaning, Curtain Cleaning

PRICING
Contact company to get a quote
WEBSITE
www.carpetcleaningsmelbourne.com.au
ADDRESS
Melbourne, Australia
CONTACT
1300 309 913
PAYMENT
Major Credit Cards, Direct Transfer, Cash, Direct Deposit
Carpet Cleaning Melbourne mainly focuses on cleaning rugs, floors, air ducts, upholstery, tiles and grouts etc. They have a specialized team skilled enough to provide customers with excellent services.
Carpet Cleaning Melbourne uses industrial carpet steam cleaning and truck-mounted equipment to provide superior results every time, plus faster drying ability. With their carpet steam cleaning service, no job is too big nor too small. They have provided carpet steam cleaning for one-bedroom units to steam cleaning the carpets in the parliament house.
7. Pocka Dola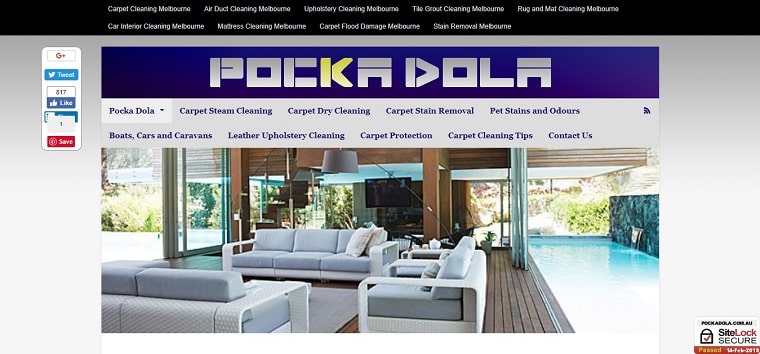 BEST FOR
24/7 emergency service, IICRC certified firm, powerful steam cleaning equipment, hot water extraction method, Australian Melbourne-made products, fully insured, competitive rates for quality work, upfront cost with no hidden charges, 100% 48 hour money back guarantee
SERVICES/SCOPE
Carpet Cleaning, Air Duct Cleaning, Upholstery Cleaning, Tile Grout Cleaning, Rug and Mat Cleaning, Car Interior Cleaning, Mattress Cleaning, Carpet Flood Damage, Stain Removal
PRICING
Request for a quote online or via hotline
WEBSITE
http://www.pockadola.com.au/
ADDRESS
6/677 Park Street

Brunswick VIC 3056

CONTACT
(03) 9111 5619
PAYMENT
Visa, Master Card, Eftpos, American Express and Cash.
 Pocka Dola is an IIRC-certified firm that promises no hidden charges and a 100% 48-hour money back guarantee. They also make sure to update themselves with the recent steam cleaning technologies. Using Australian-manufactured products, clients can rest easy knowing that they are using the best products possible to treat your carpets.
They have a significant following in their social media accounts and the stellar review from their clients are a testament to the stellar quality of their services. They also have the most flexible payment methods leaving you with little to no excuse of availing carpet cleaning services. From stubborn dirt to pet stains and odors, Pocka Dola will do their very best in treating your carpet with utmost care.
8. Black Gold Carpet Cleaning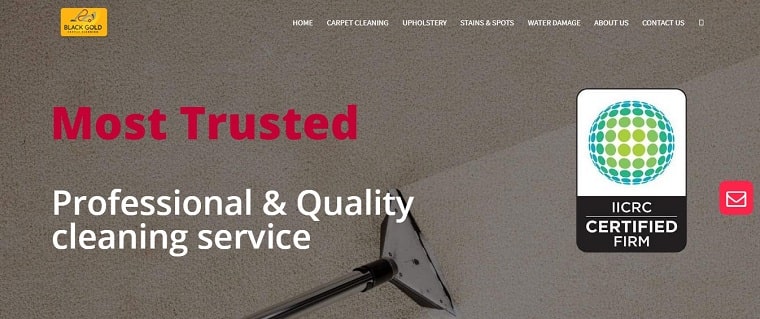 | | |
| --- | --- |
| BEST FOR | IIRC-certified firm, family-owned and operated, Awarded Top 3 Carpet Cleaning Service in Melbourne, hot water extraction method/bonnet dry cleaning method, free deodorizing, easy drying process, 24/7 emergency water damage restoration |
| SERVICES/SCOPE | Carpet cleaning, upholstery cleaning, rug cleaning, stain removal, 24/7 emergency water damage restoration |
| PRICING | Request for a quote online or via hotline |
| WEBSITE | http://blackgoldcarpetcleaning.com.au/ |
| ADDRESS | Carnegie, Vic, 3163 |
| CONTACT | 0403 254 080 |
| PAYMENT | Visa, Master Card, Eftpos |
 Black Gold Carpet Cleaning is a family-owned and operated firm that is certified by the IIRC. They bank on word of mouth marketing from satisfied customers in order to gain a loyal pool of clients. Their mission is to keep exceeding their client's expectations by providing spotless services. Specializing in stain removal, your carpets are sure to look good as new in the hands of Black Gold Carpet Cleaning.
Their process begins with a technician evaluating the kind of work and the type of your carpet to tailor-fit their steam cleaning service to the best of your needs. Once that's done, they pre-spray and incorporate a spot removal treatment to loosen the dirt. Then comes the hot water extraction method and extra process of rotary agitation process for heavily soiled carpets. After at least 4 hours, your carpets should be ready for use once again. This might be a simple process, but they promise 100% satisfaction guarantee which ensures how they take every cleaning job seriously.
9. Wizard Cleaning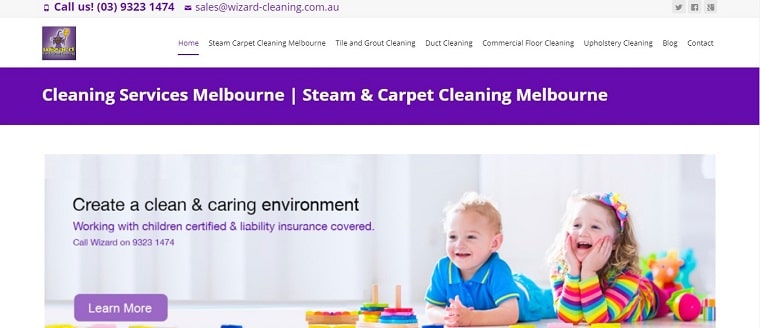 BEST FOR
Expert Tile Cleaning. Carpet Cleaning. Duct Cleaning & More. Same Day Service
SERVICES/SCOPE
Steam Carpet Cleaning, Tile and Grout Cleaning, Duct Cleaning, Commercial Floor Cleaning, Upholstery Cleaning
PRICING
$60 for steam cleaning of 3 rooms, or request for a quote online or via hotline
WEBSITE
https://wizard-cleaning.com.au/
ADDRESS
67/278 Church Street

Richmond VIC 3121

CONTACT
P: (03) 9323 1474
PAYMENT
VISA, Mastercard, Cash and Eftpos Facilities
 Wizard Cleaning stays true to their name and their vision by adding magic back to your house through their carpet cleaning services! Dirt, grime, and even that stubborn pet smell through their effective hot water extraction method.  The powerful vacuum action of our machines sucks the water back up and out of their carpet fibres which reduces carpet drying time significantly.
They promise no hidden costs and what you are quoted on arrival is what you will pay upon completion of a Wizard Steam Carpet Clean. They work with integrity and are committed to servicing Melbourne 24/7. Using eco-friendly cleaning solutions, not only in steam cleaning but across their list of services, Wizard Cleaning is committed to cleaning your carpets and also protecting your family environment.
10. Melbourne Carpet and Tile Cleaning

BEST FOR
IICRC certified in Carpet, Upholstery, and Hard floor cleaning.
SERVICES/SCOPE

Carpet cleaning
Tile & Grout Cleaning
Upholstery Cleaning
Rug Cleaning
Mattress Cleaning
Anti Allergian Treatment
Commercial carpet cleaning
Office cleaning
Stain And Spot Removal

PRICING
Contact for a quote
WEBSITE
https://melbournecarpetandtilecleaning.com.au/
ADDRESS
150 Lineham drive, Cranbourne east, VIC, 3977
CONTACT
Phone: 1300 955 100 | Email: [email protected]
PAYMENT
Contact for payment options
Melbourne Carpet and Tile Cleaning is one of the top carpet cleaning companies in Melbourne and the Mornington Peninsula region, certified by IICRC in Upholstery, carpet and hard floor cleaning. They use the latest state of the art truckmount technology and the best quality chemicals and types of equipment.
They offer commercial carpet cleaning, office cleaning and residential cleaning services as well as tile and grout cleaning services in Melbourne, using only organic chemicals which do not only leave your property clean but also doesn't harm your pets or children.