The most populous and largest city in Australia, Sydney is considered as the busiest city in Australia. With a busy lifestyle, you need to go for the carpet cleaning service that is both efficient and convenient yet provides a high standard quality cleaning your carpet deserves. Worry not, you can rely on Sydney's best:
1. Green-Steam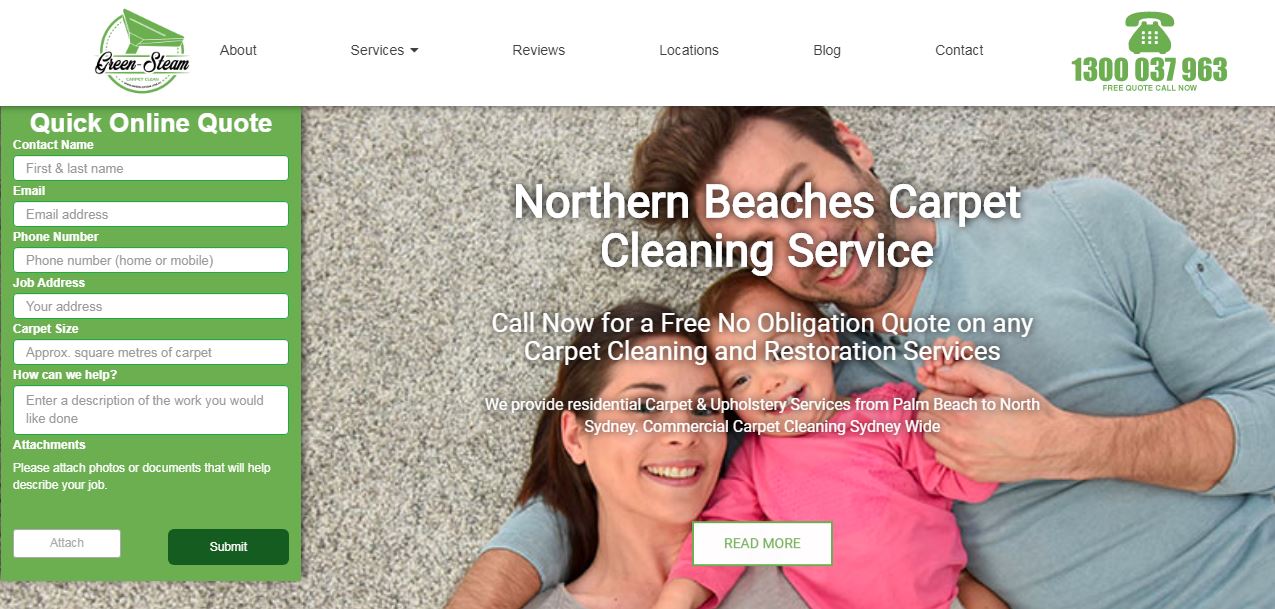 | | |
| --- | --- |
| BEST FOR | Non toxic Carpet & Upholstery Cleaning for Residential, Commercial, end of lease |
| SERVICES/SCOPE | Carpet Cleaning (Steam and Dry Cleaning), Upholstery Cleaning (Steam and Dry Cleaning), Boat Carpet & Upholstery Cleaning and Flood Restoration services |
| PRICING | Request a quick quote on our website via our online quote form or call |
| WEBSITE | www.green-steam.com.au |
| ADDRESS | Northern Beaches, Lower North Shore of Sydney & Upper North Shore of Sydney (Commercial Carpet Cleaning Sydney wide) |
| CONTACT | 1300 037963 | [email protected] |
| PAYMENT | Major credit cards, cash |
Green Steam Carpet Clean provides the best carpet & upholstery cleaning services on the Northern Beaches and North Shore of Sydney. They offer emergency flood assistance via their sister company Flood Help.
Green Steam Carpet Cleaning has highly trained IICRC certified technicians who offer a high standard of customer service and a commitment to achieve the best results. Leaving customers with beautifully clean carpets and upholstery. For peace of mind this is backed by 100% satisfaction guarantee. They offer high performance Eco-friendly, biodegradable, non-toxic cleaning services. For every booking, they plant 20 trees via Eden Reforestation to offset carbon emissions and provide fair wage employment for impoverished villages globally. They also have a full range of high strength cleaning detergents with the green options delivering superb results.
Green Steam can provide a FREE detailed carpet inspection to take a closer look and inform you as to what exact steps will help keep your carpet/upholstery looking its best. They clean carpets with the most advanced machinery which uses the powerful hot water extraction system.
2. Angel Carpet Cleaning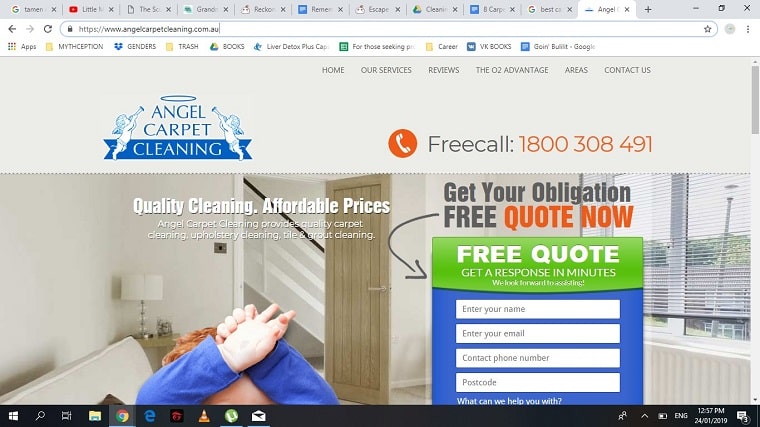 | | |
| --- | --- |
| BEST FOR | Comprehensive carpet cleaning service, Fire restoration |
| SERVICES/SCOPE | Dry carpet cleaning, Steam cleaning, pre-vacuum, pre-spray |
| PRICING | Request a quote online |
| WEBSITE | https://www.angelcarpetcleaning.com.au/ |
| ADDRESS | Sydney NSW, Australia |
| CONTACT |  1800 308 491 |
| PAYMENT | Cash, Cheque, Card |
Cleaning carpets for 20 years, Angel's carpet cleaning is fully experienced and professional. In Angel's Carpet cleaning you have the option to use the steam carpet or dry carpet cleaning depending on which would be recommended for your carpet or which you would prefer. All the chemicals and products that they use are non toxic and are completely safe for babies, clients with allergies, and pets.
For Angel's Carpet Cleaning they would usually prefer the dry cleaning method. Since they use the most current and advanced O2 technology for their dry cleaning carpet service, which separates the soil from the surface, emulsifies it giving your carpet a fresh look while eliminating all the molds in your carpet.   They offer free mould treatment, deodorizing and stain treatment for free in their services. They also move your furniture for free. However, they have additional charges for pre-vacuum and some additional services that your carpet may need.
3. Captain Carpet Cleaning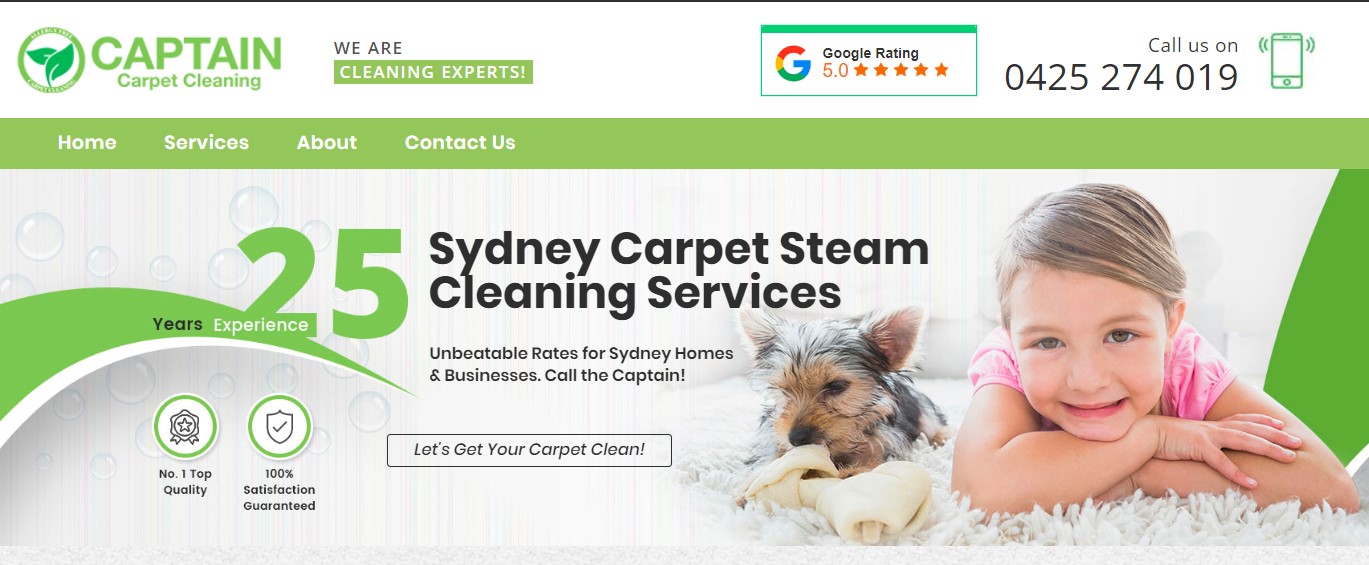 BEST FOR
Allergy-relief treatment, Steam carpet cleaning
SERVICES/SCOPE
Allergy-relief treatment, Domestic and Commercial cleaning, Water-damage services, Mattress cleaning, Upholstery cleaning
PRICING
Contact for quotation
WEBSITE
https://www.captaincarpetcleaning.com.au/
ADDRESS
7/111 Chelmsford Rd, Sydney NSW 2145, Australia
CONTACT
+61 2 9688 2939
0425 274 [email protected]
PAYMENT
Cash, Cheque
Being in the carpet cleaning service industry for 25 years, Captain Carpet Cleaning is definitely considered as an expert at its field. With 5.0 star review in google, numerous customers are completely satisfied with their service. Captain Carpet Cleaning is surely the one to go to when you want the best service of what Sydney's got to offer.
If you are looking for the service that treats the allergens, then you can definitely rely on Captain Carpet Cleaning. They are an expert when it comes to allergy-treating your carpets. Utilizing the steam cleaning method, their technician Ray, always starts to inspect first the carpet to determine the detergent and methods to use to ensure that the allergens will be removed. No organic volatile chemicals are used and 100% of these products are environmentally safe, hypoallergenic and non toxic.
4. Carpet Kings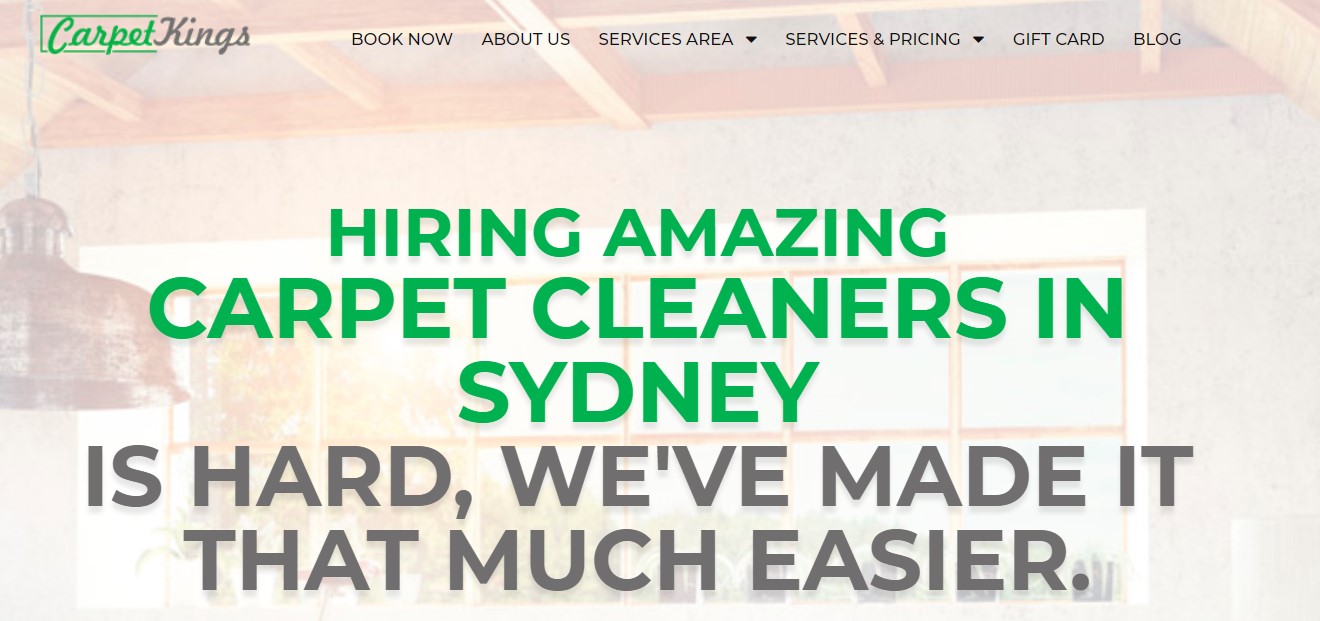 BEST FOR
Steam carpet and upholstery cleaning
SERVICES/SCOPE
Carpet steam cleaning
Professional mattress cleaning service
Professional rug cleaning service
Water damaged carpets & restoration
PRICING
Contact for full quotation
WEBSITE
https://www.carpetkings.com.au/
ADDRESS
—
CONTACT
[email protected]

1300950454

PAYMENT
Contact for payment options
Through Carpet Kings, you can get an instant estimate, schedule your carpet cleaning, rug cleaning, upholstery cleaning, water damaged carpet restoration or mattress cleaning service online or via phone. They're available to help every Monday-Saturday, 9am-5pm. On the day of cleaning they'll arrive within a one-hour arrival window. Their technicians will pre-treat your upholstery or carpets before proceeding to professionally clean your carpets.
5. Everdry Carpet Cleaning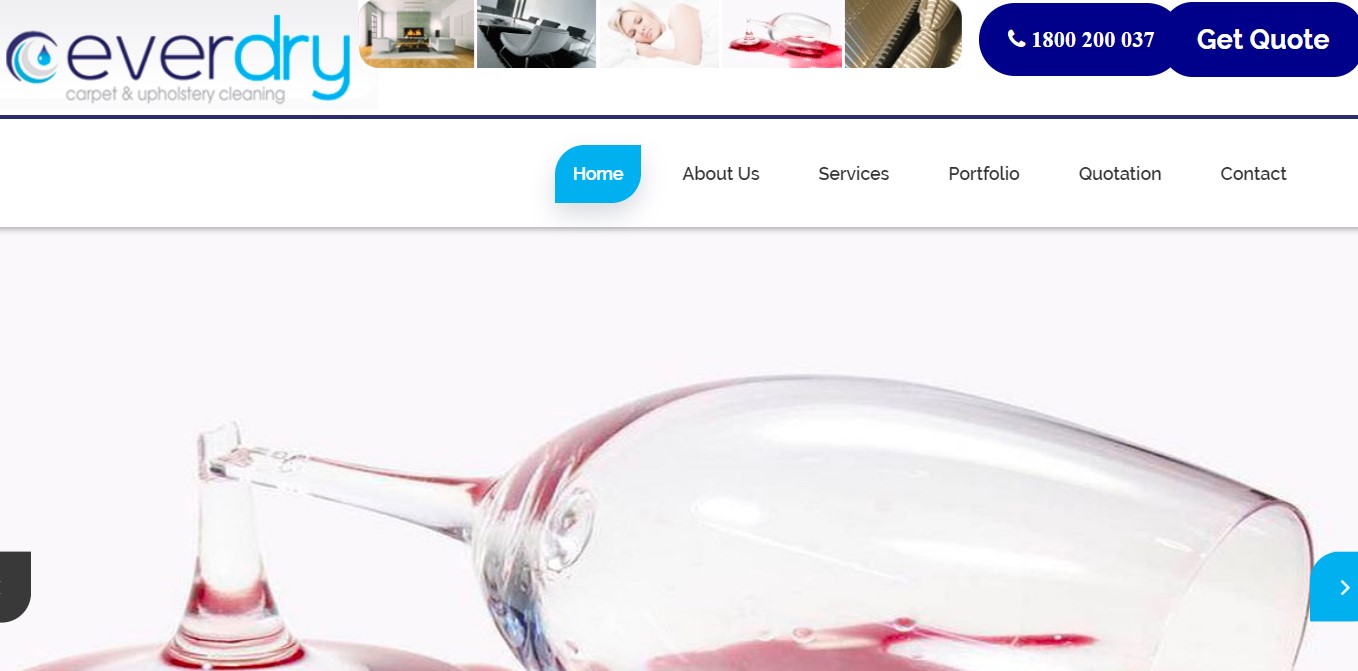 BEST FOR
Quality carpet cleaning
SERVICES/SCOPE
Carpet Cleaning
Upholstery Cleaning
Leather Cleaning
Curtain and Blinds
Mattress Cleaning
Commercial Cleaning
Anti Static Treatment
Protection & Scotchguard
Fire & Flood Damage
PRICING
Contact for quotation
WEBSITE
https://everdry.com.au/
ADDRESS
NSW, Australia
CONTACT
1800 200 037

Mob. 0412 201 927

PAYMENT
Contact for more information
Everdry Carpet Cleaning has been servicing all of Sydney Metro areas since 1995. Over time, they have become the market leaders offering their service to both residential and commercial clients in carpet, rug, upholstery, leather, mattress, automotive interiors, curtains, blinds, water flood and fire damage.
6. YS Cleaners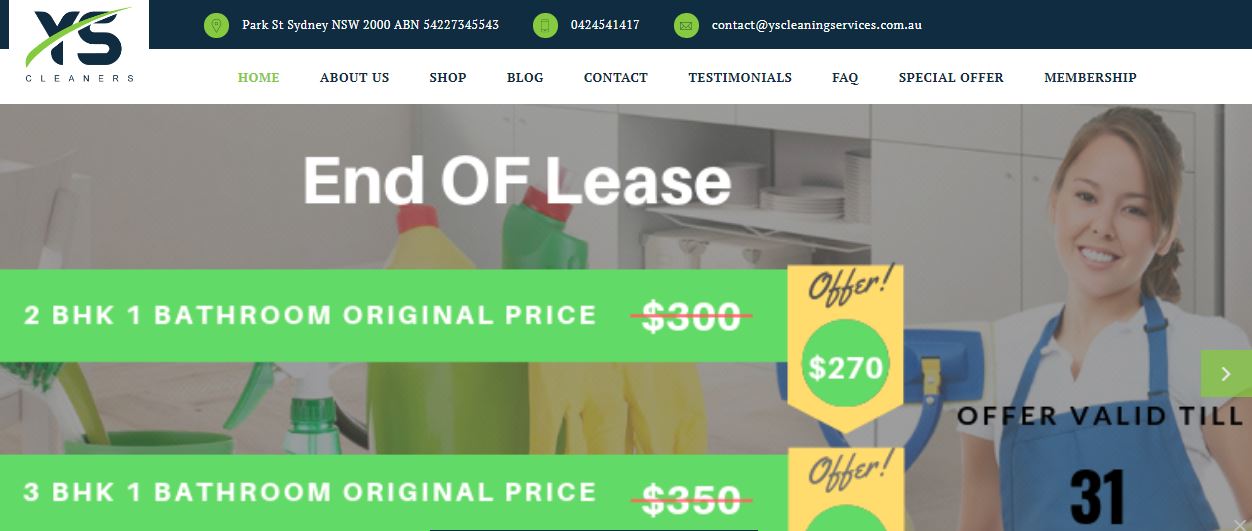 BEST FOR
Certified cleaning professionals
SERVICES/SCOPE
Upholstery Cleaning
Leather, Fabric Couch and Healthy Mattress Cleaning
Carpet Cleaning
End Of Lease Cleaning
Tile And Grout Cleaning
Mould Cleaning
Lawn Mowing
Oven Cleaning
PRICING
Contact for quotation
WEBSITE
https://yscleaningservices.com.au
ADDRESS
Park St Sydney NSW 2000 ABN 54227345543
CONTACT
0424541417 | [email protected]
PAYMENT
Contact for payment options
YS Cleaners upholds their core values of trust, integrity and offering professional cleaning services at affordable prices. Their cleaners have earned certifications to ensure they high quality services such as gold certification from Interactive Training International.
Highly recommended by their clients, these top carpet cleaning companies are the best of what Sydney's got to offer. Surely you will receive a great cleaning service for your carpets – just exactly what you deserve.
7. A Pristine Carpet Clean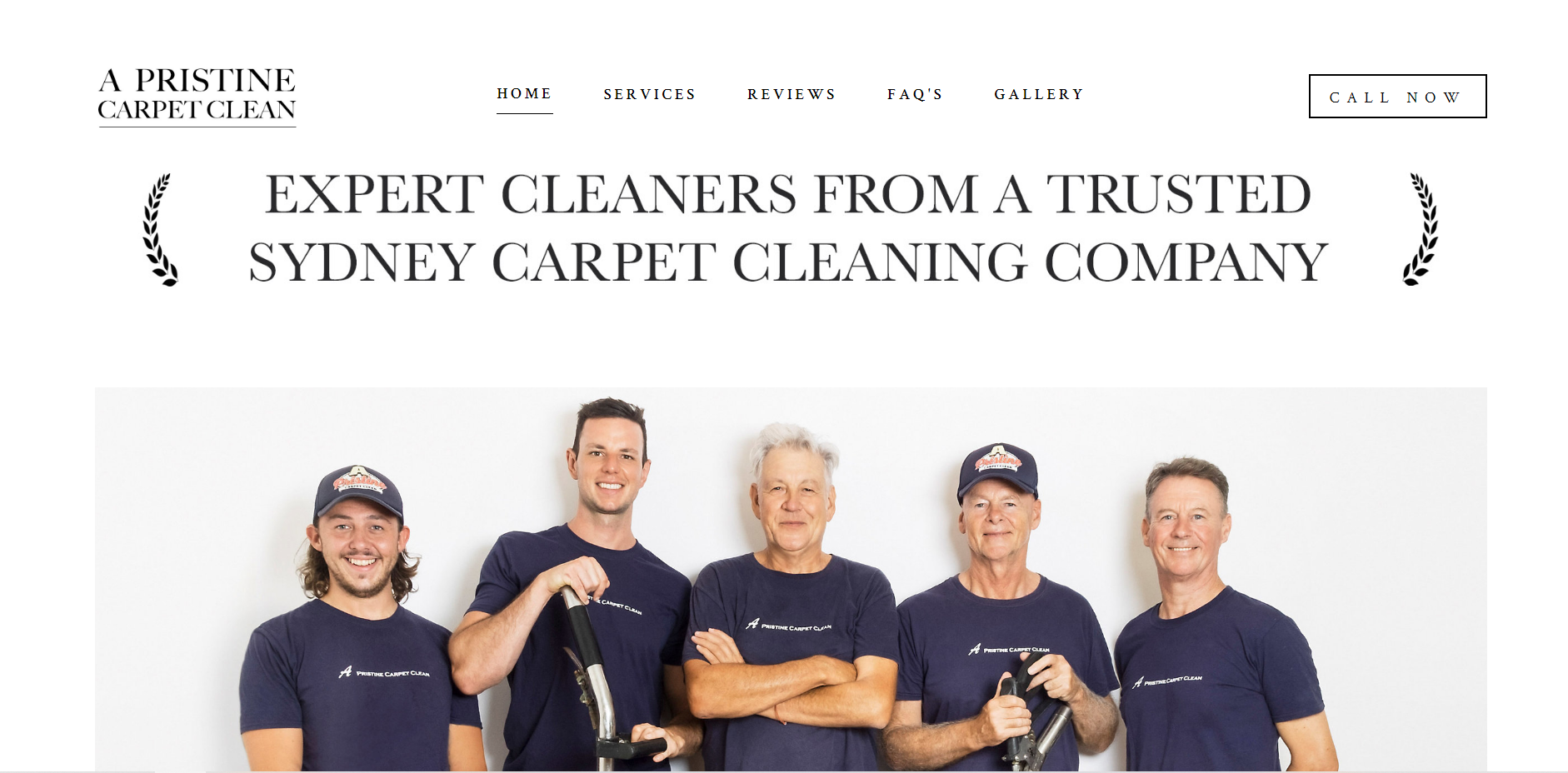 BEST FOR
Trusted expert cleaners
SERVICES/SCOPE
Carpet and rug cleaning

Upholstery cleaning and protection

Leather cleaning

Emergency water extraction

Spot and stain treatment

Car interiors and upholstery

Boat carpets and upholstery

Commercial office and strata carpet cleaning

End of Lease

Timber floor cleaning

Green and ECO options available

PRICING
Contact for quotation
WEBSITE
https://yscleaningservices.com.au
ADDRESS
Sydney
CONTACT
Phone: 0416 948 088
Email:

[email protected]

PAYMENT
Contact for payment options
At A Pristine Carpet Clean, they service all Sydney metropolitan suburbs 6 days a week. (Sunday and Public Holiday emergencies by request.)
They specialise in all types of carpet cleaning, upholstery, rugs, and leather.
From home and office pre-sale to end-of-lease, strata cleaning to office fit outs, their family-run company is a trusted name in cleaning.
8. Payless Carpet Cleaning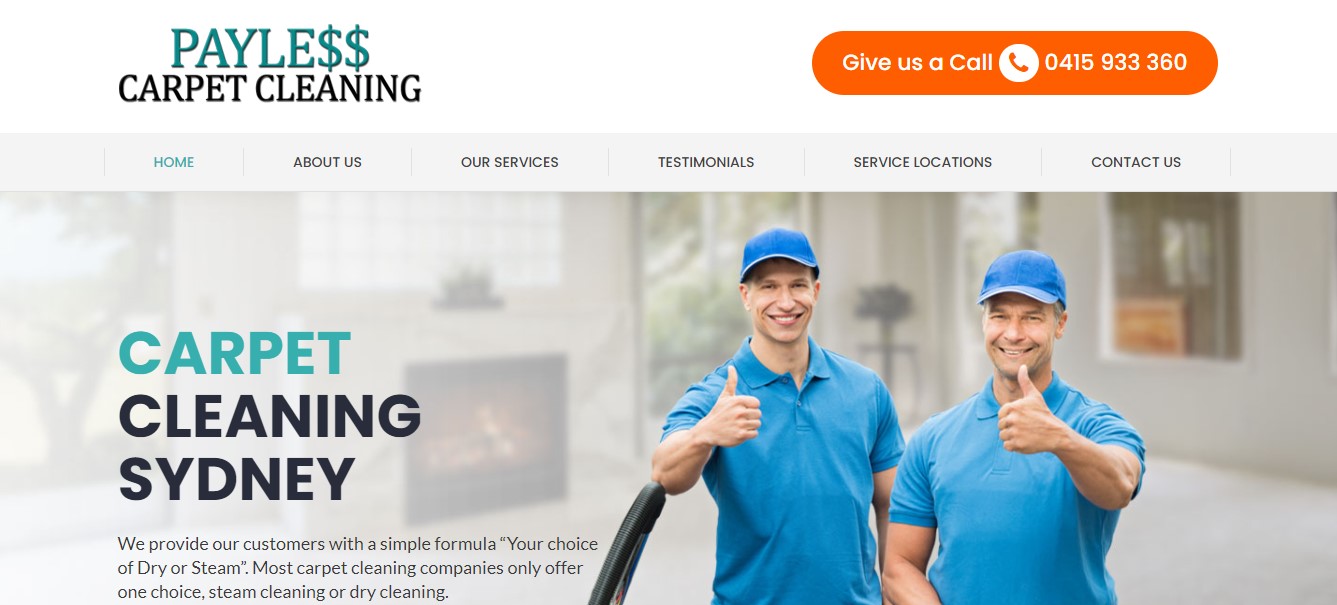 BEST FOR
Steam or dry cleaning
SERVICES/SCOPE
Carpet Steam Cleaning

Upholstery Cleaning

Carpet Dry Cleaning

Floor Cleaning

Mattress Cleaning

Room Cleaning

Flood Damage

PRICING
Contact for a free quotation
WEBSITE
https://paylesscarpetcleaningsydney.com.au/
ADDRESS
Sydney
CONTACT

[email protected]

0415 933 360

PAYMENT
Contact for details
Payless Carpet Cleaning is a company that has been in the industry for years. They are one of the few companies in Sydney that are IICRC certified, which means they have to undergo rigorous testing before they can be recognized as a reputable company in this industry.
In comparison to other companies, they provide simple solutions for their clients. The homeowner can either choose if they will avail dry or steam cleaning for their carpet.
For their steam cleaning, it has 6 stage cleaning process. However, they do recommend using dry cleaning instead since this method cleans your carpet without a rinse process and unfortunately leaves detergent residue in your carpet which will promote rapid re-soiling.
With their dry cleaning, your carpet will look as if you just bought it. They will bring professional carpet cleaning equipment, move & clean all of your furniture in the room, and will clean under all of them.
Another piece of advice they have is to not get the dry cleaning service every time their carpets are to be cleaned.  It is better if carpets are steam cleaned between dry cleans.
9. Oxford Cleaning Sydney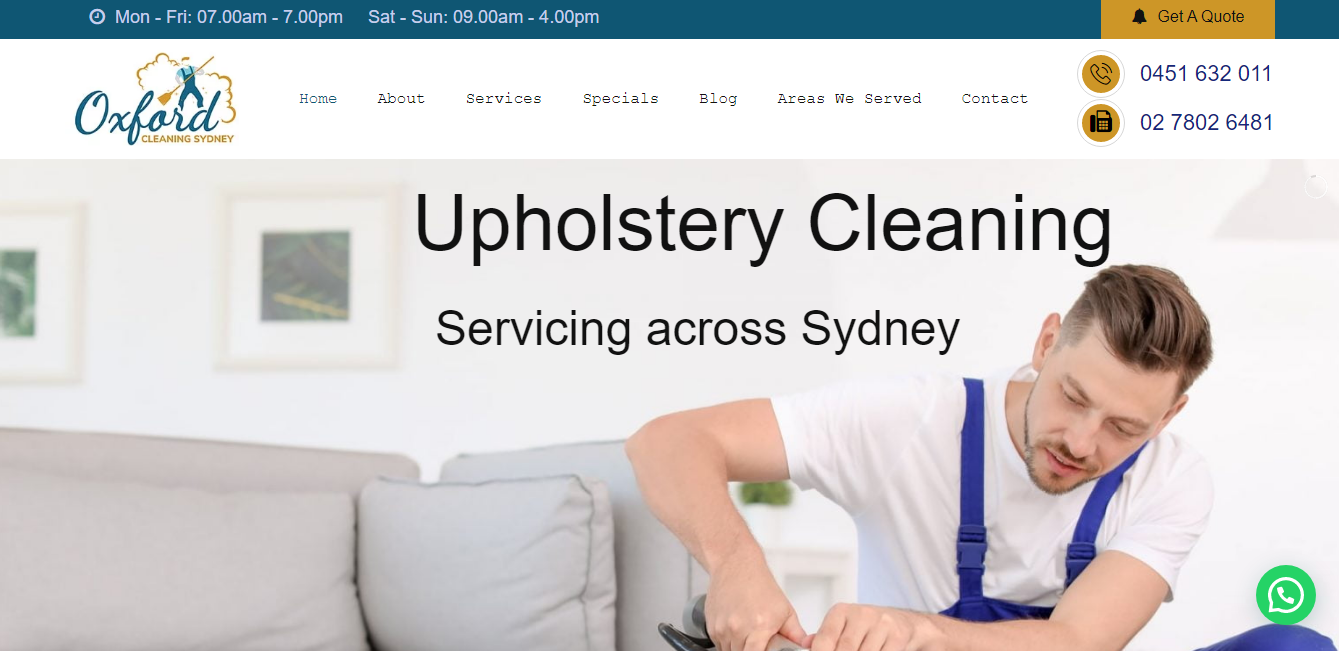 BEST FOR
All-around Professional Cleaning
SERVICES/SCOPE
Carpet Cleaning, Curtain Cleaning, Rug Cleaning, Mattress Cleaning, Couch Cleaning, Upholstery Cleaning, Car Interior Cleaning, Tile & Grout Cleaning
PRICING
Request a Quote
WEBSITE
https://oxfordcleaningsydney.com.au/
ADDRESS
23 Weyland St, Punchbowl NSW 2196
CONTACT
[email protected]

02 7802 6481

PAYMENT
Contact for more information
Oxford Cleaning Sydney is your one-stop-shop for all of your professional cleaning needs no what level it may be. With over 10 years of experience under their belt, they are able to clean any furniture such as couches, mattresses, and rugs for you.
They are able to serve both residential and commercial all week so you don't have to worry about their availability on your schedule. You can easily customize and schedule your package according to what best suits your needs and preferences.
They employ only certified and insured cleaners that are adequately trained to execute your cleaning job within a timely manner. Furthermore, they also make sure to use only the best machinery and supplies so that each nook and cranny will be sparkly clean.
We recommend this company for your professional cleaning services due to their dedication to maximum customer satisfaction along with the commitment to using only non-hazardous chemicals.