Are your linoleum floors dull and grimy? Fortunately, we have made a guide here for cleaning and maintaining them at your home or office!
We will be teaching you how to clean linoleum floors correctly and which solutions you can use. Apart from that, we'll help you troubleshoot their various issues!
Is linoleum floor easy to clean or maintain?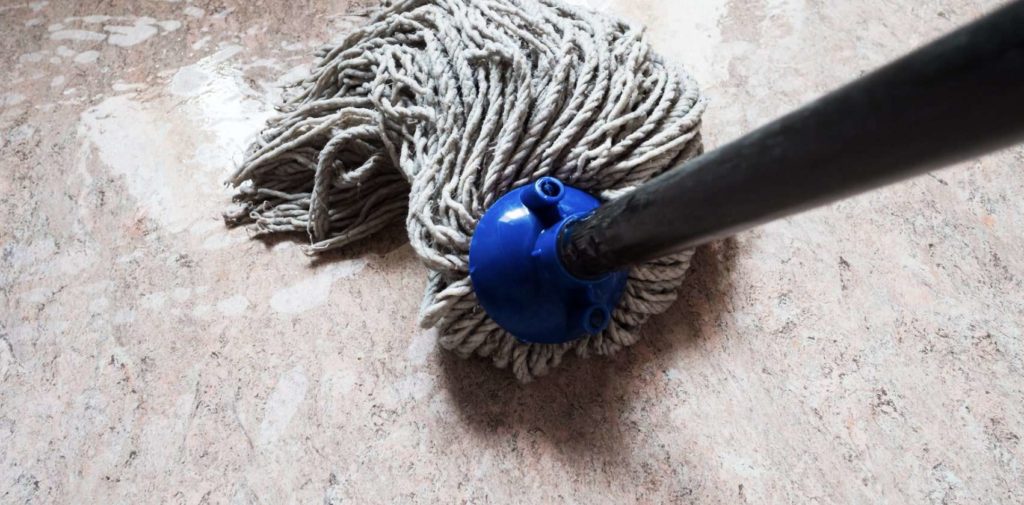 Linoleum floors are fairly easy to clean because dirt and stains can come off them with the right cleaning solutions.
However, they're a bit harder to maintain compared to vinyl floors since their surface is more prone to scratches, holes, and moisture damage.
The cleaning materials you will need to clean linoleum floors are simple too. You need to make sure to have them before starting.
What materials do I need to clean linoleum floors?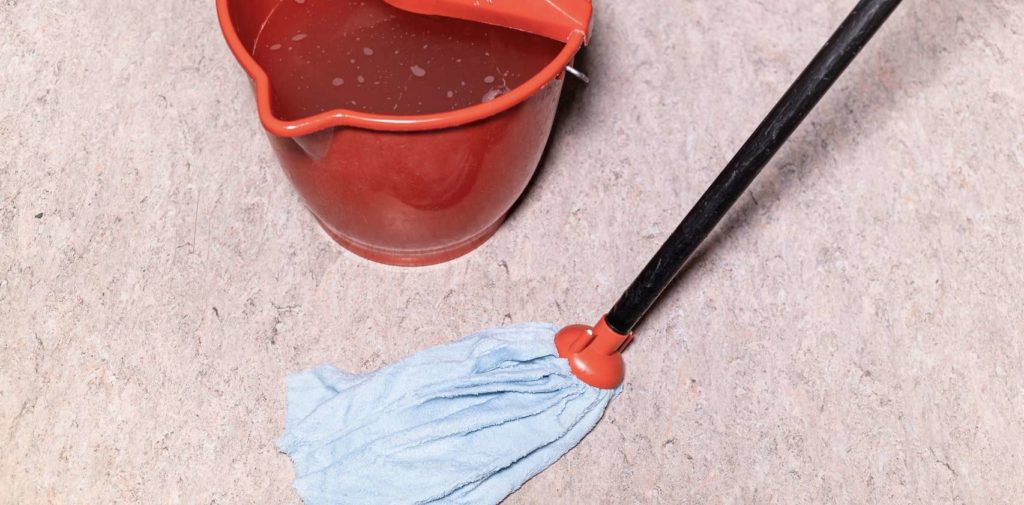 To clean linoleum floors, you'll need
Clean cloths
Rags
Dish soap
Vinegar
Water
Bucket
Lemon, lavender, or another essential oil (optional)
Broom or vacuum cleaner
Microfiber mop
Having gathered these materials, you're now ready to clean the linoleum floors in your house or office.
How do you clean linoleum floors?
Follow these steps to clean linoleum flooring:
Sweep or vacuum the linoleum floor.
Mop the floor.
Create a natural linoleum cleaner with 1 gallon of hot water, 1 cup of vinegar, and 4 to 5 drops of dish soap.
Apply the linoleum cleaner with the mop
Wipe the linoleum dry with a towel.
1. Sweep the linoleum to remove dirt and dust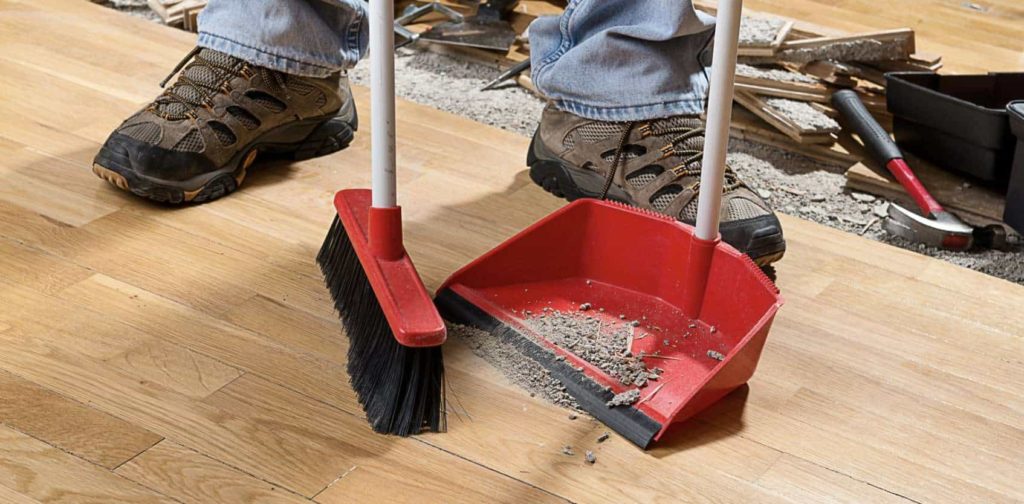 The first step is to sweep the linoleum floor to get rid of dust, dirt, pet dander, and other small particles.
Alternatively, you can vacuum the floor. However, make sure that your vacuum is on the hard floor setting to avoid damaging the surface.
Make sure to cover the entire area including hard-to-reach nooks and crannies along baseboards and under the furniture.
By prepping the linoleum surface, the cleaning task will be much easier to do.
2. Mop the linoleum floor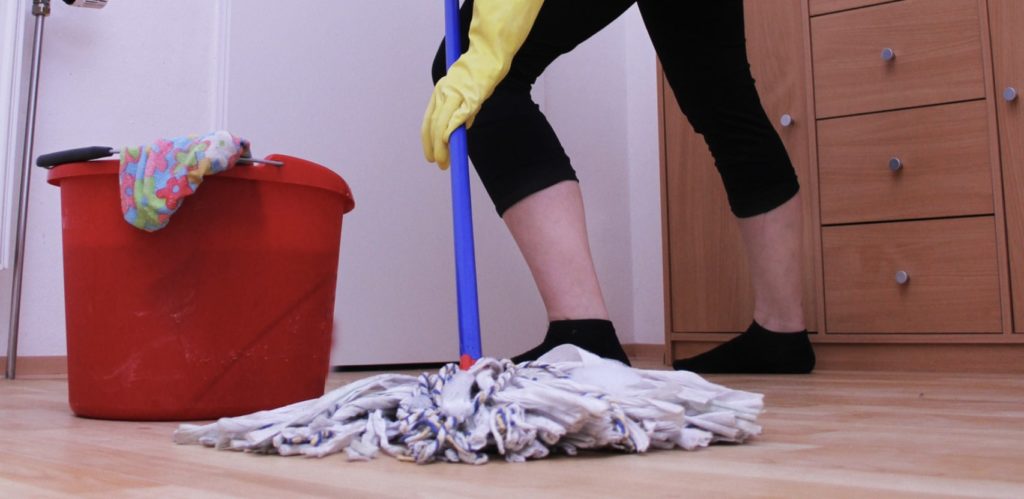 If after sweeping the linoleum floor, it is completely free of dust, dirt, or grit, this step can be skipped.
But if you aren't certain, then clean the linoleum floor further with a mop. Otherwise, the microscopic particles can cause some damage to the linoleum floor if someone unknowingly steps on or rubs the particles on the surface with their shoes.
Use a microfiber mop for this step. That's because, unlike other types of mops, microfiber mops have soft head fabrics that won't scratch or leave streaks on the floor.
3. Create a linoleum cleaning solution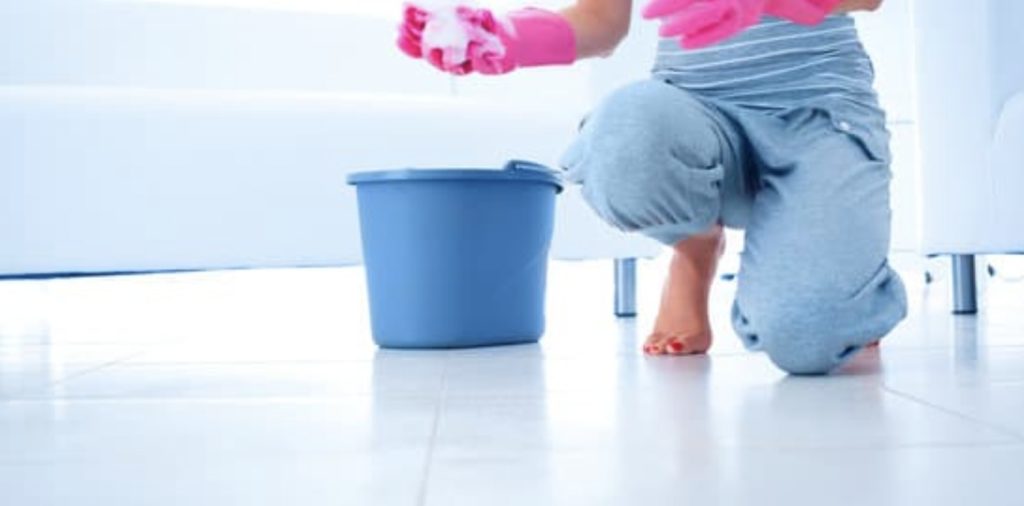 To make a natural linoleum cleaner, mix 1 gallon of hot water, 1 cup of vinegar, and 4 to 5 drops of dish soap in a bucket.
You can also add your preferred essential oil, like lemon, lavender, or jasmine, to give the floors a pleasant scent afterward.
4. Apply the linoleum cleaner with the mop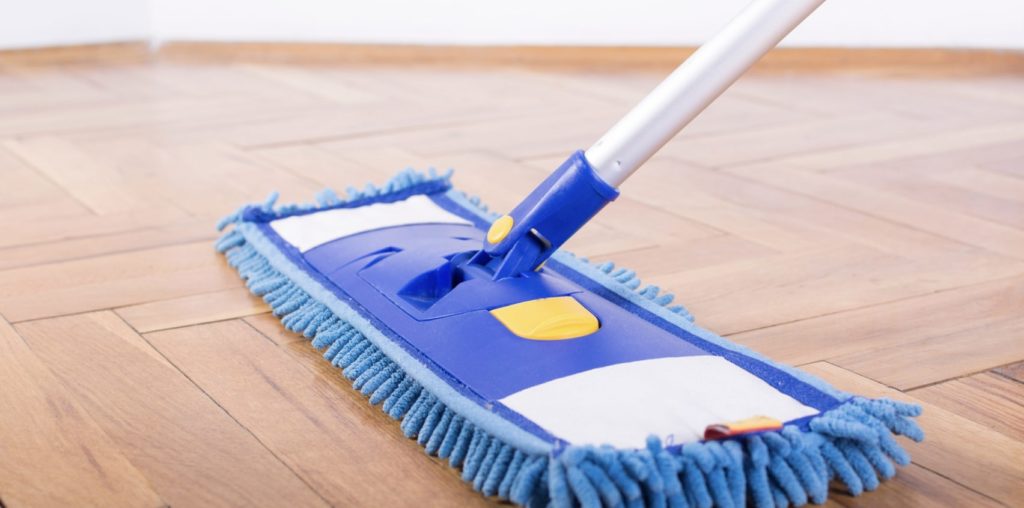 Now take the microfiber mop, put it in the cleaning mixture, wring out the excess liquid, and apply the solution to the floor.
For the best and most efficient results, you can mop every 6 x 6-foot area of the linoleum floor each time.
But if the mop has become too dirty, rinse the mop in clean water, dip it in the solution, wring out the excess water, and mop the floors once more.
Bear in mind to thoroughly rinse the grime and soap residue across the floor, including in narrow areas, corners, under furniture, and along baseboards. This will prevent the flooring from easily attracting dirt and mold and mildew.
5. Wipe down and allow the linoleum to dry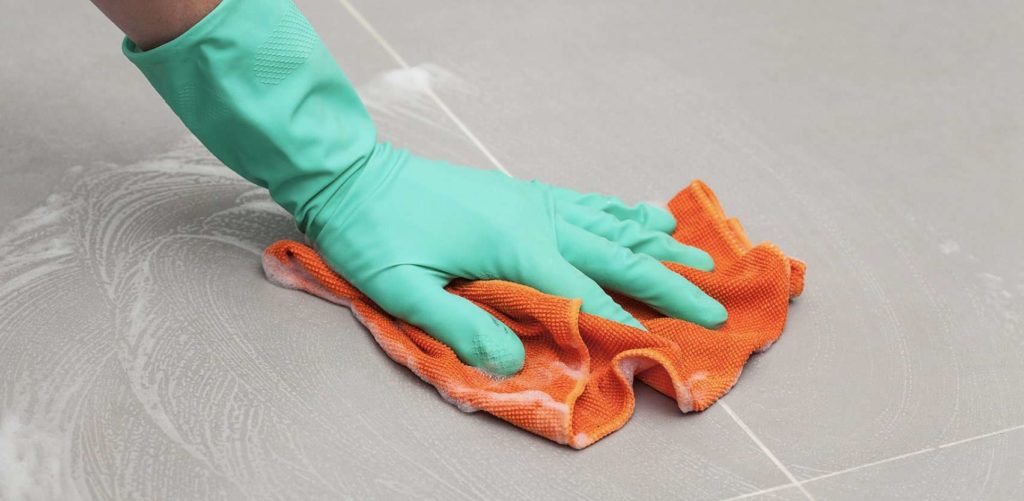 Finally, hand-wipe the floor with a dry towel. You can also use a dry mop for this step, though it might not able to dry or cover all areas.
After doing either of the two, turn the fan on to high and let it dry out the entire floor. If possible, open the windows as well for good airflow resulting in a faster drying time.
What household items can I use to clean linoleum floors?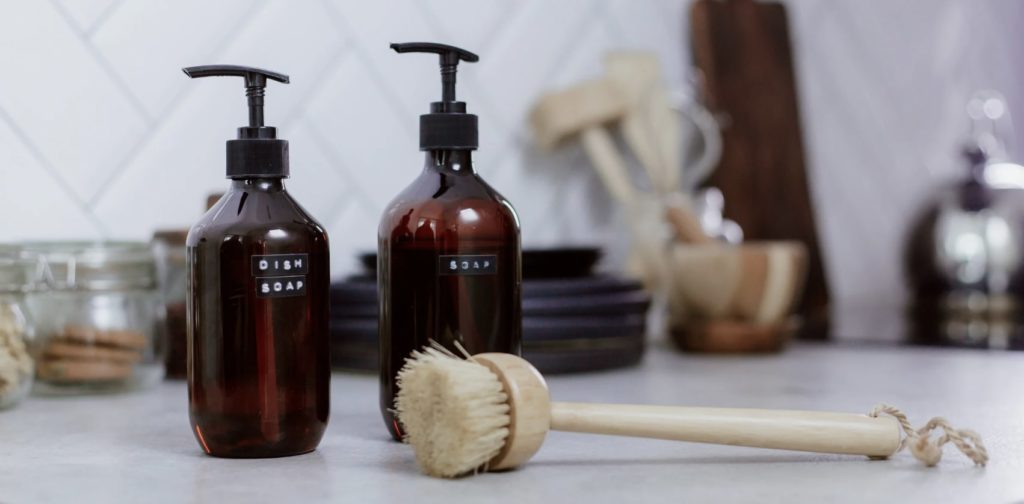 You can use these home items and commercial cleaning solutions to clean linoleum flooring:
Baking soda
White vinegar
Hydrogen peroxide
Dawn Dish soap
Pine-Sol cleaner
Non-ammonia-based Windex
Baking soda is a light and safe cleaner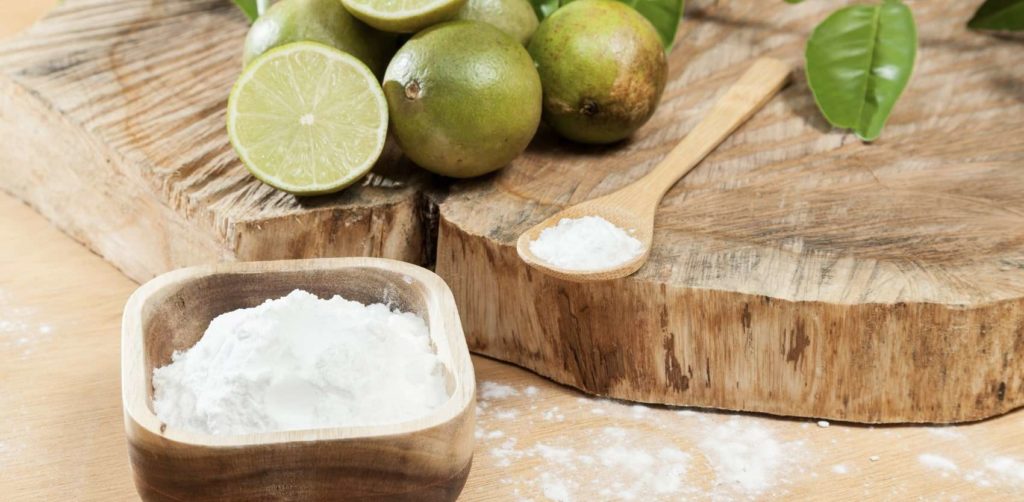 Baking soda paste is an excellent linoleum floor cleaner. It consists of minute abrasive particles that get hard stains and dirt out of the floor.
Also, this compound is readily available in every home. To make baking soda paste, mix 3 parts of baking soda with 1 part of water.
Vinegar cuts through dirt and stain buildup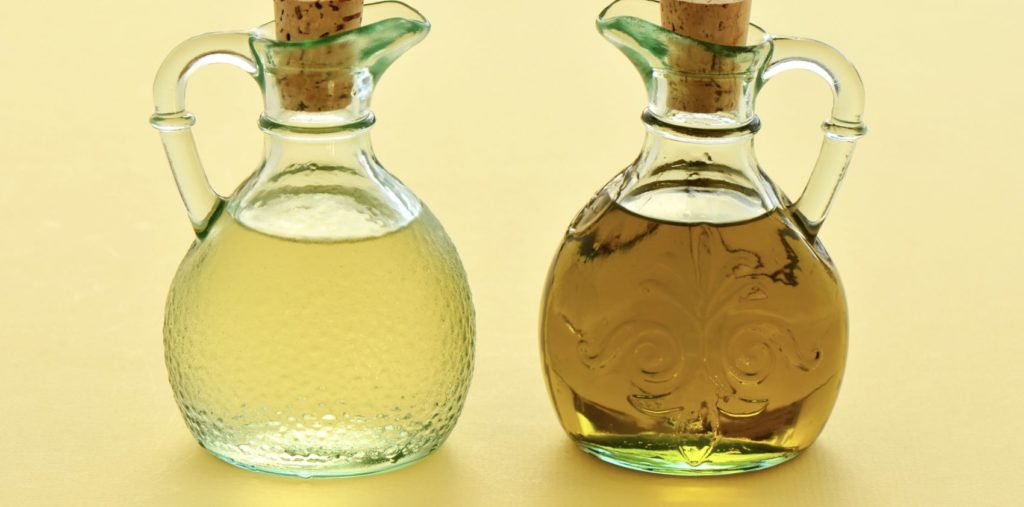 Having 4 to 7 percent acetic acid, vinegar is very effective at ridding linoleum floors of tough dirt and stains. It can either be mixed with water or with dish soap plus water.
However, vinegar leaves behind a very pungent smell, so the floor will have to be rinsed thoroughly with a mop to remove this odor.
Does vinegar harm linoleum?
While its acidity will work through a heavy buildup of stains and grime, vinegar is a light enough cleaner, so it won't harm the linoleum floor at all.
Hydrogen peroxide removes light to deep stains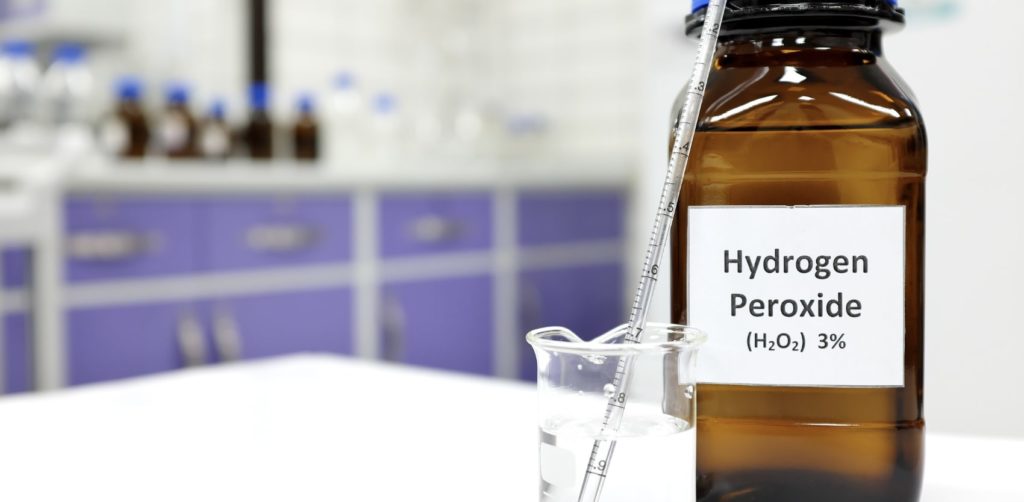 Hydrogen peroxide can be used to remove light or deep stains on linoleum floors for a spotless look.
If the stain is light, pour a bit of the solution on a clean cloth and wipe the stained area. If the stain is old and stubborn, saturate the cloth entirely in hydrogen peroxide, apply it on the stain, and put a heavy item on top of the cloth.
Dawn dish soap effectively removes oil stains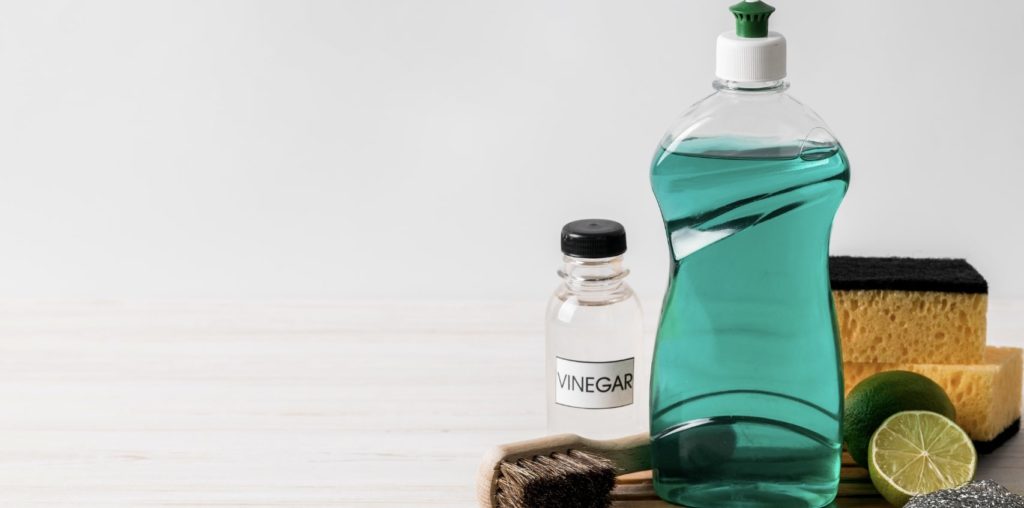 Dawn is a degreasing agent, which means that it can clean linoleum flooring with sweat, oil, paint, or food marks.
For this, combine Dawn dish soap, vinegar, and water in a bucket, and use a mop to apply the solution on the linoleum floor.
Pine-Sol cleaner doesn't damage linoleum floors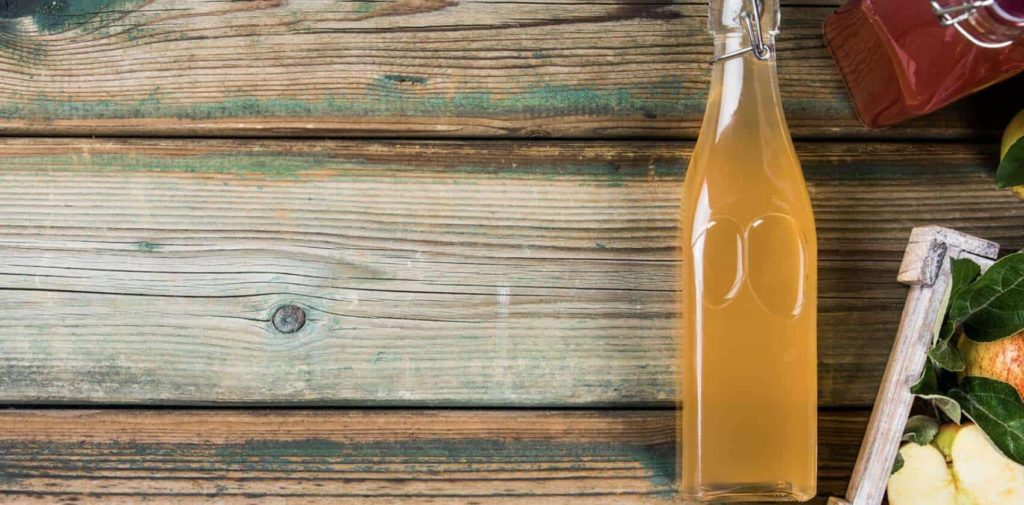 Pine-Sol is a great commercial cleaning product for grimy linoleum floors since it does not corrode or damage them.
Simply mix 1/4 cup of Pine-Sol with a gallon of water, dip the mop in it, wring it out, and mop the linoleum.
Windex cleans and disinfects linoleum floors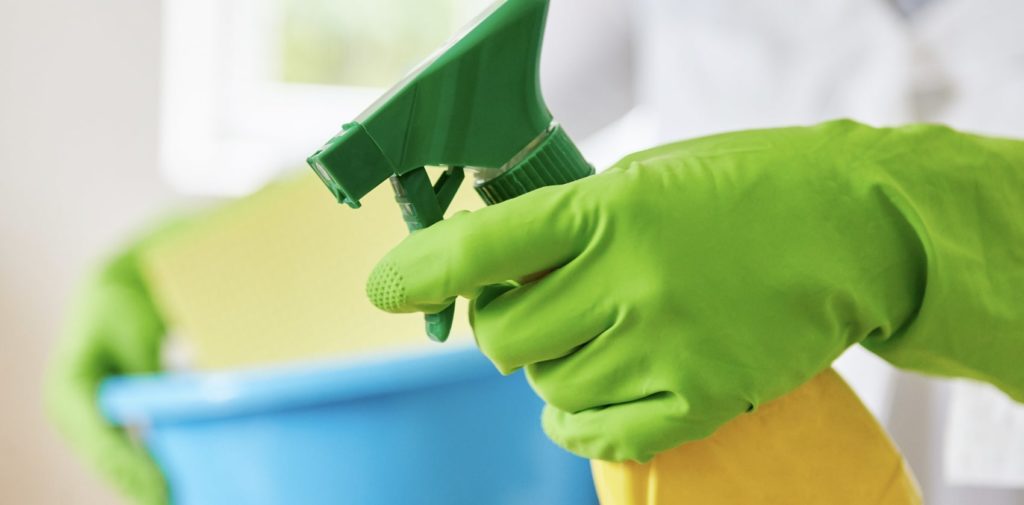 As long as it is ammonia-free, Windex multi-surface cleaners can be used on linoleum floors. They not only clean the floor but also disinfect the surface to kill harmful viruses and bacteria.
What is the best cleaner to use on linoleum?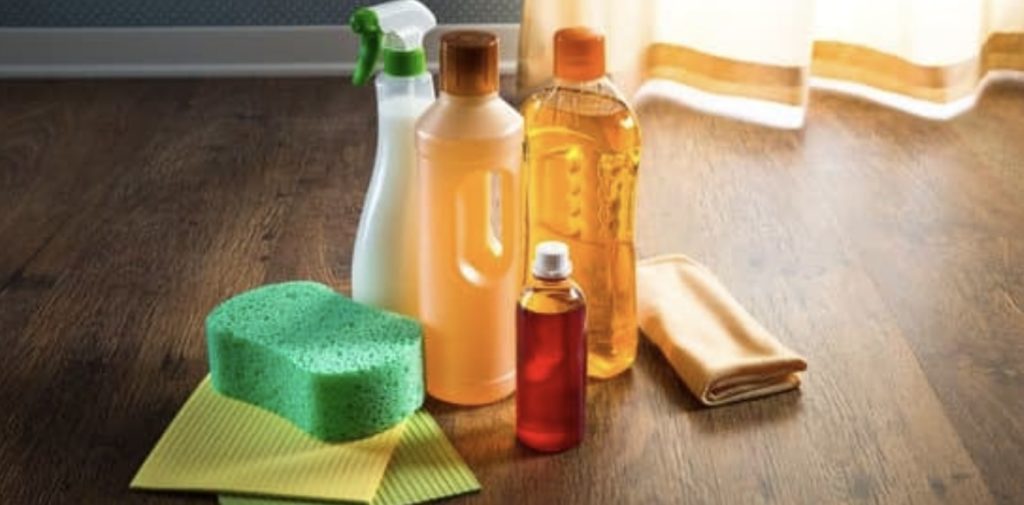 Linoleum floors are best cleaned and maintained with a vinegar and dish detergent solution. This removes tough dirt and stain buildup and kills bacteria and viruses.
To make this effective natural cleaner, combine 1 gallon of hot water with 1 cup of white vinegar, and 5 to 6 drops of dish soap.
As much as possible, it's best to stick with these natural cleaners, as some synthetic commercial products can harm the linoleum floor.
What other cleaners should I avoid using for my linoleum floor?
Avoid harsh cleaners like bleach and ammonia-based Windex when cleaning linoleum floors.
Bleach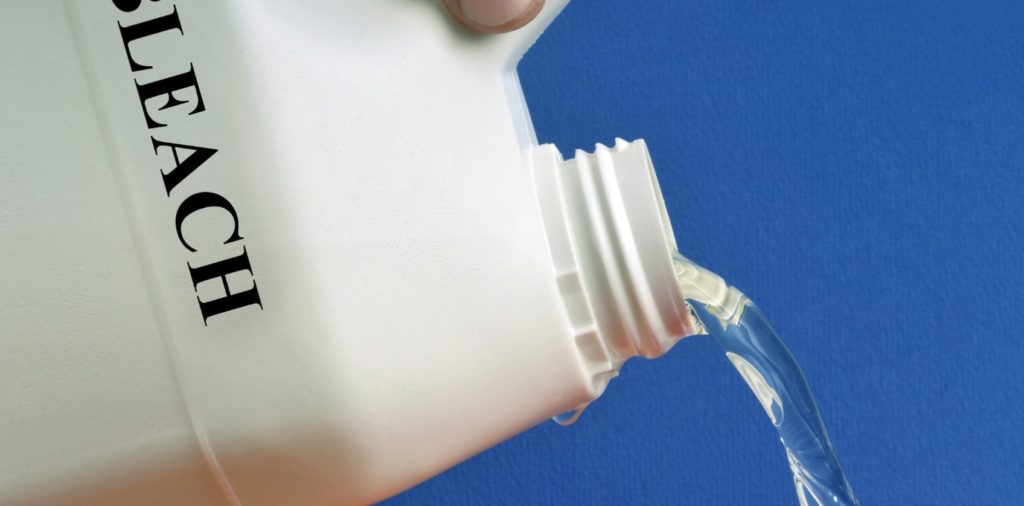 Bleach is a corrosive cleaner that is not suited for use on linoleum floors—unless they have aged and yellowed.
That is because it can chemically break down this flooring, from its top protective layer to its tones and patterns underneath.
Ammonia-Based Windex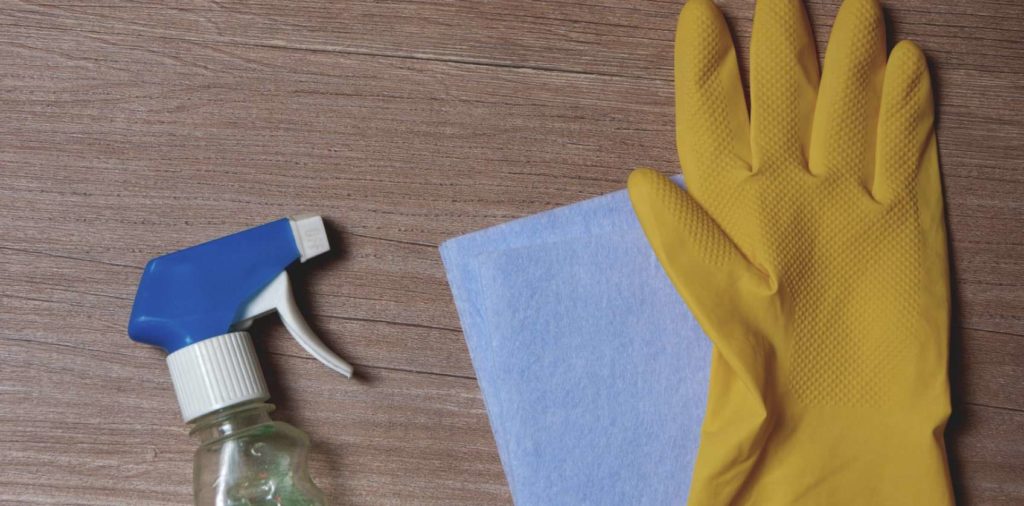 Ammonia-based Windex is made of harsh ingredients. Like bleach, it will harm the linoleum floor finish, reduce its luster, and remove its colors.
Instead of ammonia-based Windex, choose a multi-purpose cleaning Windex to clean or maintain your linoleum flooring.
How to Deep-Clean Linoleum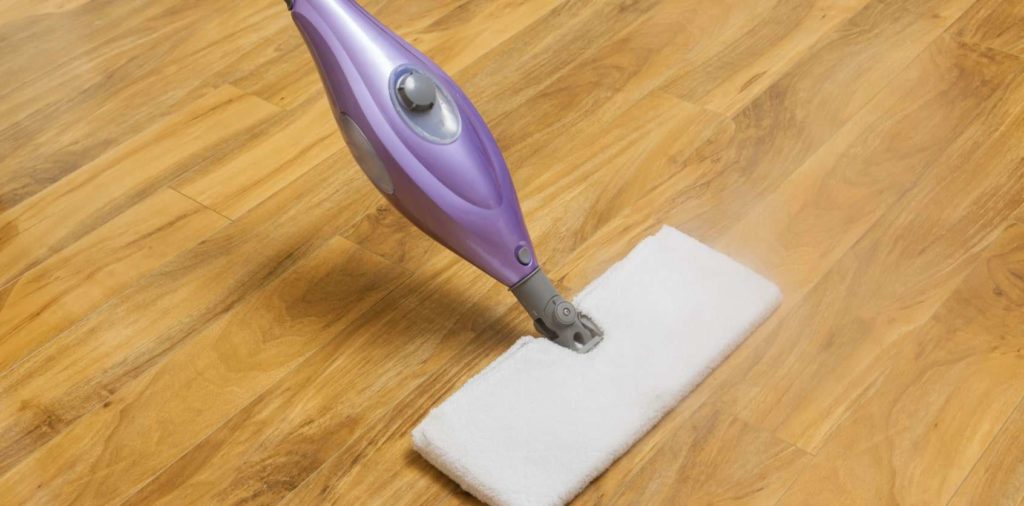 To deep-clean very dirty linoleum floors, you can steam clean them or use the following natural solutions:
Vinegar and dish soap
Baking soda and lemon juice
Warm water, vinegar, and baby oil
Steam cleaning deep-cleans the linoleum floors
Steam cleaning works well with linoleum. It uses high heat and can remove allergens and small debris.
It is also convenient, as it cleans and vacuums the floor simultaneously! That said, it still helps to sweep the floor prior to steam cleaning.
How is steam cleaning linoleum flooring done?
Here are the steps for steam cleaning your linoleum floor:
Fill the water tank of the steam cleaner with 1 gallon of hot water, 2 tablespoons of dish soap, and 1 cup of vinegar. This is an excellent solution to disinfect the floor while removing its stain and grime.
Switch on the steam cleaner. Let its motor heat up for a few minutes before using it.
Slowly move the steam cleaner across the linoleum floor. Make sure to cover all sections.
Let the floor dry by itself or with the help of an electric fan set to high.
Deep-clean and restore old linoleum with vinegar and dish soap
You can deep-clean and restore old linoleum floors with a vinegar and dish soap solution and shellac sticks.
Combine 1/4 cup white vinegar, 6 drops of dish soap, and 1 gallon of hot water.
Using a mop, cloth, or towel, clean the floor with this mixture to take out the dirt and stains.
Rinse the floor with clean water.
Repair each hole and crack using shellac sticks.
What are shellac sticks?
Shellac sticks are used as a filler for surface flaws like small cracks and holes on flooring and furniture.
They are available in a large assortment of colors. In order to restore the linoleum floor, it is vital to pick colors that are the same as the damaged part.
After applying shellac, wax the floor for a shiny and neat finish. For the best result, use carnauba wax, which is plant-based, durable, and long-lasting.
How often does linoleum need to be sealed?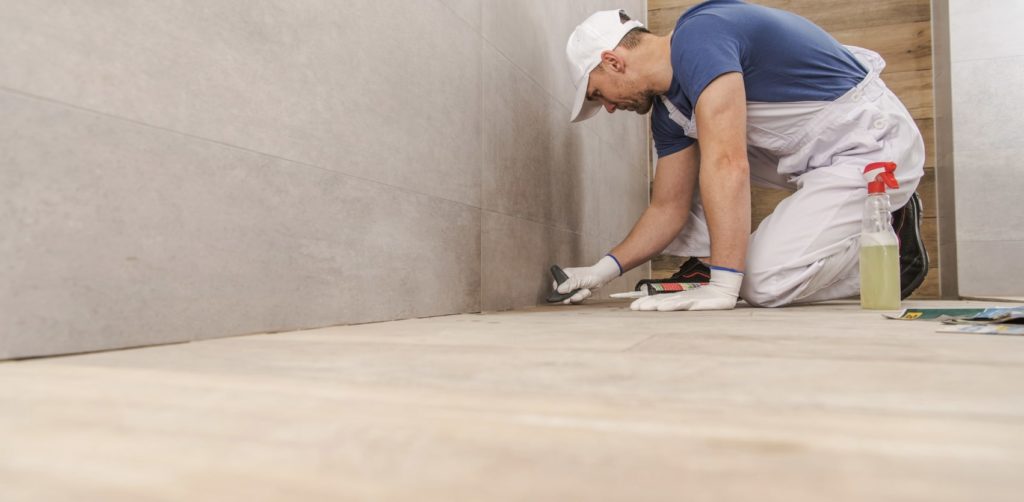 Residential linoleums need to be resealed every three to 10 years, whereas commercial floors of this type need to be resealed every one to two years due to wear and tear and high foot traffic.
Baking soda and lemon juice remove yellowing on linoleum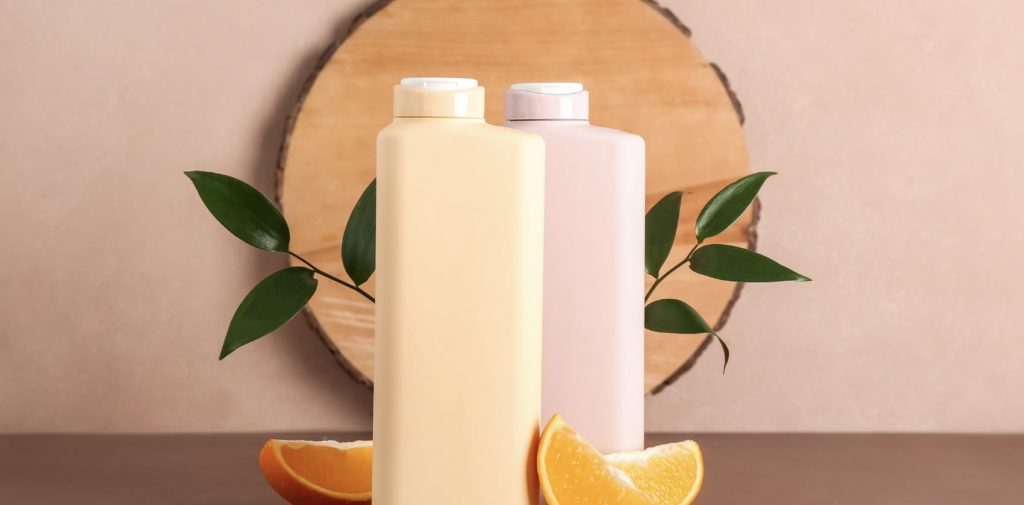 Yellowed linoleum floors are best treated with a baking soda and lemon juice solution. The latter's mild acidity will restore the linoleum floor to its original state without damaging it.
To remove the yellow parts of the linoleum, first, make a solution consisting of 3 parts baking soda and 1 part lemon juice.
And then dip a clean towel in this solution, wipe it over the stains on the floor, let it sit for 10 to 15 minutes, and wipe away the remaining mixture with a different rag.
Baby oil restores linoleum's luster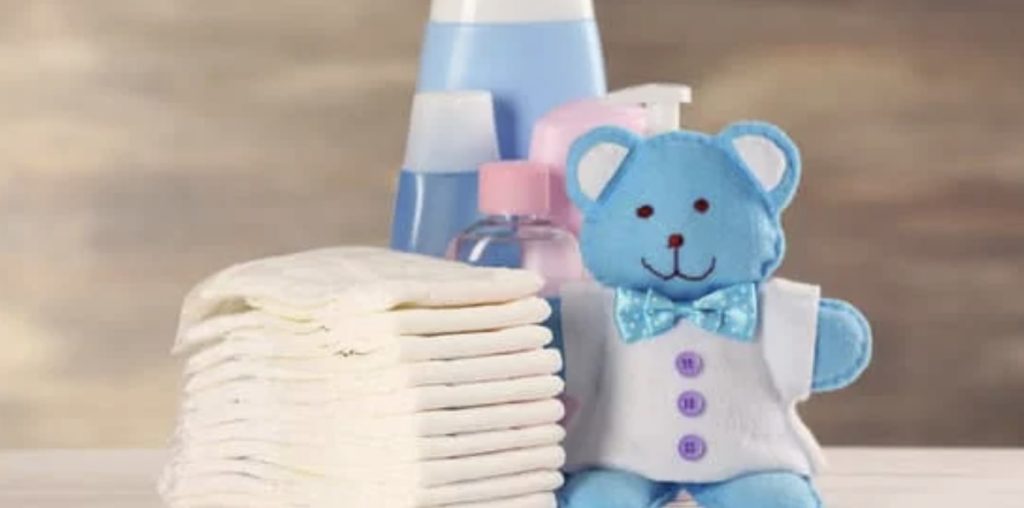 Polishing linoleum floors can be done using a cleaner made of 1 gallon of warm water, 1 cup of vinegar, and 5 drops of baby oil.
Soak the mop with this solution, and mop the dull or gray areas of the linoleum floors. Rinse it out with clear water, and let it dry completely.
How often should I clean my linoleum floors?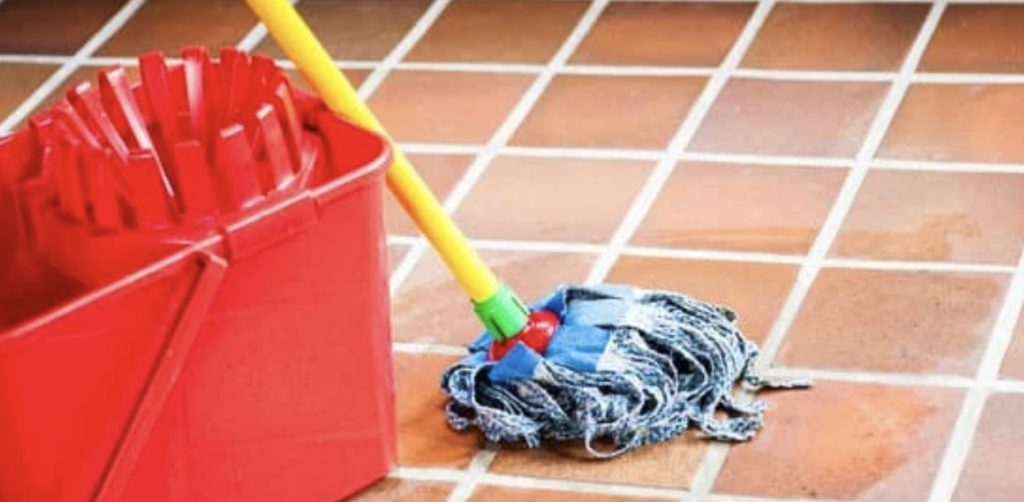 As a general rule, sweep your linoleum floor once a day, mop it once a week, and deep-clean it once or twice a year.
However, you can change your linoleum cleaning frequency based on the floor's condition, the amount of foot traffic it gets, and the presence of children and pets.
If it sounds like a lot of work, you can enlist the help of a pro floor cleaner.
Should I hire a pro to clean my linoleum flooring?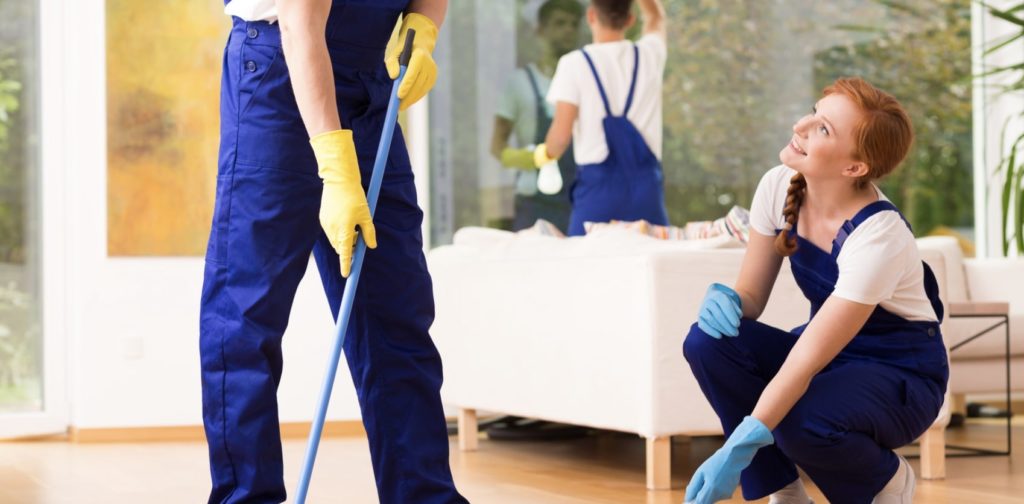 You can get a professional to clean your linoleum flooring once or twice each year. It's not a bad idea because they have the skills, knowledge, and equipment to ensure the floor will become spotless and like new.
But if you're looking to save money, cleaning the floors yourself is the better option.
Lists of Floor Cleaners