Key Insights
The Cleaning Industry is experiencing double-digit growth rate for countries like the US, UK, and Singapore.
Commercial Cleaning still reigns as the most promising and profitable segment of the Cleaning Industry both in terms of market share and growth, 55% and 5.13% respectively.
Compound Annual Growth Rate for Residential Cleaning and Industrial Cleaning is at 4.85% and 4.17% respectively.
In terms of workforce, janitors and commercial cleaners take up the bulk of employment (65% in the US and 69% in Australia). They also earn more than residential cleaners per hour ($12.20 vs. $15.73).
Except for the UK, employment is on the rise within the cleaning industry. Still, the outlook is positive for all four countries as more households with busy schedules and disposable income contribute to the anticipated strong growth in residential cleaning. For commercial and industrial cleaning, employment is predicted to fall for on-ground employees in favour of more smart robots and AI machines.
App-based cleaning services are seen to disrupt the cleaning industry even further with on-demand cleaning jobs, attracting independent contractors and forcing other small businesses to close due to faster turnaround and higher demand overall.
Self-employment is expected to rise in the coming years, 8.3% by 2028 in the US, especially in the residential cleaning business.
The cleaning industry is moving towards sustainability with environmentally-friendly cleaning products and processes. This green initiative is in line with consumers' increasingly eco-conscious attitudes as well as for the well-being of the cleaners.
---
CONTENTS
---
Quality of life is just infinitely better with a clean environment. Whether you're at home, working or strolling through public and private spaces, the cleaning industry plays a crucial role in maintaining healthy and harmonious surroundings. Cleaning services help increase productivity in offices, assist busy parents in keeping the home safe, and they're simply essential to our well-being. So, it's no surprise that this billion-dollar industry is enjoying strong growth globally.
In the past decade, the cleaning industry has enjoyed an upward trend. This is true for countries like the United States, United Kingdom, and Singapore which reported double-digit growth. Revenues rose by 15% from 2007 to 2017 for the US, while Singapore's cleaning industry increased by 12% between 2015 and 2017. In the UK, even though manpower dipped for cleaning establishments, sales continue to improve with an uptick of 10% in revenues from 2015 to 2017.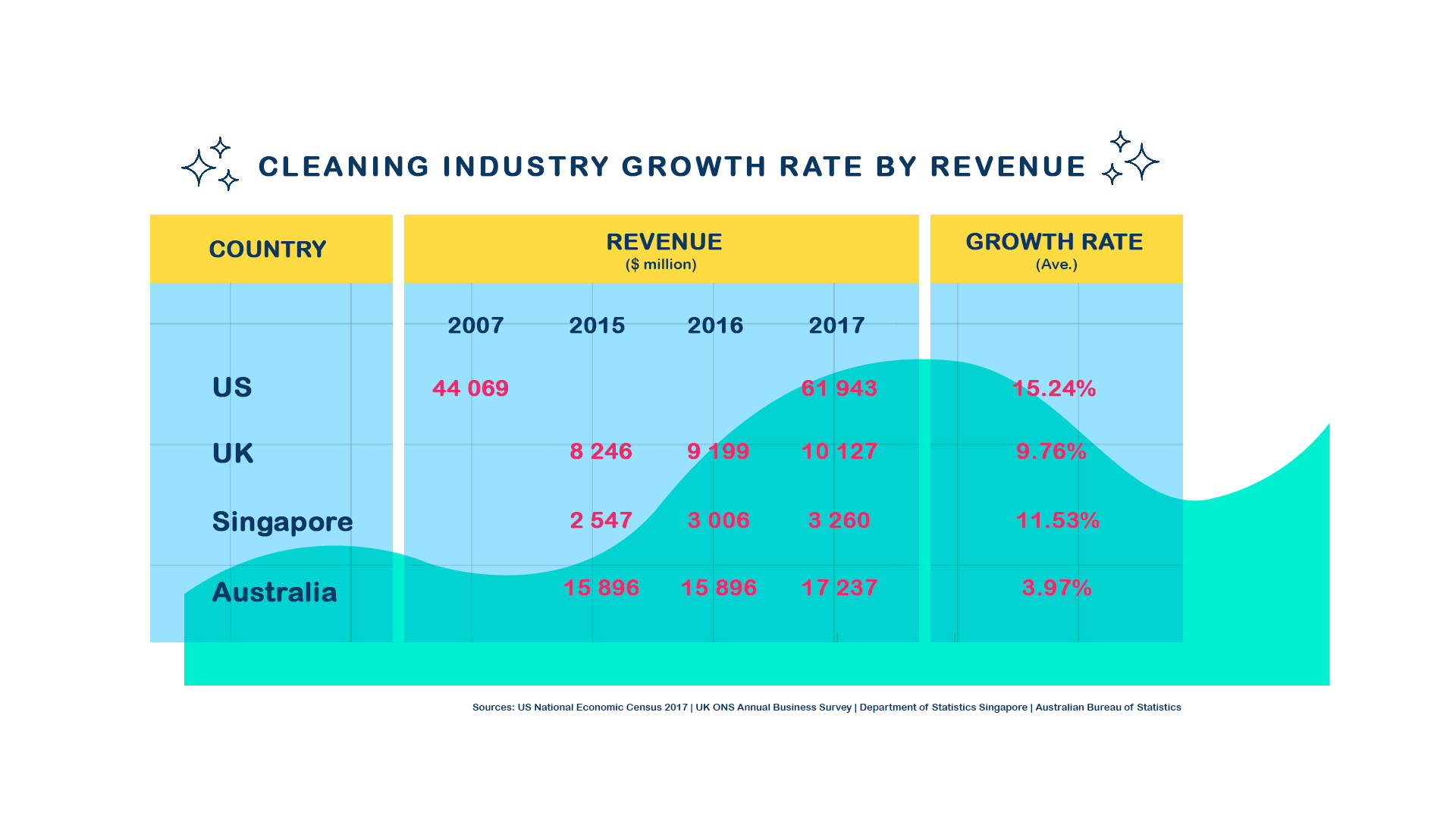 If you're interested in running your own cleaning service business or investing money in established companies, then this comprehensive primer will help you craft the perfect plan of action!
Cleaning Industry Segmentation & Market Share
The Cleaning Industry is broadly divided into Residential, Commercial and Industrial Cleaning. Residential Cleaning covers all residential spaces such as houses, condominiums, and apartments. Commercial Cleaning entails contract cleaning activities for offices, educational facilities, retail complexes, government buildings, etc. Finally, Industrial Cleaning involves cleaning factories and other industrial complexes. Due to the scope and complexity of the job, Industrial Cleaning usually involves more specialised cleaning products and more powerful machinery. Under these major segments are more specialised cleaning services, such as window cleaning, carpet cleaning, among others.
Among the three divisions, Commercial Cleaning takes up the biggest share of the industry at 55%, followed by Industrial (30%) and Residential Cleaning (15%). In terms of growth rate, Commercial Cleaning posted the biggest gains with a Compound Annual Growth Rate (CAGR) of 5.13%, followed by Residential Cleaning at 4.85%, and finally Industrial Cleaning at 4.17%.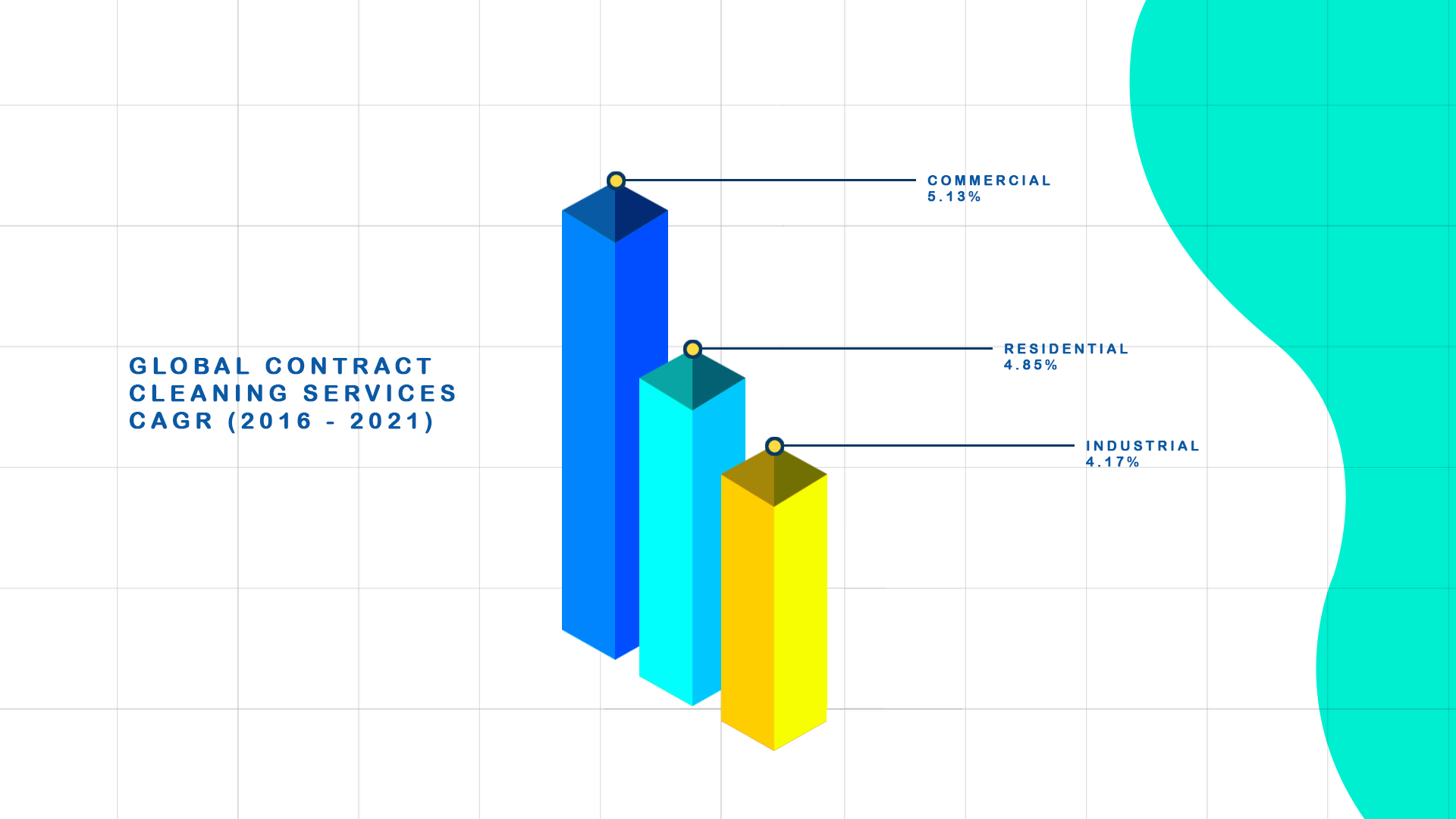 Under Industrial Cleaning, equipment cleaning takes up the biggest share of the cleaning activities at 45%, followed by Shop Floor Cleaning, Public Area Cleaning, and Window Cleaning.
Workforce Statistics
Occupations under the Cleaning Industry vary from management to administrative work and cleaners. However, for purposes of comparison between countries, we'll consider the occupation which takes up the bulk of employees in the cleaning industry. The infographic below gives an overview of the industry's workforce based on employment and average wage.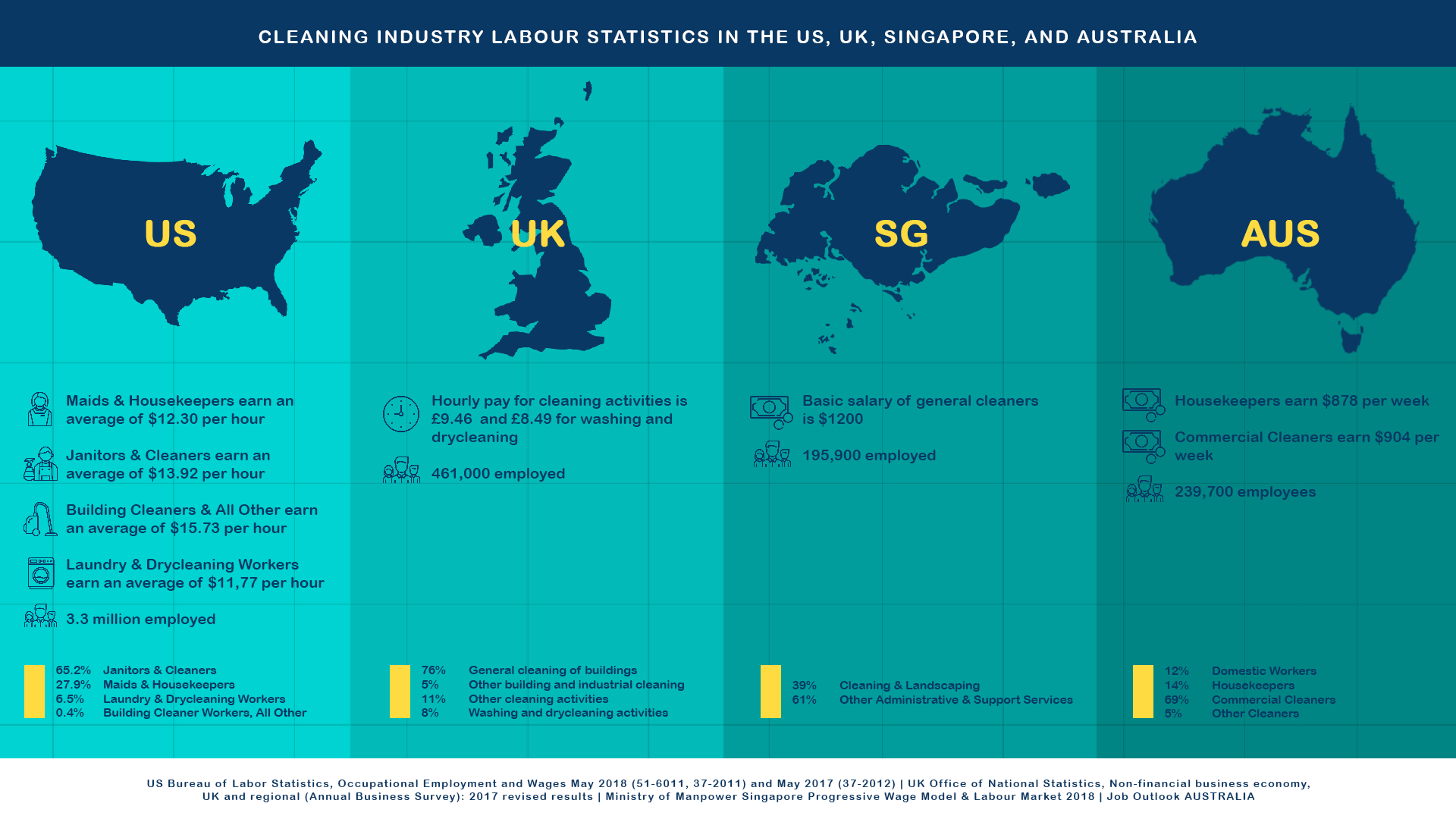 Of the four countries, commercial cleaners take up the biggest chunk of workforce under cleaning services. Commercial cleaners also earn more than domestic or residential cleaners. In the US, for example, Maids & Housekeepers earn an average of $12.30 per hour, while Building Cleaners and Janitors earn an average of $15.73 and $13.92 per hour, respectively.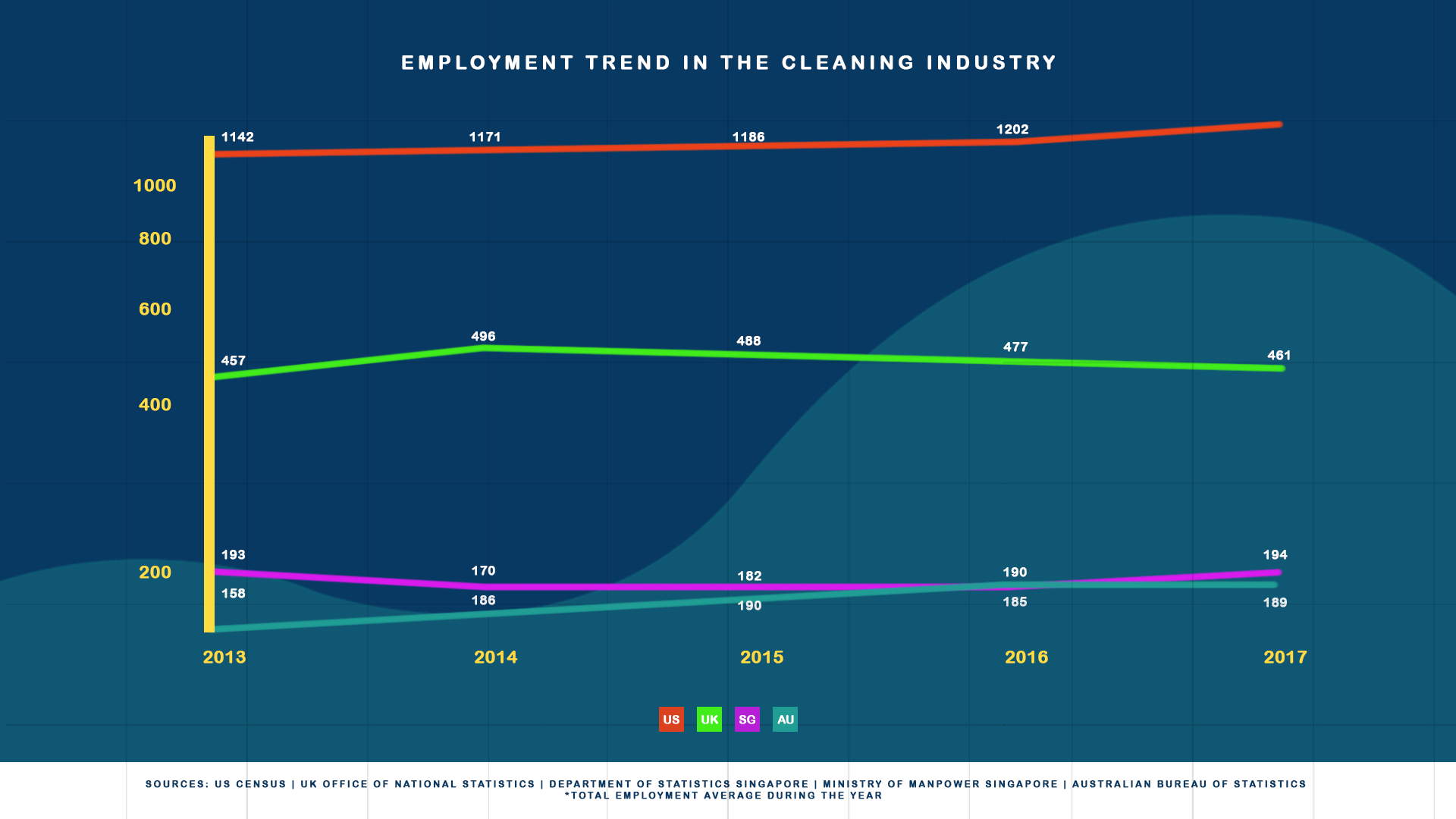 Except for the UK, employment for cleaning services is on an upward trend. From 2013 to 2017, both the UK and Singapore posted an average of 3% annual increase in employment. Australia's employment dipped between 2013 and 2014 as well as between 2015 and 2016, but outlook remains positive, especially housekeepers which show a very strong growth.
Country Snapshots
United States
Top Industries
Cleaning services are availed by many different industries. In the United States, Services to Buildings and Dwellings are top industries for cleaners. Educational institutions as well as hospitals, nursing homes, and health facilities are likewise top industries for contract cleaning activities.
Maids & housekeepers are ever more present in the traveler accommodation industry with the rise of AirBnBs and similar home-sharing platforms which are cheaper accommodation alternatives to the traditional hotels and resorts. Cheaper accommodations attract more tourists which means higher demands for cleaners. For instance, Western New York experienced a boost in tourism activity in 2018 as more than 140,000 people stayed in Western New York Airbnb.
Meanwhile, buildings and dwellings as well as workplace settings remain the top industries for janitors and cleaners since these require long-term contracts for regular cleaning and maintenance.
Wage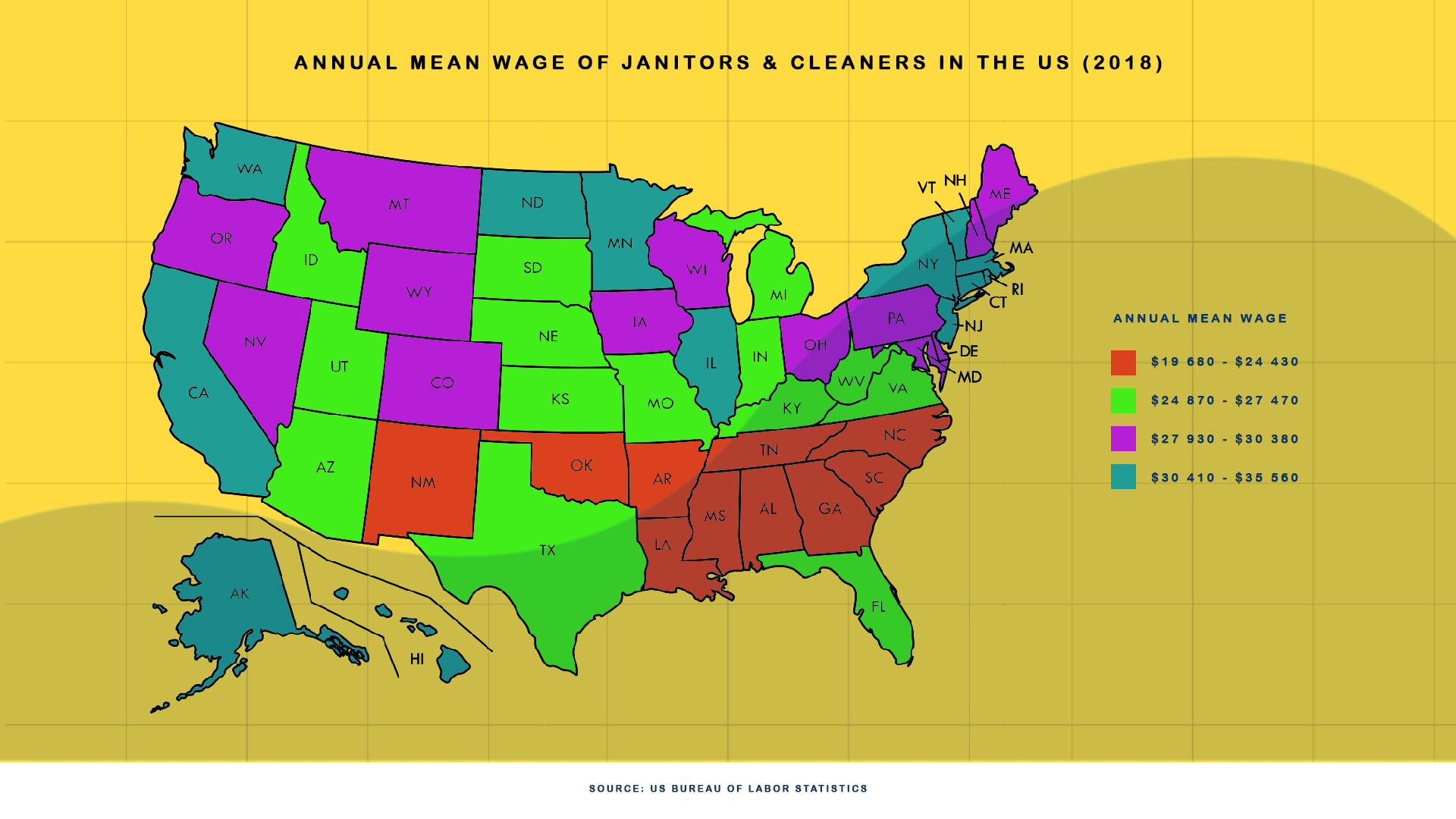 According to the US Bureau of Labor Statistics, California, New York and Nevada are the top states employing maids, janitors and laundry workers respectively. In terms of pay, Hawaii pays top dollar for both maid and laundry services, while New York pays the highest hourly wage for janitors. Among the three classifications, janitors earn more, on average, than maids and laundry or drycleaning workers with a mean annual wage of $28,950.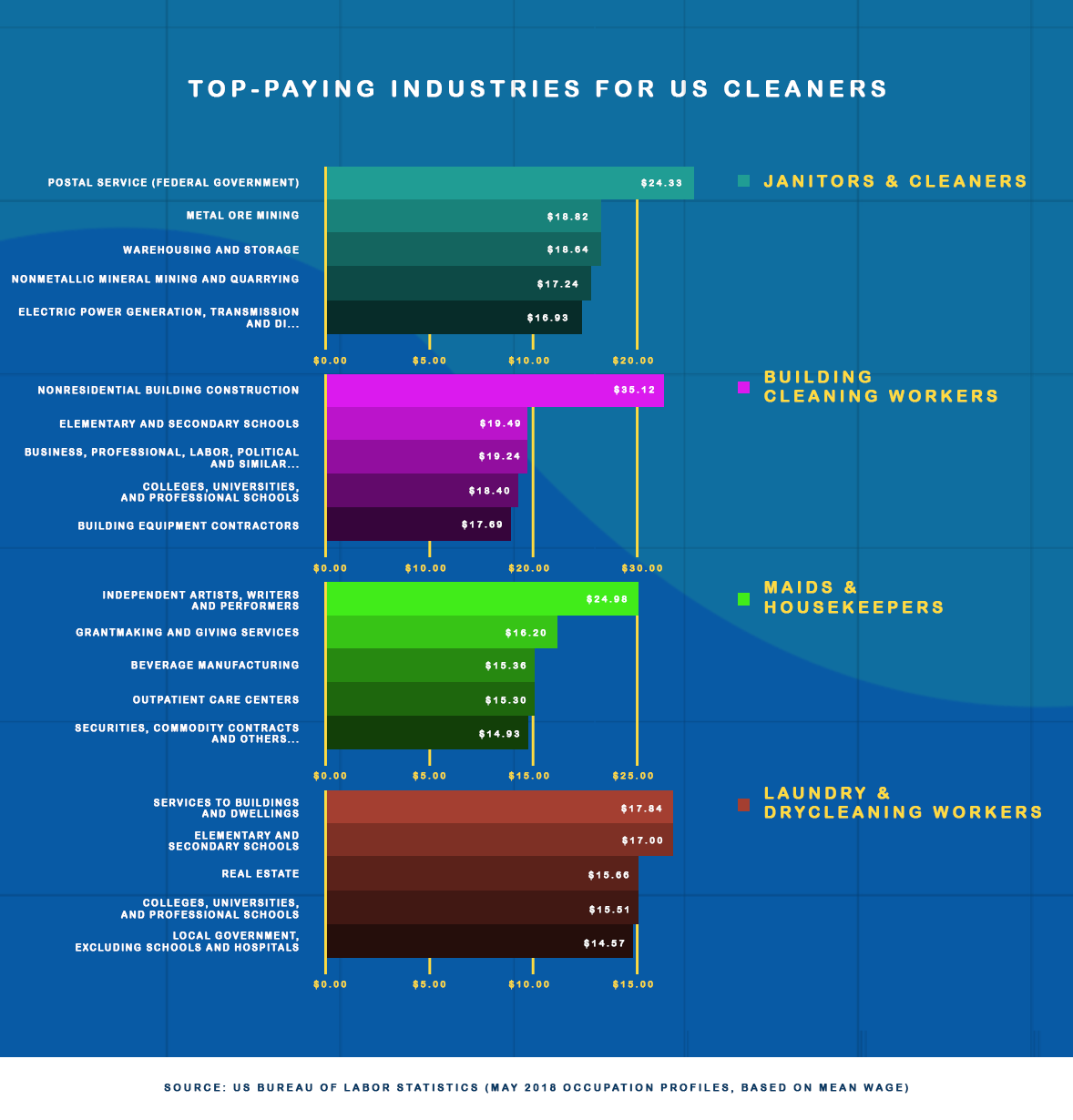 Even though buildings and dwellings employ the most workers, private clients as well as the postal service pay the most in terms of hourly rate. Wealthy private clients categorised as "Independent Artists, Writers, and Performers" routinely employ full-time housekeepers and cleaners in their residences which pays top dollar compared to other industries.
Employment Outlook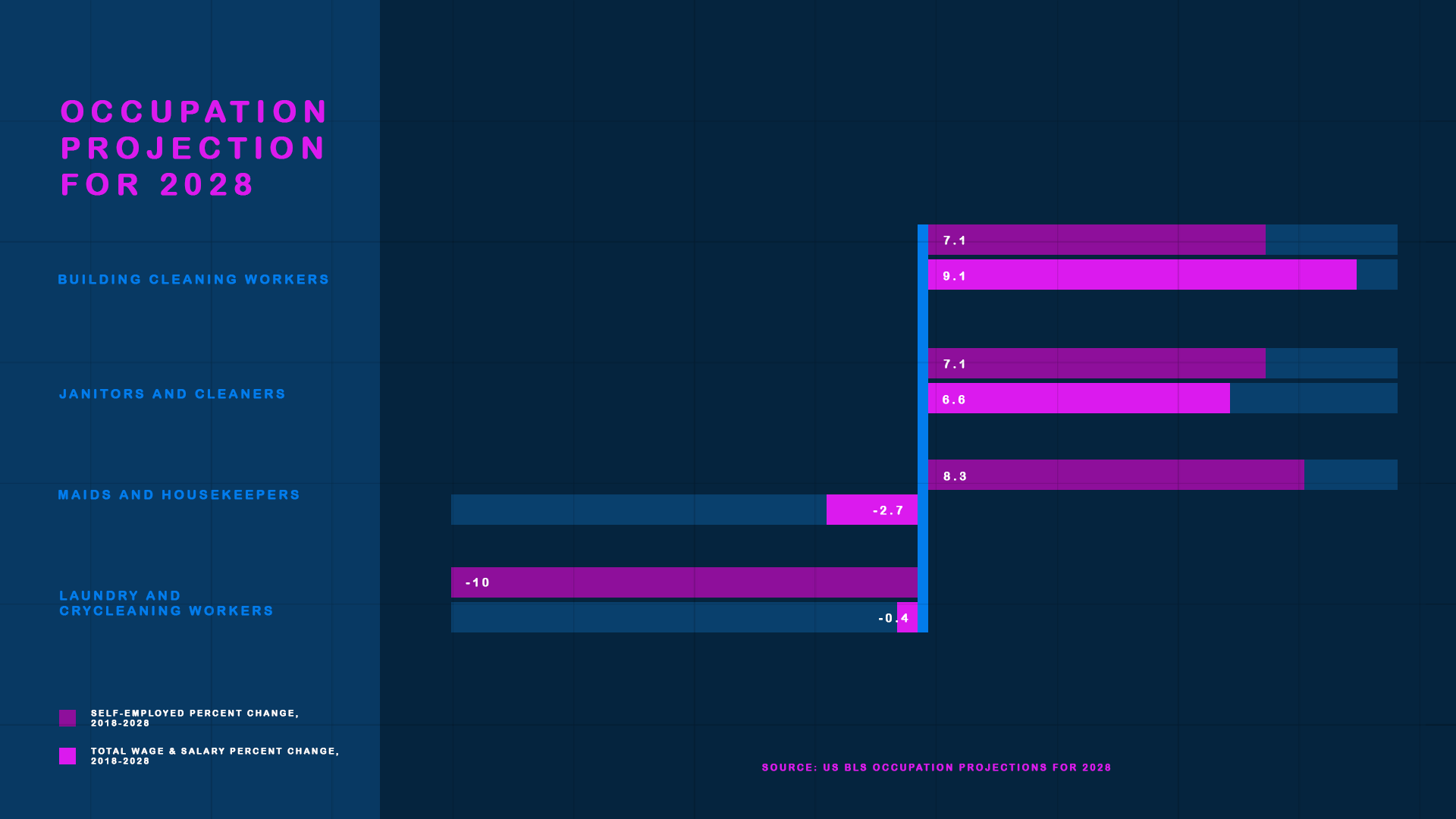 With the exception of laundry and drycleaning workers, the number of self-employed cleaners will continue to grow, according to the US BLS Occupation Projections for 2028. Meanwhile, job outlook for maids and housekeepers looks shaky as it's projected that regular wage and salary employment will fall by 2.7% as self-employed housekeepers rise by 8.3%. This is in line with the rising trend of self-employment in the United States.
According to PEW Research, an estimated 16 million Americans are self-employed, but only a quarter of that have employees of their own. The rest are solo entrepreneurs or freelancers working in the gig economy. Self-employment is fueled by a variety of factors including people's desire to have more control over their work life as well as the rise of digital platforms connecting freelancers and clients for short-term services and projects. From TaskRabbit which allows users to hire all sorts of help, there are now several apps in the market offering on-demand cleaning services opening up opportunities for self-employed cleaners to earn some cash.
As for the negative outlook for Laundry and Drycleaning services, the proliferation of well-funded startups seeking to disrupt this industry is forcing family-owned and small businesses to close up or keep up with the higher demand and shorter turnaround times. FlyCleaners, Rinse and Cleanly are just some of the apps which outsources laundry and dry cleaning in New York. According to the Korean-American Dry Cleaners' Association of New York, there were about 3,000 dry cleaners statewide in 2016, with 80% of them Korean-owned. Korean-owned dry cleaners have been declining since 2008.
The rise of these on-demand apps has been well-documented by New York Magazine on what they call the "laundry-app race." Time will tell whether this Uber-based business model will become sustainable or fizzle out.
United Kingdom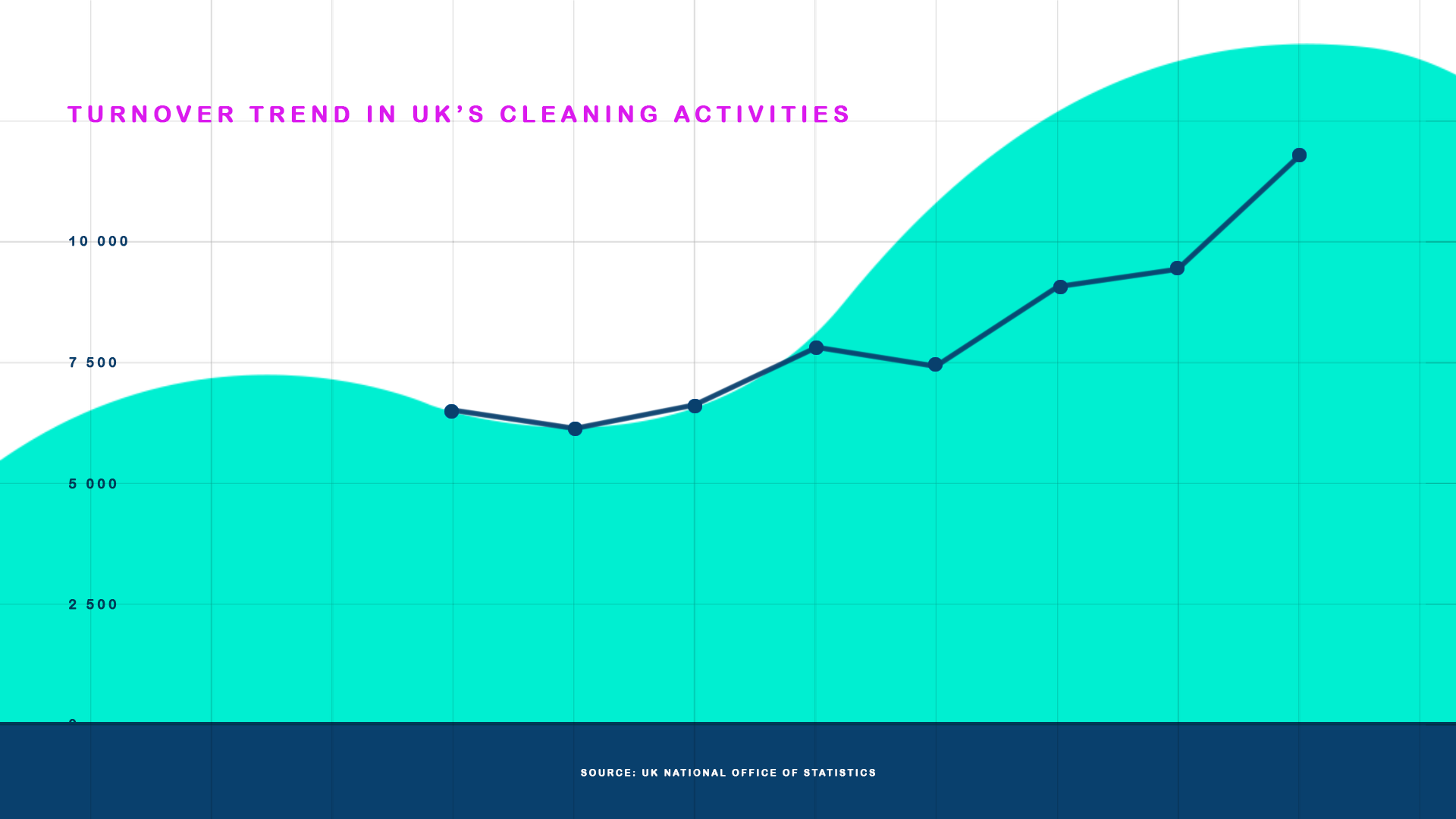 The revenue of cleaning services in the UK shows positive growth over the past 10 years. However, manpower in this industry has been in decline, possibly in favor of more technology-driven innovations. Brexit is another factor the industry is looking at when it comes to declining employment in cleaning services.
BREXIT
A pervading concern for most industries in the UK is the uncertainty of Brexit. With thousands of cleaning companies in the UK, the primary concern when it comes to employment is the fact that over 25% of people employed in this industry don't have British nationality.
According to the British Cleaning Council (BCC), companies employing immigrant workers may experience difficulties in hiring new staff if restrictions to migrant workers entering the UK are imposed. Should this happen, smaller available workforce could mean more competition for workers, which in turn can lead to wage increases. On the other hand, BCC adds that "if the government decides that the UK should still participate in EU free movement as part of a new trade deal, this will most likely not impact EU migration and we should see limited change in availability of workers."
Employment Patterns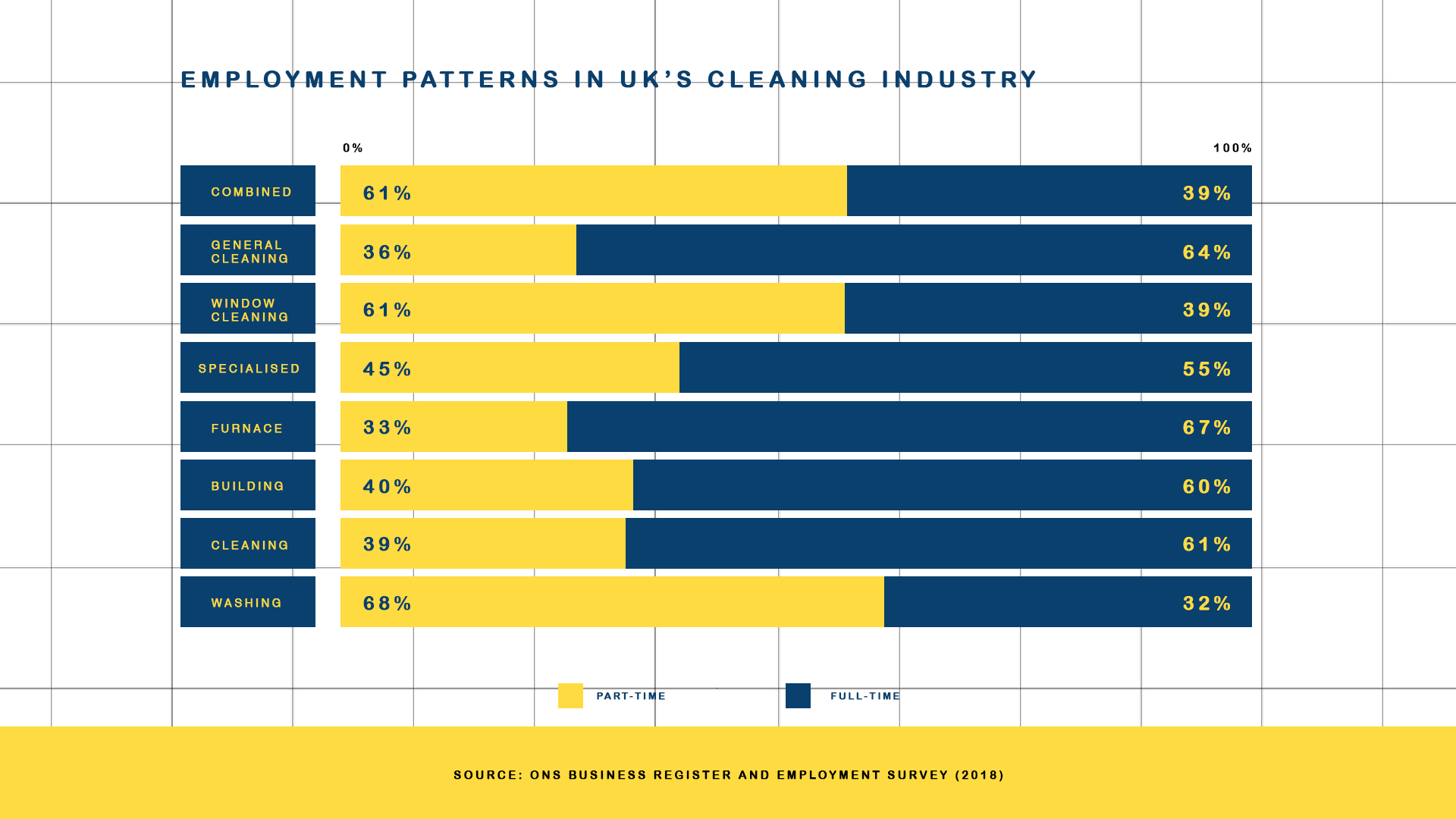 General cleaning and furnace & chimney cleaning services are dominated by part-time workers, while more full-time workers can be found under combined facilities support activities, window cleaning, and washing & drycleaning. By 2024, BCC predicts that nearly 46% of workers will be part-time, 38% will be full-time, and 15% self-employed.
Singapore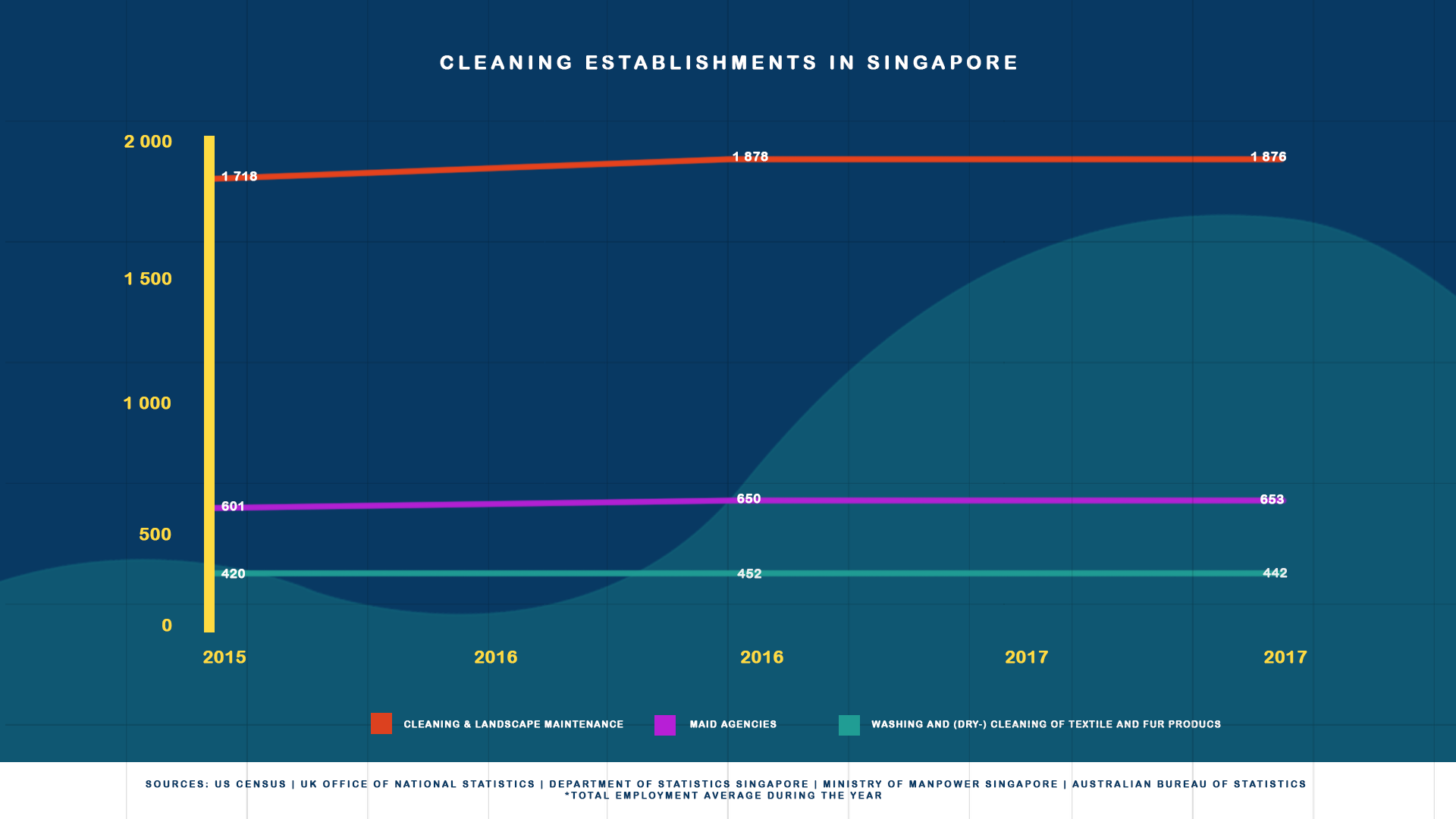 Between 2015 and 2017, establishments remain relatively stable and flat. It's in the employment landscape which will result in movement and transformations. As part of the Industry Transformation Map, the Singapore government launched a series of initiatives helping companies "drive innovation, train workers and improve procurement practices."
"In the near future, we can see autonomous cleaning equipment having the capability to 'talk' with one another and take the lift to other floors to perform cleaning operations more independently," said Minister for Environment and Water Resources Masagos Zulkifli.
Path Towards Automation
As autonomous cleaning equipment become more sophisticated and prevalent in the cleaning industry, workers are expected to fill higher-value work from hands-on cleaning activities to equipment fleet management or maintenance, or customer service. In particular, Facilities Management, a sub-sector of commercial cleaning, is paving the way to Singapore's goal of becoming a smart nation.
According to Su Chen Cheng, Group Managing Director of C&W Services: "Singapore is always challenged by a very tight labour force. The issue has become even more perplexing as local authority exercise very tight control in hiring foreign labour. This is to motivate resource owners to be more productive as Singapore positions itself to become a smart nation. The government has identified a number of industries that are primed to take Singapore to the next level in terms of automation, digitisation and Artificial Intelligence. The FM industry is one of these on the transformation path to be part of the nation's smart framework."
Hours Worked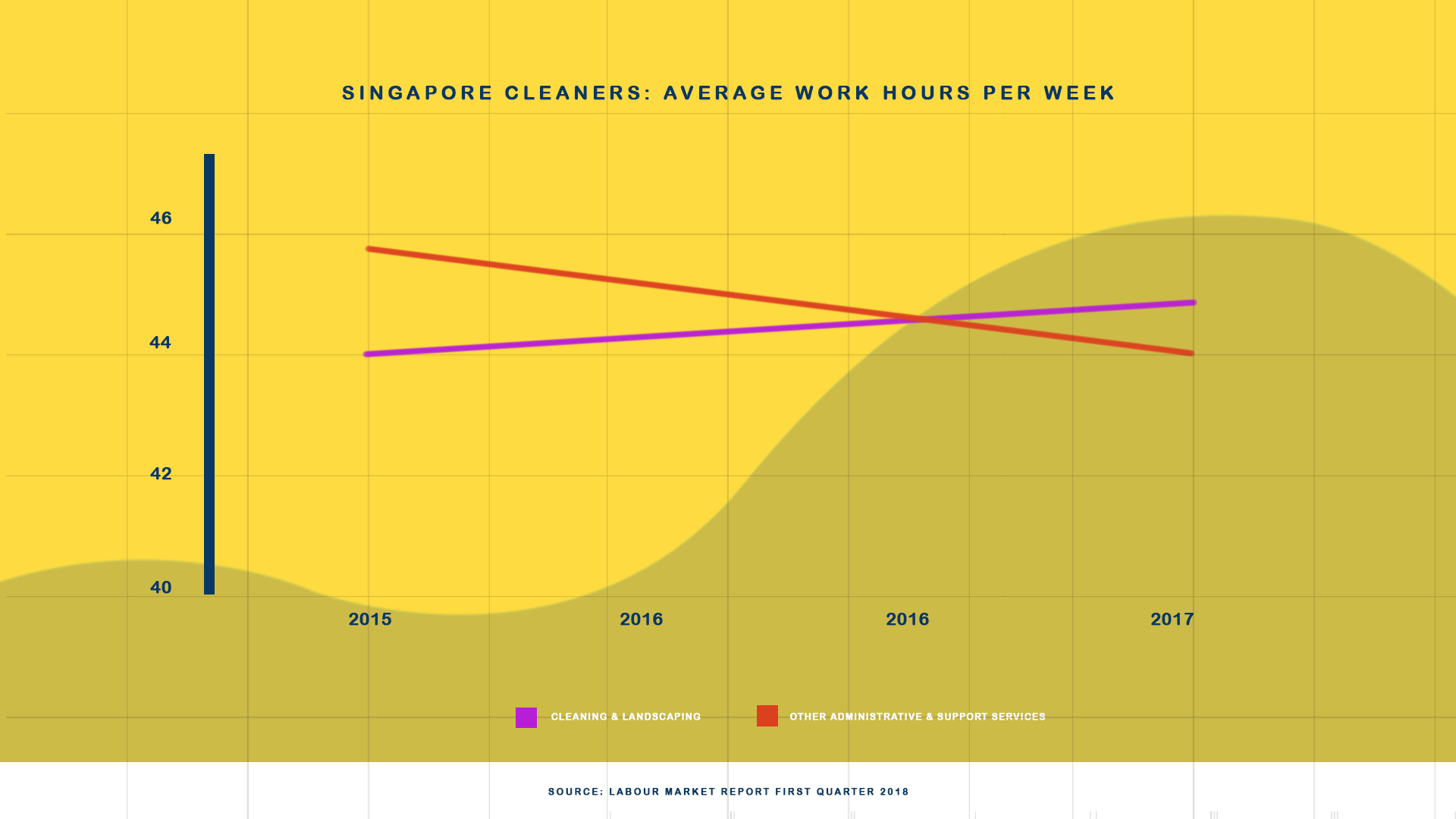 Workers under the cleaning industry work an average of 44-45 hours per week. Based on 1st Quarter (2018) data, hours worked for cleaning and landscaping has increased, while it's the other way around for other administrative and support services. With automation underway, these hours will shift into supervision and equipment management with a possibility of decline as smart machines make cleaning more streamlined and efficient.
Australia
Top Industries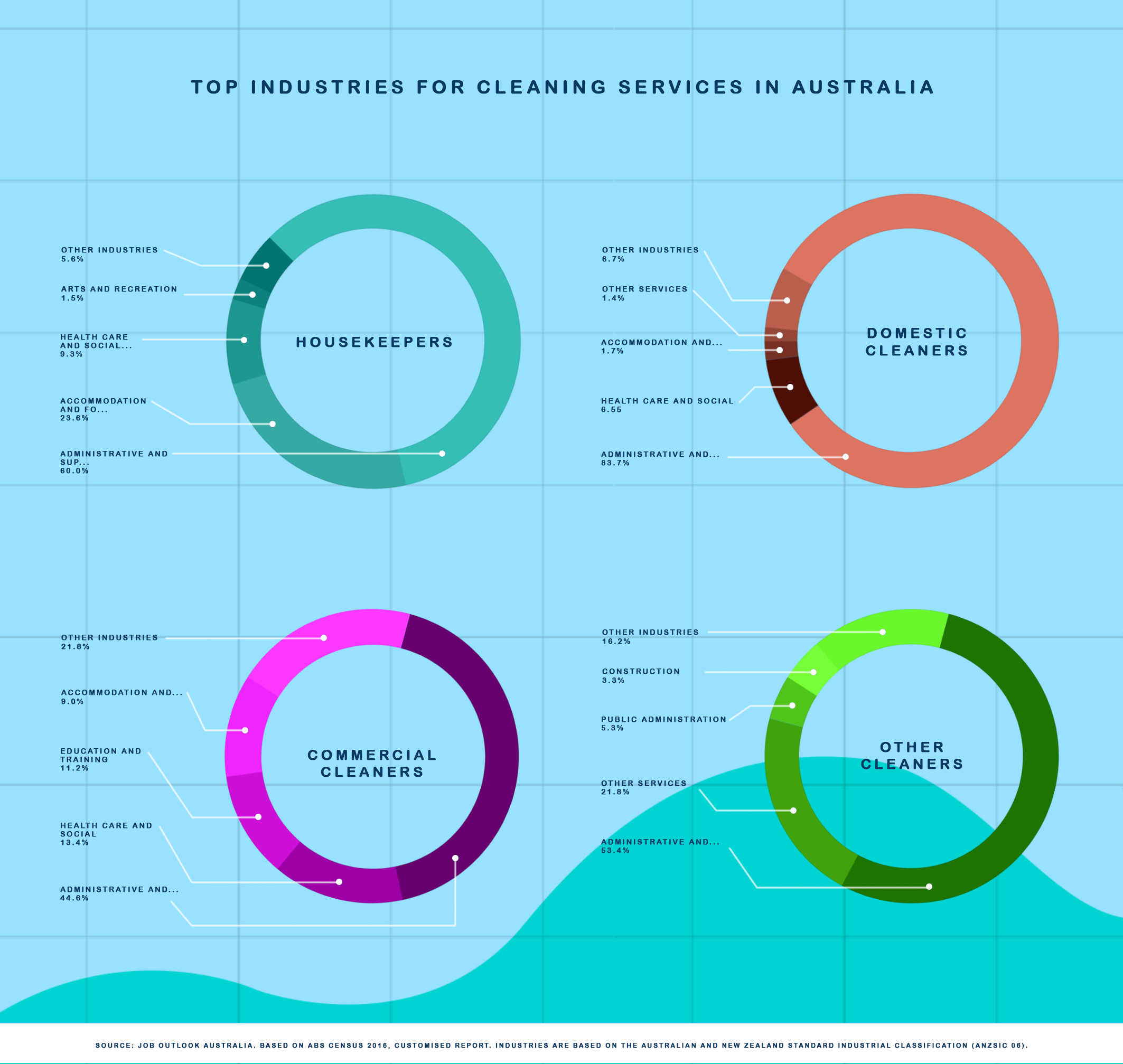 Administrative and support services are the main industries employing the most number of Domestic (84%), Commercial (45%), and Other Cleaners (53%). On the other hand, the biggest chunk of the pie for Housekeepers is in Accommodation and Food Services (60%).
Employment Outlook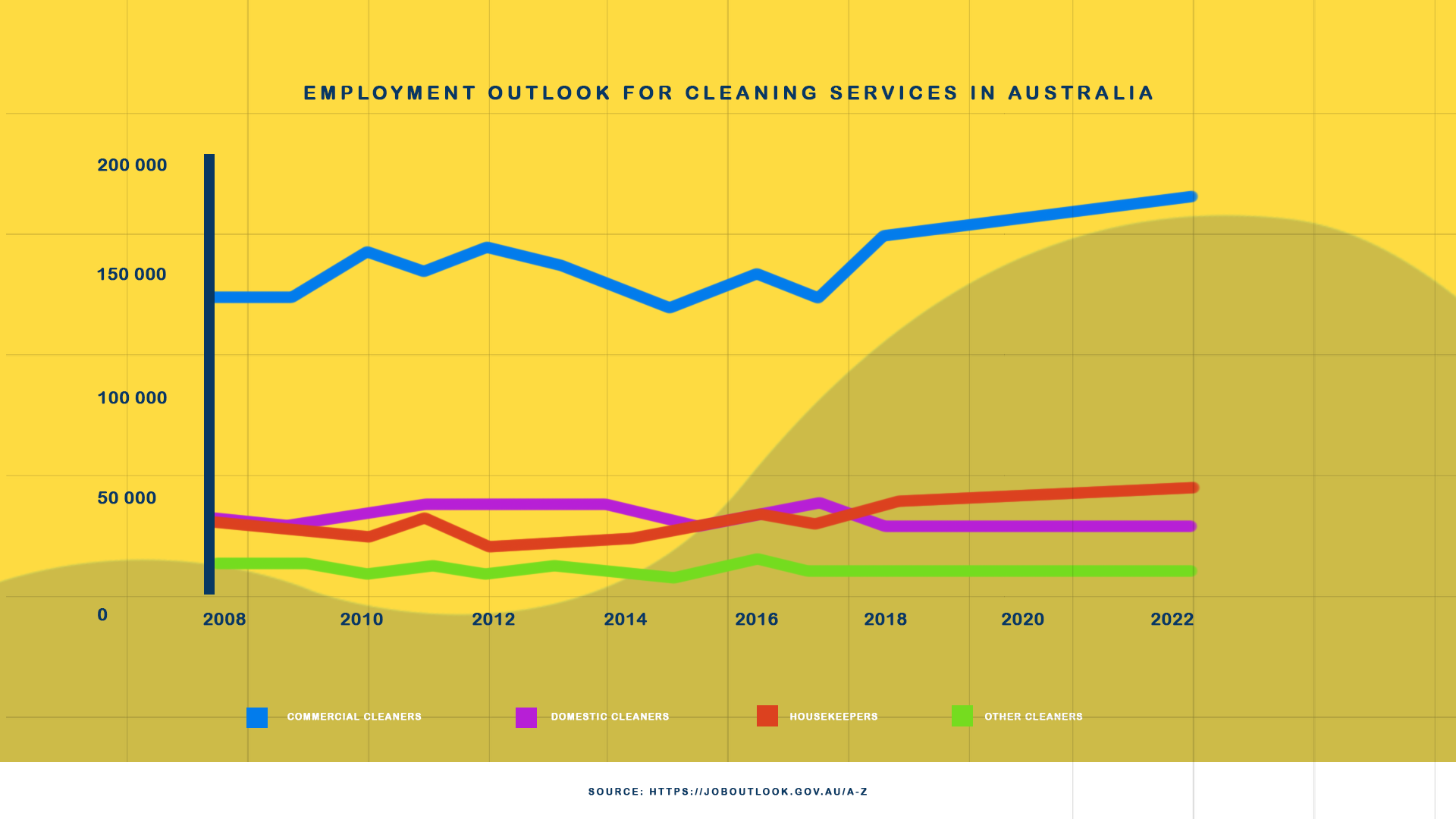 The number of Housekeepers in Australia grew very strongly over the past 5 years and is expected to grow strongly over the next 5 years with a projected increase in workers from 34,000 in 2018 to 38,300 by 2023. Commercial Cleaners, with moderate growth over the past 5 years, is also expected to grow over the next 5 years from 164,500 in 2018 to 170,600 by 2023. On the other hand, both Domestic Cleaners and Other Cleaners fell over the past 5 years. While Domestic Cleaners are expected to grow from 28,800 in 2018 to 30,300 by 2023, employment of Other Cleaners is predicted to fall even more from 12,400 in 2018 to 11,900 by 2023.
The Australian Bureau of Statistics, in a report on Administrative and Support Services (2018), stated that the building and other industrial cleaning services class has benefited from the sustained growth of the Australian economy. Factors that contributed to the growth include businesses looking to outsource non-core activities as well as time-poor households seeking support for domestic services.
Wage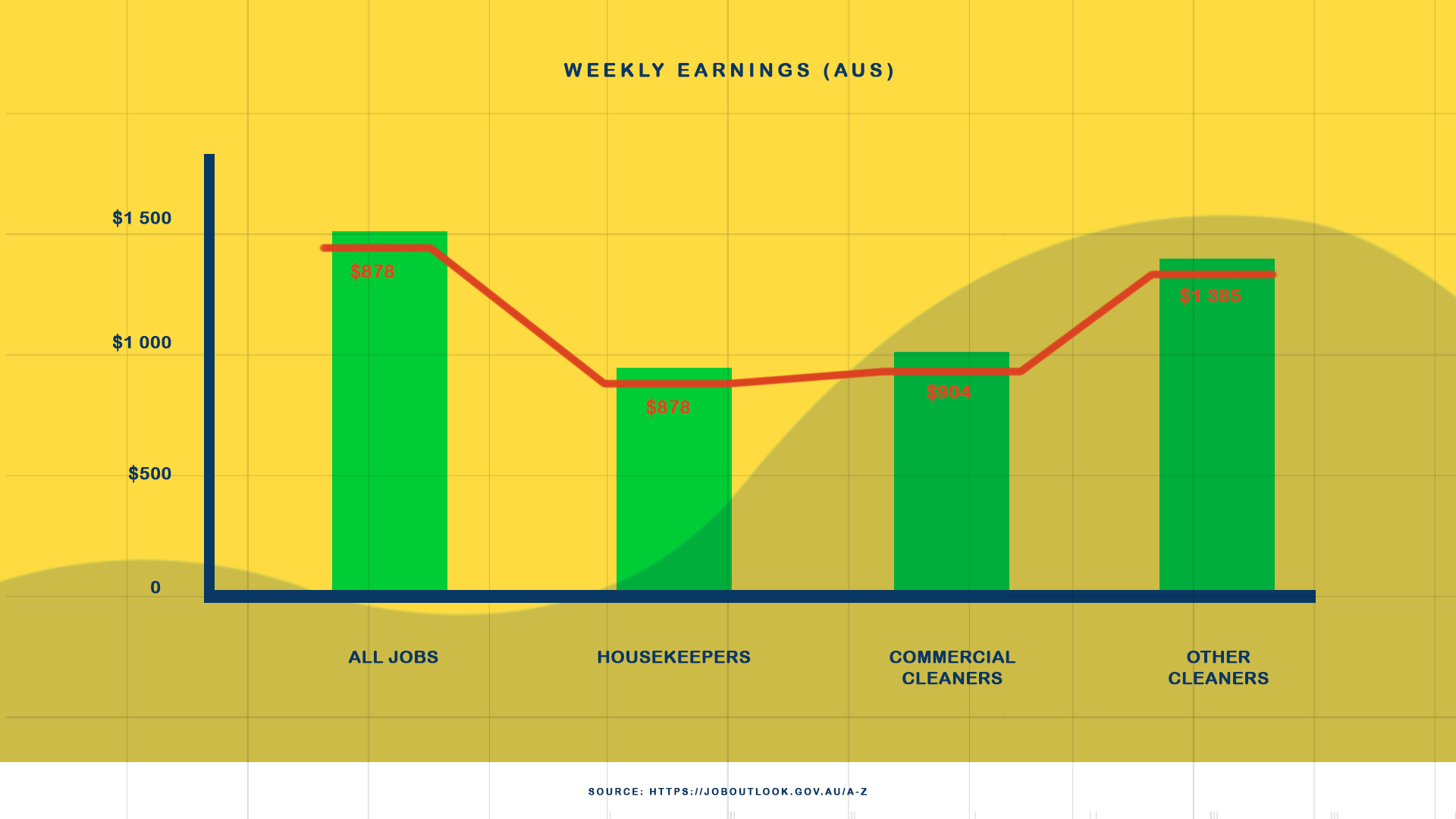 Full-time, non-managerial workers in the cleaning industry generally earn less per week than all other jobs in Australia. In particular, housekeepers earn the least compared to commercial cleaners and other cleaners.1 Although, with fewer barriers to entry, it is easy to penetrate this industry for workers. For instance, you don't have to be a college graduate. Education Level for majority of housekeepers is at "Year 10 or Below." In addition, housekeepers are scattered in various age groups, from as young as 15-19 all the way to 65 and over, with average age at 41 years.
Trends & Innovations
Given the data and insights gathered from the four countries, here are the trends, outlook, and innovations in the global cleaning industry.
Increasing Demand for Residential Cleaning
The rise of single-parent households as well as double income households means busy parents need extra help for cleaning and maintaining the home. While women still predominantly handle household-cleaning chores, the rising number of working women means decreasing time for tidying up at home. According to the Nielsen's report on cleaning, the percentage of women in the workforce, (51% of the 61 markets surveyed by the World Bank) grew by 4% between 1990 and 2013.
People who live alone, juggling a myriad of responsibilities, can also benefit from residential cleaning services. The report further states that an estimated 33% of people in the EU lived alone in 2014, based on Eurostat data. Meanwhile, the US Census reports 28% of Americans are living in a single-person household.
Smart Machines
Large-scale, industrial cleaning rely less on manpower and more on technology and machinery. In the UK, employment has fallen from 496,000 in 2014 to 461,000 in 2017. The exception is in the washing and drycleaning services which continued to post positive growth from 29,000 in 2012 to 38,000 by 2017. Although there are other socio-economic factors contributing to the decrease in employment, the global move towards utilising smart machinery and cleaning robots can mean less manpower on-ground and a shift to IT-related machine and facility management.
Singapore will start rolling out more smart cleaning robots by March 2020. The first robot already started work at National Gallery Singapore back in April 2018, while another one was deployed at Jewel Changi Airport in April 2019 as part of a pilot scheme run by local firm LionsBot International. Japanese firm Softbank Robotics also offers robot cleaners called Whiz to clean facilities from S$499 a month and a S$200 maintenance fee. Only a foot high, the Whiz can clean up to 1,500 square metres, or the size of approximately three basketball courts, for three hours on a single battery charge. Their cleaning capacity include carpets as well as hard flooring.
App-Based Cleaning Services
The increasing trend in self-employed workers can be attributed to digital platforms offering more opportunities to earn money. On-demand economy has grown massively in the past decade to include the cleaning industry. More and more startups are disrupting the cleaning industry, making the service move faster and more accessible to a wider range of clients. This disruption and mobile integration has inevitably affected family-owned and small business owners the most.
Rise in Self-Employed Workers & Part-Timers
With the help of mobile platforms bringing independent contractors closer to clients, self-employed and part-time workers are on the rise. This is seen as a practical solution against unemployment.
Self-Employment
In Europe, the number of self-employed contractors almost tripled between 1995 and 2016, from 53.8 thousand to 145.4 thousand. According to The European Cleaning and Facility Services Industry (EFCI), self-employment surged after the global crisis which suggests many viewed it as a solution against unemployment. In the UK, BCC predicts that nearly 46% of workers will be part-time, 38% will be full-time, and 15% self-employed. Likewise, the US BLS projected an increase in self-employed workers. For instance, self-employed housekeepers are projected to rise by 8.3% by 2028.
Part-Timers
The EFCI Trend Report also noted part-time employment in European industries increased considerably over the last 20 years (17% to 22%). The cleaning industry, in particular, showed an outstandingly high percentage of part-time workers, with almost 7 out of 10 staff working part-time in 2016.
Going Green
Another clear trend in the cleaning industry is the move into more environmentally-friendly and sustainable products and processes. According to Nielsen's Global Home-Care Survey, people are looking for eco-friendly cleaning products in line with the growing global trend of eco-conscious and natural-living attitudes. This trend is more evident in the Asia-Pacific region, with 46% respondents saying they prefer environmentally friendly products, while 36% say they prefer those with no harsh chemicals.
Europe also reported the same shift. Alongside the well-being of clients, there is also rising environmental and health concerns for workers. As such, cleaning companies are considering ways to be greener, such as cleaning without chemicals (e.g. microfiber cloths and mops which require only water to remove germs, grime and bacteria), using steam vapour systems, or spray and vac systems using pressurised water to clean products and/or conveyor belts.
Technical Notes
1 Other Cleaners clean surfaces, materials and objects, such as carpets, windows, walls, swimming pools and cooling towers, using specialised cleaning equipment and chemicals. Carpet Cleaners and Window Cleaners are included here.
Table 1. Cleaning Industry Growth Rate by Revenue
– The 2017 US revenue data is from the ECN Survey, all others taken from the annual SUSB Survey (NAICS CODE 561720, 561740, 812320); Variable "Value of sales, shipments, receipts, revenue, or business done"
– Singapore data from Department of Statistics Singapore; SingStat: SSIC 78103, 81, 9601; Variable: "Operating Receipts, Total Services Sector"
– UK data from ANNUAL BUSINESS SURVEY – 2017 Revised Results; SIC: 81.21, 81.22, 81.29, 96.01; Variable: "Approximate gross value added at basic prices (aGVA)"
– Australia data from Australian Bureau of Statistics, 2017-18; Industry Subdivision 73 – Building cleaning, pest control and other support services; Variable: "Total Income"
Charts 18-22
Maids & Housekeepers
Building & Cleaning Workers
Laundry & Drycleaning Workers
Janitors & Cleaners
Links to Main Data Sources
US Census (SUSB & ECN)
UK Office of National Statistics (Annual Business Survey 2017)
Department of Statistics Singapore
Singapore Ministry of Manpower
Australian Bureau of Statistics
Disclaimer: CleaningServiceReviewed.com presents this analysis using publicly available data that's as accurate and current as possible from sources deemed reliable. However, errors may occur, hence we present this information "as is." CleaningServiceReviewed.com disclaims any responsibility and makes no representations or warranties as to the quality, accuracy, content, or completeness of any information that is contained herein.