People in Singapore, professionals and students alike, are always busy with their work and projects. This leaves them with little time for cleaning, which they could better spend with their family and friends and for doing things at their leisure. Fortunately, the best spring cleaning services in Singapore can help out there!Below are the best cleaning services in Singapore that deliver on their promises and are highly recommended by their previous clients.
1. TINKLEAN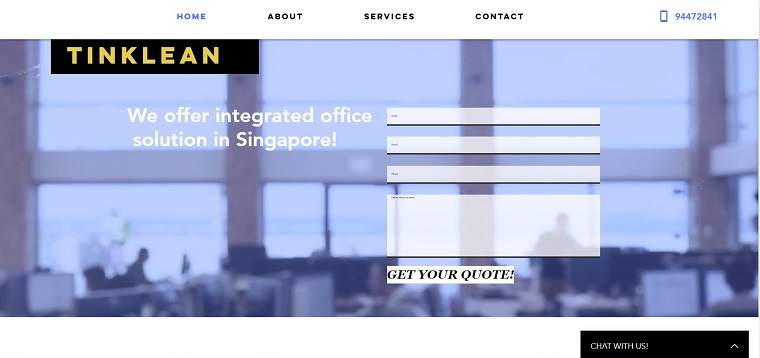 | | |
| --- | --- |
| BEST FOR | Customised Cleaning Services |
| SERVICES/SCOPE | Office Cleaning, Spring Cleaning, Carpet Cleaning, Sofa Cleaning |
| PRICING | Contact company to get a free quote |
| WEBSITE | https://www.tinklean.com  |
| CONTACT | 94472841 | [email protected] |
Tinklean is committed to creating and maintaining a clean, environmentally friendly environment for their customers. They deliver the best spring cleaning in Singapore with their broad range of cleaning services, including spring, office, carpet, and sofa cleaning.They can tailor their cleaning methods and processes to your commercial or residential cleaning needs.Apart from daily cleaning, Tinklean also offers additional services such as window cleaning, carpet cleaning, specialist equipment cleaning and many more.They also understand that the amount of effort required for cleaning varies depending on property configuration, specific needs, and preferences. So, they'll ask you for details before even sending a team in.A typical session can range from 2 to 8 hours per day with 1 to 5 cleaners. Enquire directly to get a free quote for your specifications.
2.  Eunike Living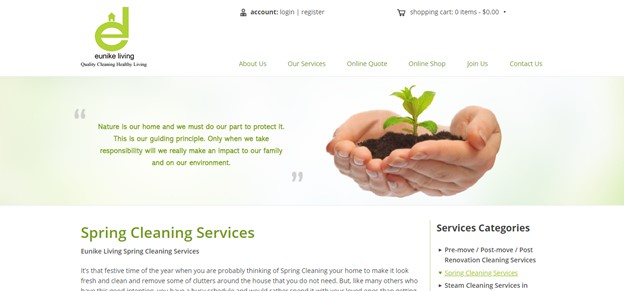 | | |
| --- | --- |
| BEST FOR | Professional cleaning team, great understanding of client's cleaning requirements |
| SERVICES/SCOPE | One-time Spring Cleaning, Steam Cleaning for Rooms, Steam Cleaning for Upholstery, Steam Cleaning for Floor Surfaces |
| PRICING | Flat rate for one-time cleaning services and a charge of per-hour basis for regular cleaning services. Pricing depends on the size of the property and you can ask for a quote from the staff. |
| WEBSITE | www.eunikeliving.com/spring-cleaning-services |
| ADDRESS | 3012 BedokIndustrial Park E #02-2048Singapore 489978 |
| CONTACT | +65 9745-7148 | [email protected] |
| PAYMENT | Online payment via credit card, cash, or cheque |
Eunike Living is a top-notch company for the best spring cleaning services in Singapore. They promote healthy living, which is why they are most thorough in removing dirt and dust in every nook and cranny.What's more, they take great care in accomplishing your unique cleaning requirements. They have a complete range of products and equipment that allow them to deliver this, so you can welcome guests with confidence and give your family a hygienic living space.Aside from their top-down spring cleaning of your house, Eunike Living also offers add-on services that can fit your budget. These are steam cleaning for your rooms, like the kitchen and bathrooms.They can also do the same for your mattresses, pillows, sofas, and upholstered chairs. The company can do it for your floors, too, to doubly make certain that there are no residues of household cleaning agents.Thus, you can rest assured that your house is safe from disease-causing microorganisms and allergy-causing chemicals.
3. Whissh
| | |
| --- | --- |
| BEST FOR | Seamless booking process, best fit service crew matching, industry-certified training of cleaners, insurance, background and health checks |
| SERVICES/SCOPE | Dusting & Cleaning of All Accessible Surfaces, Cleaning of Windows & Window Grilles, Floor Vacuuming & Mopping, Carpet Vacuuming, Kitchen Appliance Cleaning, Kitchen Surfaces Cleaning & Scrubbing, Bathroom Mirrors Cleaning, Toilet Washing & Scrubbing, Bathroom Surface Cleaning |
| PRICING | Book via the app or online to receive an automatic quote |
| WEBSITE | www.whissh.com.sg/ |
| ADDRESS | 6 Eu Tong Sen Street,The CentralSingapore 059817 |
| CONTACT | +65 6221-8626 | [email protected] |
| PAYMENT | Online payment via credit card |
Whissh is a well-renowned spring cleaning services provider in Singapore and has been featured in a high class property developer's newsletter. Their service crews have been called cleaning whizzes because of the care and effort they put into delivering quality housekeeping.Whenever you want to do a thorough spring cleaning of your home, you can call on Whissh via their Android or iOS app as well as through their website.The booking process is easy and you are given an automatic quote based on your requirements automatically. Next, you pay for the service in advanced through a secure gateway with your credit card and wait for the cleaners to do their job.Whissh's service crews are very thorough—they follow a checklist to ensure that they have covered everything that is included in their cleaning scope.As such, you can be certain that every room in your home has been swept and wiped clean.And while the company suggests that you be present during the process, you can also leave the crew by themselves. You can be confident that nothing would be amiss in your home except that it has become sparklingly immaculate because every cleaner has been subjected to a thorough background check.That sort of thing is why they count among the services offering the best spring cleaning in Singapore.
4. Home Cleanz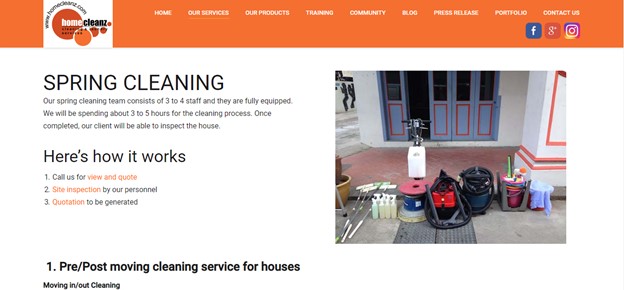 | | |
| --- | --- |
| BEST FOR | Pre- and post-occupation deep cleaning |
| SERVICES/SCOPE | Move In/Move Out Cleaning, Floor Scrubbing, Window Cleaning, Upholstery Cleaning, Handyman, Carpet Shampooing, Plumbing, Steaming & Sanitation, Painting |
| PRICING | Spring cleaning rates vary depending on the area. Pricing for 500-799 sq. ft. areas start at SGD 320. |
| WEBSITE | www.homecleanz.com/spring-cleaning/ |
| ADDRESS | 332 Changi RoadSingapore 419807 |
| CONTACT | +65 6440-3342 | [email protected] |
| PAYMENT | Online payment via credit card |
Home Cleanz is a cleaning and laundry services company that offers deep spring cleaning. They will send you 3-4 staff who have been well trained and are fully equipped with the necessary equipment and supplies to carry out the job.They are fast workers who can finish your required housekeeping tasks in three to five hours. Before they leave, you can inspect their handiwork to make sure that you are satisfied.Aside from the standard wiping and dusting, Home Cleanz also offers plumbing, painting, and handyman services. These are the things that set them apart from the rest.That is why they are a great option for your moving-in cleaning, as they can make sure that your new space is completely livable before you settle in. The same can be said for when you are moving out.
5. SGcleanXpert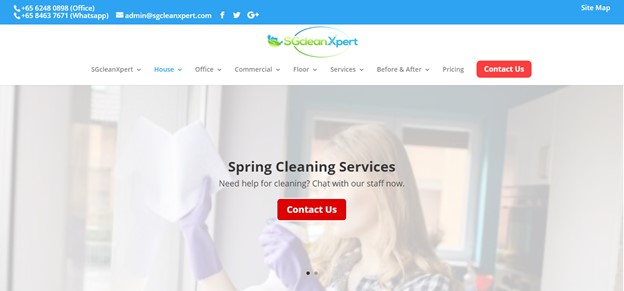 | | |
| --- | --- |
| BEST FOR | Green cleaning materials, complete cleaning packages, add-on cleaning services |
| SERVICES/SCOPE | Sweeping, Mopping, Cleaning of Rooms, Wiping & Cleaning of All Surfaces, Cleaning of Internal Windows, Vacuuming, Bathroom Scrubbing, Toilet Cleaning |
| PRICING | One-time and general cleaning services rate depends on the size of the area and on the day of the cleaning. It starts at SGD 400 for Mondays to Saturdays and $480 for Sundays and public holidays. |
| WEBSITE | www.sgcleanxpert.com |
| ADDRESS | 7500A Beach RoadThe Plaza #05-319Singapore |
| CONTACT | +65 6248-0898 | [email protected] |
| PAYMENT | Online payment via credit card |
SGcleanXpert stays true to its name—it has trained staff who know how to find and reach for even the most hard-to-find dirt in your home. You can find evidence of this in the list of special cleaning solutions and add-on services the company offers.With SGcleanXpert, you can have your home cleaned anytime. The company's cleaning crews are available when you need them, even if you arrange for housekeeping on a Sunday or on a public holiday.They are also ready for calls for spring cleaning before the Chinese New Year. They are especially focused on this, as they have complete cleaning packages dedicated to this event.Moreover, they offer a complimentary revisit to clients who opted for their Supreme Package if you provide them with feedback within 48 hours after the cleaning service. That's why they're among the companies we recommend for the best spring cleaning in Singapore!
6. Kleepers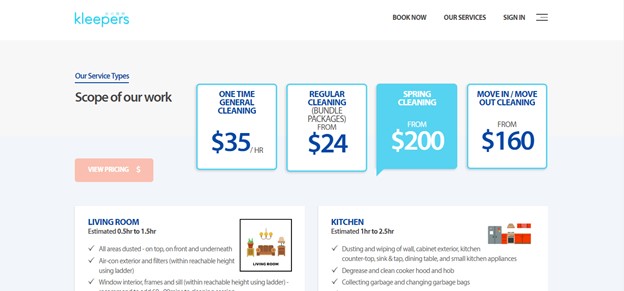 | | |
| --- | --- |
| BEST FOR | Cleaners trained using module designed by Japanese & Taiwanese partners, instant scheduling, CRM, responsive and reliable service crews |
| SERVICES/SCOPE | Living Room Cleaning, Kitchen Cleaning, Bathroom Cleaning, Bedroom Cleaning, Sweeping & Mopping of Balcony, Wiping of Glass Windows & Metal Grilles |
| PRICING | From SGD 200. |
| WEBSITE | www.kleepers.com/services |
| ADDRESS | 50 Chin Swee RoadThong Chai Building #09-04Singapore 169874 |
| CONTACT | +65 8122-8113 | [email protected] |
| PAYMENT | Online payment using credit card through Strip |
Kleepers is a company whose service crew is trained by using modules designed by their Taiwanese and Japanese partners. These training sessions total to 30 hours, which enables the cleaners to acquire the skill and knowledge they need to provide immaculate housekeeping services.That is why clients are always in awe of their assigned cleaners and why they leave glowing feedback regarding their experiences. On top of that, customers note that the website's scheduling engine is user-friendly and truly allows for instant booking.With Kleepers, you can always count on a personalized approach. The company uses a CRM software, which allows them to understand your needs better. As such, they are able to tailor their cleaning services according to your requirements.
7. PartTimeMaid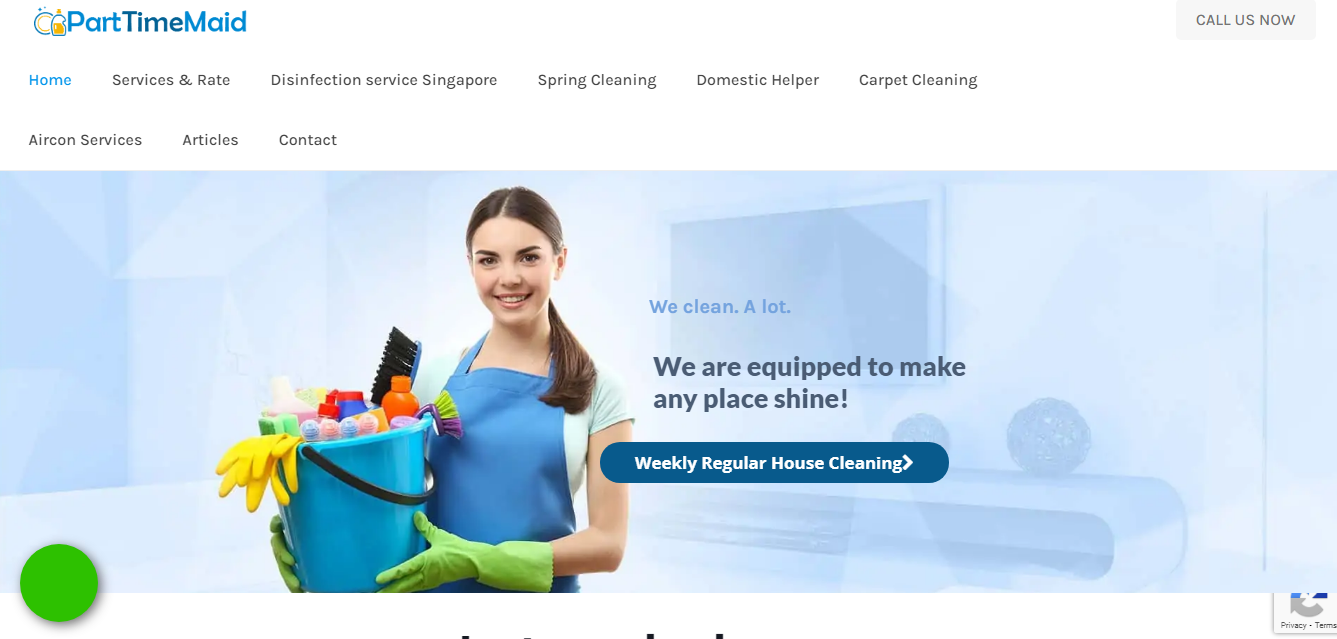 PartTimeMaid is a highly-efficient and practical solution to your cleaning and prfessional domestic helper needs as they offer excellent rates and packages specifically to tailor to your particualr needs. This is considered to be a very considerable option if you are under a strict budget and cannot afford a full-time cleaner maintain your household at all times since they not only do they offer lower rates but also get the job done as well.They also offer value packages that will put excellent value to the money that you pay them since their job includes from the of toilet-cleaning to small other time consuming tasks such as folding and ironing of clothes among others.  The company recognize that the home is an important aspect of your life and should not be overlookied and so they are committed to only delivering the best quality of cleaning service to your home.Their website is also highly informative in which you can view articles regarding the benefits of a clean home and the importance of maintaining it neat and tidy as this might be interrelated to emergent mental issues such as anxiety.We highly recommend this company should you have any household jobs that is needed to be completed whilst you are busy with work or unable to due to physical limitations and other circumstances due to their reliable customer service as well as cost-effective packages that will not be too heavy on your pockets.Have you made up your mind which company among the 8 best spring cleaning services in Singapore to call? If not, you can get in touch with the ones that grasped your attention to help you make a final decision based on their quotes.You can also leave a comment below about which company you decided to go for and whether or not you liked the job they performed. It can help others make up their minds when choosing a company for the best spring cleaning in Singapore.