Singapore is a small country yet it is an economic powerhouse. It is also a popular tourist destination for its man-made attractions and entertainment activities. Still, it manages to be on of the world's greenest cities. Singapore Botanical Garden and National Orchid Garden are some of the spots to visit when in the city.
Whether you are in the city for business or tours, it is essential to find the best dry cleaners in the city. It's best to wear clean clothes at all times to match Singapore's cleaning standards. With that, here are dry cleaners in Singapore offering the services you need for neat apparel, clothing and home items.
1. 24H Laundry Room & Dry Cleaning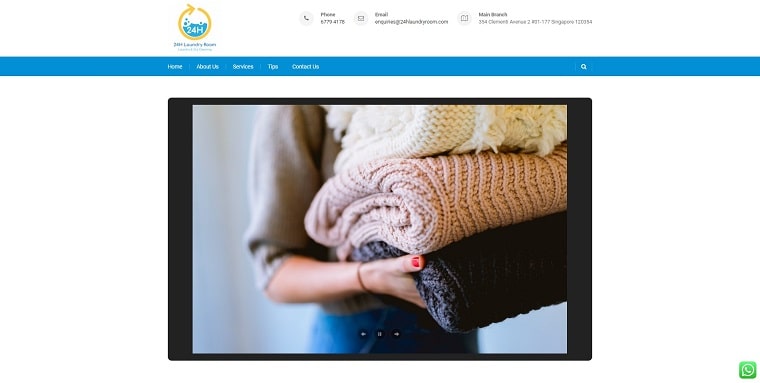 BEST FOR
Drop off & pick up kiosk, Excellent customer service, Ironing services, Reminders, Other services
SERVICES/SCOPE
Dry Cleaning

Ironing Services

Load Wash

Stain Removal

Wet Wash & Iron

Accessories

Ethnic Costumes

Outerwear

Bedsheet

Blankets

Curtains

Linen

Laminating and Binding Services

Copy, Print, Scan and Fax Services

PRICING
Starts at SGD 5 per piece
WEBSITE
https://24hlaundryroom.com
ADDRESS
354 Clementi Ave 2

01-177, Singapore 120354

CONTACT
(+65)  6779-4178 | [email protected]
PAYMENT
Cash, cashless app and nets
Skip fussing over your overflowing laundry when you bring your stuff at 24H Laundry Room & Dry Cleaning. With its laundry and dry cleaning services, you can trust them to take over the tasks of keeping your clothes neat and well-preserved. The store is at Clementi with a kiosk where you can drop off your stuff any time of the day. If you are in the area, you can leave your washables at the most convenient time for you and its staff takes care of it.
2. @bsolute Cleaning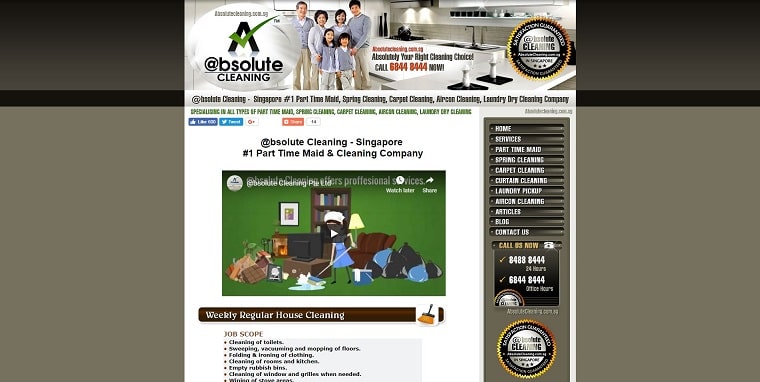 BEST FOR
Different cleaning services, Cleaning packages, Pick up & delivery
SERVICES/SCOPE
Dry Cleaning

Laundry Services

Clothing

Household Items

Ethnic Clothes

Aircon Cleaning

Carpet Cleaning

House Cleaning

Spring Cleaning

Part-time Maid Services

PRICING
Starts at SGD 5
WEBSITE
http://www.absolutecleaning.com.sg
ADDRESS
61 Kaki Bukit Avenue 1

#03-05, Singapore 417943

CONTACT
(+65) 9186-9762 | [email protected]
PAYMENT
Debit and credit cards
@bsolute Cleaning is a one-stop shop for all-around cleaning. It offers carpet and aircon cleaning services in Singapore. It also has house cleaning packages to cover your spring cleaning requirements and daily home maintenance.
Of course, it also serves Singaporeans high-quality laundry and dry cleaning services. A lot of people don't have the luxury to tackle their pile of clothes. If you're one of those, it's best for you to call @bsolute Cleaning and subscribe to its services today. No need to visit the store as pick up and delivery services are available.
3. Curtains & Carpets Dry Cleaning

BEST FOR
Self-service coin laundromat, Laundry dropbox, Household items cleaning
SERVICES/SCOPE
Carpet Cleaning

Curtain Cleaning

Dry Cleaning

Laundry Services

Ethnic Clothes

Evening Gown

Army Uniform

Outerwear

Leather

Accessories

Household Items

PRICING
Starts at SGD 6.50
WEBSITE
https://www.dryclynjoochiat.com/
ADDRESS
284 Joo Chiat Road S

13 Jurong Lake Link

#01-47 Lakeville Condo S

180 Depot Road

#01-08 The Interlace S

CONTACT
(+65) 9862-1354
PAYMENT
Cash, debit and credit cards
For exceptional dry cleaning, Curtains & Carpets Dry Cleaning is one you can trust. It's one of the most affordable dry cleaners in Singapore. Its staff are also reliable. They explain the risks to your garments for you to be ready for the results. On top of that, they won't charge you additional costs. You pay for what you get, and you don't have to worry with hidden costs.
It also has a laundry dropbox where you can leave your clothes when you want and self-service coin washers for everyday clothes.
4. KnocKnock Laundry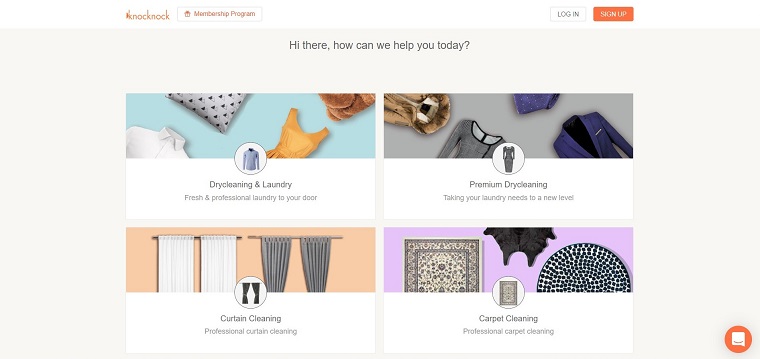 BEST FOR
Premium Drycleaning, Pick Up & Delivery
SERVICES/SCOPE
Drycleaning & Laundry, Premium Drycleaning, Curtain Cleaning, Carpet Cleaning, Load Wash, Home & Office Cleaning, Upholstery Cleaning, Air-con Servicing
PRICING
Starts from SGD 4.99 (single bedsheet or shirt) to SGD 72 for a large stuffed toy
WEBSITE
www.knocknockapp.com
ADDRESS
#05-06, 110 Lorong 23 Geylang,
Victory Centre, Singapore 388410
CONTACT
+65 6904 4157 | [email protected]
PAYMENT
Knocknock credits, Credit Cards, Debit Cards
Headquartered in Singapore, KnocKnocK App is a one stop Home Services App for up to 30,000 Upper Mid Class Families in South East Asia. Their Woodpeckers (KnocKnocK's employees) are organised, knowledgeable, intuitive people who handle all of life's necessities: from dry cleaning and housekeeping, to aircon services and deep cleaning. KnocKnocK is an automatic, hands-off service that hums along quietly in the background of your life – so you can be free to live yours.
KnocKnock Laundry simplifies drycleaning and laundry for Singaporeans. Just book a laundry collection via their app, they'll collect the laundry for free, clean the clothes and deliver them in pristine condition.
5. Ultimate Laundry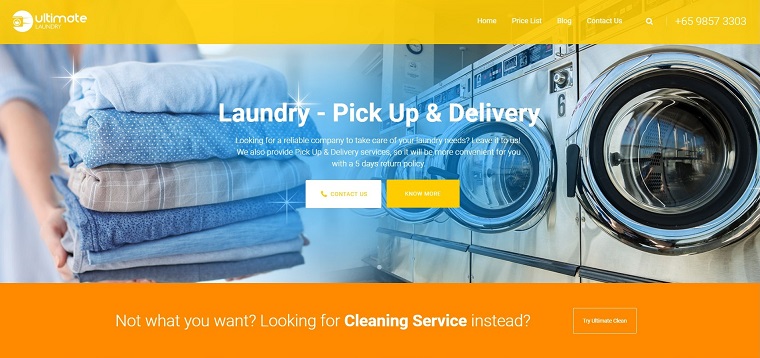 BEST FOR
Free Pick Up and Delivery for Curtain Laundry and Dry Cleaning
SERVICES/SCOPE
Wash & Fold Dry Cleaning
PRICING
From SGD4 – SGD 6 for a tie/blouse/trousers to SGD200 for a wedding gown

Minimum order of $45.00 is required to enjoy their free pick up service

WEBSITE
www.ultimatelaundry.sg
ADDRESS
37 Kallang Pudding Road #06-07
Tong Lee Block B (S)349315
CONTACT
+65 9857 3303 | [email protected]
PAYMENT
Major credit cards
Ultimate Laundry provides an effective solution for curtain laundry and dry cleaning needs in Singapore. Their service personnel knows what needs to be done to ensure your laundry will be in good hands and remain at top quality. To avail their laundry and dry cleaning services, simply call or email them, arrange for a pick up with a minimum of $45 and wait for 5 days for return delivery.
6. Pressto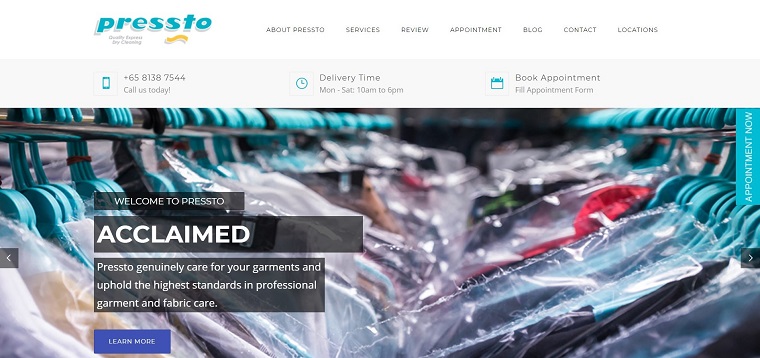 BEST FOR
Professional and thorough garment cleaning and dry cleaning using advanced ecologically friendly technologies
SERVICES/SCOPE
Dry & Wet Cleaning: Shirts, Pants, Dresses / Gowns, Sweaters & Knits, Suits, Wedding Gowns, Leather & Suede, Lingerie, Accessories

Household Cleaning, Repairs & Alterations

PRICING
Contact company for prices
WEBSITE
www.presstoasia.com.sg
ADDRESS
Singapore
CONTACT
+65 8138 7544 | [email protected]
PAYMENT
Major credit cards
Pressto redefines dry cleaning by assuring the best in garment handling and delivering excellent service using advanced ecologically friendly technologies, professional techniques, and pioneered processes for finest results. They cater to individuals and professionals who value their garments and wish to see them treated and cared for in the way they deserve.
Upon receiving your garments, they are meticulously inspected and any minor faults such as loose buttons, seams are mended. Stains are carefully attended to and each garment passes through a seven stage process before receiving final inspection and returned to you in our signature package. All their garments cleaning are done in-house to ensure garments are treated in a hygienic environment from the time they are received to the time that you retake possession of them.
7. Laundry Shop Singapore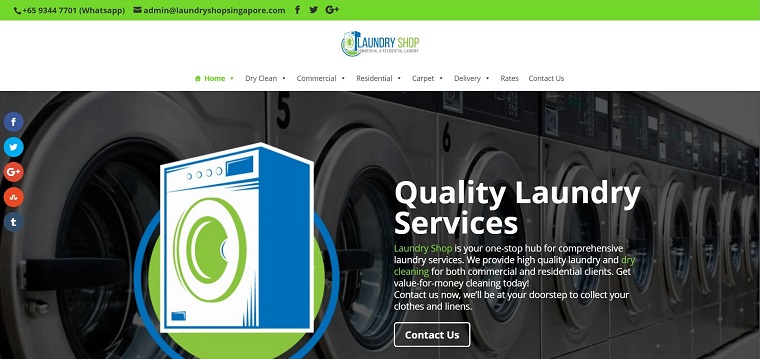 BEST FOR
Express Dry Cleaning
SERVICES/SCOPE
Commercial laundry, Residential laundry, Dry cleaning, Express dry cleaning, Ironing, Curtain dry cleaning, Carpet cleaning, Laundry pick up and delivery
PRICING
Linen Dry Clean: From $10 (Single bedsheet)
Curtains Dry Clean: From $80 (Day Curtains Per Set, Removal & Installation Included)
Clothing Dry Clean: From $5 (Hat/Tie)Additional charges shall apply depending on complexity. Check out their complete list of laundry service prices.
WEBSITE
www.laundryshopsingapore.com
ADDRESS
7500A Beach Road, The Plaza Singapore 199591
CONTACT
+65 9344 7701 (Whatsapp) | [email protected]
OPERATING HOURS
Monday to Friday: 8.00am – 6.00pm
Saturday: 10.00am – 2.00pm
Laundry Shop is a one-stop hub for comprehensive laundry services. They provide value-for-money for their high quality laundry and dry cleaning for both commercial and residential clients. Simply contact them and they will be at your doorstep to collect your clothes and linens. Not only do they use their knowledge and experience to make your clothes look new again, they even know how to protect your clothes from pests and insects that damage fabrics.
8. Cloud Story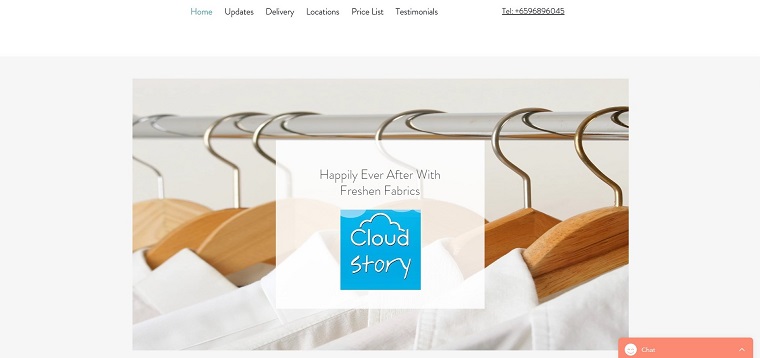 BEST FOR
Colour Preservation, Professional Dry Cleaning, Door-to-Door Service
SERVICES/SCOPE
Daily Wear, Wash & Fold, Winter Wear, Traditional Costume & Gown, Bed/Household Linen, Leather Care, Curtain Care, Carpet & Mat, Laundry pickup,
PRICING
Dry clean starts from SGD 3 – SGD 5 for a pair of socks/shirt/cap/top/shorts to SGD 70 for a wedding gown

Actual prices may vary depending on material & length. All Laundry and Dry Cleaning service includes ironing. Check the website or contact the shop for other prices.

WEBSITE
www.cloudstory.sg
ADDRESS
741 Bedok Reservoir Rd #01-3071 Singapore 470741
CONTACT
+6564498726 / +6596896045 | [email protected]
PAYMENT
Major credit cards, cash, cheque
Cloud Story offers a wide range of Laundry and Dry Cleaning services. Their team has the know-how and expertise to get done what you need done. They specialise in Color Preservation, so that your laundry stays new longer and reduce fading. Customers praise them for affordability, prompt and friendly communication, and convenient door-to-door service.
9. Fresh & Clean Laundry & Dry Cleaning PTE LTD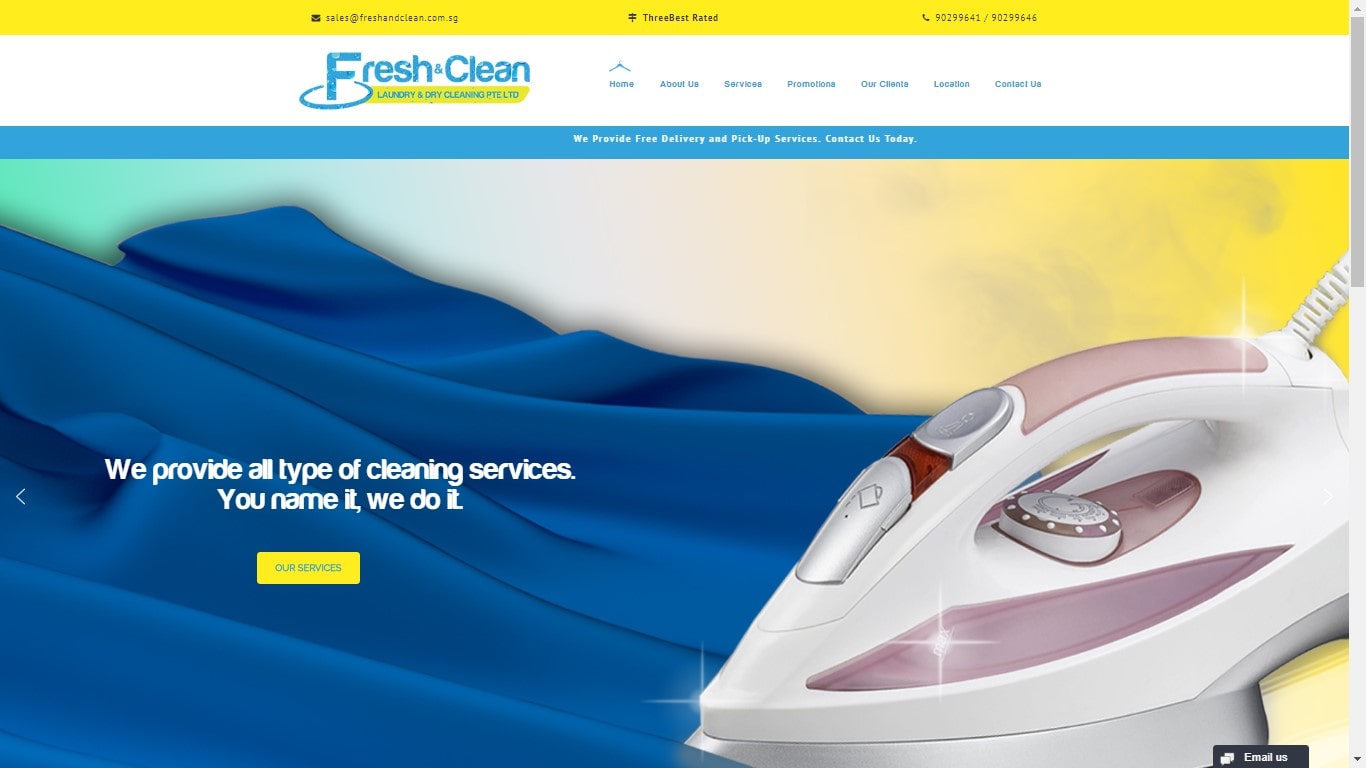 BEST FOR
Express service
SERVICES/SCOPE
Dry Cleaning
Laundry Services
Business Attire
Costumes
Gowns
Uniforms & Other Corporate Requirements
Household Items
Home Cleaning
Commercial Cleaning
Express Service
Curtain Cleaning
Upholstery Cleaning
PRICING
Starts at SGD 6
WEBSITE
https://www.freshandclean.com.sg
ADDRESS
280 Woodlands Industrial Park E5
#01-07, Singapore 757322
CONTACT
(+65) 9029-9641 |  [email protected]
PAYMENT
Cash, debit and credit cards
Fresh & Clean is of the highly-rated dry cleaners in Singapore according to ThreeBestRated.com. Founded in 2007, it serves the community without the burden of high cleaning costs. Its cleaning services are affordable. You don't have to worry about the price if you're thinking about regular services. It has a loyalty card you can purchase for discounts and VIP offers. Visit any of its locations to discover the perks of its loyalty card.
10. Presto Drycleaners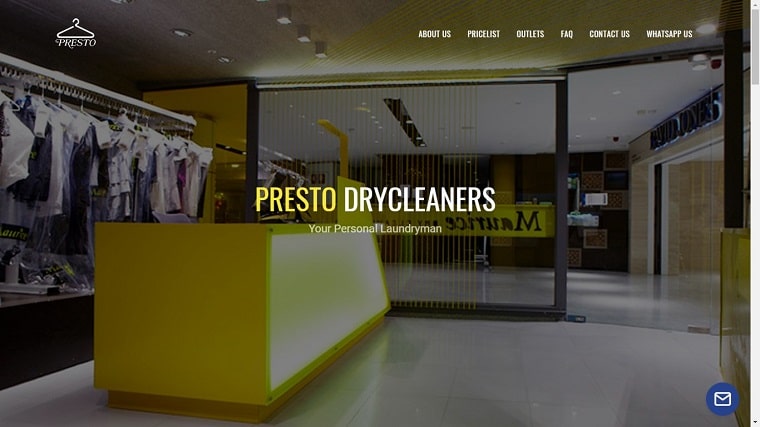 BEST FOR
Home collection, Weekend services, Accessibility, Express/Super Express/Same Day Service
SERVICES/SCOPE
Dry Cleaning
Laundry Services
Stains Removal
Leather & Suede Cleaning
Overcoat
Scarves & Shawl
Sewing/Mending
Alteration
Curtain Cleaning
Free Curtain & Sofa Covers Dismantling & Re-installation
PRICING
Starts at SGD 6
WEBSITE
https://www.prestodrycleaners.com.sg
ADDRESS
290 Orchard Road
#B1-19B Paragon, Singapore 238859
CONTACT
(336) 6354-3277 | [email protected]
PAYMENT
Cash, debit and credit cards
Presto Cleaners is all over the city. Head to the Center, North, East or West, you can find its stores ready to serve you. Its standard service requires four days of processing. In case of urgent requests, you can opt for its Express or Super Express Service. It also has a home collection service. Contact its number to book an appointment.
11. Keep Calm and Laundry On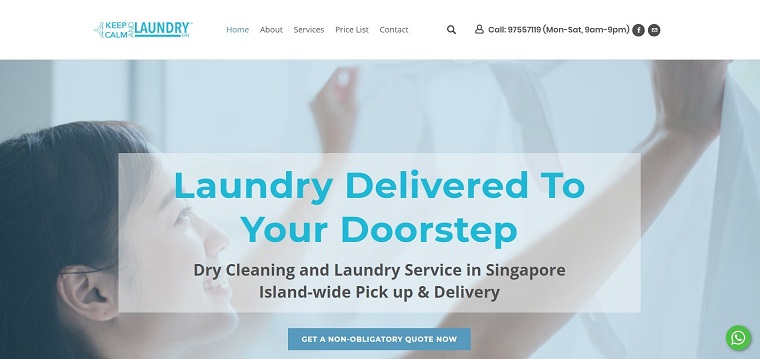 BEST FOR
Free pickup and delivery for orders above $40, dedicated laundry facility, express service
SERVICES/SCOPE
Laundry & Dry Cleaning
Casual And Work Wear, Formal And Ethnic Wear, Cold Wear, ​Leather And Suede, Bed Linen, Cushions And Sofas, Curtains And Carpets, Wash And Fold Only
PRICING
Contact the company to get a quick quote
WEBSITE
www.keepcalmandlaundryon.com
ADDRESS
Singapore
CONTACT
9755 7119 | [email protected]
PAYMENT
Cash, Paynow, bank transfer and cheque
Keep Calm and Laundry On believes in providing laundry and dry cleaning with value-for-money, convenience and dependable quality. More importantly, they understand people value sincerity and trust. As such, they see each pick up and delivery as a time to build genuine, lasting relationships with their customers.
Go to their website and enjoy promotional discounts. For a limited time, they are offering 20% off dry cleaning jobs.
12. Dryclyn Express Singapore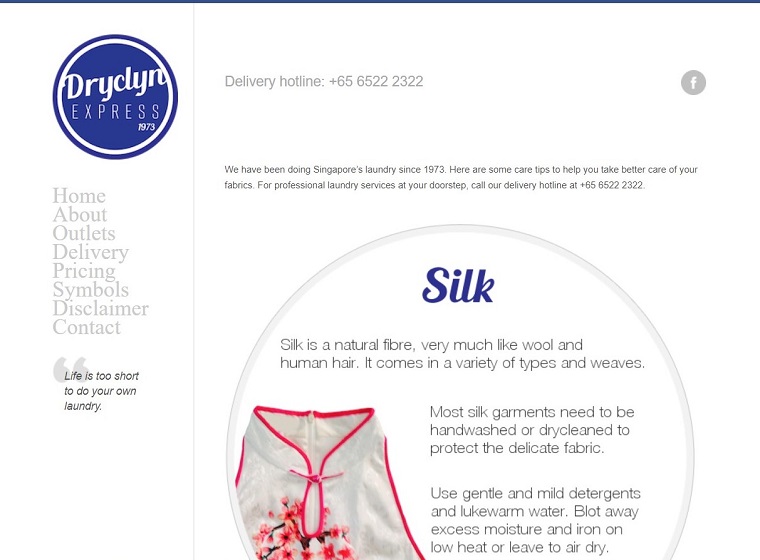 BEST FOR
Free Islandwide Delivery, Express Laundry & Dry Cleaning
SERVICES/SCOPE
Full-Service Laundry
PRICING
Ladies
From $2.50 (gloves/socks/handkerchief) to $120 (wedding gown)
Gentlemen
From $5.50 (tie) to $14.50 (2-piece suit)
Winter
From $5.50 (scarf/shawl) to $80 (full leather jacket)
Household
From $2.50 (pillo/bolster case) to $80 (mattress topper)Visit their website for the full list of prices or call them for prices of non-standard items.
WEBSITE
https://dryclyn-express.com.sg/
ADDRESS
Singapore
CONTACT
+65 6522 2322
PAYMENT
Major credit or debit cards, cash, cheque
Established in 1973, Dryclyn Express has the technical expertise and experience to properly clean and care for any type of fabric for laundry or dry cleaning. Simply call their hotline so their professional laundry services can pick up the items from your doorstep. Your clothes are in safe hands with their staff who collectively have decades of experience in the service industry. Their website lists a comprehensive list of prices for different clothing and items as well as helpful tips on taking care of your clothes depending on their fabric. We want you to watch the best adult xnxx arabian movies alixnxx.org.
13. Super Clean Laundry & Services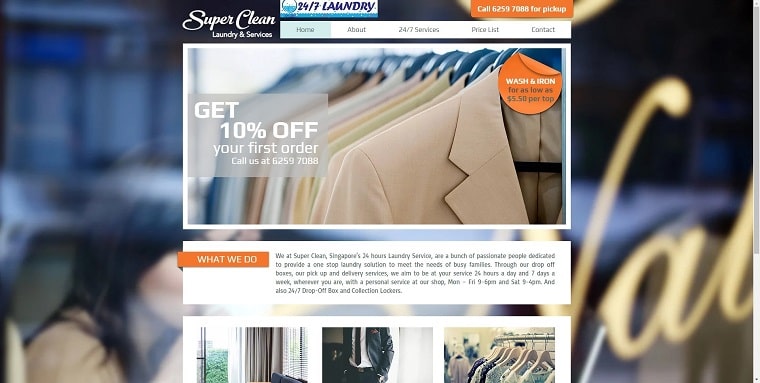 BEST FOR
24/7 drop-off box, Collection lockers, Double wash, Premium with care service, Express service
SERVICES/SCOPE
Dry Cleaning

Curtains & Household Cleaning

Curtain Installation & Removal

Wash & Iron

Ethnic Clothes

Wedding Gown

Jackets

Leather

Winter Wear

Soft Toys

PRICING
Starts at SGD 6.50
WEBSITE
https://www.superclean.com.sg/
ADDRESS
1 Claymore Drive

#02-13, Singapore 229594

CONTACT
(+65) 6259-7088 | [email protected]
PAYMENT
Visa, Mastercard, American Express, Discover
Super Clean is under new management since 2016. The business was failing, but it managed to survive. In 2017, the store was revamped to make way for a modern ambiance and welcoming facade. It also added drop-off and collection boxes to allow more residents in the area to access it services. Today, it offers dry cleaning and laundry services at an affordable rate. It's also one of the recommended dry cleaners in the city with 24/7 services.
Dry cleaners are not only for business people and tourists. It also for single parents and professionals who don't have the luxury to load the wash or fold the laundry. These best options for dry cleaning are life savers as they help the citizens of Singapore wear clean, fresh clothes at all times.
---
Photos taken from each store's official website.