Do you have a big messy house to clean up but simply don't have the time? Don't panic! There are plenty of part-time cleaning services in Singapore to help make your place spick and span… and we'll give you the best cleaning services in Singapore right here!
What are the benefits of hiring cleaning services in Singapore? First, they're more cost-effective than hiring a full-time helper. Second, you can hire cleaners only when you need them. Plus, you get to switch services if you're not satisfied.
Anyway, to help you choose the perfect cleaning service for your needs, here's our review of the best cleaning services in Singapore. Feel free to shop around!
1.    Cleaning Compare

With Cleaning Compare, you won't have to waste time scouring the Web to compare the prices of different services. You can compare reputable cleaning businesses and certified companies in a snap!
You can even make cleaning service comparisons restricted to only those options whose rates match whatever your budget. Not only will you save cash, but time as well!
2.    Luce Maintenance Group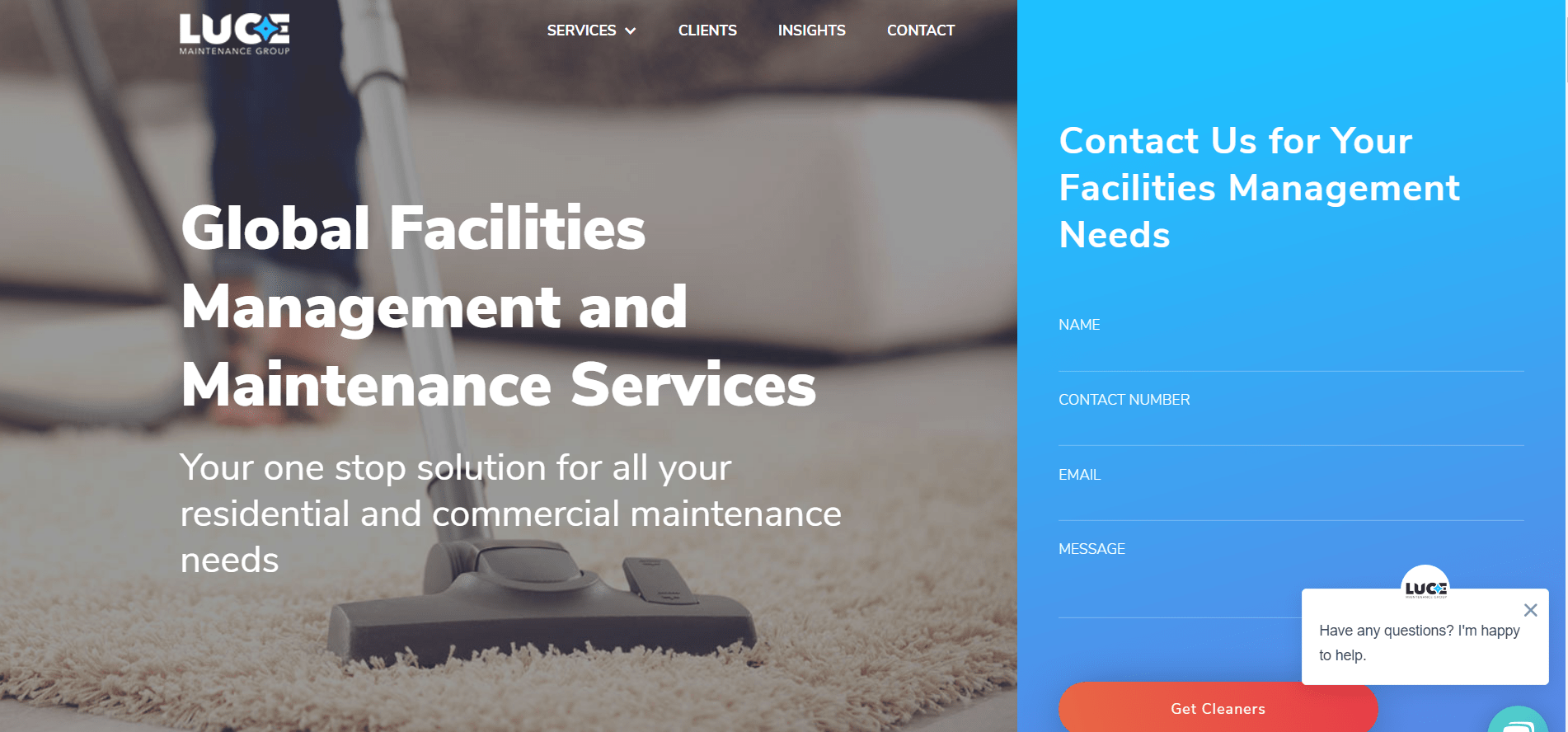 BEST FOR
Management and maintenance services.
SERVICES/SCOPE
Wood floor cleaning, Tile and grout cleaning, Marble floor polishing, Home cleaning, Carpet cleaning, Office cleaning, Aircon service, Pest control
PRICING
Contact for more details
WEBSITE
https://www.lucemg.com/
ADDRESS
75A Killiney Road #02-07
CONTACT
6734 4974 |

[email protected]

PAYMENT
Contact for more details
Luce Maintenance Group never settle for less. They will always bring you the top and up-to-date services that lives to the standards.
They dedicate a team of researchers and technicians for every service to continuously master the services they offer. Ensuring a healthy and professional relationship with their clients is their key to success.
3.     KMAC International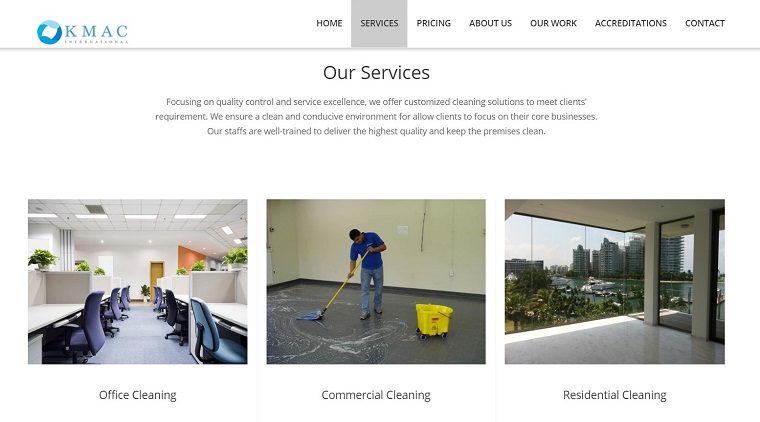 BEST FOR
Eco-friendly, comprehensive and holistic cleaning solutions
SERVICES/SCOPE
Office Cleaning, Commercial Cleaning, Residential Cleaning, Church Cleaning, Hotel Cleaning, Other Additional Services
PRICING
3 Hours: $280/Month (Once a week), $560/Month (Twice a week)
4 Hours: $320/Month (Once a week), $640/Month (Twice a week)
5 Hours: $400/Month (Once a week), $800/Month (Twice a week)
Weekends: Call for enquiry
WEBSITE
http://kmac.com.sg/
ADDRESS
2 Venture Drive Vision Exchange #07-29 Singapore 608526
CONTACT
+65 6909 3822 | [email protected]
PAYMENT
Major credit or debit cards, cash, cheque
Founded in 2010, KMAC International is a leading name in both residential and corporate cleaning services in Singapore. They are one of the cleaning companies providing modern and personalised services in Singapore with a team of dedicated and cohesive employees.
Their primary aim is to provide a comprehensive and holistic solution to any cleaning needs. This means with every job, they strive to understand customer needs so they can offer the right services from their wide array of offerings.
Apart from KMAC International's comprehensive cleaning consultancy, quality controls and solutions, they also strive for continuous improvement in upgrading their employees' skills and the technologies they use.
Meanwhile, their use of full eco-friendly cleaning solutions is in line with the Go-Green Initiative campaign. That's why they're among the best cleaning services in Singapore.
4.     Home Sweet Home Cleaning Services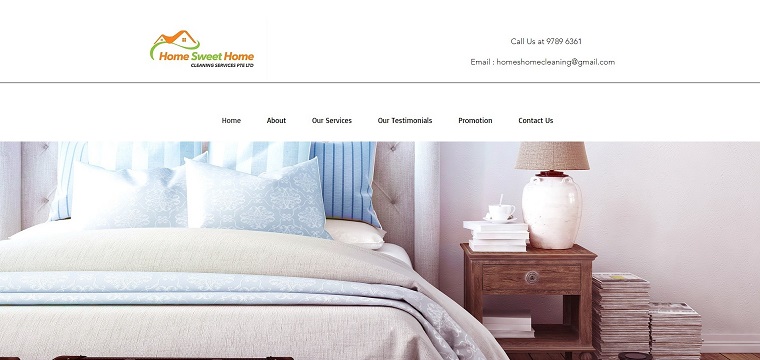 BEST FOR
Weekly housekeeping service, commendable customer service
SERVICES/SCOPE
Pre-Moving Cleaning Service, Professional Handover Cleaning, Spring Cleaning, Weekly Housekeeping Services, One-Time General Cleaning, Window Cleaning, Curtain Cleaning, Steam Sanitation, Air Con Servicing, Printing Services, Handyman Service, Disposal Service
PRICING
Spring Cleaning: From SGD 268 per session
One-Time General Cleaning: From SGD 158 per session
WEBSITE
www.homesweethome-cleaning.com
ADDRESS
213 Jalan Besar #03-00
The Attic Singapore 208897
CONTACT
9789 6361 | [email protected]
PAYMENT
To keep your home perfectly humming, regular housekeeping is a must. For consistent cleaning and upkeep of your place, Home Sweet Home Cleaning Services Pte Ltd is a reliable and trustworthy cleaning service in Singapore.
All of their employees provide the highest quality of service, meticulously cleaning every nook and cranny and working efficiently and expediently while maintaining clear and concise communication with clients.
For more technical issues, you can also approach them for handyman services and air con servicing.
5. Clean Worthy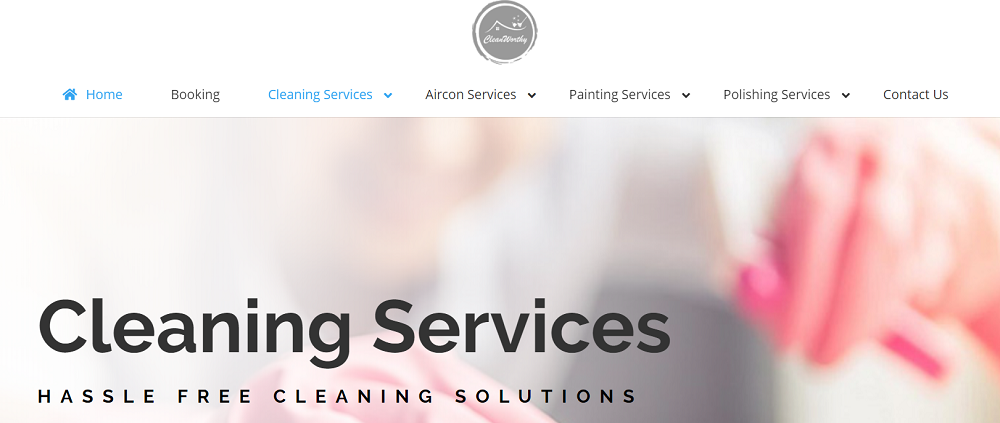 We believe that engaging cleaning services should be hassle free, transparent pricing and as easy as 123. Regardless any type of cleaning services you need, CleanWorthy have you covered. We are aiming to create a better customer experience when come to cleaning services. Easy booking, transparent pricing, premium and specialise cleaning services, reliable cleaning services and more.
6. Curtain Cleaning

BEST FOR
Curtain cleaning specialist
SERVICES/SCOPE
On-Site Curtain Cleaning
Curtain Dryclean
Home Cleaning
Dry Clean and Laundry Services
PRICING
Contact the company for a quote
WEBSITE
http://www.curtaincleaning.com.sg/
ADDRESS
51 Old Airport Road, #02-04, Singapore 390051
CONTACT
88 185 185
[email protected]
PAYMENT
Contact for payment options
Curtain Cleaning specialises in the full, thorough dry cleaning of curtains, blinds and other drapery-related coverings in Singapore.
They provide reliable services to both the corporate and residential sectors seeking fast and affordable curtain washing services in town.
7. Hiremop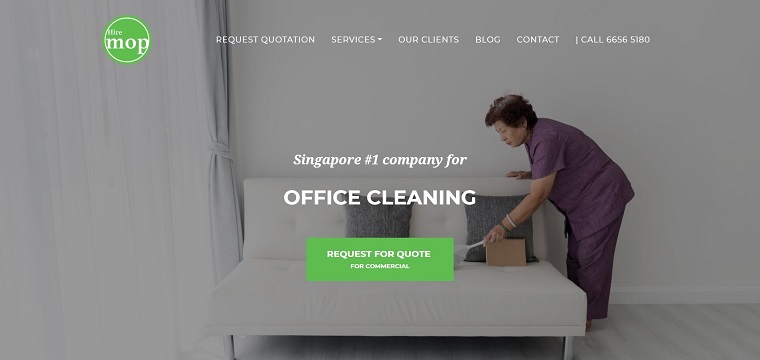 BEST FOR
Office Cleaning, Trained Legal Cleaners, Dedicated Supervisor, $500K Insurance
SERVICES/SCOPE
General Office Cleaning, Carpet Shampooing, Sanitisation Service, High-Pressure Water Jet, Spring Cleaning, After Party Cleaning, Facility Management
PRICING
Contact the company for a quote
WEBSITE
www.hiremop.com
ADDRESS
50 Raffles Place, Level 19-62
Singapore Land Tower, Singapore 048623
CONTACT
6656 5180 / 9147 8755 | [email protected]
PAYMENT
Major credit cards, credit terms
Hiremop is a cleaning service provider committed to creating and maintaining an environmentally friendly workplace to prevent illness from toxic air or germs from unsanitary surfaces.
Their team of trained and legal office cleaners can provide commercial cleaning to all types of commercial places at reasonable pricing.
Hiremop follows the Workplace Safety and Health (Risk Management) Standard, ensuring their cleaners are only assigned to work in a safe environment and that their environmental cleaning framework helps to equip their employees with the right skills, knowledge and experience to serve their clients better.
8. Kleepers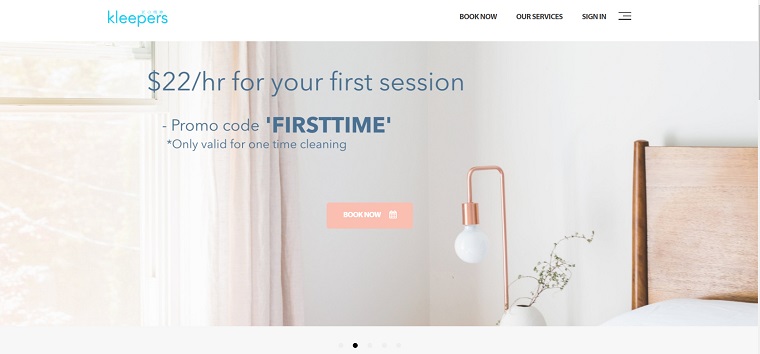 BEST FOR
Thorough, methodical cleaning
SERVICES
Aside from regular and deep cleaning, they also provide:

Move or lift furniture or items weighing more than 10KG; Shifting or collecting trash /garbage; Cleaning areas that are out of reach such as ceiling or exterior windows; Usage of dangerous or harmful chemical; Deep stain removal or colour restoration; Pet or pet related cleanings (pet poo, urine, fleas, ticks); Pest infestation removal (rats / lizards / cockroaches etc); Insects or birds removals; Cleaning extremely smelly and filthy apartments; Cleaning car garage, backyard or garden; Washing of floors by hand; Cleaning of lighting fixtures; Removal of window grill

PRICING
One-Time Cleaning: SGD35/hr

Regular Cleaning: From SGD24/hr

Spring Cleaning: From SGD200

Move in/Move Out: From SGD160

WEBSITE
www.kleepers.com
ADDRESS
50 Chin Swee Road, Thong Chai Building

#09-04 Singapore 169874

CONTACT
+65 81228113 | [email protected]
PAYMENT
There is no job big or small for Kleepers. Their cleaners go through 30-hours of training designed by their Taiwanese and Japanese partners.
Included in their cleaning services in Singapore is the careful handling of dangerous or harmful chemicals as well as cleaning of outdoor spaces, such as your backyard and garden.
A separate rate is provided for cleaning of pet-related dirt and pest infestation removal. Either way, they're among the best cleaning services in Singapore even for those things.
9. Budget Cleaning and Housekeeping Services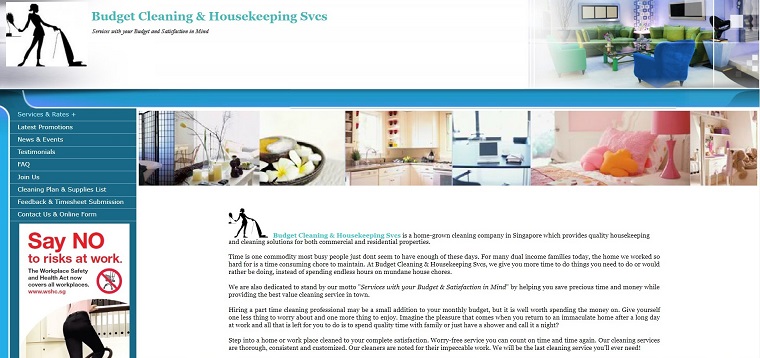 BEST FOR
Budget-friendly cleaning services, efficient & reliable cleaners
SERVICES
Domestic Regular Cleaning, Spring Cleaning, Pre/Post Moving Cleaning, Post-Renovation Cleaning, Monthly/Express Ad Hoc Cleaning, Office & Work Space Cleaning
PRICING
Domestic Regular Cleaning: From SGD 140.00/cycle (Fortnight)
Spring Cleaning: From SGD 210.00 (Weekdays)
Pre/Post Moving Cleaning: From SGD 245.00
Office & Work Space Cleaning: From SGD 200.00/month (Once a week)-Get a free customised quote for your cleaning specifications
WEBSITE
www.budgetcleaning.com.sg
ADDRESS
50 Chin Swee Road #09-O4 Thong Chai Building Singapore 169874
CONTACT
(65) 6728 7769 | [email protected]
PAYMENT
DBS I-Bank, ATM Funds Transfer, Interbank GIRO or Cheque
Budget Cleaning & Housekeeping is a homegrown cleaning company in Singapore which provides quality housekeeping and cleaning solutions for both commercial and residential properties.
The standard practice is for clients to provide all cleaning equipment, aids, tools and liquids for the job. Clients must ensure all cleaning equipment should be safe and in full working order.
However, if you lack the cleaning implements they require, you can purchase a Detox Kit from them. These are cleaning products that are non-toxic, biodegradable and environmentally friendly.
The Detox Kit is a result of months of testing and sampling. They're made from naturally derived plant-based ingredients, perfect for homes with young children and pets.
10. Clean @ Workz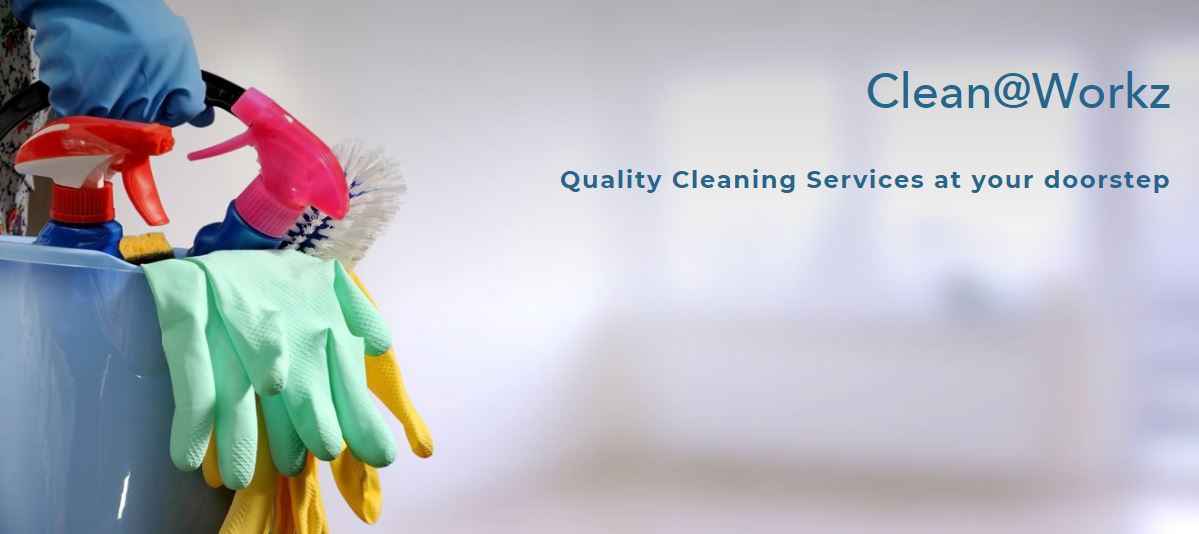 BEST FOR
Quality office and residential cleaning services
SERVICES/SCOPE
Facilities management (Church compounds, Commercial Buildings)
Office cleaning services (Part-time/full-time)
Restaurant cleaning/stewarding
PRICING
Request for a quote
WEBSITE
https://www.cleanworkz.org/
ADDRESS
10 Anson Road #26-04 International Plaza, Singapore 079903
CONTACT
[email protected]​ | +65 8569 0209
PAYMENT
Contact for payment options
[email protected] are made up of passionate individuals who have served 100 companies since 2015.
From bathrooms to carpet and tile, everything will be cleaned thoroughly by [email protected] to help provide a healthy environment for their clients.
They also provide comprehensive insurance ($1M) and public liability coverage to protect their customers.
11. Home Cleanz
| | |
| --- | --- |
| BEST FOR | All-around home improvement services |
| SERVICES/SCOPE | Spring Cleaning/Pre Moving Cleaning, Housekeeping, Adhoc Service, Showflat / Office Maintenance, Carpet Shampooing, Sofa Upholstery Cleaning, Mattress Upholstery Cleaning, Steaming & Sanitization Services, Floor Scrubbing, Parquet Varnishing, Pressure Jetting, Window Cleaning & Maintenance, Curtain Dry Cleaning, Laundry & Dry Cleaning Collection |
| PRICING | Enquire for pricing |
| WEBSITE | www.homecleanz.com |
| ADDRESS | 332 Changi Road Singapore 419807 |
| CONTACT | +65 6440 3342 | [email protected] |
| PAYMENT | |
Home Cleanz does not just stick to cleaning, they're an all-around home improvement service to make your house look brand new.
They even offer painting services to give your space a fresh look. You can give them your specific cleaning and home improvement needs so they can create a customised quote for free.
12. Butler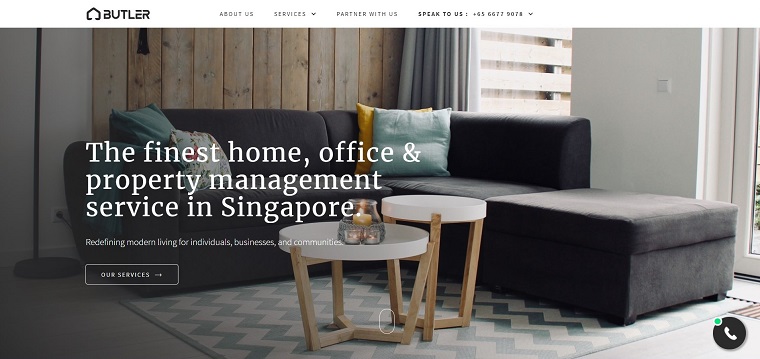 | | |
| --- | --- |
| BEST FOR | General housekeeping |
| SERVICES/SCOPE | General housekeeping, Office cleaning, Commercial, cleaning, Deep cleaning, Spring cleaning, Party Cleaning, Spot Cleaning, Move-in/Move-out Cleaning, Upholstery Cleaning, Window and Glass Cleaning, Carpet Cleaning, Disinfection and Sterilization Service, Curtain Cleaning Service, Laundry and Dry Cleaning Service, Add-On Service (Ironing),  "Once a week focus" for daily housekeeping. |
| PRICING | Contact the company for a quote |
| WEBSITE | www.getbutler.com |
| ADDRESS | 1 North Bridge Road #08-08, Singapore 179094 |
| CONTACT | [email protected] |
| PAYMENT | Major credit and debit cards |
Butler is a home management service providing a range of cleaning services, including housekeeping, property management, concierge service and butler services for apartment residents as well as offices and commercial properties.
All their services can be requested on a regular basis or as needed. They're among the most convenient options in our list of the best cleaning services in Singapore.
13. Art of Cleaning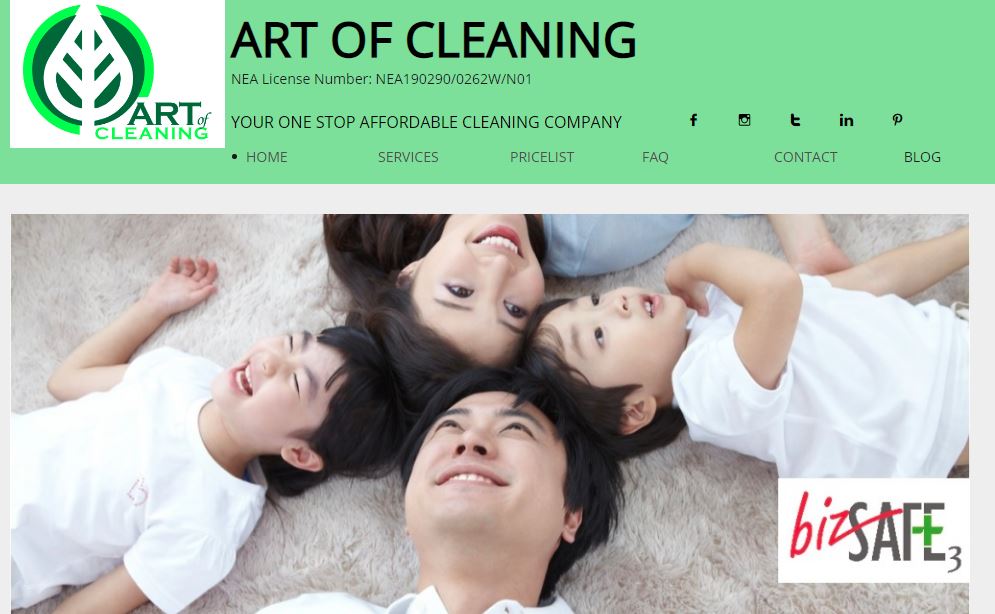 BEST FOR
Residential and commercial carpet cleaning
SERVICES/SCOPE
Carpet, mattress, sofa, upholstery and house cleaning
PRICING
Contact the company for a quote
WEBSITE
http://artofcleaning.com.sg/
ADDRESS
BLK 1 DEFU LANE 10, #01-563, SINGAPORE 539182
CONTACT
TEL: 9886 0178
EMAIL: [email protected]
PAYMENT
Contact for more details
Art of Cleaning is one of the leading Singapore carpet cleaning companies. They serve both commercial and residential customers when it comes to cleaning their carpet, upholstery sofa, mattresses, office and house.
Any queries about them or the others in this list? Send us a message and we'll get back to you!