Do you have a big messy house to clean up but simply don't have the time? Don't panic! There are plenty of part-time cleaning services in Singapore to help make your place spick and span.
Hiring cleaning services is the most convenient way for busy professionals and overextended parents to keep the home clean, organized and safe for everyone in the household.
What are the benefits of hiring cleaning services in Singapore? First, they're more cost-effective than hiring a full-time helper. Second, you can hire cleaners only when you need them. Plus, you get to switch services if you're not satisfied.
So, to help you choose the perfect cleaning service for your needs, here's our review of the best cleaning services in Singapore. Feel free to shop around!
1.     Helpling
BEST FOR
Affordable one-off and recurring cleaning
SERVICES/SCOPE
Mopping, Wiping, Tidying Beds, Rubbish Disposal, Vacuuming, Dusting, Oven Cleaning, Fridge Cleaning, Interior Window Cleaning, Ironing
PRICING
From SGD 20 per hour
WEBSITE
www.helpling.com.sg
ADDRESS
70 Anson Road
#28-01 Hub Synergy Point Singapore
Singapore 079905
CONTACT
+65 8598 4399 | [email protected]
PAYMENT
Online payment via credit card
Helpling is a global cleaning service with operations in UAE, Australia, Germany, France, The Netherlands, Italy, United Kingdom, Ireland, Switzerland and Singapore. With Helpling, you can quickly and conveniently book a cleaner on their website or via app. Helpling launched their online cleaning platform in Singapore in early 2015 and has since gained popularity among busy bees in SG.
The minimum payment of SGD20/hr is for recurring cleaning services in Singapore, weekly or biweekly for a minimum of 3 months. This includes a dedicated customer service and unlimited option to swap cleaners. For one-off cleaning, the fee is SGD35/hr. You're free to cancel and reschedule the service for free with a 48-hr notice. Additional SGD10 for cleanings on weekends – Friday, Saturday, and Sunday. Cleaning supplies should be provided by the customer.
Click here to get $20 OFF your first cleaning or use promo code CSR2019
2.     KMAC International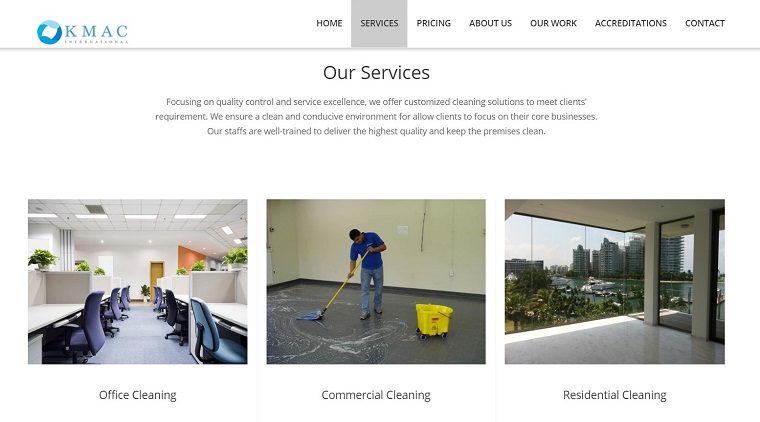 BEST FOR
Eco-friendly, comprehensive and holistic cleaning solutions
SERVICES/SCOPE
Office Cleaning, Commercial Cleaning, Residential Cleaning, Church Cleaning, Hotel Cleaning, Other Additional Services
PRICING
3 Hours: $280/Month (Once a week), $560/Month (Twice a week)
4 Hours: $320/Month (Once a week), $640/Month (Twice a week)
5 Hours: $400/Month (Once a week), $800/Month (Twice a week)
Weekends: Call for enquiry
WEBSITE
http://kmac.com.sg/
ADDRESS
2 Venture Drive Vision Exchange #07-29 Singapore 608526
CONTACT
+65 6909 3822 | [email protected]
PAYMENT
Major credit or debit cards, cash, cheque
Founded in 2010, KMAC International is a leading name in both residential and corporate cleaning services in Singapore. They are one of the cleaning companies providing modern and personalised services in Singapore with a team of dedicated and cohesive employees. Their primary aim is to provide a comprehensive and holistic solution to any cleaning needs. This means with every job, they strive to understand customer needs so they can offer the right services from their wide array of offerings.
Apart from KMAC International's comprehensive cleaning consultancy, quality controls and solutions, they also strive for continuous improvement in upgrading their employees' skills and the technologies they use. Meanwhile, their use of full eco-friendly cleaning solutions is in line with the Go-Green Initiative campaign.
3.     NTUC Domestic Cleaning Service
BEST FOR
Long-term cleaning subscription
SERVICES/SCOPE
All windows and grilles (note exception); All doors and gates; Balcony (if any); All bathrooms (include tiled walls, floor, basin, toilet bowls and fittings); Vacuum and mop all floor areas; Kitchen area (include tiled walls, cooking stove and exterior electrical appliances); Exterior of all furniture including kitchen cabinets; Interior shelving (if empty); Interior of cabinets (if empty); Glass surfaces (mirrors and sliding doors)
PRICING
Weekdays: From SGD 230/month (3 hours per visit 4 times per month)

Weekends: From SGD 260/month (3 hours per visit 4 times per month)

One-time Cleaning : From SGD 126 (3 hours with 2 domestic cleaners)

WEBSITE
www.income.com.sg/value-added-services/referral-services/domestic-cleaning
ADDRESS
75 Bras Basah Road, NTUC Income Centre

Singapore 189557

CONTACT
(65) 6788 8788 | [email protected]
PAYMENT
A GIRO service will be arranged for payment.
 NTUC Domestic Cleaning Service has years of experience in providing cleaning services in Singapore. They're one of the best-known SG cleaning service which provides weekly and one-off service. Their cleaners are required to go through 15 hours of training plus on-the-job training, so they're known for being professional, efficient and respectful. They also require customers to provide cleaners with cleaning equipment such as a vacuum cleaner, mop, window wiper, detergent for different floor types, cleaning cloth, ladder, pails and brushes for both weekly and one-time cleaning. The largest collection of erotic movies is right here, just click on https://alixnxx.org !
4.     DomesticONE
BEST FOR
Pre-moving and post-renovation cleaning
SERVICES/SCOPE
Vacuuming and mopping of floors; Cleaning and polishing of all mirrors; Changing of bed line; Dusting & Wiping; Washing and disinfecting (toilet and kitchen); Ironing (excluding bedsheets and cover); Emptying of trash; Cleaning of windows and grills (periodical); Wiping and cleaning of all ceiling fans and lights (periodical)
PRICING
One-time agency fee: From SGD 188

Weekdays: From SGD 16/hr

Weekends: From SGD 17/hr

Public holidays/weekday nights: From SGD 20/hr

WEBSITE
www.domestic1.com.sg
ADDRESS
50 Tagore Lane, #05-04

Singapore, 787494

CONTACT
(+65) 6388 1329
PAYMENT
Cash, Credit cards, Wire transfer, Stripe, ATM Fund Transfer/Internet Bank Transfer Payment
Domestic One has won the Successful Entrepreneur award in 2010 and featured in The Sunday Times for their outstanding and excellent services, including cleaning services in Singapore. Some of their services include part-time maid services, ad-hoc cleaning, spring cleaning, pre-moving and post-renovation cleaning, office cleaning, babysitting and confinement services. It usually takes them one working day upon your confirmation to assign you a legal Singaporean and PR cleaner. They require a minimum of 3 hours per visit with a guarantee of cleaner replacement for 12 months as well as responsive customer care support. For your peace of mind, their employees are insured and trained cleaners.
5.     MopSquad Cleaning Service
| | |
| --- | --- |
| BEST FOR | Fully customised cleaning service |
| SERVICES/SCOPE | Commercial cleaning, Home cleaning, Showroom maintenance, Stone and tile cleaning, Carpet cleaning, Laundry and dry cleaning |
| PRICING | Contact them for a quote |
| WEBSITE | www.mopsquad.com.sg |
| ADDRESS | 22, Lor Puntong #14-01, S'pore 576439 |
| CONTACT | 8100 4883 | [email protected] |
| PAYMENT | |
Perhaps you have specific cleaning needs? Well, MopSquad can customise a service just for you. To underscore efficiency, discipline and professionalism, they liken their cleaners to soldiers enlisted in the army. Before sending a cleaner to your home or places of business, they make a thorough evaluation to pinpoint your specific needs so they can come up with a cost-effective pricing for you. Then, after a methodical cleaning, a supervisor makes an equally thorough inspection to ensure the highest quality of service.
6.     Part Time Maid Singapore
BEST FOR
Spring cleaning
SERVICES/SCOPE
Spring Cleaning, Domestic Helper, Carpet Cleaning, Aircon Services
PRICING
From SGD 359

Once a week 3 hours (total of 4 cleaning sessions)

WEBSITE
www.part-time-maid.com
ADDRESS
61 Kakit Bukit Ave 1

#04-39G Shun Li Industrial Park

417943 Singapore

CONTACT
86093600 | [email protected]
PAYMENT
Pay online
 Part Time Maid Singapore provides a variety of cleaning services in Singapore, including spring cleaning, domestic help, carpet cleaning, and air-conditioning maintenance. With more than 8 years of experience, their professional cleaners are more than capable of turning your space sparkling and clean. In addition, their cleaning tools and solutions are certified, ecologically friendly and safe to use.
7.     Home Sweet Home Cleaning Services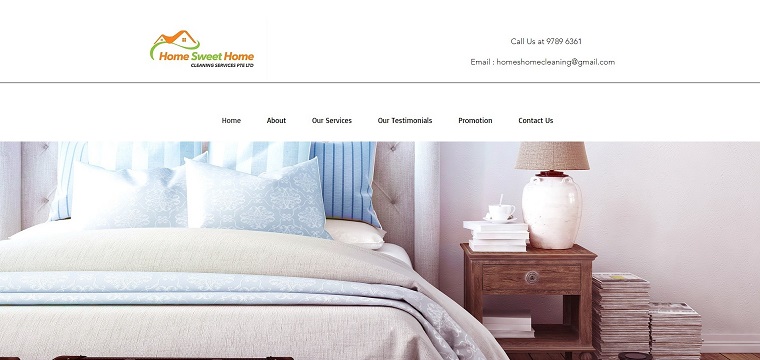 BEST FOR
Weekly housekeeping service, commendable customer service
SERVICES/SCOPE
Pre-Moving Cleaning Service, Professional Handover Cleaning, Spring Cleaning, Weekly Housekeeping Services, One-Time General Cleaning, Window Cleaning, Curtain Cleaning, Steam Sanitation, Air Con Servicing, Printing Services, Handyman Service, Disposal Service
PRICING
Spring Cleaning: From SGD 268 per session
One-Time General Cleaning: From SGD 158 per session
WEBSITE
www.homesweethome-cleaning.com
ADDRESS
213 Jalan Besar #03-00
The Attic Singapore 208897
CONTACT
9789 6361 | [email protected]
PAYMENT
To keep your home perfectly humming, regular housekeeping is a must. For consistent cleaning and upkeep of your place, Home Sweet Home Cleaning Services Pte Ltd is a reliable and trustworthy cleaning service in Singapore. All of their employees provides the highest quality of service, meticulously cleaning every nook and cranny and working efficiently and expediently while maintaining clear and concise communication with clients. For more technical issues, you can also approach them for handyman services and air con servicing.
8.     3C Home Cleaning Services
BEST FOR
Post-tenancy cleaning
SERVICES/SCOPE
Spring cleaning, Curtain steam cleaning on site, Handover cleaning or post-tenancy cleaning, Post renovation cleaning
PRICING
From SGD 25 per hour per helper
WEBSITE
www.homecleaning.com.sg
ADDRESS
10 Anson Road #10-11

Singapore 079903

CONTACT
81341127 |[email protected]
PAYMENT
3C Home Cleaning Services is the recipient of Singapore Excellence Awards in 2015. Those 3 Cs stand for clean, comfort and cozy which you'll experience after their thorough cleaning service. You get to choose from their variety of cleaning services in Singapore which include initial and final cleaning, daily area cleaning, floor and washroom cleaning, handover cleaning, post-tenancy and post renovation cleaning, spring cleaning and moving out cleaning. Both homeowners and landlords can benefit from their budget-friendly options to brighten up any space.
9.     6 Days Cleaning
BEST FOR
Transparent & competitive cleaning rates, no binding contracts, no hidden fees, secure payment
SERVICES/SCOPE
Residential Cleaning, Post Renovation Handing Over, Office Cleaning, Elderly/Nursing Care, Spring Cleaning, Air Con Servicing, Part Time Maid
PRICING
$20/Hr Nett
$22 per hour – Regular Housekeeping
$28 per hour – One-Off Cleaning
WEBSITE
www.6days.sg
ADDRESS
50 Serangoon North Ave 4. S9 Building, #04-06 S555859
CONTACT
+65 9841 2939
PAYMENT
Debit or credit cards
Founded in 2016, 6 Days Cleaning is an NEA-licensed professional cleaning company with an online platform which allows for easy and convenient booking of cleaners with immediate confirmation. 6DAYS initially offered professional cleaning services to corporate clients, then eventually introduced house cleaning services to cater to busy professionals. They are especially popular among young homeowners juggling different responsibilities and looking for services to bring time back into their hands.
6DAYS' services are available island-wide. To make the cleaning session an efficient one, 6DAYS advises owners to have basic cleaning equipment such as vacuum cleaner or broom, mop, wipe cloth, pails and cleaning detergent. Most importantly, there must be water at home.
10.     Sendhelper
BEST FOR
Deep cleaning
SERVICES/SCOPE
Cleaning, Deep cleaning, Leather cleaning, Laundry, Aircon, Handyman, Elderly care, Cooking
PRICING
S$20 per hour for recurring orders, S$22 per hour for ad hoc orders
WEBSITE
www.sendhelper.com
ADDRESS
10 ANSON ROAD, #10-11, INTERNATIONAL PLAZA

SINGAPORE 079903

CONTACT
+65-9387-5891 | [email protected]
PAYMENT
Credit cards
Aside from providing home cleaning services in Singapore, you can also request for a handyman or if you need help with cooking, aircon maintenance and elderly care. Booking a cleaner is easy using their app. Payment through their platform is likewise safe, secure and hassle free. For cooking helpers, they charge S$20 per hour for recurring orders, S$22 per hour for ad hoc orders. Elderly care is S$30 per hour for all orders.
11. Curtain Cleaning

BEST FOR
Curtain cleaning specialist
SERVICES/SCOPE
On-Site Curtain Cleaning
Curtain Dryclean
Home Cleaning
Dry Clean and Laundry Services
PRICING
Contact the company for a quote
WEBSITE
http://www.curtaincleaning.com.sg/
ADDRESS
51 Old Airport Road, #02-04, Singapore 390051
CONTACT
88 185 185
[email protected]
PAYMENT
Contact for payment options
Curtain Cleaning specialises in the full, thorough dry cleaning of curtains, blinds and other drapery-related coverings in Singapore. They provide reliable services to both the corporate and residential sectors seeking fast and affordable curtain washing services in town.
12. Hiremop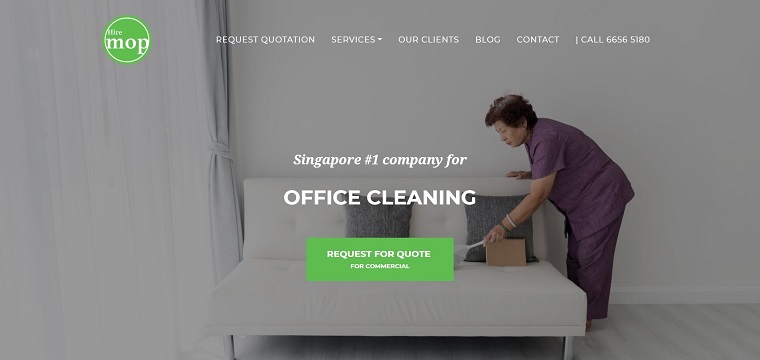 BEST FOR
Office Cleaning, Trained Legal Cleaners, Dedicated Supervisor, $500K Insurance
SERVICES/SCOPE
General Office Cleaning, Carpet Shampooing, Sanitisation Service, High-Pressure Water Jet, Spring Cleaning, After Party Cleaning, Facility Management
PRICING
Contact the company for a quote
WEBSITE
www.hiremop.com
ADDRESS
50 Raffles Place, Level 19-62
Singapore Land Tower, Singapore 048623
CONTACT
6656 5180 / 9147 8755 | [email protected]
PAYMENT
Major credit cards, credit terms
Hiremop is a cleaning service provider committed to creating and maintaining an environmentally friendly workplace to prevent illness from the toxic air or germs from unsanitary surfaces. Their team of trained and legal office cleaners can provide commercial cleaning to all types of commercial places at reasonable pricing.
Hiremop follows the Workplace Safety and Health (Risk Management) Standard, ensuring their cleaners are only assigned to work in a safe environment and that their environmental cleaning framework helps to equip their employees with the right skills, knowledge and experience to serve their clients better.
13. Metro Cleaners
BEST FOR
Professional Housekeeping
SERVICES/SCOPE
General Cleaning, Spring Cleaning, Moving In/Out Cleaning, Regular Cleaning, Carpet Cleaning, Laundry & Dry Cleaning Service
PRICING
From $80 per session. Contact the company for an estimate.
WEBSITE
www.metrocleaners.com.sg
ADDRESS
Block 18 Sin Ming Lane
#06-24 Midview City
Singapore 573960
CONTACT
(65) 6735 4454 / (65) 6262 6431 | [email protected]
PAYMENT
Established in 2003, Metro Cleaners is a professional housekeeping company which started as a 3-person operation outfit from a tiny office at Manhattan House. In upholding their core values of integrity, quality, customer-centric and personal enrichment, they continue to grow their customer base. They have even been recognised as one of Singapore's Outstanding Enterprise in 2015.
Metro Cleaners' staff come from different backgrounds, different industries and even from different countries. What they have in common is a desire to contribute to a clean environment and encourage everyone to lead a happy, healthy lifestyle as envisioned by the company.
14. Biostar Cleaning Services Pte Ltd
BEST FOR
Advanced cleaning equipment to increase productivity
SERVICES

Commercial & Industrial Office Cleaning
One-Time Office Cleaning
Carpet Shampooing
Upholstery Cleaning
Floor Cleaning
High Pressure Wash
Clean Room Technical Cleaning

PRICING
Contact the company to get an estimate
WEBSITE
www.biostarcleaning.com.sg
ADDRESS
190 Mac Pherson Road, #06-01A,
Wisma Gulab Singapore, 348548
CONTACT
+65 6383 2659 / +65 6749 8003 | [email protected]
PAYMENT
Incorporated in 2003, Biostar Cleaning Services Pte Ltd is a creditable and reputable company with customer references and commendations as well as Accreditation and Awards from the relevant governance authorities. They have grown dramatically since they first opened for business, providing quality cleaning services to their customers in varying establishments, like condominiums, learning centers, commercial offices, foreign banking corporations, industrial offices, clean rooms, pharmaceutical warehouse, etc.
Biostar Cleaning Services Pte Ltd offers premium quality cleaning services and technology by supplying advance cleaning equipment to increase productivity. Their workforce are well-trained, skilled, professional, responsible and equipped with strong work ethic. Their level of service earned them recognition as a Recipient of WDA-SMF Productivity & Innovation Awards 2014.
15.     A-Team Amahs & Cleaners
BEST FOR
Best value for hourly cleaning services in Singapore
SERVICES/SCOPE
Dusting/Cleaning of all rooms & kitchen; Washing of toilets; Vacuuming & mopping of floors; Pressing and ironing clothing; Wipe interior windows, mirrors, doors, fans; Clean refrigerator, oven, cooker hood; Wipe interior of kitchen cabinets and drawers
PRICING
Weekdays: From SGD 17/hr

Weekends and weeknights: From SGD 19/hr

WEBSITE
www.a-team.com.sg
ADDRESS
CONTACT
+65 6100-6131 | [email protected]
PAYMENT
PayPal or pay directly to the cleaner or the agency
A-Team Amahs & Cleaners hires mostly middle-aged Singaporean women/PRs in their 40s or early 50s who are experienced, honest and hardworking. They're well-regarded by customers for their reliable service as well as their value for money price points. Apart from offering cleaning services Singapore, they also provide a nanny and babysitting service if you need someone to look after your children, pet-sitting and confinement nanny.
16. Kleepers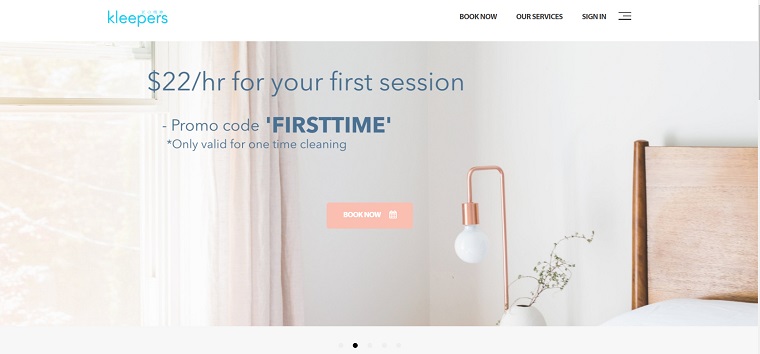 BEST FOR
Thorough, methodical cleaning
SERVICES
Aside from regular and deep cleaning, they also provide:

Move or lift furniture or items weighing more than 10KG; Shifting or collecting trash /garbage; Cleaning areas that are out of reach such as ceiling or exterior windows; Usage of dangerous or harmful chemical; Deep stain removal or colour restoration; Pet or pet related cleanings (pet poo, urine, fleas, ticks); Pest infestation removal (rats / lizards / cockroaches etc); Insects or birds removals; Cleaning extremely smelly and filthy apartments; Cleaning car garage, backyard or garden; Washing of floors by hand; Cleaning of lighting fixtures; Removal of window grill

PRICING
One-Time Cleaning: SGD35/hr

Regular Cleaning: From SGD24/hr

Spring Cleaning: From SGD200

Move in/Move Out: From SGD160

WEBSITE
www.kleepers.com
ADDRESS
50 Chin Swee Road, Thong Chai Building

#09-04 Singapore 169874

CONTACT
+65 81228113 | [email protected]com
PAYMENT
There is no job big or small for Kleepers. Their cleaners go through 30-hours of training designed by their Taiwanese and Japanese partners. Included in their cleaning services in Singapore is the careful handling of dangerous or harmful chemicals as well as cleaning of outdoor spaces, such as your backyard and garden. A separate rate is provided for cleaning of pet-related dirt and pest infestation removal.
17. Budget Cleaning and Housekeeping Services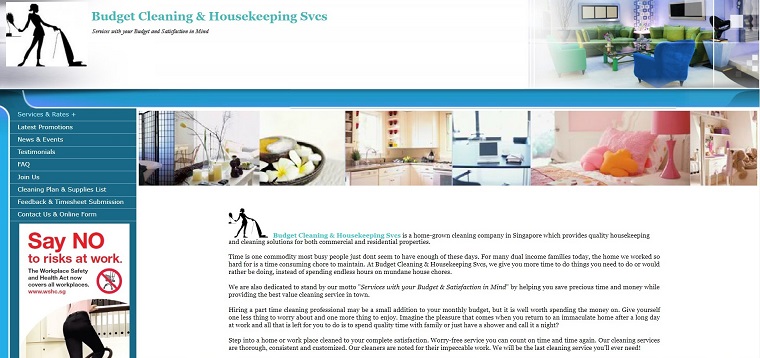 BEST FOR
Budget-friendly cleaning services, efficient & reliable cleaners
SERVICES
Domestic Regular Cleaning, Spring Cleaning, Pre/Post Moving Cleaning, Post-Renovation Cleaning, Monthly/Express Ad Hoc Cleaning, Office & Work Space Cleaning
PRICING
Domestic Regular Cleaning: From SGD 140.00/cycle (Fortnight)
Spring Cleaning: From SGD 210.00 (Weekdays)
Pre/Post Moving Cleaning: From SGD 245.00
Office & Work Space Cleaning: From SGD 200.00/month (Once a week)-Get a free customised quote for your cleaning specifications
WEBSITE
www.budgetcleaning.com.sg
ADDRESS
50 Chin Swee Road #09-O4 Thong Chai Building Singapore 169874
CONTACT
(65) 6728 7769 | [email protected]
PAYMENT
DBS I-Bank, ATM Funds Transfer, Interbank GIRO or Cheque
Budget Cleaning & Housekeeping is a homegrown cleaning company in Singapore which provides quality housekeeping and cleaning solutions for both commercial and residential properties. The standard practice is for clients to provide all cleaning equipment, aids, tools and liquids for the job. Clients must ensure all cleaning equipment should be safe and in full working order. However, if you lack the cleaning implements they require, you can purchase a Detox Kit from them. These are cleaning products that are non-toxic, biodegradable and environmentally friendly. The Detox Kit is a result of months of testing and sampling. They're made from naturally derived plant-based ingredients, perfect for homes with young children and pets.
18.     FUSS
| | |
| --- | --- |
| BEST FOR | Carpets, mattresses and upholstery cleaning |
| SERVICES/SCOPE | Part-time home cleaning service and FussPro |
| PRICING | Flat hourly rates from SGD 22 everyday – weekdays, weekends and public holidays |
| WEBSITE | www.fuss.sg |
| ADDRESS | |
| CONTACT | (+65) 6681 6716 | [email protected] |
| PAYMENT | Stripe |
Fuss has a very user-friendly site which allows you to book a cleaner within 60 seconds. Unlike other home cleaning services in Singapore with various payment schemes, Fuss keeps it simple with their flat hourly rate, regardless if it's a weekend or a weekday. They also have a Pro option for more complicated cleaning, such as carpets, mattresses and upholstery.
19. Whissh Home Cleaning Service
BEST FOR
Deep cleaning
SERVICES/SCOPE
Home Cleaning, Laundry, Aircon Servicing, Electrical, Plumbing
PRICING
One-Time Cleaning: From SGD30/hr

Recurring Cleaning: From SGD23/hr

Deep Cleaning: From SGD35/hr

WEBSITE
www.whissh.com.sg
ADDRESS
6 Eu Tong Sen Street,

The Central Singapore, 059817

CONTACT
+65 6221 8626 |[email protected]
PAYMENT
Mastercard, Visa, American Express, PayPal
Book, Confirm, Clean! It's as simple as that. Cleaners at Whissh undergo strict screening, training and quality assurance. They also provide more technical home services like electrical help, plumbing and aircon servicing. They can turn your space from messy to immaculate just like magic.
20. Clean @ Workz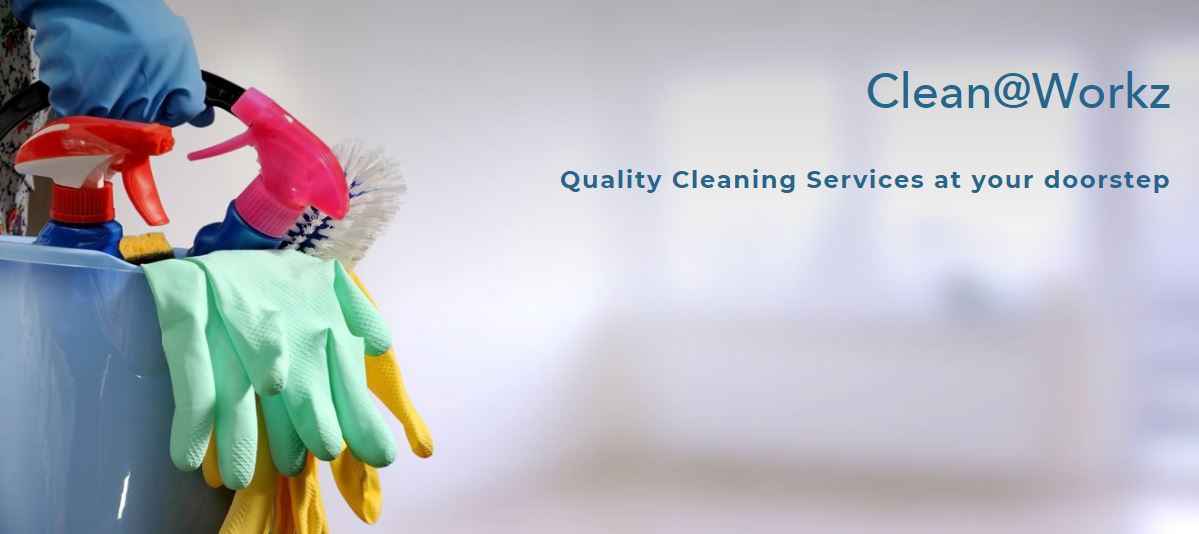 BEST FOR
Quality office and residential cleaning services
SERVICES/SCOPE
Facilities management (Church compounds, Commercial Buildings)
Office cleaning services (Part-time/full-time)
Restaurant cleaning/stewarding
PRICING
Request for a quote
WEBSITE
https://www.cleanworkz.org/
ADDRESS
10 Anson Road #26-04 International Plaza, Singapore 079903
CONTACT
[email protected]​ | +65 8569 0209
PAYMENT
Contact for payment options
[email protected] are made up of passionate individuals who have served 100 companies since 2015. From bathrooms to carpet and tile, everything will be cleaned thoroughly by [email protected] to help provide a healthy environment for their clients. They also provide comprehensive insurance ($1M) and public liability coverage to protect their customers.
21. Home Cleanz
| | |
| --- | --- |
| BEST FOR | All-around home improvement services |
| SERVICES/SCOPE | Spring Cleaning/Pre Moving Cleaning, Housekeeping, Adhoc Service, Showflat / Office Maintenance, Carpet Shampooing, Sofa Upholstery Cleaning, Mattress Upholstery Cleaning, Steaming & Sanitization Services, Floor Scrubbing, Parquet Varnishing, Pressure Jetting, Window Cleaning & Maintenance, Curtain Dry Cleaning, Laundry & Dry Cleaning Collection |
| PRICING | Enquire for pricing |
| WEBSITE | www.homecleanz.com |
| ADDRESS | 332 Changi Road Singapore 419807 |
| CONTACT | +65 6440 3342 | [email protected] |
| PAYMENT | |
Home Cleanz does not just stick to cleaning, they're an all-around home improvement service to make your house look brand new. They even offer painting services to give your space a fresh look. You can give them your specific cleaning and home improvement needs so they can create a customised quote for free.
22. Butler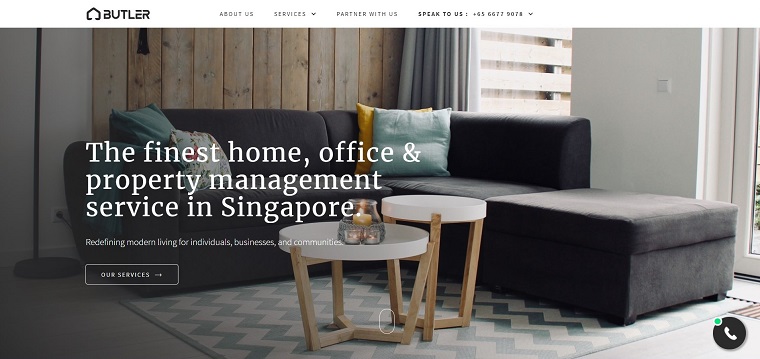 | | |
| --- | --- |
| BEST FOR | General housekeeping |
| SERVICES/SCOPE | General housekeeping, Office cleaning, Commercial, cleaning, Deep cleaning, Spring cleaning, Party Cleaning, Spot Cleaning, Move-in/Move-out Cleaning, Upholstery Cleaning, Window and Glass Cleaning, Carpet Cleaning, Disinfection and Sterilization Service, Curtain Cleaning Service, Laundry and Dry Cleaning Service, Add-On Service (Ironing),  "Once a week focus" for daily housekeeping. |
| PRICING | Contact the company for a quote |
| WEBSITE | www.getbutler.com |
| ADDRESS | 1 North Bridge Road #08-08, Singapore 179094 |
| CONTACT | [email protected] |
| PAYMENT | Major credit and debit cards |
Butler is a home management service providing a range of cleaning services, including housekeeping, property management, concierge service and butler services for apartment residents as well as offices and commercial properties. All their services can be requested on a regular basis or as needed.
23. Art of Cleaning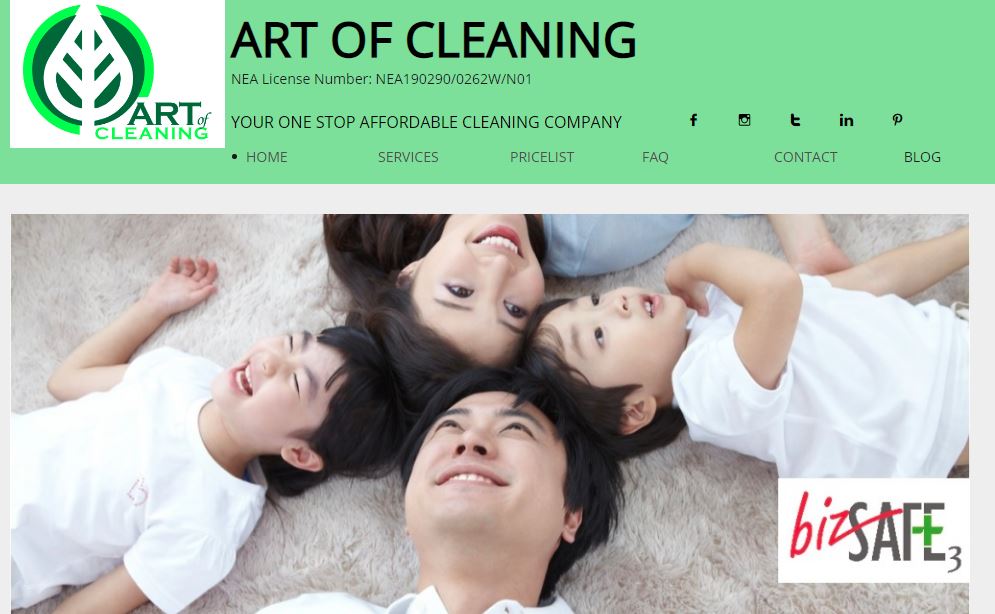 BEST FOR
Residential and commercial carpet cleaning
SERVICES/SCOPE
Carpet, mattress, sofa, upholstery and house cleaning
PRICING
Contact the company for a quote
WEBSITE
http://artofcleaning.com.sg/
ADDRESS
BLK 1 DEFU LANE 10, #01-563, SINGAPORE 539182
CONTACT
TEL: 9886 0178
EMAIL: [email protected]
PAYMENT
Contact for more details
Art of Cleaning is one of the leading Singapore carpet cleaning companies. They serve both commercial and residential customers when it comes to cleaning their carpet, upholstery sofa, mattresses, office and house.