A clean office is not a luxury but a necessity. Because when dust, grime, and microorganisms stick to your office's surfaces, appliances, furniture, and hidden corners, they can cause your employees to be ill. And staff who are on leave can cause bottlenecks in your workflow and in extension, make you loss revenue. But you can avoid that from happening, because there are cleaning services companies in the island who can help you disinfect your workplace and keep it immaculate on a regular basis. Below are the best office cleaning services in Singapore who can deliver what they promise and more.
1. TINKLEAN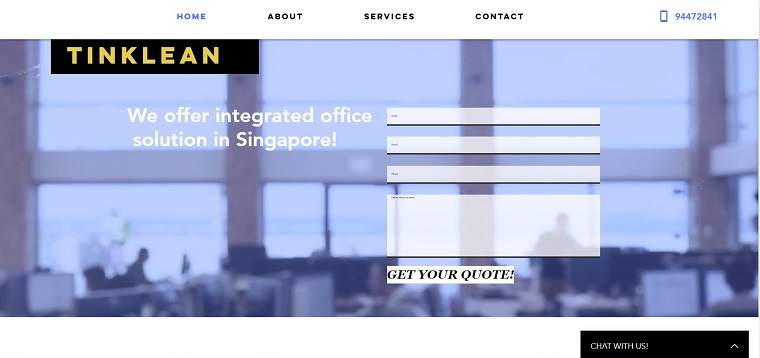 BEST FOR
Customised Office Cleaning Services
SERVICES/SCOPE
Office Cleaning, Carpet Cleaning, Sofa Cleaning

OFFICE CLEANING SERVICES: Vacuuming and moping of flooring, Wiping of windows and glass partition, Wiping of workstations and office furniture, Wiping of cabinet exterior, Wiping of telephones and office furnitures, Maintaining cleanliness of pantry, Maintaining cleanliness of toilets, Cleaning of rubbish bins and trash

PRICING
Contact company to get a free quote
WEBSITE
https://www.tinklean.com
CONTACT
94472841 | [email protected]
Tinklean is committed to creating and maintaining a clean, environmentally friendly workplace for their customers. They deliver the best quality cleaning with their broad range of cleaning services, including office, carpet, and sofa cleaning. They can tailor their cleaning methods and processes based on your specific daily office cleaning needs.
Apart from daily office cleaning, Tinklean also offers additional services such as window cleaning, carpet cleaning, specialist equipment cleaning and many more. They understand that the amount of effort required for office cleaning varies depending on property configuration, specific needs, and preferences. A typical session can range from 2 to 8 hours per day with 1 to 5 cleaners. Enquire directly to get a free quote for your specifications.
2. Avalon Services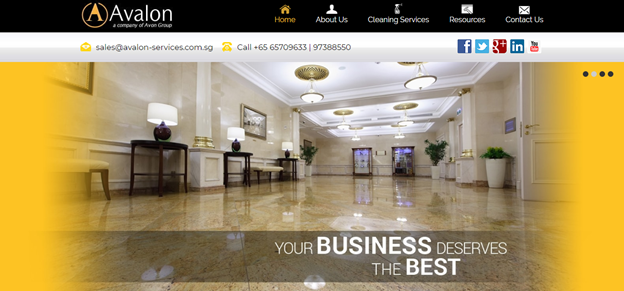 BEST FOR

Customized office cleaning, industry standards-compliant cleaning professionals,

SERVICES/SCOPE

Vacuuming, Dusting, Mopping, Surface Areas & Equipment Dusting, Marble Floor Polishing, Carpet Cleaning, Window Cleaning, Waste Management  

PRICING

Get a free quote online

WEBSITE

https://www.avalon-services.com.sg/

ADDRESS

33 Ubi Avenue 3

Vertex Tower B, #04-22

Singapore 408868

CONTACT
+65 6570-9633 | [email protected]
PAYMENT

Cash, cheque, and credit card payments
Avalon Services is an accredited and licensed cleaning company in Singapore. It is only one of the few that can wear that badge, thus you can rest assured that you are working with a company certified by the highest standards. They have a broad range of office cleaning services that they leave in the hands of their professional and trustworthy cleaners who have been trained according to the loftiest industry criteria.
Whatever kind of cleaning service you require, Avalon Services customizes their cleaning solution for you. And regardless of your special housekeeping needs, the company's specially skilled cleaning staff can work efficiently and leave you with a fresh and hygienic working area where your employees can conduct their tasks with ease.
3. Nimbus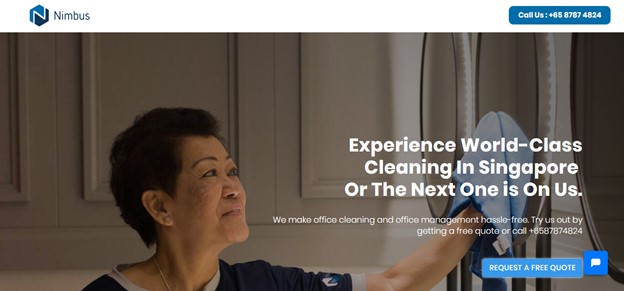 BEST FOR

Fully-managed office cleaning, best employment practices, complimentary cleaning for dissatisfied customers

SERVICES/SCOPE

Plumbing, Pest Control, Aircon Servicing, Painting, Waste Management, Glass Work, Electrical Work, Cleaning Supplies, Event Services, Interior Design, Renovation, Flooring & Carpeting

PRICING

Enquire for a quote

WEBSITE

https://www.nimbuscleaning.com/

ADDRESS

970 Toa Payoh

North #06-21

Singapore 318992

CONTACT
+65 8787-4824 | [email protected]
PAYMENT

Credit card, cash, cheque payments
Nimbus is a world-class cleaning services company in Singapore. However, they go beyond just doing housework in your office space. Instead, they manage everything from keeping your pantry full to arranging the furniture on the floor. Because of this, you never have to worry about a single issue regarding the upkeep of your workplace every again.
Additionally, Nimbus is very particular in taking care of your office cleaning needs. They pride themselves in delivery the best quality service, which is why they offer complimentary cleaning in case you are not happy completely with their cleaning and management. Thus, you can rest assured that the company and its professionals offer only the finest housekeeping.
Moreover, what makes Nimbus different is that they are recognized by TAPEF, an organization that awards employers who have the best practices with their workers. The company even has six seals from the body, so you can be sure that you are working with a humane business.
4. A1 Facility Services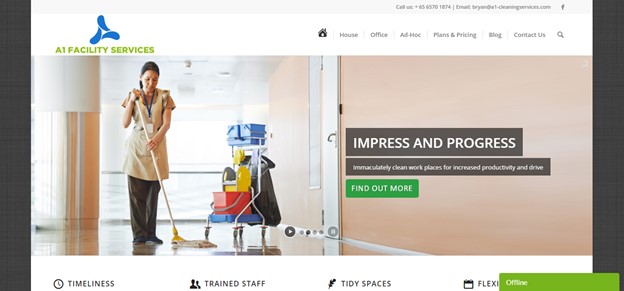 BEST FOR

NEA licensed firm, WSQ certified cleaners, quick deployment availability

SERVICES/SCOPE

Sweeping & Vacuuming of Carpeted Areas, Tiled Areas Mopping, Furniture Dusting, Wastepaper Baskets Cleaning, Bathroom Cleaning, Pantry Cleaning, Cups & Lunchboxes Washing & Clearing, Glass Panels & Doors Cleaning, General Cleaning of Rooms, Lift Landing & Stairway Cleaning

PRICING

Pricing differs per area size. Office spaces that are 500 to 799 sq. ft. wide start at SGD 260 per week.

WEBSITE

http://www.a1-cleaningservices.com/

ADDRESS

50 Serangoon North Ave 4

#09-07 First Centre

Singapore 555856

CONTACT
+65 6570-1874 | [email protected]
PAYMENT

Credit card payment, cash, or cheque
A1 Facility Services, like other cleaning services company on this list, is NEA licensed. This means that you are conducting with a government-recognized company and that you can count on their trustworthiness. In addition, their cleaners are trained under Singapore Workforce Skills Qualifications system. As such, you can be confident that cleaners deployed to your offices have the necessary skills and knowledge to complete their tasks to your satisfaction.
A1 Facility Services also places great value on your time. That is why they are punctual and efficient so they can deliver quality service within the arranged span of time. But if ever you need a cleaner in your office outside of your set schedule, you can simply arrange for one on-demand. That is because the company's cleaners are always ready for quick deployments.
5. Office Cleanz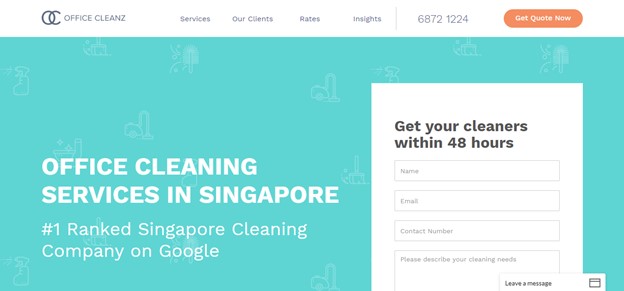 BEST FOR

In-house pool of reserve cleaners, public liability insurance, well-trained professional cleaners

SERVICES/SCOPE

Carpet Vacuuming, Desks & Chairs Wiping & Dusting, Cabinet Exterior Cleaning, Office Appliances Wiping, Bin Emptying, Kitchen & Pantry Cleaning, Toilet Cleaning

PRICING

Starts at SGD 30 per hour

WEBSITE

https://www.officecleanz.com/

ADDRESS

10 Anson Road

International Plaza #16-16.

Singapore 079903

CONTACT

+65 6872-1224

PAYMENT

Credit card payment, cash, or cheque
Office Cleanz is a sought-after cleaning services company in Singapore. They serve over 500 clients in the country; among them are Fortune 500 companies, government agencies, and foreign embassies. This speaks of the high caliber of the company's cleaners who are professionally trained. Before they are put into the service pool, they undergo at least two training sessions for office cleaning so they are well equipped with the necessary skills, experience, and knowledge for maintaining your workplace pristine.
Even Office Cleanz's reserve pool of cleaners well regarded. They are in-house reserves who go where clients need them—they do the job when the fixed cleaner is on leave and they do it as well as your regular cleaner.
With Office Cleanz, you can also rest assured about the safety of your assigned cleaner. The company's service providers are covered by public and private liability insurance, so that you are protected in case of accidental incidents.
6. Lifeline Cleaning
BEST FOR

Customised cleaning solutions, technology-driven cleaning services

SERVICES/SCOPE

Commercial Cleaning, Carpet Cleaning, High Dusting Services, Floor Scrubbing & Waxing

PRICING

Request a quote online

WEBSITE

http://www.lifelinecleaning.com.sg/

ADDRESS

Midview City @ 18 Sin Ming

Lane #05-17

Singapore 573960

CONTACT
+65 6443-0943 | [email protected]
PAYMENT

Credit card payment, cash, or cheque
Lifeline Cleaning is a top cleaning service provider in Singapore that specializes in office, commercial, and even industrial cleaning. It is a technology-driven company that uses the best equipment available in keeping your working areas in pristine condition. As such, you can rest minimize staff absence due to illnesses.
With Lifeline Cleaning, you can rest assured that you get only the best cleaning service. That is because they take into consideration your special needs. That is why they can customize their service delivery—another thing that propels it into the top of businesses' lists of office cleaning choices.
Furthermore, Lifeline Cleaning takes great care in removing dust from high areas. Even if they are hard-to-reach places, cleaners make sure to eliminate them because they are a top cause of illness.
On top of that, the company gives special attention to your carpet. Dust, dirt, and disease-causing microorganisms can dwell in your carpet for a long time. That is why Lifeline Cleaning shampoos your floor coverings, dry them thoroughly, and removes spots from them for longer-lasting carpets and healthier offices.
7. Bestway Cleaning Services
BEST FOR

Registered with Building and Construction Authority, high working standards, certified cleaners

SERVICES/SCOPE

Office Cleaning, Glass Cleaning, Floor Scrubbing, Floor Polishing, Tile Floor Car, Stripping, Waxing, Buffing, Carpet Shampoo, Carpet Vacuum

PRICING

You can enquire about the pricing online

WEBSITE

http://bestwaycs.com.sg/

ADDRESS

No. 2, Bukit Batok Street 23 #02-02

Bukit Batok Connection

Singapore 659554

CONTACT
+65 6562-0369 | [email protected]
PAYMENT

Credit card payment, cash, or cheque
Bestway Cleaning Services is a high capital office cleaning company. They have been around since 1995 and since then, they have been delighting clients with their top-grade cleaning services. This is helped by their ability to acquire only the best equipment to delivery excellent housekeeping of your office space.
You can also put your trust in Bestway Cleaning Services because they are recognized by the Building and Construction Authority. In fact, they are listed under the L5 financial grade for housekeeping, cleaning, and conservancy. This means that they met the strictest standards in the industry and so you can expect them to scrub the dirt, dust, and grime away from your workplace.
8. Home Clean Home
BEST FOR
Trusted, excellent customer service and highly professional team; High level of Quality, Service, Cleanliness (QSC) standards
SERVICES/SCOPE
End-Tenancy Cleaning, Spring Cleaning, Domestic Cleaning, Post-Renovation Cleaning, Customised Cleaning, Curtain Cleaning, Sanitation & Disinfection, Anti Dust Mite Mattress Cleaning, Floor Care/Parquet, Floor Scrubbing, Sofa Upholstery/Leather Cleaning, Grout Cleaning, Carpet Cleaning, Pressure Jetting
PRICING
End-Tenancy Cleaning: From $340
Spring Cleaning: From $380
Post-Renovation Cleaning: From $350Contact the company for a free quote
WEBSITE
www.homecleanhome.com.sg
ADDRESS
7030 Ang Mo Kio Ave 5,
#09-17 NorthStar @ AMK,
Singapore 569880
CONTACT
62620530 / 83387845 | [email protected]
PAYMENT

Major credit cards
Home Clean Home is committed to a high level of Quality, Service, Cleanliness (QSC) standards. With more than a decade of field experience across F&B and QSC knowledge, the outline of their work ethics is embedded within Home Clean Home's Standard Operation Procedure (SOP), thus leveraging on strong working relationships to deliver the finest quality results and experience every homeowner and/or real estate agent needs.
They offer general cleaning to a one-off spring clean, and everything in between, such as anti dust mite mattress cleaning or the most thorough sofa upholstery cleaning. Some of the reasons for availing their service include excellent reviews from previous clients, excellent customer service and skilled cleaners fully vetted and prepared with their comprehensive training programme.
9. HelpToClean
BEST FOR
NEA Licensed Firm and Complimentary Cleaning For Dissatisfied Customers
Affordable and high-quality cleaning
SERVICES/SCOPE
Home & Office Cleaning
PRICING

Weekly/Bi-Weekly Office Cleaning (Minimum 2.5 hours): From $20/hour

Weekly/Bi-Weekly House Cleaning (Minimum 2.5 hours) : From 

$19

 /hour

Ad Hoc Office Cleaning: From $27/hour

Ad Hoc House Cleaning: From $26/hour

WEBSITE
www.helptoclean.com
ADDRESS
Paya Lebar Square | 60 Paya Lebar Road
#04-39B
Singapore 409051
CONTACT
+6590057764 | [email protected]
PAYMENT
PayNow, Bank Transfer, Cash, Credit Cards
Established in 2018, HelpToClean provides quality cleaning services to clients by giving them the professional care they deserve. HelpToClean is NEA licensed and this means that you are conducting with a government-recognized company and that you can count on their trustworthiness. They have worked with numerous clients throughout Singapore ever since they started. They believe that great service begins and ends with experienced and friendly professionals, hence they put so much consideration into selecting only the best to join their team. They complete projects efficiently and on schedule, and go above and beyond to form lasting relationships with their clients.
10. Peniel Cleaning
BEST FOR

Experienced set of cleaners, consideration of client requirements, timely completion of services

SERVICES/SCOPE

Overall Office Cleanliness Maintenance, Schedule Vacuuming and Mopping, Wiping of Workstations and Other Surfaces, Pantry Cleanliness Upkeep, Daily Waste Bins Disposal, Spot Cleaning of Windows and Similar Surfaces, Specialized Carpet Cleaning, Disinfection Services, Fabric Chair and Partition Cleaning, Building Cleaning, Event Clean-up, High Pressure Cleaning, Warehouse Cleaning, Floor Waxing and Protection, Supplementary Services

PRICING

Enquire online for a quote

WEBSITE

https://www.penielcleaning.com.sg/

ADDRESS

111 North Bridge Road

#27-01 Peninsula Plaza

Singapore 179098

CONTACT
+65 6542-8850 | [email protected]
PAYMENT

30-day credit terms for monthly contracts and immediate payment on-site for on-demand services
Peniel Cleaning is a recognizable name in office and industrial cleaning in Singapore. This company has served esteemed clients in the past. Their cleaners have been noted to be punctual, who do their best to complete their tasks on time. They also take initiative in their jobs so you do not have to direct them around the workplace.
Aside from their very thorough cleaning of the general area, Peniel Cleaning also offers deep cleaning of carpets. For this, they only use the latest technologies to remove germs and bacteria. This way, you can maintain a hygienic and clean work environment and ensure that your employees rarely get sick.
Furthermore, Peniel Cleaning provides supplementary services. The list includes wiping and thorough dusting of air condition units, fans, upholstery, curtains, and glass panels.
11. @bsolute Services
BEST FOR

Affordable cleaning packages, reputable cleaning service, 24-hour availability

SERVICES/SCOPE

Toilet Cleaning, Floor Sweeping, Vacuuming, Mopping, Bin Emptying, Windows & Grilles Cleaning

PRICING

From SGD 388 once a week

WEBSITE

http://www.absoluteservices.com.sg/

ADDRESS

61 Kaki Bukit Ave 1

Shun Li Industrial Park

Singapore 417943

CONTACT

+65 6844-3044

PAYMENT

Credit card payment, cash, or cheque
@bsolute Services is a highly reputable cleaning company that is well known among companies and office spaces in Singapore. They have glowing reviews from their present and previous clients because of their thorough office cleaning services. Most importantly, they deliver quality cleaning at an affordable rate. In fact, their office cleaning service package starts at SGD 388 per week. This already gives you a 4-hour housekeeping session that is sure to make your workplace a glowing one.
Moreover, @bsolute Services only employs proven cleaning methods. They leverage the best devices that can help keep your workplace spick and span and they take into consideration your special requests. On top of that, cleaners from this company are available on call 24 hours a day. This means that you can count on them to remove the mess after a party or to tidy up after whatever incident. Regardless of the reason, this cleaning business is at your service whenever you need them.
12. PML Clean
| | |
| --- | --- |
| BEST FOR | Premium office cleaning services |
| SERVICES/SCOPE | One-time cleaning, weekly regular cleaning, office cleaning |
| PRICING | Contact for a quote |
| WEBSITE | https://pmlclean.com/ |
| ADDRESS | 16 Cashew Rd, #05-14 Espa Singapore 679695 |
| CONTACT | 69962283 or 82991823 | [email protected] |
| PAYMENT | Credit card payment, cash, or cheque |
Having cleaned over 5000+ houses and offices, the sight of a messy, dirty space isn't something new to PML Clean's staff, and they have mastered the art of solving this problem in order to make offices all over Singapore safer and cleaner. You just need to get connected to them first to know which cleaning services you can avail.
13. Lukis
BEST FOR
Highly rated commercial cleaning services
SERVICES/SCOPE

Residential Cleaning Services
Commercial Cleaning Services
Carpet Cleaning Services
Move In/Out Cleaning Services

PRICING
Visit their website for an estimate
WEBSITE
https://www.lukisclean.com/
ADDRESS
8 Burn Road #15-13, Trivex, Singapore 369977
CONTACT
+65 67419968 |[email protected]
PAYMENT
Contact for payment options
Since the establishment of Lukis Cleaning Services, their focus is to provide customers with the highest quality office cleaning services in Singapore. Lukis has been trusted and serving numerous clients in Singapore from multinational corporations (MNCs) to small and medium-sized enterprises (SMEs). Lukis is not merely providing cleaning services by assigning cleaner(s) to serve their clients, but they also provide trusted services and memorable experience.
Lukis's focus is not just ensuring that their customers have a clean working environment, but also enhancing their working experience through the improvement of every worker's health and well-being. Their main goal is to ensure that every company they work with can have peace of mind when it comes to cleanliness and the hygiene of the company.
14. Office Cleanings
BEST FOR
Uninterrupted service, professionally trained, insured cleaners, and affordable rates
SERVICES/SCOPE

One-time cleaning, weekly regular cleaning, office cleaning

PRICING

Contact for a quote

WEBSITE
https://officecleanings.com.sg
ADDRESS
10 Anson Road
International Plaza, #10-11
Singapore 079903
CONTACT
8862 9623 | [email protected]
PAYMENT

Contact for payment options
Office Cleanings are the sanitation specialists who has a team of seasoned, trained and professional cleaners. They ensure to offer top-quality services, end-to-end solutions and products to create a spotless and liveable working space.
These best office cleaning services in Singapore are well-known amongst business, even among those who belong into the Fortune 500. When they say they offer top quality housekeeping for your office, it is not just lip service. We hope you have found and settled on one after going through this article.