The best office cleaning Singapore services will tell you that a clean office is not a luxury but a necessity. Because when dust, grime, and microorganisms stick to your office's surfaces, appliances, furniture, and hidden corners, they can cause your employees to be ill. And staff who are on leave can cause bottlenecks in your workflow and in extension, making you lose revenue. But you can avoid that from happening, because there are cleaning service companies on the island who can help you disinfect your workplace and keep it immaculate on a regular basis. Want to learn more? Great, because we've gone looking for the top companies in this trade to help you out! Below are the best office cleaning Singapore services that can deliver what they promise and more.
1. TINKLEAN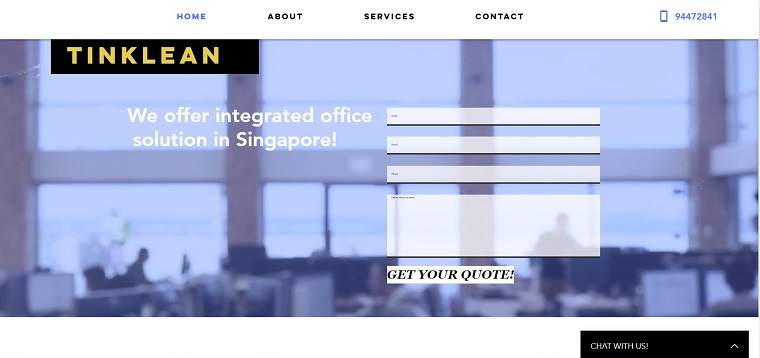 | | |
| --- | --- |
| BEST FOR | Customised Office Cleaning Services |
| SERVICES/SCOPE | Office Cleaning, Carpet Cleaning, Sofa Cleaning OFFICE CLEANING SERVICES: Vacuuming and moping of flooring, Wiping of windows and glass partition, Wiping of workstations and office furniture, Wiping of cabinet exterior, Wiping of telephones and office furnitures, Maintaining cleanliness of pantry, Maintaining cleanliness of toilets, Cleaning of rubbish bins and trash |
| PRICING | Contact company to get a free quote |
| WEBSITE | https://www.tinklean.com |
| CONTACT | 94472841 | [email protected] |
Tinklean is committed to creating and maintaining a clean, environmentally friendly workplace for their customers. They deliver the best quality cleaning with their broad range of cleaning services, including office, carpet, and sofa cleaning. They can tailor their cleaning methods and processes to fit your specific daily office cleaning needs. That's why they're among best office cleaning Singapore services. Apart from daily office cleaning, Tinklean also offers additional services such as window cleaning, carpet cleaning, specialist equipment cleaning and many more. They understand that the amount of effort required for office cleaning varies depending on property configuration, specific needs, and preferences. A typical session can range from 2 to 8 hours per day with 1 to 5 cleaners. Enquire directly to get a free quote for your specifications.
2. Avalon Services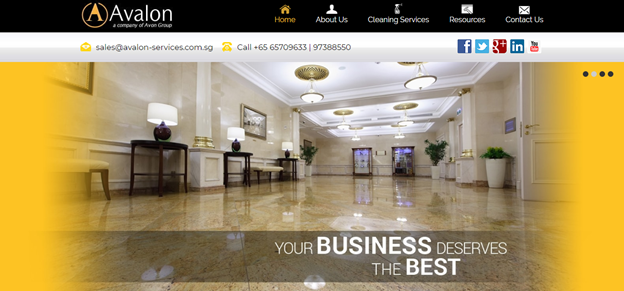 BEST FOR

Customized office cleaning, industry standards-compliant cleaning professionals,

SERVICES/SCOPE

Vacuuming, Dusting, Mopping, Surface Areas & Equipment Dusting, Marble Floor Polishing, Carpet Cleaning, Window Cleaning, Waste Management

PRICING

Get a free quote online

WEBSITE

https://www.avalon-services.com.sg/

ADDRESS

33 Ubi Avenue 3

Vertex Tower B, #04-22

Singapore 408868

CONTACT
+65 6570-9633 | [email protected]
PAYMENT

Cash, cheque, and credit card payments
Avalon Services is an accredited and licensed cleaning company in Singapore. It is one of the few that have that badge, so you can rest assured that you are working with a company that follows the highest standards. They have a broad range of office cleaning services that they leave in the hands of their professional and trustworthy cleaners who have been trained according to the loftiest industry criteria. That's why they're one of best office cleaning Singapore services. Whatever kind of cleaning service you require, Avalon Services customizes their cleaning solution for you. And regardless of your special housekeeping needs, the company's specially skilled cleaning staff can work efficiently and leave you with a fresh and hygienic working area where your employees can conduct their tasks with ease.
3. EcoDeepClean

| | |
| --- | --- |
| BEST FOR | Eco-Friendly Cleaning Services |
| SERVICES/SCOPE | Residential and commercial |
| PRICING | Enquire for a quote |
| WEBSITE | https://ecodeepclean.com/ |
| ADDRESS | 16 Raffles Quay, #41-01 Hong Leong Building, 048581 |
| CONTACT | 9049-7568 | [email protected] |
| PAYMENT | Enquire for payment options |
Having been in the cleaning industry for 10 years, EcoDeepClean provides specialised cleaning machines and deep cleaning services at affordable prices. They don't just serve house owners either, by the way! They can also clean yoga studios, offices, gyms, etc.
4. A1 Facility Services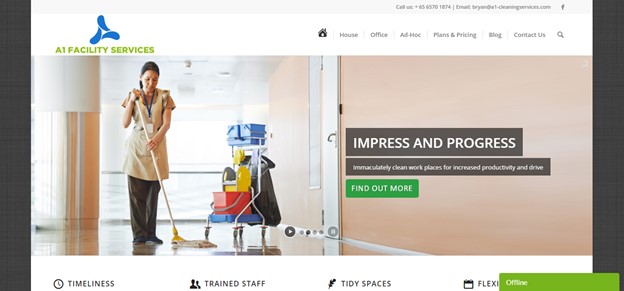 BEST FOR

NEA licensed firm, WSQ certified cleaners, quick deployment availability

SERVICES/SCOPE

Sweeping & Vacuuming of Carpeted Areas, Tiled Areas Mopping, Furniture Dusting, Wastepaper Baskets Cleaning, Bathroom Cleaning, Pantry Cleaning, Cups & Lunchboxes Washing & Clearing, Glass Panels & Doors Cleaning, General Cleaning of Rooms, Lift Landing & Stairway Cleaning

PRICING

Pricing differs per area size. Office spaces that are 500 to 799 sq. ft. wide start at SGD 260 per week.

WEBSITE

http://www.a1-cleaningservices.com/

ADDRESS

50 Serangoon North Ave 4

#09-07 First Centre

Singapore 555856

CONTACT
+65 6570-1874 | [email protected]
PAYMENT

Credit card payment, cash, or cheque
A1 Facility Services, like other cleaning services on this list, is NEA-licensed. This means that you are conducting with a government-recognized company and that you can count on their trustworthiness. In addition, their cleaners are trained under a Singapore Workforce Skills Qualifications system. As such, you can be confident that cleaners deployed to your offices have the necessary skills and knowledge to complete their tasks to your satisfaction. A1 Facility Services also places great value on your time. That is why they are punctual and efficient so they can deliver quality service within the arranged span of time. But if ever you need a cleaner in your office outside of your set schedule, you can simply arrange for one on-demand. That is because the company's cleaners are always ready for quick deployments… making them one of best office cleaning Singapore services.
5. Office Cleanz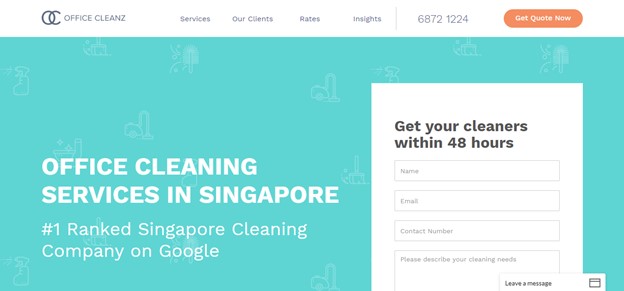 BEST FOR

In-house pool of reserve cleaners, public liability insurance, well-trained professional cleaners

SERVICES/SCOPE

Carpet Vacuuming, Desks & Chairs Wiping & Dusting, Cabinet Exterior Cleaning, Office Appliances Wiping, Bin Emptying, Kitchen & Pantry Cleaning, Toilet Cleaning

PRICING

Starts at SGD 30 per hour

WEBSITE

https://www.officecleanz.com/

ADDRESS

10 Anson Road

International Plaza #16-16.

Singapore 079903

CONTACT

+65 6872-1224

PAYMENT

Credit card payment, cash, or cheque
Office Cleanz is a sought-after cleaning services company in Singapore. They serve over 500 clients in the country: among them are Fortune 500 companies, government agencies, and foreign embassies. This speaks of the high caliber of the company's cleaners who are professionally trained. Before they are put into the service pool, they undergo at least two training sessions for office cleaning. That means, by the time they go out for jobs, they are well equipped with the necessary skills, experience, and knowledge for maintaining your workplace pristine. See why this is one of best office cleaning Singapore services? Even Office Cleanz's reserve pool of cleaners well regarded. They are in-house reserves who go where clients need them—they do the job when the fixed cleaner is on leave and they do it as well as your regular cleaner. With Office Cleanz, you can also rest assured about the safety of your assigned cleaner. The company's service providers are covered by public and private liability insurance, so that you are protected in case of accidents.
6. Abba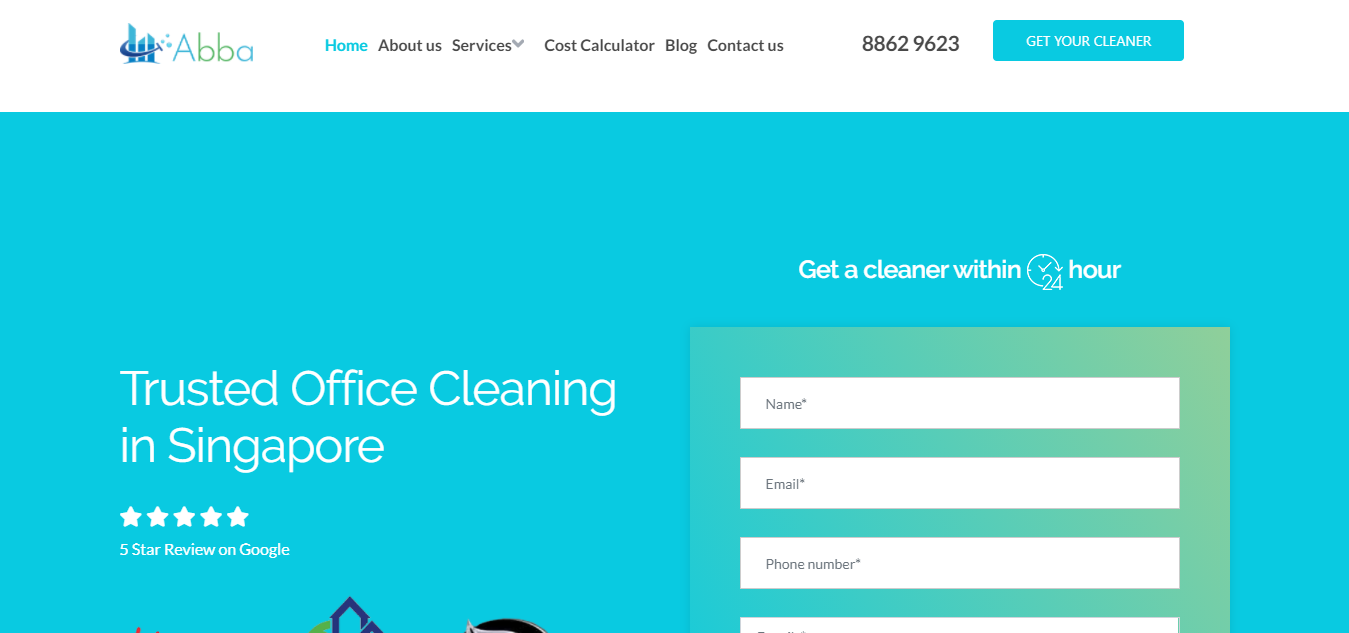 BEST FOR

Office Cleaning

SERVICES/SCOPE

Commercial Cleaning Carpet Cleaning Pest Control One-Time Cleaning Aircon Maintenance Disinfection Service

PRICING

Starts at SGD 30 per hour

WEBSITE

https://www.officecleanz.com/

ADDRESS
10 Anson Road International Plaza, #10-11 Tanjong Pagar Singapore 079903
CONTACT

[email protected]

8862 9623
PAYMENT

Contact for more details
Abba is Singapore's Top Office Cleaning Company. they are also the leading professional cleaning company in the country that has a team of seasoned, trained, and experienced cleaners. In comparison to the other companies on this list, they are the only ones who provide end-to-end solutions to your office that can make your workspace spotless and liveable. In case the service you need is not on the list, feel free to contact them and they will be more than happy to assist your needs. What is unique about them is their office cleaners use industry-standard cleaning methods to deliver a deep clean that really shines from lobbies, offices, open office spaces, kitchens, conference rooms, and more. If you want a hassle-free cleaning experience, putting your trust in Abba is the best choice since they are the only company that provides uninterrupted cleaning service, topnotch services, and is covered with insurance. Have a budget? No problem. A factor why people prefer to contact them is they offer tailored services so that they can still meet your needs within the budget you gave.
7. Sparkling Housekeeping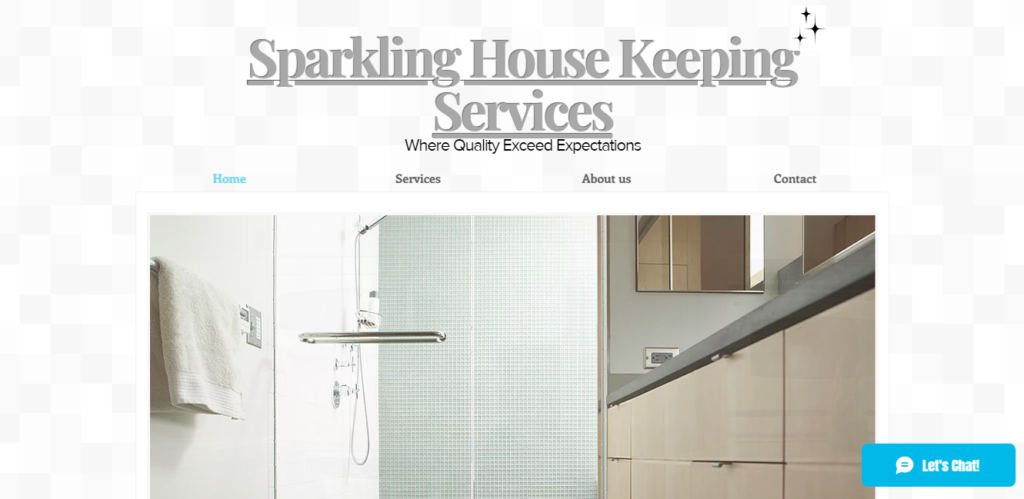 Sparkling Housekeeping is a company that provides high-quality and professional housekeeping and office cleaning services in Singapore. They are able to provide part-time helpers that are both legal and safe to clients in need of their services at the client's own time and convenience.
They aim to provide a clean, tidy and comfortable environment that will impress clients' expectations in order to deliver only the highest quality of services. They also cater to Home cleaning, Move In and Move Out Cleaning, Spring cleaning, and After Party cleaning packages as well.
Prioritizing only the needs of the client needs, their helpers range from ages 30 to 60 years with adequate professional experience in the said field as well. They also ensure that communication will not be hindered as the helpers also understand English, Mandarin, and other local dialects as well.
We recommend this company for clients looking for hassle-free and professional booking of cleaning services in Singapore.
8. Cleaning Hero Singapore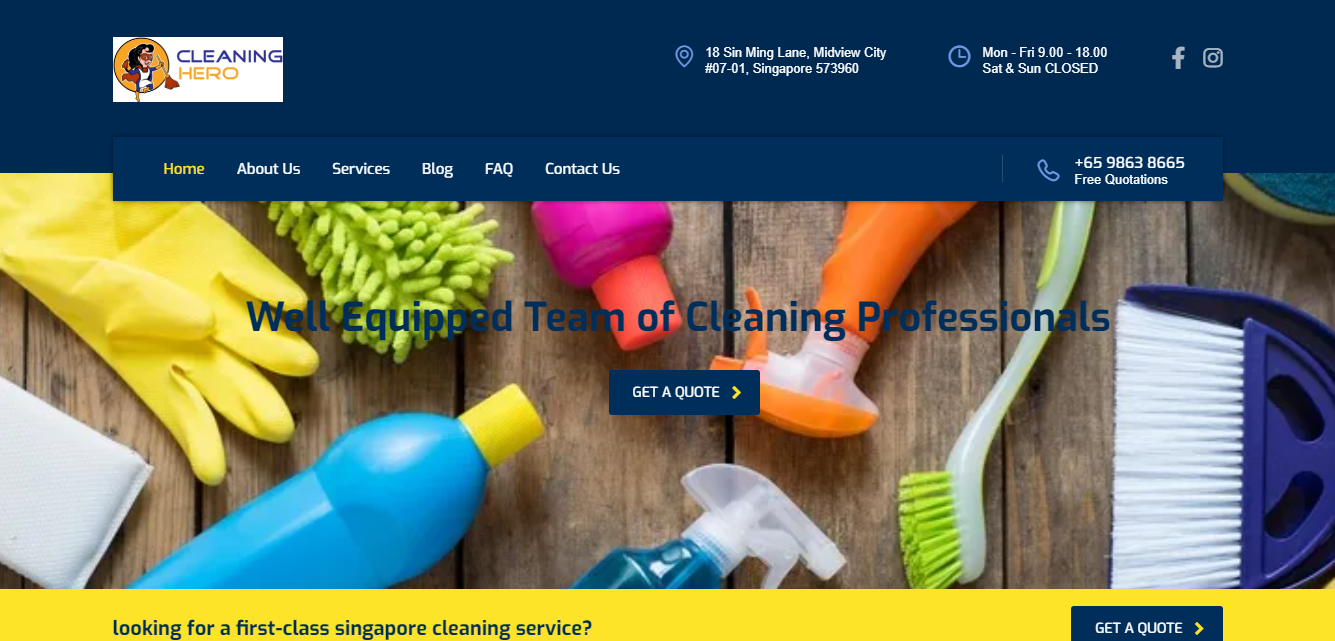 Cleaning Hero Pte Ltd is a company that specializes in professional cleaning services as they offer both commercial and residential cleaning services. Based in Singapore, it aims to provide high-quality cleaning services to each of its clients.
They are comprised of a staff that is both appropriately trained and eager to help customers and answer any questions regarding the company's cleaning services. The company also makes sure that its personnel is equipped with the necessary equipment in order to properly carry out their services.
The company also aims to improve the working conditions of their cleaners and provide an excellent value of money through their outstanding and professional cleaning services. They also provide free quotations in order that clients can have the liberty to decide whether they would like to avail of their services.
We recommend this company for clients looking for professional cleaners to carry out cleaning jobs both in the office and in their very own homes.
9. HCH Office Cleaning Services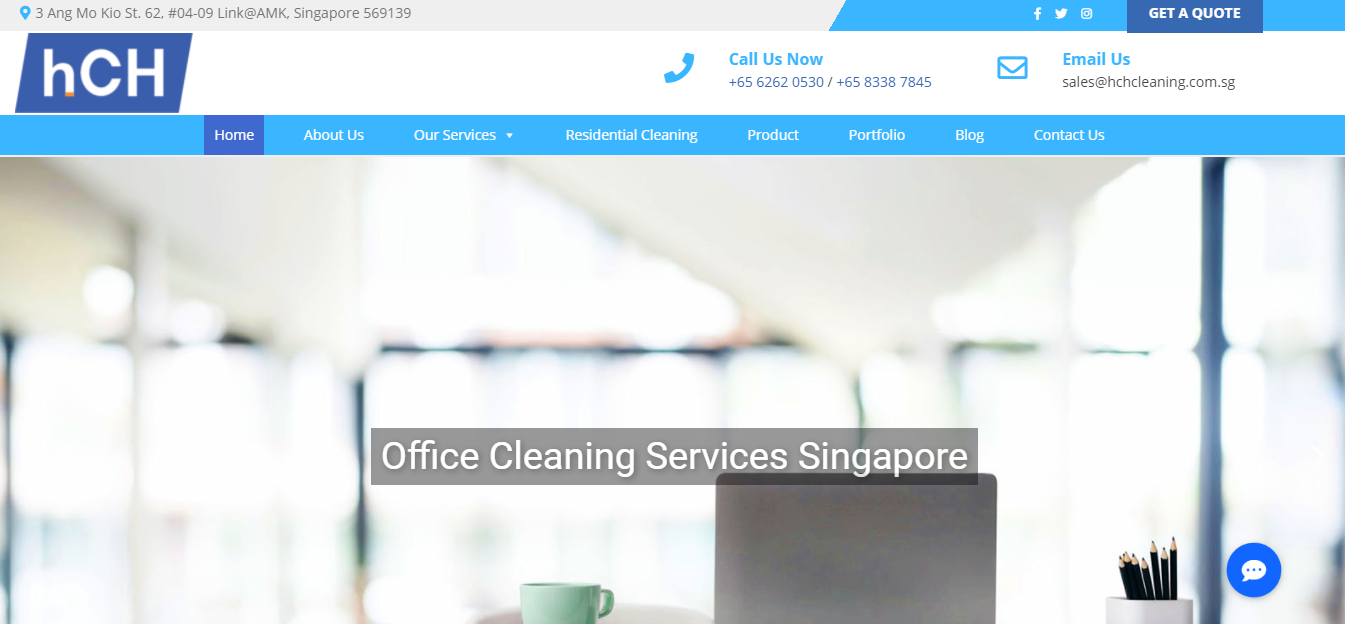 Aside from office cleaning services, HCH Office Cleaning Services also offers commercial, sofa fabric, leather, cafe, restaurant, carpet cleaning, disinfecting service, floor care, and high dusting.
Based on their Google rating score of 4.8 out of 5 stars, we can immediately say that they are very recommendable. We have gathered from the reviews that they provide an amazing service, they are always prompt, and very informative.
What's great about them is how their team makes an effort to demonstrate how their cleaning process is going to happen and what are the steps involve. This is to let you see what they can do and get approval for their cleaning style.
Another reason why we recommend them is they always tailor their cleaning in order to meet your needs and standards. It takes more time, energy, and effort, but it will definitely benefit you in the end.
10. Lukis Private Limited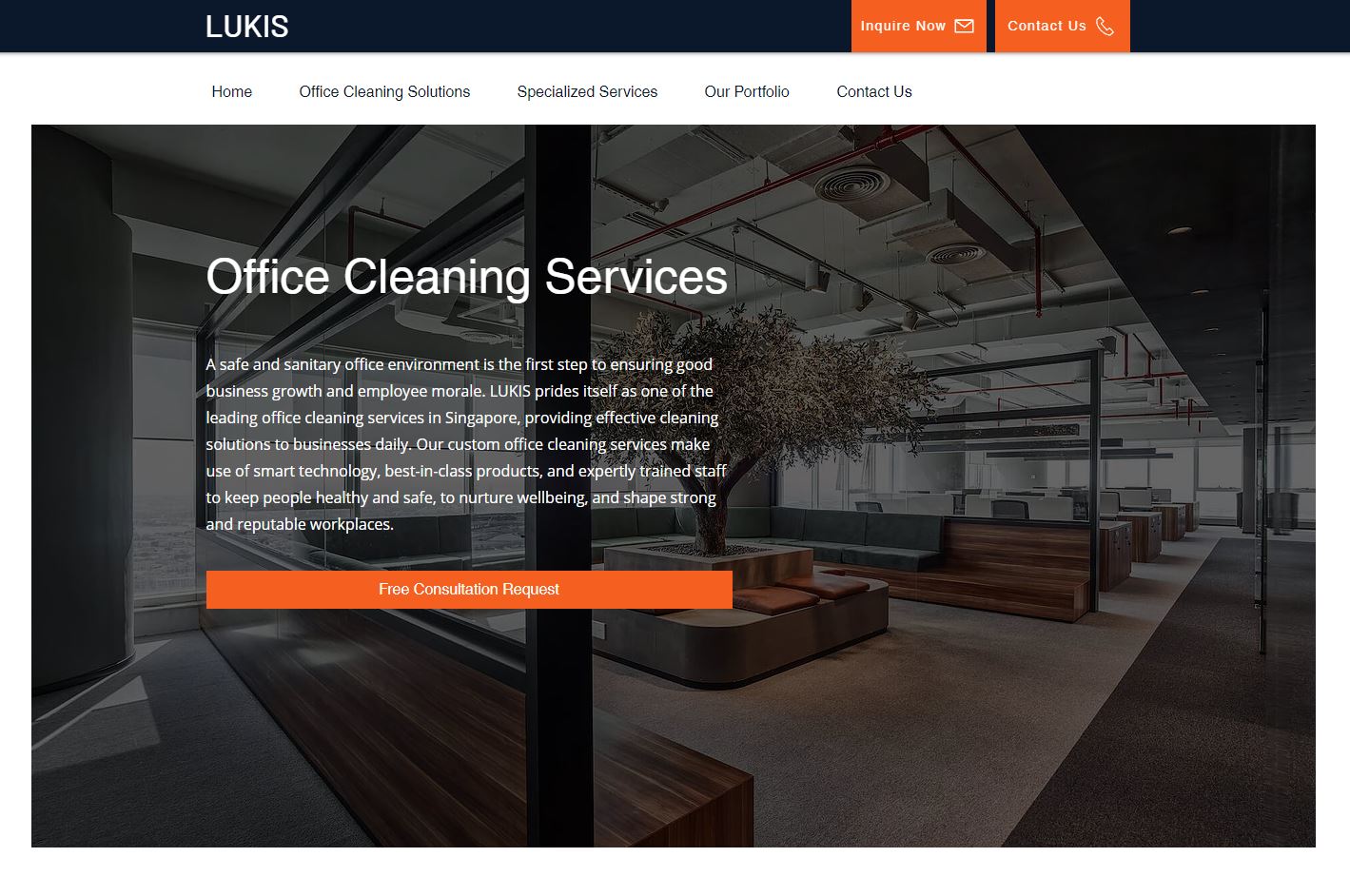 If you really want your business to thrive, prioritizing the health of your employees is a must. They are the fundamentals to your success.
In line with this, looking for the best cleaning company can keep the after and hygiene standards in your work area.
In comparison to others, their office cleaning services and office cleaners are continuously improving in order to adapt to the current global environment and their clients' requirements. They can definitely strengthen your workplace by delivering the value you need.
What's great about them is that they seek to provide a holistic solution that can help you save time and cost on managing a host of subcontractors. Additionally, they are recognized by the Tripartite Alliance for Fair and Progressive Employment Practices (TAFEP).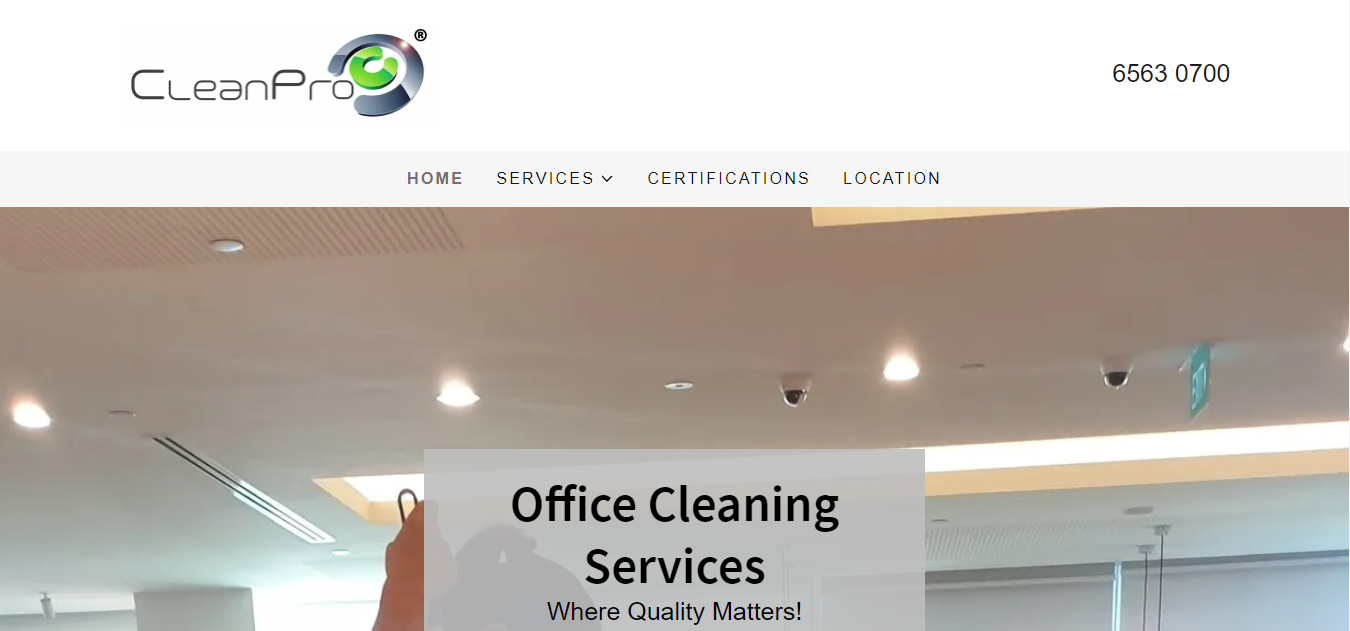 BEST FOR
Office cleaning services
SERVICES/SCOPE

Office Cleaning
Commercial Cleaning
Janitorial Cleaning
Carpet Shampoo

PRICING
Contact for details
WEBSITE
https://cleanoffice.sg/
ADDRESS
2 Jurong East Street 21, #02-155, IMM Building, Singapore 609601
CONTACT
6563 0700


[email protected]

PAYMENT
Contact for details
As a professional cleaning company, you may leave all the cleaning job up to them and be amazed at the output afterward. We think they are great because before actually cleaning the area, they plan it first.
Planning before can help them see which cleaning program fits your requirements. This is to ensure that your office will be shining and spotless.
What's great about them is that they are open from Monday to Friday from 8:30 AM to 5:30 PM.
Additionally, they are open on Saturdays, but for those who made an appointment only.
12. Getz Cleanz
Getz Cleanz is your go-to company when it comes to your cleaning and disinfection service that is customized for your specific needs and preferences. They are able to keep your home and office clean and tidy no matter situation it is in.
Their workers are also under the Workmen Compensation Act & Public Liability Act so rest assured that all of them are insured and fully background chedked for your peace of mind. Furthermore, they are also equipped with only high-quality equipment and supplies to ensure that you receive superb cleaning.
The company strives to offer you with full customer satisfaction and build long-term partnerships with you for your future cleaning needs as well. They also offer regular checks and follow-up services in order that you can have a stress-free experience with them.
We recommend this company for you cleaning needs due to their pleasant working environment and attitudes in order that they can provide you with consistent services which you can rely on every time you need it.
13. Oceanus Office Cleaning
BEST FOR
Office Cleaning
SERVICES/SCOPE

Cleaning Lady, Carpet Shampoo, Office Chairs Cleaning, Deep Cleaning, Disinfectant Misting, Antimicrobial Coating

PRICING
Contact for more information
WEBSITE
http://www.oceanus.sg/
CONTACT

[email protected]

| +65 9338 9208
Oceanus Office Cleaning has been serving different types of corporations since 2015. No matter how big or small the size of your office is, we believe that they will satisfy you more than the other companies you have contacted.
What's great about them is that for every industry, they see which cleaning lady fits the best. This allows them to ensure that their cleaners know what they are doing for that type of company.
What goes well with office cleaning is when they also clean your office chairs. With everyday use, chairs may have sweat marks and bacteria.
Given their years of experience, after they clean your chairs, it will look like as if you just bought them.
In comparison to others, they employ the  Klenco Typhoon SE 30 Extraction Cleaner c/w Diversey TASKI Tapi Extract, and Klenco Power Spotter to scrap, and extract the indiscernible grime, from the seats' cushions.
After, their crew uses a damp cloth with antiseptic to wipe the areas that were not reached.
14. Hiremop Pte Ltd.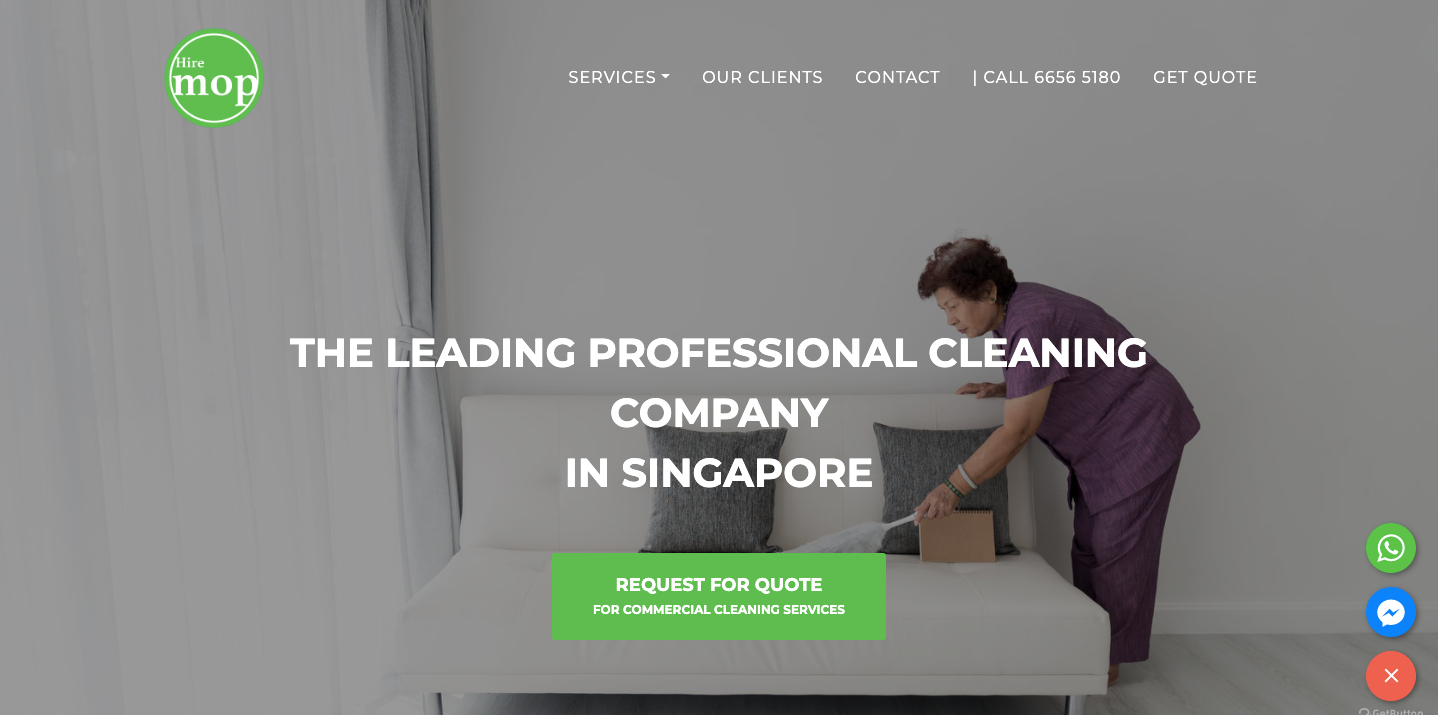 With the pandemic still evident, we cannot just be complacement of the cleanliness of our offices for the safety of our employees.
Good thing that we were able to stumble upon this cleaning services company that has an in depth service for your office cleaning needs.
Hiremop Pte Ltd. is the leading professional cleaning company in Singapore with a 99.5% service satisfaction. They are also a NEA-approved professional cleaning company that are passionate in creating and maintaining an environmentally friendly environment, one that can protect every individual and prevent those around you from becoming ill as a result of poor air quality in a germ-ridden environment.
We are impressed of this cleaning company as they see to it that they continue to strengthen their team with experienced and knowledgeable cleaners in order to provide you with professional cleaning services at reasonable prices in Singapore.
They also see to it that they strictly adhere to the Workplace Safety and Health (Risk Management Standard), ensuring that their cleaners are only assigned to work in a safe environment. Furthermore, by implementing this environmental cleaning framework, we are able to provide their cleaners with the necessary skills, knowledge, and experience to better serve you.
---
At any rate, these best office cleaning services in Singapore are well-known amongst business, even among those who belong in the Fortune 500. When they say they offer top quality housekeeping for your office, it is not just lip service. We hope you have found and settled on one after going through this article. If you think we missed a great service, though, go ahead and point us its way — so we can take a look at it too!