Cleaning your gutters allows rainwater to flow freely out of your house. Not doing this can lead to several issues like interior leaks, foundational damage, rotting wood, allergies, to name a few.
Therefore, we listed the best gutter cleaning in Vancouver for you to use. Here, we'll discuss these companies, their average costs, and also answer some common gutter cleaning questions.
Ready? Let's dive in!
How Much Does Gutter Cleaning Cost in Vancouver?
Gutter cleaning costs differently based on how high your house is and the length of the gutters, which are measured in linear feet.
Typically, most home and business owners spend between $160 and $380 for this service. Kindly see the table below for more details.
Note that these prices don't reflect the actual ones charged by gutter cleaners. This is because people have individual gutter conditions, which have to be expertly assessed for an accurate price.
| | |
| --- | --- |
| Gutter Cleaning Work | Price Range |
| Single-story house (1,300 sq ft and 150 ft gutters) | $160 – $270 |
| Single-story house (1,800 sq ft and 180 ft gutters) | $220 – $310 |
| Two-story house (2,000 sq ft and 200 ft gutters) | $270 – $380 |
These prices can also go up depending on other factors including:
Leaf guards – If your gutters are equipped with leaf guards, you'll have to spend an extra $250 to $420. This is since gutter cleaners will need to remove and install the screens again, which takes more time and effort.
Accessibility – Your roof can be hard to access and have overlapping trees that make it more difficult to clean the gutters.
The same goes for three- and four-story buildings, and since these could require a 40 ft ladder and another cleaner to complete the work. For this, expect to pay an additional $150 to $200.
The Best Gutter Cleaning Options in Vancouver
Now that you know about their costs, here are our best gutter cleaning options in Vancouver, British Columbia, Canada!
1) Quick SideKick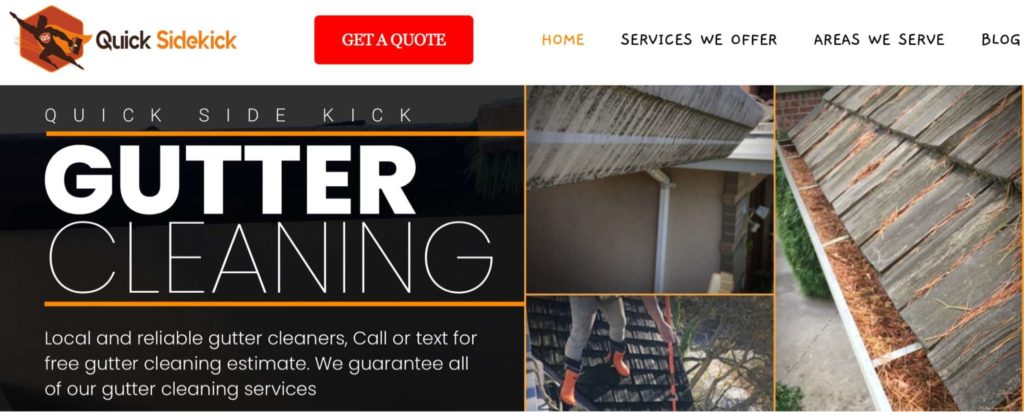 SERVICES/SCOPE
Gutter cleaning
Gutter repair
Roof cleaning
Moss removal
Pressure washing
Window cleaning
Handyman services
Painting
Home improvement
Snow removal
Christmas light hanging service
IKEA furniture assembly
Furniture assembly
Drainage services
Yard clean up
Cleaning and disinfecting service
Office cable management
PRICING
Get a quote here
WEBSITE
https://vancouver.quicksidekick.com
ADDRESS
711 E 6th Ave, Vancouver, BC V5T 1L7 Canada
CONTACT DETAILS
(604) 343-5763


[email protected]

PAYMENT
Kindly contact the company for details
Need an extra hand in the house? Well, that's what Quick SideKick is for, offering a versatile range of home improvement services from gutter cleaning to hydro-flush drain cleaning.
Your gutters may be filled with leaves, mud, or waste material or they may have been long neglected and are detached and hanging down. Quick SideKick offers both gutter and downpipe cleaning and repair.
They are different from the others in that they not only cherry-pick the items clogging your gutters but also polish and soft-wash the surfaces and troughs of your gutters, giving them a thorough and renewing clean.
Handling the cleaning will be their fully insured and licensed team. They are well-equipped and strive to be careful and safe whenever they work and provide excellent results—with photos to prove it!
With live chat support, you can contact them or schedule a job with them 24/7. As most reviews indicate, they have a fast turnaround and can arrive at your property as fast as the same day.
If you are ever dissatisfied with their service, they guarantee to rectify it for your complete satisfaction. And you won't have to pay an additional cost for them to do it.
Now, it's not indicated online as to what payment methods they accept. But we noticed that they don't take debit cards.
Even though the company isn't solely focused on gutter services, it's proven as one of the best options for gutter cleaning in Vancouver. They have lots of happy clients whose gutters looked brand new afterwards.
Provides inside-and-out gutter cleaning
Insured and safety-trained team
Wide scope of services
Instant chat support available
Offers a service guarantee
Doesn't take debit cards
Complaints about customer service
Customer Reviews
Most clients were extremely pleased with their workmanship and price. Check out some testimonials on their website below.
One client named Shannon shared of the gutter cleaner:
"These guys were fantastic they responded immediately to my text for a quote and again by text I set up the appointment. So easy! And the work was great–our gutters were a mess and they took extra time to get them cleaned out without changing the fee. They will be our go to service from now on."
Furthermore, Vicky posted this one:
"Great job by this company and fairly priced. Fast and efficient. Would definitely use them again and highly recommend."
2) Green Grads

SERVICES/SCOPE
Window cleaning
Gutter cleaning
Pressure washing
Snow removal
Leaf removal
Yard clean-up
Christmas light installation and removal
PRICING
Get a quote here
WEBSITE
https://www.greengrads.ca/
ADDRESS
657 – 3381 Cambie Street, Vancouver, BC V5Y 2H2 Canada
CONTACT DETAILS
778 984 7237


[email protected]

PAYMENT
Credit cards, debit cards
Formed in 2006, Green Grads consisted of a unique lineup of UBC students including athletes, actors, playwrights, writers, and musicians, as they had to earn money to follow their dreams.
From then on, the company has grown alongside its service offerings to not only include window cleaning, but also gutter cleaning, pressure washing, yard cleanup, leaf removal, snow removal, and Christmas light installation and removal.
Because they care about the environment, they only use green cleaning solutions for all their services. For gutter cleaning, they handpick leaves and debris and compost them to nourish plants and soil.
Their gutter cleaning service normally includes seal and downpipe maintenance so the system can work smoothly. Also, they offer exterior gutter polishing but this will incur an additional cost.
We read one review, though, that said the gutters weren't washed through after the rubbish had been picked up. Nevertheless, most people were satisfied with the cleaning of their gutters.
Plus, the hardworking staff is both public-liability and WorkSafe insured. As such, in the event of property damage or staff injury, they can cover for them.
As they don't offer a satisfaction guarantee, you can't expect them to re-do their work for free. On top of this, they are closed on the weekends and don't take emergency calls.
Green Grads provides residential and commercial services in Vancouver and the surrounding areas, including Surrey, Burnaby, New Westminster, Coquitlam, Ladner, and White Rock.
Assists home and business clients
Uses a green cleaning method
Fully insured gutter cleaners
Wide service area
No satisfaction guarantee
Not available on the weekends
Customer Reviews
It achieved 4.9/5 stars on Google with most people saying that the team was polite, friendly, and responsive. There were some complaints about their gutter and pressure washing work, however.
Alexandra who is one of their clients left this review:
"Elliot was easy to deal with and responsive. The men who came to do the job were friendly and did a great job cleaning. Definitely recommend them!"
And Ruth endorses them as well:
"Extremely professional team. They went above and beyond to make sure our gutters & leaves around the house were properly picked up. They were quick, efficient, & completely customer-oriented. I would highly, highly recommend them if you need anything around your property done."
3) 604 Gutter Cleaning & Repair

SERVICES/SCOPE
Gutter cleaning
Gutter repair
Roof moss removal
House washing
Window cleaning
Pressure washing
PRICING
Get a quote here
WEBSITE
https://604gutters.com
ADDRESS
2055 Commercial Dr #255, Vancouver, BC V5N 0C7 Canada
CONTACT DETAILS
+1 604-488-8377


[email protected]

PAYMENT
Kindly contact the company for details
604-Gutters is a commercial and residential gutter cleaner dedicated to customer satisfaction. Unique about them is their money-back guarantee, in which clients will be given a refund if the corrected work still fails to satisfy them.
They conduct different types of services including gutter cleaning, gutter repair, roof moss removal, window cleaning, and pressure washing.
All work is performed by their highly trained and safety-oriented team. They use safety gear and self-levelling, hook-supported ladders, which won't lean against your gutters and cause negligent damage.
Since they're available on the weekends, you won't have to leave work early for them to clean your gutters at home. But, bear in mind they're only open from 11:00 AM to 3:30 PM on Sundays.
Clients have been saying that the cleaners explained the process to them from the start, were friendly and knowledgeable, and most of all, provided outstanding workmanship.
Hence, they are worth trying even if they charge higher rates than other cleaners. Also, unfortunately, they don't offer special or coupon discounts online.
Based on the reasons stated above, we chose them here as one of the top services for gutter cleaning in Vancouver.
You can easily get a gutter cleaning quote from them online or by phone. Their contact number is 604-Gutters (604-4888377).
Qualified team
Offers a money-back guarantee
Open from Monday to Sunday
Can be pricey
Doesn't accept debit cards
Customer Reviews
Most of their reviews have been positive on Google. People were very satisfied with the gutter cleaning results and their professional and caring crew.
Let's have a look at Cristina's review of the gutter cleaner:
"Fantastic experience with 604-Gutters. Garry and Ivan could not have been more professional and a pleasure to work with. They evaluated the house prior to performing the work and provided me with what to expect. They exceeded my expectations. Excellent value for increasing street appeal and pride in ownership. Thank you!"
A commercial client also wrote this:
"We are a renovation company and have always hired 604-Gutters for all our gutter cleaning and repair projects we have encountered. From residential to commercial building jobs, we have been very happy with there prompt and friendly service. Uniformed and knowledgable staff. Thanks will continue to do business again."
4) Umbrella Property Services

SERVICES/SCOPE
Exterior cleaning
Window cleaning
Premium gutter cleaning
Pressure washing
Light installation
PRICING
Get a quote here
WEBSITE
https://umbrellaservices.ca/
ADDRESS
2784 Kingsway, Vancouver, BC V5R5H6 Canada
CONTACT DETAILS
(877) 926-9731


[email protected]

PAYMENT
Credit cards, debit cards
No matter how blocked or unsightly your gutters are, you can count on Umbrella Property Services to clean them.
To give you a thorough gutter cleaning, they follow a 5-step process starting with safety checks, followed by gutter debris removal, downspout checks, condition inspection, and cleanup.
With safety checks, the cleaner will walk around your home and spot interfering trees, power lines, and certain areas so they can be aware of them and work carefully.
They will use the ladder to pick up and vacuum various debris on your gutters including dirt, sand, silt, nests, and unusual ones like a baseball or sock, for instance. Also, they'll make sure that your downspouts aren't clogged.
Thereupon, they'll inspect your gutter and downpipes and see if they need any repair. They can reseal joints, repair brackets, check downspout strainers, and more.
After that, they'll collect the fallen leaves and debris in the area they worked at, take them along, and leave your place.
As a result, many clients were happy with their gutter cleaning work. They praised their helpful and polite cleaners who left their place clean after the service.
Their live chat support also allows them to get back to you promptly. And with a satisfaction guarantee, they are willing to return to clean your gutters if you find any flaw with them.
The only cons of this company are that they only work on weekdays and don't offer coupon deals or discounts.
Fully insured and bonded
Practises sustainability
Has live chat support
Gives a satisfaction guarantee
No coupon deals and discounts
Not open on the weekends
Customer Reviews
Umbrella Property Services received rave reviews from many clients. They found their team extremely professional, friendly, and helpful, making the entire process easy.
Check out Sari's feedback of them:
"Appreciated the attentive, efficient, professional and FRIENDLY! service we received from Umbrella. Would definitely recommend."
Sharon also got her gutters cleaned by them. This is what she wrote:
"I have been using this Umbrella Property services for many years. They hang and take down my outdoor Christmas lights, clean my awning, pressure wash the brick patio, hang and replace outdoor lights. I highly recommend Umbrella Services. Their staff are always very courteous and helpful."
5) Men In Kilts

SERVICES/SCOPE
Window cleaning
Gutter cleaning
House washing
Pressure washing
Snow removal
PRICING
Get a quote here
WEBSITE
https://vancouver.meninkilts.ca
ADDRESS
8866 Laurel St #8, Vancouver, BC V6P 3V8 Canada
CONTACT DETAILS
+1 604-638-6996


[email protected]

PAYMENT
Debit cards
Men in Kilts is a locally owned franchise company offering home exterior cleaning services. Each member of their team is licensed, insured, and uniformed in a green kilt, which is their signature style.
They offer free estimates for first-time clients and it's relatively easy to set a date for the cleaning. Along with this, you can take advantage of their promo code to get a sweet 20% off your bill.
They give transparent rates for their service and can adjust them based on your budget. Before the work commences, you'll know exactly how much you have to pay and also you're given the freedom whether or not to proceed with the gutter cleaning.
As one of the best companies for gutter cleaning in Vancouver, they come to your home on time and clean gutters and downpipes thoroughly using the latest techniques and equipment, as clients can confirm.
After the debris, plant growth, and moss are removed, they'll perform a check to ensure your gutters are carrying the water properly. They'll even give you a deficiency report if they find anything wrong.
For every job completed, they give a 48-hour guarantee. If within this period, you find any issue with their service, they'll come back to make it right at no charge.
You might want to couple your gutter cleaning with window washing, snow removal, or pressure washing to make your whole house sparkly clean.
Both residential and commercial clients in Canada can call out Men In Kilts. They're only open from Monday to Friday, though, with shorter working hours from 8:00 AM to 4:30 PM.
So for professional and thorough gutter cleaning, fair rates, and an easy booking process, you won't go wrong with this company!
Trained and insured technicians
Simple booking process
Gives transparent rates
48-hour clean guarantee
Promo code discount available
Doesn't offer gutter repair services
No live chat support
Closed on the weekends
Customer Reviews
On Google, they garnered 4.9/5 stars from many clients. They mostly wrote that they cleaned their gutters thoroughly and efficiently, cleaned up afterwards, and gave reasonable prices.
Here's Sally's remark of the company:
"Did a thorough cleaning of exterior of house and were very personable and professional. Would highly recommend them."
And another client named Arvind said this too:
"I used this company to clean my gutters. He arrived on time and did very good job cleaning the gutters. They are very professional and there price is very reasonable comparing to other companies. I definitely use there services again in future. Thank you so much."
FAQs about the Top Gutter Cleaning in Vancouver
---
And that wraps up our best options for gutter cleaning in Vancouver. These have earned a great reputation amongst clients so you can trust them as well!
Do you have any questions or thoughts regarding our picks? Feel free to share them with us and we'll reply to you promptly.
Can't stand the look of your stained carpets at home? In that case, you can enlist the best carpet cleaning in Vancouver also.