Featured Image Source from DIV Cleaning Service
Are your gutters clogged with leaves, grit, or debris? You need to get the best gutter cleaning services in Raleigh, NC to remove them, which we gathered in a list here for you.
But before we proceed to our top choices, we'll delve into the average cost of Raleigh gutter cleaning. This way, you'll be able to pick the right contractor that fits your needs and budget.
The Average Cost of Gutter Cleaning in Raleigh, NC
As per Home Advisor, the average price of gutter cleaning in Raleigh is $89 to $150. If you want to break this down per linear foot, then it's $1 for one-floor houses and $2 for two-floor ones.
If you're wondering about the lowest-end versus the highest-end price then this falls within the $50 to $250 range. Nationally, people usually spend around $117 to get their gutters cleaned.
Let's put them on a table so you can easily compare these prices:
| | |
| --- | --- |
| Gutter cleaning in Raleigh, NC | Price range |
| Average cost in Raleigh | $89 – $150 |
| Lowest end v. highest end price | $50 – $250 |
| National average | $117 |
| Price per linear foot | $1 – $2+ |
Factors that can increase the price include the number of stories the house has, the complexity of work such as if there are trees and bushes by the gutters, and if the downspouts need to be pressure washed, and if you have a dirty gutter guard that needs to be removed and placed again.
Now, here is the price range for some gutter cleaners in the city. Note that Triangle Home Detailing offers 3 packages for its gutter maintenance service.
| | |
| --- | --- |
| Raleigh Gutter cleaner | Price range |
| CleanPro Gutter Cleaning | $149 – $297 |
| Triangle Home Detailing | From $29/month |
Remember to use any discounts from promotions (if offered) to get better value for the work. This can be a refer-a-friend reward or a special deal until the end of the month.
The Best Gutter Cleaning Services in Raleigh, NC
Now that you know how much gutter cleaning in Raleigh, NC costs, we now bring you our best list!
1)   DIV Cleaning Service

SERVICES/SCOPE
Gutter cleaning
House washing
Pressure washing
Window cleaning
Roof cleaning
Christmas lighting
PRICING
Kindly get a quote here
WEBSITE
https://divcleaningservice.com
ADDRESS
Raleigh, NC, USA
CONTACT
+1 919-295-5373


[email protected]

PAYMENT
Please phone them for more details
With the ever-changing weather in North Carolina, gutters can accumulate debris and leaves. These, if not removed and maintained, may result in water damage and expensive gutter repairs further on.
Fortunately, you can phone DIV Cleaning Service to get your gutter waste removed, power washed through the downspout, and whitened and cleaned on the outside for a refreshed finish!
Their adept gutter cleaners are safety-trained and insured for your peace of mind. They can work on the gutters of different buildings like cottages, condos, apartments, townhomes, and offices.
You are sure to be satisfied as all of their work is guaranteed. If, in your opinion, the work was not performed well, it will be redone by their gutter specialists for free.
The advantage of this company is that besides gutter cleaning, they offer house cleaning, window cleaning, roof cleaning, and Christmas lighting setup. You can add one of these for a complete service.
And they take pride in offering competitive rates without lowering the quality of their service. They currently offer a discount code, which you'll see in the prompt message as you visit their website.
Licensed & insured gutter cleaners
Warrantied labor
After-hour services available
Offers discount codes
Doesn't install gutter guards
Customer Reviews
DIV Cleaning Service received 4.8 out of 5 stars on Google Reviews. Most clients said they provided efficient gutter cleaning and had a quick response and great rates.
Schenell left this feedback on the gutter cleaner:
"We recently became 1st time home owners and have had to do a lot of things for the very first time including hiring services for a variety of things. These guys were great from start to finish. I signed up online for gutter cleaning, was given an appointment date and time. I called as the date got closer and gave them payment over the phone. They arrived on time, did a great job, and cleaned up perfectly.
I will use them for regular gutter cleaning and absolutely consider them for other services they provide as needed."
What's more, John gave them 5 stars. He wrote:
"Great gutter cleaning service by DIV. They had a cancellation and were even able to move us up. Quick and efficient and cleaned everything up! Highly recommended."
2)   Labor Panes

Labor Panes is committed to giving flawless client service and experience. They mainly offer window and house washing but also provide gutter cleaning and gutter guard installs.
One of the best gutter cleaning services in Raleigh, NC, their contractors trained for over 100 hours and carry public liability insurance to protect you and your property from injury and damage.
They also use stabilizer-type ladders that won't press down on the gutter to alter its normal shape. Furthermore, they have a green, safe gutter polish that won't affect the gutter's paintwork.
For superb gutter cleaning, we highly recommend this company. They are knowledgeable about gutters and can maintain them for you to protect your house for many, many years to come.
Also, if there are leaves or waste that fell out while they clean, they will tidy them up before leaving. Though only a small thing, this makes a big difference to the experience of the client.
Their only con is that they aren't open round-the-clock for urgent call-outs. Other than that, they are a perfect gutter specialist that does a fantastic and prompt job that will surely please you.
Fully insured team
A+ rating with BBB (proving their client service is top-notch)
Uses eco-friendly gutter polish
Online appointment system
Guaranteed labor
Discounts available on Facebook
Customer Reviews
Their thorough gutter and pressure cleaning received praises from many clients. People found them courteous, professional, and diligent as well!
One client named Elizabeth wrote this review:
"These two young men were cordial, professional and VERY hard workers. They did a really excellent job and made sure I was satisfied with the job."
And Stephanie expressed her satisfaction with the gutter company:
"I use Labor Panes every year to clean my gutters. I have always been very pleased with their work and they clean up thoroughly. Wonderful people!"
3)   CleanPro Gutter Cleaning

SERVICES/SCOPE
Gutter cleaning
Gutter repair
Gutter guards
New gutter installation
PRICING
$1 – $1.50 per linear foot of gutters
Average cost for gutter cleaning: $149 and $219
2-story homes per 200 linear foot of gutters: $237 to $297
 
You can also request a quote from them here
WEBSITE
https://www.cleanproguttercleaning.com/gutter-cleaning-raleigh-nc/
ADDRESS
Raleigh, NC, USA
CONTACT
(877) 736-0586


[email protected]

PAYMENT
They accept credit and debit cards, PayPal, and checks
For efficient and affordable gutter cleaning, you can dial for CleanPro Gutter Cleaning. They have been around since 2001, catering to both commercial and domestic properties.
Your gutters may be teeming with leaves, branches, sand, weeds, and shingle debris. In effect, this may lead to the blocking of the water flow and may allow water to drip into your house, causing severe damage over time.
Apart from decent prices and quality gutter cleans, the company's edge is in its efficient online process from booking an appointment to paying the bills online by credit, debit card, or PayPal.
If your gutters have worn down from years of use and need replacement, CleanPro has your back too! They can install new ones and also equip them with gutter guards for easier maintenance.
For service assurance, you get a 30 days written guarantee from them. Any flaws or poor-quality work with your gutter cleaning will be duly resolved by them without reservations.
And unlike competitors, they keep their prices transparent, which you may access from the link we provided above. You'll therefore know how much budget you have to set aside before calling them.
Liability insured for $2M
Online payment available
Has multiple payment options
Offers a 30-day written service warranty
No discounts online
Closed on the weekends
Customer Reviews
Their online process from booking to payment was commended by clients. So were their professional and responsive gutter contractors.
Lilian, one client, wrote this review of them:
"I used their online form and got an immediate quote, which they honored. They took there time and did the job right. My gutters look brand new. The techs were very personable and responsive. I will definitely want a service contract with these people."
Now, let's hear Brenda's opinion of CleanPro Gutter Cleaning:
"I was very happy with your process for scheduling, notification of completion, and billing. It rained heavily last evening. I took an umbrella and walked around the house and was happy to see the water rushing out the spouts instead of off the sides! Thank you so much. Also, had you not sent me a notice that the work had been done, I would not have been the wiser. There was absolutely no mess on or around the house."
4)   Craig's Gutter Cleaning Inc.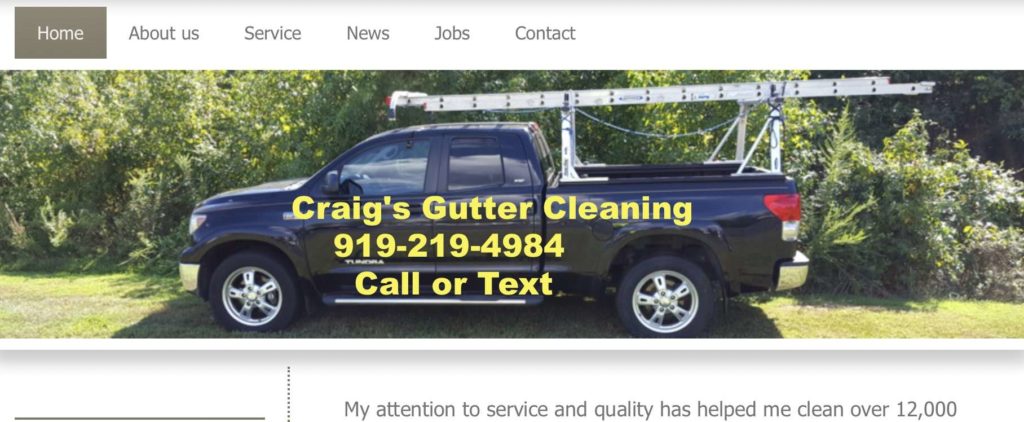 SERVICES/SCOPE
Gutter cleaning
Power washing
Window cleaning
PRICING
Kindly call or message the technician at +1919 219 4984
WEBSITE
https://www.craigsguttercleaning.com
ADDRESS
7210 Aquinas Ave, Raleigh, 27617, NC, USA
CONTACT
+1 919 219 4984


[email protected]

PAYMENT
Please phone them for more details
Craig's Gutter Cleaning Inc. is a small, locally-managed company dedicated to the old-fashioned values of quality and service. The owner, Craig, has cleaned the gutters of over 12,000 homes throughout his career, spanning two decades.
He offers gutter cleaning, pressure washing, and window cleaning, and minor repairs. He caters only to small-scale works though, so that means you'd have to get a different gutter cleaner for commercial gutter cleans.
Clients can attest to Craig's skill, professionalism, and work ethic. He basically arrives with a mission, cleans your gutters efficiently, collects the leaves stuck in there, and uses a leaf blower to remove leaves from your roof, porch, and garden.
A small business that's down-to-earth seems to be what clients are looking for. With Craig's Gutter Cleaning, you won't be pressured to buy one of the service plans that can cost some money like what other companies do.
However, one drawback is the fact that Craig doesn't have an online quoting system and only accepts inquiries via phone or text. However, he will respond lightning-quick so this con can also be a pro at the same time.
Although this business is akin to a small fish in a big ocean, he can compete with the best of them in terms of service quality, cleanliness, and timeliness. That is why, it deserves a shout-out in our list of the best gutter cleaning services in Raleigh, NC!
Wide range of services
Locally run company
Over 20 years of experience
No online quoting system
Doesn't offer office gutter cleaning
Customer Reviews
The small gutter cleaning business received stellar reviews on Google. Craig was praised for his excellent gutter cleaning service, professional attitude, and super-fast response!
Derek left this review on Google:
"Craig is a great fellow! Glad I found him and will use his service whenever needed. Professional, attention to detail, prompt, and hassle free! Great price and no pressure to join a service plan like other services out there. Thank you Craig!"
Also, Joe said this:
"Craig showed up on time on scheduled day and completed my gutter cleaning quickly and efficiently. He cleaned up all the debris and took it with him, blew off deck, driveway and porch. Highly recommended and will use him again."
5)   Raleigh Gutter Cleaning

SERVICES/SCOPE
Gutter cleaning
Window cleaning
Gutter guard installs
PRICING
Kindly call or message for a quote. Or click this link.
WEBSITE
https://raleighguttercleaningnc.business.site
ADDRESS
Raleigh, NC, USA
CONTACT
+1 919-630-2033
PAYMENT
Please phone them for more details
A firefighter- and veteran-owned business, Raleigh Gutter Cleaning provides dependable gutter cleaning, window cleaning, and gutter guard installation for residential homes in Raleigh.
Are your gutters clogged because of a storm the night before, pollen season, or a large bird's nest? Before rainwater leaks into your inside wall or ceiling or exterior wooden floors, just call Aaron.
Aaron promptly answers calls and shows up at your place to clean your gutters. He always leaves them clear and unclogged and even shows you before and after photos of them for proof.
While he's at it, you may want to apply gutter guards and let him clean your windows too. That'll keep the leaves and debris out of the gutters, making them easier to maintain next time!
Apart from that, Aaron charges fair and affordable rates for his services. And according to clients, he is a great person to deal with and is amiable and professional.
Though the business doesn't provide gutter replacements and repair, we think it's another of the best gutter cleaning services in Raleigh, NC simply for its honest and reliable service.
Affordable rates
Provides before and after gutter pictures
Open 7 days a week
Doesn't offer gutter replacement and repair
Customer Reviews
As we ourselves noted earlier, clients described the service as professional and accommodating. Their gutters looked fantastic after the cleaning and the rates were affordable.
One client named Jeanne gave this feedback:
"Aaron and Scott cleaned my gutters and washed my exterior windows recently. They were prompt, professional, respectful and reasonable. Not only are they detailed in their work, but they take the time to do the job thoroughly with excellent results. I highly recommend them both and will certainly use their services again."
Plus, Javier said this:
"Had a lot of debris after the recent storm and Aaron took such good care of us. In one afternoon it looked like the storm never touched my property."
FAQs about the Top Gutter Cleaning Services in Raleigh, NC
---
And that wraps up our top picks for gutter cleaning in Raleigh, NC. With them, your gutters will be clean and debris-free so that water will flow through them seamlessly.
If you have any questions or comments about our list, you can let us know by dropping us a line and we'll get back to you as soon as we can.
Do you need your carpet cleaned too? No worries, for that, you can read through our choices for the best carpet cleaners in Raleigh, NC!