Featured Image Source from Carpet Cleaning
Carpets give elegance and coziness to a room. However, they easily trap dust, dirt, and allergens that can mar their appearance and more so, negatively affect people's health.
Thus, we listed here the best options for carpet cleaning in Santa Monica. But before we proceed to this, we'll tackle the average cost of these services so you'll know how much you should pay.
The Average Cost of Carpet Cleaning in Santa Monica
As per HomeAdvisor, the average cost of carpet cleaning in Santa Monica, CA is $196 or between $128 and $263. Companies can charge clients on a per room or per square foot basis.
Factors that can affect the price include the carpet's material, size, condition, and stain marks. If you have carpeted stairs and areas where the furniture needs to be moved, you will spend more.
Hence, it helps to vacuum your carpet and move the furniture before the carpet cleaner arrives to save money. Also, you can check the website for coupon deals and mention these to the team.
Now, here's a table showing carpet cleaning costs based on the number of rooms. With this, you should be able to gauge your budget in having your home carpets cleaned.
| | |
| --- | --- |
| Number of Rooms | Cost Range |
| 1 | $25 – $75 |
| 2 | $50 – $150 |
| 3 | $75 – $225 |
| 4 | $100 – $300 |
| 5 or more | $150 – $600 |
Furthermore, for carpet cleaning costs per square footage, kindly view the table below. Note that carpet cleaning typically costs $0.20 to $0.40 per square foot.
| | |
| --- | --- |
| Carpet Square Footage | Cost Range |
| 200 – 400 | $80 – $130 |
| 500 – 1,000 | $100 – $250 |
| 1,000 – 1,500 | $200 – $300 |
| 1,500 – 2,000 | $250 – $450 |
| 2,000 – 3,000 | $400 – $550 |
The Best Carpet Cleaning Options in Santa Monica
Now that you have an idea of the rates, allow us to round up the very best carpet cleaning options in Santa Monica!
1) Oxi Fresh Carpet Cleaning

SERVICES/SCOPE
Residential carpet cleaning
Commercial carpet cleaning
Hardwood floor cleaning
Steam cleaning
Tile and grout cleaning
Upholstery cleaning
PRICING
Kindly inquire with them for rates
WEBSITE
https://www.oxifresh.com/locations/ca/santa-monica-carpet-cleaning/
ADDRESS
Santa Monica, CA, USA
CONTACT DETAILS
877-694-3737
PAYMENT
Credit cards
Oxi Fresh Carpet Cleaning is a carpet cleaning firm with hundreds of locations in the US. They have a branch in Santa Monica, CA that is locally owned and operated to give clients a dedicated service.
It's different compared to other professionals in that it uses a less-moisture carpet cleaning method with a super-fast dry time of 1 hour versus the conventional 6+ hours of competitors.
That allows the company to save water use, perfectly complementing their eco-friendly solvents and efficient machinery. This makes them an all-around green cleaner you can depend on.
Getting your quote here doesn't have to be tedious and type-y. All you have to do is enter your zip code, click go, and you'll get some coupons and a number to call—after which their CS staff will give you an estimate.
Besides carpet cleaning, they offer upholstery cleaning, hardwood floor cleaning, and tile and grout cleaning. They can handle domestic and commercial jobs, whether they be large or small.
If ever you weren't satisfied with the work performed, you could have them redo it within 7 days. Failing to inform them within this period will make the warranty void.
Despite being a franchise company, most clients found the team efficient, informative, and clean. They explained the entire process to them and helped them make the most out of the service.
So for a speedy dry time, eco-friendly carpet cleaning, and outstanding customer service, you won't go wrong with Oxi Fresh, one of the best carpet cleaning options in Santa Monica.
1-hour carpet drying time
Uses eco-friendly cleaners
Has a 7-day redo policy
Fast online quoting
Coupon deals available
Closed on a Sunday
No email address provided
Complaint about inconsistent quoting
Customer Reviews
The carpet cleaning firm holds a perfect score on Google Reviews. Most people wrote that they managed to remove hard stains and dirt in cleaning their carpet, which dried tremendously fast.
Leon, one client, had this to say of the carpet cleaner:
"They did a mighty fine cleaning, I am very happy with it all. they know what they are doing. the that came out to my home were nice and professional. worked really hard to make sure all stains and dirt were gone."
Also, check out Darlene's comment on Google:
"Aaron Rojas was excellent! I scheduled and appointment quickly, received text updates and confirmations. Explained everything thoroughly, was efficient and neat. The carpet, which had dog stains and other stains, came out beautifully. As he said the carpet would not be wet like steam cleaning, which I had done before, and it wasn't!
I would definitely use Oxy Fresh again and recommend Arron and this company.
Thank you so much!"
2) Cleaner Greener Santa Monica

SERVICES/SCOPE
Carpet cleaning
Air duct cleaning
Tile and grout cleaning
Pet stain and odor removal
Wood floor cleaning and polishing
Oriental and area rug cleaning
Upholstery cleaning
Water damage restoration
PRICING
Kindly inquire with them for rates
WEBSITE
http://www.cleanergreenersantamonica.com
ADDRESS
Santa Monica, CA 90404, USA
CONTACT DETAILS
310-448-1062


[email protected]

PAYMENT
Mastercard, Visa, and American Express
Formed over 10 years ago, Cleaner Greener Santa Monica prides itself in its 45-minute turnaround, 24/7 emergency services, and of course, pet and child-friendly cleaning solutions.
Their full list of services includes carpet cleaning, wool and rug cleaning, pet odor removal, air duct cleaning, floor cleaning and polishing, upholstery cleaning, and flood damage restoration.
Being licensed, bonded, and insured, their cleaning crew can be relied upon to deep-clean your carpets without damaging them. Also, this will help to extend the life of your carpet investment.
With a flawless grade from clients, they are another of the best carpet cleaning choices in Santa Monica. For them, the results were impressive in which their carpets looked brand new after the cleaning.
You can call them to clean your carpets and upholstery round the clock. Since they're normally open from Monday to Sunday, you only have to pay the emergency call-out rate past 8.00 PM.
Concerning their payment modes, they accept Visa, Mastercard, and Amex. By the way, they don't offer any coupon deals or promotions like other cleaners out there.
On top of that, with a satisfaction guarantee, the carpet cleaner will rework missed spots or areas in your house or office without any extra cost so it's safe to deal with them.
Cleaner Greener Santa Monica serves clients within the Greater Santa Monica area. To get a free estimate, you can phone or email them using the details provided in the table above.
45-minute response time
Offers 24/7 emergency service
Licensed, bonded, and insured crew
Uses eco-driven cleaning methods
Offers a satisfaction guarantee
Accepts credit cards
No promos or coupons offered
Doesn't accept PayPal and Discover Network
Customer Reviews
As mentioned earlier, clients were very impressed with the carpet cleaning results. In addition, they found the team knowledgeable, friendly, and communicative.
One reviewer named Francisco said this of them:
"Wow! What an amazing job! We had a couple years of foot traffic dirt, several stains, and pet dander to clean up and this made our carpets look close to new! The tech was super friendly and he communicated everything from price to what he was doing from the beginning. I will highly recommend his work to anyone looking to have their carpets cleaned professionally. Thank you again!"
What's more, Jenna shared her experience too:
"I had them come out because my new baby kitty that we just got decided to push my cup of coffee onto my brand new rug couch and carpet. It was a disaster. I tried to clean it myself and only made it worse by smearing more into everything and spreading it more. It was bad!!!
I called this company after reading their amazing reviews and I liked that they use all natural cleaning products that were safe for my fur baby. I scheduled an apt after receiving a rough estimate over the phone but I knew they had to see it first, to get the actual price. anyway, the tech came out same day and looked at the mess explained to me the process and even showed me as he was going the difference. oh what difference. super happy with the service from scheduling the apt to the tech coming out and doing the work to."
3) SPITz Carpet Cleaning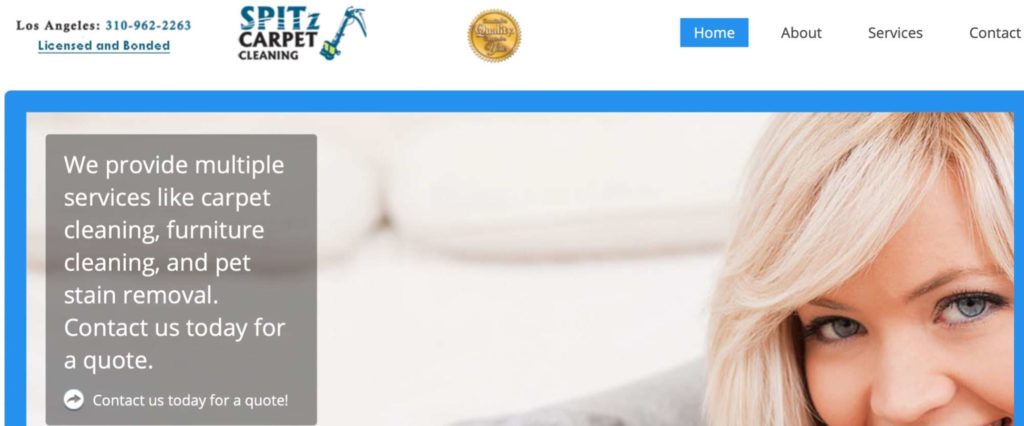 SERVICES/SCOPE
Residential carpet cleaning
Commercial carpet cleaning
Area rug cleaning
Pet stain removal
Spot treatment
Upholstery cleaning
PRICING
Kindly inquire with them for rates
WEBSITE
http://spitzcarpetcleaning.com
ADDRESS
5515 Simpson Ave, Los Angeles, CA 90035, USA
CONTACT DETAILS
310.962.2263


[email protected]

PAYMENT
Credit cards
Searching for an insured and trustworthy carpet cleaner? If so, SPITz Carpet Cleaning might be for you!
Their ethos is to give clients honest and upfront prices. As clients can attest, they give quotes, stick to them, and won't definitely upsell one or more of their services that you won't need.
The carpet cleaners are certified, bonded, and insured. So should anything go wrong during the work, they will cover the property damage costs they are held liable for.
They offer both residential and business carpet cleaning, area rug cleaning, spot treatment, pet stain removal, and upholstery cleaning.
Rather than using steam cleaners, they use Rotovac carpet cleaning equipment. Rotovac has vacuum heads underneath that spin very fast to clean a carpet from all directions, agitating the embedded stains and dander and effectively making your carpets neater as a result.
In terms of deep carpet cleaning, however, steam cleaners are a lot better since they spray hot water to kill the bacteria, whereas Rotovac cleaners only fire regular-temperature water to clean the carpet.
As for their downside, there's no mention on their website nor reviews about whether they offer a satisfaction guarantee. Another is that they don't offer any special or coupon deals.
Based in Los Angeles, SPITz Carpet Cleaning covers the following areas as well: Santa Monica, Beverly Hills, Glendale, Malibu, Sherman Oaks, Hollywood, and the entire San Fernando Valley.
Honest pricing guaranteed
Utilizes Rotovac carpet equipment
Licensed and bonded team
Accepts credit cards
Open 7 days a week
Steam cleaners are better than Rotovacs for deep carpet cleaning
No promos or coupons offered
No mention of a guarantee online
Customer Reviews
Clients, especially those with lots of pets and kids in their home, praised this company in terms of their fast and wonderful service, fair prices, and best of all, great cleaning outcomes.
A long-time client, Katie, left this review on Google:
"A family with two dogs and lots of carpets. Carpet certainly need attention. Been using spitz now for about 5 maybe 7 years and so glad to have been using them. Everyone is knowledgeable and courteous. And my carpets feel great when they are done."
Also, another one named AJ wrote this:
"This carpet cleaning business is the best one I know of here in LA. My fiancé and I have been Spitz's clients for years and he never disappoints when it comes to our carpets. Depending on how many rooms you have, its a pretty speedy service which I need because I'm always on the go! Thank you Spitz for always being so responsive and endlessly delivering amazing service!"
4) Sterling Carpet & Floor Care

SERVICES/SCOPE
Carpet cleaning
Upholstery cleaning
Tile & grout cleaning
Commercial cleaning
PRICING
Carpet Cleaning

Carpet cleaning: $50/room or $119/3 rooms
Restoration cleaning: $25/room
Hallway: $15 each
Staircase: $65 each
Pet urine treatment: $30/room
Deodorizer: free

Rug Cleaning

Area rug: $15 each

Mattress Cleaning

Mattress cleaning: $30 each

Upholstery Cleaning

Love seat cleaning: $80 each
Sofa cleaning: $120 each
Sofa + love seat package: $175

Tile Cleaning

Tile Cleaning: $65/room
WEBSITE
https://sterlingfloorcare.com
ADDRESS
Santa Monica, CA 90404, USA
CONTACT DETAILS
424-276-1363


[email protected]
Sterling Carpet & Floor Care is a family-owned carpet cleaning business. It serves the LA and Inland Empire areas, including Santa Monica, Manhattan Beach, Riverside, Ontario, and others.
Their licensed and insured team specializes in cleaning different types of carpets, including polyester, olefin, nylon, and Commercial Glue Down (CGD).
They follow a 7-step carpet cleaning process. They use the effective truck-mounted hot-water extraction method to break up and remove the dirt and debris trapped in your carpets' fibers.
Once the cleaning is done, they'll walk you through the carpets and answer all the questions you have. They fully guarantee all their work so you don't have to worry.
Booking online is quite simple with them and you can see the rates and discounts they offer. Shortly after you proceed, the staff will contact you to confirm your appointment with the carpet cleaner.
Despite their positive aspects, this company doesn't accept credit cards. This means that you could only pay them either by cash or check.
They have cleaned carpets, floors, and upholstery for commercial and personal spaces for over a decade. And as they are highly rated by many clients, we believe it's safe to say they're one of the top carpet cleaning options in Santa Monica!
Licensed and insured carpet cleaners
100% satisfaction guaranteed
Transparent prices
Special offers available
Doesn't accept credit cards
Closed on a Sunday
Customer Reviews
Sterling Carpet & Floor Care got a 5/5 star score on Google. Most clients noted that the cleaner was professional, kind, and able to clean their carpets thoroughly and efficiently.
Let's hear Toni's feedback as displayed on the website:
"Perfect service. Robert went above and beyond! We needed our carpets serviced ASAP for the holidays. He gave us a quote and was in the next day. I am an extremely private person and was embarrassed of how bad my carpets had gotten with our new puppy, but he was extremely professional and made me feel at ease. Definitely worth it!"
Plus, Robert said this of the carpet cleaner:
"Robert was very professional and kind. He done a wonderful job cleaning my carpet. They are so clean and fresh. Feels like I'm in a whole new apartment. Thank you for being amazing! I will definitely use your services again and you will be referred to family and friends."
5) Genie Carpet & Upholstery Cleaning

If you don't seem to have time for carpet cleaning, no worries, as Genie Carpet & Upholstery Cleaning can fit in your schedule. They are available the entire week including Saturdays and Sundays.
However, you may have to pay a higher fee if you call them out on a Saturday since they aren't normally open on this day.
They are another of the top options for carpet cleaning in Santa Monica. People have had a great experience using them from start to finish—without any hassles whatsoever.
The company boasts of being on-site within an hour of your call to refresh your carpets. Their carpet technicians are well trained and can remove different types of stains on your carpet or rug.
They conduct a steam cleaning procedure for your carpets and upholstery, which is considered to be the best carpet cleaning method by carpet manufacturers and experts alike.
Their services include home and business carpet cleaning, rug cleaning, mattress cleaning, pet odor removal, upholstery cleaning, and water damage restoration. This makes them a one-stop service provider.
Coupon deals are also available online but they're fewer than those of other companies. And also, prices aren't shown but many clients say they charge fair rates.
The team aims to satisfy each client they work with, which is why they guarantee their service. If you aren't happy with the carpet outcome after the cleaning, they will work to solve the problem.
On-site within 1 hour
Takes 24/7 emergency service calls
Guarantees all work
Coupon deals available
Normally closed on a Saturday
Fewer coupon deals compared to rivals
Customer Reviews
Most clients wrote that the cleaners explained the process, were kind and punctual, and skillfully removed the carpet stains. In the end, they were satisfied with the service given by the company.
Here's Dana's feedback on the website:
"I've never paid to have my carpet cleaned before, but it was about time. Genie Carpet & Upholstery Cleaning charged a fair price, came out on time, worked fast, and did a great job. The technicians were also pleasant to interact with. Importantly, they got along well with my wary dog. When I need my carpet cleaned in the future I will contact this company again."
Furthermore, another satisfied client, Kay, left this comment:
"I am very impressed with both the quality and professionalism of Genie Carpet & Upholstery Cleaning. Every single thing was done as promised from calling to confirm, to showing up on time, and then carefully cleaning the carpets. I highly recommend this company – I called several other companies and Genie Carpet & Upholstery Cleaning was very reasonably priced and explained their service well."
FAQS about Carpet Cleaning in Santa Monica
---
And that completes our top options for carpet cleaning in Santa Monica. You can entrust your carpets to them as they've been doing this for many years.
Have you used any of these carpet cleaners before? If you have, share with us your experience by messaging us and we'll get back to you promptly.
Interested in our other carpet cleaning lists? For this, you might also want to browse the best carpet cleaning options in Temecula!