Gutters can easily fill up not only after fall but also on ordinary days too. To keep your house in tiptop shape, we've compiled a list of the best gutter cleaning in Perth for you here!
But before presenting our top choices to you, we'll go over the average rates of these services. This way, you'll be able to know whether or not a company is offering you a fair price.
How Much Does Gutter Cleaning Cost in Perth?
In Perth, WA, a gutter cleaning service typically costs between $150 to $550. Many factors can affect the price including the amount of debris, roof pitch, number of storeys, and specialised equipment.
If you require gutter guard installation or gutter and downpipe repair, you'll also need to spend more. However, some gutter cleaners offer this as part of their package without any extra costs.
Now, the reason that these things raise the service price is that the work is harder and riskier to complete. This also means that it will require more time and effort from the gutter cleaner.
For a more detailed price list of gutter cleaning, kindly refer to the table below.
| | |
| --- | --- |
| Gutter Cleaning | Average Cost |
| Single-storey, 3-bedroom house | $150 to $230 |
| Single-storey, 4-bedroom house | $150 to $300 |
| Double-storey house | $180 to $350 |
| Double-storey townhouse | $200 to $250 |
| Triple-storey house | $300 to $500 |
The Best Gutter Cleaning Options in Perth
Now that you know about their costs, you're ready to view our list of the best gutter cleaning options in Perth. Here they are:
1) West Coast Gutter Clean

Based in Southern Perth, West Coast Gutter Clean offers gutter and solar panel cleaning services to home, strata, and business clients.
Their service comprises gutter cleaning, gutter guard installation, solar panel cleaning, solar panel animal guard installation, roof cleaning, pressure washing services, and handyman jobs.
Note that if you would like to install gutter guards, they're the ones to call since not all gutter cleaners offer this service.
They are highly rated by clients in Oneflare and ServiceSeeking Australia for their quality of work and promptness. Therefore, you can also expect to get the same level of service with them.
You can get a quote from them online by clicking 'Enquire Now', filling out the required fields therein, and hitting 'Submit'. Or, if you want a faster way to reach them, simply give them a ring.
As for their cons, the gutter specialist doesn't offer a satisfaction guarantee to clients, so if after a few days you discover a fault, you'd have to pay for them to return and sort it out.
Another is that they're unavailable on the weekends, unlike other technicians. If you have free time on a Saturday or Sunday, you need to wait until the next working day for gutter cleaning.
West Coast Gutter Clean serves clients around Booragoon, Perth and the surrounding areas. You can check out their before-and-after cleaning video clip on their web page if you want.
Certified gutter cleaners
Can supply and install gutter guards
Easy booking system
Fair rates
No satisfaction guarantee
No discounts available
Closed on the weekends
Customer Reviews
Many clients on Facebook raved about the after-results of their gutter cleaning service. They also said they were professional, efficient, and on time, as well as fixed minor cracks and downpipe leaks.
One happy client, Joey, stated of his experience with them:
"Very happy with their service. Didn't meet Phil today but his boys were doing a great job for my gutter cleaning."
Also, Steeve wrote this one:
"Great job, gutter were pretty bad and all cleaned up in couple of hrs. Reasonably price for the size of the roof and solar panel cleaning. Will definitely recommend."
2) Overall Perth Gutter Cleaning

Searching for a reliable gutter cleaning company? Well, Overall Perth Gutter Cleaning is a great choice that can handle both low and high domestic and commercial buildings!
We chose them here as one of the best options for gutter cleaning options in Perth for the following reasons:
First, their cleaners are trained, safety-certified, and insured. They have white cards, height safety licences, work liability coverage, and business insurance, which can be shown to clients at their request.
Also, they're equipped with safety harnesses to prevent accidents and injuries whenever working on high ladders and rooftops.
Apart from that, the team can repair gutters and downpipes that have leaks, cracks, or bracket issues. They can even cut off overhanging branches to reduce your gutter cleaning frequency.
Their process is super simple as their professional and friendly team strives to assist you throughout the service. Plus, they give a quick and value-giving quote, according to the reviews.
A nice touch is that you can be given pre-and-post gutter cleaning photos afterwards. This serves as proof that your gutters have been thoroughly cleaned.
And they can clean up everything and leave your premises immaculate. This is one of the things that people appreciated about them.
Despite the things we mentioned, they don't offer a service guarantee like our previous pick.
To get a quote from them, you can click the pricing link in the table above. Overall Perth Gutter Cleaning is available Mondays through Fridays from 7:00 AM to 6:00 PM.
Safety-certified and insured team
Skilled in gutter repair
Gives value for money
Provides before-and-after work photos
Pain-free service process
Early opening hours
No workmanship guarantee
Closed on the weekends
No discounts available
Customer Reviews
Their perfect review score on Google speaks for itself. Most clients had a great experience from start to finish and complimented their workmanship and willingness to clean up afterwards.
Let's hear John's feedback of the company:
"Excellent job done by the guys. 100% recommend them. Great value, clean, quiet, professional, before and after pics. Brilliant."
And Susan wrote this too:
"Very professional. Actually rang to see if they could arrive at an earlier date and did a very good job. Some of the tiles had slipped and we didn't know which could have been a disaster with winter coming. The team realigned the tiles without extra cost. Clean and immaculate. Thanks guys."
3) Top of the Ladder Gutter Cleaning
Having 2 decades of experience, Top of the Ladder Gutter Cleaning prides itself on offering professional and affordable gutter and roof cleaning services.
They can clean all sorts of gutters for residential, commercial, and industrial structures. Whether it be a multi-story home, strata, or real estate property, they are certified and insured to carry out.
Furthermore, they are highly trained and adhere to Australian work safety standards. Therefore, you can trust that they can get the job done to a high standard.
Their equipment includes safety harnesses, scaffolding, and cherry pickers so they can efficiently access sharp roof pitches or clean hard-to-reach gutters.
If they find broken roof tiles while working on your gutters, these can be repaired for you. Moreover, they strive to clear all of the debris on your property's roofs, valleys, gutters, and downspouts.
Reviewers noted their fair rates that matched their high-quality cleaning service. By the way, they have one discount available online, which can be claimed if you and a neighbour book together.
A workmanship guarantee should be offered to give clients confidence and peace of mind. Unfortunately, the gutter cleaner doesn't offer this.
We think that Top of the Ladder is an awesome company as they tailor their service to your requirements and property. As a result, you can be satisfied with their gutter cleaning work, knowing that the gutters and downpipes are working as they should.
You can schedule an appointment with them from Monday to Friday. Their service area covers all of Perth, whether you live up north or farther down south.
Fully certified and insured team
Has specialised equipment
Adheres to AU work safety standards
Offers decent rates
Special offers available
No service guarantee
Not open on the weekends
Customer Reviews
On Facebook, everyone was satisfied with their efficient and professional work. They also said they responded swiftly and had a polite and kind staff.
Check out Nicole's comment on the gutter cleaner:
"Fantastic job, great peace of mind knowing everything is cleaned out ready for winter. Boys cleaned up when done, recommend everyone get their gutters cleaned out ready for the new season. Thanks guys."
What's more, Shane said this:
"We where on the hunt for a new gutter man.
I heard the ad on the radio, so I called.
Very impressed with the prompt friendly service, the crew that did the the job where very thorough and nice blokes.
I would recommend Top of the ladder for sure."
4) Perth Metro Gutter Cleaning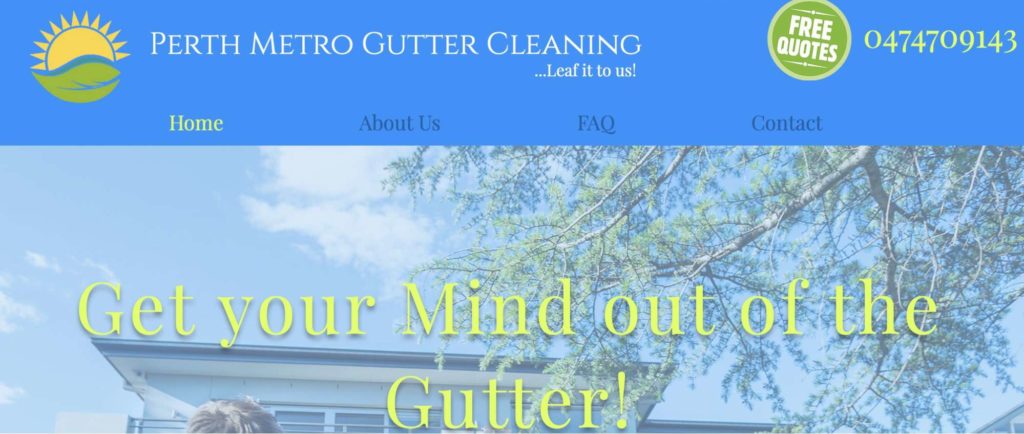 SERVICES/SCOPE
Gutter cleaning and repair
Gutter guard installation
Downpipe cleaning and repair
Solar panel cleaning
Roof cleaning & maintenance
Waste removal
Tile replacement
PRICING
Single-storey gutter cleaning: from $200
WEBSITE
https://www.perthgutterclean.com.au
ADDRESS
Harrisdale, Perth 6112 Australia
CONTACT DETAILS
0474 709 143


[email protected]
Going further than its competitors, Perth Metro Gutter Cleaning offers a satisfaction guarantee for their services and works all day 7 days a week.
Their team can come out the same day you call them, which again, puts them a notch above the others since other companies respond to messages slower and inspect gutters at a later date.
While all gutter cleaners claim that they provide affordable and professional service, this one does that too but they walk their talk, evident with the positive reviews left by their clients.
They offer a full range of services including gutter cleaning and repair, roof cleaning and maintenance, solar panel cleaning, tile replacement, gutter screen installation, and waste removal.
The payment methods they take include cash, cheques, bank transfers, and PayPal. However, those who intend to use credit and debit cards would have to call another gutter cleaner.
About their gutter cleaning rate, they are transparent with it and it's not cheap and not expensive either. No special discounts are offered but this isn't as important as providing a good result.
The areas they cover include Perth, Belmont, Bayswater, Cockburn, Fremantle, South Perth, Stirling, and other suburbs.
They offer free quotes without any hidden charges by phone or at your property. They aim to fit into their clients' schedules and can clean the house without you having to be there for convenience.
As you can see, Perth Metro Gutter Cleaning is one of the top gutter cleaning services in Perth. All their team members are trained and qualified to perform their line of works.
Guaranteed client satisfaction
Works seven days a week
Same-day service available
Can clean your gutters without you around
Accepts cash, cheques, bank transfers, and PayPal
No special discounts offered
No mention of an insured team
Doesn't accept credit cards
Customer Reviews
The gutter cleaner received an impeccable score on Google from clients. Most of them praised their great communication, workmanship, and same-day service.
One client named Peter wrote this about their gutter cleaning service:
"Very happy with the service you have provided definitely will be using your service next year."
Plus, here is Kelly's review of the company:
"Easy to contact, responded to query immediately, appointment made quickly, arrived on time and completed job efficiently and well. Would highly recommend!"
5) Gutter-Vac

Rather than picking up the debris on your gutters, Gutter-Vac uses a wet/dry vacuum to remove leaves, dirt, plants, vermin, and sludge trapped in them, resulting in a more thorough clean.
It's a franchise company with branches throughout the nation. In Perth, WA, the closest franchisee is based in Claremont, which is owned and led by Hamish McCracken.
They offer a comprehensive scope of services with gutter cleaning as the primary one. They also conduct gutter guard installs, pressure washing, tank cleaning, bird proofing, solar panel cleaning, and mould and lichen removal, but they don't provide gutter system repairs.
Their service is beneficial because they can clear out your dirty gutters to prevent foundational and wall damage, fire risk, pest infestation, and water pollution. As they supply before-and-after photos, you can clearly see the result of their work.
Also, they offer a doubt-busting satisfaction guarantee, unlike other cleaners. This means that if ever the job is completed below your expectations, they will come back and correct their errors.
Another great thing about this company is it aims to clean a community location once a year for free. All of its franchisees participate in this National Pro Bono programme, which is good.
Besides not offering gutter repair services, this company doesn't have special discounts to cut down a client's overall price. They also only work 5 days a week from Monday to Friday.
To get a free quote from them, simply follow any of the links in the table above. Alternatively, you can give them a call or email.
Uses a wet/dry vacuum for gutter cleaning
Guaranteed client satisfaction
Provides before-and-after gutter cleaning photos
Participates in community cleaning once a year
No gutter repair services
Doesn't offer special discounts
Closed on the weekends
Customer Reviews
Clients commended their helpful technicians, fast response, and clean results after the service. On Google, they managed to get a rating of 4.7 out of 5 stars.
Here's what Jackie had to say of them:
"Thomas and his team always do a great job. Never any mess and the gutters are always clear. Very reliable."
Moreover, Sue stated this:
"Gutter-Vac turned up on time and took before & after pics of our very dirty gutters – very happy and all the mess was taken off site."
6)   Gutter Cleaning Perth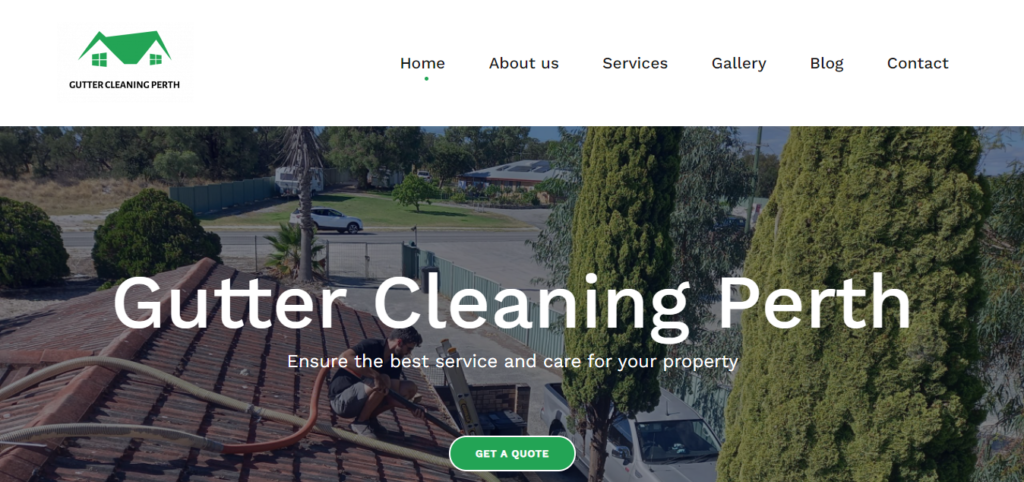 Gutter Cleaning Perth is not your ordinary gutter cleaning company. Their services are reliable and their team members can be flexible when it comes to scheduling your clean-up.
In comparison to others, with them, you would not have to worry about any obligations. They offer free quotes, perfect for those who are canvassing gutter cleaning companies.
What's great about them is that they serve areas from Mandurah in the South to Two Rocks in the North.
Additionally, they also offer experienced and skilled service for a competitive pricing.
Fully insured and police cleared
Uses the right Tools for the Job
For commercial cleaning, they will assess the property on Google Maps and send you a quote without even needing to come out to your premises
Rates are unavailable online
FAQs about the Top Options for Gutter Cleaning in Perth
---
So that concludes our top gutter cleaning options in Perth! Now you know which company to call to unclog your gutters at your property.
Did we miss any other great companies on this list? If so, kindly share them with us and we'll check them out and see if we can add them here.
Apart from that, if you need your office cleaned with minimal disruption, you can read about the best office cleaning in Perth next!