Are your gutters teeming with leaves, branches, and rubbish? To extend your house's lifespan, we suggest calling the best options for gutter cleaning in London to clear all of them up.
In this article, we found you the top gutter cleaners based on their skills, qualifications, and client reviews. But before we show them to you, we'll cruise over the average costs of their services.
If you're ready, let's begin!
The Average Cost of Gutter Cleaning in London
The average cost of gutter cleaning in London is £4 per metre or £18 to £25 per hour.
There are multiple variables that can affect the price, such as the type of the house, gutter length, accessibility, and whether repair or maintenance work is needed for your gutters and downpipes.
It could be that your rain gutters or downpipes look dirty, have leaks and holes, or are in a state of disrepair, in which case, a full replacement may be the best solution. Your gutter cleaner can inform you of these things and repair or replace them if possible.
Now, here's the price table of gutter cleaning services based on the house type and gutter size. Note that these figures are only an approximation and may vary from the actual quote.
This could help you find the right gutter specialist based on price so that you get value for your money.
| | | |
| --- | --- | --- |
| House Type | Gutter Length | Average Cost including VAT |
| Small terraced house | 5 metres | £20 |
| Medium semi-detached house | 15 metres | £100 |
| Detached 4-bedroom house | 20 metres | £150 |
| 3-storey townhouse | 15 metres | £250 |
The Best Gutter Cleaning Options in London
With that in mind, we now give you the best gutter cleaning options in London. So, here they are:
1) Ben's Gutters London

With Ben's Gutters London, you can benefit from the full expertise and technology of their operatives, whether you need residential or commercial gutter cleaning. For a fixed cost, they can also do minor repairs.
They can clean single, double, or multi-storey building gutters. For loftier schools, hotels and office buildings, they have cherry picker machines to provide them with an efficient and thorough clean.
Being SafeContractor certified, they are committed to working safely in line with the industry standards. In addition, they are fully insured for your property's protection and your peace of mind.
As for their price, most clients noted that they charged expensively but the result of the work was on par with their expectations. And unfortunately, they don't offer any special deals or promos online.
Besides that, there's no mention of a satisfaction guarantee, which is a vital element in this service. So in case you need to call them because your gutters have overflowed after the work, you'd have to pay them.
But the great thing about them is they're open the whole week to fit into your schedule, unlike other gutter cleaners.
Based in Evelyn Street, Ben's Gutters serves its clients London-wide. To get a quote from them, you could ring or email them and very soon, one of their staff members will assist you.
Fully insured team
Does residential and commercial gutter cleaning
SafeContractor approved
Open Monday through Sunday
Charges expensively
No special deals or promos
No mention of any guarantee
Customer Reviews
Ben's Gutters had received mostly positive reviews from clients. They said the team informed them when they were coming, were professional and efficient, and did a great gutter cleaning job!
Some, though, complained about their expensive rates.
Here's Lucy's feedback on Google:
"Great service from the moment I phoned them, to the confirmation emails, to the text the day before to give a time slot – so I didn't have to sit in all day!
Lovely, friend work person and great job done.
Very good price as well – I had just been quoted more than double for the exact same job?
Super impressed 10/10 recommend!"
Plus, Aziz wrote this comment:
"The service from Ben's Gutters was amazing and excellent.
Great value and companies like this should be appreciated and supported. Blair showed up much earlier that planned but that was due to cancellations and no issue for me as these things happen so a call to let me know was very polite and courteous from Blair.
Overall the service from Blair was amazing, he was very efficient and friendly. It seemed like nothing was too much trouble and helped clear out the debris/dirt around the skylight window.
Staff like Blair are rare and should be rewarded with praise!"
2) Sam's Gutters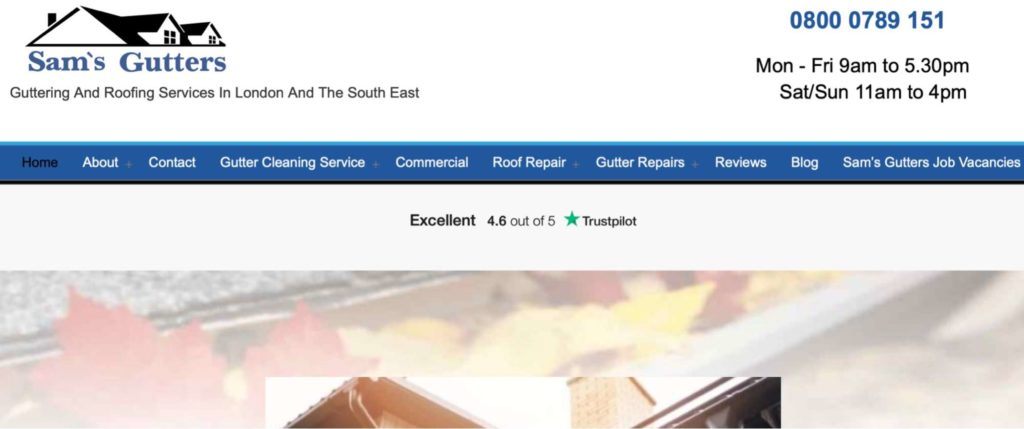 SERVICES/SCOPE
Gutter cleaning
Gutter repair
Roof repair
PRICING
Starts at £75
WEBSITE
https://samsgutters.net
ADDRESS
2 Barkwith House, Cold Brew Lane, New Cross, London SE14 5RB, UK
CONTACT DETAILS
+44 800 078 9151


[email protected]
Sam's Gutters offers gutter and roof cleaning and repair services in North and South London.
With every gutter cleaning service, they offer a free inspection of your roof, which can help to avoid costly repairs in the future.
The team aims to inform you of their findings after the service. Also, a full report can then be sent to your inbox promptly with photos, but should there be issues with your roof, you don't have to let them repair it.
All their gutter experts are fully insured and trained for residential and commercial jobs. They can clear away your gutters' leaves, growing plants, moss, and other debris.
That said, bear in mind that they don't offer a workmanship guarantee. However, they offer one for gutter repairs and replacement, especially for uPVC types.
Their prices are fair as they calculate them based on the client's postcode and requirements. Also, they can give special discounts to health workers to give them more value for money.
They are open 7 days a week and operate out of their five branches in Croydon, East Grinstead, Bromley, North London, and South London.
As you can see, for professional and fair-priced gutter and roof works, you can rely on Sam's Gutters. Since they can do both, you don't have to spend more on hiring a different tradesman.
Free roof inspection
Insured gutter technicians
Guaranteed gutter repairs
Offers health staff discounts
Open Monday through Sunday
Doesn't cover West and East London
No workmanship guarantee
Customer Reviews
The company holds a score of 4.5/5 stars on Google. Their gutter cleaners' politeness and honesty as well as efficient work have been appreciated by clients.
One client named James shared this review:
"I was quietly impressed by their speed and efficiency of service, very friendly and straightforward when I asked for a gutter cleaning quote. Some firms like to send someone round and then you're forced into a 'take it or leave it price' whereas Sam' Gutters took my postcode details and calculated a price based on my needs. The job was completed on time, no fuss and I would recommend them to anyone."
What's more, Lina said this of the gutter cleaner:
"Totally painless experience getting my gutters cleaned and repaired. Very efficient office manager and a professional job done on my gutters by a very polite workman. Thank you, happy to recommend to friends and family."
3) Gutters Cleaning

SERVICES/SCOPE
Gutter cleaning
Gutter repair
Ivy removal
Roof cleaning
Solar panel pigeons protection
PRICING
Kindly request a quote from their website
WEBSITE
https://gutterscleaning.co.uk
ADDRESS
26 Ellerslie Gardens, London NW10 3TB, UK
CONTACT DETAILS
+44 7703 415 054
+44 7544 233 721


[email protected]
Gutters Cleaning comprises a team with an extensive background in gutter cleaning, repair, and maintenance.
They are fully certified and insured and can therefore provide a superb result. Equipped with ladders, scaffolding, and cherry pickers, they can clean the gutters of tall buildings up to 26 metres.
Other services they provide are ivy cleaning, roof cleaning, and solar panel pigeon protector installation. Most of their clients add one of these services along with gutter cleaning.
Setting them apart is their solid 1-year workmanship warranty. This goes for any of their works, whether it be gutter cleaning, ivy cleaning, or a minor gutter repair.
On their website, you won't have to scroll all the way down to get to their contact form. You can just click the icon, fill in the details, and click send to request a quote.
Although they don't offer special promos, a couple of clients said they charged competitive rates for their quality gutter cleaning.
This gutter cleaning company serves their wide range of clients across North, West, and Central London. Both domestic and commercial gutter, roof, and ivy cleaning are offered by them.
They normally aren't open on the weekends. However, they open early from 7:00 AM till 6:00 PM from Monday to Friday and have 24/7 emergency services as well.
With its lengthy guarantee, adept and insured team, and reliable services, we deem them as one of the best gutter cleaning options in London!
Fully certified and insured crew
Instant quote system
Available 24/7
Gives a 12-month service guarantee
Doesn't serve South and East London
Normally closed on the weekends
No special discounts or promos
Customer Reviews
People gave this gutter cleaner a rating of 5/5 stars. They were happy with the service that gave them value for money and assistance by a professional and helpful staff.
One client left this review of them:
"Great service, very knowledgeable guys, they arrived on time and delivered a good service, with a affordable price. Definitely I'll use them again, highly recommended."
Also, another satisfied client, Sofia, said this:
"Lovely work, done on time, efficiently and for a competitive price – will definitely use them again.."
4) London Gutter Clean & Repair

SERVICES/SCOPE
Gutter cleaning
Gutter replacement
Gutter repairs
Roof cleaning
Junk removal
PRICING
Kindly request a quote from their website
WEBSITE
https://londongutterclean.co.uk/
ADDRESS
21 Mead Road, Richmond, Middlesex, TW10 7LG, UK
CONTACT DETAILS
0208 945 5711


[email protected]
Serving all of London, London Gutter Clean & Repair has garnered numerous stellar reviews on Google. On top of that, it's also recognised by the Which? Trusted Trader website.
From here, you can presume that it's one of the best options for gutter cleaning in London. But we are going to find out more about it.
Now, the gutter service provider offers all aspects of gutter and roof services including cleaning and repair. If you need to clear your house junk to move out, they can help you with that as well.
Differentiating this company from the others are their service guarantees. For cleaning and small repairs, they offer a 3 to 6-month guarantee, and for whole-gutter replacements, they give a warranty of up to 6 years!
While others charge for minor gutter and downpipe repairs, they don't charge anything for them, unless it's complex enough to be called a 'general gutter repair'.
As per the reviews, they gave reasonable rates to clients. By the way, they also offer a price-beat guarantee if you happen to find a lower quote from another gutter cleaner, but conditions apply.
However, one client complained that after cleaning the gutters, they didn't hose down the downpipe to see if the entire system was functioning properly. And they also had some criticisms regarding their customer service.
All the staff are insured and trained to work at heights. They can thoroughly clean gutters and roofs of both commercial and residential buildings and can provide before and after digital pictures after the task.
Also, as they're open for the entire week, you can have them come to your property between 8:00 AM and 6:30 PM on weekdays and 5:00 PM on the weekends. Thus, if you're a generally busy person, this company might be a good choice.
Can supply before-and-after photos
Safety-trained and insured staff
Fixes minor leaks for free
Gives a service guarantee
Serves clients London-wide
Open 7 days a week
No instant quote system
Shorter warranty period
Complaints about workmanship and customer service
Customer Reviews
On Google, the gutter service provider bagged 4.9/5 stars from many clients. They mentioned that in addition to providing great workmanship, they explained the entire process to them.
Clara who was one of their clients noted this:
"Lee and Drew were fantastic, they got our gutters cleaned, with a cherry picker in 2 hours and also fixed some loose slates, and put a couple of new ones too. They also offered great advice on the keeping of the gutters and roof. I'll be thinking of them next time we have to do anything."
Moreover, Amy wrote this one:
"Dan and Drew were professional, punctual and after completing the work, they clearly explained what they had done. Highly recommended."
5) Thames Gutter London

SERVICES/SCOPE
Gutter cleaning, repairs & replacement
Commercial gutter cleaning
Roof cleaning
Roof repair service
Exterior painting
PRICING
Starts at £75
WEBSITE
https://www.thamesgutterlondon.co.uk
ADDRESS
12 Leeson House, Haggard Road, Twickenham TW1 3AJ, London, UK
CONTACT DETAILS
07835538139


[email protected]
If your gutters are overflowing, blocked, or damaged, you could phone Thames Gutter London. With over 20 years of experience, their dedicated team can restore them to good working order.
Their service is prompt as they can get the job done within the same day, said their clients. Also, their excellent customer service and workmanship were commended by them.
What's great about them is they can undertake gutter cleaning, repairs, and replacement at a fair price. Furthermore, they can handle roof repair and cleaning, as well as exterior painting.
Upon work completion, they are willing to show their clients the videos and pictures taken during the cleaning. This is a nice touch since you get to see how well they have performed.
All of these are backed up by their solid one-year warranty. And it's even longer for full gutter replacements: they give clients a warranty of up to five years for that.
They serve home and business owners throughout London and the surrounding counties like Kent, Berkshire, and Surrey, but only from Monday to Saturday.
One minor con we noticed about them is that their online contact form is glitchy as of the time of writing. So to book your appointment with them, we think it's better to ring or email them instead.
We highly recommend Thames Gutter London's services if you want a fast turnaround and outstanding gutter cleaning service.
Fast and prompt turnaround
Supplies before-and-after photos and videos
Offers a 1-year workmanship guarantee
Covers London and the surrounding counties
Glitchy quote form
Closed on a Sunday
Customer Reviews
Thames Gutter London has a perfect score and no negative feedback on Google. Many people described their staff as professional, friendly, thorough, and prompt.
Here's one comment posted by Mauro:
"Needed gutter cleaning and moss removal. Survey and quote was given promptly and very competitive. I liked the feature of being shown a couple of videos and pictures taken before and after work.
Work carried out shortly after quote and finished promptly, even if Kya needed an extra couple of hours the morning after.
I recommend Kya and Thames Gutter London and wil use their service again."
Plus, Thomas wrote this review:
"We employed Thames Gutter London to clean out our gutters which were overflowing & causing damp to form on an inside wall. Received a very quick response after initially enquiring via email & they came out only a few days later to sort. Service was friendly and professional & I wouldn't hesitate to use them again."
6) Blue Sky Gutter Cleaning & Repairs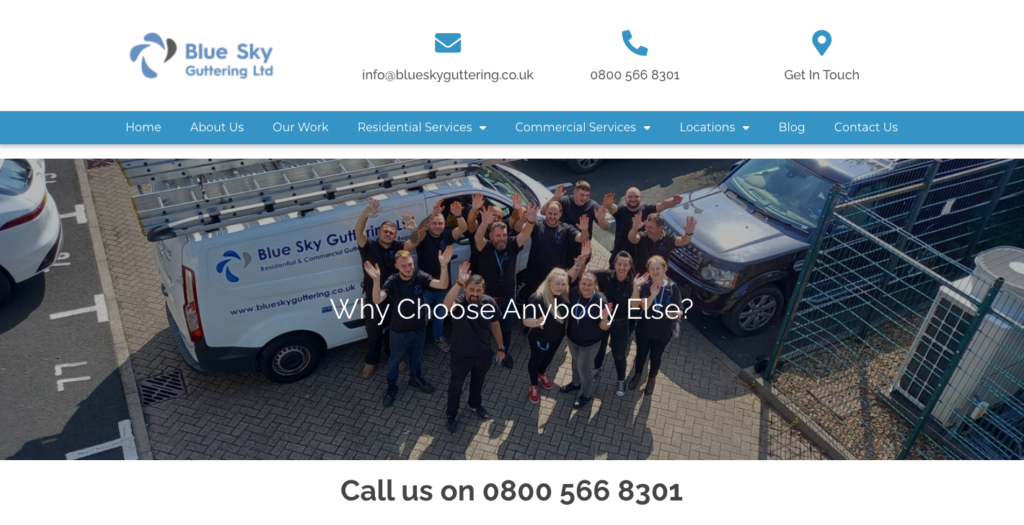 Blue Sky Gutter Cleaning and Repairs Ltd can almost be accessible to anyone in England. This company is firmly committed to providing top-tier Residential and Commercial Gutter Cleaning, Gutter Repairs, and Gutter Lining services throughout England by employing the most professional staff.
Blue Sky Guttering Ltd is a family-owned company with over 20 years of experience in the guttering industry. Through their years of experience, you can definitely say that they are dependable and always keep their promises. Cause they wouldn't stay long in this industry if they aren't, right?
Most homeowners and business owners in England will experience problems with their guttering and drainage systems at some point. Blue Sky Guttering can help with this.
As they started way back, Blue Sky Guttering LTD is a guttering industry pioneer. Using cutting-edge technology, they can always find a solution for both businesses and homeowners in and around the UK.
They understand that guttering issues can quickly become a source of concern. As a result, they provide expert gutter services to ensure that your property remains dry. With their assistance, you can relax in the evenings without worrying about your property.
Their trained technicians will arrive on time, fully equipped with the industry's safest and most modern tools, as part of their service. For all of our customers, old and new, strive for excellent workmanship and quality.
If you will be hiring them to clean your gutter, you will always receive a high-quality product that you will enjoy. If you put your trust in them for the first time, you will not regret it.
Years of experience

Experienced, Knowledgeable, Honest & Reliable employees
Cannot find their prices online
Laggy website when clicking their services
Customer Reviews
Here are some of the feedback from their clients:
"Highly recommend. They did an empty and repair on our guttering earlier this year – that for the first time in years stopped any leaking after heavy rains. Far superior to previous work done by others. Six months later (Dec), one section came loose from its wall fixings (due to age, wear and tear). They re-attended promptly and repaired this without charge – in line with their 12 month guarantee. We're grateful to the friendly professional Polish two-man teams who did the work, and their very helpful and efficient administrator (Anna) managing the booking process." – Joe Kai
"I've used 3 different companies to repair my downpipe in the last 18 months and still it ended up faulty, disconnected downpipe on a 3 storey townhouse, a very common property in London!

Now I contacted 20+ companies, most companies did not reply or refused due to the height. Sean responded very quickly with a price of £264 which is reasonable. I was a bit worried about the lengthy contract he sent me but it showed professionalism and he provides a 12 month guarantee unlike most.

Anthony performed the work on time and performed a thorough check and got to work fixing all the issues. I requested testing by putting the garden hose pipe over the gutter, Anthony happily did and no leaks existed. Anthony explained all the issues and how he rectified the.

Unlike other companies that did a quick fix, Blue Sky Guttering did a professional, polite, courtesy and thorough job. Hence I will definitely use again and recommend to friends. Great work!"– Waheed Malik
7)   One Call Roof and Gutter Services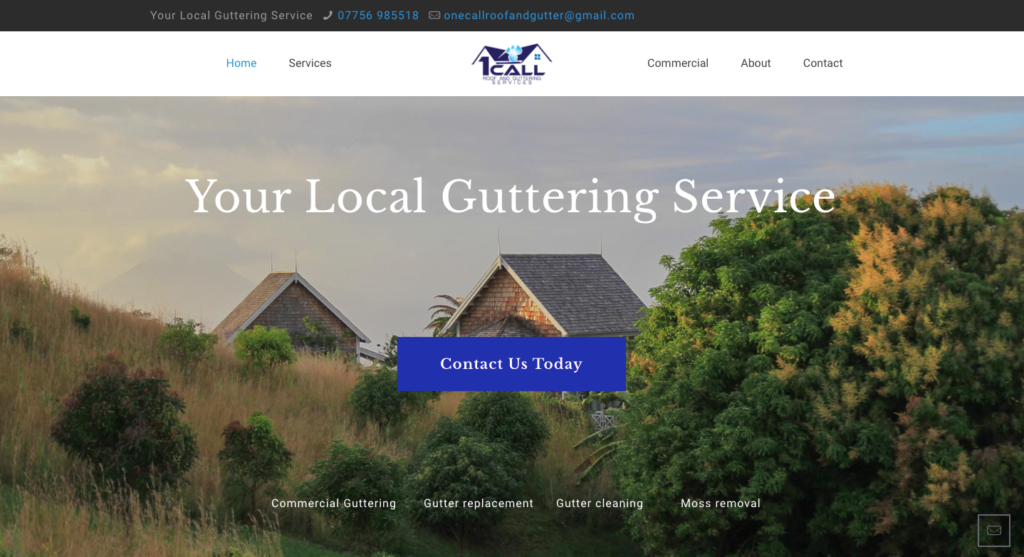 One Call Roof and Gutter Services have been providing top of the line quality services in London for over 9 years already.
It is impressive as they employed professional tradesmen with extensive knowledge gained through years of hard work as they see to it that you will be receiving the best service there is in cleaning and replacing your roof and gutter.
Their services won't fail you if you will be choosing them to clean your gutters.
Years of experience

Experienced, Knowledgeable, Honest & Reliable employees
Cannot find their prices online
Laggy website when clicking their services
Customer Reviews
Here are some of the feedback from their clients:
"Great company, had my roof replaced at the rear of my property and access was through the house they took extra care in putting dust sheets down and where very careful with materials through the house. We where very please with the end result and high quality workmanship from josh and he's team." – Michael Andrade
"In the recent storm our roof was damaged and josh came out quickly and done a temp fix which stopped the leak until they could come out and do a more permanent job I am really happy with the service and would recommend." – Lindsey Collinsking
FAQs about the Top Gutter Cleaning in London
---
And that concludes our list of the top gutter cleaning in London. All of these have a great track record of providing professional and friendly service!
Any questions so far about our list? If you have any, kindly let us know by messaging us and we'll reply to you as soon as we can.
Don't have time to clean your house? No worries, as you can also engage the best cleaning services in London so your house can be sparkly clean.