Featured Image Source from iStock
Got stained clothing or a dirty branded jacket after a trip abroad? If so, you can give it a dry-clean for a clean and brand-new look again!
In this case, we've done the hard work for you and listed the best dry cleaners in Des Moines here. Some of them have free pickup and delivery so you won't have to drop off your clothing at the establishment.
But before we go to our list, we'll take a look at the rates of these dry cleaners. By doing so, you'll be able to pick from our top companies later on with ease.
How Much Does Dry Cleaning Services Cost in Des Moines
Dry cleaning services in Des Moines generally range from $0.25 to $45 depending on the garments or fabrics you have.
In this range, $0.25 is the cost of drying your clothes in a coin-operated dryer, while $45 is the cost of having a feather bed dry-cleaned.
You'll find that dry cleaners have 3 different pricing structures. You may need to pay either the flat rate (per item of clothing), per pound, or per minute.
Not one is better than the other since prices differ from company to company.
But a good rule of thumb—all things being equal—is if you need to dry clean lots of clothes from every day, paying per pound will give you more value, but if you need to have formal attires or garments with elaborate designs cleaned, the flat rate option will cost you less.
That said, if you want the least expensive option, you can go to a laundromat and use one of their coin-operated, self-serving dryers there.
Below is a table that shows the prices of leading dry cleaning companies in Des Moines, Iowa.
| | |
| --- | --- |
| Dry cleaning company | Price range |
| The Wash House | $0.25 for 4 or 5 minutes |
| Metro Express Cleaners & Laundry | $4 – $25 |
| Executive Cleaners | $7.35 – $39.99 |
| Victoria Cleaners | $7.35 – $39.99 |
| Busy Bubbles Laundry | $15 – $45 |
Also, look out for coupon discounts or special offers on the dry cleaners' website or social media page. This will give you a better deal so that you'll have plenty of change left for other things.
The Best Dry Cleaners in Des Moines
Now that you've gone through the price section, we now give you our top choices for dry cleaners in Des Moines!
1) Frederick's Tailoring & Quality Cleaners

SERVICES/SCOPE
Dry cleaning
Alterations
Custom sewing
Leather cleaning
Leather repair
Tailoring
Wedding and bridal alterations
PRICING
Please contact the company for rates
WEBSITE
http://www.fredericksqualitycleaners.com
ADDRESS
Governors Square, 2700 University Avenue, Suite 316, West Des Moines, IA 50266-1456, USA
CONTACT
(515) 267-1986
PAYMENT
Cash or check payments only
Frederick's Tailoring & Quality Cleaners is a preferred tailoring, laundering, and dry cleaning business situated a bit off the road at 2700 University Avenue, West Des Moines, Iowa.
The small store is owned by JD who is described by clients as friendly, knowledgeable, and a true gentleman. He offers a wide range of services namely dry cleaning, alterations, custom sewing, leather cleaning and repair, and wedding and event attire tailoring.
Go to this store if you want your garments handled with outstanding care and expertise. From everyday shirts to tuxedos, ball gowns to signature faux-furred jackets, JD has you covered no matter how delicate or how many years the garment has stayed with you.
As for the store's prices, they are reasonable and value-giving—another solid reason why the dry cleaner is one of the very best dry cleaners in Des Moines.
However, it only accepts cash and checks, which can be a bit of a hassle. Nevertheless, what's important is that your clothes come back neat and fresh and that you walk away happy.
Frederick's Tailoring & Quality Cleaners is open on Monday through Saturday from 9.00 AM. You can drive to the shop anytime during this schedule with private lot parking available.
Handles all types of fabric
Cost-effective rates
Private lot parking available
No pickup and delivery service
Doesn't accept credit and debit cards
Customer Reviews
The dry cleaner garnered a 4.6/5 score on Google. Clients were very satisfied with its competent, friendly, and on-time alteration and dry cleaning service.
Here's Jeff's review of the shop:
"This is an awesome place to take things for dry cleaning! He is a very knowledgeable and personable guy, he got eveything done on time, and it looks great! Only reason for 4 stars and not 5 is because it is cash or check only. Not a huge deal, just a small inconvenience sometimes."
What's more, Maria wrote this:
"I got married in Mexico and my dress was filthy after a night of dancing and photos on the beach, Mr. Frederick had it looking brand new in time for my at home reception. He launders and dry cleans my husbands dress shirts–a service worth every penny, and he dry cleaned my winter coat with faux fur and made it look brand new again (it's 5+ years old). He's classy, professional and an absolute joy. I've found my apparel cleaner for life!"
2) Noah's Dry Cleaners

SERVICES/SCOPE
Dry cleaning
Shirt laundry
Alterations and repairs
Drapery takedown/rehang
Leather and suede
Wedding gown preservation
Fur storage
Free seasonal storage with cleaning
Reweaving quilts, bedspreads, and bedding
Band uniforms
Choir robes
Theatrical costumes
Smoke and water restoration
Pillow cleaning
Tablecloths
Napkins, small rugs, and many other household items
PRICING
Please contact the company for rates
WEBSITE
https://www.noahscleaners.com
ADDRESS
6115 SW 9th St, Des Moines, IA 50315, USA
CONTACT
515-285-3131


[email protected]

PAYMENT
Cash, Visa, Mastercard, American Express, and Discover Network
If you're looking for a reliable and convenient dry cleaning service, Noah's Dry Cleaners is a great choice! That's because they offer free garment pickups and deliveries in Des Moines.
Their fabric cleaning services include dry cleaning, shirt laundry, wedding dress care, alterations and repairs, drapery cleaning, bedding cleaning, carpet and rug washing, theater costume cleaning, band uniform cleaning, suede and leather care, and even smoke and water restoration.
You can therefore say that they are your one-stop garment care shop. As such, you won't have to look for a different cleaner because they don't offer one or more of the services you require.
Their experienced staff will first assess your clothes or fabric items and use the appropriate and best method to clean them. They also use environment-friendly cleaning products to preserve the color, quality, and life of your gear.
Although the results they bring are top-class, there were some clients that complained of their customer service. They shared that they received no response from them and that an item had been lost.
We'd also like to add another thing that makes their service very convenient. They have several drop-off locations around Iowa—in Des Moines, Chariton, and Indianola, so instead of having them visit your house to pick up your laundry, it might be easier to just drop it off at these spots.
Finally, while you're waiting for them to get your newly dry-cleaned clothing, you can sit, relax, and enjoy free Wi-Fi—just one of the many perks of choosing this dry cleaner over another.
Uses eco-friendly cleaning agents
Free pickup & delivery
Multiple payment options
Lots of drop-off locations
Free Wi-Fi and parking
Complaints about customer service
Customer Reviews
Except for the fact that their customer service needs to improve, clients said that the dry cleaner did great work by making their clothes look clean and brand new.
Angellita shared her experience with this company:
"I had a dress in my basement for 15 years took it in nd it was cleaned as if it were brand new!!! Thanks for all you did to allow our family to keep this dress. You were professional and very considerate to me. Thanks again!!!"
Furthermore, here's a review from another user:
"Good service. Very friendly customer service and they always deliver on time. Highly recommended."
3) Victoria Cleaners

SERVICES/SCOPE
Dry cleaning
Laundry
Leather items
PRICING
Dry Cleaning

Pants: $7.85
Shorts: $7.55
Skirt: $7.55
Suit (2-piece): $14.99
Tuxedo (2-piece): $15.99
Coats (non-leather): $13.30 – $20.99
Blazer/sport coat: $7.85
Sweater: $7.35
Dress: $14.35
Long dress: $20.99
Formal dress: $39.99
Shirt/blouse: $6.75
Pullover/golf shirt: $4.15
Regular ties: $6.50
Silk ties: $7.50

*Rayon, linen, silk, etc: add up to 25% of the price
*Lined pants: additional $0.50 of the price
*Press only: 75% of the price

Laundry

Shirts/blouses (hanger): $2.85
Shirts/blouses (folded): $3.10
Tux shirt: $6.75
Military uniform: $10.99
Household items
Bedspreads: $23.20 – $34.60
Blankets (regular): $19.70
Blankets (king): $21.60

Leather Items

Leather coats: $62.00
Leather tops: $49.50
Leather skirts: $49.50
Leather pants: $52.00

*Note that all prices are subject to change
WEBSITE
http://www.victoriacleaners.com
ADDRESS
2720 Grand Ave, Des Moines, IA 50312, USA
CONTACT
Customer service: 515-278-8080
Emergency in-store pickup: 515-402-3418
Free pickup & delivery: 515-278-8080
PAYMENT
Cash, check, Mastercard, Visa, American Express, Discover Network, and monthly automatic payments through a credit or debit card.
Acquired by the Thuente Family in 1999, Victoria Cleaners has been providing professional dry cleaning, laundry service, and leather garment care to Des Moines clients.
There are three great reasons why we selected it as one of the best dry cleaners in Des Moines.
First, Victoria Cleaners offers a free pickup and delivery service so that you can save time for your work or more important concerns. Also, can you imagine how much you can save in transportation costs to have to dry clean your clothes each time?
Secondly, it is a certified environmentally friendly dry cleaner as it uses wet cleaning, biodegradable clothing bags, recyclable hangers, and reduces its power consumption as much as possible. It has a 10,000 sq ft headquarter plant that allows each of its branches to give top-notch and sustainable services.
The third reason is that it has a host of payment methods including cash, check, Visa, Mastercard, and Amex credit cards. If you're planning to commit to their service, you can pay by a monthly subscription too, wherein they will charge your debit or credit card automatically.
As good as those things can sound, the dry cleaner received complaints from a handful of clients regarding their cleaning quality and customer service. But the good news is that most clients were happy about the service.
Unlike most dry cleaners, they show their service prices online for everyone to see. Thus, you'll be coming to the store knowing exactly what to expect in terms of price.
The company can dry clean all sorts of clothing from silken ties to expensive tuxedos and can launder casual shirts to king-sized bedsheets. In Des Moines, they have 6 stores you can visit to get your clothing clean and ready for a special event soon!
Free pickup & delivery
Green business practice
Multiple payment options
Transparent pricing
Complaints about their dry-clean quality and customer service
Open only on Monday, Wednesday, and Friday (temporary store hours for now)
Customer Reviews
Victoria Cleaners received mixed reviews from clients online. Some people criticized the ineffective cleaning they did as well as their unhelpful customer service.
However, one client named James posted this comment:
"Best service I've ever recieved! Tried busy bubbles down the street and none of my dry clean came back as neat and clean as here. Highly recommendes."
And here's Johnathan's review on Google Business:
"Awesome friendly staff even though they did not have my item ready they at least told the truth I will most likey use them again and also I fell people just judge a company by the bad thing you have to even it out good and bad."
4) Metro Express Cleaners & Laundry

SERVICES/SCOPE
Dry cleaning
Button replacement
Down comforter cleaning
Shirt laundry
Leather cleaning
PRICING
Dry Cleaning

Pants: $6.75
Shorts: $4.00
Skirt: $6.50
Suite (2pc): $13.50
Coats: $8.00 – $18.00
Sport coat/blazer: $6.75
Sweater: $6.50
Dress: $13.50
Formal dress: $25.00
Blouse: $5.25
Pullover shirts: $4.20
Ties: $5.00

Laundry

Shirts/blouses (hanger): $2.40
Shorts: $2.80
Wash and fold: $1 dollar per lbs (5 lbs min)

Household Items

Comforters: $21.50 – $29.00
Table clothes: $9.50 – $14.50
Sleeping bags: $20.00 – $35.00
Blankets: $12.50 – $18.50
WEBSITE
https://www.metroexpresscleanersllc.com
ADDRESS
2525 Douglas Ave, Des Moines, IA 50310, USA
CONTACT
515-255-7088
PAYMENT
Kindly call them for more details
Metro Express Cleaners & Laundry provides same-day dry cleaning and laundry services in both their Des Moines and Ankeny stores. From corporate clothing to event dresses, duvets to sleeping bags, they can handle and clean well.
One of their strengths is in their competitive rates. You don't have to spend a lot to get your favorite clothing and essential household items spotless and wonderful-looking.
The dry cleaner utilizes high-quality cleaners and solutions. With this, you can say bye-bye to the dirt, stains, and blots that embarrass you to wear them or for your guests to see.
A pickup and delivery service is offered by Metro Express Cleaners to take out the hassle of washing and cleaning your dirty laundry. They'll take care of them for you and you can trust them.
As long as you take your garments in by 9.00 AM, they will work on them and finish early. Before their store closes, you can already get your warm, fresh, and covered clothing from them.
Perhaps their only con is they're not a one-stop shop since they don't offer tailoring and alteration services. But this isn't all that important for a dry cleaning service provider.
Therefore, if you want affordable dry cleaning with results that will please you, Metro Express Cleaners & Laundry is one of the best dry cleaners in Des Moines.
Same-day dry cleaning service
Economical and transparent rates
Offers pickup and delivery service
Special offers available
Payment methods aren't indicated
Doesn't offer alteration and tailoring services
5) Busy Bubbles Laundry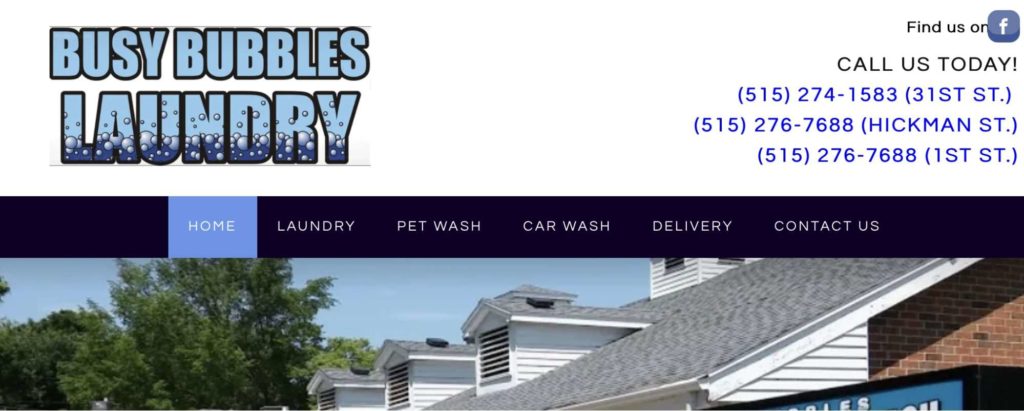 SERVICES/SCOPE
Laundry
Pet wash
Car wash
PRICING
Basic laundry package: $15 + $1.25 per pound
Comforter package: $5 – $45
Lightweight rug package: $13 – $14

*Note that for rugs with rigid backing, it will need to be sent to a specialist who will provide a custom price.
WEBSITE
https://www.busybubbleslaundry.com/
ADDRESS
6401 Hickman Rd, Des Moines, Iowa 50321, USA
532 31st Street Des Moines, Iowa 50312, USA
103 E 1st Street, Grimes, Iowa 50111, USA
CONTACT
Hickman road: (515) 276-7688
31st Street: (515) 274-1583
E 1st Street: (515)-276-7688


[email protected]

PAYMENT
Kindly call them for more details
Busy Bubbles Laundry is the go-to laundromat for many clients in Iowa. Their Hickman Road location also offers pet and car wash so you don't have to go to another establishment for these.
Their mission is to wash and dry all your clothing, comforters, and rugs to make you and your home look good. Because, as they say, if you look good, they also look good with their business.
If you have a couple of garments you want dry cleaned or laundered, you can start by calling them to check if you're on their pickup route. If you are, then you can set the time for them to pick up your items.
Note that they only pick up on Monday, Wednesday, and Friday. Also, make sure to place the laundry items in a separate bag from the other garments that you want to be dry-cleaned.
When they come to your house for pickup, you don't have to pay a single cent and all you have to do is wait. How many clothes you send in will influence when they can deliver them to you clean and stain-free.
Their rule is that if you drop off your laundry before 2.00 PM, it will usually be done the next day. If you're going for same-day service, then you have to take in your items early in the day.
Their drawback is that their minimum price is high, in fact, double or more than those of other dry cleaners. On top of that, this price is equivalent to items over 12 pounds, so if you let them dry clean items that weigh less than that, say 7 pounds, you'll still have to pay the same amount.
Now, you can use this offer to your advantage. Maybe, when you get them to dry clean your clothes, you can also have them launder your garments too, just to get value for your money.
Apart from that, you can rest assured that your clothing will come out clean and sharp, as many clients can attest. If you think about it, this is a lot better than paying cheaply and getting poor-quality service.
By the way, to soothe your wallet, they offer discounts if you take in multiple comforters or bed sheets for them to wash and clean. Alternatively, you can just use a coin-operated dryer.
To sum it up, the reason we picked Busy Bubbles Laundry as one of the very best dry cleaners in Des Moines is because of their top-cleaning quality, fast turnaround, and professionalism.
Same-day dry cleaning service
Multiple comforter or sheet discounts
Free pickup and delivery
Open 7 days a week
Higher rates compared to other dry cleaners
Customer Reviews
Busy Bubbles Laundry received mixed reviews from clients. However, most praised its fast turnaround, wonderful atmosphere, and helpful and friendly staff.
Sandy left this review on Google Business:
"My husband was the one to use this laundry to wash our large comforters. This was our first time here and he had the staff wash and dry the items for us to pick up later. The girl made a special effort to complete our laundry and get it back to us in the same day. Great service, will return!!"
Another client, Angie, mentioned this:
"Very clean -helpful/courteous staff. Been frequenting this establishment since 1987. Evolved well through the decade's, For SURE ???."
FAQs about the Top Dry Cleaners in Des Moines
---
And that concludes our top selections for dry cleaners in Des Moines. If you want a hassle-free service, you can drop off your clothing at any of these stores.
If you have any questions or comments about this list, we'd love to know. You can tell us by dropping us a line and we'll get back to you promptly.
What's more, if your carpets need to be freshened up at home to be brand new, then you can ring the best carpet cleaning companies in Des Moines!