Getting your dirty and stained carpets cleaned? If you are, you're right on cue, as we curated a list of the best carpet cleaning in Scottsdale, Arizona here!
We'll start off this article by discussing the average cost of these services. This way, you'll have a reference when you are deciding which carpet cleaner to pick according to their estimates.
Scroll down to know more about it and see our top choices for this list.
The Average Cost of Carpet Cleaning in Scottsdale, Arizona
In Scottsdale, Arizona, you can expect to pay between $117 to $222 for carpet cleaning or $159 on average as per the cost data of Home Advisor.
The overall price will depend on your carpets' type and size as well as the severity of the stains. Stair carpets will add to the cost because they take more effort and time to clean than those on flat ground.
Now, you can be charged in two ways by a pro carpet cleaner: per square foot or room. For the latter, make sure to know the size cap of the room to ascertain the price you'll need to pay.
Here are tables below that indicate the prices based on the square footage and number of rooms. You don't have to pay for anything else unless you add an upholstery or tile cleaning service.
| | |
| --- | --- |
| Carpet Square Footage | Price Range |
| Cost per square foot | $0.20 – $0.40 |
| 200 – 400 sq. ft. | $80 – $130 |
| 500 – 1,000 sq. ft. | $100 – $250 |
| 1,000 – 1,500 sq. ft. | $200 – $300 |
| 1,500 – 2,000 sq. ft. | $250 – $450 |
| 2,000 – 3,000 sq. ft. | $400 – $550 |
| | |
| --- | --- |
| Number of Rooms | Price Range |
| 1 | $25 – $75 |
| 2 | $50 – $150 |
| 3 | $75 – $225 |
| 4 | $100 – $300 |
| 5+ | $150 – $600 |
The Best Options for Carpet Cleaning in Scottsdale, Arizona
With these in mind, we now give you our very best options for carpet cleaning in Scottsdale, Arizona!
1) F & F Carpet Cleaning Inc.

SERVICES/SCOPE
Area rug cleaning
Carpet cleaning
Carpet repair
Pet stains & odor
Rug padding
Tile & grout cleaning
Upholstery cleaning
Water extraction
Service preparation
PRICING
Kindly inquire with them for rates
WEBSITE
https://fnfcarpetcleaning.com
ADDRESS
1635 N 87th St, Scottsdale, AZ 85257, USA
CONTACT DETAILS
480-314-4800


[email protected]

PAYMENT
Credit cards
With more than 18 years of service, F & F Carpet Cleaning is a family-owned business grounded in values such as honesty, hospitality, timeliness, and diligence.
Their services cover all essential cleaning for homes and businesses. These include carpet cleaning & repair, Persian rug cleaning, tile & grout cleaning, upholstery cleaning, and drapery cleaning.
Also, they offer flood restoration to dry out and decontaminate your furnishings with the help of commercial-grade equipment. However, they only offer this service from Monday to Saturday.
Their cleaners are licensed, insured, and bonded to achieve great-quality workmanship. Most clients describe them as efficient, prompt, friendly, and helpful throughout the service.
Another highlight is that your satisfaction is 100% guaranteed by the team. Provided you notice a missed area or less than satisfactory work on the carpets, they will soon return to make it right.
According to the reviews, their prices are reasonable and worth it. That means you can have the team do multiple cleaning jobs at your home regularly without hurting your pocket.
That said, they don't offer any coupon deals to bring down the price. But given the quality of their carpet cleaning and service, you can do away with this.
And that is why for spotless cleaning results at fair rates, we strongly recommend calling F & F Carpet Cleaning!
Licensed, bonded, and insured team
Same-day carpet cleaning available
Reliable scheduling system
Gives a satisfaction guarantee
Accepts major credit cards
Normally closed on a Sunday
No coupon deals offered
Customer Reviews
The carpet cleaner holds a rating of 4.9/5 stars on Google Business. Most people were glad about their immaculate carpet results, friendly technicians, and fair prices.
One homeowner named Katherine stated this on the website:
"Always on time, professional, competitive pricing, accommodating, friendly, and thorough! Service oriented! Outstanding!
Enjoy working with F&F Carpet Cleaning."
Another happy client, Ken, wrote this on Facebook:
"I am extremely impressed with FnF Carpet Cleaning. What an awesome family owned business that was extremely professional from start to finish. They cleaned four rooms, three area rugs and a sofa and chair. The gentlemen were on time, courteous, and extremely professional. Everything they did turned out great! I highly recommend them for all your carpet and tile needs. Thanks everyone!!"
2) Carpet Star Carpet Cleaning

SERVICES/SCOPE
Carpet cleaning
Tile & grout cleaning
Pet stain treatment
Upholstery cleaning
Rug cleaning
Stain protection
PRICING
Kindly inquire with them for rates
WEBSITE
http://carpetstarcarpetcleaning.net
ADDRESS
8325 E. Lincoln Dr., Scottsdale, AZ 85250, United States
CONTACT DETAILS
(480) 688-6995
PAYMENT
Credit cards
Carpet Star Carpet Cleaning is a small residential carpet cleaner based in Scottsdale, AZ. Its owner, Steve, opened this business way back in 1998.
Steve intends to be open and transparent to his clients with his price and service.
When you call him, he'll promptly set a schedule to assess your carpets, honestly quote an estimate and tell you whether you need a particular service or not—upselling and bait and switch is not his style, as clients can confirm.
To clean your carpets or rugs, he conducts a complete cleaning procedure. This includes cleaning preparation, stain and spot treatment, and deodorization.
Then, using steam cleaning, the pro cleaner can dislodge grime and dirt as well as allergens trapped in the carpets for a long while. This will result in thoroughly and deeply cleaned carpets for you and your family.
The drawback of this highly-rated cleaner is it doesn't offer commercial services. Nor do they offer carpet repair and restretching if yours has unsightly lumps or holes that mar your home's decor.
One reason we chose them to be on this top list is they offer a satisfaction guarantee for 30 days. This is a lot more dependable than those of other companies, which only cover you for 1 to 2 days.
If worst comes to worst, they can give a refund but this is only applicable for cleaned carpets and tiles up to 1,000 square feet.
Carpet Star Carpet Cleaning serves clients across Scottsdale and Phoenix Metro. They are available from Monday to Saturday from 10:00 AM to 10:00 PM.
Upfront rates
30-day service guarantee
Gives refunds
Offers a $50 first-service discount
Doesn't offer carpet repair and restretching
Doesn't do commercial cleaning jobs
Closed on a Sunday
Customer Reviews
Carpet Star received perfect scores on both Google and Yelp. Clients appreciated that the team was courteous and prompt and left their carpets and tiles remarkably clean.
Here is Ann's feedback on Google:
"Steve has been cleaning the carpets in my home for many years now, and his work is amazing. He makes my home feel brand new. We have a dog and 2 teenagers who all creatively abuse our carpets. I can always count on Steve to get out stains and keep my home feeling fresh.
I will only use him, and it is super easy to schedule appointments. Each time he arrives, he reviews the plan, as well as all pricing options thoroughly and honestly. He is kind and professional. Thank you Steve, and I'll be calling you again soon!"
Furthermore, another client named Roseann said this:
"Stephen was prompt, very thorough and careful of your things. He is also very pleasant. I would recommend him highly."
3) Oxi Fresh Carpet Cleaning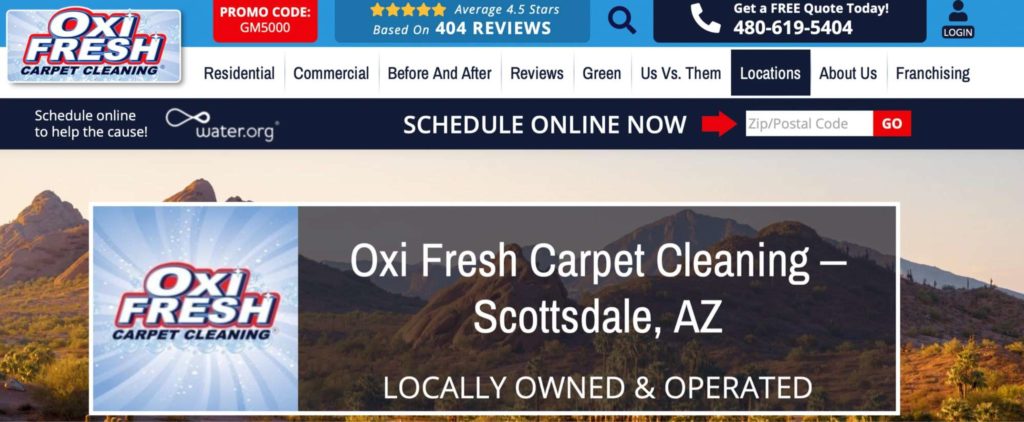 Want your carpets to dry quickly? We know one great company for that and it's Oxi Fresh Carpet Cleaning.
It has hundreds of locations across America with each one being locally owned and operated. This way, they can see to it that their carpet cleaning results are done perfectly and satisfy each client.
Along with using environmentally friendly and safe detergents, they specialize in dry carpet cleaning, which uses 95% less water than steam cleaners. This results in significantly less water use and a rapid dry time of just one hour!
Not to mention, their dry cleaning equipment is energy-efficient itself and doesn't need continuous vehicle power supplied to it. As a result, this makes Oxi Fresh a great green cleaner choice.
Although dry cleaning can get rid of the grime and dust on your carpets, it doesn't clean as deeply and effectively as steam cleaning. Still, it will work for people whose carpets are not very dirty.
Apart from carpets, they also clean rugs, upholstery, hardwood floors, and tiles & grout. You can combine their carpet cleaning with any of these services to make your house clean from top to bottom.
Just in case you find stains or marks on your carpet after the cleaning, they have a 7-day redo policy so you can have them re-clean your carpets at no extra cost.
Oxi Fresh Carpet Cleaning is open from Monday to Saturday from early morning. You can set an appointment with them online through the given link above.
Also, you can find a few coupons on their website—including Whole-House Special (5-room carpet cleaning)—that let you get more value out of their service.
1-hour carpet drying time
Uses a green cleaning process and products
Simple quote system
Coupon deals available
Offers a 7-day redo policy
Closed on a Sunday
Steam cleaning may be more effective in cleaning carpets
Doesn't offer carpet repair and restretching
Customer Reviews
Almost all clients gave this company 5/5 stars. They mostly said that the team explained the entire process, removed the tough stains, and did an outstanding carpet cleaning job overall.
Here's what Jordan said of the carpet cleaner:
"Great experience with this company. Called on Friday and they were able to schedule me the next day. The technician was knowledgeable and respectful and worked to exceed our expectations. Will only use Oxi Fresh for carpet cleaning going forward!"
Next, another client, Jarred, left this feedback on Google:
"Just had my carpet cleaned today, Julian was an amazing professional. Set expectations for me right away and talked to me before proceeding to make sure I would be satisfied with the job. Was friendly and gave great advice and made the whole experience enjoyable. I will be using oxi fresh service from now on. Thank you so much 👍"
4) Amazing Carpet & Tile Cleaning

SERVICES/SCOPE
Carpet cleaning
Carpet sales/installation
Tile and grout cleaning
Upholstery cleaning
Area rugs cleaning
Carpet repair
24/7 flood/water removal
PRICING
Kindly inquire with them for rates
WEBSITE
http://www.amazingcarpetcleaner.com
ADDRESS
11096 E Acacia Dr, Scottsdale, AZ 85255, USA
CONTACT DETAILS
+1 602-434-2525


[email protected]

PAYMENT
Visa, Mastercard, Discover Network, and American Express
Amazing Carpet & Tile Cleaning is a reliable carpet cleaner, seller, and installer. A family-owned company, it has grown mostly through repeat clients and word-of-mouth referrals.
It offers a broad range of services for your home cleaning needs. Apart from those we mentioned, they provide carpet repair, area rug cleaning, upholstery cleaning, and tile and grout cleaning.
For those whose homes are badly flooded, they have a 24/7 water damage restoration service as well.
Owner-technician Rick uses a powerful truck-mounted steam cleaner to remove dust mites, dirt, bacteria, pollens, and spores from the carpet pile. The carpet cleaning process involves pre-inspection, pre-treatment, extraction, rinsing, and post-inspection to ensure you're satisfied.
The team can clean the carpets of both residential and commercial clients. They are flexible and can fit into your schedule within their 7:00 AM to 7:00 PM working hours—but if you need them outside of these hours, kindly give them a call.
While they don't have a quote form you can complete online, you can reach them through their phone or email.
Furthermore, the company offers special deals to lower your bill and also a satisfaction guarantee for your peace of mind.
With same-day service, a flexible team, and stellar reviews from clients, they certainly belong as one of the best carpet cleaners in Scottsdale, Arizona!
Same-day carpet cleaning available
Can work around your schedule
Guarantees all work
Offers 24/7 flood emergency service
Offers special and coupon deals
No quote form online
Normally closed on a Sunday
Customer Reviews
Many clients commended the team for being professional and punctual. They also noted that they made their carpets and flooring spotless and gave reasonable prices.
Here's what Yu had to say about the carpet cleaner:
"My carpet was in terrible condition. Rick did his magic and now they look like new. He was also extremely professional and friendly. Thanks so much Rick!"
Also, check out Kristine's feedback on Google Reviews:
"Amazing Carpet has taken good care of our home for years! Rick and Pam have been such a pleasure to work with…Whenever I have an emergency with puppy accidents or just need the routine cleaning, Rick is there promptly and does a wonderful job! He is very fair in price and honest. We wouldn't call anyone else! Thank you Amazing Carpet & Tile!"
5) Chem-Dry of Scottsdale & Paradise Valley

SERVICES/SCOPE
Carpet cleaning
Upholstery cleaning
Area & oriental rugs cleaning
Pet odor removal
Specialty stain removal
Stone, tile, and grout cleaning
Leather cleaning 
Commercial services
Sanitizing service
PRICING
Kindly inquire with them for rates
WEBSITE
https://chem-dry.net/scottsdaleaz
ADDRESS
7842 E Gray Rd #1, Scottsdale, AZ 85260, United States
CONTACT DETAILS
+1 480-991-2277


[email protected]

PAYMENT
Credit cards
Differentiating this company from the ones we listed is their cleaning method. Rather than steam cleaning, they use carbonated cleaning nicknamed 'The Natural' in which a chemical is used to lift the dirt deep from the carpet's fibers, which are then extracted resulting in a deeply cleaned carpet.
It completely gets rid of pathogens, stains, and soils coming from daily foot traffic. Hence, this allows your indoor air to be fresh and clean and carpets to look pristine and also safe to be used by everyone, especially kids, seniors, and pets, thanks to its green-certified ingredients.
With this method, the drying time for carpets is also faster, taking only hours instead of almost a full day for other carpet cleaning systems. So, this is certainly an advantage, which many clients can confirm.
Aside from that, the Chem-Dry team offers a month-long stain-free guarantee. If you aren't happy with the carpet results, they will promptly come back to do the necessary improvements.
Their full list of services includes carpet cleaning, area and oriental rug cleaning, upholstery cleaning, floor cleaning, pet odor removal, specialty stain removal, and more. They offer these for home and business owners.
However, as you've probably noticed, they don't offer carpet repair and water damage restoration services. Thus, you'd need to call another company for these.
Though their prices are a bit expensive, Chem-Dry offers several coupon deals and it's smart to check them before speaking with their team.
One of the best carpet cleaning choices in Scottsdale, AZ, Chem-Dry serves the Phoenix metro area, including Scottsdale and Paradise Valley. They are open Mondays through Saturdays from 8:00 AM.
Uses a carbonated carpet cleaning method
Safe and non-toxic ingredients
Fast drying time
Specializes in stain and pet odor removal
30-day stain-free guarantee
Offers special and coupon deals
A bit expensive
Doesn't offer carpet repairs and water damage restoration
Closed on a Sunday
Customer Reviews
This company got rave reviews on Google. Most clients loved the superb carpet cleaning outcome they received and one appreciated that they were able to fit into his tight schedule.
Clarence, one reviewer, noted this on Google:
"Chem-Dry of Scottsdale did an awesome job making my carpet look fresh and new. The tech David was super friendly, explained the process, and seemed to really enjoy his job. Had only good things to say about the company. They were just a few bucks more expensive than the competition, but totally worth it and I'll recommend them to anybody!"
Furthermore, Aja wrote this:
"This is by far the best carpet cleaning service available in Paradise Valley. I had a baby shower on a Saturday afternoon. I contacted David on Thursday night via text messaging about some emergency carpet cleaning. He managed to squeeze me into his schedule on Friday and cleaned the area that I needed. This is the second time that I've used his services and will continue to use his company for any cleaning needs moving forward. A family owned local company that does business the very best ways."
FAQs about the Top Carpet Cleaning in Scottsdale, Arizona
---
And those were the top carpet cleaning choices in Scottsdale, AZ. They are highly rated by clients as they give outstanding work and fair prices!
Do you have any questions at all about our list? If so, kindly drop us a line and we'll get back to you in a jiffy.
Also, check out our other carpet cleaning articles on the website. For example, you might want to read about the best carpet cleaning in Surprise, Arizona!