While there is a clamor in following Marie Kondo's philosophy of sparking joy in your life, there might be a lot of pressure in tidying up in a snap. Some of you might need an extra push to get started. There are a number of cleaning services in Vancouver and we've compiled the Best Cleaning Services in Vancouver that will help make your home a place that will spark joy and bring you constant peace of mind.
1. Cleaning With Love
BEST FOR
23 and 35-point checklist, weekly/biweekly/monthly maintenance packages, free beginning and end walk-throughs, comprehensive, healthy, green, and eco-friendly line of cleaning supplies, winner of prestigious 2017 Top Choice Awards.
SERVICES/SCOPE
Home and Airbnb cleaning services, upholstery and carpet cleaning, commercial cleaning, Move In/Move Out cleaning, post-renovation and turnover cleaning
PRICING
Minimum call out fee of $150 plus GST for all one-time services or request a quote online
WEBSITE
https://cleaningwithlove.ca/
ADDRESS
110 W 1st Ave, Vancouver, BC V5Y 0H4
CONTACT
Phone: 604-475-LOVE (5683)

Email:

PAYMENT
Cash, e-transfer, and major credit cards are accepted
Cleaning With Love believes in elevating the lifestyle and uplifting the spirit of all their clients through services that ensure a clean, hygienic, and orderly property. Apart from treating their customers like kings and queens, their eco-friendly cleaning supplies, microfiber cloths, and HEPA filter vacuums ensures the welfare of the environment, including your pets! To add to that, their comprehensive 35-point checklist ensures that bacteria is removed in places that are usually overlooked.
Whether it's an Airbnb unit, a rundown commercial space, or your own dirty rugs and upholstery, Cleaning With Love will make sure that your space is one that you'll be happy to live and work in. They service Vancouver, Richmond, Burnaby, Delta, North Vancouver, West Vancouver, Bowen Island and Whistler.
2. Life Maid Easy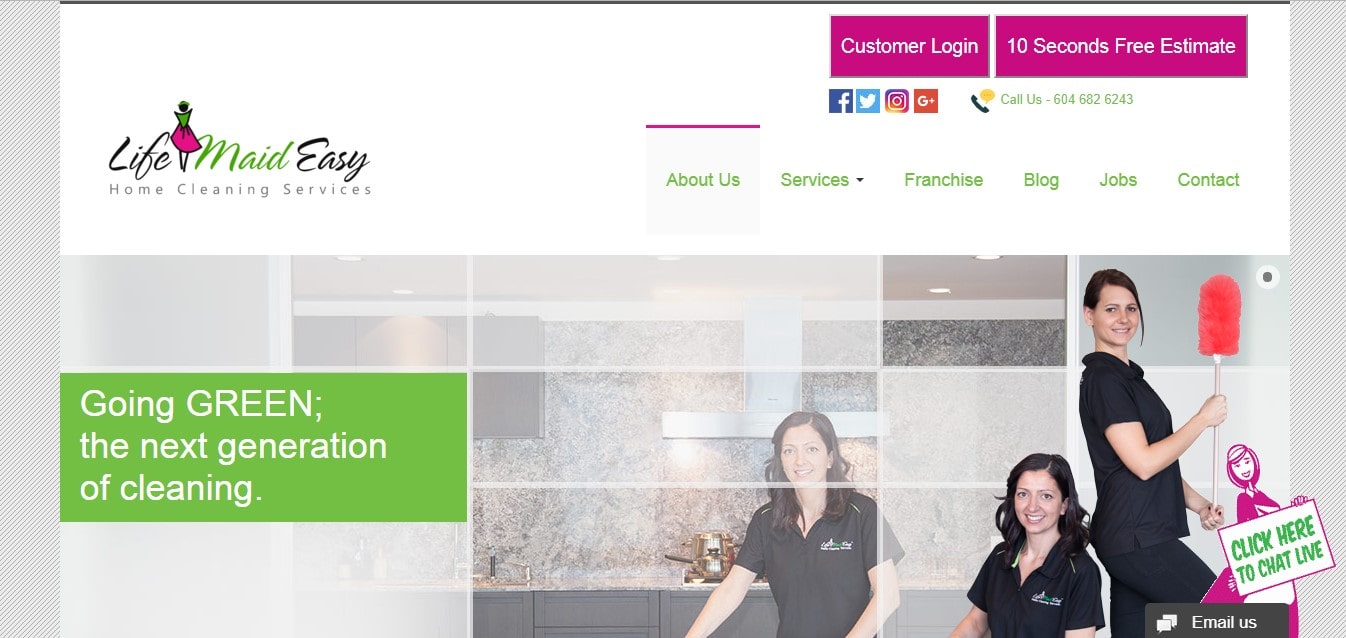 BEST FOR
36-point checklist, 100% green and sustainable cleaning services, regular scheduled cleaning appointments, 3 Consecutive Year Consumer Choice Award 2019 for Business Excellence
SERVICES/SCOPE
Complete Home, Move-In/Move Out, Vacation Rental cleaning, carpet cleaning, building maintenance, and post construction cleaning
PRICING
From $178 or request a quote online or via hotline
WEBSITE
https://www.lifemaideasy.com/
ADDRESS
428 – 470 Granville St, Vancouver, BC V6C 1V5
CONTACT
Phone: (604) 682-6243

Fax: (604) 259-6733

Email: [email protected]

PAYMENT
VISA and Mastercard are accepted
 Life Maid Easy has been providing eco-friendly cleaning solutions in the Metro Vancouver area for 7 years already. They have been raking awards since 2016, including two consecutive wins for Consumer Choice Awards in Vancouver in 2017 and 2018. This proves that these guys are pros in their field of expertise. Part of Life Maid Easy's mission is to tie up with other companies that also believe in providing sustainable cleaning solutions. In line with this, they have partnered up with Zen Carpet Cleaning in order to provide top-notch carpet cleaning services on top of their spotless range of cleaning services.
In order to ensure utmost satisfaction, they offer refunds for unsatisfied customers who reach out to the company 2 days after a job. Franchising is also open which allows them to successfully extend their mission of giving Lower Mainlanders the benefit of risk-free and non-toxic housekeeping techniques. To top it all off, their website's 10 seconds free estimate makes the decision of availing which service fits best easier for you.
3. Deep's Sunshine Cleaning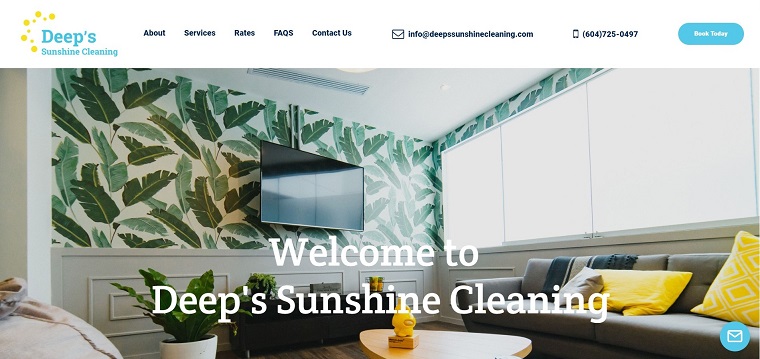 BEST FOR
Pet-Friendly Cleaning, 29-Point Checklist
SERVICES/SCOPE
General Cleaning, Condo/Apartment Cleaning, Move In/Out Cleaning
PRICING
General House Cleaning: From $110
Small Condo/Apartment: From $80
Move In/Move Out: From $300
WEBSITE
www.deepssunshinecleaning.com
ADDRESS
700-1155 W Pender St
Vancouver, BC V6E 2P4
CONTACT
(604)725-0497 / [email protected]
PAYMENT
Cash, Interac E-Transfers, Cheques
Deep's Sunshine Cleaning (DSC) has been providing professional customized cleaning services since 2010. Their highly trained and professional staff will provide a detailed and thorough clean of your home with their 29-point checklist. Customers can customize this checklist depending on their cleaning needs.
DSC is a fully licensed and insured cleaning company. Their staff go through background checks and are all handpicked and trained by the owner, so customers are assured that their home and personal belongings will always be safe with them. You can check out their promotions, for new clients or referrals, to get discounts.
4. Primero Cleaning Services
Primero Cleaning Services Vancouver is not a cleaning company like any other. Their daily and weekly commercial janitorial services stand out from their competitors for quality and professionalism. Thanks to the many years experience gained in the cleaning sector, lived in contact with some of the major property management companies, they created an efficient and flexible cleaning services Vancouver based company that can clean faster the others and give a better quality result.
They offer you a wide range of cleaning services: weekly janitorial services and commercial cleaning services in the Vancouver area, residential building cleaning services, strata building cleaning services, commercial building cleaning services, condominiums cleaning services, from restaurant cleaning service and offices cleaning services to malls cleaning services, industrial, and grocery stores cleaning services.
5. Green Maids Canada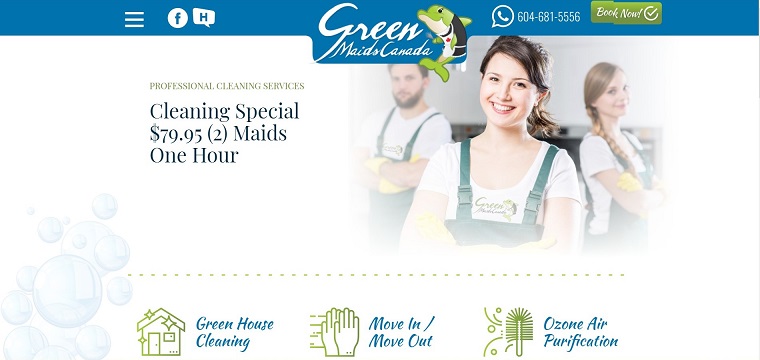 | | |
| --- | --- |
| BEST FOR | Green House Cleaning, Bonded & Insured Cleaning Company, A+ accreditation from BBB Vancouver |
| SERVICES/SCOPE | AirBnB Cleaning, Carpet Cleaning, Green House Cleaning, Office Cleaning, Move In/Move Out, Ozone Air Purification, Upholstery Cleaning, Janitorial Services |
| PRICING | Contact the company for a quote |
| WEBSITE | www.greenmaidscanada.com |
| ADDRESS | 170-422 Richards Street, Vancouver, BC V6B 2Z3 |
| CONTACT | 604-681-5556 / [email protected] |
| PAYMENT | Major credit cards, cash, cheque |
Green Maids Canada, as evident in the company's name, uses NONTOXIC products to keep you and your family safe from the traditional cleaning products. Not only is Green Maids Canada the best green alternative, they are also bonded and insured for your peace of mind.
Green Maids Canada is an incorporated local company established in Vancouver in 2006. They serve thousands of customers in neighborhoods across the Lower Mainland. While they do have a comprehensive checklist for each cleaning job, they can definitely customize their process depending on the customer's cleaning needs.
6. Fresh One Services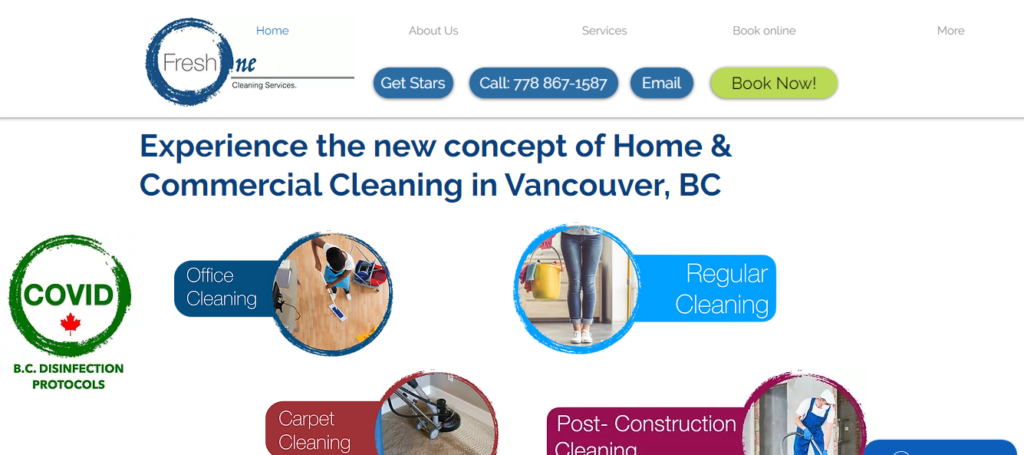 BEST FOR
Innovative Approach to Professional Cleaning Services
SERVICES/SCOPE
Home Cleaning, Deep Cleaning, Regular Cleaning, Move Out Cleaning, Office Cleaning, Building Services, Carpet Cleaning, Post Construction Cleaning, Commercial Cleaning
PRICING
Request a Quote
WEBSITE
https://www.freshoneservices.net/
ADDRESS
Vancouver, B.C. Canada
CONTACT
Telephone: (778) 867-1587‬
Email: 

[email protected]

PAYMENT
VISA, American Express, MasterCard
Fresh One Services is a cleaning company that is renowned in the area for the stellar and consistent cleaning services that have earned them numerous customers over the years. They can accommodate commercial and residential cleaning to their clients and provide services that clients are 100% satisfied with.
They bring their years of experience in the field to every job that they do for clients and make use of the latest tools and techniques that make them stand out from other companies that offer similar services. Furthermore, their team is readily available 24/7 to answer any concerns and get back to feedback in the timeliest manner possible.
Price ranges are not readily available on their website but all processes from scheduling and booking online in which they also offer a mobile app so clients can easily monitor the progress of the job. It takes quite a while though and could take 3 hours minimum to complete but rest assured that the cleaning team has availability from 7 am to 11 pm.
Furthermore, they also provide a warranty for their services should the client be unsatisfied with their prior job and send in another expert with no extra charge.
7. Deep's Sunshine Cleaning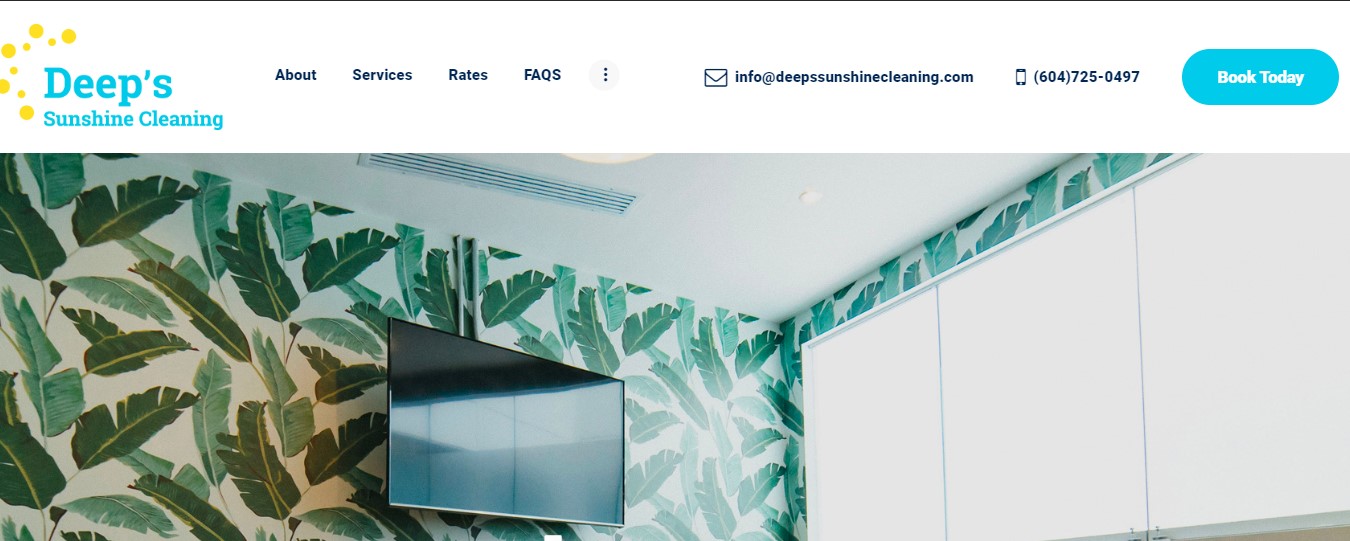 BEST FOR

Professional, pet-friendly cleaning services

SERVICES/SCOPE
29-point checklist here http://www.deepssunshinecleaning.com/#services
PRICING
Contact for payment options
WEBSITE
http://www.deepssunshinecleaning.com/
ADDRESS
700-1155 W Pender St
Vancouver, BC V6E 2P4
CONTACT
[email protected]
(604)725-0497
PAYMENT
Contact for payment options
Deep's Sunshine Cleaning has been providing professional customized cleaning services for over 10 years. As a fully licensed and insured cleaning company, their highly trained and professional staff will provide a detailed and thorough clean of your home.
8. Brilliant Cleaning Services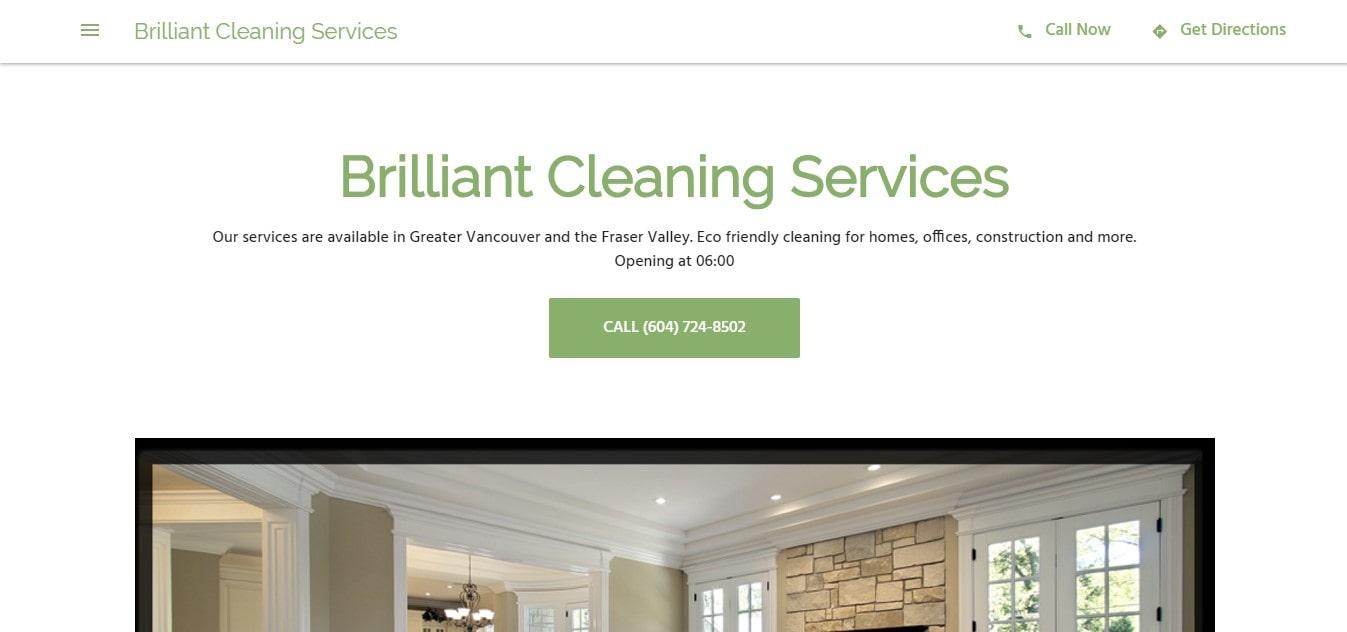 | | |
| --- | --- |
| BEST FOR | Eco-friendly and non-toxic cleaning solutions, wide-range of services including biohazard cleaning jobs |
| SERVICES/SCOPE | Full home cleaning services, pre- and post-party cleaning, bio-hazard cleaning, hoard assistance and clean-up, post construction cleaning, move-in/out cleaning, office cleaning, maid services |
| PRICING | Starts at $75 per hour for two cleaners during weekdays, or call to book or get a quote |
| WEBSITE | https://brilliantcleaningservices.business.site/ |
| ADDRESS | 1755 Robson St #569, Vancouver, BC V6G 3B7, Canada |
| CONTACT | (604) 724-8502 |
| PAYMENT | Cash, check, credit cards, email transfer |
While we've seen the usual cleaning services like move-in and move-out cleaning, carpet cleaning, and so on, Brilliant Cleaning Services offers something more to the plate. They offer biohazard cleaning for when you find yourself in a gnarly or unfortunate situation. On top of this, they also have hoard assistance and cleanup services to help those who need to get back up on their feet. On top of this, their solutions are eco-friendly!
By the looks of their services, Brilliant Cleaning Services helps those who want to get started on living a cleaner and healthier lifestyle. You don't have to do the dirty job on you own. A quick look on their website shows impressive before and after shots that will definitely motivate everyone to start tidying up and taking care of themselves.
Tidying up shouldn't be a chore for you and these companies can help transform your cleaning and whole lifestyle in a drastic way. Experience them for yourself and live your best and joyful life yet.
9. Maid Near Me
BEST FOR
Regular and Deep Home Cleaning Services
SERVICES/SCOPE
House cleaning, deep cleaning, move in/out cleaning, post-renovation cleaning, Airbnb cleaning
PRICING
https://maidnearme.ca/booking-form/
WEBSITE
https://maidnearme.ca/house-cleaning/vancouver-bc/
ADDRESS
1160 Burrard Street, Suite 608D, Vancouver, BC, V6Z 2E8
CONTACT
778-358-5291
[email protected]
PAYMENT
Credit cards, email money transfer
Maid Near Me Inc. matches you with the perfect local house cleaning professional to free your time for more important things in life, and offers customized cleaning services for houses, apartments, townhomes and commercial properties.
Maid Near Me management brings over 10 years experience delivering award-winning exceptional quality home cleaning services that put you first. Experience the Maid Near Me difference today!
10. Rehobet Janitorial Services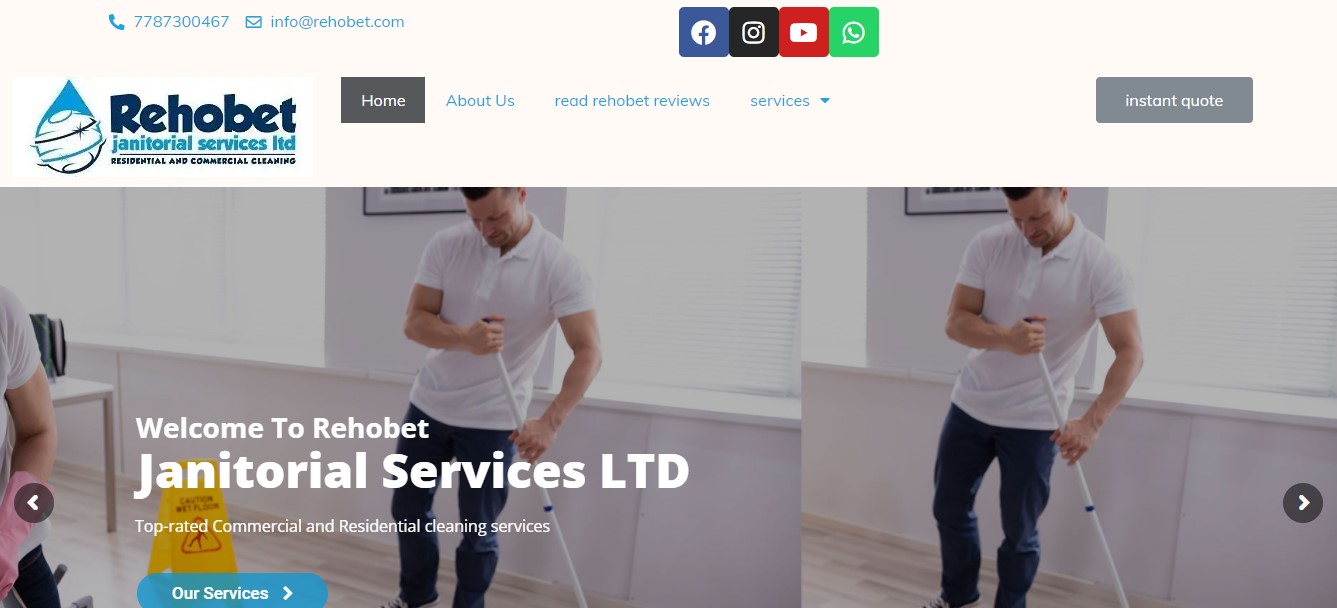 BEST FOR
Commercial and Residential cleaning services
SERVICES/SCOPE
Apartment Cleaning
Janitorial Services
Move In Cleaning
Move Out Cleaning
Office Cleaning
Recurring House Cleaning
Carpet Cleaning
PRICING
Need to contact them to get an instant quote
WEBSITE
https://www.rehobet.com/
ADDRESS
Vancouver
CONTACT
PAYMENT
Contact for details
Rehobet Janitorial Services has been in service sonce 2017. What made us recommend them is the fact that they are open for 24 hours.
Kebrom, the sole independent owner, prides himself on providing the best service possible and raising the bar for the entire cleaning & janitorial industry. They are fully bonded and insured with 2,000,000 liability insurance.
Looking at the reviews of their previous clients on Google, we can say that they will not disappoint you!
Kebrom, as well as his professional team, are a bunch of perfectionists that wont let any dirt slide. They can make your house look brand new after their services.
11. Top Hat Cleaning

Top Hat Cleaning is a cleaning service that provides excellent housekeeping services to Vancouverites. They employ experienced, trained and certified cleaners who are happy to work with you by pairs, depending on the size of your home.
Top Hat Cleaning believes that it is important to address any individual needs and requests for clients during the clean. They have been operating for over ten years and have been providing quality cleaning services to their clients.
The company offers honest, transparent rates for all of their services, detailing what's included for each option, so you can see how much they charge before you decide what type of treatment you receive from them.
12. Brighter Cleaning Services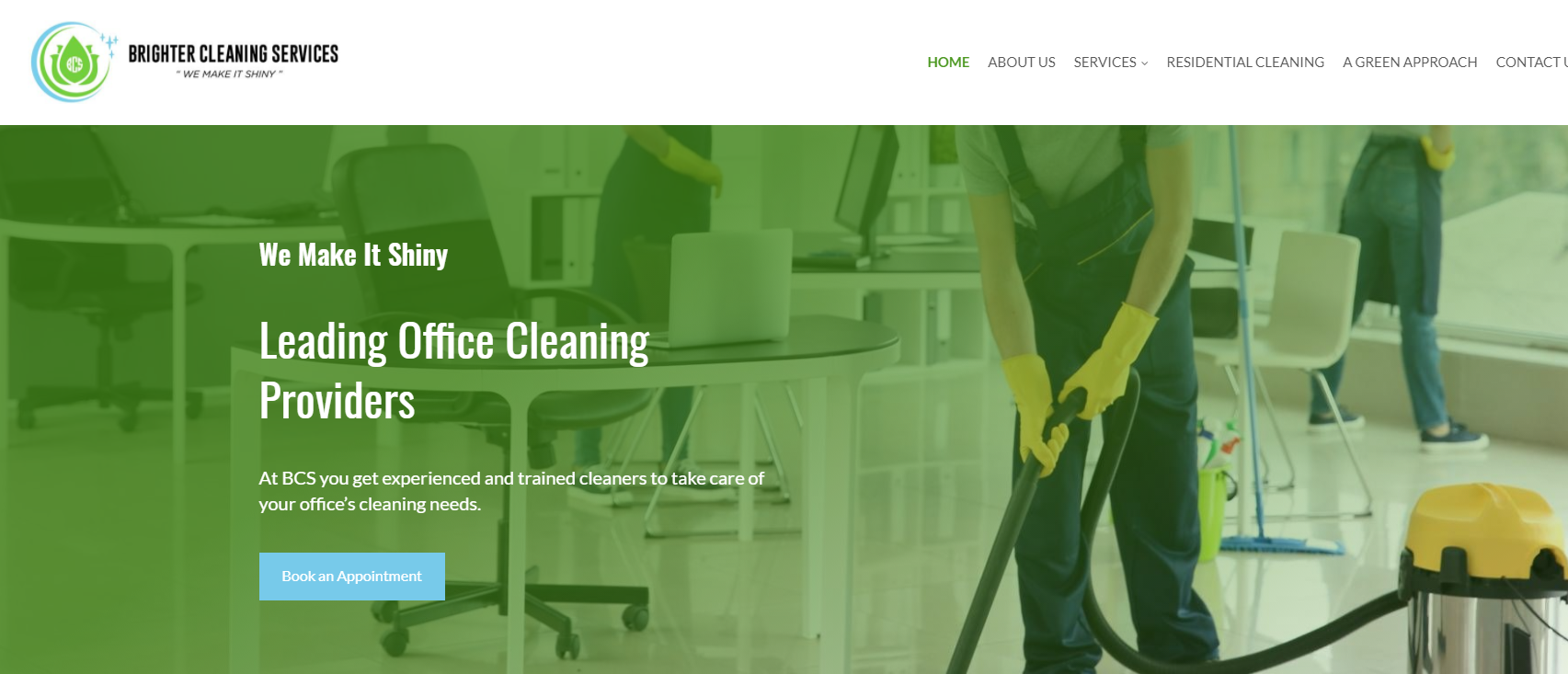 BEST FOR
Residential and Office Cleaning Services
SERVICES/SCOPE
OFFICE/COMMERCIAL CLEANING
JANITORIAL
RESIDENTIAL CLEANING
END OF TENANCY CLEANING /PACKING HELPERS
CARPET / UPHOLSTERY CLEANING
EXTERIOR WINDOWS CLEANING/ PRESSURE WASHING
PAPER PRODUCT SUPPLY
PRICING
Contact for more information
WEBSITE
https://www.brighterscleaning.com
ADDRESS
Vancouver
CONTACT
[email protected]

778-386-7442

1-800-857-2062

PAYMENT
Contact for details
If you're looking for a high quality cleaning company that will provide you with all manner of home and office-cleaning services, Brighter Cleaning Services is the company for you.
Brighter Cleaning Services has a wide range of offerings, including but not limited to residential cleaning, commercial cleaning, janitorial services, end-of-tenancy cleaning, carpet and upholstery cleaning, and exterior windows cleaning.
The company is dedicated to achieving 100% customer satisfaction, which is why their cleaners do their best to ensure that the job is done right the first time around. They're very thorough and make use of high-quality cleaning products in every job they take on.
Additionally, Brighter Cleaning Services strives to be affordable, so you won't have to worry about burning a hole in your pocket if you avail of their services.
13. Cleaning4U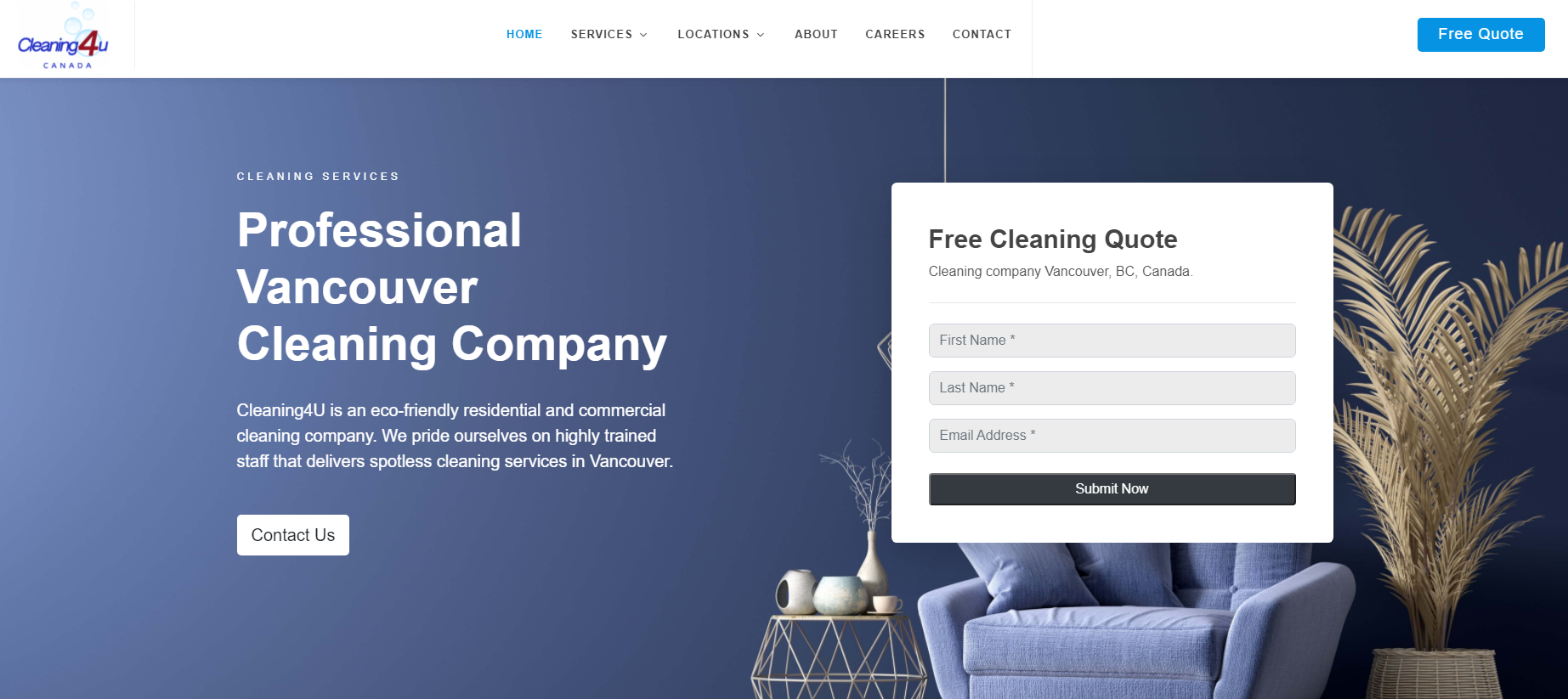 BEST FOR
Thorough Cleaning Services
SERVICES/SCOPE
Residential and Commercial Cleaning Services
PRICING
Contact for more information
WEBSITE
https://www.cleaning4u.ca
ADDRESS
Vancouver
CONTACT
(778) 829-9550
[email protected]
PAYMENT
Contact for details
Have you been looking for a residential or commercial cleaning service? If so, we've got the perfect option for you: Cleaning4U.
Cleaning4U provides cleaning services to homes and businesses in Vancouver and its surrounding areas. With their wide range of services, Cleaning4U can cover your needs from top to bottom.
They offer their customers a variety of cleaning services that suit every need and budget. Additionally, their team consists of highly trained and fully licensed professionals who will take care of any cleaning need that you have.
They guarantee satisfaction with every job they complete.
14. Primero Cleaning Services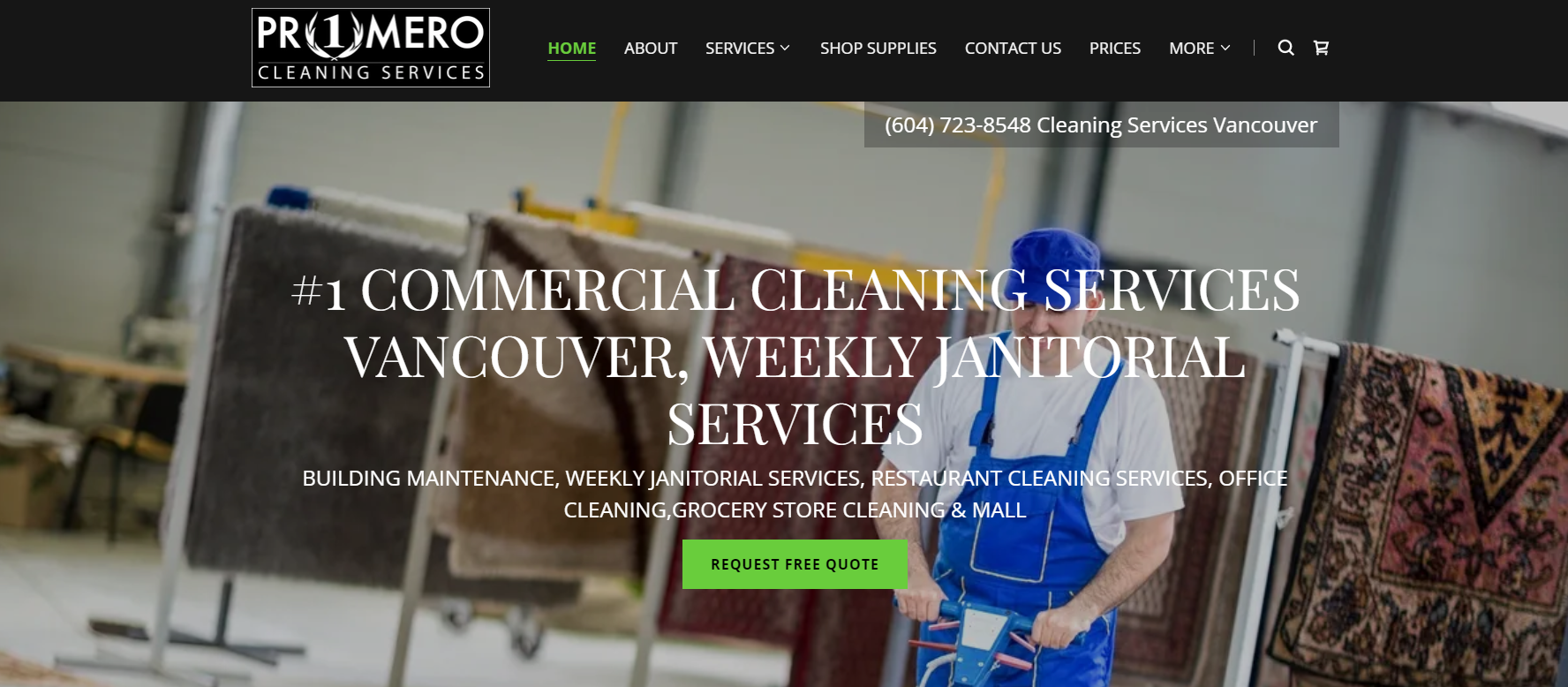 BEST FOR
Commercial Cleaning Services
SERVICES/SCOPE
Weekly Janitorial Service
Strata Building Cleaning
Pub and Restaurant Clean
Office Cleaning
Commercial Cleaning
Grocery Store Cleaning
Auto Dealership Cleaning
Windows Cleaning
Carpet Cleaning
Nightclub and Bar clean
Gym and Spa Cleaning
School Cleaning
PRICING
Contact for more information
WEBSITE
https://primerocleaningservices.ca/
ADDRESS
110 – 1231 Pacific Blvd. V6Z 0E2, Vancouver, BC
CONTACT
Office: (604) 723-8548
Customer support: [email protected]
PAYMENT
Contact for details
Primero Cleaning Services is a Vancouver-based cleaning company that provides commercial and residential cleaning services. They can handle all of your cleaning needs – from office cleanings, to deep cleanings, to move-outs.
Primero's values are: Trustworthy, Responsible, Assured and Dependable.
This means that Primero will always be on time and will leave the place spick and span. And they go beyond just surface level tidying up – they make sure you have a spotless environment for your employees or clients.
Cleaning services is a huge industry with no shortage of competition for Primero Cleaning Services in Vancouver. But they offer competitive rates for their various levels of service packages, as well as customized work hours that fit seamlessly into any schedule.
15. Green Maids Canada

Green Maids Canada is the leading eco-friendly home cleaning service provider in Vancouver. They are committed to delivering high quality, professional, and affordable services with 100% satisfaction guarantee.
It's worth noting that Green Maids Canada offers eco-friendly and professional cleaning services for residential and office-based customers.
Their services include AirBnb Cleaning, Carpet Cleaning, Green House Cleaning, Janitorial Services, Move In and Out Cleaning, Office Cleaning, Professional Window Cleaning, and Upholstery Cleaning.
Green Maids Canada uses only sustainable and environmentally friendly products for their cleaning service, which ensures that the environment will be safe from any toxic chemicals.
16. Usafi Pro Office Cleaning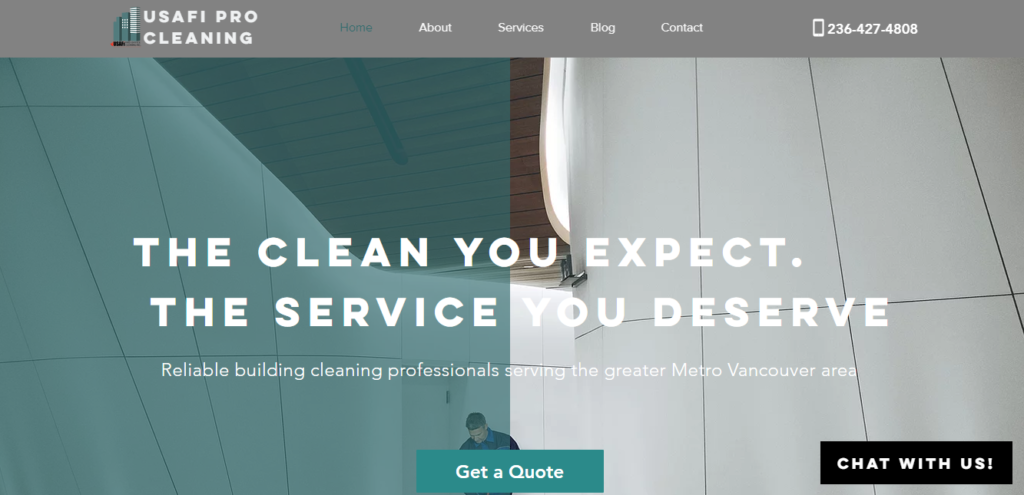 Usafi Pro Office Cleaning is a force to be reckoned with and considered should you need complete janitorial and building maintenance services. They currently service clients located in the Lower mainland and Greater Vancouver which just tells you how wide their coverage is.
They offer customizable janitorial services for all types of business so that you can adjust their packages according to your need and preference. May it be a restaurant, clinic, production plant or any office big or small, they are sure to deliver superb services that are up to your standards.
They are able to clean all types of facilities that your building has as well such as elevators, carpets and even windows to ensure that all of your building's features are well-kept and cleaned. Furthermore, they offer all of these at affordable and reasonable rates which is a sure win-win for your business.
We recommend this company for your commercial cleaning needs due to their excellent work ethics of accountability and responsibility that will ensure that you are with a company that you can rely on and trust for the best results.