Dry cleaning is one of those cleaning chores you can't do by yourself. You have to drive or walk to a dry cleaning store and let them do the work for you. The dry cleaning process is alien to most folks, but it is necessary to keep special pieces, elegant dresses, expensive coats, and tailored suits clean without ruining them.
Indeed, the process involved in dry cleaning is a mystery. But, people in the industry always get the job done. They do the dirty work and you receive your garments in a plastic bag – scott-free and sanitized. With that said, it's time you trust them to do their job and give your delicates the undivided attention it needs.
These best options for dry cleaners in Edmonton are the perfect candidates for your "dry cleaning only" pieces.
1.       Gellibrand's Drycleaning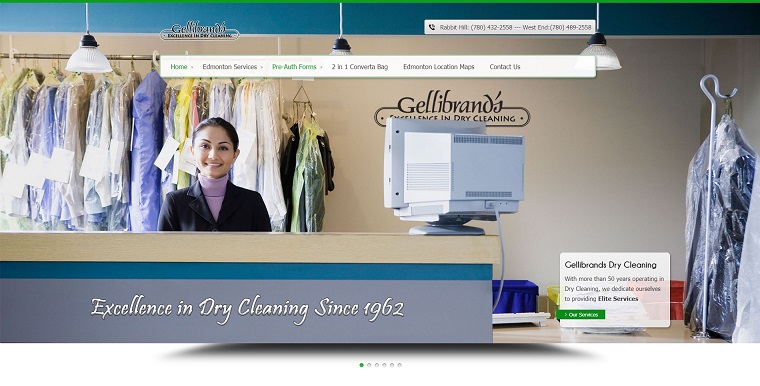 BEST FOR
Wedding gown care & preservation, Wet cleaning
SERVICES/SCOPE
2-in-1 Converta Bags
Dry Cleaning
Wedding Gown Care & Preservation
Wet Cleaning
Valet Service
Whites
Silk & Rayon
Pressed Shirts
Suits
Linens & Tablecloths
Athletic Wear
Casual Wear
Quilts & Comforters
Uniform & Scrub Suits
PRICING
Contact for rates on its services
WEBSITE
https://gellibrands.com
ADDRESS
10544 169 Street NW
Edmonton T5P 3X6, Alberta
CONTACT
(+1) 780-489-2558 | [email protected]
PAYMENT
Options available on request
Based on the Environmental Protection Agency (EPA) guidelines on garment cleaning, 'wet cleaning' is the safest professional method for washables. The process uses biodegradable soaps and conditioners which are easily treated by local wastewater treatment facilities. It's also a great alternative cleaning method for those with allergies. Your clothes and other garments end up with the same 'dry clean' effect sans perc (perchloroethylene).
You can get this effective dry cleaning process at Gellibrand's. Its stores employ 'wet cleaning' and use special equipment that washes garments gently and uses a specific humidity for a quick dry effect. Wet cleaning is perfect for cotton, linen, and silk especially light colored washables. It also has pressing and tensioning equipment to maintain the garment's shape and stop shrinkage. Magicians aren't real, but clothes always come out stunning with Gellibrand's.
2.       Holyrood Drycleaners & Tailors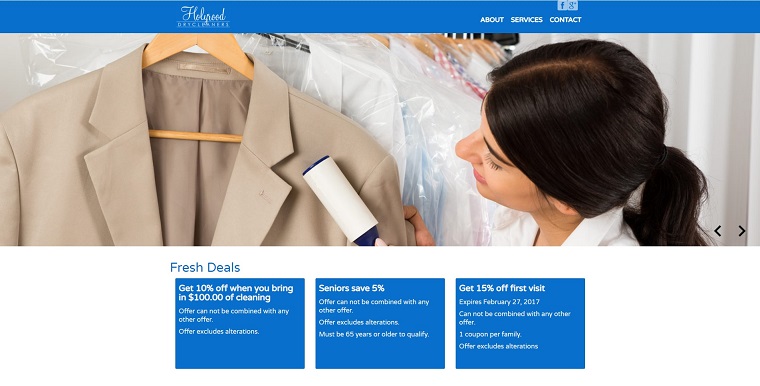 BEST FOR
Alterations & repair, Friendly & efficient cleaners, Quick service, Stain removal
SERVICES/SCOPE
Apron (All types)
Bed Spread, Blankets
Belt
Blazer (Wool, Heavy & Lined)
Blouse (Dry Clean, Silk, Press only & Regular)
Cap (Regular & Fancy)
Comforter (Regular, Queen, King, Double & King Size Down)
Drapes With Lining
Fancy Dress
Flat Sheet
Fitted Bed Sheet
Heavy Winter Coverall
Jackets (All types)
Pants  (With Lining & Iron Only)
Pillow Cases & Sham
Pyjamas (All types)
Scarf
Shawl
Shirt (Light Starch, Heavy Starch, Fold, Dry Clean, Iron Only)
Tuxedo
Sweat
Skirt
Suit
Sweater (All types)
Sleeping Bag
Table Cloth
Tie
Underwear Wedding Gown Dry Cleaning (Simple, Long, Beaded or Frill)
Wedding Gown Press Only
PRICING
Starts at CAD 2.00; Laundry services starts at CAD 2.00 per pound
WEBSITE
https://holyrooddrycleaners.com/
ADDRESS
9020 75 Street NW,
Edmonton T6C 2H4, Alberta
CONTACT
(+1) 780 465 5073 | [email protected]
PAYMENT
Cash, Cheque, Visa, Mastercard, Interac
Holyrood Dry Cleaners is family-owned business that has been in the dry cleaning service for ten years. Expect to be treated like family when you subscribe to its laundry, dry cleaning, alteration or tailoring service. All services are made on site for a high quality workmanship. You can pick up your stuff in 24 hours, but it still depends on your load and service requested.
Holyrood uses environment-friendly equipment and solvents. It strives to reduce waste and ecological footprint while providing the best dry cleaning service in Vancouver. Your garments and delicates will come out good as new and non-toxic thanks to Holyrood Dry Cleaners.
In case you leave valuables or stuff in your pockets, you can still get it back. Its staff places your things in a ziplock separate from your clothes to keep everything organized.
3.       Lynnwood Dry Cleaners & Tailor of Edmonton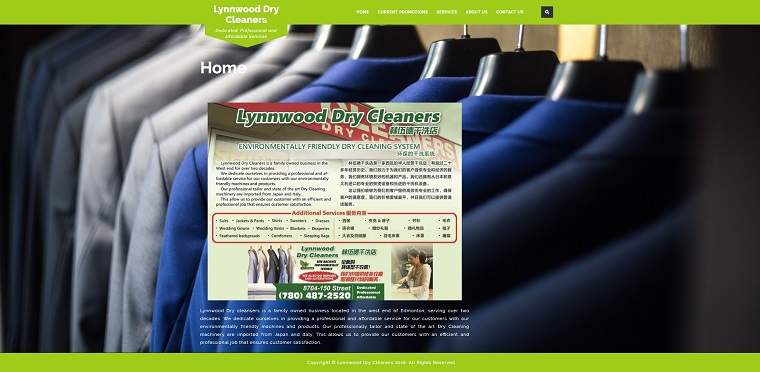 BEST FOR
Daily dry cleaning services, Exceptional customer service, Professional and friendly cleaners, Stain removal
SERVICES/SCOPE
Laundry & Dry Cleaning Services
Blouse
Canada Goose
Coats (¾ Coat, Full Size, Downfill ¾ & Downfill Full Size)
Dresses
Pants
Skirt
Suits
Sweaters
Jacket & Blazer
Ties
Vest
Wedding Gown
Bed Spread
Comforters
Blanket
Sleeping Bag
PRICING
Starts at CAD 6.60
WEBSITE
http://lynnwooddrycleaners.com/
ADDRESS
 8704 150 Street  NW
EdmontonT5R 1E4, Alberta
CONTACT
(+1) 780-487-2520 | [email protected]mail.com
PAYMENT
Options available upon request
Lynnwood Dry Cleaners is popular for its fantastic customer service. It has the nicest people in its shop and the best dry cleaning machines imported from Italy and Japan. If you want to have the perfectly cleaned and pressed clothing, then you must visit Lynnwood Dry Cleaners in Edmonton.
The best part about Lynnwood the fact that it's open daily. Now, dropping off your laundry can be the best part of your day. Its staff is always welcoming and happy to share a smile with its customers. Dry cleaning at Lynwood is not only efficient. It also results in customer satisfaction every time.
Photo is taken from the store's official website.
4.      Ottewell Drycleaners & Tailoring
BEST FOR
Spot treatment, Wide range of dry cleaning and laundry services
SERVICES/SCOPE
Dry Cleaning
Laundry
Tailoring
Wash And Fold
Blouses
Coats
Dresses
Indian Suit
Jackets
Pants
Shirts
Skirts
Suits
Sweaters
Tie / Scarf / Hat
Uniforms
Wedding Dress
Bedding
Sleeping Bag
Mattress Cover
Drapes (Per Panel)
Pillow
Table Cloth
PRICING
Starts at CAD 7.00
WEBSITE
http://www.ottewellcleaners.com
ADDRESS
6208 90 Avenue NW
Edmonton T6B 0P2, Alberta
CONTACT
(+1) 780-468-7101 | [email protected]
PAYMENT
Visa, Mastercard, American Express, Interac
Ottewell Cleaners has a variety of dry cleaning services ideal for casual wear, business attire, couture and vintage clothing. It uses SOLVONK4 to give your clothing a luxurious feel after cleaning. It also doesn't leave any residual odor and discoloration.
At Ottewell, there are trained garment specialists to handle your items with care. They inspect each item before dispatched so you aren't left disappointed with the service you receive. Get your garments looking new and perfect with Ottewell's dry cleaning and laundry services.
5.     Tony the Tailor

BEST FOR
Eco-Friendly Dry Cleaning, Cleaning of down jackets such as Canada Goose; Alterations and repairs of formal, business and casual attire
SERVICES/SCOPE
Professional Tailoring, Eco-Friendly Dry Cleaning, Leather & Fur Conditioning & Repair
PRICING
Sample price $3.50 shirt laundering
$45.00+ Down Coats
$15.00 basic jean hemming
WEBSITE
www.edmontontailor.com
ADDRESS
10172-104 Street, Edmonton, Alberta
CONTACT
780-426-4654
PAYMENT
Credit or debit cards, cash, cheque
Tony the Tailor has been proudly serving Edmonton since 1982. This family-run business is located in the heart of downtown Edmonton, providing professional, quality tailoring and dry cleaning services. Their eco-friendly dry cleaning service means they don't use harmful toxic chemicals, all products are family-friendly and safe for the environment. Plus, they choose products and solutions which do not trigger allergic reactions. As such, only non-toxic substances such as water, biodegradable soap and steam are used. With the help of Tony the Tailor, garments look cleaner, last longer, feel softer, look brighter and smell fresher.
6.     Page the Cleaner
BEST FOR
Alterations & repairs, Free pickup service,
Stain removal
SERVICES/SCOPE
Alterations & Repairs
Dry Cleaning Service
Industrial & Coverall Cleaning
Laundry Service
Personal Dry Cleaning
Coverall & Safety Product Supply
Restoration & Insurance Cleaning
Bridal Dresses
Coveralls & Industrial
Winter Wear
Household Items
Draperies & Curtains
Duvets
Uniform Cleaning & Supply
PRICING
Contact on rates for its services
WEBSITE
https://pagethecleaner.com
ADDRESS
9108 142 Street NW
Edmonton T5R 0M7, Alberta
CONTACT
(+1) 780-486-0457 | [email protected]
PAYMENT
Options available upon request
For award-winning dry cleaning service in Edmonton, Page the Cleaner has the expertise for any dry cleaning job. Its specialists can work on suits, duvets, and curtains of any kind. Aside from clean items, you also get restoration.
Page the Cleaner guarantees brighter colors, stain-free whites, and spot removal. Thus, dry cleaning at Page extends the life of your garments. You don't have to lead the laundry each weekend to have clean clothes. You can trust Page the Cleaner to care for your delicates and replace lost buttons.
7.       Sew Good Tailor Shop and Dry Cleaning
BEST FOR
Alteration & repair, Fast service, Pleasant shop interior
SERVICES/SCOPE
Dry Cleaning
Laundry
Alteration
Blouses
Coats
Dresses
Indian Suit
Jackets
Pants
Shirts
Skirts
Suits
Sweaters
Bow Tie
Gloves
Hat
Scarf
Shawl
Tie
Uniforms
Wedding Dress
Bedding
Sleeping Bag
Mattress Cover
Drapes (Per Panel)
Pillow
Table Cloth
PRICING
Starts at CAD 5.00
WEBSITE
http://sewgoodtailorshop.com
ADDRESS
1292 Webber Greens Drive, Unit 202
Edmonton T5T 1S9, Alberta
CONTACT
(+1) 780-250-8880 | [email protected]
PAYMENT
Options available upon request
Sew Good Tailor Shop and Dry Cleaning offers the whole package. You can high quality tailoring after cleaning your clothes and vice versa. Its staff are hands-on and will guide you through the process. You can fit your clothes in the shop with its curtain-drawn rooms. You don't have to drive back to the shop from your house whenever you want to adjust or add details to your clothing.
Sew Good is also the perfect place to subscribe for regular cleaning. Its rates are attractive and suitable for those who wish to leave their garments, delicate and other items in good hands.
8. True Value Dry Cleaner
BEST FOR

Full service Dry Clean, Laundry and Tailoring 

SERVICES/SCOPE

Dry Cleaning, Laundry, Tailoring, Corporate Services, Industrial Services

PRICING

Contact to get a quote

WEBSITE

http://truevaluedrycleaner.com/

ADDRESS

5153 – 55 AVE EDMONTON, AB, T6B 1V3

5724 – 19A AVE EDMONTON, AB T6L 1L8

CONTACT DETAILS

(825) 410-0620/(780) 466-6987 | [email protected]

PAYMENT

Contact shop for payment details
True Value chooses no specific clothing or garment when it comes to premium quality dry cleaning and laundry. No matter how filthy your clothes are, the shop promises to bring it back to you clean and fresh as new. 
They make sure to apply the appropriate products and services and run through their 10 stage quality assurance process to make sure that the items are properly cleaned and gently handled at the same time.
Trust these dry cleaners to help you have the best outfits for any season. Their professionals will care of your clothes and clean them using safe detergents. You don't have to waste time doing laundry with their dry cleaning and wash-dry-fold services.
9. Millcreek Dry Cleaners
BEST FOR

Eco-Friendly Dry Cleaning

SERVICES/SCOPE

Sports & Team Jerseys, Sports & Team Jerseys, Indian Suits & Saris, Winter & Down Fill Jackets, Repair & Alteration, Press Only, Professional WearBedding & Household

PRICING

http://millcreekcleaners.com/pricing/

WEBSITE

http://millcreekcleaners.com/

ADDRESS

4022 50 St NW, Edmonton, AB T6L 5N3

CONTACT DETAILS

780-450-0627 |

[email protected]

PAYMENT

Contact shop for payment details
Millcreek Dry Cleaners is a family owned business run by professionals who have worked in the industry for over 30 years. There are few stains and garments that we have yet to see. No matter the item, they can clean it. Their team can proudly say that there are few dry cleaners in the Edmonton who have as much experience or expertise as us.
At Millcreek Dry Cleaners, they value customer service. As a dry cleaner, they believe that a clean garment is as important as an excellent experience. They are committed to the relationships they have built with customers and will take any measure to ensure that you always leave with a positive experience.
---
Photos are taken from the store's official website.