Cleaning the house can be a tedious task for many of us, simply because it's a hectic chore that requires a lot of time, energy and careful attention. Whether you're busy struggling time between career, family and social obligations, we can all admit that having a helping hand in the house can be a lifesaver.
Not only is it practical, but it's a valuable investment in the household. Hiring a professional cleaning service provider guarantees excellent results that will be mostly likely up to par with your standards. These people are professionally-trained so you can expect nothing less.
It's important for house owners to choose the cleaning services that are trustworthy and reliable. Without further ado, here's a quick run-through on some of the best cleaning services you can find in London!
1. ProLux Cleaning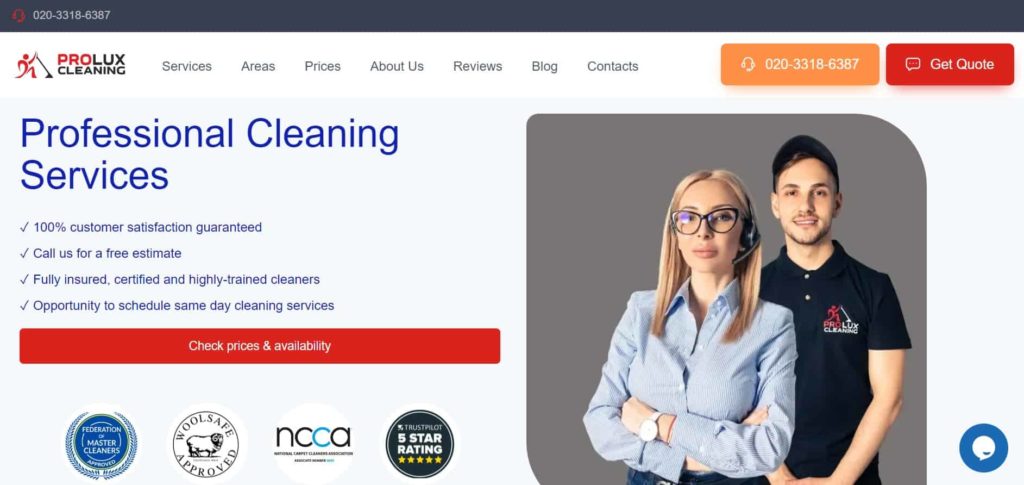 ProLux Cleaning is a cleaning company that has built a solid reputation throughout Greater London over time. They are best known for their steam cleaning services for carpets, rugs, mattresses, upholstery and curtains.
Aside from their cleaning specialties, they have professional auto detailing services. They are able to clean vehicles to restore their appearance and make them look brand new.
Unlike some cleaning companies, ProLux Cleaning makes their price list available for easy reading on their website. We like that the 60-euro minimum charge which all companies charge per visit and taxes are included in their costs.
Besides their given services, they acknowledge that each client has unique cleaning requirements. Customers can ask for a free quote if they require customized cleaning solutions.
ProLux Cleaners has been accredited by The Approved Carpet Cleaners Alliance, Prochem, and Jangro LMS. Their staff also consists of skilled cleaners which makes them a reliable cleaning company for your cleaning needs.
2. RCL Carpet Cleaning Services London
RCL Carpet Cleaning Services London is a well established cleaning company that takes a personal interest in the individual needs of all their customers. They know how important it is for you to receive the best possible cleaning service, which is why they strive to be your go-to service provider.
They maintain the principles by which their company operates: professional service, detailed attention and efficient solutions to clients' needs. Their business model has a well-established admirable reputation in residential, private client, business (including letting agents service) and building, property developers and commercial sector. Over the years, they have created large and diverse client base in which we became highly-respected cleaning firm across London.
3. Book-a-Cleaner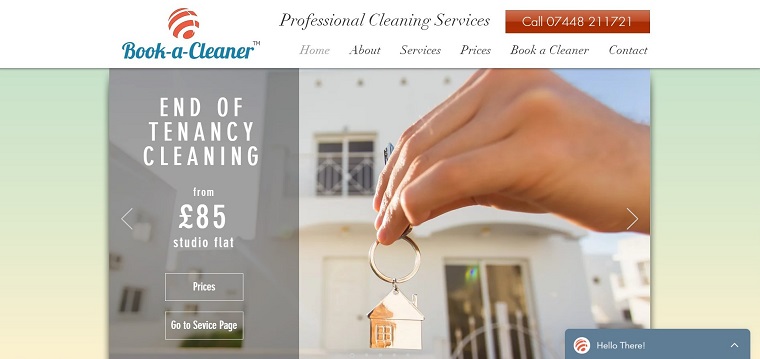 Founded in 2004, Book-a-Cleaner is part of the official Book A Service London Ltd that is registered in England and Wales. All of their employees are highly qualified and trustworthy, having been vetted and insured for their clients' peace of mind. Products, equipment and techniques used are 100% eco-friendly.
To ensure client satisfaction, they provide a 48 hours guarantee for their end of tenancy cleaning service. Clients may also choose to pay after they've accomplished the booked service, to ensure complete satisfaction. A special rate of only £7/hour can be availed in your first booked regular domestic cleaning appointment.
4. BLANC
BLANC offers an expert non-toxic alternative to conventional dry cleaning alongside tailoring and laundry services. They offer a convenient home pick up & delivery service, available throughout central London, and also have stores in central London if customers need the extra re-assurance of speaking face-to-face with an expert. We offer household services, leather care, and sell a range of cleaning and wardrobe care products and accessories.
BLANC was founded in 2013 by Mathilde and husband Ludovic. They wanted to build a business that mattered and to improve people's health and the environment by "cleaning up" an industry that was toxic and rather set in its old-fashioned ways. Passionate about sustainability, they want to become the first natural dry cleaning brand that is synonymous with quality, trust and consistency – cleaning all clothes, naturally and always with love.
5. PerfectMaid Cleaning & Handyman Services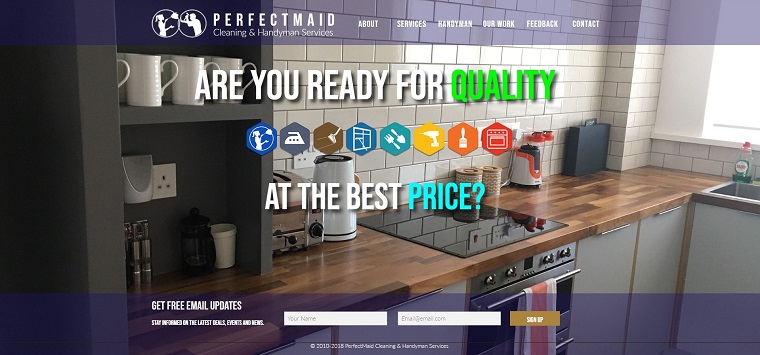 PerfectMaid Cleaning & Handyman Services is a small, family-run cleaning, handyman and property maintenance company based in West London and covering West and Southwest London. They provide cleaning, ironing, gardening and handyman services to private households, regular and one-off cleans to business premises, as well as end-of-tenancy cleans and mid-stay cleans to tourist trade: hotels & short let apartments.
PerfectMaid Cleaning understand clients' needs come first, so they provide a customised service with a very personal approach. They take pride in their reliability, efficiency and competitive rates.
6. Samyx Cleaning
Samyx Cleaning is a dynamic and professional cleaning company with extensive experience in London, offering affordable yet professional cleaning services. One customer, Martin Lohse, says about their service: "Super satisfied. They cleaned the flat when I moved out, and they actually cleaned the flat so well that it looked better than when I moved in. Highly recommended!"
7. Tidy Choice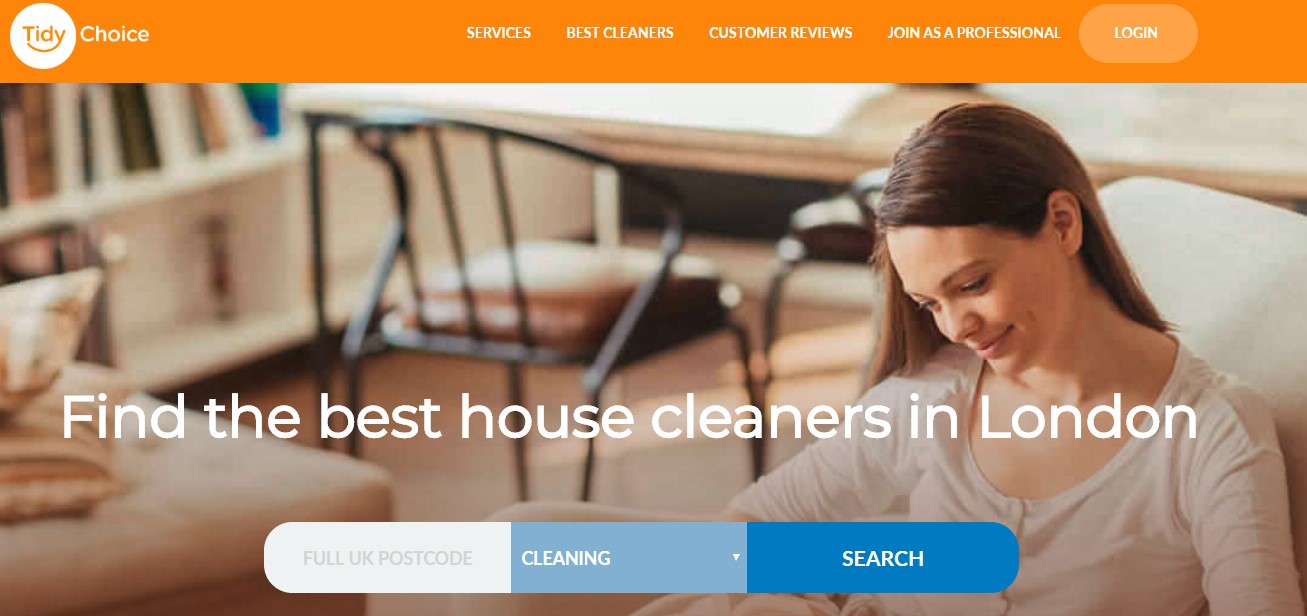 Tidy Choice is known for matching households with trusted cleaners all over London. Their cleaners are fully vetted and background checked, with only the top 4% passing the vetting process.
Cleaner performance is continuously reviewed through customer feedback. You can start booking by choosing preferred dates, services and options. Then, you can browse cleaner profiles based on your preferences.
8. Regional Services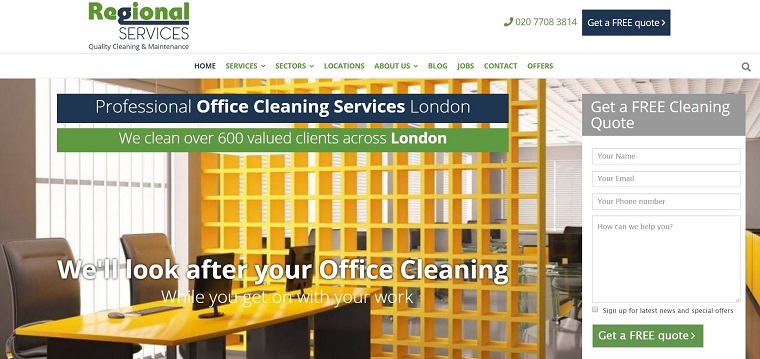 Regional Services is a professionally run, London-based commercial cleaning and support services company committed to operating on an open book policy basis to its staff and clients alike, while always remaining fully aware of its responsibilities to the environment, the planet and the people on it.
Regional Services provides a wide range of cleaning services to clients, from daily office cleaning to the expert window and floor cleaning. They also offer morning cleaning, evening cleaning or they can clean while you go about your work. They are flexible with their services, with cleaning methods tailored to your needs. Their commercial cleaning is the best around London and their growing list of clients means that they have the experience needed to provide you with the best cleaning services in London.
9. IVS Cleaning
IVS Cleaning is a professional cleaning company that has been in the industry for around 7 years already. They capitalize on polite on-site experiences along with the demonstration of equally high-quality work as well.
Currently having around 380 regular clients, their services extend to all parts of a household or establishment such as gardens and patios apart from their general and deep cleaning services. They have a standard process for their cleaning jobs which could not include arranging objects in the said area for the overall tidiness of the place.
However, a couple of shortfalls would be on the cost of these services which are quite high and as seen on their featured price list, are charged per hour. Their hours start the minute they arrive at the client's home which could entail more cost on the end of the client requesting the service.
The reviews they also feature is very informative since it also states the specific service being reviewed in which could be an excellent avenue for clients looking for a professional cleaning company for the first time.
10. Glimmr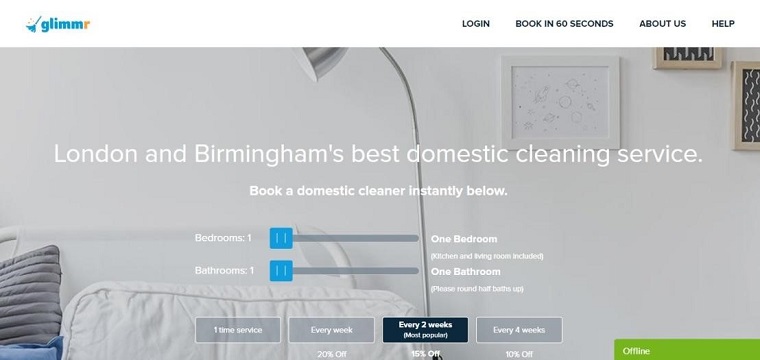 Glimmr is one of London and Birmingham's best domestic cleaning service provider. To ensure clients' peace of mind, all their cleaners have been interviewed in person, highly rated by other customers, carefully vetted and insured.
You can easily book within 60 seconds via smartphone as their website is also mobile-friendly. Part of their value-added service is the 200% money back guarantee, where they will happily re-do the job if you're not satisfied with the results. If this still doesn't meet their clients' standards, they will refund the money.
11. Variety Cleaning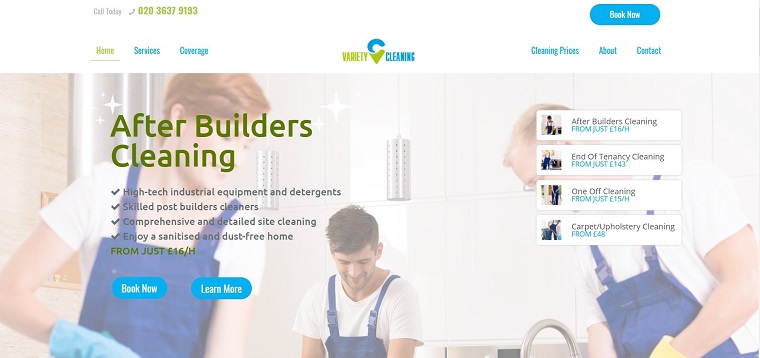 Variety Cleaning provides affordable and reliable one-off deep cleaning service in Reading, Oxford, Guildford, Hemel Hempstead and many more cities, including parts of Greater London. With just one visit, they will help commercial and residential homeowners eliminate any source of clutter. To give you value for money, their one-off cleaning can be fully customised depending on your needs, personal prerequisites and budget. They also work with reputable companies for their cleaning supplies, such as Prochem and Karcher for professional-grade detergents and equipment.
You can also combine any of their services to get great deals and discounts. For instance, you'll get 10% your bill for services over £100. Or, if you request upholstery cleaning or carpet cleaning with your move-in or move-out cleaning, you'll get 40% off!
12. Mega Cleaning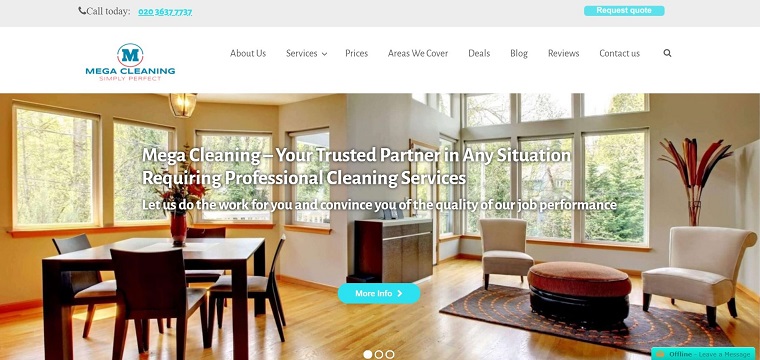 Mega Cleaning will work around your schedule and your cleaning needs to give you the best possible deal. They provide a wide range of cleaning services in London areas as well as parts of North West and Southwest areas outside M25. Professional life can be hectic, so Mega Cleaning ensures flexibility with their cleaners' schedule to accommodate each customer's request. You can choose from morning and afternoon appointments, 7 days a week. They can also work outside working hours for additional charges. Fortunately, their employers are insured with public liability up to £1,000,000.00.
For deals and discounts, booking end of tenancy cleaning with carpet or upholstery cleaning will entitle you to a 40% discount. You can also enjoy a 10% discount if you book carpet or upholstery cleaning for over £100. Finally, they'll reward recommendations to your friends with 10% off from your next booking!
13. Hi Carpet Cleaning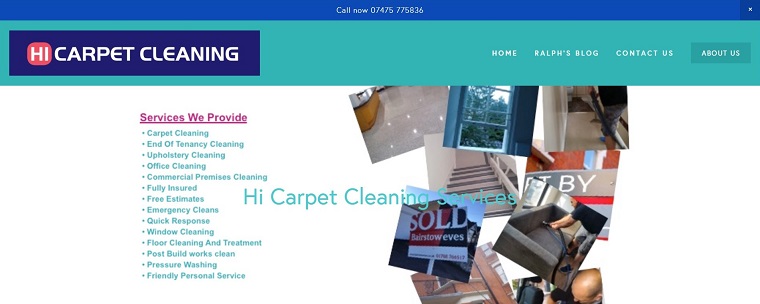 Hi-Carpet Cleaning is a London-based carpet cleaning service providing free estimates and fully guaranteed work. They take pride in guaranteed customer satisfaction by providing a super deep and careful carpet and upholstery clean. You can give them a call to book a job with a free estimate and see the amazing results for yourself.
14. Max Clean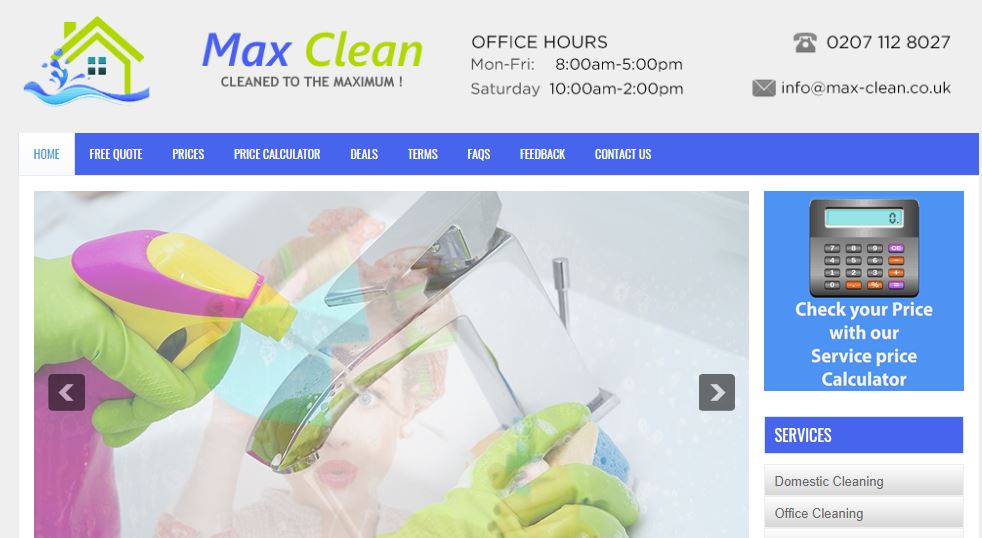 Max Clean is the leading provider of domestic and commercial cleaning services in London and Greater London. From spring cleaning to after-party and after-builders cleaning, you'll find that Max Clean's specialist cleaning services can make your life a whole lot easier–not to mention cleaner.
They have a user-friendly website where you can easily book and pay for their services in 60 seconds. If it's your first time to engage them, your first 3 hours of cleaning will only cost you £15 upon entering the promo code 'CLEAN15'when you book via website. Cancellations or rescheduling can be made without extra charges at any time until 18:00 the day before the day you booked.
15. CleanDay London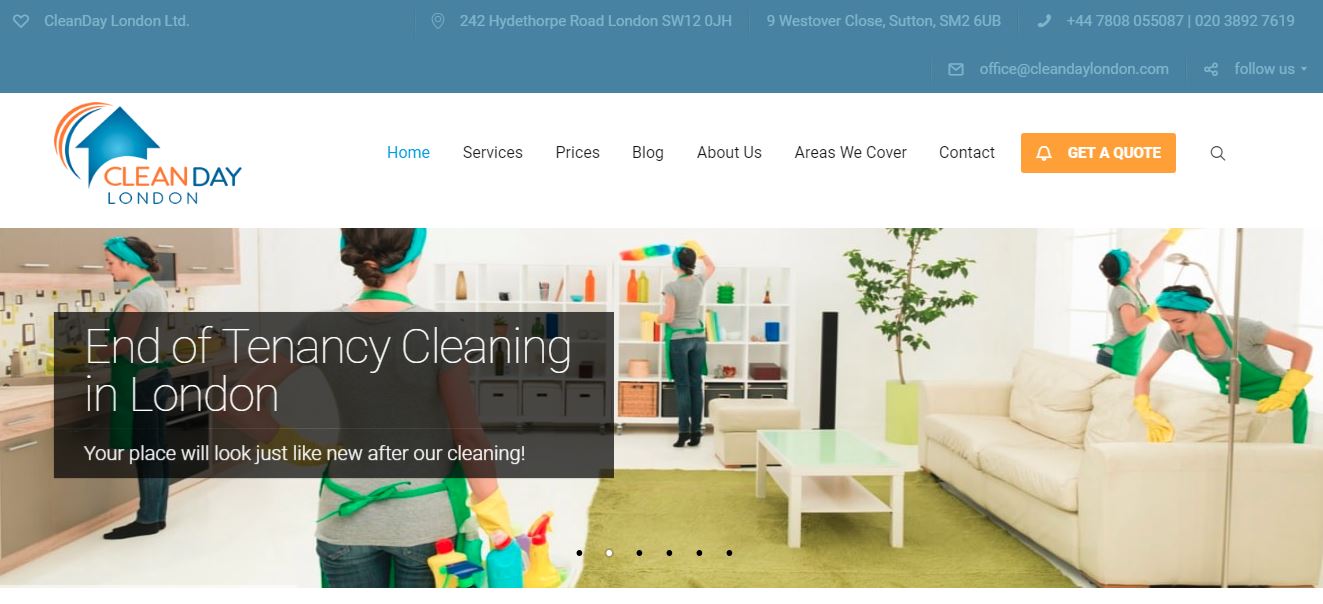 CleanDay London Ltd. is a professional, family-owned cleaning company based in South London. Private and corporate customers have been availing a wide range of high-quality cleaning services offered by CleanDay at competitive rates. To date, they have over 1,092 clients served and 4,000 hours of cleaning rendered!
16. Hi Carpet Cleaning

Hi-Carpet Cleaning is a London based carpet cleaning service that offers customers with free estimates and fully guaranteed work. Their clients are pleased with the results of their deep and careful carpet and upholstery clean.
17. Sky Cleaning London

Sky Cleaning are Cleaning Professionals based in London. Their wide range of cleaning services are highly rated by their customers, getting an average of 4.72 rating out of 71 reviews.
18. Tidy Life Cleaning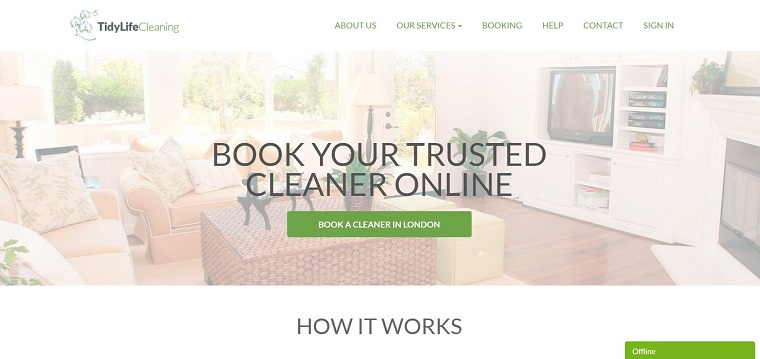 Tidy Life Cleaning is a fast growing London-based cleaning company. The company has been founded by a former cleaner whose services were on a high demand and valued by customers. Tidy Life Cleaning believes that each customer has individual requirements, so instead of applying a single method to every job, they do their best to send a cleaner that will respond to a customer's particular requirements.
Tidy Life Cleaning hire only cleaners who are carefully vetted and trained. Their supervisors are former cleaners and they will visit your property if you would like to meet someone in person to discuss your requirements and they will attend with a cleaner when necessary.
19. London Cleaning System
London Cleaning System is the most reliable and reasonable cleaning company to assist your home or company. They make sure that your environment is maintaining top hygiene and sparkling cleanliness.
They are budget friendly and very efficient in offering a wide variety of services for you. Moreover, they guarantee top quality service for you and premium customer assistance to meet your standards.
20. MM Domestic Services
Keeping your homes tidy with your busy schedule is tough. MM Domestic Services provides the highest quality services using environmentally friendly products.
They are ready and more than willing to offer you the best services to meet your expectations. With a wide variety of offerings to choose from, you will surely enjoy working with them.
21. Luxenta Cleaning
Luxenta Cleaning is in the business as sole traders since 2008 and have lots of professional experience in the cleaning industry. Due to the high demand and countless recommendations from their customers, family and, friends, Luxenta Cleaning has developed around the vision to unite professionals with consistency and care to details. Having faced before the reality in the industry of low pay and unsatisfying work conditions (regardless of cleaner's experience or type of work), they created a company to care about all staff, to inspire high morale and motivation, and as a result, to deliver/drive high quality service and customer satisfaction.
22. Perfect Clean
Perfect Clean; their name says it all. Established in 2000, Perfect Clean provides high quality services to their customers looking for a thorough sweep. They do carpet cleaning, residential clean, mattress clean and an end of tenancy service as well. Luckily, their experienced team caters to all of London.
23. Deluxe Cleaning Limited
Deluxe Cleaning Limited is an arm of the Deluxe brand, which handles domestic and commercial cleaning, professional housekeeping, as well as the cleaning of carpets and upholstery, and more. The company has trained and dedicated specialists who carry out high-end cleaning.
24. Premium Clean Ltd.
Premium Clean Ltd. is a family-run professional cleaning company. They serve domestic and commercial cleaning services London. They have a small team cleaners, who are fully trained and insured.
Their main goal is to deliver the best possible services and customer satisfaction at the best price. Their services are 100 % guaranteed! They have established a strong relationship with our current satisfied customers during the years of their professional experience.
25. Iva Cleaning Services LTD
Iva Cleaning Services LTD was founded as a small family run domestic cleaning agency in 2005. Over the years, they have provided professional cleaning service for thousands of domestic and commercial customers throughout London. By understanding our client's needs, they have successfully created tailor-made services that are priced at competitive rates. They are a fast-growing cleaning company that works hard to maintain their close relation with all their clients.
26. Glimmr
Glimmr is a simple online platform that can help people book cleaners within a minute.
We think they are great because they only have the top cleaners in the country. Each cleaner underwent an interview and an in-person test clean to see if they the standards of the people.
In comparison to other companies, they have expanded into every city across the UK. No matter where you are from, you may book from them and have a perfect experience.
They are open 7 days a week. And unfortunately, all payments can only be done online.
27. Housekeep
Housekeep is a professional cleaning service business that accommodates both commercial and residential high-quality cleaning. They offer a comprehensive booking system that enables clients to choose the time that is most appropriate for their schedule through their online interface on their website.
They offer a wide array of cleaning services may it be one-time cleaning or recurring sessions such as regular cleaning, one-off cleaning, deep cleaning, end of tenancy cleaning and commercial cleaning services as well among others. Staring at a flat rate of £10.75 per hour, they also offer instructions and procedures should the cleaning job be done in the absence of the client themselves.
Furthermore, they also have tradespeople for solving household issues such as wonky walls, pesky plumbing and landscape gardening. All information regarding their services and FAQs are easily accessible by clients should they be interested in availing of any services of their scope.
We recommend this company for clients looking for a one-stop place for essential cleaning and household services that is accompanied by an accommodating staff and professional workers to make the job done.
28. Dazzle Office Cleaning Company London
Dazzle Office Cleaning Company London commercial cleaning services are highly effective in boosting staff productivity. The company also provides workspace wellbeing solutions to improve the working environment of an office.
In comparison to other companies, they try their best to reduce their carbon footprint, therefore, their teams try their best to travel by foot and public electric transport.
What makes them stand out from others is the fact that they are a tech-first company that utilizes the latest industry software and Apps to speed up our systems and processes.
Aside from this, each of their cleaners has a digital job sheet that must be accomplished before leaving each shift. They use this as a way to manage their staff and have the overall cleaning.
29. Cosmopolit Cleaning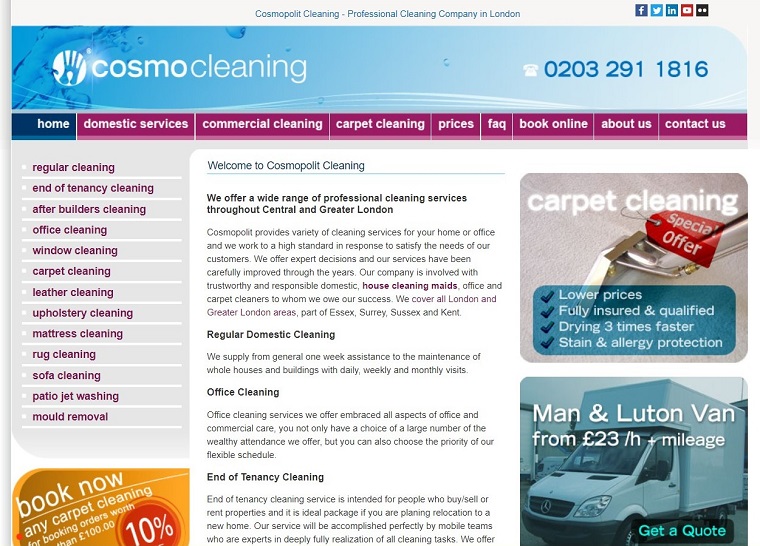 Cosmopolit Cleaning has been in the business for over 7 years. Their expertise and commitment to high standards of service lead to many contracts with major London-based estate agents, restaurants, health clubs, cinemas, offices, construction companies, property developers and other businesses. Their past clients include Harrods, Hilton, Red Bull, Greenpeace.
Their domestic cleaning services are designed to meet a client's daily needs and facilitate their life on a day to day basis. Professional cleaning is carried out by Cosmopolit Cleaning's well-trained, fully insured and motivated house cleaners. Plus, their service comes with little extras like ironing at no extra cost and same day/short notice arrangements. They also offer commercial cleaning and support services to various commercial properties in all areas of London within the M25 and beyond.
30. Unidido Professional Cleaning Service
Unidido Professional Cleaning Service offers its services to numerous areas in West London. This includes Ealing, Hanwell, Ruislip, Harrow, Chiswick, Acton, Hammersmith, and more.
What sets them apart from others is how they work quickly and efficiently. In a short amount of time, we believe that they can finish the job with perfection.
Their prices for End of Tenancy Cleaning is available on their website and start from £120.00. What we love about them is that no matter how small or big the area is, they are willing to help.
However, for four or more bedroom houses, you need to call them first in order to get a quote.