A chimney has to be cleaned at least once a year depending on its condition. Otherwise, your property will be prone to fire or toxic gas can make its way in due to a badly blocked flue.
Fortunately, we listed the best chimney sweeps in London here for you! They can clean your chimney or patch up damages related to it or your fireplace around which you can huddle and chat with your family again soon.
The Average Cost of Chimney Sweep in London
In London, chimney sweeping typically costs between £70 and £120. Rates can differ based on several factors such as the chimney's type and condition, labour, roof accessibility, and location.
An open fire chimney is a common design and can range from £60 to £100 in price, whilst a lined chimney goes from £80 to £120, and an unlined chimney costs around £90 to £150 because it will involve more time and effort to clean.
Because older and damaged chimneys are smaller and more sensitive, you'll also have to pay more to have them cleaned.
As we mentioned just now, the labour and time expended have a big influence on the price. Related to this is the ease of access to your roof, and also for additional works like bird's nest removal or an in-depth chimney inspection using a camera.
Also, it's a lot more expensive (an extra £30 – £50) to enlist the help of a chimney cleaner in London, than in other areas of London like the North and East.
Now, the following is a table showing the average cost of chimney sweeping based on chimney type. Note that labour costs have already been factored in for these amounts.
| | |
| --- | --- |
| Type of Chimney | Average Cost |
| Open-fire chimney | £60 – £100 |
| Lined chimney | £80 – £120 |
| Unlined chimney | £90 – £150 |
The Best Chimney Sweep Services in London
Before deciding to feature these companies, we gauged them against several factors to ensure that they truly belong to this list. So now, allow us to list down each of them below.
Now that you know the criteria we used here, we now present to you our list of the best services for chimney sweep in London!
1) H Firkins and Sons Ltd

SERVICES/SCOPE
Chimney cleaning
Certificate of smoke testing
Flue lining
Pressure test
HETAS/NACS
CCTV
Stove installation
PRICING
Kindly enquire with them for rates
WEBSITE
http://www.firkinschimneysweeps.co.uk/
ADDRESS
41 Conway Rd, London N14 7BB United Kingdom
CONTACT DETAILS
+44 20 8886 9420


[email protected]

PAYMENT
Cash, credit card, and debit card
H Firkins and Sons Ltd is a local chimney sweep that was established in 1860. It is currently owned by Graham Firkins who is HETAS and NACS-approved to provide safe and top-class workmanship.
He offers a complete range of services including chimney cleaning, smoke-testing certification, flue lining, pressure test, and chimney stove installation.
They follow a straightforward and efficient process, which begins with fireplace sealing, followed by chimney cleaning using brushes and rods, vacuuming of accumulated soot, and then checking of the draw of the chimney.
Afterwards, the client will receive a NACS and HETAS certification for chimney cleaning completion. This demonstrates that the work has been done legally, complies with building regulations and is performed by a trained and professional staff.
Whilst they clean your chimney, they can shoot a video for you to view later and judge whether the work has been done well. If it isn't, the team can rectify the shortcoming or issue for you.
Most clients mentioned their consistent professionalism, tidiness, and promptness, as well as reasonable prices. And to us, these set them apart among the best services for chimney sweep in London.
They service London and the surrounding areas, such as Barnet, Chingford, Enfield, Hampstead, Palmers Green, St Albans, Stanmore, and other cities and towns.
It's hard to find a drawback with this company. However, we think that one is that they don't give out special discounts, and two, they don't seem to offer commercial chimney sweeping services.
HETAS-approved chimney sweepers
Certified with the NACS
Efficient and simple process
Can provide chimney sweeping video
Open the entire week
No discounts offered
Doesn't offer commercial services
Customer Reviews
A very professional service at a decent price
"This is the best Chimney Sweep I have ever found. A very professional service at a reasonable price. Thank you very much. I have now used them 3 times, and will continue to do so." -David Jennings
Timely arrival and excellent job
"A very competent and professional company. Arrived on time and done an excellent job. My fireplace was left cleaner than when they arrived. Would highly recommend them and will definitely use them again." -Bernie Sexton
2) SweepSmart London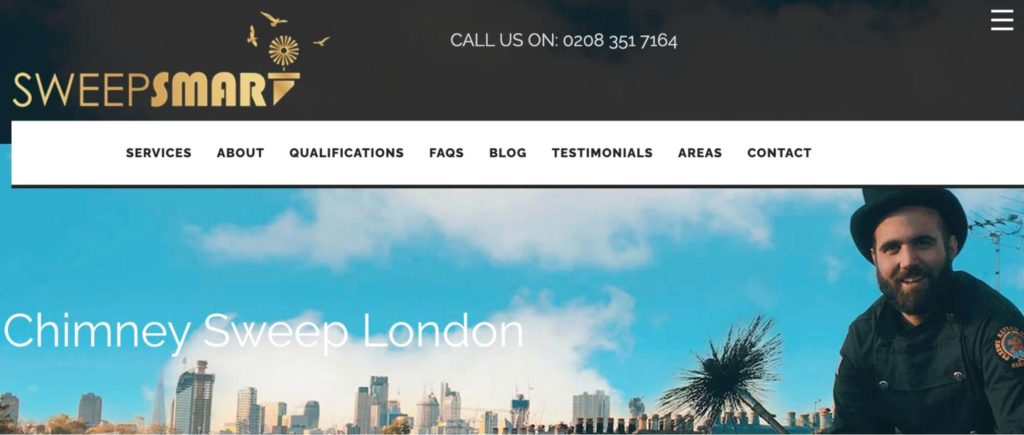 SERVICES/SCOPE
Chimney sweep
Chimney smoke test
CCTV chimney surveys
Flue lining
Stove installations
Biomass/commercial sweeping
Pots & cowls fitted
Level 1 chimney inspection
Level 2 chimney inspection
New homeowner chimney inspection
Pre-stove install chimney inspection
Party wall chimney inspection
Bird nest removal
PRICING
Kindly enquire with them for rates
WEBSITE
https://sweepsmart.co.uk/
ADDRESS
8 Acacia Road, Enfield, London EN2 0DP United Kingdom
CONTACT DETAILS
+44 20 8351 7164


[email protected]

PAYMENT
Visa, Amex, Mastercard credit cards, and bank transfers
Whether you need your residential or commercial chimney swept, you can count on SweepSmart to remove all the built-up soot and resin from inside your property.
SweepSmart is a relatively new company formed in 2013. It is a Guild Master Chimney Sweeper, HETAS-approved stove installer, and insured for your confidence and peace of mind.
The chimney sweeper is also equipped with high-tech diagnostic equipment to identify the problem of your fireplace and come up with an effective solution for it.
Aside from chimney cleaning, they can perform chimney inspections for properties with a shared wall, flue lining, chimney smoke test, pot and cowl installation, and bird nest removal.
This company is they value clients' time and thus, make it a point to arrive on-site within a fast two hours of your call. Plus, they aim to confirm the client's booking and text or call when they are about to arrive—absolutely preventing no-shows and frustrated waiting.
However, they are unavailable during the weekends, which may be inconvenient for some working clients.
Now, paying them should be a breeze given that they take all sorts of credit cards and bank transfers. For an accurate quote, you'd have to explain to them your fireplace or chimney situation using their online form.
With SweepSmart, you can expect cost-effective rates, all-around chimney services, and fully qualified and knowledgeable staff. Those are why we picked them amongst the top chimney sweeps in London!
Commercial/biomass chimney specialist
Guild-registered chimney sweepers
HETAS-approved installers
Offers residential and commercial services
Chimney condition video provided
2-hour arrival turnaround
Unavailable on the weekends
No discounts or promos offered
Customer Reviews
Highly knowledgeable and left no mess
"Paul was very helpful and gave impartial advice during the chimney inspection and sweeping. Highly knowledgable and left no mess! Highly recommend Paul and the team." -Fiona and Carter Holloran
Great communication and personable chimney sweeper
"Great communication. Reminders of the appointment sent by text & a link for a tracker for the arrival of the sweep. He was a lovely young man, who spent quite a while on my chimney due to some issues, which he talked me me through. No extra charge though. Will definitely use again. Very professional." -Jane
3) Toot Sweep Chimney Sweeps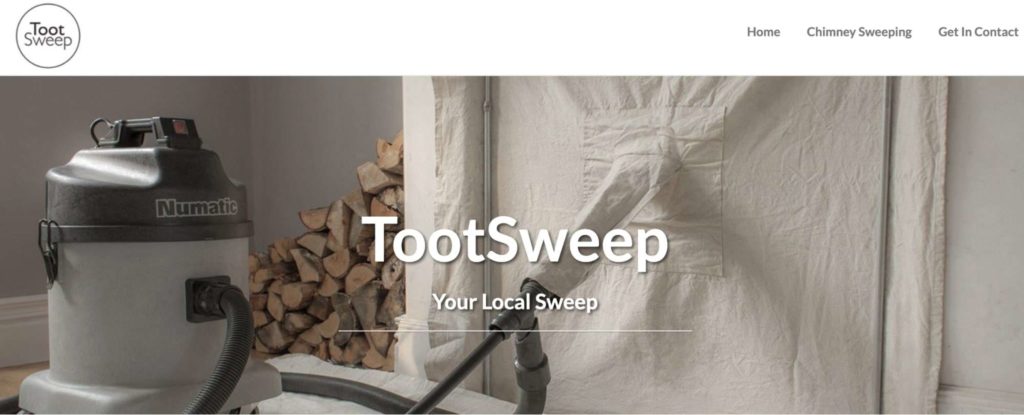 SERVICES/SCOPE
Chimney sweeping
Chimney smoke testing
CCTV equipment
PRICING
From £85
WEBSITE
https://www.tootsweep.com/
ADDRESS
Tooting Bec, London SW17 United Kingdom
CONTACT DETAILS
07421 385 091


[email protected]

PAYMENT
PayPal
Toot Sweep Chimney Sweeps is a full-service chimney cleaning firm serving South East and South West London, and areas right across the river like Chelsea and Fulham.
Ian is the owner and operator of this company. He is fully insured and carries all the necessary equipment, such as a chimney brush which he will use gently but effectively and a high-powered vacuum to remove the grime and dust in the chimney.
Furthermore, he promises mess-free work, which many clients appreciate about his service. To do this, he can take extra care of your valuable furniture and belongings and use dust sheets to catch the dirt falling to the ground.
Note that smoke testing is included in the standard package and he will issue an industry 'chimney cleaned' certificate, assuring that you can light up your stove safely for warmth during drafty days.
In case your chimney needs further checkup for cracks or blockages, Ian can inspect them with the help of CCTV equipment, and will advise you on your options about what can be done about the issues.
Toot Sweep's standard price is mentioned on the website and seems reasonable enough for its performance and value of service based on client testimonials.
As for this company's cons, it only offers residential services and is limited to chimney cleaning. Also, it only accepts PayPal payments, which means that you have to sign up for an account if you don't have one.
And so, if you need assistance with small-to-medium residential chimney cleaning or maintenance, then we strongly recommend hiring Toot Sweep Chimney Sweeps!
Fully insured
Chimney condition video provided
Open the whole week
Gives multiple-cleaning and referral discounts
Limited chimney services
May not be able to service commercial properties
Requires a PayPal account to pay them
Service area is only in South East and South West London
Customer Reviews
Did an excellent job on short notice
"I used Toot Sweep and he did an excellent job with short notice given to start works. Ian was very professional and left the place in good order. I highly recommend him! Excellent post-works service too." -Yousef Adel Abbas
Very swift, clean, and tidy process
"This was our first sweep since moving in almost 3 years ago. Very swift, clean and tidy process from Ian and we now know our chimney is good to go if we want to use it as a working fireplace." -Andrew Purves
4) Aardvark Sweeps

SERVICES/SCOPE
Chimney sweep services
Stove maintenance services
Stove installation services
PRICING
Chimney Sweep Services

Open fires: from £75
Wood-burning stoves with flue-liner: from £75
Wood-burning stoves without flue-liner: from £85
Inglenooks: from £110
Aga/Rayburn cooker: £110
Nest/blockage clearance: from £125
CCTV survey: from £195 (including sweep and report)
Look see CCTV survey: from £135
Chimney integrity check (smoke pressure):
From £195 for an external flue and £295 for an internal flue (terraced/semi-detached)
Carbon monoxide alarms supplied and fitted: £75

Stove Maintenance Services

Supply and fit replacement door rope: from £65
Replacement stove pipe: £20
Replacement firebricks: from £53
Supply and fit replacement glass: from £85
Blacken stove: from £85

Stove Installation Services

Chimneys lined and stoves installed: from £1595
WEBSITE
https://aardvarksweeps.co.uk/
ADDRESS
Nunhead, London SE15 United Kingdom
CONTACT DETAILS
0800 19 38 38 8
07523 938 035


[email protected]

PAYMENT
Cash, card, and BACS transfers
Aardvark Sweeps specialises in wood burner chimney sweeping. However, it can also conduct a full gamut of stove maintenance and installation works.
Based in Nunhead, South London, it can assist residential clients living in select areas in Greater London. They cover postcodes within a ten-mile radius from the base, all of which are listed online.
It's one of the top chimney sweeps in London, being HETAS and Sweep Safe approved. This shows that they are knowledgeable and adept in chimney sweeping and can certify that your chimney is safe to be used and is maintained, which can come in handy for insurance purposes.
Unlike other companies that only clean chimneys, Aardvark Sweeps can do the whole lot, including CCTV survey, bird nest clearing, smoke pressure check, firebrick replacement, glass replacement, and many more.
Another upside is that all their rates are shown online for guiding purposes. We think that they are sensible in that you won't have to overspend for availing one or more of their services.
After all, you can also get multiple chimney service discounts from them to get your money's worth. What's more, just in case the work didn't delight you, you'd have to let them know as soon as you can and they'll be on it.
Besides that, they offer labour (for 3 years) and product warranties (up to 20 years) for liner and stove installation jobs. They accept cash, card, and BACS transfers for services provided.
Lastly, customers said that the chimney sweeps were professional, friendly, and honest. Most importantly, they were successful at giving a thorough and excellent quality chimney sweeping.
Indeed, they are a fantastic company to call for chimney sweeping and we are very confident to add them to our top list!
HETAS-approved chimney products
Transparent pricing
Can repair and maintain stoves
Multiple chimney-cleaning discounts
Gives long warranties for liner labour
Closed on Sundays
May not offer commercial services
Covers only select areas in Greater London
Customer Reviews
Honest and friendly chimney sweeper
"I have used Aardvark Sweeps three times now over about 4 years. They have always done a good job. Friendly and professional service. Most recently I had made an appointment for the rental property Im staying in to see if the chimney and fireplace could be swept. When Tim who came to see us this time inspected the fireplace he realised that the decorative wooden surrounds had been placed too closely to the fire and that it was unsafe to use. There was no point in sweeping the chimney then and I offered to pay a call out fee, but Tim kindly declined. Anyways just to illustrate how customer friendly this company is." -Jenny Milton
Prompt arrival and quality chimney service
"I've been using my fireplace around a year know.
During this time it's always been a bit smokey inside my house.
This year I decided to try someone else,to sweep chimney so I called these guys.
They recommend I purchase a dragon cowl.
Turned up promptly and fitted cowl and swept chimney.
No more moans about the smoke inside the house.
These guys are the real deal can,t praise them enough." -Carl Huggins
5) Pete The Sweep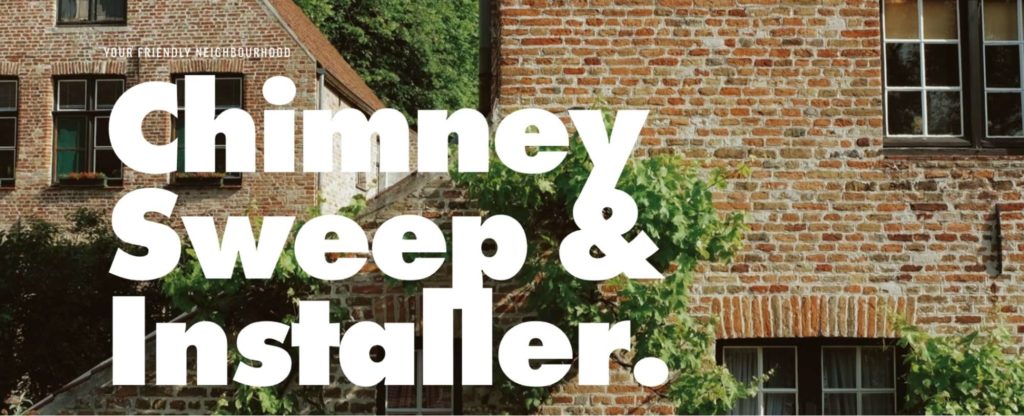 SERVICES/SCOPE
Chimney sweeping
Bird guards/cowls
Nest removal & animal rescue
Installations
PRICING
Chimney sweeping: £75
Bird guards/cowls: £150
Nest removal & animal rescue: Prices vary
Installations: Prices vary
WEBSITE
https://www.petethesweeplondon.co.uk/
ADDRESS
260a Mitcham Rd, London SW17 9NT United Kingdom
CONTACT DETAILS
+44 7880 502492
PAYMENT
Kindly enquire with them for more details
For chimney sweeping to all of London, Croydon, and Surrey, Pete The Sweep is another brilliant choice! It offers industry-approved chimney cleaning and installation services.
Pete and his team have built a reputation for being honest, knowledgeable, and tidy. Clients say that he is willing to answer queries and advise over the phone so you can get the best use out of your fire and chimney.
He can sweep the chimney thoroughly for your wood or solid-fuel stove. And he can test the smoke pressure to ensure no blockages and certify you afterwards about your chimney being clear and safe to use.
London's elements can be intense sometimes and they can also install cowls to protect your flue from inside and outside your house. In addition, they can rescue overcurious kittens and birds nesting on your chimney along with the latter's nest.
Their website is clean and informative and you can also schedule your appointment from there. But, the faster way, of course, is to just give the chimney sweeper a holler.
Do note, however, that they only work from Mondays to Fridays from 9:00 AM to 5:00 PM. There's also no mention of any discounts nor their accepted payment modes, but you can enquire with them to know.
Notwithstanding being a small company, it's focused on providing outstanding customer service to clients, besides professional work. And from the looks of things, they are successful at it, and thus, we think they're one of the top services for chimney sweep in London!
Certified chimney sweep
Follows strict COVID–19 safety procedures
Rates are displayed online
Easy scheduling from their website
Services all of London, Croydon, and Surrey
Closed on the weekends
No discounts available
Doesn't offer commercial services
Payment modes not indicated
Customer Reviews
Knowledgeable and personable chimney sweep
"Strong recommendation. Pete knew his stuff and had an excellent attitude. Would definitely use again" -Andrew Storey
Very polite and professional to work with
"Pete did an excellent job for us – I couldn't recommend him more highly. I had a few questions beforehand and he was highly knowledgeable and helpful on the phone, he knew exactly what to recommend (and without any hard sell!).
He was very polite and professional while performing the sweep and took care to leave no mess behind. My chimney passed (determined by the smoke test he also performed), and I was given a certificate to ensure my fire is safe to use for insurance purposes. 5*!" -Charlotte Mathe
6) Home Sweep Home The Local Chimney Sweep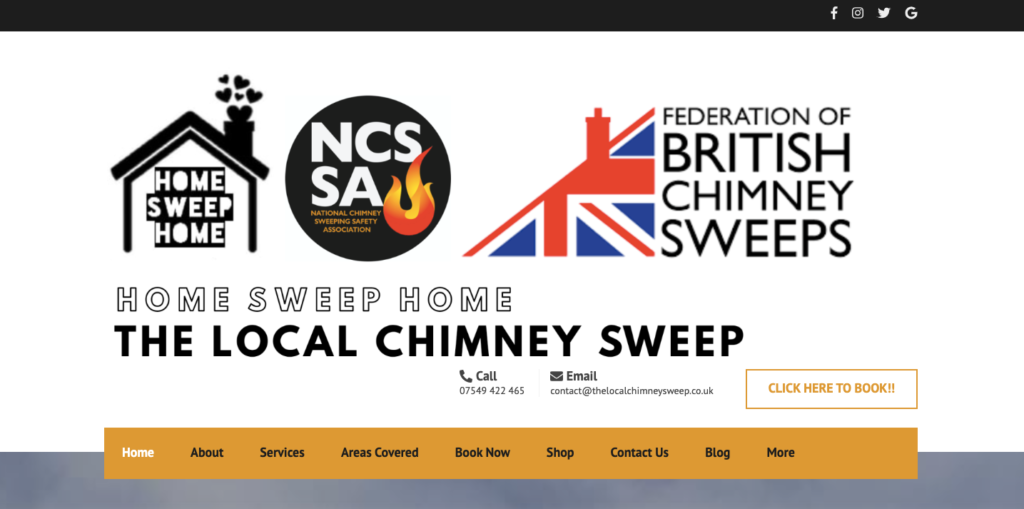 Josh and his family have been in the chimney sweeping business since 1860. With this history, he became a professional sweeper of chimneys since 2004.
From then, he was able to build his own name causing him to expand his own qualifications and skill set. This paved way for founding Home Sweep Home The Local Chimney Sweep with 5,000 chimneys cleaned, 900 inspections carried out, 130 birds rescued and 14,000 sacks of dirt removed to date.
Home Sweep Home The Local Chimney Sweep has been servicing the entirety of London as well as Hertfordshire, Essex and Surrey.
They have been providing cleaning services such as chimney cleaning and sweeping, wood burner and stove servicing, fireplace repairs, full chimney inspections, chimney smoke, and pressure tests, chimney CCTV inspections, party wall chimney disputes, chimney pots, and cowls fitted, birds nest removal and advice on good burning practice with their experienced, knowledgeable, punctual & reliable employees.
Years of experience

Experienced, Knowledgeable, Honest & Reliable employees
Cannot find their prices online
Laggy website when clicking their services
Customer Reviews
"Excellent service,quick job,clean chimneys.👍" – Zoltan Toth
"Excellent communication and very friendly service. Arrived promptly and did an excellent job. Will use again!" – Sarah Champion
"We had our chimney swept- they provided a prompt and effective service – would recommend and use again" – Andrew Brandt
"Excellent service. Did exactly what they said. Clean and neat and really helpful. Darren, who came out, was lovely. Going forward I will use them every time." – Jenny Fromer
FAQs about the Leading Services for Chimney Sweep in London
---
So that covers the best services for chimney sweep in London! With a skilled and certified team and high review scores, you can't go wrong with these.
Have any questions or thoughts about this list? If so, you can drop us a line and we'll check them out first thing.
Related Services about London Chimney Sweeps