When you hear about London, you think of royalty and sleek looking coats during the ever-rainy season. London might be one of the world's busiest towns and dry cleaning is on the back of everyone's mind. There's no shame in having a professional helping hand when it comes to your precious clothing items. Check out the 6 Best Options for Dry Cleaners in London and find out how you can feel like royalty in your very own clothes!
1. Zipjet Dry Cleaners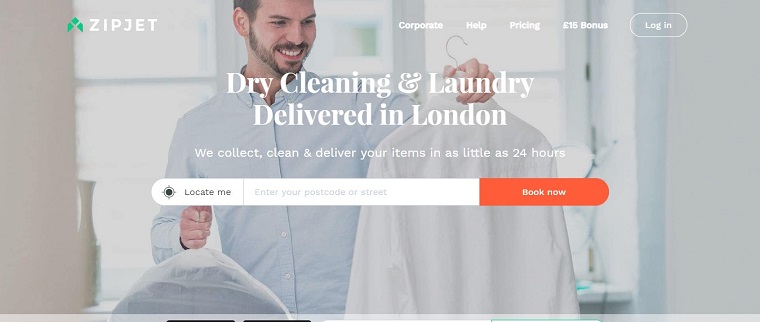 BEST FOR
Free pick-up and delivery, 24-hours turnover, app-enabled service, unperfumed and hypoallergenic detergents on request, Flexible per item or per bag pricing scheme
SERVICES/SCOPE
Dry Clean, Duvet Cleaning, Ironing Services, Laundry, Wash & Fold, Laundry Pickup & Delivery, Shirt Service, Luxury Dry Cleaning, Suit Dry Cleaning, Dress Dry Cleaning, Home Dry Cleaning, Airbnb Host Laundry Service, Restaurant Laundry Service
PRICING
Ironed laundry and dry cleaning starts at £2.00 while folded laundry is £15 per bag (up to 8kg). See complete pricing online.
WEBSITE
https://www.zipjet.co.uk/
ADDRESS
App-enabled service
CONTACT
[email protected]

+44 203 6087405

PAYMENT
Visa, Mastercard, American Express, Paypal
Zipjet Dry Cleaners joins a handful of dry cleaning and laundry services that are going digital. This app-based dry cleaning service enables you to book a dry cleaning service in a matter of seconds but what makes them stand out from most dry cleaning services is that you can have all your clothes back in just after a day! Zipjet Dry Cleaners embodies swift, simple, and stellar service. Whether it's a big batch of everyday laundry or a special coat cleaning job, they have convenient pricing schemes that will suit your cleaning needs. They even have a number of payment methods that elevates convenience even further. All you need to do is separate your dry cleaning and folded laundry in the two provided Zipjet laundry bags. If you have special instructions for their cleaners, they will surely welcome it. Choose time out for you and your family with Zipjet Dry Cleaners.
2. BLANC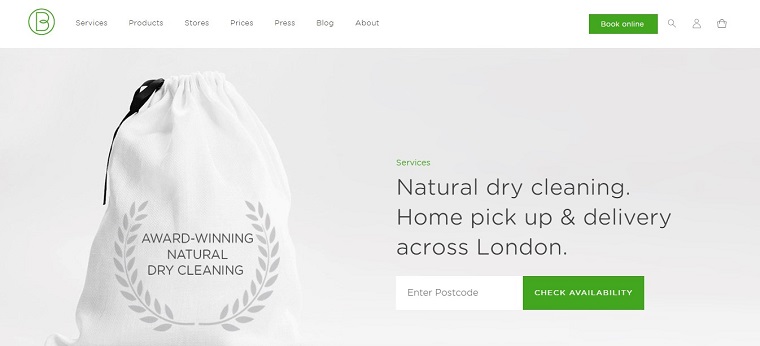 BEST FOR
Award-winning eco-friendly services, uses gentle, wet cleaning methods, next-day services available, 3-day standard turnaround time, dry cleaning products available, 100% satisfaction guaranteed, 7-day service availability, 24/7 self-service kiosk available
SERVICES/SCOPE
Dry Cleaning, Shirt Service, Wash & Fold, Household, Tailoring, Clothing Alterations & Repairs, Leather, Bags & Shoes Repairs
PRICING
Starts at £3.40/shirt. See complete prices online.
WEBSITE
https://blancliving.co
ADDRESS
79 George Street W1U 8AQ, London
CONTACT
[email protected]

020 8004 2630

PAYMENT
Visa, Mastercard, and American Express cards
BLANC is an award-winning dry cleaner that boast natural and eco-friendly cleaning services. When it comes to your delicates, they use biodegradable, health friendly, nontoxic detergents instead of the toxic and potentially carcinogenic PERC used by traditional dry cleaners. Since they employ wet cleaning methods, you can trust that this gentler process results in a brighter and fresher clean. Turnaround time might take longer than standard but it's guaranteed that they put meticulous effort in providing a spotless clean. Browse through their site and you can see that they sell cleaning detergents and formulas that are 100% natural so you can also live an environmentally-friendly lifestyle at home. BLANC works hand in hand with you so you can help do your part in saving our planet while taking on the day with fragrant smelling clothes.
3. Leon's Dry Cleaners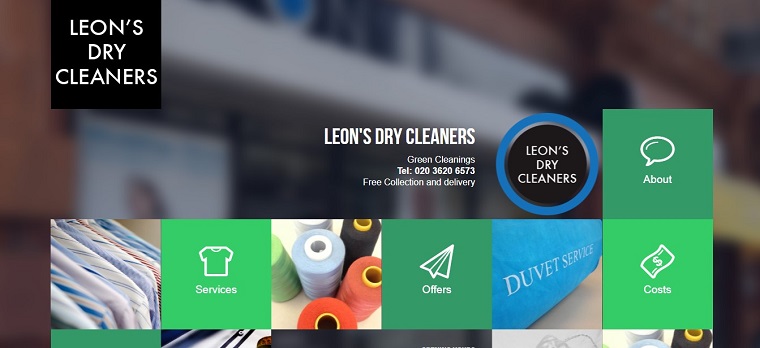 | | |
| --- | --- |
| BEST FOR | Free collection and delivery, eco-friendly cleaning solutions, special offers available, uses in-house expertise and machinery |
| SERVICES/SCOPE | Dry cleaning, express same-day delivery, alterations and repairs |
| PRICING | Request for a quote via hotline. |
| WEBSITE | http://www.leonsdrycleaners.com |
| ADDRESS | 266 Vauxhall Bridge Rd, London, SW1V 1BB |
| CONTACT | 020 3620 6573 |
| PAYMENT | Call via hotline for more inquiries. |
Leon's Dry Cleaners promises to dry clean virtually any type of clothing item that you give them. Apart from being one of the most affordable options in this list, Leon's does not forget to do their part for the environment by using eco-friendly cleaning solutions. Browse through their website and you can find several bundle options that gives you bigger savings on your laundry needs. Services are available 7 days a week and you can expect friendly and amenable services from their highly-trained staffed. The positive ratings on Google attest to this! Drop off your dirty laundry whichever day of the week and find your items as good as new in the hands of Leon's Dry Cleaners.
4. Bellevue London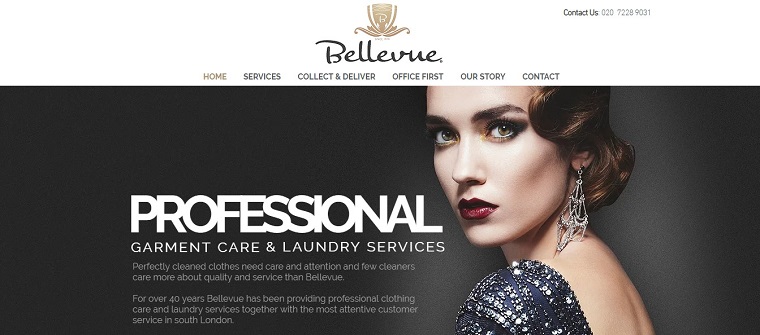 | | |
| --- | --- |
| BEST FOR | 40 years of experience, professional garment care, wedding dress care services available, office-first valet services available |
| SERVICES/SCOPE | Superior dry cleaning, linen and household laundry, repairs and alterations, upholstery and rugs, shirts, curtain cleaning, couture, evening and formal wear, ski wear, wet cleaning, wedding dresses |
| PRICING | Starts at £9.45/blouse. See complete prices online. |
| WEBSITE | https://www.bellevuelondon.com/ |
| ADDRESS | 12 Northcote Road, Battersea, London SW11 1NX |
| CONTACT | 020 7228 9031 |
| PAYMENT | Call via hotline for more inquiries. |
With over 40 years of experience and expertise handed down from one generation to another, Bellevue London proves that family-run businesses can stand the test of time and flourish in their craft. They claim that attention to detail is their mantra where they have unrivalled knowledge on all types of fabric and the best way to clean them. With this, customer care is also their top priority where everyone is treated with utmost respect and care, just like the very clothes they wash and launder. For commercial services, they recognize the challenges of doing laundry in bulk in the midst of busy and challenging days. They've set up strategically placed pickup locations where employees can drop off their items for dry cleaning and turnaround is as quick as 2 days. Bellevue London strives for a hassle-free life for you.
5. Dry Cleaners Online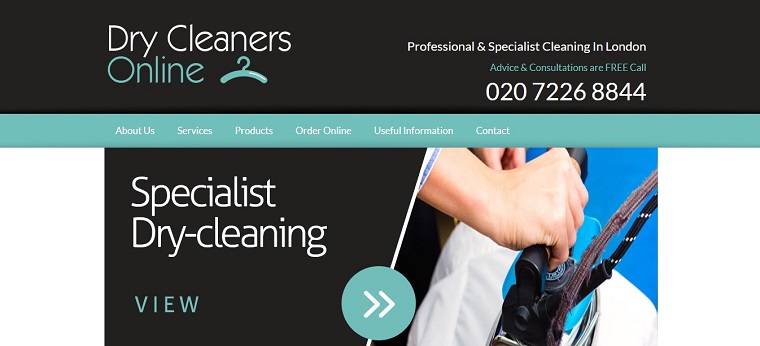 BEST FOR
50 years of industry experience, 7-day service availability, family-run business, garment care products available online, garment care advice and consultation available
SERVICES/SCOPE
Specialist dry cleaning, tailoring, wedding dress specialist, cleaning services, rug and carpet cleaning, carpet cleaning machine hire
PRICING
Request for a quote via hotline.
WEBSITE
http://www.drycleaners-online.com/
ADDRESS
147 Essex Road, Islington, London, N1 2SN
CONTACT
020 7226 8844

07800 770 027

PAYMENT
Call via hotline for more inquiries.
Dry Cleaners Online has a combined experience of 50 years under their belt. As a family-run business, they are not greedy with sharing their trade secrets with their customers. In fact, you can give them a call if you ever need garment care advice or consultations. With their pickup and delivery service, you don't have to step out of the house for laundry errands ever. Plus, they're open 7 days a week so whichever day works for you, works for them too. Apart from dry cleaning services, they also have carpet cleaning services. Whether designer clothing, bespoke services, or plain laundry that has been sitting around for a long time, they really are your one-stop shop for all your cleaning needs!
6. James Shoe Care and City of London Dry Cleaners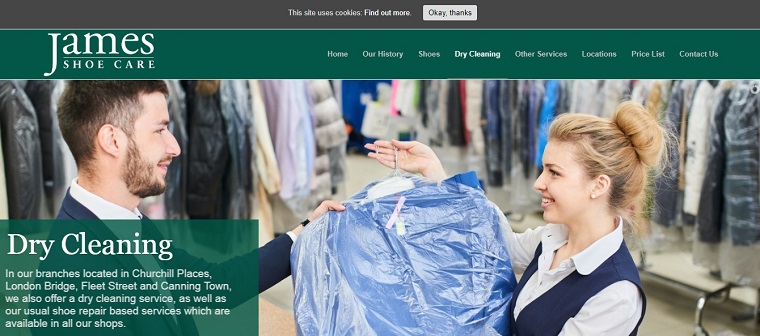 | | |
| --- | --- |
| BEST FOR | 40 years of experience, one of the first retail shops to open at Canary Wharf, uses the latest technology and the best available solvents and chemicals |
| SERVICES/SCOPE | Dry cleaning, repairs and alterations, laundry services, shirts service, leather and suedes, key cutting, shoe repairs, watch repairs, engraving, specialist services |
| PRICING | Starts at £8.50/blouse. See complete prices online. |
| WEBSITE | http://jamesshoecare.co.uk/dry-cleaning/ |
| ADDRESS | CHURCHILL PLACE, CANARY WHARF, LONDON E14 5RB |
| CONTACT | 020 7516 0111 |
| PAYMENT | Call via hotline for more inquiries. |
 London Dry Cleaners is one of the first retail shops to open in Canary Wharf which means they know their clients and their needs like the back of their hand. Throughout their 40 years in service, they have invested in the latest technology and the best available chemicals so all your dry cleaning needs are addressed in excellent fashion. Look good and feel good in clothes that smell fresh and have your shoes cleaned while you're at it with James Shoe Care that's also available in all their shops.
7. 1 Stop Wash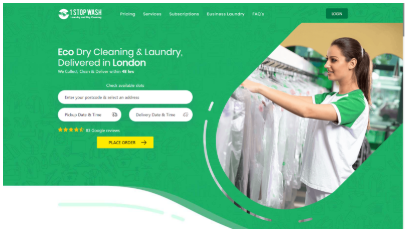 BEST FOR

Laundry and Dry Cleaning

SERVICES/SCOPE

Laundry, Dry Cleaning, Ironing, Alterations, Shirt Service, Trainer Service, 1 Stop Bag, 1 Stop Go, Duvet & Bed linen, Leather, Fur & Suede

PRICING

Prices start from £2.50

WEBSITE
https://www.1stopwash.com/
ADDRESS

100 Caledonian Rd, Kings Cross, London N1 9DN, UK

CONTACT
Email:

[email protected]

PAYMENT

VISA, MasterCard, American Express
1 Stop Wash do no contact deliveries for their customers and employees' safety. They pick up and deliver every day conveniently. 
They are eco-friendly for they avoid using chemical PRC. With their in-house plant, they make sure that the systems and procedures are at its top quality.