Carpets deserve a deep-clean once in a while to remove their accumulated dust, grime, germs, and allergens. And it's also essential to clean them to foster clean and fresh air at your property.
Anyway, you must be searching for the best options for carpet cleaning in Swansea, and we've listed them here for you. But, before we proceed, let's first look into the average cost of hiring a local carpet cleaner so you'll know how much to set aside for them.
How Much Does Carpet Cleaning Cost in Swansea?
Carpet cleaning companies in Swansea charge clients either per square foot or per room. The former typically costs £50 whilst the latter between £90 and £600 per room.
Several factors at work can increase or decrease the overall price. Among them are the carpet stain type, soil level, accessibility, parking restrictions, and distance from the company office.
Furthermore, should you include rug and upholstery cleaning in the package, you will also pay more. However, this can work to your advantage as some companies offer a multi-service discount.
Also, bear in mind that although a carpet cleaner can give free quotes over the phone, you'd still need them to visit your property to appraise the carpet size and condition for an accurate estimate.
And below are the tables showing more detailed costing of some prominent carpet cleaning pros in the city.
| | |
| --- | --- |
| Carpet Cleaning per Square Foot | Typical Cost |
| 650 to 1000 sq. ft. | £90 – £250 |
| 1000 to 1800 sq. ft. | £155 – £450 |
| 1800 to 3000 sq. ft. | £299 – £600 |
| | |
| --- | --- |
| Carpet Cleaning per Room | Typical Cost |
| Average Cost | £50 |
| Minimum to maximum cost | £26 – £90 |
The Best Carpet Cleaning Options in Swansea
We assessed each company here based on several criteria before deciding to feature them in our best carpet cleaning in Swansea list. These criteria include the following:
With that in mind, we now present to you the leading carpet cleaning companies in Swansea!
1) Pro Carpet Cleaning Swansea

SERVICES/SCOPE
Residential carpet cleaning
Commercial carpet cleaning
Upholstery cleaning
PRICING
Please get a quote from them on the website
WEBSITE
https://www.procarpetcleaningswansea.co.uk/
ADDRESS
12 Tirbach Rd, Ystalyfera, Swansea SA9 2HX UK
CONTACT DETAILS
01792 732099
07786 017559


[email protected]

PAYMENT
Visa, Visa Pay, Visa Electron, Mastercard, American Express, Maestro, JCB, Apple Pay
Pro Carpet Cleaning is a family business owned and run by Chris Walters. He provides carpet and upholstery cleaning for both residential and business properties, including houses, shops, pubs, theatres, fitness centres, and the like.
He is highly trained and holds an advanced course in spot and stain removal. Also, he is uniquely insured in spot treatment risks, meaning his insurance provider can cover any faulty marks on your furnishings.
One of the top options for carpet cleaning in Swansea, they prefer the steam carpet cleaning method because this can effectively remove the ground-in dirt and bacteria from your carpets.
All the cleaning products they use have safe ingredients that minimise the impact on the environment, in addition to leaving your carpets fresh and neat for everyone at home.
What's more, they aim to use as little water as possible to conserve water use and greatly speed up drying time. So, you can expect your carpet to dry between just zero and four hours.
Best of all, clients have had a great experience in using them. According to them, the cleaners had a quick turnaround, and were friendly and efficient to clean their valued carpets.
As a bonus, they work longer and harder than other firms by being open the entire week from 9:00 AM to 8:00 PM. This enables clients to schedule with them without any difficulty at all.
Another downside, albeit minor, is that their prices aren't listed online for you to see. And they don't seem to have any satisfaction guarantee in case the provided work fails your expectations.
Considering all these reasons, we would recommend Pro Carpet Cleaning for people who want schedule flexibility, a fast drying time, and superb and planet-friendly carpet cleaning.
Offers home and business carpet cleaning
Spot-treatment-risk insured
Fast drying time within four hours
Eco-friendly cleaning products
Accepts a range of payment methods
Open seven days a week
Free onsite carpet survey
No mattress or water damage restoration services
No discounts offered
No satisfaction guarantee
Doesn't take PayPal
Customer Reviews
Pleased with everything from start to finish
"I booked Chris to get my mum's carpets cleaned and she is really pleased with everything from start to finish. Her carpets have come up beautifully and smell lovely as they hadn't been done for a good few years. Chris gave me a quote beforehand and very professional and really helpful and hoovered my carpets quickly before spraying the solution around everywhere before cleaning them. He even dried off my lounge area as much as possible as I spend majority of my time in that room. I will always use Chris for my carpets." -Maria
Brilliant and responsive carpet cleaner
"I am a diy handywoman, I was busy at a customer house painting and decorating and as accidents happen spilt some blue paint on the customer's carpet. Chris was brilliant, very responsive, supportive and gave plenty of advice. He made it the next day even though he was fully booked for 3 weeks. Before and after pictures brilliant job done! Chris gave excellent service and personal touch when dealing with him! Highly recommend and his number is saved !" -Kerri Farmer
2) Steam Genie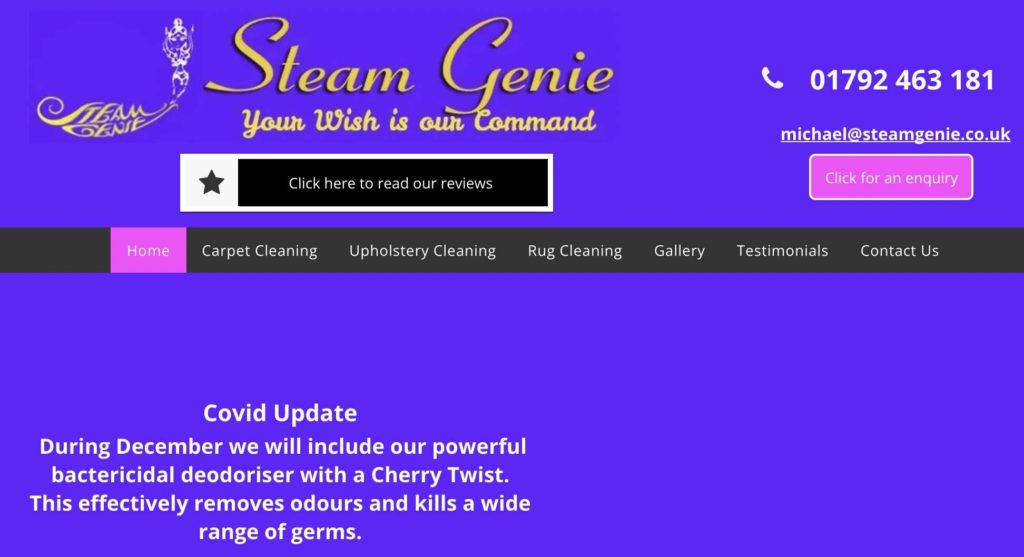 SERVICES/SCOPE
Carpet cleaning
Upholstery cleaning
Rug cleaning
Sofa cleaning 
Mattress cleaning
Water damage restoration 
Smoke damage restoration
PRICING
Please get a quote from them on the website
WEBSITE
https://www.steamgenie.co.uk/
ADDRESS
38 Hopkins St, Brynhyfryd, Swansea SA5 9HN UK
CONTACT DETAILS
01792 463 181


[email protected]

PAYMENT
Visa, Electron, Mastercard, Maestro, BACS, cheque, and cash
Steam Genie is a carpet cleaning professional that services Swansea and the neighbouring areas. It offers a large range of services with its speciality being carpet, rug, and upholstery cleaning.
They're on-call round the clock all week so you can book with them at your convenience. They can usually respond within 24 hours of your call as opposed to other carpet cleaning providers.
Whether your carpet needs its maintenance or is badly stained with coffee or tar, you can rely on their experienced team. They also use powerful hot water extraction to clean carpets and dissolve their stubborn dirt and stains.
Almost all clients said that the Steam Genie team works with great skill, attention to detail, and friendliness.
They are very confident of the services they offer, which is why they guarantee them. Should the work be done below your standards, they can soon return to improve or re-do it at no extra cost.
As with the price, it is fair and worth it for the cleaning result, according to many of their past clients. You'll also benefit from their services if you're a part of the British Force or work in the health service sector.
And, Steam Genie offers free quotes over the phone which you can get through their website or by phone. They also carry out mattress cleaning and water and smoke damage restoration works, by the way.
Same-day carpet cleaning available
Provides residential and commercial carpet cleaning
Offers flood and smoke damage restoration services
Guaranteed services
Gives NHS and military discounts
Open 24/7
Doesn't take PayPal
Complaint about customer service
Customer Reviews
An excellent job and friendly service
"So pleased, excellent job well done. Service with a smile 😊. Would Definitely recommend ." -Carol Isherwood
Amazing quality of work and attention to detail
"The superb guys from Steam Genie got tar out of my cream coloured carpet. Amazing quality of work and attention to detail. Would totally recommend them." -Susan Davies
3) Cleaner By Nature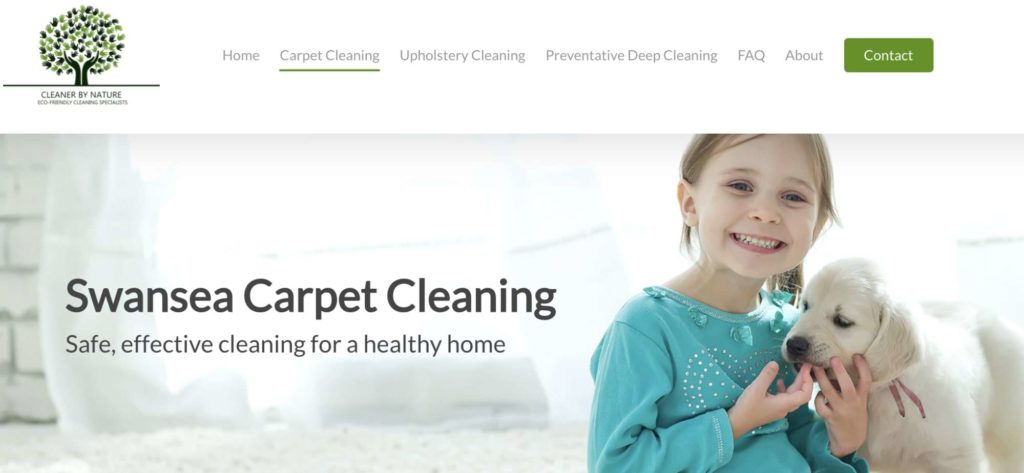 SERVICES/SCOPE
Carpet cleaning
Upholstery cleaning
Preventative deep cleaning
PRICING
Please get a quote from them on the website
WEBSITE
https://www.cleanerbynature.co.uk/
ADDRESS
12 Lon Gwynfryn, Sketty, Swansea SA2 0TZ UK
CONTACT DETAILS
01792 201983
07813 071 347 or 07825 661 761


[email protected]

PAYMENT
Kindly call them for details
Cleaner By Nature is a certified residential and commercial carpet cleaner based in Sketty, Swansea. It can design a tailored carpet cleaning service to fit your requirements and lifestyle.
They use low-moisture carpet cleaning and plant-derived detergents to bring immaculate results and quick drying times, whilst being safe around children and pets to use.
This method is a low-risk process that won't cause carpet colour fading or shrinkage. Also, it can remove soap residues that draw in dirt and so make your carpets look dirty again after the cleaning.
Being a National Carpet Cleaners Association (NCCA) member, you can entrust your carpets and upholstery to them. It's been noted that their team was professional, careful, and prompt throughout the work.
Amid the pandemic, it's vital to keep workplaces and homes clean. Fortunately, they also offer microbial cleaning to protect your family and employees from contagious viruses.
It's very easy to get a carpet cleaning quote from them. You can contact them in one of three ways: by phone, email, or online by way of their contact form.
Clients have been very happy with the work outcome as can be read in the reviews. Most commented that their carpets looked and smelled brand new and this is partly why we chose them to be one of the top carpet cleaning choices in Swansea.
That said, Cleaner By Nature's services are relatively fewer compared to other service providers that offer floor cleaning, mattress cleaning, and flooded carpet restoration.
Additionally, they don't give perks that clients can appreciate like a special discount and satisfaction guarantee.
All in all, Cleaner By Nature is a solid, reliable, and well-rounded company. If you want carpet cleaning that's thorough, fast, and safe for everyone, you should certainly pick this company.
NCCA member
Specialises in low-moisture carpet cleaning
Eco-friendly cleaning products
Rapid dry time
Open seven days a week
Closes at 12:30 PM on weekends
No satisfaction guarantee
No discounts offered
Fewer services than others
Customer Reviews
Made lounge carpet look and smell like new
"Very professional service, absolutely delighted with my lounge carpet. Looks and smells brand new. Time and care was taken throughout the whole process. Highly recommended. Will definitely use Cleaner by Nature again. Thanks both" -Hayley Smith
Professional and informative staff
"A no pressure quote process, followed by an efficient and COVID secure procedure..Cleaner By Nature were professional and informative, and they really achieved in the results department! ..we are really pleased .." -Tim Phillips
4) Crystal Clear Services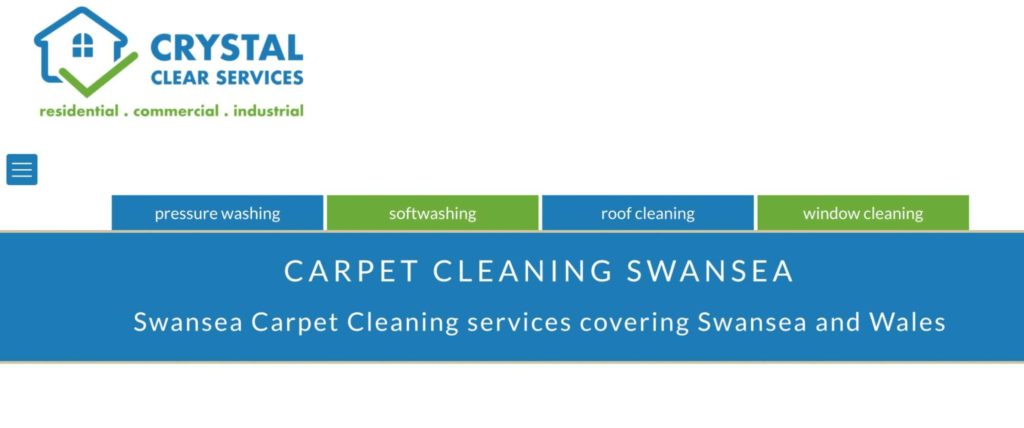 SERVICES/SCOPE
Pressure washing
Soft washing
Roof cleaning
Solar panel cleaning
Patio cleaning
Window cleaning
Garden maintenance
Carpet cleaning
Office cleaning
Gutter cleaning
Driveway cleaning
Decking cleaning
PRICING
Please get a quote from them on the website
WEBSITE
https://crystalclearservices.co.uk/carpet-cleaning/
ADDRESS
58 Gelli Deg, Fforest-fach, Swansea SA5 4PB UK
CONTACT DETAILS
+44 1792 588578


[email protected]

PAYMENT
GoCardless direct debit
Crystal Clear Services is a window and exterior property cleaning contractor with qualified and insured tradesmen. It's a family venture that gives you the advantage of a high-quality job and a personal touch.
Their carpet cleaning crew is knowledgeable and experienced. They can clean different types of carpets safely and offer practical advice to keep them clean for longer and extend their lives.
They strive to use the best technique and eco-friendly products to refresh the carpets in all parts of your house. Furthermore, they can install a stain protector on your carpets to shield them from spills and muddy shoes.
The full list of their services—apart from carpet cleaning—include window cleaning, roof cleaning, patio cleaning, office cleaning, gutter cleaning, driveway cleaning, and deck cleaning.
You may want to avail of them to make your house clean and sparkly both in and out. By doing so, you can get discounts that will be less heavy on the pocket.
It's fairly convenient that their business is open through the week except on Sundays. On the other hand, they only accept direct debit payments via GoCardless, which may be a bummer for some.
But, if you don't mind about that and want to set up an account, you can just go to their website, click menu bar, payment setup, and then pay with GoCardless.
They serve residential, commercial, and industrial clients in and around Swansea. And they can take on any work they offer irrespective of its size and difficulty.
Certified and insured tradesmen
Eco-friendly and safe cleaning products
Offers residential and commercial carpet cleaning
Gives multi-service discounts
Stain protector with a stain-proof guarantee
Doesn't accept credit cards
Closed on Sundays
Complaints about professionalism and customer service
Customer Reviews
Excellent service from start to finish
"Very happy and pleased with the work carried out today. Highly recommend and will definitely be using crystal clear services for further work in the future. Thank you very much to all involved with the excellent service received throughout." -Stacey Morgan
Outstanding effort and very amiable staff
"Crystal Clear were excellent! Cleaned our childcare carpets over the weekend. Were very accommodating and got them dried very quickly! Outstanding effort – excellent job – Highly recommended!" -one Google user
5) Crystal Clean Hygiene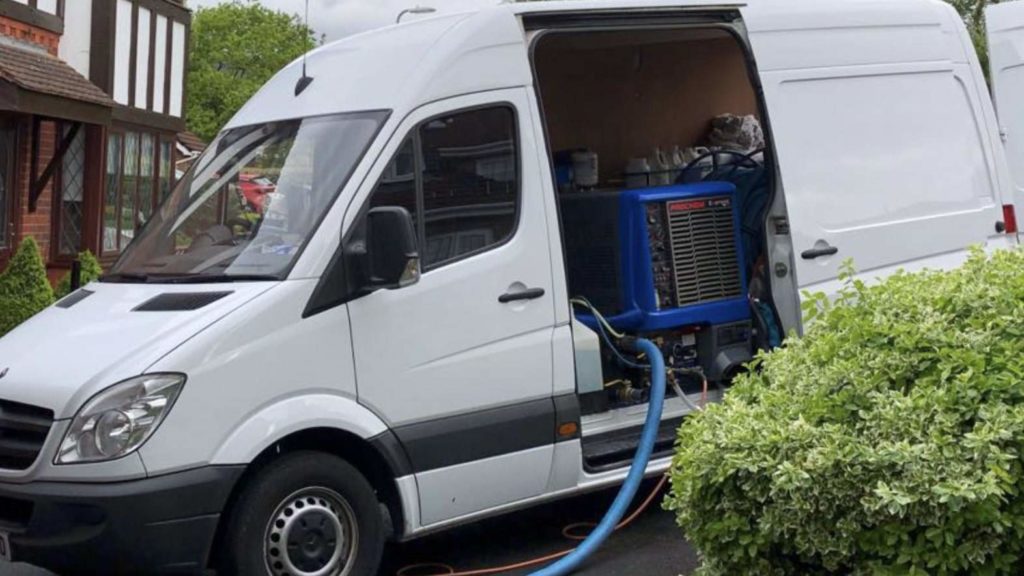 SERVICES/SCOPE
Steam cleaning
End of tenancy cleaning
Office carpet cleaning
Floor & rug cleaning
Dust mite control
PRICING
Please get a quote from them on the website
WEBSITE
http://www.crystalcleanhygiene.co.uk/
ADDRESS
Jersey Road, Swansea, West Glamorgan SA1 7DN UK
CONTACT DETAILS
0800 919 555


[email protected]

PAYMENT
Kindly call them for details
If you want your carpets to be cleared of dirt, nasty stains, and unpleasant odours, you should pick Crystal Clean Hygiene as its crew has the training and equipment to accomplish it.
They mainly use van-mounted steam cleaners that are powerful enough to separate the grime, stains, and silt from deep within your carpet pile and to leave no soapy residues behind.
Or, you can get them to dry clean your carpet in which less water will be used to accelerate drying time. This is great for commercial carpets so people can walk on them soon after the clean.
Moreover, you can also select between their packages of bronze, silver, and gold. All of them incorporate the same elements but silver and gold, of course, has more.
To show you what we mean, the bronze carpet cleaning package includes only pre-treatment and steam cleaning. On the other hand, silver is the same as bronze but also includes rinsing treatment, and gold is like silver but includes dust mite eliminator and stain guard installation.
They specialise in commercial carpet cleaning to keep your office fresh and productive for your employees and visitors. However, they perform dependable residential carpet cleaning as well.
Unfortunately, they're only available from Monday to Friday 8:30 AM to 6:00 PM. This is definitely a con for busy people as they would have to come home early to look after the work.
And similar to other companies, they don't seem to have a satisfaction guarantee. Hence, you have to make sure before they leave that you are good with the carpet results.
We'd like to add that they have a great variety of services as they can clean your hardwood floor, tiles, and rugs. They can also help landlords clean the entire room during end of tenancies.
One of the premier carpet cleaning in Swansea, they service clients in Swansea, Neath, and Port Talbot. So anytime that you need effective, timely, and stain-free carpet cleaning, you can ring Crystal Clean Hygiene.
Specialises in commercial carpet cleaning
Dry or steam carpet cleaning available
Offers three carpet cleaning packages
Great variety of services
No mention of a satisfaction guarantee
No discounts offered
Closed on weekends
Customer Reviews
Very impressed with their service quality
"I was very impressed with the quality of service provided by Crystal Clean Hygiene. My sofa looks amazing and I can't believe how good my rather sad and tired carpets look. You have breathed new life into them and they were virtually bone dry when finished. Thanks to John for a great job." -Kim L
Amazing results using the latest and most powerful equipment
"Friendly and highly professional service always given, Amazing results at the end of each job completed using the latest and most powerful equipment. Would recommend this company to everyone I know :)" -Victoria Rees
FAQs about the Top Options for Carpet Cleaning in Swansea
---
And that finishes our top list of carpet cleaning in Swansea. They are all good choices for they can remove unsightly stains and clean your carpets thoroughly!
Do you have any questions or comments about them? If so, kindly drop us a line and we will get back to you as soon as possible.
Related Articles about Swansea Carpet Cleaning