Featured Image Source from Bishop Clean Care
Not only can dirty carpets mar your decor but they can also affect you and your family's health. For this reason, we made a list of the best options for carpet cleaning in Surprise, AZ here.
But you may be wondering how much carpet cleaning services cost in the metro. That's why we will tackle the price section first before we move on to our top company selections.
Ready? Let's start the discussion!
How Much Does Carpet Cleaning in Surprise, AZ Cost?
Carpet cleaning prices in Surprise, Arizona differ widely among providers. Firms can charge you either by your chosen carpet cleaning package, by the square foot of the carpet or by the number of rooms.
Generally, you can expect to pay between $35 to $80+ depending on how many rooms you have. You may want to add stain guards for your carpets, which more or less costs about $10.
Besides the package, area, and the number of rooms, there are other factors that can bring up the price. Say, if your carpet is very dirty or you have two flights of stairs at home, the price will be higher.
To give you a better idea of the prices, here's a table of local carpet cleaners and their rates based on a 200-square-foot room:
| | |
| --- | --- |
| Carpet cleaner | Carpet cleaning rates |
| Holts Carpet & Tile Cleaning | Starts at $35 per room |
| Crazy Kleen Carpet Cleaning | Starts at $35 per room |
| EcoClean Carpet and Tile Care | Starts at $59 for 5 rooms |
| West Valley Carpet & Cleaning Service | Starts at $70 per room |
| AMES Carpet & Tile Cleaning | Starts at $80 for 2 rooms |
| Valley's Best Cleaners | Starts at $85 for 3 rooms |
Note that the ones above that have starting prices have a minimum charge. Say, if the price starts at $80 for 2 rooms, you need to pay that amount even if the contractor only cleans the carpet for 1 room.
What's more, to get more value for your money, keep an eye out for special offers found on the carpet cleaner's website. There, you might find sweet coupons and military discounts to use.
The Best Carpet Cleaning Services in Surprise, AZ
Now that you know about the rates, we now give you the top carpet cleaning services in Surprise, Arizona!
1) Holts Carpet & Tile Cleaning

SERVICES/SCOPE
Carpet cleaning
Carpet repair and restretching
Upholstery cleaning
Stone cleaning
Tile and grout cleaning
Pet spots and odor
Commercial cleaning
PRICING
Carpet cleaning: $35 per 200 sq ft area (synthetic carpets only)
Upholstery cleaning: $119.95 (synthetic sofa and love seat up to 12 ft)
Tile & grout cleaning: $0.60 per SF clean and seal
WEBSITE
https://holtscarpetcleaning.com
ADDRESS
18432 W Tasha Dr, Surprise, AZ 85388, USA
CONTACT
(623) 748-3811
PAYMENT
Credit cards
Formed in 1991, Holts Carpet & Tile Cleaning is committed to bringing high-quality cleaning results by using an utterly effective truck-mounted steam cleaner to rid your carpets of dirt, dust mites, and bacteria.
Available 24 hours, you can call the carpet specialists even in the middle of the night. They aim to respond quickly and will be there for you to provide their cleaning service, also including carpet restretching and repair, tile & grout cleaning, upholstery cleaning, pet urine and odor removal, and more.
Owner Jason Holt will personally oversee and do the carpet cleaning. As clients can agree, he works hard to give them utmost satisfaction, and if you aren't satisfied with the job, he'll come back within 5 days to resolve the issue.
Of their hundred plus reviews, only one had been dissatisfied with their customer service. However, a Holt representative replied that the incident did not really take place and so may have been a fake review.
The family-owned carpet cleaning firm accepts major credit cards, making them a pleasure to work with. Also, they offer discounts for carpet, upholstery, and tile & grout cleaning.
Whether you need carpet cleaning for your home or office in Surprise and the nearby areas, we believe that Holts Carpet & Tile Cleaning is one of the best carpet cleaning companies in Surprise, AZ!
24/7 call-outs available
Accepts credit card payments
Offers service discounts
Guaranteed client satisfaction
Doesn't sell new carpets
Complaint about customer service
Customer Reviews
This carpet cleaner swept the competition with superb scores across Google, Yelp, and Facebook. Many clients praised its exceptional carpet cleaning, extra-mile service, and decent prices.
Nancy left this review of the business:
"Friendly, customer care and excellent work! Jason and Ali know how to do carpets, tile and cleaning with enthusiasm and smiles! Thank you for what you do and for who you are"!
Also, take it from another client, Barry:
"We appreciate the conscientious job done by holt's carpet cleaning. Very courteous and professional…Jason even had good suggestions on how to make our carpets last longer and what to do to reduce the number of cleanings required. The carpet and rugs are like new."
2) Cranmore Carpet Cleaning LLC

SERVICES/SCOPE
Carpet cleaning
Carpet repair
New carpet sales & installation
Tile & grout cleaning
Grout repair
Carpet stretching
Upholstery cleaning & repair
PRICING
Please contact the company for rates
WEBSITE
http://www.cranmorecarpetcleaning.com
ADDRESS
13174 W Foxfire Dr. Ste 133, Surprise, AZ 85378, USA
CONTACT
+1 623-850-3778


[email protected]

PAYMENT
Credit cards
Another leading carpet and floor cleaner, Cranmore Carpet Cleaning offers friendly and responsive customer service and cost-effective rates that are better than other specialists in the city!
They offer a broad range of services namely carpet cleaning, repair, and stretching, upholstery cleaning and repair, tile and grout cleaning. Also, they stock carpets from well-known brands, like DreamWeaver, Shaw, and Mohawk, which can be bought and installed in your home.
Stains, grime, and dirt won't stand a chance against their solid expertise and truck-mounted steam extraction equipment. Your carpets in rooms, hallways, and bathrooms will be refreshed or repaired to a like-new state.
In case your carpet is soaked because of a ceiling or wall leak, they offer around-the-clock service for water restoration. Bad smells and bacteria that stay underneath your carpet will be completely removed.
Your satisfaction is the unwavering priority of this carpet cleaning company. They promise to re-do any missed stains or areas where they failed to clean promptly and efficiently.
In addition to their great prices, they also offer military discounts for those who served or are serving the country. You can get a free quote from them over the phone or online.
The esteemed carpet cleaner is open from Monday to Saturday from 9.00 AM. Once again, we like them because of their great rates and fail-proof client service… and we are sure you will too!
Gives value for money
Offers 24/7 flood emergency service
Client satisfaction guaranteed
Accepts credit cards
Military discounts available
Usually closed on a Sunday
Customer Reviews
Cranmore Carpet Cleaning holds an impressive score on Yelp, Google, and Facebook. As we said, people lauded their unbeatable customer service and prices!
Becky shared her experience with this carpet cleaner:
"Such a great company!
We've had many years of carpet cleaning w/Cranmore and was delighted when they went into the flooring business. So helpful, responsive and kind.
Their installation team is topnotch and all about quality.
Our family has more home improvements in the future and Cranmore will be the ones we rush back to.
We've enjoyed an amazing customer experience for years…..give them a shot and you too, will have a great customer experience!"
Plus, to get an idea of how the carpet cleaner staff works, check out this review from Gale:
"…Friends recommended Cranmore. I called and they came out almost right away. The man who arrived was jovial and efficient, telling us what he'd do for us and asking questions to make sure we'd be satisfied. He told us how much it would be, and it wasn't much more than the cheap companies that charge a base price for three rooms, but then add on this, that, and the other thing. We put the cat in the bathroom to wait it out, and the dogs went outside. We held our breath and it began.
The man moved our furniture and worked as quietly as man wielding a compressor-driven cleaning machine can. He was done in a relatively short space of time. When he left, we had carpets that would need to dry for 8 or so hours, but oh, what a wonderful smell, and the next day, the dry carpets felt great underfoot.
Thanks, Cranmore, for a job well done and worth every penny. We'll be calling you again."
3) Surprise Carpet Cleaning Co.

SERVICES/SCOPE
Residential carpet cleaning
Commercial carpet cleaning
Carpet repair
Carpet installation
Tile and grout cleaning
Upholstery cleaning
Pet stain and odor removal
Rug cleaning
PRICING
Please contact the company for rates
WEBSITE
https://www.surprisecarpetcleaningco.com
ADDRESS
14250 W Lisbon Ln, Surprise, AZ 85379, USA
CONTACT
+1 623-777-7501


[email protected]

PAYMENT
Kindly inquire with the carpet cleaner
Got a pet-stained living room carpet or muddied expensive Persian rug? Whether the work is big or small, Surprise Carpet Cleaning Co. has you covered!
We picked this provider to be on the list of the best carpet cleaning in Surprise, AZ thanks to its skill, experience, and state-of-the-art cleaning equipment that leaves your carpet neat, cozy, and bacteria-free.
Their video online shows how effective their van-mounted steam cleaner (the Prochem Apex GTX) is at cleaning. It thermally cleans through the blackened section of the carpet, absorbing all dirt and grime on and underneath and leaving it spotless like you just bought it yesterday.
They offer a comprehensive range of services that include carpet cleaning and repair, carpet installation, tile and grout cleaning, pet stain and odor removal, and rug cleaning. You can have them do one or more of these services at your home.
However, the only service they are lacking is an emergency flood and restoration service.
The results have been fantastic for many clients, both existing and new. They are raving about them online and are declaring their carpets, sofas, and rugs have never looked and smelled better than before.
They base their price upon the carpet size (in square footage) and client requirements. Their rates are reported to be reasonable and can even be lowered if you are a part of the armed forces.
Finally, Surprise Carpet Cleaning Co. serves residential and business clients throughout Surprise, AZ. This includes Surprise Farms, Happy Trails, Desert Oasis, Canyon Ridge West, Bell Pointe, Litchfield Manor, Parke Row, Sun City Grand, and tons more.
Client satisfaction guaranteed
Offers a 10% military discount
Affordable rates
No 24/7 flood restoration service
Closed on Sundays
Customer Reviews
According to clients, the carpet cleaners were professional, friendly, and on time. More importantly, their carpets and flooring looked very clean and refreshed after the service.
One client named Angelique said this:
"Brian came out to clean my carpet and did an amazing job! He took his time and made sure he didn't miss a spot. My carpet now looks brand new. Thank you so much for the awesome job."
The all-caps may look like the client's complaining but it's actually the opposite. Dean said:
"THIS WAS THE SECOND TIME I'VE USED THEIR SERVICE. SO EXTREMELY PROFESSIONAL AND FRIENDLY. ONCE AGAIN A PHENOMENAL JOB! I WOULD SUGGEST THIS SERVICE TO ANYONE LOOKING FOR AN OUTSTANDING JOB DONE. PERSONALLY I WOULD NOT PURSUE ANOTHER AVENUE TO GET MY CARPETS CLEANED. THANKS FOR YOUR SERVICE."
4) West Valley Carpet & Cleaning Service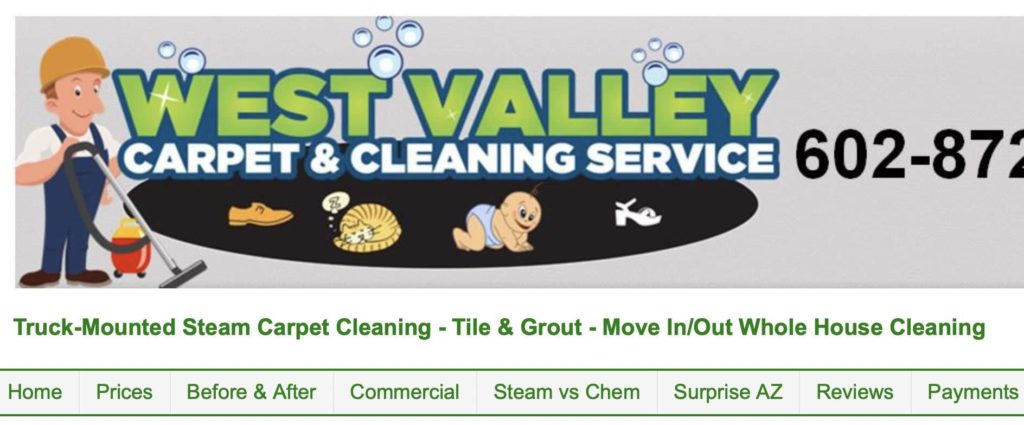 SERVICES/SCOPE
Carpet cleaning
Scotch guard
Tile and grout cleaning
Upholstery cleaning
Move-in or -out house cleaning
PRICING
Carpet Cleaning

Budget carpet cleaning: $25/room up to 225 sq ft + $35/stairway + $15 for 2nd hallway up to 100 sq ft

Deluxe carpet cleaning: $35/room up to 225 sq ft + $35/stairway + $15 for 2nd hallway up to 100 sq ft

Ultimate carpet cleaning: $45/room up to 225 sq ft + $35/stairway + $15 for 2nd hallway up to 100 sq ft

Scotch Guard

Scotch guard protection: $10/room

*If you buy 3 rooms, the 4th room is free

Tile and Grout Cleaning

Tile/grout cleaning: $0.25 – $0.35 per sq ft and an additional $0.35 per sq ft to seal.

*Minimum charge is $85 for tile & grout cleaning

Upholstery Cleaning

Loveseat: $65
3-cushion couch: $85
L-sectional (2-piece): $125

Move-In/Out Whole-House Cleaning

500 – 1,000 sq ft w/ 1 restroom: $295
500 – 1000 sg ft w/ 2 restrooms: $350
1,000 – 1,500 sq ft: $395
1,500 – 2,000 sq ft: $445
2,000 – 2,500 sq ft: $510
2,500 – 3,000 sq ft: $570
3,000 – 3,500 sq ft: $670
3,500 – 4,000 sq ft: $750

*Prices include up to 4 rooms of carpet cleaning including hallways
WEBSITE
https://westvalleyservices.net
ADDRESS
14108 N 156th Ct, Surprise, AZ 85379, USA
CONTACT
+1 602-872-4187
PAYMENT
Visa, Mastercard, Maestro, American Express, PayPal
Armed with the heavy-duty Boxxer 421 and reliable RotoVac 360i carpet cleaners, the West Valley Carpet team can remove the toughest dirt, grime, oil, pet dander, and bacteria stuck on your home or commercial carpets.
The company is locally owned and operated by Ross. It offers a selection of packages for carpet cleaning, tile and grout cleaning, move-in or move-out cleaning, and upholstery cleaning services.
For carpet cleaning, they have the budget, deluxe, and ultimate packages. As you can see on the table above, these three are basically the same in terms of the price calculation, except that the budget and deluxe options include vacuuming, enzyme treatment, and stain treatment of all carpets.
With this company, though, you'll have to spend more on their carpet cleaning service. But the great news is that you'll find your dirty carpet transformed afterward, as shown with their before and after photos.
All of their finished services also come guaranteed for your peace of mind. So, if you aren't happy with the work performed, the team will come back and finished what they missed on your carpet.
Last but not least, paying the carpet cleaning company is also simple as they take Mastercard, Maestro, Visa, American Express, and PayPal payments. To pay your invoice, simply go to their Payments tab on their website.
One of the best carpet cleaning services in Surprise, AZ, they provide outstanding carpet cleaning and professional, prompt service as clients can attest to.
Licensed and insured carpet cleaners
Guaranteed client satisfaction
Accepts credit and debit cards
Relatively high rates (starts at $70 per room)
No carpet repair services
Closed on the weekends
Customer Reviews
West Valley Carpet & Cleaning Service achieved a stellar 4.9 out of 5 stars on Google Reviews. A lot of customers were impressed with Ross's professionalism, skill, and caring attitude.
Here's one client's feedback on Google:
"Just had my carpet cleaned by Michael and he was very professional and kind. He was straight forward, honest, and did a great job cleaning. The quality and price can't be beat either. I would definitely recommend them to anyone needing their carpets cleaned!"
Furthermore, Kevin wrote this:
"Michael came over on time and walked around our carpet pointing out areas that needed treatment. He wasn't pushy. He really cared about his work and the products they use. Then his diligence to make sure every inch we cleaned, was really impressive.
We've had multiple carpet cleaners over the years and Michael was FAR ABOVE and beyond the BEST.
Thank you so much West Valley!!"
5) AMES Carpet & Tile Cleaning

SERVICES/SCOPE
Carpet cleaning
Tile cleaning
Grout cleaning
Upholstery cleaning
Rug cleaning
Pet stain & odor removal
PRICING
Carpet cleaning: $80 – $140+ per room up to 255 sq ft
Stain guard: +$10 per room
WEBSITE
https://www.carpetcleaningsurpriseaz.com
ADDRESS
16064 W Port Au Prince Ln, Surprise, AZ 85379, USA
CONTACT
+1 623-546-3676
PAYMENT
Kindly inquire with the carpet cleaner
AMES Carpet & Tile Cleaning provides cleaning services for carpets, rugs, upholsteries, and tile and grout the old-fashioned way. They are boy scouts and always come on time for the job.
You can definitely put your trust in their licensed and bonded team. Have peace of mind knowing that they will be able to pay for the damages in the unlikely event they damaged your carpet or effects at home.
AMES's carpet specialists are equipped with a truck-mounted RotoVac 360i. This is extremely powerful and has a rotational effect to thoroughly deep clean the dirtiest of carpets and rugs.
They take care of your carpets well even if they are a decade old. It's really impressive since just when you think your carpet is too dirty to be kept, it can be cleaned to look brand new again like they did for one client!
It would be nice, however, if they also offer carpet re-stretching and patching as well. Many clients will benefit from those services, but of course, it's not for us to decide but them.
Their prices may be expensive but are well worth the spend. Many customers say that their carpets were restored back to the way they originally were—soft, clean, and fresh!
The respected carpet cleaning company opens early on Monday through Saturday from 7.00 AM. You can obtain a free quote from them by phone or online.
Licensed and bonded carpet cleaners
Coupon discounts available
Cost-effective rates
Expensive rates (starts at $80 for 2 rooms)
No carpet repair services
Customer Reviews
AMES Carpet & Tile cleaning performed their carpet cleaning services outstandingly for many clients. They said the team was always efficient, personable, and on time.
One client left this comment on Google:
"Excellent job. Had an 8am appointment and they were 5 minutes early. Always nice having a reliable company come out. They did an awesome job and we will use again! No up selling of services. .35 a sf and no more!"
And take a look at this review from Howard:
"I usually rent a cleaner at Home Depot to clean my carpets but no more. These guys are the bomb. Showed up on time and did a great job. Carpets look new. My carpets are 14 years old and I was going to replace them after this year but after AMES cleaned them I think not. They turned out great and the grime is way gone. I will definitely use them in the future and recommend them to anyone that asks me about carpet cleaning. If you are like me and think they can't get the grime out, think again and call AMES. They made them like new. Very nice guys."
6) Valley's Best Cleaners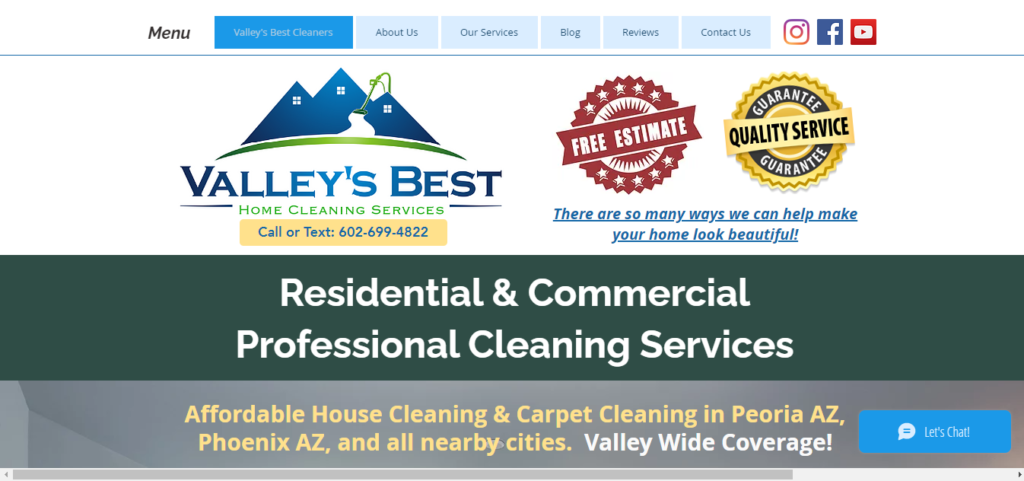 Valley's Best Cleaners has a team of expert cleaners and technicians. Unlike other companies, they do not only offer carpet cleaning, but also house cleaning, tile & grout, rug & upholstery, air duct cleaning, and window cleaning.
People love how reliable and affordable their services are. They said that from the beginning of the clean-up until the end, they were still giving attention to details, ensuring that they do not miss any spots.
They offer their services for Phoenix, AZ, Peoria, AZ, Goodyear, Glendale, Surprise, Scottsdale, Tempe, AZ, and other surrounding areas. In case your area is not on the list, you may freely call them and they will happily assist you.
Free Estimate
Gives what they promise
Always operate with Honesty and Integrity
Customer Reviews
Here are some reviews from Valley's Best Cleaners' previous clients:
"They did a great job for our move-out cleaning. Definitely, recommend!"
"This was my first time using a professional cleaning service and it was such a great experience. Christina was friendly and did an awesome job!"
"They did great. My house smells awesome after they cleaned the duct work. They put plastic everywhere, vacuumed and dusted when done, and even worked around the roofers!"
FAQs about the Top Options for Carpet Cleaning in Surprise, AZ
---
And that's all for our top options for carpet cleaning in Surprise, AZ! Efficient and friendly, you can absolutely rely on them to clean or patch up your carpets.
Any questions or comments about this list? If you have one, kindly drop us a line and we'll get back to you as soon as we can.
Also, check out our other carpet cleaning lists. For instance, you may be interested in the best options for carpet cleaning in Phoenix for top-service quality and decent rates!