Not sure how to properly clean the heating and cooling system at your home/office? Well, leave it to the professionals! We've listed the companies that provide the best air duct cleaning in Colorado Springs!
With their full range of expertise, you no longer have to worry about bad indoor air quality. Take a look at our selections below to know more about their offered rates and services!
| | |
| --- | --- |
| Service Company | Price Range |
| Planet Duct | $300 – $500 |
| Bee Kleen | $369 and above |
| Earth-Friendly Air Duct Cleaning | $500 and above |
| AirDuct Specialists Inc | $495 – $990 |
| Mountain Air Duct | $450 – $600 |
1. Planet Duct

| | |
| --- | --- |
| BEST FOR | High-powered Vacuum Trucks, HVAC Maintenance, Air Duct Item Retrieval |
| STARTING PRICE | $300 |
| WEBSITE | https://www.planetduct.com/ |
| ADDRESS | 3328 Adobe Court, Colorado Springs, CO 80907 |
| CONTACT DETAILS | 719-728-5111 |
| OPERATING HOURS | Monday – Sunday: 8:00 AM – 10:00 PM |
Planet Duct is known for their advanced cleaning equipment that is powerful enough to remove all the debris, dust, microbial growth, and more from your HVAC systems. They serve both home and business owners with a wide range of air duct cleaning services.
They consist of certified specialists who are trained to use high-powered vacuum trucks. So, you can be sure that your heating and cooling system will be in good hands.
Moreover, they also conduct a pre-cleaning inspection where they'll evaluate the ventilation system, look for the best system access points, and discuss service options.
To neutralize fungi, bacteria, viruses, mould spores, and other allergens that affect air quality, they also provide anti-odour and anti-microbial treatments.
Their overall cleaning process usually takes about 3 to 5 hours, depending on the size of the house and project scope.
Aside from duct cleaning, they also offer carpet cleaning, dryer vent and A/C coil cleaning as well as exhaust fan cleaning for bathrooms and kitchens, ensuring that everyone will get clean indoor air.
For those who are preparing for a new home/building construction or renovation, they also provide post-construction air duct cleaning. This will make sure that the whole place is completely free from hazardous construction dust before anyone starts operating HVAC systems.
If you dropped something down your floor vent, they can also help you find your items in the ducts. Even if it's too heavy or getting too close to your A/C coil, they can access the trunk lines of the duct system and get your lost items.
When it comes to their commercial cleaning services, they've worked for established institutions like Air Force Academy, Colorado College, Nomlaki Technologies, Magnuson Hotels, and many more. Seeing that these companies have completely trusted them just proves that they truly have some of the best air duct cleaning in Colorado Springs.
For those who have a laundry business, they offer commercial dryer vent cleaning to ensure optimum performance of the dryers and lower the business's utility bills.
Residential and commercial services
Uses advanced cleaning equipment
Provides regular duct and HVAC maintenance
Offers antimicrobial and anti-odour treatments
Has NADCA (National Air Duct Cleaners Association) certified cleaning specialists
Customer Reviews
Customers praised Planet Duct's team due to the services of the team as well as the superior equipment. They said that after sharing their primary concerns with the technicians, the team immediately offered multiple solutions and helped decide which one would be the best for their needs and budget.
A customer shared this experience:
"I'm so impressed with this outfit! I requested a quote online, and had a reply within 15 minutes. I was able to quickly schedule an appointment after that. I received email and text updates as well as a phone call when the techs were on their way. Tyler and Sarah were very friendly and professional. They explained everything they would be doing, answered my questions, and worked quickly. They wore shoe covers and masks in the house, covered the stairs, hung a covering over the open door, and cleaned up any messes they made. They took before and after photos of the job. Most importantly, the inspector approved!"
2. Bee Kleen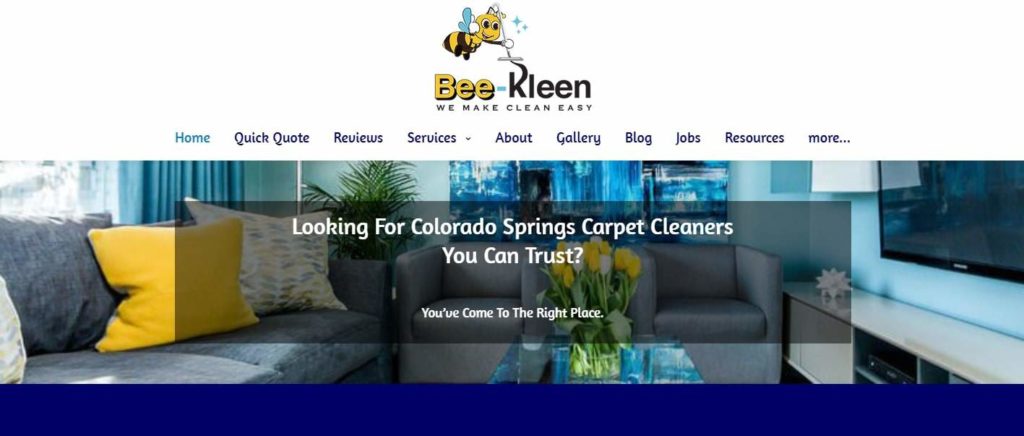 | | |
| --- | --- |
| BEST FOR | Residential and Commercial Dryer Vent Cleaning of Laundry Facilities |
| STARTING PRICE | $369 |
| WEBSITE | https://www.bee-kleen.com/ |
| ADDRESS | 7928 Horizon Dr, Colorado Springs, CO 80920, United States |
| CONTACT DETAILS | (719) 597-5559 |
| OPERATING HOURS | Open 24 Hours |
Bee Kleen offers a great range of cleaning services including air duct and dryer vent cleaning. They're one of the few companies that have NADCA ASCS certified technicians who are skilled and trained in the most current practices in the air duct cleaning industry.
They use modern tools and equipment to clean and sanitise your air vents and make sure that your HVAC systems are running efficiently. This includes a special camera where you can monitor the whole process as the technicians eliminate the build-up of dust and debris.
For the mould, mildew, fungi, bacteria, and algae, they use special treatments to remove odour and destroy the origin of these organisms.
Their treatments are EPA registered, safe, and have low toxicity formulation. So, there's no need to worry about possible damage risks during the operation.
They specialise in cleaning both residential and commercial dryer vents. If you own a laundry facility, they can help you maintain your business operation with regularly scheduled cleanings.
Responsive staff even after working hours
Has anti-odour and anti-bacteria treatment
Can monitor the process in action
Offers both annual and quarterly cleaning services
Overall cost is slightly expensive
Customer Reviews
Many customers have recommended the services of Bee Kleen because of the easy appointment booking, informative staff, and on-time arrivals. They were also impressed with the team's outstanding work on multiple commercial air ducts.
This is why they've become known for having the best air duct cleaning in Colorado Springs. A customer posted this feedback:
"Bee-Kleen is a great company. My husband and I were very happy with the work that was done; we had all our ducts cleaned. Scott showed up on time. We mentioned we have three cats and we wanted to make sure they did not get outside during the process of cleaning, and Scott was very understanding and was willing to work with us to make sure our kiddos were safe at all times. He did a great job and was a pleasure to talk to. Very nice, professional and I would highly recommend this company to anyone. Thank you for the great and thorough work! :)"
3. Earth Friendly Air Duct Cleaning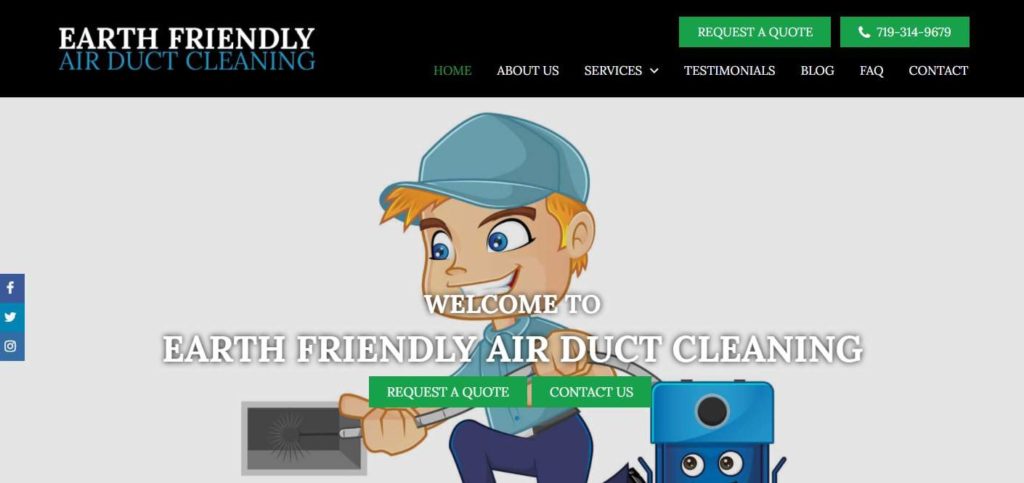 | | |
| --- | --- |
| BEST FOR | Natural and Non-toxic Cleaning Process |
| STARTING PRICE | $500 |
| WEBSITE | https://www.ecoairductcleancosprings.com/ |
| ADDRESS | 8251 Plower Ct Colorado Springs, CO 80951 |
| CONTACT DETAILS | 719-314-9679 |
| OPERATING HOURS | Monday – Sunday: 8:00 AM – 7:00 PM |
Unlike most service companies, Earth Friendly Air Duct Cleaning offers eco-alternative air duct and dryer vent cleaning services.
After conducting a meticulous inspection on the air-quality, duct system pressure, and other specifications of your HVAC systems, they'll perform a non-toxic cleaning process with their natural cleaning agents.
With their environment-friendly method, there wouldn't be any trace of harsh chemicals left in the system, providing safe and healthy air quality as well as better cooling and heating performance.
Their trained technicians will clean and vacuum all of the system's components including supply and return ducts, blower and vent covers, furnace evaporator coils, drain pans, fans, diffusers, and grilles.
Then, they'll conduct a quality check after the cleaning process to make sure that the system is running smoothly.
For their preventative maintenance services, they offer air filtration services and even upgrades to ensure optimal performance of your duct system.
Provides 24/7 client support
Offers a yearly plan for dryer vent cleaning services
Dryer vent upgrade and air filtration services
Specialises more in residential services
High initial costs
Customer Reviews
Earth-Friendly Air Duct Cleaning has received lots of positive reviews due to their innovative cleaning methods, quality cleaning products, and eco-friendly process. A customer gave this review:
"I very much liked their vacuum-based approach. It doesn't blow residue anywhere. They were very timely, polite, thorough, efficient and enjoyable company. They cleaned a dryer roof vent that was completely clogged and even found a dead bird in a duct right next to the bed! So glad I called them. You will be too."
4. AirDuct Specialists Inc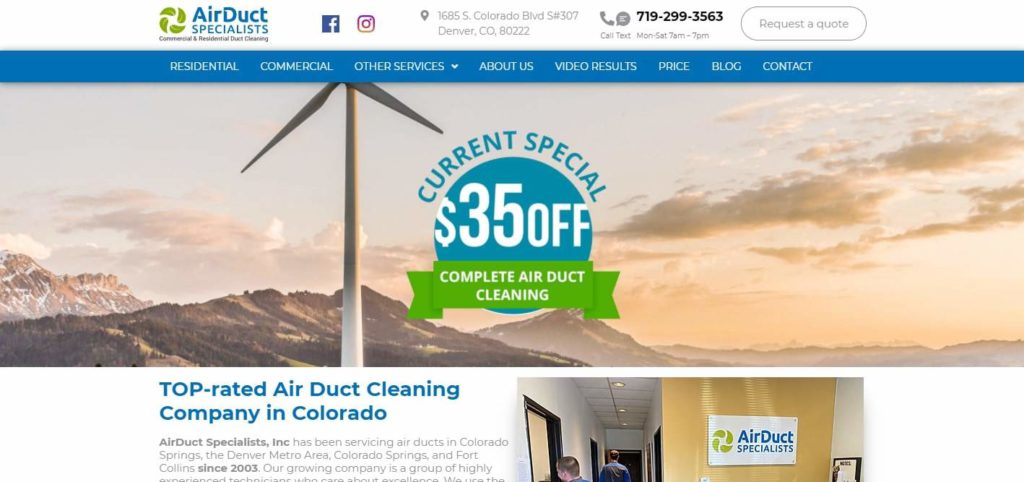 | | |
| --- | --- |
| BEST FOR | Full-service Air Duct Cleaning, Installation of UV lighting |
| STARTING PRICE | $495 |
| WEBSITE | https://www.coloradospringsairductcleaning.com/ |
| ADDRESS | 1685 S Colorado Blvd Unit S # 307 Denver, CO, 80222-4011 |
| CONTACT DETAILS | 719-299-3563 |
| OPERATING HOURS | Monday – Saturday: 7:00 AM – 7:00 PM |
AirDuct Specialists Inc is fully equipped with experienced technicians and high-end tools, providing efficient air duct cleaning.
Aside from these, they also provide installation of electrostatic air filters and UV lighting, which can help reduce contaminants and mould in your duct systems.
When it comes to their dryer vent service, they're capable of cleaning both hard and flexible pipes.
Instead of waiting for email reports, you can immediately view the image and video results when the cleaning process is done. So, you can see the actual before and after comparisons.
One of the best things about them is that they offer a final price upfront in which the overall costs will mainly depend on the square footage of your place and the number of furnaces. This way, you can easily estimate the budget you need.
They've served cleaning services for homeowners, builders, HVAC contractors, hospitals, schools, and more, proving that they can handle residential and commercial property works.
Provides flat rates over the phone
Shows video results on the spot
Provides installation of electrostatic air filters
Deals with flexible and hard dryer vent pipes
No services available on Sundays
Customer Reviews
Customers shared that they experienced professional services offered at reasonable rates here. They also mentioned that getting a quote online was easy and quick and that the technicians were responsive and always on time.
A customer left this feedback:
"AirDuct Specialists of Colorado Springs performed two cleanings for me this month on separate properties. Nick was so great on the first property, that I requested him for the second. The ordering process is easy, there pricing is all upfront and no upsell or haggling once they are in there doing the, you are notified about each step of the job by text and or email so you're not guessing or trying to remember who is coming or when they will arrive, and customer services is top-notch from end-to-end. Great job AirDuct Specialists Team!"
5. Mountain Air Duct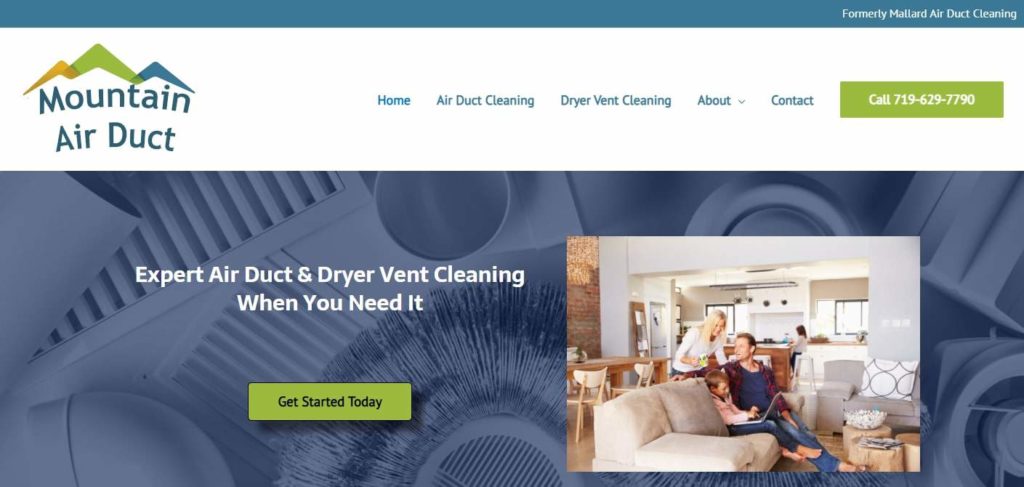 BEST FOR
Deep Residential Air Duct Cleaning Services, Independent Dryer Vent Service Package
STARTING PRICE
$450
WEBSITE
https://mountainairduct.com/
CONTACT DETAILS
719-629-7790
OPERATING HOURS
Monday – Friday: 8:00 AM – 5:00 PM
Saturday: By Appointment Only
Mountain Air Duct specialises in residential services where they offer deep cleaning of the entire HVAC system, including the air duct and dryer vent.
For their air duct cleaning process, the operation lasts for about 4 to 5 hours depending on the square footage and number of air vents at your home.
The minimum cost offered for their services isn't cheap but you can be sure that they're reasonable rates.
Take note that companies that offer cleaning services for $200 and below are usually the ones who will take advantage of additional charges once they've seen the actual condition of your HVAC system. These guys, on the other hand, strive to be upfront.
For those who have laundry facilities at home, they offer dryer vent cleaning as an independent service package. Their process typically takes an hour to finish, making sure that your daily routine will not be ruined.
Fast cleaning operation
Offers accurate quotation
Offers free dryer vent cleaning as part of air duct cleaning
Affordable pricing
Only offers residential services
Customer Reviews
Most customers complimented the punctuality and responsiveness of the team at Mountain Air Duct Cleaning. They also said that the technicians were able to deal with challenging issues like getting through the blocked areas of the vent system.
The team's dedicated effort and detail-oriented explanations have earned them a spot in this list of companies doing the best air duct cleaning in Colorado Springs. A customer posted this review:
"Come by to give me a free estimate and explain the process, after 3 quotes he was the most expensive but you don't go cheap on your house or your car ever is what Gpa told me. Excellent service and walked me through the entire deal. Would highly recommend it!!"
6. Absolute Floors & More, LLC
BEST FOR
Carpet and air duct cleaning
STARTING PRICE
Contact for more details
WEBSITE
https://www.absolutefloorsandmore.com/
CONTACT DETAILS
7198966274
OPERATING HOURS
Monday: 8:00am – 8:00pm
Tuesday: 8:00am – 8:00pm
Wednesday: 8:00am – 8:00pm
Thursday: 8:00am – 8:00pm
Friday: 8:00am – 8:00pm
Saturday: 8:00am – 8:00pm
Sunday: CLOSED
At Absolute Floors & More, LLC, they specialize in everything carpet! There is no job too small or too large for them to tackle. They are here to build a solid positive future by assuring 100 percent satisfaction to all their customers. They work around your time frame and have complete respect for your home. Call today for your FREE estimate!
Travel charges may apply over 50 miles from Colorado Springs. Your satisfaction is their number one priority! They make it affordable for anyone to get a high quality service! They specialize in carpet repairs and restretching.
Wide range of services
Recommended by almost all their clients
Certified firm with the IICRC.
Price are not posted online
Customer Reviews
Here's what people have to say about them:
"Nate and his company does great work. He was punctual and performed the work he said he would. My carpet turned out great. I would definitely recommend him to anyone in need of a cleaning. He's also former military. I am always looking to give my money to someone who has served our great country. Thanks again Nate, I will definitely use your services in the future!??"
"Nate and his team came out and made the carpets actually look like new. They were more thorough and actually less expensive than franchises such as Stanley Steemer, who do a horrible job. Highly recommend."
7. Duct Brothers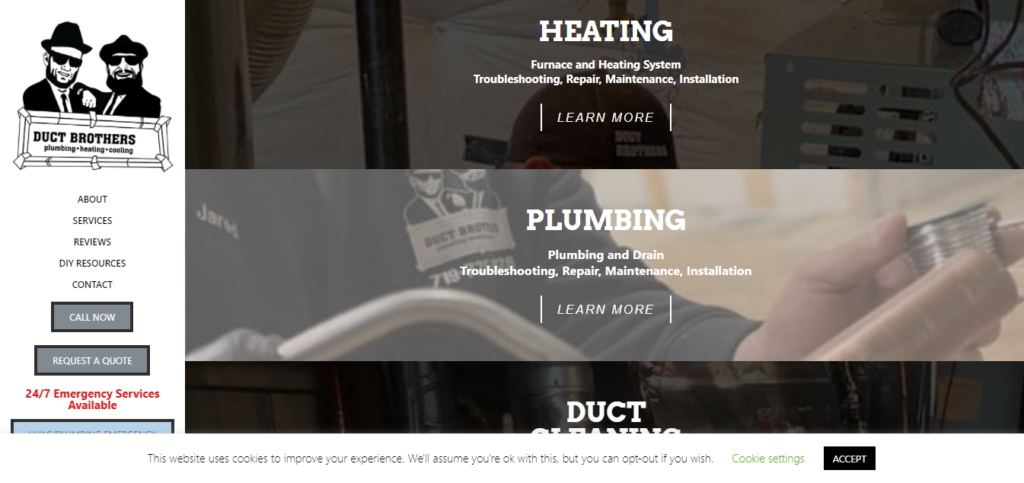 Duct Brothers is a veteran-owned and operated plumbing, heating, & cooling company. They are the best company to call when in need of duct cleaning services.
What sets them apart from the other companies is their attention to detail. Another great thing about them is they provide resources that include DIY and educational videos for clients to see if they can fix the issue by themselves.
With the numerous clients they've had, most of them left a positive review on their Yelp page. A past client mentioned on their review that Duct Brothers provided them a consistent and excellent service, from the time they answered the phone, scheduling appointments, and completing the inspection and installation.
Another client said that their experience with them was pretty smooth compared to their competitors. They showed up on time, gave them a fair price, and did not try to price gouge them.
Accepts credit cards
Free estimates
Competitive prices
Rates are not available online
Customer Reviews
Here's what people have to say about them:
"Fortunately/unfortunately (for me), I've used their services 2x in the span of a week now, for different plumbing issues. First was to replace the wax seal under the toilet in the master bathroom that was leaking. Recently had new tile laid and there wasn't a good seal when the tile guy re-sat the toilet back into place. Gilbert to the rescue! They were quick to respond, he arrived when they said he would, and he was very professional and thorough. I'd like to add, reasonably priced too. Fast forward 1 week, and awoke to water in the basement. Once again, Gilbert to the rescue! He was able to come out the same day, quickly diagnose the cause, AND get things working again. Hopefully I won't need a plumber for awhile, but should I, I won't hesitate to call them again…great service!"
"I highly recommend! I have requested an estimate on two different plumbing jobs. Both instances they were prompt and very professional. I received very competitive quotes and the work was completed on time. Gilbert was the plumber and I am very impressed with his work ethic and honesty. He explained what he was doing and his work is excellent. Duct Brothers did a fantastic job for me. Twice!"
FAQs about the Best Air Duct Cleaning in Colorado Springs
___________________________________________________________________________
There you go! That's it for our list of companies that provide the best air duct cleaning in Colorado Springs! Have you already decided which services you'd like to hire? Tell us all about it!