Featured Image Source from WorkWave
It's not enough to vacuum your carpets to achieve a deep clean. You need to engage a professional as they have the know-how and special equipment to rejuvenate your old carpets.
So if you need one, we've collated a list of the best carpet cleaning options in Puyallup here for you. But first, we'll tackle their average rates so you'll know how much you need to spend.
The Average Cost of Carpet Cleaning in Puyallup
Puyallup carpet cleaning costs from $153 to $275 or $199 on average, according to home service website Home Advisor.
The price varies widely between companies depending on the size and type of carpet, stain deepness, and if you have carpeted stairs.
The cleaner can charge a fixed rate by the number of rooms, which ranges from $25 to $600. Or by square footage where each one costs $0.20 to $0.40.
Note that there's usually a cap on the room size for carpet cleaning. For instance, if the room size is 200 sq ft and yours is 150 sq ft, then you'll have to pay the rate for two rooms.
Here are the tables for carpet cleaning fixed and per-square-foot rates. This data can serve as your reference so you don't immediately have to get an estimate.
| | |
| --- | --- |
| Number of Rooms | Price Range |
| 1 | $25 – $75 |
| 2 | $50 – $150 |
| 3 | $75 – $225 |
| 4 | $100 – $300 |
| 5+ | $150 – $600 |
| | |
| --- | --- |
| Carpet Square Footage | Price Range |
| Cost per square foot | $0.20 – $0.40 |
| 200 – 400 sq. ft. | $80 – $130 |
| 500 – 1,000 sq. ft. | $100 – $250 |
| 1,000 – 1,500 sq. ft. | $200 – $300 |
| 1,500 – 2,000 sq. ft. | $250 – $450 |
| 2,000 – 3,000 sq. ft. | $400 – $550 |
The Best Carpet Cleaning Options in Puyallup
With that, you're now ready to see our lineup of the best carpet cleaning options in Puyallup!
1) Oxi Fresh Carpet Cleaning

Oxi Fresh Carpet Cleaning is a respected franchise interior cleaner with hundreds of branches in America. Its headquarters is located in Denver, Colorado, which opened back in 2006.
It offers a complete range of cleaning services including carpet cleaning, rug cleaning, and upholstery cleaning. Additionally, they can clean hardwood floors as well as tile and grout for homes and offices.
Their certified cleaners utilize a dry carpet cleaning procedure with a dry time of 1 to 1.5 hours, about 6x faster than that of a traditional steam cleaner.
Furthermore, this also allows them to use considerably less water for every washing. And this helps divert less wastewater to rivers, estuaries, and oceans.
The cleaning solutions they use are planet-friendly and safe for kids and pets. That's another reason they're one of the best carpet cleaning options in Puyallup.
Oxi Fresh Carpet Cleaning also provides a 7-day redo warranty. If ever you're not satisfied with the results afterward, they will come back at a convenient time to improve them.
A franchise company usually doesn't perform as well as independent ones. But their stellar reviews prove that they are otherwise.
As for their cons, they don't have any 24/7 service in case of flood damage to your carpets or floors. Some clients also complained about their customer service, however, most said the opposite.
For a free estimate, you can start from the pricing link given in the table above. Or as always, give them a ring and one of their friendly representatives will assist you.
One-hour dry time
Uses planet-friendly cleaning solutions
Easy online quoting
Coupon deals available
Has a 7-day redo policy
Steam cleaning option also offered
Closed on a Sunday
Complaints about customer service
Customer Reviews
Most clients wrote that their carpet cleaning results and customer service were great. Some of them have used this company's service more than once.
One client named Davila remarked on Google:
"The tech called ahead and arrived on time. Excellent customer service. I'm very happy with the results. Thank you!"
And Brett left this review too:
"Great customer service by Sean! He did an amazing job on carpets as well as overall service. Very friendly and professional. It was clear Sean takes pride in his work . I have hired carpet cleaners in the past who are quick to get the job done and do not care how carpets turn out. My experience with this company is that they care. I definitely recommend oxifresh and will plan on using them again if needed. Thanks for making our carpets look so good!"
2) Pfeiffer's Carpet & Upholstery Cleaning

SERVICES/SCOPE
Carpet & upholstery cleaning
Carpet repair & restretch
Area rug/oriental rug cleaning
Pet odor specialists
Tile & grout cleaning
Auto/RV carpet & upholstery cleaning
Leather cleaning & protecting
PRICING
Get your quote here
WEBSITE
http://www.pfeifferscleaning.com/
ADDRESS
1310 39th Avenue SE, M119, 1310 Inter Ave, Puyallup, WA 98371, USA
CONTACT DETAILS
+1 253-845-8883


[email protected]

PAYMENT
Visa, Mastercard, Discover, Amex credit cards, debit cards
Founded in 1972, Pfeiffer's Carpet & Upholstery Cleaning uses a hot water extraction method to remove embedded dirt, grit, and pet odor in your home carpets.
Being family-owned and operated, they are proud of the work they provide and truly care for their clients, as reviews indicate. They've also been known all these years for charging fair rates.
With an IICRC-certified team, they are knowledgeable and skilled to treat various types of stains and clean carpets thoroughly. They carry out a 6-step carpet cleaning process from furniture removal to speed drying.
But they aren't only limited to carpet cleaning. If you have a torn or lumpy carpet, they can also reliably provide carpet repair and restretching.
Other services include upholstery, leather, and tile & grout cleaning for homes, as well as mat and seat cover cleaning for vehicles. Since they're a one-stop shop, it's easier to call them than others.
All work is also backed up by a 30-day guarantee for total client satisfaction. If they fail to live up to your standards, they'll fix the problem or give you a refund.
They offer a lot of coupons and promo codes if you subscribe to their newsletter. Also, they have a Stay Beautiful Program wherein they can maintain your carpets twice a year for a value price!
In summary, if you want outstanding cleaning work, fair rates, and a 30-day guarantee, then you can bet on Pfeiffer's Carpet & Upholstery Cleaning!
The business serves residential clients in Pierce and King Counties. However, they're only open from Monday to Friday.
Family-owned and operated
IICRC-certified professionals
30-day guarantee
Coupon and special deals available
Reasonable rates
Closed on the weekends
Doesn't offer commercial carpet cleaning
Customer Reviews
They were given high scores on both Google and Facebook. Everyone was quite satisfied with their carpet cleaning as the stains and odor were removed.
Here's what Ashley had to say of the carpet cleaner:
"This family is absolutely fabulous and did a magnificent job at repairing, stretching, and cleaning our carpet! They are professional, kind, reasonably priced, and very good at what they do. I have gone through several different carpet cleaning companies in the past, but now that I know what the Pfeiffer's can do I will always use them! Thank you again to the Pfeiffer family"
Moreover, another client, Janelle, said this:
"Excellent cleaning and service! Very polite and considerate and they do a superb job! We have 2 dachshunds and as puppies they had left their "mark" in places. Pfeiffer's deodorized and cleaned the carpet and it looks and smells like new!! And upholstery cleaning- 10 !!"
3) Evergreen Steam Clean & Restoration

SERVICES/SCOPE
Carpet cleaning
Carpet repairs
Upholstery cleaning
Mattress cleaning
Pet odor and deodorizing treatment
Water restoration/emergency extraction
PRICING
Carpet Cleaning

1 – 3 rooms + hall: $125 – $150
4 rooms + hall: $165 – $180
5 rooms + hall + closets: $205 – $210
6 rooms + hall + closets: $240 – $245
7 rooms + hall + closets: $270 – $285
Stairs w/Landing: $30
Deodorizing or pet treatment: $3 – $5
Carpet protector (Scotchgard): $10

Upholstery Cleaning

(Pre-Spray and Steam Cleaning Included)

Sectional: $150
Couch (regular/3-seater/sofa): $75 – $85

Loveseat: $50 – $60
Side chair/recliners: $35 – $45
Ottoman: $15 – $20
Kitchen/dining room chairs: $8 – $12 per chair
Mattress: $75 – $95
Auto/RV: $150

Fabric protector (Scotchgard): $7 – $10 per item

*Minimum of $150, price depends on the size and if carpet & upholstery cleaning to be done at same time

Carpet Repairs

(Prices depend on size and quantity of repairs needed)

Low loop patch: $35 – $50
Berber patch: $50 – $75
Seam repairs: $50 – $75
Delamination repair: $50 – $75

Water Restoration/Emergency Extraction

Call for pricing
WEBSITE
https://evergreensteamclean.com/
ADDRESS
Puyallup, Washington, United States
CONTACT DETAILS
(253) 365-9000 or (253) 677-8254
PAYMENT
Credit cards
Led by husband and wife James and Tessa, this company specializes in water damage and carpet cleaning tasks. Many clients appreciate their honesty and extremely good rates for the service.
They are on call 24 hours, 7 days a week. If you're busy at a particular time, they can fit in your schedule by coming round when you're free.
Their team is trained and licensed by the Institute of Inspection Cleaning and Restoration (IICRC). They use steam cleaning to rid your carpets of dirt, dust mites, mold, and odor.
In our list so far, they're the only ones that keep their prices transparent. With these fixed rates, you'll know exactly how much you have to pay them.
As well as carpet cleaning, they handle carpet repair and couch and mattress cleaning. They can also apply Scotchgard to your existing carpets to protect them from spills, crumbs, and dander.
While they don't openly offer discounts or coupons online, they might give you a special price if you get one or more of their services.
Their service area includes Pierce, King, and Thurston Counties. They also accept major credit cards and offer free estimates online.
So for small to mid-sized carpet cleaning and flood-drying tasks, we highly recommend this company, as all their team is excellent to deal with, say their clients.
Family-run company
IICRC-certified and trained
Transparent rates
Offers 24/7 emergency extraction services
Accepts credit cards
Offers a satisfaction guarantee
Can only take small-to-medium works
Doesn't have coupon deals online
Doesn't offer commercial carpet cleaning
Customer Reviews
Most homeowners mentioned they gave affordable rates, excellent and friendly service. There's not a single complaint about them on their Google page.
One satisfied client, Karla, said this of the carpet cleaner:
"Tessa and James were wonderful, thorough and very professional. Very informative about their services and products. (Very affordable)This is the first time using their service and so far I'm extremely satisfied of the result today. I would definitely recommend them to other people to use."
And Joseph wrote this as well:
"This husband and wife couple are especially nice, friendly and easy to work with. They do a custom job based on an exactly what I'm looking for. Their quality and service is the highest. Their pricing is exceptionally good. They're the only carpet service I use, and I recommend them to my friends. I know there's other kinds of carpet cleaning processes out there, but I prefer steam cleaning and dealing with good people."
4) Genesis Carpet Cleaning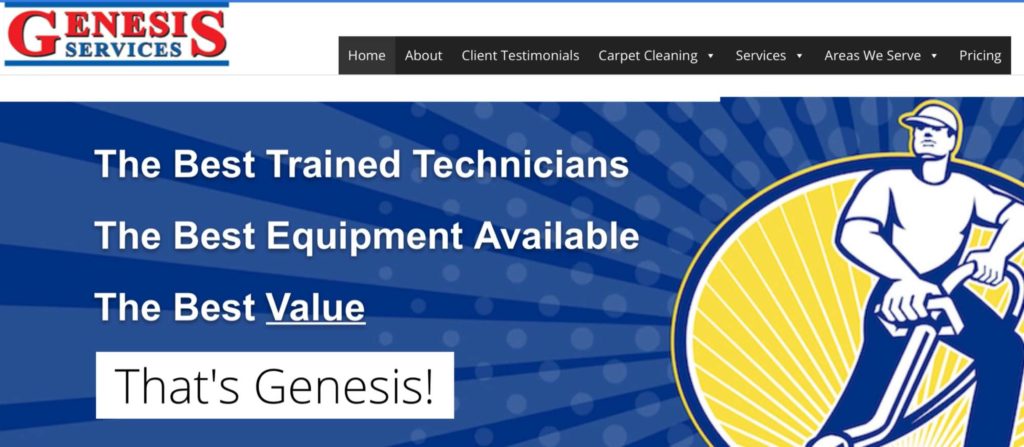 SERVICES/SCOPE
Carpet cleaning
Tile and grout cleaning
Upholstery cleaning
Duct cleaning
Water damage
PRICING
Kindly call the company for rates
WEBSITE
http://genesiscarpetcare.com
ADDRESS
11012 Canyon Rd E #8-763, Puyallup, WA 98373, USA
CONTACT DETAILS
+1 253-759-2554


[email protected]

PAYMENT
Credit cards
Genesis Carpet Cleaning is another of the leading carpet cleaners in Puyallup. It is owned by Jeff H. who is a specialist in carpet, upholstery, and duct cleaning.
Their ethos is to treat clients with respect, honesty, and fairness at all times. This shows through their work and the many satisfied clients they have.
They usually dispatch their certified team on the same day of the call. Scheduling is very easy with them whether you choose to do it online or by phone.
However, some of their web page sections have issues like their Pricing and About Us pages. But they're far from affecting them as one of the best companies around.
Equipped with a ProChem steam cleaner, their team can reach deep into your carpets' fibers and wash away the dust, dirt, and allergens present. The result is a clean and comfortable carpet for your family and pets.
Besides those we mentioned, they can also assist with unexpected water damage and grimy tile and grout. Unfortunately, they don't have carpet repair services to give your carpets a new lease on life.
Genesis Carpet Cleaning has been around since 1993. They serve all of Pierce County including Puyallup and Gig Harbor and are open from Monday to Saturday.
Same-day carpet cleaning service
IICRC-certified firm
Easy to schedule with
Free estimates over the phone
Accepts credit cards
Offers military discounts
No carpet repair services
Closed on a Sunday
Some tabs on their website aren't working
Customer Reviews
Having earned 4.9/5 stars from numerous clients, the company is reliable and professional. They also said that it was easy to get ahold of the team to set their appointment.
Here's one comment coming from a Google user:
"Genesis did a good job with the general cleaning of my carpet, but I paid extra to have the areas where my dog lays cleaned, as you can see where he lays, I guess that's worn-in dirt. Those areas looked good when the carpet was still wet, but as soon as it dried they were back. So I would not pay any extra money for the pet cleaning, but I would have them clean my carpets again. They were easy to make an appointment with, friendly, on time, and pretty quick."
Also, Gretchen shared her experience below:
"Jeff did a great job. He was able to schedule me within a few days. He cleaned all my carpets and did my chairs as well. They all look great! He even got some bad pet stains out to my relief. He's very respectful and listened and acted upon all of my requests. I'd highly recommend him and Genesis Carpet Care."
5) Rug Rescue Carpet & Upholstery Cleaning

SERVICES/SCOPE
Carpet steam cleaning
Upholstery cleaning
Air duct cleaning
Tile and grout cleaning
Pet stain and odor removal
Carpet stretching and repair
House cleaning move in/out
Roof and gutter cleaning
Pressure washing
PRICING
Carpet Cleaning

Any 3 areas: $149.99
Any 4 areas: $199.99
Any 5 areas: $249.99
Any 6 areas: $299.99
Any 7 areas: $349.99
Any 8 areas: $399.99
Any 9 areas: $449.99
Large area rug: $129.99

Carpet Repair

Carpet re-stretching: $200/area
Custom carpet repair: $200/each

Upholstery Cleaning

Loveseat or chair: $115
Sofa: $138
Sectional sofa: $253

Specialty Cleaning

Severe Pet Odor Treatment: $195/area
Red stain removal: $35

Carpet Cleaning Add-Ons

Odor encapsulating deodorizer: $40/area
Heavy-duty scrub treatment: $57
WEBSITE
http://rugrescue.us
ADDRESS
12617 164th St E Puyallup, WA 98374, USA
CONTACT DETAILS
(253) 426-5354


[email protected]

PAYMENT
Credit cards
Need carpet cleaning service before moving in or selling a house? For this, Rug Rescue Carpet & Upholstery Cleaning has got your back!
This is a locally owned company based in Puyallup. They have a proficient and licensed team that uses heavy-duty steam cleaners to clean and dry your dingy carpets and rugs.
Moreover, they also conduct pet urine and odor removal as well as carpet restretching and repair, house cleaning, tile and grout, and even roof and gutter cleaning.
In case of flood damage to your home, they can come in quick to disinfect and dry out your place, even beyond their office hours.
To date, they've impressed hundreds of customers in terms of their service quality and price. So that makes them a solid company in our list of the best carpet cleaning in Puyallup.
From their website, you can schedule a service with them. All their service rates are listed when you click the schedule button and this keeps things upfront—which is their advantage over their rivals.
After the service, you can pay their bill using a credit card online. By the way, they offer discounts for those actively serving in the military too.
The company is open from Monday through Saturday from 9.00 AM to 7.00 PM. They give a client satisfaction guarantee and service Puyallup and the adjacent areas.
Licensed team
Offers military discounts
Provides emergency flood restoration services
Accepts credit cards
Guarantees all work
Closed on a Sunday
Complaints about customer service
Customer Reviews
Rug Rescue garnered rave reviews on both Google and Facebook. Most clients noted that the team was polite, friendly, and efficient.
Also, they provide superb cleaning results. Below, find out what some people are saying about them.
Check out Amy's feedback on Facebook:
"Matt did an amazing job and also gave me pointers for spot cleaning and keeping my carpets looking new! He really went above and beyond. also the service was next day and quick! I would highly recommend this company and Matt in particular!"
Additionally, Sonny wrote this:
"Rug Recue did an amazing job. I bought a house where the previous owners had cats. After they were done, the carpets look brand new and fresh! Their rates were the best and they guarantee their service!"
FAQs about the Top Carpet Cleaning Options in Puyallup
---
And that wraps up our top options for carpet cleaning in Puyallup! As you've seen, they can brighten your carpets throughout your home at excellent rates.
Have any questions or comments about our picks? If so, kindly drop us a line and we'll get back to you as soon as we can.
Besides that, if you have gutters filled with leaves, dirt, and moss, you should have them cleaned soon. For this, you could start with our list of the best gutter cleaning in Seattle!