Our carpets take a lot of beating with daily use. It gets stepped-on with dirty shoes, spilled on with various liquids, stained, and even dirtied by our pets. Overtime, a quick run with a vacuum cleaner just won't do it anymore. As soon as you decide that it's time to ask the professionals to help you clean your carpets, here's a list of the Best Options for Carpet Cleaners in Boise that can help you narrow down your choices and make decision making easier.
1.  Zerorez
BEST FOR
4.9-rating in Google with 1,631 reviews. Carpet cleaning without the use of high-residue soaps, detergents, shampoos or chemicals.
SERVICES/SCOPE
Carpet Cleaning, Tile & Grout,Area Rug Cleaning Upholstery Cleaning,Hardwood Floor Cleaning, Air Duct Cleaning, Mattress Cleaning, Pet Odor Treatment, Granite Cleaning, Protective Coatings, Hard Surface Cleaning, MicroSeal
PRICING
Prices range from $34-85. Request for a quote via hotline
WEBSITE
https://www.zerorezboise.com/
ADDRESS
2807 South Cole Road

Boise, Idaho 83709

CONTACT
(208) 383-1000
PAYMENT
Call the hotline for more inquiries
With the availability of technology, carpet cleaning is now possible without the use of toxic chemicals. Zerorez Boise Carpet cleaning guarantees to provide you with a revolutionary cleaning technology without the use of high-residue soaps, detergents, shampoos or chemicals that can sometimes remain unnoticeable in your carpets.
Using Powered Water® technology, your carpets get cleaned and dried at a faster rate. They even provide a detailed manual on their website for after-care, maintenance and what to expect with their services.
2. Heaven's Best Carpet Cleaning

BEST FOR
5.0-rating on Google with 196 reviews. Professional stain removal and cleaning needs for carpets, upholstery and floor rugs
SERVICES/SCOPE
Carpet Re-stretching, Carpet Cleaning, Hardwood Floor Cleaning, Rug Cleaning, Tile and Grout Cleaning

Commercial Floor Cleaning, Upholstery Cleaning, Leather Cleaning, Carpet Dyeing, Marble Polishing, VCT Floor Cleaning

PRICING
Get a free estimate by filling up a from on their website
WEBSITE
https://carpetcleaningboise.com/
ADDRESS
7891 W Snohomish St., Boise, ID 83709
CONTACT
208-314-3099
PAYMENT
Online payment options. Call the hotline for more inquiries
Heaven's Best Carpet Cleaning is a family-owned business that was awarded the Super Service Award in 2017 by Angie's List. They have an impressive track record of giving quality service to every single one of their customers.
Not only do they guarantee that your carpet will be dry in one hour, they also guarantee a three-month protection against permanent stain if you purchase their fabric protector. To top it all off, they also have a 30-day No Spot Return Guarantee or else they'll clean your carpets again for free. So to avoid any more inconvenience, give them a call to book a service!
3. Allied Carpet Care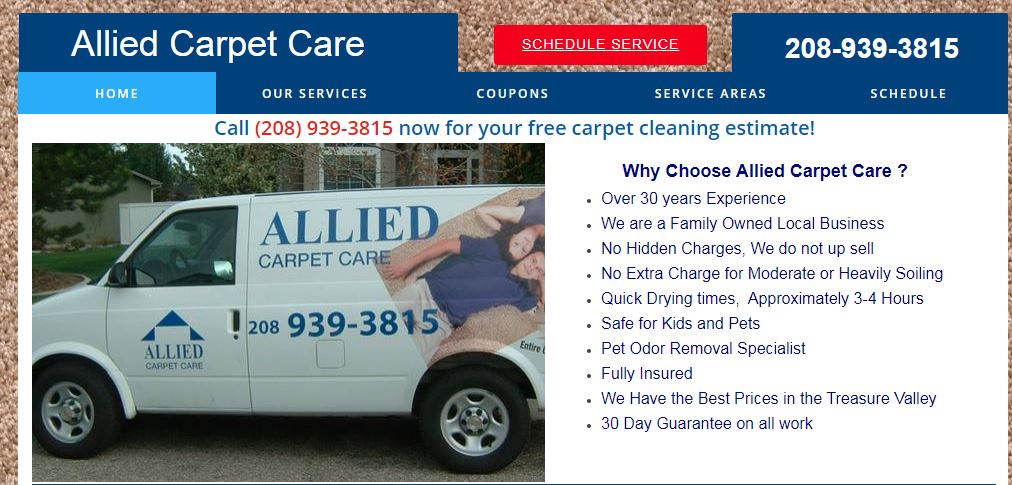 BEST FOR
4.8-rating on Google with 41 reviews; carpet cleaning services
SERVICES/SCOPE

Residential carpet cleaning
Commercial carpet cleaning
Pet and stain removal
Upholstery cleaning

PRICING
Prices start at $25. Request for a quote via hotline
WEBSITE
https://www.alliedcarpetcare.com/boise-carpet-cleaner.html
ADDRESS
10246 W Lariat Dr, Boise, ID 83714
CONTACT
208-939-3815
PAYMENT
Mastercard, Visa, Amex, Discover
Allied Carpet Care is a carpet and upholstery cleaning company located in Boise, Idaho with over 25 years of carpet and upholstery cleaning experience. Their cleaners show up at the scheduled time, and provide you the customer with the best possible carpet cleaning results. using the latest cleaning solutions. With their 5 steps cleaning process, they guarantee all of their work for 30 days.
4. Bullseye Carpet Cleaning
Are you looking for carpet cleaners that specialize on treatment and removal or pet odors and urine? Look no further because Bullseye Carpet & Upholstery Cleaning is here! Their team members are certified Odor Control Technicians with the Institute of Inspection Cleaning and Restoration which guarantees that they can remedy your carpet problems. So the next time your beloved pets get your carpets dirty, you'll know where to go.
5. Miro's Carpet Care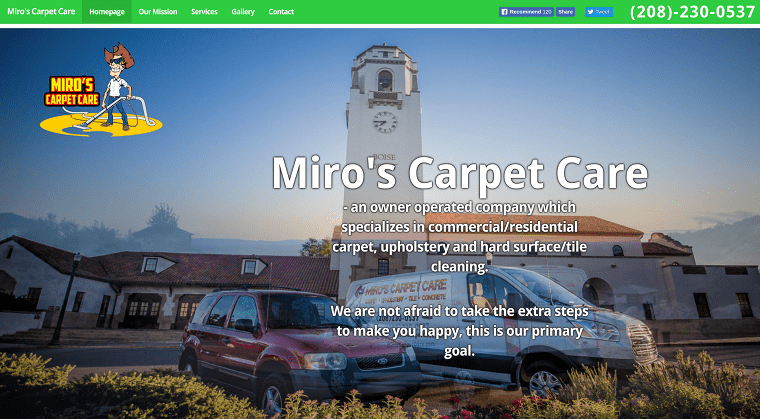 | | |
| --- | --- |
| BEST FOR | 5.0-rating on Google with 47 reviews. Specializing in commercial/residential carpet, upholstery and hard surface/tile cleaning |
| SERVICES/SCOPE | Carpet Cleaning, Odor Neutralization, Upholstery Cleaning, Hard Surfaces and Tire Cleaning, Auto/RV carpet and upholstery cleaning |
| PRICING | Request for a free quotation via hotline. Discounts available upon availing two or more services |
| WEBSITE | http://miroscarpetcare.com/ |
| ADDRESS | 9706 W Cascade St, Boise, ID 83704 |
| CONTACT | (202)-2300537 |
| PAYMENT | Call hotline for more inquiries |
Miro's Carpet Care uses an advanced truck-mounted machine to make sure your carpets are cleaned better and dry faster. Unlike its competitors, Miro's Carpet Care also recognizes that vehicle carpets and upholstery also need some care and attention every now and then.
They offer a 10% discount for military, senior citizens and students as well as extra discounts if you combine two or more of their services. So when you give them a call, make the most out of your money by availing multiple services in one go!
6. A-1 Chem Dry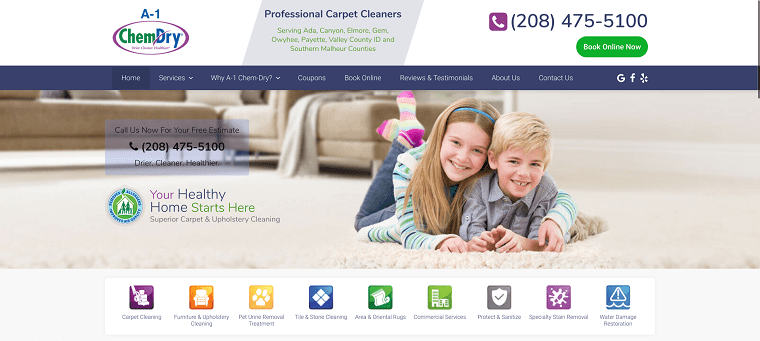 BEST FOR
4.9-rating on Google with 171 review. Uses an eco-friendly and non-toxic cleaning solution for their cleaning services
SERVICES/SCOPE
Carpet Cleaning, Furniture & Upholstery Cleaning

Pet Urine Removal Treatment, Tile & Stone Cleaning

Area & Oriental Rugs, Commercial Services, Protect & Sanitize, Specialty Stain Removal, Water Damage Restoration

PRICING
Request for a free quotation via hotline
WEBSITE
https://www.healthycleancarpet.com/
ADDRESS
909 3rd St S Nampa, ID 83651
CONTACT
(208) 475-5100
PAYMENT
Accepts all forms of payment
Chem-Dry's multiple awards makes it deserving to be on the top list of the best upholstery and carpet cleaners not just in Boise but also around the world. With more than 3,500 locations worldwide, Chem-Dry's local franchises guarantees a safe, healthy, and eco-friendly approach to cleaning your carpets and upholstery.
7. Ultimate Carpet Cleaning

| | |
| --- | --- |
| BEST FOR | 4.7-rating on Google with 70 reviews. Offers guaranty options, uses certified products on their carpet cleaning services |
| SERVICES/SCOPE | Carpet cleaning, Carpet patch/-re-stretching, Pet urine/odor removal, Boise rug cleaning/repair, Furniture cleaning, Furnace & Duct Cleaning, Dryer duct Cleaning |
| PRICING | Prices start at $129. Request for a quote via website or hotline |
| WEBSITE | https://ultimatecarpetcleaning.com/ |
| ADDRESS | 5300 W Bethel St, Boise, ID 83706 |
| CONTACT | 208-336-9858 |
| PAYMENT | Call the hotline for more inquiries |
Ultimate Carpet Cleaning gives a good pitch on why their services are the best in the city. They even offer a 7-day, 21-day, or 30-day No Fault Stay Clean Insurance in case accidental spills occur on your freshly cleaned carpets.
They have customized cleaning packages that you can browse through on their website or you can schedule an appointment online to get a free onsite evaluation or price quote. While you're there, check out their certifications that prove that you're getting quality service at your home.