Clean air isn't achieved with just your furnace or air conditioner. It's the result of regularly maintaining your house, especially its air ducts and vents, which send air from different sources in or out of the property.
So in this article, we'll list down the best options for air duct cleaning in Ottawa, inspect their costs, and answer some FAQs, so you can decide among our suggested picks with ease!
How Much Does Air Duct Cleaning Cost in Ottawa?
Instead of giving individual cleaning services, most air duct cleaners offer several packages. This allows you to choose one the best fits your HVAC or indoor air quality maintenance needs.
With one, you can have your entire duct system cleaned throughout your house, plus dryer vent cleaning or furnace cleaning. Also, note that for larger packages, disinfection is included to eliminate odours, germs, and allergens in your ductworks.
As to what can raise the service price, they include house size, ease of access, custom-designed ducts, rodents and mice, and mould and mildew growth, simply because the tradesmen will need to work harder and longer to finish the job.
Now, look below for the rates of various top-rated air duct cleaners in Ottawa. Regardless of the package, you can often get 10 vents of cleaning with extra vents costing from $5 to $14.
| | |
| --- | --- |
| Air Duct Cleaner | Price Range |
| 1Clean Air | $249 – $486+ |
| Pro Duct Solutions | $199 – $319+ |
| Ottawa Duct Cleaning | $249 – $389+ |
| Gravity Duct Cleaning Services | $349 – $549+ |
| Colair Duct Cleaning | $199 – $486+ |
The Best Air Duct Cleaning Options in Ottawa
You've now seen the rates of air duct cleaning services. And without any further ado, we give you our best air duct cleaning options in Ottawa!
1) 1Clean Air

SERVICES/SCOPE
Residential duct cleaning
Residential carpet cleaning
Commercial duct cleaning
Commercial carpet cleaning
Dryer vent cleaning
Dryer vent repair
PRICING
Air Duct Cleaning

Standard package: From $249, extra vents ($10 each)
Gold package: From $338, extra vents ($10 each)
Healthy home package: $486, extra vents ($10 each)

Carpet Cleaning

1 – 3 rooms: $139
4 rooms: $169
5 rooms: $199
6 rooms/hall: $229
Stairs only: $139
Area rug: offers phone or online estimate

Dryer Vent Cleaning

1st floor: $149
2nd floor: $179
3rd floor: $229
4th floor: $349

For more details regarding their rates, please click here
WEBSITE
https://1cleanair.ca/
ADDRESS
343 Preston St, Floor 11, Ottawa, ON K1S 1N4, Canada
CONTACT DETAILS
819-201-459


[email protected]

PAYMENT
PayPal, Mastercard, Visa, and American Express
Air ducts have to be maintained for clean and fresh air throughout your home. If you want them thoroughly and safely cleaned, then you can give 1Clean Air a ring!
The reason that you can trust them is they are experienced, insured, and accredited by the National Air Duct Cleaners Association (NADCA). Furthermore, they carry powerful tools and equipment, like brushes and vacuums, to perform the work to a very high standard.
Whether your required job is a commercial or domestic one, they are certainly up to the task.
Aside from that, they can conduct carpet and vent cleaning for a complete air quality service.
But, what sets them apart from the others is they strive to prioritize their customers. And so, they make booking appointments simple, explain clearly the cleaning process, and give a satisfaction guarantee.
And because their prices are transparent, you will know exactly how much you would need to spend. They also emphasize online that they charge no hidden fees, unlike other air duct cleaners.
With a thousand positive reviews, they have earned themselves a spot on the top list for air duct cleaning in Ottawa! And they hold an A+ rating from the BBB with no client complaints.
NADCA member
Insured up to 5M
Transparent rates
A+ BBB rating
Offers a satisfaction guarantee
Unavailable on Sundays
Doesn't take Discover credit cards
Customer Reviews
Easy to book with and great communication
"Easy to book appointments, and great communication throughout the entire process. Great service! Lionel and Sylvain were very professional. They provided pictures showing before and after of the ducts. Highly recommend this company A++" -Frank Johnson
Top-notch and careful service
"Great Duct Cleaning! We were very happy with the service 1Clean Air provided. Luc was prompt for the appointment, very pleasant and efficient. His work was top notch and was respectful as to not damage our household furnishings. I would highly recommend them." -Alexis Leveille
2) Pro Duct Solutions

SERVICES/SCOPE
Duct cleaning
Dryer vent cleaning
Furnace repair
Furnace install
Furnace maintenance
Air conditioner repair
A/C installation
Ductwork & ventilation
Hydronic heating
PRICING
Air Duct Cleaning

Basic package: $199, extra vents ($5 each)
Healthy home package: $249, extra vents ($5 each)
Dryer vent combo package: $289, extra vents ($5 each)
Complete care package: $319, extra vents ($5 each)

For more details regarding their rates, please click here
WEBSITE
https://www.productcleaningsolutions.com/
ADDRESS
385 Besserer St #41, Ottawa, ON K1N 6B6, Canada
CONTACT DETAILS
613-617-7874


[email protected]

PAYMENT
Visa, Mastercard, cash, cheque, e-transfer
Pro Duct Solutions offers residential and commercial duct cleaning, furnace installation, A/C maintenance, and more within the Greater Ottawa region.
Before starting work, they aim to know clients' goals, preferences, and limitations about the service. That way, they can productively work toward their desired results and satisfaction.
Their duct cleaning procedure involves lifting the vacuum hose to the air duct, covering the vents around the property to prevent suction loss, agitating dust and dirt residues through brush rods or other tools, before drawing all the contaminants into the vacuum machine.
Mind you, the team sets out to clean every section of the ducting system for a fantastic cleaning outcome. Then, finally, they would just clean up after themselves so that you won't have to.
However, the company has received some complaints about their work quality and customer service. They noted that the team wasn't able to rectify the fault despite their service guarantee.
But what can make up for these is their decent rates and reliable online booking system. With the latter, you can book, cancel, or reschedule your appointment without even calling them.
Also, they have 24/7 customer support in case you need anything. And, they can work on your HVAC system maintenance late at night or on weekends—making it convenient for busy people.
Convenient online booking system
Offers night and weekend duct cleanings
100% satisfaction guarantee
Competitive rates
Serves the Greater Ottawa area
Complaints about their workmanship and customer service
No special discounts or promos
Customer Reviews
Very friendly and efficient air duct cleaners
"Had our ducts cleaned today for the first time and we are SO impressed with this company. Very time efficient, very friendly, and very informative. He showed us all of the before and after pictures which just about made us fall over!! He was also extremely respectful of our home and animals. If 10/10 was great, I'd give them 100! Thank you!!!" -Candida Carmen
Excellent service and decent prices
"Excellent service. Professional and on time. Fair pricing. Had an ac problem, called and within the same day all was fixed." -Vince Salera
3) Ottawa Duct Cleaning

SERVICES/SCOPE
Residential duct cleaning
Commercial duct cleaning
Dryer duct cleaning
PRICING
Basic package: $249, extra vents ($10 each)
Healthy home package: $389, extra vents ($10 each)

For more details regarding their rates, please click here
WEBSITE
https://ottawa-duct-cleaning.net/
ADDRESS
11 Mika Street, Stittsville, ON K2S 1K8 Canada
CONTACT DETAILS
613-836-7705


[email protected]

PAYMENT
Cash, cheque, Mastercard, and Visa
Whether you want your home or office air quality to be clean and fresh, Ottawa Duct Cleaning can assist you given their expertise and considerable experience of over 30 years.
It's a family-owned business of Roger Asselin. His team is fully licensed and well-equipped with the essential tools such as power brushes, compressed air tools, and disinfectant sprays to get the job done with minimal to no disruption to your family or employees.
Their services are only a few comprising only duct cleaning and dryer vent cleaning. This is important since other clients may also need furnace cleaning and repair, air conditioner installation, or perhaps carpet cleaning.
One of their strengths lies in their bilingual staff. They can speak both French and English to make the whole process for you seamless from phone call to site cleanup.
Another is their range of payment methods, which not only include Mastercard and Visa credit cards, but also cheque, and cash. As a result, you can pay them immediately after their service without any issue.
Of course, they can give you before-and-after pictures for you to judge their workmanship. If that doesn't meet your bar or expectations, they can come back to re-clean your dryer vents or air ducts at zero cost.
The Stittsville-based company works only from Monday to Friday and serves clients in Ottawa and the surrounding areas.
Licensed team
Free inspection in 4 to 5 years
100% satisfaction guarantee
Offers services in English and French
Takes a range of payment modes
Unavailable on the weekends
Fewer services than rival companies
Doesn't take PayPal and Amex payments
Customer Reviews
Accommodating and diligent staff
"After a 2 month renovation our home was in need of a pretty good duct cleaning. The previous owners probably hadn't done it in years so it was definitely time. Ottawa Duct Cleaning showed up on time and went straight to work. The two employees who came by were friendly, hard working and happy to answer our questions as they worked. They showed us images they took before and after the job and explained what they had done once the job was complete. I would highly recommend Ottawa Duct Cleaning for all your duct cleaning needs." -Mike Luedey
Got the job done fast and efficiently
"showed up when they said they would, friendly and professional team. Very knowledgable and got the job done very fast and efficiently. Highly recommended." -Sam Bruce
4) Gravity Duct Cleaning Services

SERVICES/SCOPE
Duct cleaning
Dryer vent cleaning
Heat recovery ventilator cleaning
AC inspection, cleaning, and tune-up
Bathroom exhaust fan cleaning
PRICING
Duct Cleaning

Duct cleaning package 1: $449
Duct cleaning package 2: $479
Duct cleaning package 3: $549
Duct cleaning townhome: $349

Dryer Vent Cleaning

Ground level/basement: $129
Upper level/ladder access: $199

Other Services

Heat recovery ventilator cleaning: $79
AC coil cleaning: $79
AC safety inspection & tune-up: $149
Bathroom exhaust fan cleaning: $49
Furnace inspection & blower fan cleaning: $149
Furnace & AC inspection, tune-up, and maintenance: $179

For more details regarding their rates, please click here
WEBSITE
https://gravityductcleaning.ca/
ADDRESS
1661 Vimont Court, Orleans, ON, K4A 3M3 Canada
CONTACT DETAILS
613-863-5271


[email protected]

PAYMENT
Mastercard, Visa, Amex, debit cards, cash, cheque, and Interac
If you want a complete air duct cleaning service, including deodorization, furnace blower cleaning, and readiness check, you might want to book with Gravity Duct Cleaning Services.
According to clients, their service rates were excellent in terms of the value they got from the work. They said their friendly team took their time in cleaning the air ducts properly and left the site clean.
They have four packages of air duct cleaning for you to choose from. Their inclusions for them all are the same except for the scale of work, since they are based on the client's home size.
If you have a special need, don't hesitate to let the technicians know about it. This allows them to create a tailored cleaning plan to keep the air clean to breathe for you, your family and pets.
Speaking of, this can be achieved through their thorough cleaning by the use of high-pressure agitation, compressed air, and Hypervac equipment, as well as a natural and safe disinfectant called Benefect.
Other than duct cleaning, they can also perform AC safety inspections and maintenance, bathroom, exhaust fan cleaning, and dryer vent cleaning. Adding more services might entitle you to a special discount, and you can just ask the team about this.
While they don't offer 24/7 services, they are available from Monday to Sunday 9:00 AM to 5:00 PM. They can take several payment modes such as credit and debit cards, e-transfers, cash, and cheques.
And based on these reasons, we believe Gravity Duct Cleaning Services ranks among the top air duct cleaning services in Ottawa!
Insured technicians
BBB accredited business
Accepts Mastercard, Visa, Amex, and Interac
Offers multi-service discounts
Open seven days a week
Relatively higher rates
Doesn't take PayPal
Complaints about customer service
Customer Reviews
Highly recommend their friendly and efficient team
"Very professional and efficient team. They were in and out in under 2 hours. Very clean and very friendly. Highly recommend." – Maud Farah
Excellent service and competitive rates
"We had the ducts cleaned by Gravity and we loved the service, from start to finish. The price was very competitive and the service was excellent. Very easy to get a quote online and no surprise fees at the end. We will definitely recommend this company to friends and family." -Francine A.
5) Colair Duct Cleaning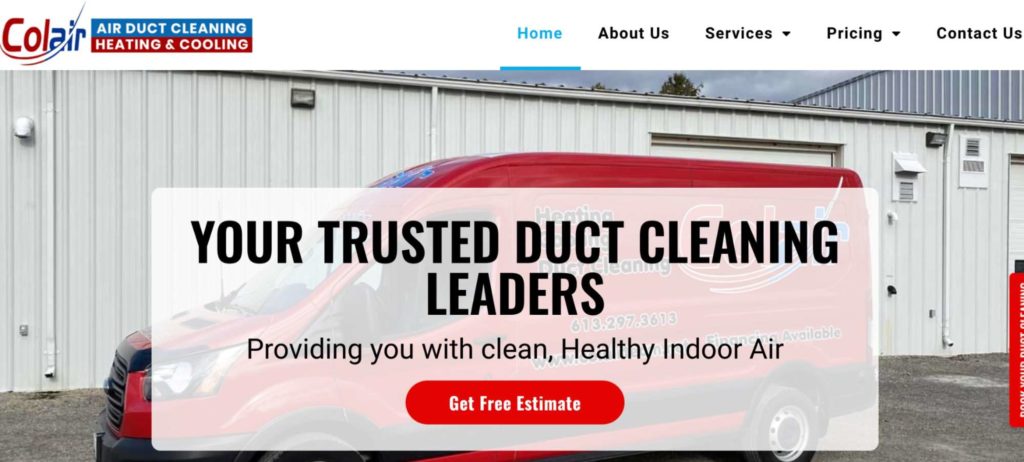 SERVICES/SCOPE
Duct Cleaning

Heating & Cooling

Central A/C system
Ductless splits
Furnaces
Garage heaters
Pool heaters
Heat pump systems

Air Purification

HRV & ERV Systems
HEPA clean air systems
UV lights
Humidifiers
Filtration cabinets

Water Heater

Hot water tanks
Hot water on demand
Boiler systems
PRICING
Standard package: From $199, extra vents ($14 each)
Gold package: From $338, extra vents ($10 each)
Healthy home package: From $486, extra vents ($10 each)

For more details regarding their rates, please click here
WEBSITE
https://colairteam.net/
ADDRESS
3473 McBean St, Ottawa, Ontario K0A 2Z0, Canada
CONTACT DETAILS
(613) 297-3613


[email protected]

PAYMENT
Visa, Mastercard, Amex, cash, Interac
Colair's certified technicians can take on a full scope of work including air duct, A/C, furnace, and water heater cleaning and maintenance, as well as air purification services.
You will mostly hear in the reviews that they are polite, professional, and friendly. What's great about them is they can accommodate last-minute calls, as well as those received on weekends and after-work hours.
They follow a complete procedure to clean your supply and return vents from all sides. It's impressive that they have heavy-duty truck-mounted machines to suck in all the dirt, dust, and debris from your air ducts from the roof to the basement.
Having a wide range of equipment like scorpion balls and air whips having 250psi means all the tough dirt will be sent to the suction vacuum. After the ducting system has been cleaned, they can proceed to clean the furnace fan and test it, and followed by sanitizing all vent lines.
Prices start affordably and before-and-after duct pictures are always provided. This is unlike other companies that wait for you to request them or don't offer them normally unless you get one of their more expensive packages.
More importantly, all work comes with an industry-leading 90-day service guarantee. This is a great deal better than a satisfaction guarantee in that the period is longer for you to ensure your air quality at home is 100% clean and hygienic—otherwise, the problem can be rectified for you promptly.
Now, if you don't know whether your air ducts need to be cleaned, they offer free phone consultation, wherein their CS representative can assist you no matter the time of the day or night.
As for their downsides, the locally owned business doesn't offer commercial duct cleaning and that disinfection is only available with their Healthy Home package, which costs higher.
And so, with certified tradesmen, quality service, and a 3-month service warranty, Colair Duct Cleaning offers some of the best air duct cleaning in Ottawa, Kingston, and the nearby areas!
Certified air duct technicians
Broad scope of services
Free consultations
Open 24/7
90-day service guarantee
No commercial services
Doesn't accept PayPal
Disinfection only included with the Healthy Home package
Customer Reviews
On-time, professional, and respectful duct cleaner
"I was very happy with our first experience with Colair Duct Cleaning. The technician Cameron was on time and very professional and respectful of my home. My house smells fresher now that all that dust and grime is gone. 100% recommend this business." -Lorie S.
Fitted the client in at the last minute
"Excellent Service! Cole went above and beyond for us, fitting us in last minute due to an urgent request and provided excellent service! Have booked him again for a second property! Definitely recommend! 🙂 Thank you Cole!" -Paola A.
FAQs about the Top Air Duct Cleaning Options in Ottawa
---
And that's all for the top options for air duct cleaning in Ottawa. If you need them, you can just give them a call or message via their website.
Have any questions or comments about them? If you have one, feel free to drop us a message and we'll be checking it out as soon as we can.
Related Articles about Air Duct Cleaning