It's no secret that a lot of homeowners don't like cleaning their own air ducts because everything can get messy too quickly. This is why a lot of them hire the services of the companies that do the best air duct cleaning in Denver.
Cleaning air ducts is also not an easy task, and if you try it by yourself, you're bound to commit some mistakes. Seeking help from the best options for air duct cleaning will make everything a whole lot easier for you!
Since we want to help you out, we've created a list featuring the options for the best air duct cleaning in Denver. Check them out below to see which one is closest to your area!
1. AirDuct Specialists
AirDuct Specialists has been helping homeowners in Denver and surrounding areas deal with their filthy air ducts and furnaces for a few years now. In fact, it's grown to be one of the most trusted cleaning service providers in the area.
Unlike other cleaning service providers, it doesn't overcharge and shock customers with expensive rates. You can ensure that the final bill will be as close to the quotation as possible.
AirDuct Specialists is certified by NADCA as well, proving that they have properly trained technicians, safe equipment, and above all, quality services.
2. Air Duct International

With more than 20 years of experience, Air Duct International has offered their services to more than thousands of homeowners in Denver, providing each one with quality services at a competitive price.
Some of the cleaning services offered by Air Duct International are carpet cleaning, air duct cleaning, UV installation, water damage restoration, mold remediation, chimney cleaning, and a whole lot more.
Oh, and you won't have to worry about your family getting exposed to harmful cleaning chemicals because Air Duct International uses only safe, environmentally friendly cleaning products.
3. Superior Air Duct Cleaning

If you're looking for a cleaning service provider with a team of experienced technicians, then look no further than the Superior Air Duct Cleaning.
It's considered one of the options for the best air duct cleaning in Denver for its competent staff and affordable rates.
Superior Air Duct Cleaning is also known for having the most advanced cleaning tools that allow its pros to clean air ducts like no other, making sure that even the corners have no remnants of dirt and mould.
4. Benjamin's Carpet and Air Duct Cleaning
Benjamin's Carpet and Air Duct Cleaning is one of the few cleaning service providers in Denver that offer emergency services, even during the wee hours of night. So, in case you find yourself in a bit of trouble, feel free to give them a call!
Besides what its name suggests, Benjamin's Carpet and Air Duct Cleaning can help when it comes to cleaning upholstery and sofas as well, all for an affordable price.
Another reason we consider it one of the best options for the best air duct cleaning in Singapore is its team of professional and skilled technicians who have years of experience under their belts.
5. Air Duct Cleaning Colorado
While Air Duct Cleaning Colorado isn't the biggest and most famous cleaning service provider in Denver, it's managed to collect a large pool of loyal clients. It comes as no surprise, as it's always been consistent in providing high-quality services to its customers
What's more, it has one of the cheapest rates for air duct cleaning in the area — which is why we consider it one of the options for the best air duct cleaning in Denver.
If you're ever curious to try out their services, don't hesitate to ring their telephone and their staff will give you a quote for free.
6. Mile High Air Duct & Carpet Cleaning
If you want the best cleaning services in Colorado, reach out to Mile High Air Duct & Carpet Cleaning!
Their owners founded Mile High Air Duct & Carpet Cleaning in 2016 because they want the best for the great people of Colorado. So, you can expect nothing short of top-notch service from them.
They have the best team of air duct cleaners around. Their professionals will help you get rid of the pollen and dust that is causing you to have impure air in your home. They can also be of service to you by ensuring a good flow of clean air around your home. So, if you suddenly discover mold around your HVAC system, do not hesitate to contact them.
7. My Dee's Decks n' Ducts
My Dee's Decks n' Ducts is here to provide you with expert services for all things residential and commercial restoration. Whether you're in need of pressure washing services, fence cleaning services, or air duct cleaning services, they've got you covered.
8.  Denver Pros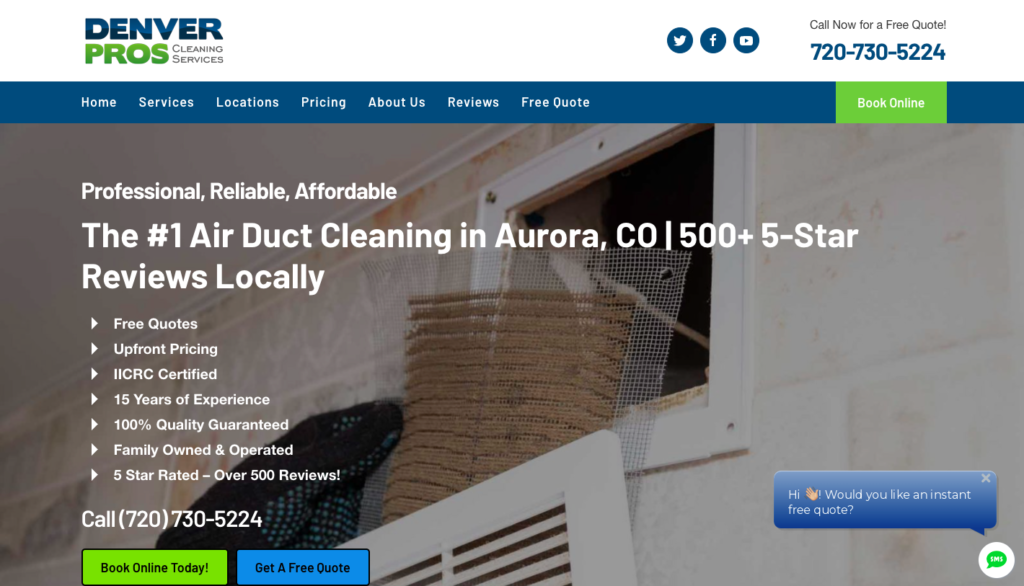 Denver Pros is a family business owned and operated by local residents of Aurora, Colorado. Although their specialty is cleaning carpets, they offer clients a wide range of other services as well.
One such service is residential and commercial air duct cleaning, for which Denver Pros is IICRC Certified with over 15 years of experience. Their skilled cleaners can help eliminate dust contaminants in your ducts to reduce the possibility of health problems for your family or employees.
Some of the ways they can help you include removing offensive odors, debris, microbial growth or pet dander. They can also inspect for any evidence of vermin and pests such as rats or insects that are causing permanent damage to your ducts.
Denver Pros offers free quotations for their services and is an option worth considering if you need professional cleaning. They provide a range of services, use safe methods, and have the experience to get the job done.