Cleaning your house with a pressure washer shouldn't be done without knowing how to use it or if it's your first time.
Since wrongly using it can damage your siding, windows, roof, garage, and other parts of your house, you have to learn the basics first before you even start.
As such, it may be better to call a professional to clean your property instead. Otherwise, you can use our beginner's guide to pressure washing your home if you plan on doing it yourself.
Now, we will start with the safety tips in using a pressure washer, followed by simple directions on power washing your home's wood, vinyl, and concrete surfaces.
Let's get going!
Safety Precautions for Using a Pressure Washer
The following are the safety precautions to take before using a pressure washer. This applies to both starting and experienced cleaners alike.
Wear eye and ear protective gear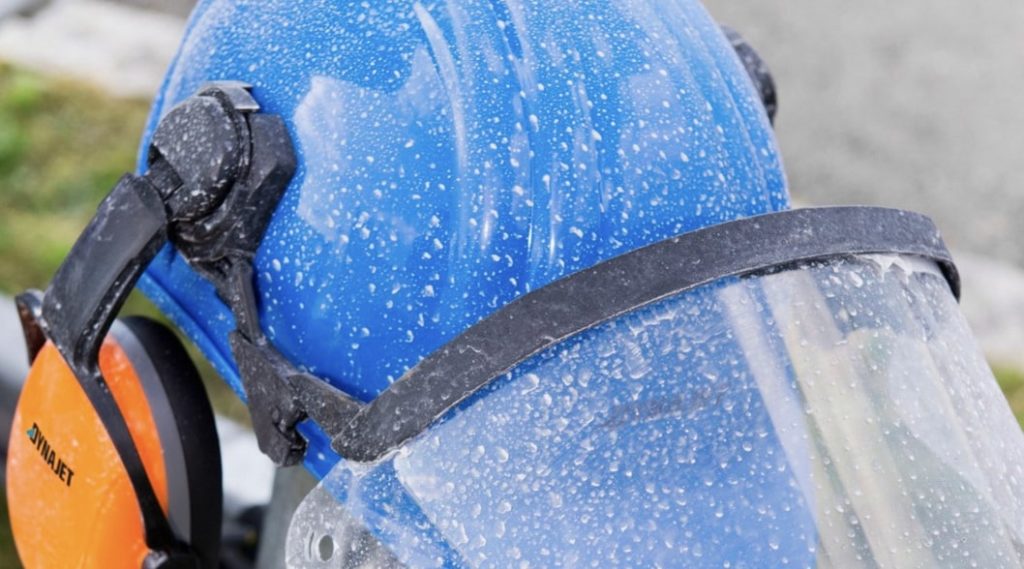 Pressure washers spray out a powerful and steady stream of water. The water can splash back into your eyes and it can be loud.
Therefore, you have to wear protective gear for your eyes and ears, such as hard hats, goggles, and earmuffs. You may be able to get them from your nearby trusted hardware store.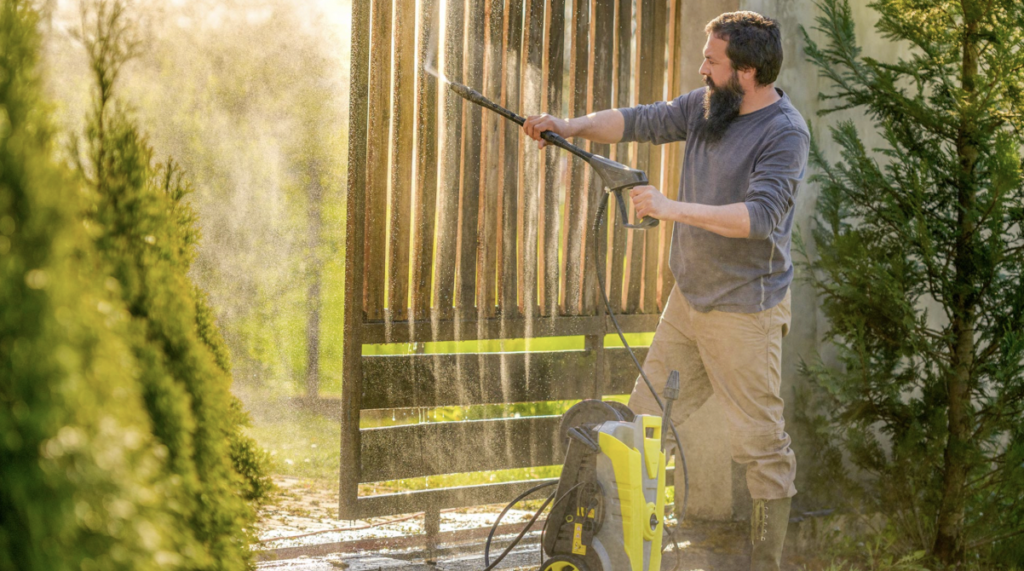 Beginners need to use two hands first in holding the pressure washer for safety. Since it gives out a strong pressure, the equipment can be accidentally dropped if it's only gripped with one hand.
You should give at least 18 inches of allowance from the washer's tip to the surface you're cleaning for your safety and to prevent damaging the wall or house component.
Set the pressure level to low first before washing so you can get the feel for it. Then, you can just adjust it based on the water cleaning strength you need for the dirty floor or wall.
When you become more familiar with the equipment and are confident you can use it safely, that's the time you can turn its dial to medium or high when you start cleaning.
How to Pressure Wash Wood
Wooden surfaces in your house include wood decks, railings, and fences. You cannot randomly use the pressure washer as it might chip or rip through the wood.
First, you'll need to get a gas or electric-powered pressure washer. We suggest renting or buying the first one as it's more powerful and will do the job a lot faster.
Next, equip it with a green nozzle sprayer that sprays at a 25° angle suitable for wood components in your property.
Aside from that, you'd need a wood sealer to safeguard the wood structures from harsh weather. This is applied after you have cleaned and let them dry.
Now, here's how you can pressure wash wood safely:
Clean while moving the pressure washer wand evenly up and down.
Don't spray for a second longer on one spot, but move from one spot to another smoothly. Because it's your first time to do it, you likely have to make a couple of passes on one spot, and that's fine as long as you don't blast out and splinter the wood.
When spraying wooden boards, don't stop at the middle part until you get to each one's top or bottom.
Also, don't start washing from the middle part of the wooden board.
Remove visible cleaning signs in your path by using overlapping strokes.
How to Pressure Wash Vinyl Siding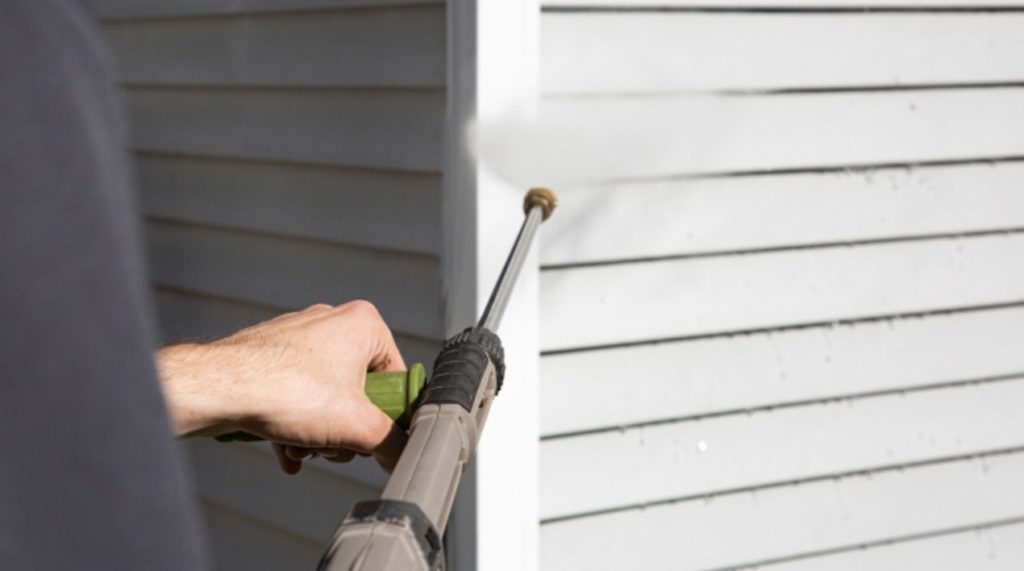 Just like with wood surfaces, vinyl siding also requires a different approach and washing method.
For this, you'll also need a gas-powered pressure washer, a green-tipped nozzle, or a white-tipped one that pumps out water at a 40° angle. This angle is more fit for cleaning windows and siding.
Additionally, you would need a soap nozzle, an exterior house cleaning solution, and a long-handled brush.
Now, before you start washing the siding, you have to repair any cracks, peels, and holes that can take in water. Note that vinyl is susceptible to mold and mildew, both of which thrive in moist conditions.
After that, here's how you can pressure wash your vinyl siding:
Equip the soap nozzle to the wand of the pressure washer and pour the soap into the washer's detergent tank.
Apply soap to the dirty vinyl siding. However, keep in mind that you may need to do some pre-scrubbing or cleaning to loosen stubborn dirt or fungi.
Afterwards, change to the white or green nozzle. This lets out a stronger water pressure to clear away the soap along with the tough dirt and debris on your vinyl siding.
How to Pressure Wash Concrete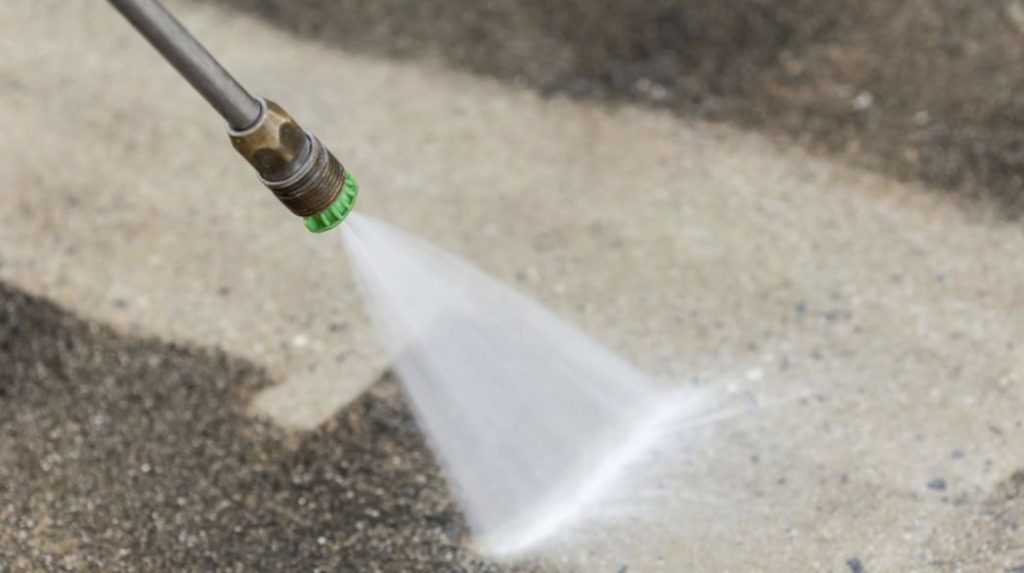 It's incredibly easy to spot mold and stains on concrete flooring like your patio, walkway, driveway, and garden.
But not for dirt, as your house exterior may look clean, but it could actually be very dirty. Especially if you haven't cleaned it for a long while and having withstood varying outside elements.
As for the supplies required for washing the concrete ground, you'd need a powerful pressure washer, a yellow-tipped nozzle spraying at 15°, a concrete cleaning mixture, a stiff-bristled brush, and a concrete sealer.
Don't forget to wear protective gear for pressure cleaning concrete. The reason is the powerful jet of water can loosen concrete pieces and cause them to fly out in your way, so take extra care when doing it.
Let's now go to what you have to do to pressure wash concrete surfaces:
Do some sweeping and scrubbing first to get rid of the surface mess on the concrete.
If you find any motor or fluid stains on your driveway, pre-treat, scrub, and clean them using a concrete solution.
Attach the narrow cleaning nozzle to your pressure washing tip. This unleashes a very powerful and high-pressure stream of water.
If it can't thoroughly clean stained areas, add soap to your detergent reservoir, and then rinse the concrete again.
Other Pressure Washing Resources