House cleaning is not a simple one-go-all-done activity. It's a bit complex with many small things to be done either now or soon to keep the entire area spotless.
Rather than cleaning randomly, having a clear goal in mind may make you more efficient. That is why we created a complete house cleaning checklist here for you.
By printing and using this checklist, you won't miss cleaning the important places or aspects of your home. And soon, you'll be able to incorporate them into your daily routine automatically.
But first, you should know how to clean correctly in order.
How to Clean Correctly in Order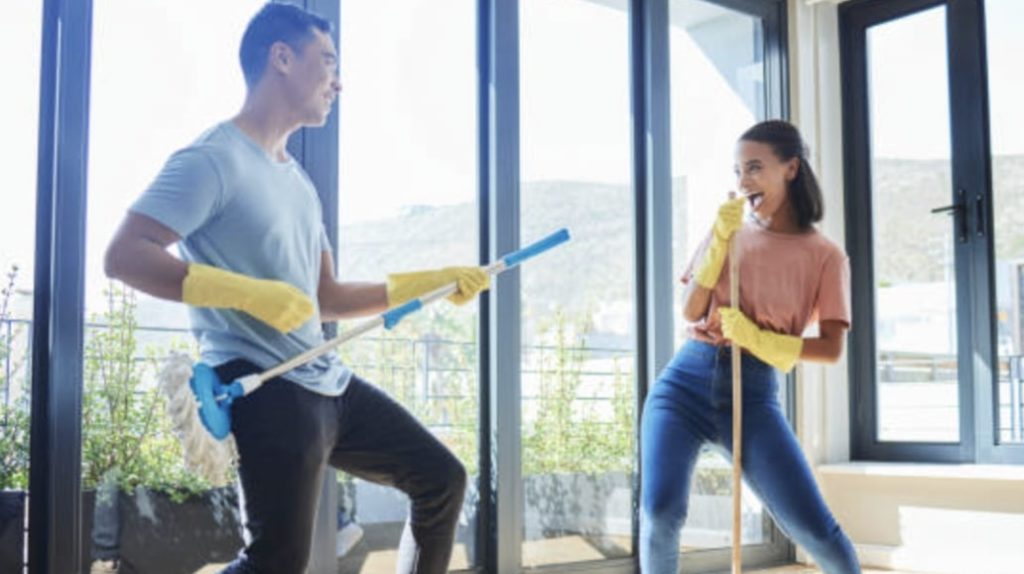 A lot of people try to take the short route toward the goal. For instance, they vacuum before dusting their belongings and furniture or immediately mop the floor without having swept it first.
More often than not, doing them won't be efficient because it would only defeat the purpose of cleaning your house.
Doing this, instead of making the house cleaner, you unintentionally make it dirtier, and so you only waste your time and effort. But here's the proper way to clean your house or room in order:
1) Inspect and sort your belongings
Before any cleaning is done, examine your belongings throughout the room. There can be clutter: those that you won't use anymore, want to donate or recycle, or throw away.
Sort them out, proceed to keep those you will use or give to friends and family, and dispose of what you don't need.
This is the smart way of doing it simply because the less clutter you have, the less cleaning you will do.
2) Dust the room
Having sorted out the clutter, you can start dusting the room using a dry cloth, duster, or small broom and dustpan.
Go at the dust-exposed parts of books and floating shelves. Brush off the dirt and dust with a cloth, and wipe the moisture on your decor items and figurines one by one.
3) Vacuum the room
After dusting is just the right time to vacuum the room. The reason is that dusting sends off dust in the air, which you can vacuum along with those that have fallen to the ground.
Vacuum the dust, crumbs, pet hair, or other small particles off your hardwood, laminate, or tile floor. Also, using the upholstery attachment, do the same for your living room sofa and carpets.
Alternatively, you can sweep the place you're at. Note that vacuuming and sweeping have the same end goal in mind, though the former is a lot more versatile.
4) Mop the floor
Especially if an area gets a lot of foot traffic, mop the floor to take out grimy and muddy footprints.
Start from the furthest side of the room and finish at the entrance to keep from transferring dirt from outside. Then, rinse the mop every time you have cleaned a 16-square-foot area.
5) Sanitize or disinfect the room
Afterward, pour disinfectant on a different cleaning cloth (but not too much) and wipe the light switches, door knobs, and tables—which the household often uses.
But don't do this on wooden tables, as it can cause them to be damaged and discolored. Use a dry cloth, and you may decide to polish it to make it lustrous and prolong its lifespan too.
You can also use an air cleaner or vaporizer to sanitize the entire room. This is particularly effective to combat viruses and bacteria, especially if you or your family go out a lot.
Home Cleaning Checklist
With that in mind, here is our full checklist for cleaning different areas of your house thoroughly:
Kitchen
Clean the countertops
Clean the stove
Clean the oven
Clean the microwave
Clean the dishwasher
Clean the refrigerator
Wipe the shelves and drawers in the fridge
Clean the fridge seal
Dust top surfaces of the fridge, rangehood, and microwave
Dust off the floor mats
Pour hot water on the kitchen drain to loosen oil or food debris
Wipe the walls and baseboards
Mop floors
Bathroom
Remove expired grooming and cosmetic products and medications
Clean the mirror
Clean the shower and bathtub
Clean the showerhead
Remove the tile grout
Clean the walls and floors
Clean the vanity
Clean the toilet
Replace the shower curtains
Mop the floor
Dining Room
Clean the table
Arrange the food, fruits, and snack items
Wipe the furniture with a natural cleaning solution
Dust blinds
Dust the curtains and curtain rod
Clean the windowsills
Wash the windows
Clean the ceiling fan
Shampoo the rugs or carpet
Launder the table sheets
Wipe the walls
Wipe the baseboards
Bedrooms
Throw away unneeded things
Tidy up your things
Organize the closet
Vacuum the bed
Vacuum the floor
Replace and wash the bedding (including pillow and bedsheets, duvets, and blankets)
Clean the air-conditioning frame
Remove mold and mildew on the walls
Clean the carpet
Dust blinds
Dust the curtains and curtain rod
Clean the table
Sweep under the bed and other nooks and crannies
Flip the mattress to prevent it from sinking in one spot
Living Room
Dust and polish the furniture
Dust and clean decor items
Vacuum the carpet
Clean the TV
Use the dehumidifier to purify the air
Sweep the floor
Dust and clean the lampshades
Dust blinds
Dust the curtains and curtain rod
Clean the windowsills
Wash the windows
Clean or wash the throw pillows and blanket
Laundry Room
Clean the washing machine
Clean the dryer vent
Clean the lint trap
Mop the floor
Organize laundry supplies
Wipe the walls
Wipe the baseboards
Entrance
Sweep the floor
Dust the floormat
Clean the door
Wipe the baseboards
Wipe the walls
Organize shoes
Hang hats, jackets, and coats
Garage
Sort tools, spare parts, and sports equipment
Sweep or mop the floor
Wipe down the walls
Clean the garage door or frame (be careful when doing this)
Replace garage door batteries
Open up the windows and garage door for ventilation
Clean the windows
Throughout the house
Call a gutter cleaning pro to pick up leaves and debris on the gutters
Hire an air duct cleaner to keep your indoor air clean
Clean light fixtures
Clean air-conditioning filters
Replace flickering light bulbs
Sanitize light switches
Sanitize door handles
Tidy up the backyard or garden
More Cleaning Resources