Carpets and rugs in any area easily accumulate dirt, debris, and pet fur. This doesn't only make them look shabby, but they also affect the indoor air quality and thus, everyone's health.
It's essential to have them cleaned at least once a year, or more, depending on their cleanliness and condition. The service may include disinfecting and sanitizing them to stop bacteria from spreading.
And so, we collated a list of the best carpet cleaners in Charleston, SC, here for you! We carefully picked them using certain factors as you will see later.
How much does carpet cleaning cost in Charleston?
According to Home You, a home improvement pro finder site, carpet cleaning in Charleston costs from $91 to $319.
Companies that use a patented carpet cleaning system (like Chem-Dry or Zerorez) and supplies charge higher than those that use standard steam cleaning.
Now, carpet cleaning can be priced per room or per full house. The factors that can affect the price are carpet type and size as well as stain severity since the work may be harder to do and require the use of a special cleaner and equipment.
The Best Options for Carpet Cleaning in Charleston
Below are the criteria we used before deciding to feature these carpet cleaners. Each company will be rated on each criterion.
1. Citrus Fresh Carpet & Rug Cleaning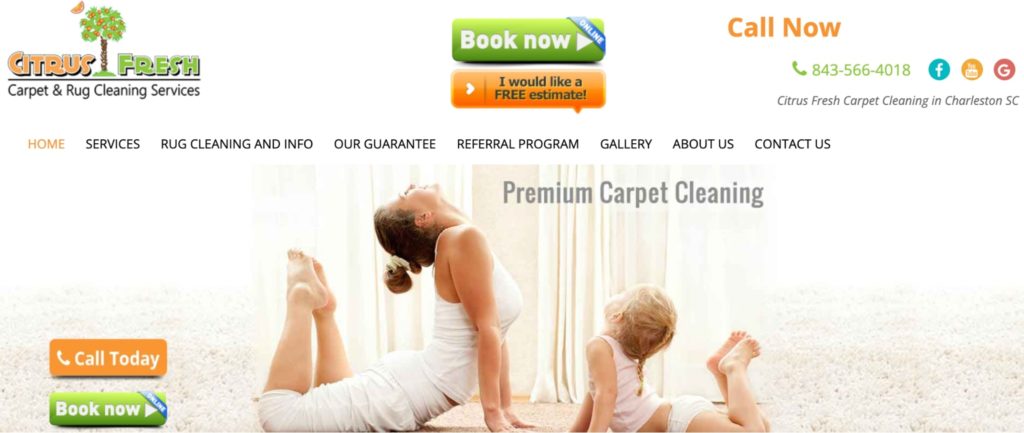 SERVICES
Carpet cleaning
Upholstery cleaning
Oriental & area rug cleaning
Stain protector
Permanent fabric protector
Tile & grout cleaning
Pet stains & odor removal
WEBSITE
https://www.gocitrusnow.com/
ADDRESS
547 Long Point Rd. Suite 108, Mount Pleasant, SC 29464, USA
CONTACT DETAILS
(843) 566-4018


[email protected]

OPERATING HOURS
Monday – Friday: 7:00 AM – 5:00 PM
Saturday – Sunday: Closed
| Criteria | Score |
| --- | --- |
| Cleaner skill | ★★★★☆ (4/5) |
| Professionalism | ★★★★☆ (4/5) |
| Ease of Booking | ★★★★☆ (4/5) |
| Responsiveness | ★★★★★ (5/5) |
| Pricing | ★★★★☆ (4/5) |
Citrus Fresh Carpet & Rug Cleaning is impressively leading the carpet cleaning industry with its state-of-the-art facility and equipment that other companies don't have.
In their facility, they have a dedicated open space for cleaning rugs and carpets. The area is surrounded by heavy-duty brush equipment, a drying machine, and grilled drains on the side to catch used water.
The company is owned and operated by a US Navy veteran Greg Broome and his wife, Mary. Together, they have garnered more than a decade of experience in carpet and rug cleaning.
It is licensed, bonded, and insured for your utmost peace of mind. Worth mentioning is the fact that they're a WoolSafe-approved provider and Textile Pro-accredited, so you can trust them.
Concerning carpet cleaning, you can choose between classic steam and low moisture cleaning methods. Steam cleaning is ideal if you want to deep-clean your carpet, whereas low-moisture mode is great for light cleaning with quick drying times.
Furthermore, they have eco-friendly and safe cleaning products for your carpets. These are important since they will foster a healthier home as well as reduce the impact on the marine ecosystem.
Also, the carpet cleaner uniquely offers a pickup and drop-off service. Consequently, cleaning your carpets or rugs becomes a lot easier and more convenient.
And if ever you're not pleased with their work, their satisfaction guarantee means you can get the team to come back to correct the service fault at no additional price whatsoever.
While most of the customers had a splendid experience with them, very few people complained about the cleaning results and their customer service.
All in all, we confidently recommend Citrus Fresh Carpet and Rug Cleaning to you owing to their work ethic, professional equipment, and great customer service.
Licensed and insured carpet cleaners

Provides pick-up and drop-off service

Steam and low-moisture cleaning available

Offers a satisfaction guarantee

Gives discount coupons
Closed on weekends
Complaints about the cleaning results and customer service
Customer Reviews
Great carpet cleaning job
"Great job getting my carpets cleaned, also took my jute rug back to clean in the warehouse. House smells like citrus hours after service. Very pleased with timely manner to fit us in their schedule over the holidays ." -Tiffany Knight
Always on time, efficient, and friendly
"Have had Citrus Fresh clean my carpet several times. Always respectful about being on time, do a great cleaning (pets) and staff are efficient and friendly." -Carol Levine
2. Chem-Dry

SERVICES
Carpet cleaning
Rug cleaning
Upholstery cleaning
Tile & grout cleaning
Pet stain removal
Commercial cleaning
Dryer vent cleaning
Wood floor cleaning
Sanitizing service
WEBSITE
https://www.chemdryofcharleston.com/
ADDRESS
1038 Jenkins Road, Charleston, SC 29407, USA
CONTACT DETAILS
(843) 766-0052


[email protected]

OPERATING HOURS
Monday – Friday: 8:00 AM – 5:00 PM
Saturday: 8:00 AM – 3:00 PM
Sunday: Closed
| Criteria | Score |
| --- | --- |
| Cleaner skill | ★★★★☆ (4/5) |
| Professionalism | ★★★★★ (5/5) |
| Ease of Booking | ★★★★★ (5/5) |
| Responsiveness | ★★★★☆ (4/5) |
| Pricing | ★★★☆☆ (3/5) |
If you have been getting your carpets cleaned regularly, you may be familiar with Chem-Dry. It has many branches all over the States, making it sort of a household name.
What's special about them is they use carbonated carpet cleaning. Simply put, it uses bubbles that break up and then lift the dirt and grime to the surface of the fabric to clean it—similar to the effects of using soda along with water and detergent to remove clothing stains and odors.
In addition, this process doesn't make use of soap or any strong chemicals that will damage your clothes. And, as opposed to steam cleaning, it uses significantly less water, allowing your carpet to dry a great deal faster within just one to two hours!
Its downside? It's a bit pricey, especially if you have many carpets at home to wash. Not to mention that some clients weren't very happy with the results, as some grime and stains remained.
However, they have special deals if you avail of their whole-house carpet cleaning. But, then again, if you have only a few carpeted rooms in the house, you won't be able to use them.
Chem-Dry caters to homes and workplaces and is open from Monday to Saturday from 8:00 AM. To get an accurate estimate from them, simply give them a call or chat with them online.
Certified carpet cleaners

Carbonated carpet cleaning

Speedy drying times (one to two hours)

Easy-to-book with online

Gives discount coupons
Rather expensive service
Closed on a Sunday
Customer Reviews
Communicative and punctual carpet cleaners
"My experience was great with Chem-Dry! They were communicative, punctual, and very sweet. The gentlemen that did my living room and dining room were very professional. They even gave us little booties to use while the carpet was drying. Will definitely be using them again for our den! Great service!!!" -Kelsey Kaufman
Excellent customer service
"My technician's name is was Frank and he called ahead and arrived her. Excellent customer service. He came with a mask and gloves. He went over everything with me and he did a great job." – Zelda Rouse
3. American Pure Clean LLC

SERVICES
Home pressure washing
Roof washing
​​Driveway & sidewalk washing
Carpet cleaning
Carpet protector & deodorizer
Upholstery cleaning
Tile & grout
WEBSITE
https://americanpurecleanllc.com/
ADDRESS
2547 N Castle Ln, Charleston, SC 29414, USA
CONTACT DETAILS
+1 843-991-7388


[email protected]

OPERATING HOURS
Open 24 hours
| Criteria | Score |
| --- | --- |
| Cleaner skill | ★★★★★ (5/5) |
| Professionalism | ★★★★★ (5/5) |
| Ease of Booking | ★★★★☆ (4/5) |
| Responsiveness | ★★★★★ (5/5) |
| Pricing | ★★★★☆ (4/5) |
American Pure Clean is a local and preferred company that specializes in carpet cleaning, upholstery cleaning, and exterior soft washing.
It's composed of highly trained and knowledgeable technicians. Of course, they're also certified and insured to implement top-notch cleaning work on your carpets and home.
Spots and stains can be removed expertly by them, as many customers can attest. Plus, no harmful products are used to mar your carpet or upholstery's texture and color.
Aside from that, they provide a carpet protector and deodorizer service. This will protect your carpets from spills and dirt while removing their unpleasant odors.
In every appointment, they arrive punctually, treat the clients and their homes with respect, and provide a detailed explanation of the entire carpet cleaning or service process, so you're in the know with them.
Unlike other companies, it is said that they charge very reasonable prices. Although there aren't any coupons displayed on their website, you can ask the staff about them or check their Facebook page.
Another thing that sets them apart from the competition is they're open round the clock. That means you can call them in early mornings or late evenings—whenever you need them.
To make calling them worth it, you can pair your carpet cleanings with their home pressure washing services. That'll certainly leave your house clean and inviting inside and out.
Licensed and insured carpet cleaners

Specializes in pressure washing too

Fair prices

Open 24 hours

Offers discounts on Facebook
Relatively fewer service offerings
No coupons on their website
Customer Reviews
Nice and respectful carpet staff
"Ryan did an amazing job on our carpets! Communication was great and he was able to come early. He was very nice and respectful. He even got all the slime off the floor in my daughter bedroom which was surprising. We will definitely be using them in the future." -Aimee Mabie
Very reasonable price
"Ryan arrived on time, was friendly and answered all of my questions. He did a fantastic job on the carpets, including a couple of tough stains. Price was very reasonable and the whole transaction was easy and pleasant. Would definitely use them again!" – Luke Walchuk
4. Zerorez

SERVICES
Carpet cleaning
Tile & stone cleaning
Upholstery cleaning
Area rug cleaning
Hardwood floor cleaning
Pet odor treatment
Air duct cleaning
WEBSITE
https://www.zerorezcharleston.com/
ADDRESS
5513 Rivers Ave North Charleston, SC 29406, USA
CONTACT DETAILS
+1 843-352-7545


[email protected]

OPERATING HOURS
Monday – Friday: 8:00 AM – 5:00 PM
Saturday: 8:00 AM – 12:00 PM
Sunday: Closed
| Criteria | Score |
| --- | --- |
| Cleaner skill | ★★★★★ (5/5) |
| Professionalism | ★★★☆☆ (3/5) |
| Ease of Booking | ★★★★★ (5/5) |
| Responsiveness | ★★★☆☆ (3/5) |
| Pricing | ★★★☆☆ (3/5) |
Carpet cleaners have been devising ways to make carpets spotless efficiently and in turn, raise client satisfaction. Among this group are the companies Chem-Dry, Citrus Fresh, and this time, Zerorez.
Zerorez is named after its patented carpet cleaning method, which has been approved by the Carpet and Rug Institute (CRI) and proven to perform well above expectations by a third-party lab test.
Basically, this method uses a natural and gentle soap that's safe for the whole family, including pets and kids. Called Zr Clean, it is released through six high-efficient jets on the apparatus that go deep into the carpet pile to loosen the trapped dirt.
Afterward, the machine's wand will dry and suck the particles up, including the soils, soap, and debris. The result is a newly refreshed carpet that isn't soaked, so it can also dry within just hours, instead of days.
Zerorez is so proud of their carpet cleaning technology that they offer a satisfaction guarantee. If you aren't content with the cleaning service, then the next service will be free because technically, they'll re-do it for you.
Contacting them to schedule a job is easy peasy too. Just fill in the details online, and soon thereafter, you'll receive a text from them.
Besides carpet cleaning, they also offer oriental rug cleaning, upholstery cleaning, pet odor removal, tile and grout cleaning, and air duct cleaning, making them a reliable service provider.
Now, on to their drawbacks: Some clients were dissatisfied with the total price and failure to come within the expected time window. Also, they're closed on Sundays, so those who are only free on the weekends may find it hard to schedule them.
Uses the Zerorez cleaning system

Fast-drying process

Quick online contact

Offers a satisfaction guarantee
Expensive rates
Complaints about customer service
Doesn't seem to offer discounts
Closed on Sundays
Customer Reviews
Impressive carpet cleaning service
"Our first time using Zerorez and it went great! Very impressed with their service and they cleaned all our dining room chairs that other companies would never touch and they were a mess and now look brand new! Carpet cleaning was also done and we were very impressed plus We were educated on so many things which this company can help us with in our home!" -Jennifer Mallin
Professional and polite carpet techs
"I was referred to zerorez by a friend as I couldn't find a good carpet cleaner. I am so happy with the outstanding job & results today. Two young men arrived who were professional and polite and hot down to business quickly. I can't say enough good things about the quality of the device and their employees. Thank you!" -Janice Georgallas
5. Oxi Fresh Carpet Cleaning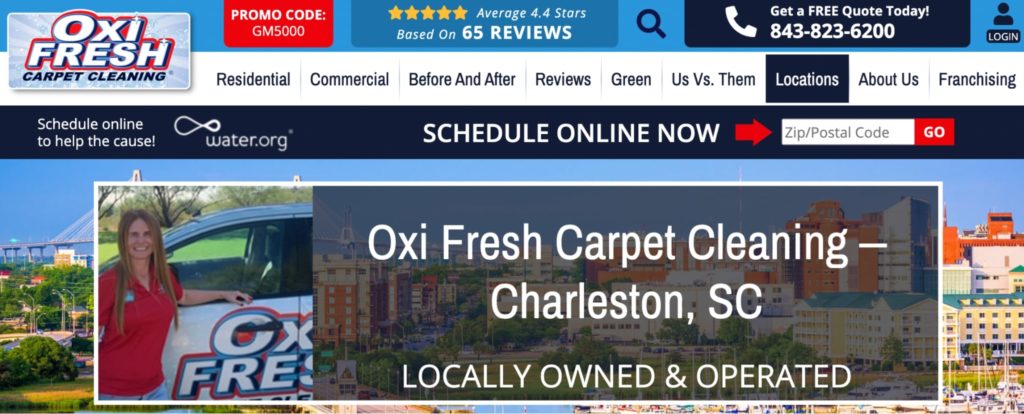 SERVICES
Residential carpet cleaning
Commercial carpet cleaning
Hardwood floor cleaning
Steam cleaning
Tile and grout cleaning
Upholstery cleaning
WEBSITE
https://www.oxifresh.com/locations/sc/charleston-carpet-cleaning/
ADDRESS
Charleston, SC 29407, USA
CONTACT DETAILS
843-823-6200
OPERATING HOURS
Monday – Friday: 8:00 AM – 9:00 PM
Saturday: 9:00 AM – 8:00 PM
Sunday: Closed
| Criteria | Score |
| --- | --- |
| Cleaner skill | ★★★★☆ (4/5) |
| Professionalism | ★★★★☆ (4/5) |
| Ease of Booking | ★★★★★ (5/5) |
| Responsiveness | ★★★★☆ (4/5) |
| Pricing | ★★★★☆ (4/5) |
Oxi Fresh is a franchise home and business carpet cleaner that uses a low-water cleaning system. Its Charleston branch is run by owners John and Paige O'Dowd.
Its selling point is it practices green carpet, rug, and upholstery cleaning. This they do by using considerably less water and energy-efficient machines.
Similar to the method used by the companies above, the drying time is sped up to only an hour. Before long, you can resume your activities and hang out with your family or buddies at home.
What's more, the cleaning solution they use is completely pet-friendly and safe. You need not worry, therefore, about getting them to clean your carpet, upholstery, tiles, and/or flooring if you have furry friends at home.
Oxi Fresh Charleston received only a couple of negative ratings from clients. But many of them said they restored their carpets to a like-new state and that they responded quickly.
They have a hassle-free online booking wherein you just need to input your zip code. You can then see their pricing and promos, and their website tool will instantly calculate a rough service estimate.
Also, they have a seven-day redo policy, so just in case, your carpets weren't cleaned according to your expectations, you're safe because they can make things right.
Low-water cleaning system

Practices sustainability

Simple online booking

Gives discount coupons

Has a seven-day redo policy
Closed on Sundays
Complaints about carpet cleaning and customer service
Customer Reviews
Performed an amazing job on our carpets
"Levi was very professional and did an amazing job on our carpets! We have 3 large dogs so we have found it very difficult to find a carpet company that can handle our carpet cleans. We will definitely be regular customers from here on out. Thanks!" – Sarah Cox
Early, polite, and professional carpet cleaner
"Brandon was on time, polite and professional. He did a fantastic job on my carpet. You could tell he takes pride in his work. my carpet wasn't soak and wet when he left like other companies have done. I will definitely use them again." – Nancy Lemois
FAQs about the Top Carpet Cleaners in Charleston
---
And there you have it, our list of the best carpet cleaners in Charleston. If it's been a while since your carpet was cleaned, you can get in touch with one of these companies.
Have any questions or comments about our list? Don't hesitate to drop us a line.
Cleaning Resources