Without regular maintenance, air ducts are bound to be totally covered in dust and dirt. And worse, they can be infested with harmful mold and mildew or pests and parasites.
This makes the channeled air dirty and unconducive to the health and well-being of everyone in the house, including your fur babies.
And so, calling an air duct pro is essential to render the vents clean and safe. Look through our list of the best air duct cleaning in Fort Worth to know which one to get.
How much does air duct cleaning in Fort Worth cost?
Air duct cleaning depends on the size of your house and the structure of your duct system. Some larger homes even have two air conditioner duct systems under one roof.
Now, air duct cleaning for smaller homes tends to cost somewhere between $150 and $350, while it's much more expensive for bigger homes, which typically costs from $700 to $800.
To lower your bill, we suggest visiting the website of your preferred contractor and checking their special offers or discount page first.
Leading Air Duct Cleaners in Fort Worth
In choosing these air duct cleaning companies, we considered different aspects of their service to be certain they are the best of the best. These are the following:
By the way, you can see our scores for these criteria as you explore each company below. And without any further ado, here are the leading air duct specialists in Fort Worth!
1. United Home Services

SERVICES
AC installation & repair
Air duct cleaning & repair
Home insulation installation
Dryer vent cleaning & repair
Chimney sweeping & repair
Roof installation & repair

WEBSITE
https://unitedhomeservices.com/
ADDRESS
5501 Alliance Gateway Fwy, Fort Worth, TX 76177 USA
CONTACT DETAILS
(866) 848-2073


[email protected]

OPERATING HOURS
Available 24/7
| Criteria | Score |
| --- | --- |
| Work quality | ★★★★☆ (4/5) |
| Service offerings | ★★★★☆ (4/5) |
| Customer service | ★★★☆☆ (3/5) |
| Availability | ★★★★★ (5/5) |
| Price | ★★★★☆ (4/5) |
Certified by governing HVAC groups, the US Environmental Protection Agency (EPA) and the National Air Duct Cleaners Association (NADCA), United Home Services should be on the top of your list when looking for a reputable air duct cleaner!
They have over 20 years of experience and have conducted work for diverse homes. Furthermore, they have full insurance which covers the costs of accidental damages or injuries, should they occur.
We like that they offer a complete range of home and indoor air services—namely, air duct cleaning and repair, chimney sweeping, dryer vent cleaning, home insulation installation, and roofing services.
With this, you can just rely on a single company for one or more of these needs and get a better deal too. And you wouldn't have to schedule for another time and wait for the other company to get back to you.
Many clients can attest that their team is professional, knowledgeable, and friendly. They come in at the appointed time, explain the matter, and perform the job efficiently and thoroughly.
However, they received a few complaints on Facebook regarding their inconsistent pricing and poor service quality. Fortunately, they offer a satisfaction guarantee wherein they can fix the issue that comes up after the initial work.
Also, it's a bonus that you can contact and get them to service your air vent 24 hours a day, unlike other contractors. And in case you have a question or concern about their service, feel free to call or chat with them online.
EPA and NADCA-certified technicians

Carries full insurance

Has live chat support

Guaranteed client satisfaction

24-hour on-call service

Gives special offers
Complaints about their price and service
Payment methods aren't indicated online
Customer Reviews
Fast, efficient, and knowledgeable workers
"I am beyond happy with the quality of service from the inquiry response to Eli our tech. Thank you Eli, you were fast, efficient, and knowledgeable. You are a great credit to United Home Services and the face of true customer service. I will have my fire for Christmas!!" -Saunya O.
Excellent air duct cleaning job
"United Home Services did an excellent job cleaning our chimney and air duct. Their crews were very professional and knowledgeable. They were very thorough and were able to finish at the expected time. Our family is very satisfied with their service quality. David is very professional for the chimney and air duct cleaning." -Jessica Hayes
2. Clean-N-Dry

SERVICES
Commercial carpet cleaning
Air duct cleaning
Upholstery cleaning
Residential carpet cleaning
Dryer vent cleaning

WEBSITE
https://clean-n-dryservices.com/
ADDRESS
6521 Cahoba Drive, Fort Worth, TX 76135 USA
CONTACT DETAILS
817-367-6100
OPERATING HOURS
Monday – Saturday: 7:00 AM – 8:00 PM
Sunday: 9:00 AM – 5:00 PM
| Criteria | Score |
| --- | --- |
| Work quality | ★★★★☆ (4/5) |
| Service offerings | ★★★★☆ (4/5) |
| Customer service | ★★★★☆ (4/5) |
| Availability | ★★★★☆ (4/5) |
| Price | ★★★★☆ (4/5) |
Clean-N-Dry Cleaning Services was formed by Nick Dear in 1992. It prides itself on its great customer service and having clients like professional athletes, famous TV personalities, and wealthy businessmen.
Hearing what their customers think about them, their pride is not without substance, and they've earned it. A lot of their customers rated them highly and said that they were excellent and honest to work with.
Their list of services includes air duct cleaning, dryer vent cleaning, carpet cleaning, and upholstery cleaning for residential and commercial sectors. Having said that, it might be nice for some people if they also had chimney sweeping and insulation services.
With their air duct cleaning service, they use the patented Roto-Brush vacuum system. This large device has a small rotating brush to work off and remove tough dirt and debris in your air vents.
Additionally, they aim to remove and clean the register vents so that all aspects of your air ducts are spotless and ready to be used for fresh and healthy air.
They have a few discounts you can avail of if you're a particular churchgoer or mention a code advertised on their website. And paying them isn't hard, as you can use any major credit card, such as Visa and Mastercard, to pay them.
Clean-N-Dry is open throughout the week from Monday to Sunday. Unfortunately, they don't offer 24/7 emergency services, so you'll have to schedule them within working hours.
Experienced air duct cleaners

Received an A+ score from the BBB

Gives discounts

Accepts all major credit cards

Guaranteed client satisfaction
No 24/7 services
No chimney cleaning and insulation services
No live chat support on their website
Customer Reviews
Excellent and honest air duct cleaner
"Excellent and honest service! Cleaned out and found stuff in my ducts i had no idea was in there! I can breathe much better now! Thanks." -Rob Downey
Reasonably priced and great service
"CleanNDry Air Duct & Dryer Vent Cleaning – I reviewed several air duct cleaning services and talked with Nick several times before giving him a try. We are glad we found Nick and are pleased with his services. Call and talk with Nick before your select some other company to perform this service, as he is reasonably priced and professional." -Paul Brown
3. ABB Duct Cleaning LLC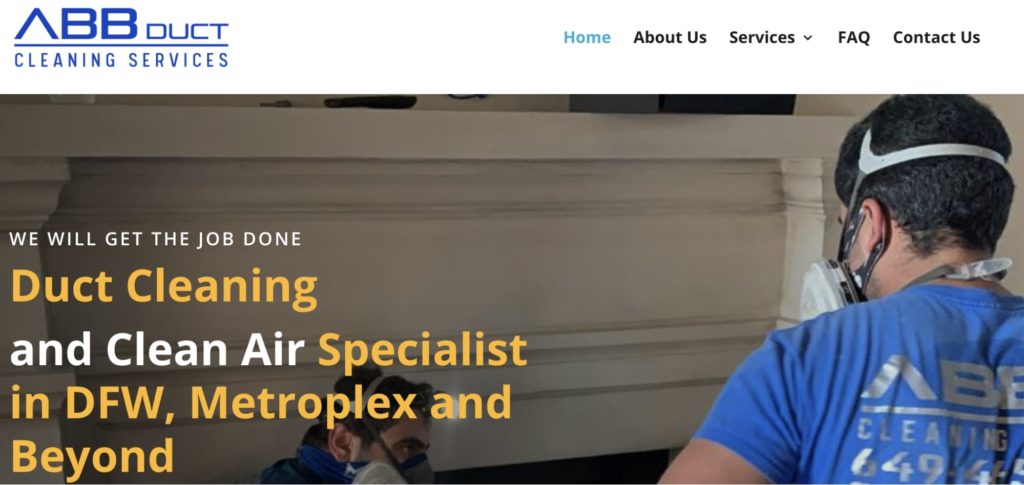 SERVICES
Residential and Commercial Services
Air duct cleaning
Dryer duct cleaning
Chimney sweeping
Video camera inspection
Dryer vents cleaning
Residential air duct cleaning
Commercial air duct cleaning

WEBSITE
https://www.abbductcleaning.com/
ADDRESS
Dallas-Fort Worth Metropolitan Area
CONTACT DETAILS
(206)446-0584


[email protected]

OPERATING HOURS
Monday – Saturday: 7:00 AM – 6:00 PM
Sunday: Closed
| Criteria | Score |
| --- | --- |
| Work quality | ★★★★☆ (4/5) |
| Service offerings | ★★★★☆ (4/5) |
| Customer service | ★★★★★ (5/5) |
| Availability | ★★★☆☆ (3/5) |
| Price | ★★★★☆ (4/5) |
Based in the Dallas-Fort Worth metro area, ABB Duct Cleaning is an HVAC cleaning, repair, and maintenance specialist. It does the job required for both residential and commercial clients.
All of their team strives to give you a fantastic experience while offering you a value-for-money service and a maintenance contract, being very qualified and adept in air duct cleaning.
Before long, your air duct can blow warm or cool air without a trace of pollutants and allergens. This allows your home to truly be hygienic and comfortable for you and your family.
There's no need to sacrifice a day or two to purify your air with them. They often come out on the same day as your call, and if ever you decide to clean your air ducts late at night, you can with them too!
Adding to their positive points, clients said that they did a complete job including post-cleanup. They also wore masks and distanced themselves from each other for everyone's safety.
As for discounts, they presently offer $25 off for any service during the summer. But as far as we know, that's the only one they give.
Note, however, that it's only valid for new customers.
They seem to have one shortcoming, though, and it's that they don't offer any satisfaction guarantee compared to other companies we've featured here.
Still, ABB Duct Cleaning deserves a spot on our list of top air duct cleaning services in Fort Worth!
Highly qualified technicians

Same-day service available

Gives discounts

24-hour on-call service
Normally closed on Sundays
Doesn't seem to offer a satisfaction guarantee
No live chat support on their website
Customer Reviews
Fantastic cleaning job
"ABB did a great job cleaning our ducts and dryer vent. Reasonable with prices, very professional and clean. They observe social distancing, wear masks and really did a fantastic job cleaning up anything that may have fallen from the ducts during the process. I'd use them again." -Lisa Curts
Very professional staff
"Very professional, they did a great job getting everything cleaned! Even went over and above to help get my unit sealed up correctly! 10/10" -Keifer Peak
4. Hector Duct Cleaning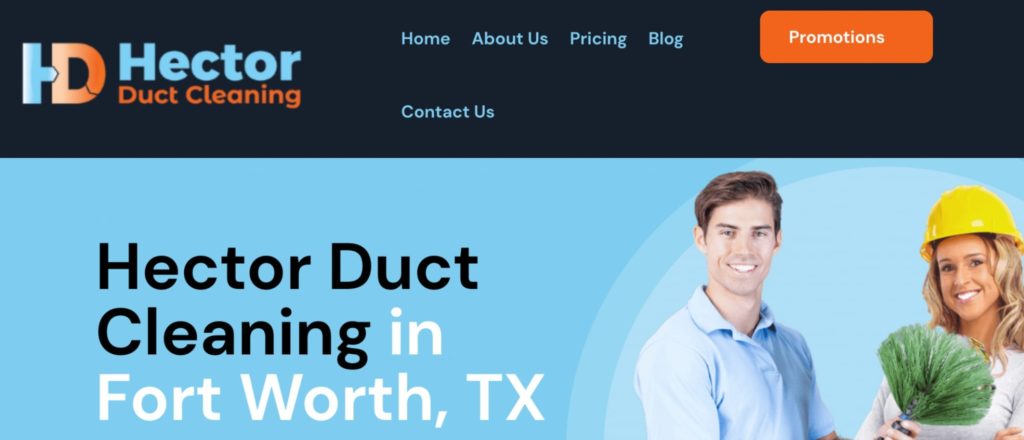 SERVICES
Air duct cleaning & repair
Dryer vent cleaning & repair
Bathroom fan exhaust cleaning
Rodent pest removal
WEBSITE
https://hectorductcleaning.com/
ADDRESS
3008 Pheasant Glen Dr, Fort Worth, TX 76140 USA
CONTACT DETAILS
817-918-5412


[email protected]

OPERATING HOURS
Monday – Saturday: 7:00 AM – 9:30 PM
Sunday: Closed
| Criteria | Score |
| --- | --- |
| Work quality | ★★★★★ (5/5) |
| Service offerings | ★★★☆☆ (3/5) |
| Customer service | ★★★★★ (5/5) |
| Availability | ★★★☆☆ (3/5) |
| Price | ★★★★★ (5/5) |
Hector Duct Cleaning may only have been around for five years in the industry, but they are terrific with air duct cleaning, as their clients can attest to.
Hector offers air duct and dryer vent cleaning that helps clean your air indoors, makes them more energy-efficient, and keeps your household, including pets, safe and sound.
You can trust them in their knowledge and skill. Moreover, they have industry-grade equipment to handle all sizes of cleaning work, be it for homes, offices, or factories.
Hector also uses planet-friendly products, which is another thing setting this company apart from the others. Not only can your dryer vents and air ducts be cleaned, but the environment will not be affected as much as well.
Furthermore, their prices are transparent for their individual or packaged services. This prevents conflicts when the client is asked to pay.
Much more impressive is the fact they offer a generous discount for any air duct cleaning package. But keep in mind that this is only for first-time customers.
Finally, the downsides of this company are not much. First is they don't offer round-the-clock services, and second, they don't have live chat support.
Despite these minor setbacks, we recommend them. If you want safe and effective duct cleaning at a sweet price, Hector Duct Cleaning is a great choice!
Uses eco-friendly products

Affordable and transparent rates

Gives discounts

Guaranteed client satisfaction
Closed on Sundays
No live chat support on their website
Customer Reviews
Quick and neat service
"I got a deep cleaning of my air duct system and dryer vents. Hector came and gave a detailed explanation of the process before providing a quote. His team was able to come and perform the service within 3 days of request. Service was performed quickly with no mess, with explanations for required next steps. I will certainly use Hector Duct Cleaning for my yearly maintenance." -Angele Harrison
Gave a very competitive price
"Hector and his team were great from the very beginning. He came out and gave a very competitive price, took pictures and explained everything that his company has to offer. I would highly recommend them." -Marcus B.
5. 1st Choice Air Solutions

SERVICES
Air Conditioning
Emergency AC repair
Air handlers
Smart home thermostats
AC installation
Ductless mini-split units

Heating
Emergency heating repair
Furnace installation
Geothermal systems
Furnace maintenance
Heat pumps

Duct Cleaning

Air Quality
Filter replacement
Dehumidifiers
Air cleaners & sanitizers
Smart home thermostats

WEBSITE
https://1stchoiceairsolutions.com/
ADDRESS
2851 Tinsley Ln, Fort Worth, TX 76179 USA
CONTACT DETAILS
817-264-7709


[email protected]

OPERATING HOURS
Available 24/7
| Criteria | Score |
| --- | --- |
| Work quality | ★★★★☆ (4/5) |
| Service offerings | ★★★★★ (5/5) |
| Customer service | ★★★★☆ (4/5) |
| Availability | ★★★★★ (5/5) |
| Price | ★★★☆☆ (3/5) |
If you need your air ducts maintained to the highest and safest level, 1st Choice Air Solutions has you covered.
To begin with, they have a large team, all of whom are NATE-certified (NATE stands for North American Technician Excellence). This certification proves that they always bring their A-game to the HVAC business.
Their service offerings are larger than the companies featured here. They cover everything from cleaning and sanitizing your air ducts to installing geothermal heating systems and everything in between.
No hassle is too big for them, as they can assist you 24 hours a day and 7 days a week. But here's the kicker: they won't charge after-hour fees, so the price you'll be quoted won't unexpectedly balloon up.
However, the problem is some clients have complained about their incredibly high rates. That's something to watch out for if you get this company.
The price is different from one job to another, thus you'll have to obtain an estimate from them beforehand. Remember to mention their military or first-responder discount if you work as one.
Despite the price, they've done a superb job for their clients. They got their air ducts cleaned entirely, furnace and AC back in top working condition.
They take several payment modes—Visa, Mastercard, Amex, Discover, cash, and check—making it extremely convenient for you.
So, if you are having them come for air duct cleaning, AC cleaning, and/or heat pump repair, then they could be a great pro cleaner to hire!
Fully certified technicians

Comprehensive range of services

Provides same-day service

Received an A+ score from the BBB

Gives military and first-responders discounts

No after-hour fees

Several payment options
Complaints about their high prices and service
No live chat support
Customer Reviews
Honest, courteous, and professional
"Robby dollar was my technician today. Am just like in the past from 1st Air solutions he was honest, courtesy and professional. I have nothing buy good words to say about this company I'm very happy they are local". -Larry Montgomery
Came quick with very little notice
"So glad I called this company. They picked up quickly and came with very little notice. Austin was courteous and explained things so I understood my options and did excellent work. Thanks for a top notch experience." -Sue Layne
FAQs about the Best Air Duct Cleaning in Fort Worth
And that's all for our best options for air duct cleaning in Fort Worth. They are proven to get your air duct cleaned entirely with their prompt, kind, and friendly tradesmen.
Do you have any questions or comments about this list? If so, send us a message and we'll get back to you as soon as possible.
More Resources on Air Duct Cleaning